Experience Seoul Like Never Before: Top 10 Destinations for the Avid Traveler
Step into a city where centuries-old tradition and cutting-edge modernity seamlessly blend, creating an irresistible allure that captivates every traveler. Welcome to Seoul, South Korea's vibrant capital, a city teeming with ancient palaces, innovative architecture, bustling shopping districts, and scenic parks.
This guide is your key to the city, meticulously curated to introduce you to the 'Top 10 Must-Visit Spots in Seoul.' It's more than just a list of places; it's your gateway to the soul of this dynamic metropolis. Each location is a story, narrating a chapter of Seoul's enchanting tale of history, culture, nature, and urban sophistication.
From stepping back in time within the royal courts of Gyeongbokgung Palace and Changdeokgung Palace to reveling in the city's contemporary pulse in Myeongdong Shopping Street and Lotte World Tower & Mall, you're in for a whirlwind of experiences.
Marvel at the city's panoramic views from the tranquil peaks of Bukhansan National Park, immerse yourself in Korea's rich heritage in Insadong and the National Museum of Korea, or unwind by the picturesque Han River at Hangang Park. And don't forget to savor a moment of peace at Bongeunsa Temple, a tranquil oasis in the heart of the city.
As you explore these locales, you'll embark on a journey that transcends the boundaries of ordinary sightseeing, one that will touch your senses and leave you with memories to treasure.
So fasten your seatbelts, fellow explorers. We're about to dive into the mesmerizing depths of Seoul, a city that never fails to surprise and inspire. Let the adventure begin!
Here are the 10 best places to visit in Seoul:
1. Gyeongbokgung Palace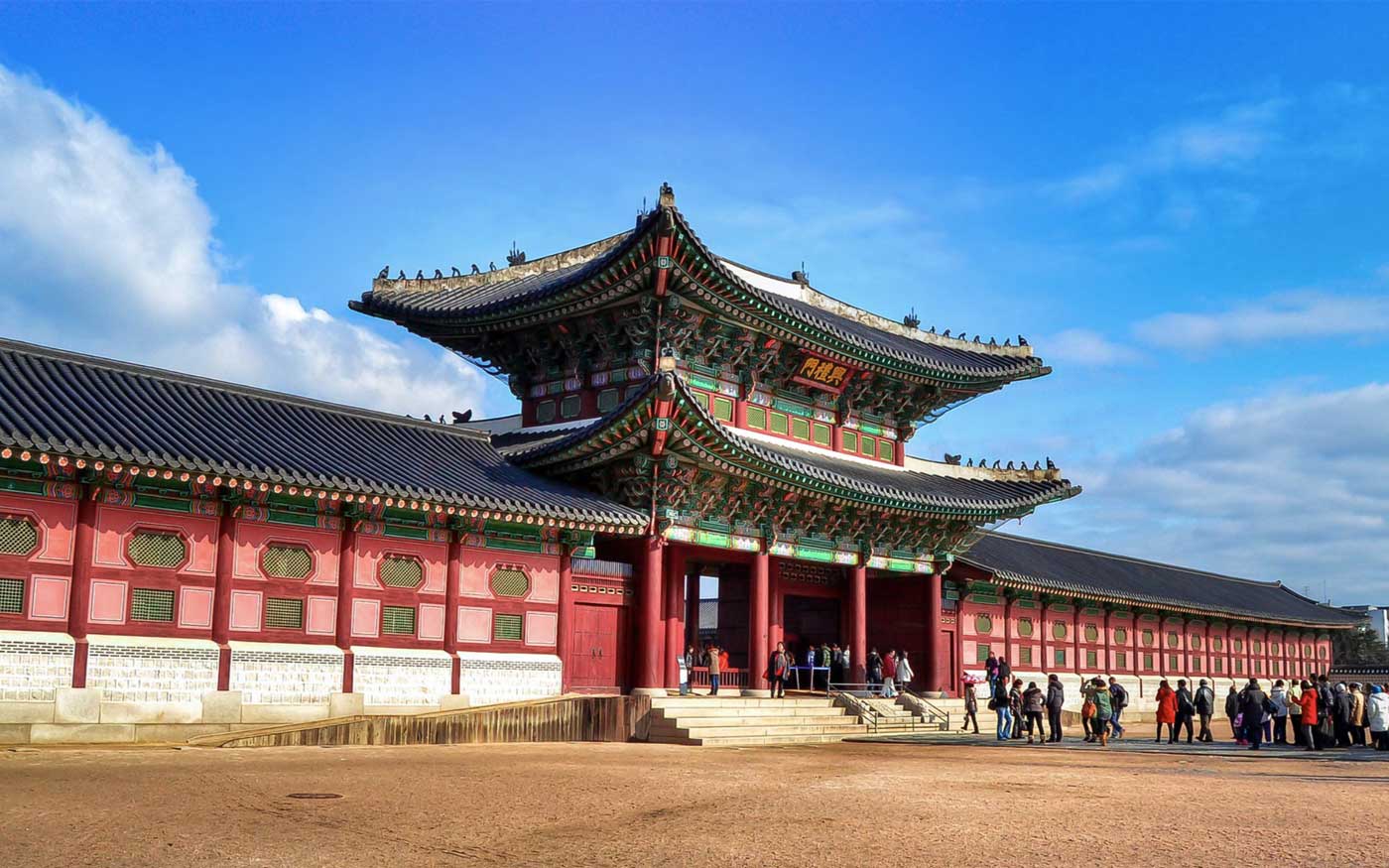 Nestled in the heart of Seoul, the Gyeongbokgung Palace stands as a majestic testament to Korea's rich history and architectural prowess. Often referred to as the "Northern Palace" due to its location relative to the other palaces, Gyeongbokgung is a must-visit landmark for anyone seeking to immerse themselves in Korea's royal past.
Constructed in 1395 during the Joseon Dynasty, the palace is an impressive embodiment of traditional Korean architecture, characterized by its ornate details and grandeur. Its name, Gyeongbokgung, translates to "Palace Greatly Blessed by Heaven," a nod to its significant place in Korean history.
The palace's main gate, Gwanghwamun, welcomes you with its imposing yet artful presence, and as you step into the palace grounds, you will discover beautiful courtyards, elegant pavilions, and tranquil gardens that echo with tales of yesteryears. Also not to be missed is the Changing of the Royal Guard ceremony, a vibrant display of Korean culture that is recreated for visitors to enjoy.
Despite the passing of centuries and the trials of war, Gyeongbokgung Palace has stood resilient, carefully restored to its former glory. Today, it continues to captivate visitors with its timeless charm, providing a window into the soul of Korea. Make sure to plan your visit and get ready to step back in time at Gyeongbokgung Palace.
2. Bukhansan National Park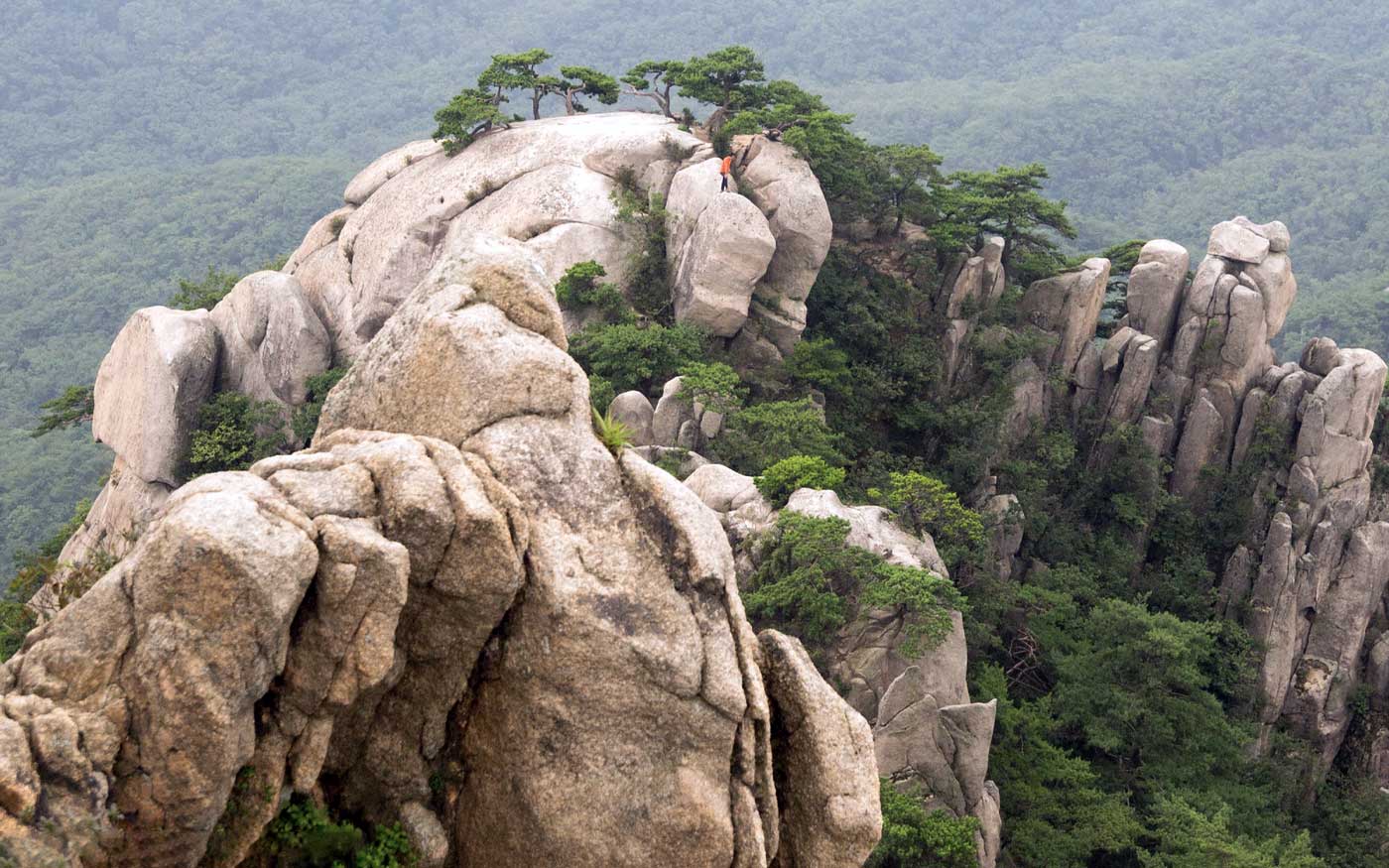 Bukhansan National Park, an oasis of nature within the bustling city of Seoul, is a must-see destination for any adventurer's visit to South Korea. This breathtaking park, which means 'mountains north of the Han River,' covers an expansive area and features lush landscapes, towering granite peaks, and over 1,300 diverse species of flora and fauna.
One of the main highlights of Bukhansan is its scenic hiking trails, which range from beginner-friendly paths to challenging routes that will satisfy even the most seasoned hiker. As you ascend, you'll be rewarded with incredible views of Seoul's cityscape juxtaposed against the serene beauty of the park's natural environment. It is no wonder that it's often referred to as the lung of Seoul, providing fresh air and a peaceful escape from the city's hustle and bustle.
The park also holds cultural significance, as it is home to over 100 Buddhist temples and monks' cells. Among them, the Bukhansanseong Fortress is a historic site you shouldn't miss. The fortress was a place of refuge for kings in times of war and now offers a glance into Korea's past.
Whether you're a nature enthusiast, a photography lover, or a history buff, Bukhansan National Park has something for everyone. As you plan your visit, remember to pack your camera, your hiking boots, and your sense of adventure to fully experience the unique blend of tranquillity and excitement that Bukhansan National Park offers.
3. Myeongdong Shopping Street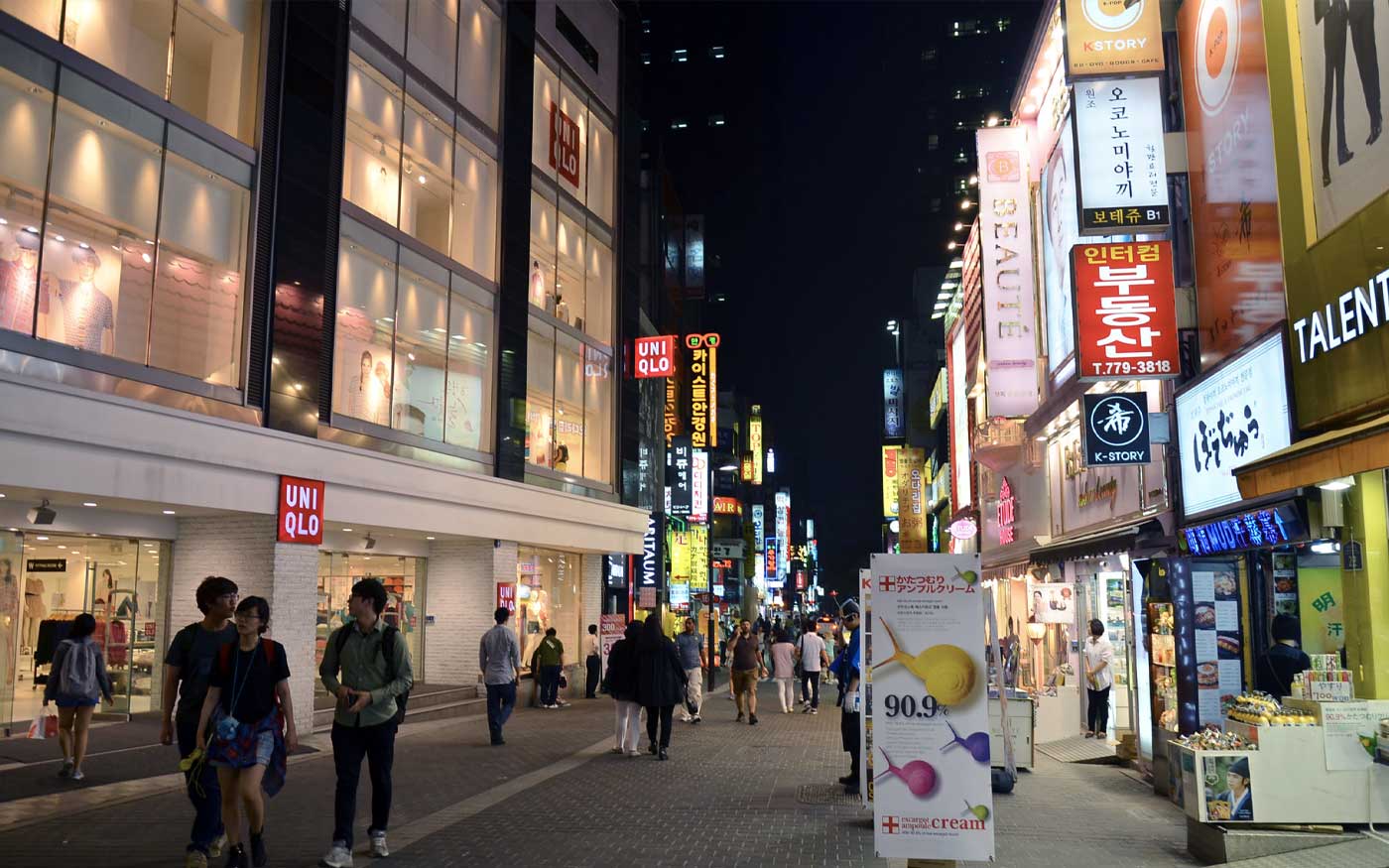 No visit to Seoul is complete without a trip to the pulsating energy of Myeongdong Shopping Street. Located in the heart of the city, this bustling street is a paradise for fashion enthusiasts and foodies alike, offering an unparalleled shopping experience that perfectly encapsulates the vibrant, fast-paced culture of modern Korea.
As you navigate the maze of stores and boutiques that line the street, you'll find a staggering array of choices. From the latest trends in K-fashion to globally recognized brands, there's something for every taste and budget. Particularly noteworthy is the area's impressive selection of beauty and skincare shops – Seoul is, after all, known as the skincare capital of the world. Don't miss the chance to stock up on renowned Korean beauty products!
However, Myeongdong isn't just about shopping – it's also a gastronomic haven. As evening falls, the street comes alive with countless food stalls selling a smorgasbord of mouth-watering Korean street food. Indulge in local favorites such as tteokbokki (spicy rice cakes), gimbap (seaweed rice rolls), and mandu (Korean dumplings). And of course, a trip to Myeongdong wouldn't be complete without trying the famous Korean street dessert, hotteok, a sweet filled pancake.
Myeongdong Shopping Street is more than just a shopping destination – it's an exhilarating sensory journey that truly embodies the spirit of Seoul. Whether you're a shopaholic, a food lover, or simply a curious traveler seeking to soak up the local culture, Myeongdong promises an unforgettable experience. So, put on your most comfortable shoes and get ready to explore – Seoul's retail heartland awaits!
4. Changdeokgung Palace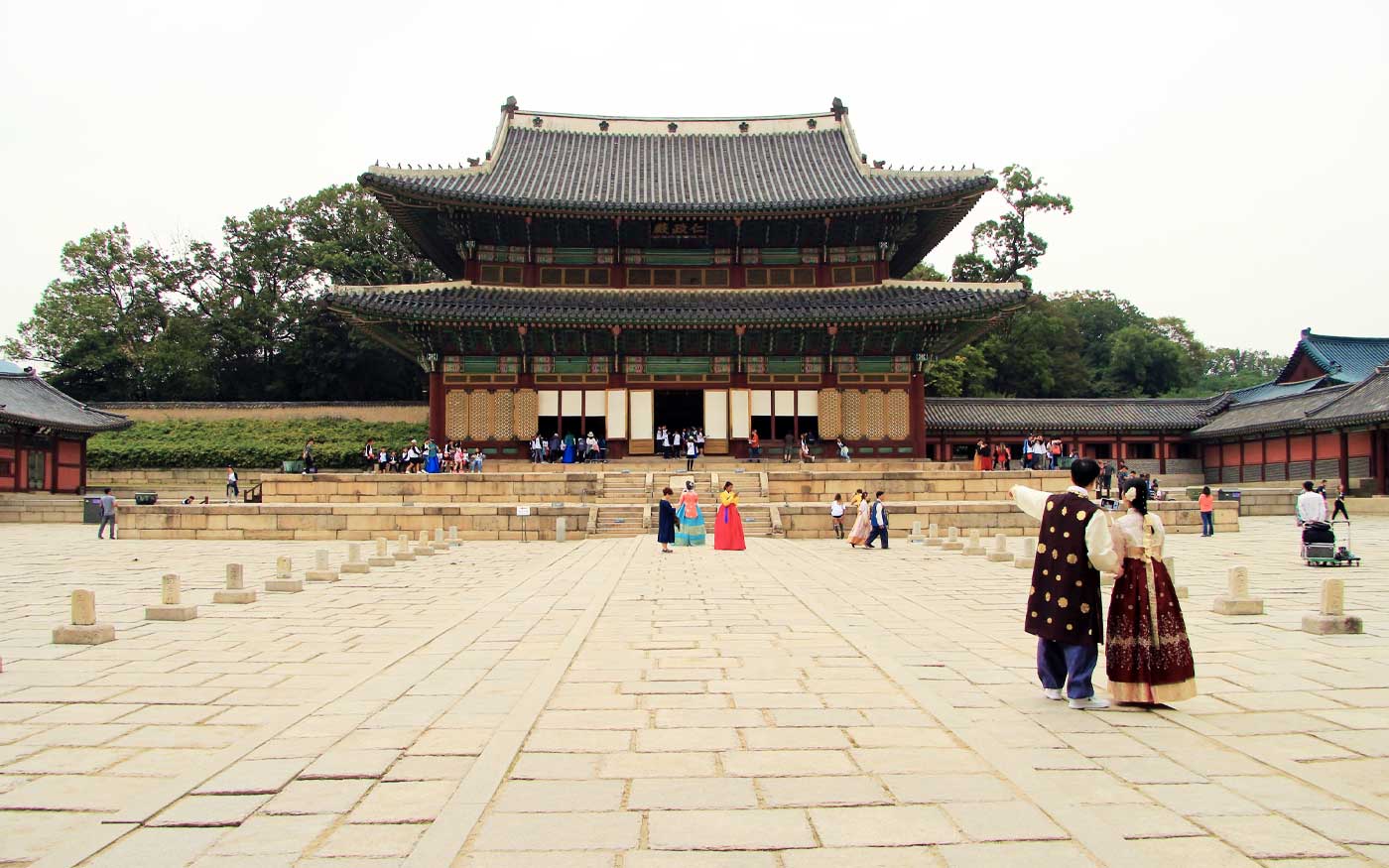 Unveiling yet another chapter of Seoul's fascinating heritage is Changdeokgung Palace, a UNESCO World Heritage Site that effortlessly combines historical allure with natural beauty. Constructed in the 15th century during the Joseon Dynasty, Changdeokgung is celebrated as the best-preserved of the five grand palaces in Seoul.
Often favored by many Joseon princes for its tranquil atmosphere, Changdeokgung, also known as the "East Palace," is famous for its unique architectural style which was designed in harmony with the surrounding landscape. The buildings naturally blend with the topography, making it a masterpiece of Far Eastern palace architecture.
Perhaps the most enchanting part of the palace complex is the Huwon or "Secret Garden." Originally a royal retreat, the garden remains largely undisturbed over the centuries and retains a high degree of authenticity. It's a haven of serenity, boasting idyllic lotus ponds, graceful pavilions, and ancient trees, some of which are over 300 years old. A guided tour of Huwon is a must, offering a glimpse into the royal lifestyle of seclusion and contemplation amidst nature.
Another highlight is the Injeongjeon Hall, the palace's main building, where important state affairs, including the coronation of new kings, were held.
As a traveler delving into the heart of Korea's past, a visit to Changdeokgung Palace will transport you back in time, inviting you to walk in the footsteps of kings and queens while enjoying a peaceful respite from the city's hustle and bustle. Get your camera ready, and prepare to be enchanted by the timeless charm of Changdeokgung Palace.
5. The War Memorial of Korea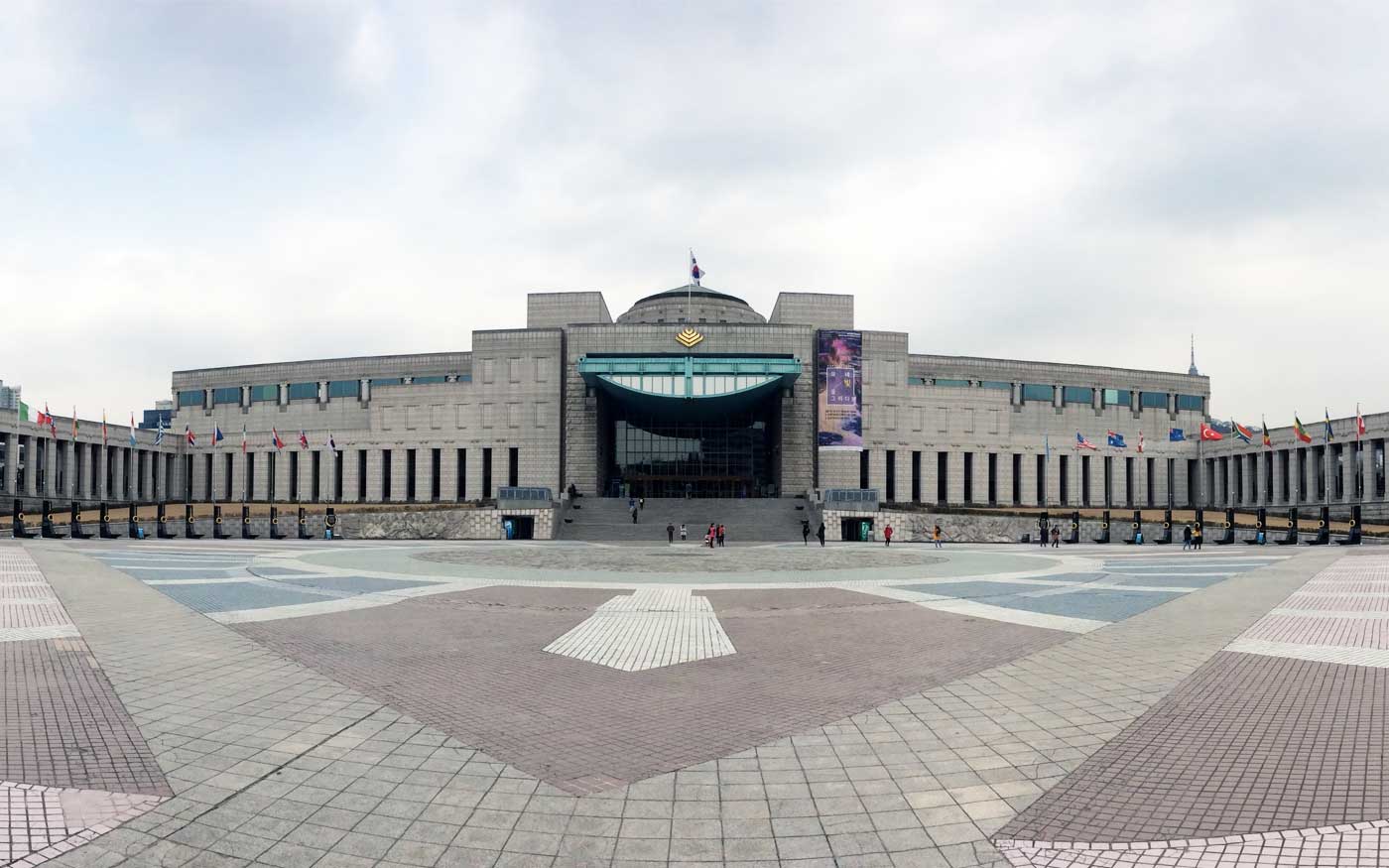 If you're looking to deepen your understanding of Korea's tumultuous history, The War Memorial of Korea in Seoul is a visit of paramount importance. More than just a monument commemorating the past, this extensive complex is a poignant reminder of the struggles faced by the Korean people, as well as a symbol of their resilience and hope for peace.
Located on the former site of the army headquarters, The War Memorial of Korea is much more than a mere memorial; it's a comprehensive military history museum that chronicles the many conflicts that have shaped the Korean Peninsula, from ancient times to the modern era. The main building is home to six indoor exhibition rooms, each dedicated to a specific period or theme, and an outdoor exhibition area showcasing over 150 military vehicles and weaponry.
Among the indoor exhibitions, the Korean War room is particularly impactful. Here, visitors can delve into the events of the Korean War, a pivotal period in the country's history. Immersive displays, interactive installations, and personal accounts bring the era to life, allowing visitors to grasp the enormity of the conflict.
Outside, the expansive grounds feature a variety of military aircraft, tanks, and even a replica of a Korean Navy ship. This visual display of military strength offers a stark contrast to the Statue of Brothers, a touching sculpture depicting two brothers from opposite sides of the Korean War, embracing in a moment of unity on the battlefield.
A visit to The War Memorial of Korea offers a profound insight into Korea's journey through hardship towards its current prosperity. Whether you're a history buff or a traveler keen on understanding the heart of the nations you explore, this place promises a thought-provoking and educational experience. So take your time, wander the halls and grounds, and let the lessons of history resonate with you.
6. National Museum of Korea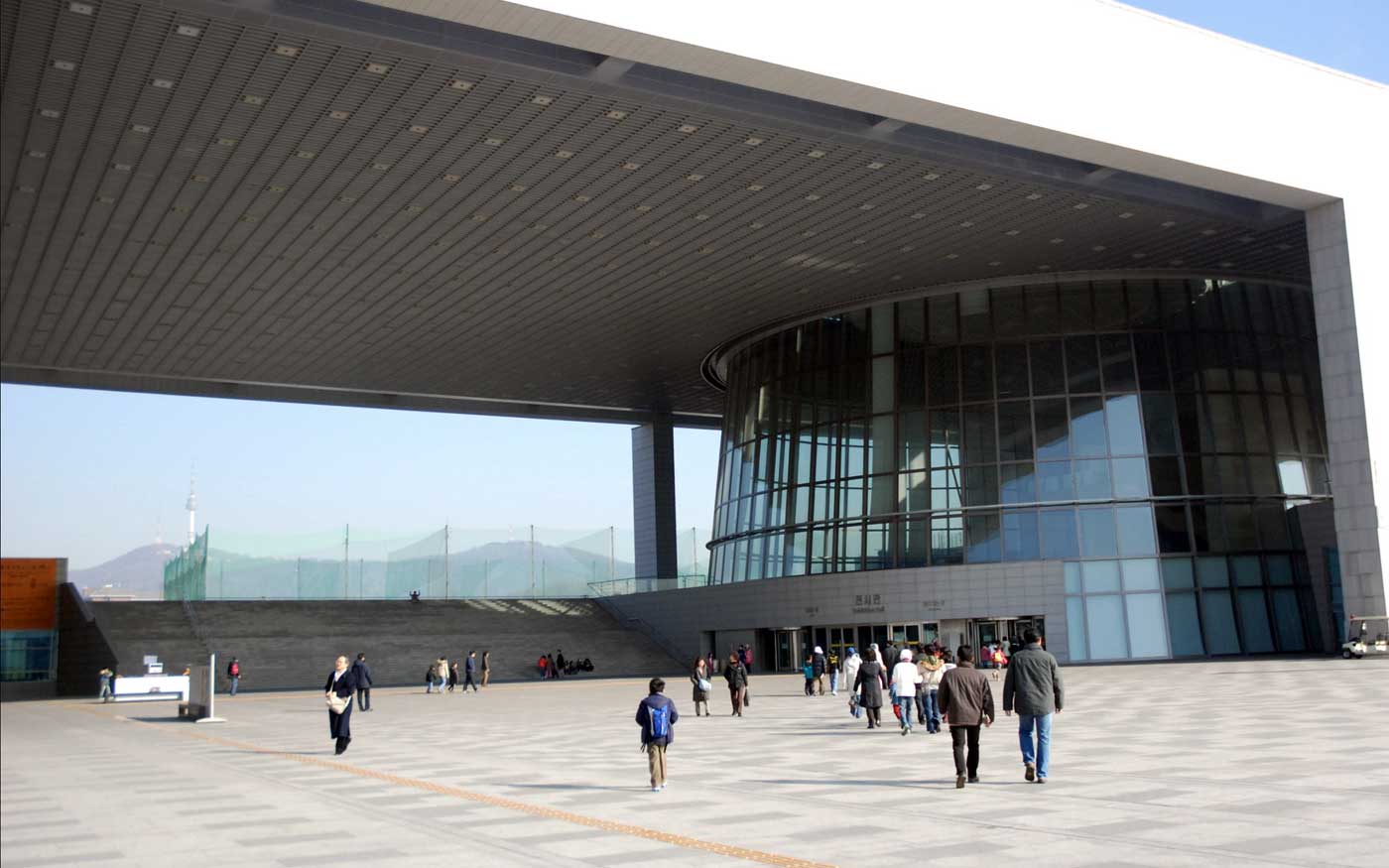 Step into a treasure trove of Korean history and culture at the National Museum of Korea, the largest museum in the country and a must-visit attraction for any traveler exploring Seoul. With an extensive collection of over 300,000 items spread across three floors, the museum offers a comprehensive overview of Korea's rich heritage, from prehistoric times to the present day.
The museum's architecture is a sight to behold – a harmonious blend of traditional influences and modern design that complements the treasures within. The collections are organized into different sections including archaeology, history, and art, each offering a different lens through which to explore the country's past.
The Archaeology section displays artifacts from prehistoric eras and ancient kingdoms, telling tales of Korea's early inhabitants. The History section, on the other hand, guides you through key periods of Korean history, showcasing items like royal regalia and ancient manuscripts.
However, the art galleries are perhaps the most captivating. Here, you'll encounter an impressive array of Buddhist sculptures, delicate ceramics, traditional Korean paintings, and much more. One of the highlights is the ten-story wooden pagoda from Gyeongcheonsa Temple – a stunning example of traditional Korean architecture.
Beyond its galleries, the museum also features a tranquil outdoor space known as the Museum Garden. Here, visitors can enjoy exhibitions of Korean stone art, as well as performances in the multi-purpose auditorium.
Whether you're a history enthusiast, an art lover, or simply a traveler seeking to understand the roots of Korean culture, the National Museum of Korea offers an unparalleled journey through time. So, prepare yourself for an immersive cultural experience, and dive into the fascinating world of Korean history.
7. Insadong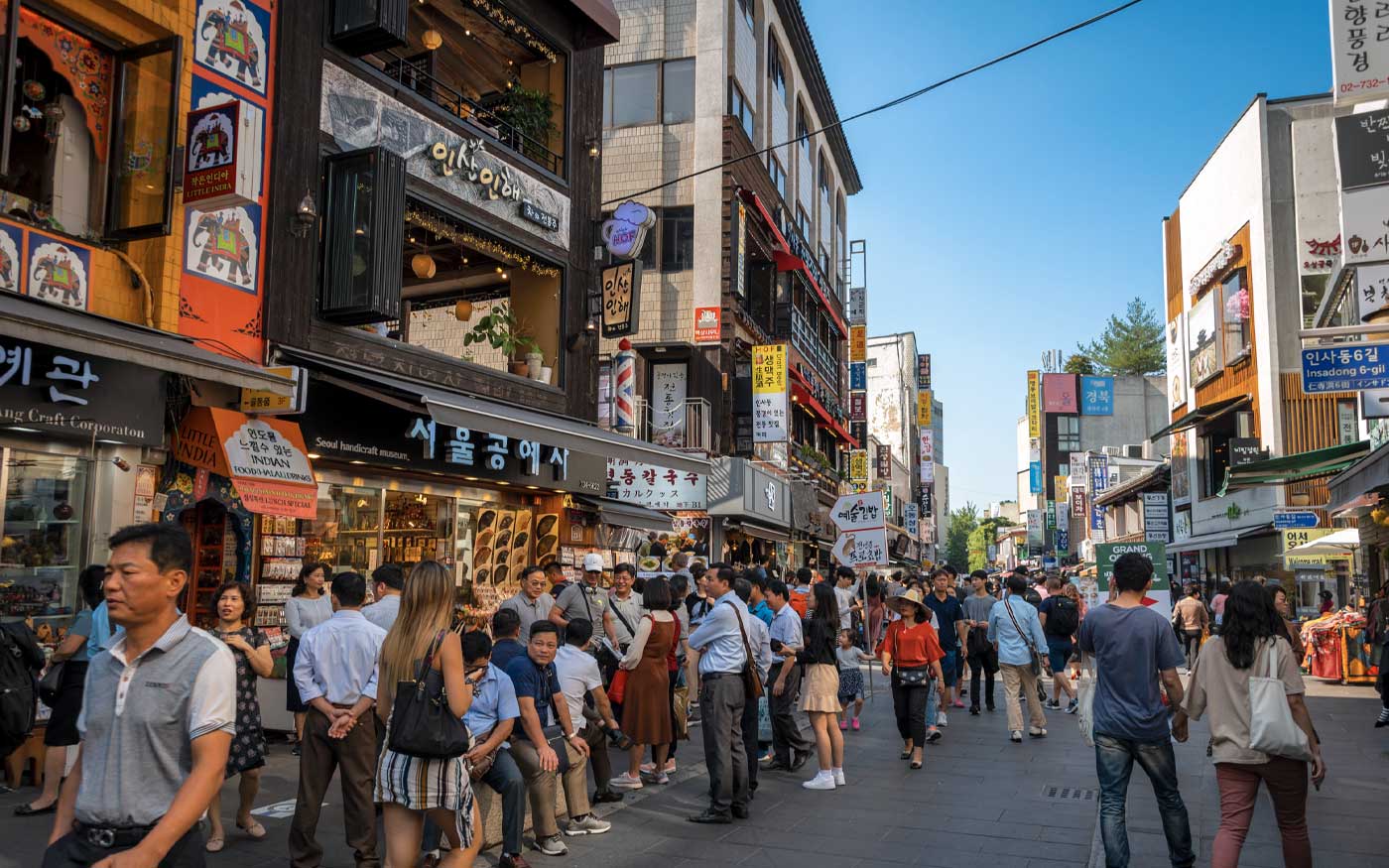 Unearth the cultural heart of Seoul in the charming neighborhood of Insadong. Known for its traditional atmosphere and artistic spirit, Insadong is a must-visit for any traveler seeking to experience Korea's rich cultural heritage. With its narrow winding streets lined with a vibrant mix of antique stores, art galleries, traditional tea houses, and craft shops, there's a delightful surprise waiting around every corner.
Insadong's main street, Insadong-gil, is a bustling thoroughfare where modernity and tradition harmoniously coexist. Here, you can find everything from handmade hanji (traditional Korean paper) to hanbok (traditional Korean clothing), and unique souvenirs like traditional Korean masks and intricate ceramics.
Art enthusiasts will be thrilled to discover the numerous art galleries scattered throughout the area, featuring works from both established and upcoming Korean artists. Do visit the Ssamziegil shopping complex, the area's iconic landmark, a spiral-like structure home to a variety of arts and craft shops, and a popular spot for its wall of love notes.
Yet, perhaps one of the most delightful experiences in Insadong is immersing oneself in the tranquility of a traditional Korean teahouse. Tucked away in the side alleys, these teahouses offer a serene escape from the bustle, serving a range of traditional teas, sweet rice cakes, and other Korean treats.
From trying your hand at making traditional Korean crafts to savoring the intricate flavors of Korean tea, Insadong offers a slice of Korean culture that's as rich and vibrant as the myriad of items found in its shops. As a traveler, be prepared to soak in the neighborhood's dynamic charm, for a journey through Insadong is nothing short of a journey through the soul of Korea.
8. Lotte World Tower & Mall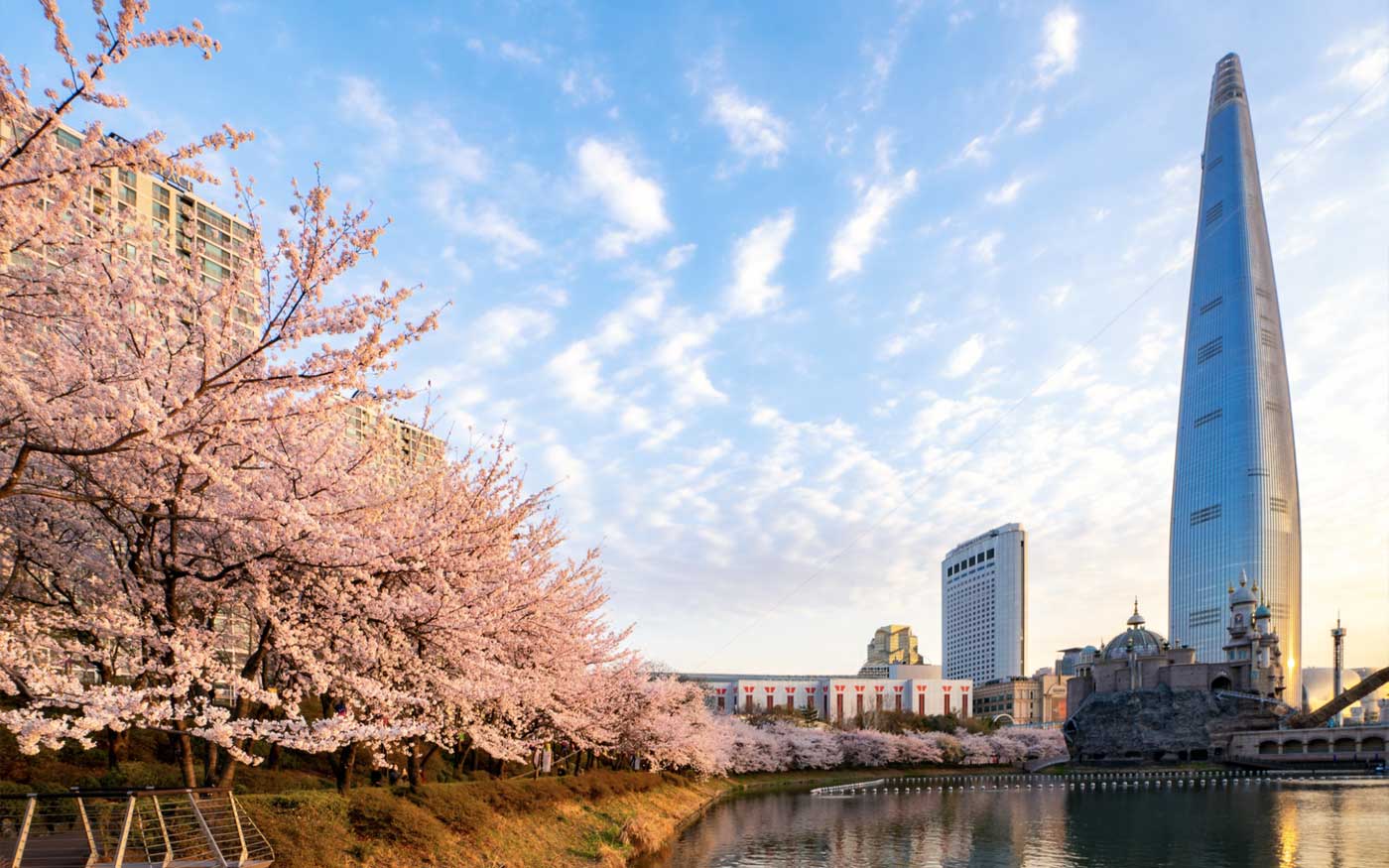 An icon of Seoul's skyline, Lotte World Tower & Mall is an all-in-one entertainment complex that combines world-class shopping, dining, entertainment, and spectacular views – an absolute must-visit for any traveler exploring the city.
Standing at a staggering 555 meters, Lotte World Tower is the tallest building in South Korea and the 5th tallest in the world as of my knowledge cutoff in September 2021. The tower is an architectural marvel, its sleek design inspired by traditional Korean ceramics and calligraphy.
At the tower's apex, the Seoul Sky observatory offers an unforgettable panorama of the city. From the glass-floored skywalk, you can take in breathtaking 360-degree views of Seoul's sprawling cityscape, stretching as far as the Han River and beyond.
Back on the ground, Lotte World Mall is a shopper's paradise. With over 500 brand-name stores, it caters to every shopping need imaginable. From high-end fashion labels to unique local brands, there's something for every taste and budget. The mall is also home to an aquarium, a concert hall, and even a full-size indoor ice rink.
When hunger strikes, the food court offers a mouth-watering selection of both international and Korean cuisine. For a more luxurious experience, the tower also houses Signiel Seoul, a 6-star hotel, with a restaurant offering gourmet dining with an exceptional city view.
From retail therapy to sky-high vistas, Lotte World Tower & Mall offers a unique blend of experiences that truly epitomize the vibrancy and dynamism of Seoul. Whether you're an avid shopper, a foodie, or someone who simply appreciates a good view, this bustling complex guarantees an unforgettable experience. Don your explorer's hat and get ready to be amazed!
9. Hangang Park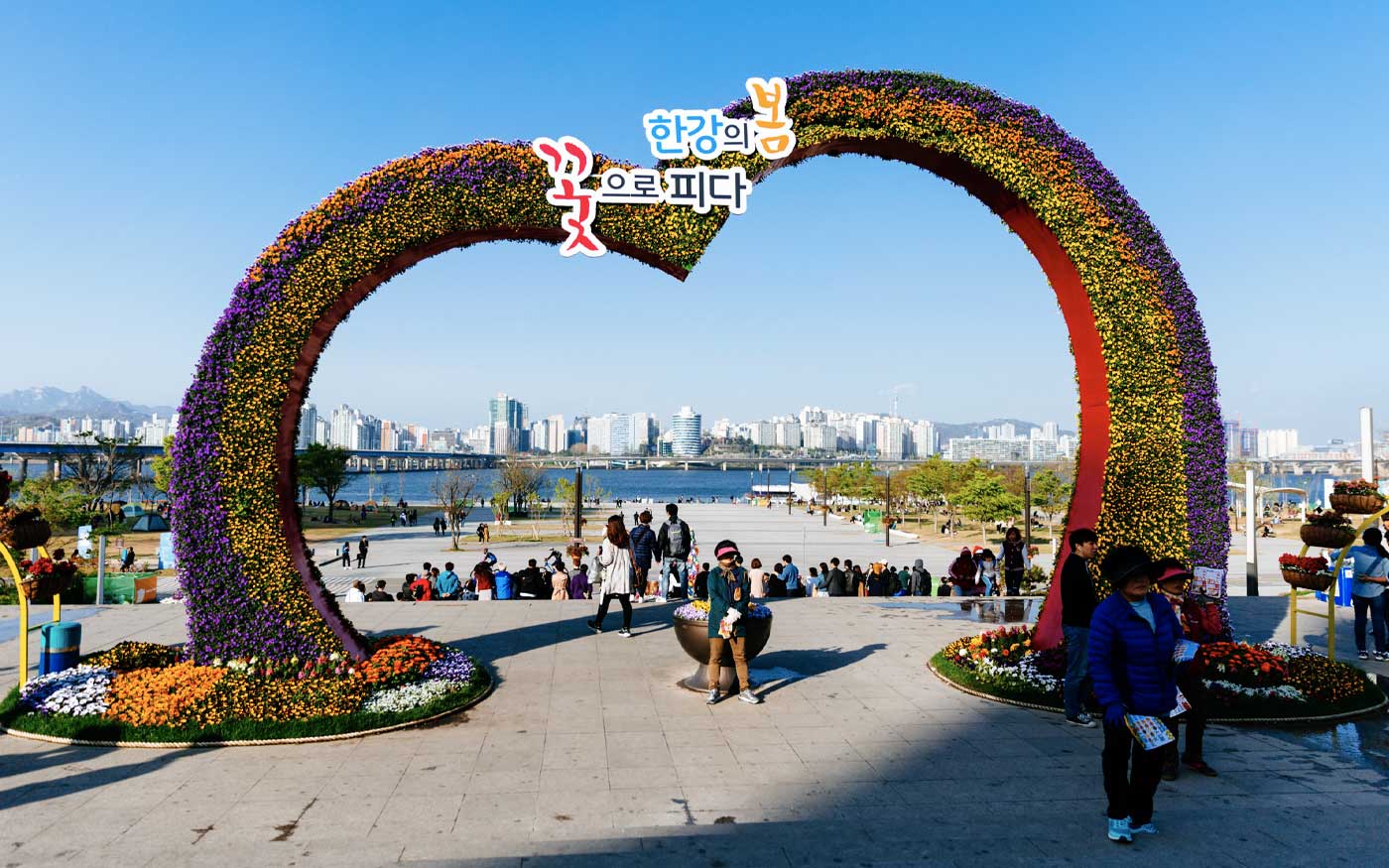 Welcome to the soul-soothing expanse of Hangang Park, a jewel nestled in the heart of bustling Seoul. As a sprawling riverside haven with a plethora of outdoor activities, Hangang Park is a perfect urban retreat for travelers yearning to immerse themselves in nature without leaving the city limits.
Stretching along the banks of the Han River, the park comprises 12 different sections, each boasting unique attractions, from lush picnic spots to vibrant art installations. Whether you prefer to leisurely bike along the extensive riverside paths, go for a scenic run, or simply bask in the sun on the grass, Hangang Park offers ample opportunities for rejuvenation.
One of the park's most cherished activities is a river cruise, allowing you to soak up the enchanting cityscape views from a different perspective. It's particularly captivating during the evening when the city lights begin to twinkle.
If you're a sports enthusiast, Hangang Park will not disappoint. With its designated swimming pools, basketball courts, and even a skate park, it's a recreational paradise. Moreover, it regularly hosts various cultural events and festivals, infusing the park with infectious energy.
Don't miss out on the opportunity to taste the classic Korean delivery culture. It's an absolute delight to have a chicken and beer picnic (Chimaek) while watching the sunset over the river, making it a quintessential Seoul experience.
Hangang Park is more than just an urban park – it's the city's breathing space, a place that nurtures the community's soul. As a traveler, it invites you to pause, take a deep breath, and soak in Seoul's softer side. Lace up your sneakers, pack a picnic, and prepare for a relaxing day out in the green heart of the city.
10. Bongeunsa Temple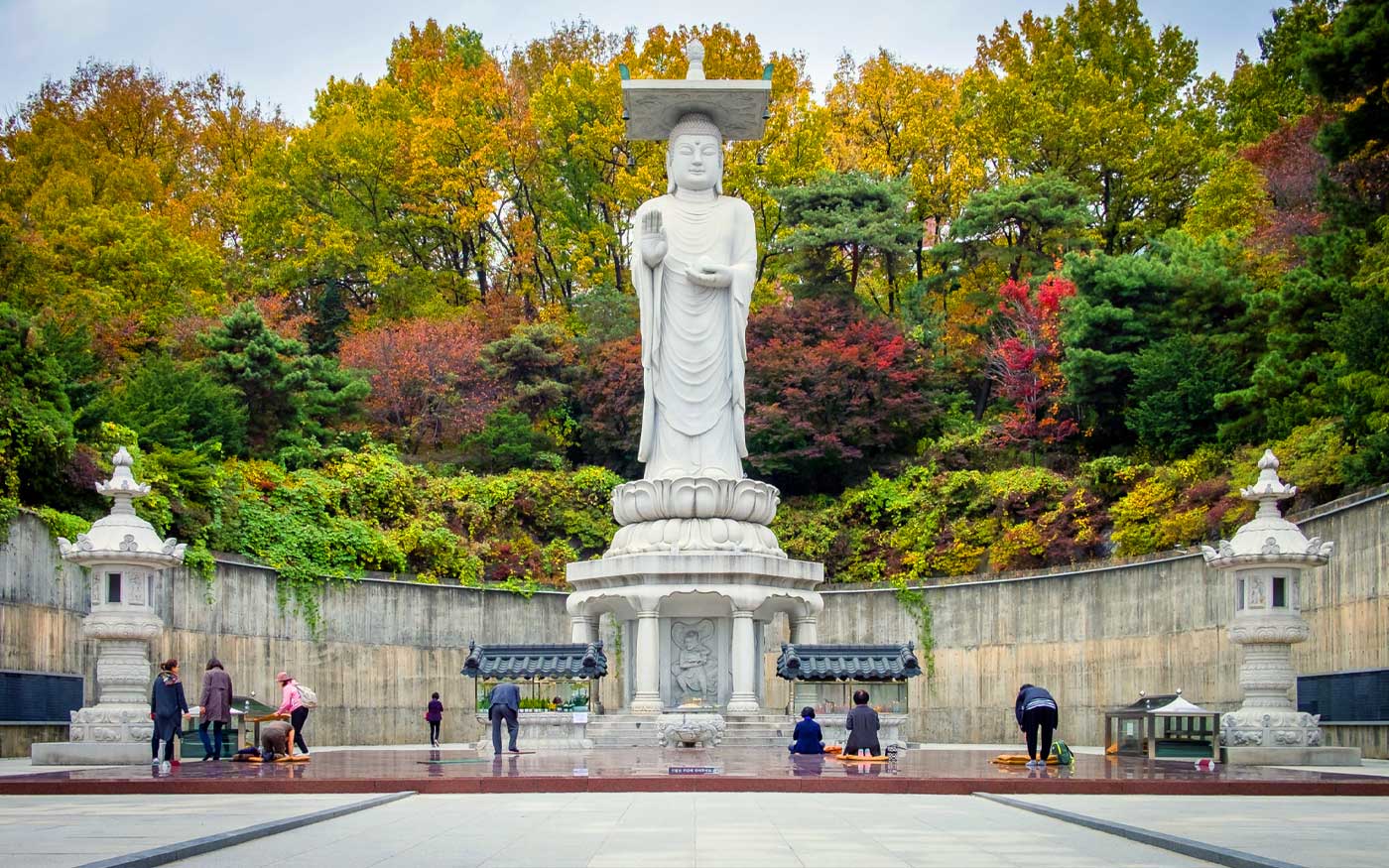 Discover a tranquil haven amidst Seoul's urban hustle at Bongeunsa Temple, a place where modern life and spiritual tranquility exist in harmony. This ancient Buddhist temple, dating back to the Silla Dynasty in 794, offers a serene respite to city-weary travelers, and a captivating journey into the heart of Korean Buddhism.
Located in the bustling district of Gangnam, the temple's peaceful atmosphere provides a stark contrast to the surrounding skyscrapers. The moment you step onto the temple grounds, you're greeted with a sense of calm, accentuated by the melodious chants of sutras and the fragrant waft of incense.
One of the temple's standout features is its colossal statue of Maitreya, the Future Buddha. Towering at 23 meters high, this stone figure exudes an aura of peace and compassion, compelling visitors to pause and reflect.
The temple is a functioning place of worship and a hub for Buddhist teachings. Visitors are welcome to participate in the Temple Life Program where they can experience traditional practices such as tea ceremonies, lantern making, and meditation. The program offers a unique opportunity to gain a deeper understanding of Korean Buddhist culture.
The grounds of Bongeunsa Temple also boast beautiful landscapes, with an array of centuries-old trees, lovely gardens adorned with colorful lanterns, and traditional buildings that showcase the elegance of Korean temple architecture.
Exploring Bongeunsa Temple is more than a simple touristic experience. It's a journey of spiritual exploration, an invitation to slow down and reflect amidst the city's bustle. So take your time, quiet your mind, and allow the serene ambiance of Bongeunsa to soothe your soul.
Feel free to explore these pages as well:
And so, we come to the end of this journey through Seoul, having traversed ancient palaces, bustling markets, serene parks, and towering skyscrapers. Each location offering a unique lens through which to view this multifaceted city, a perfect blend of tradition and modernity, serenity and vibrancy.
Yet, the 'Top 10 Must-Visit Spots in Seoul' only scratch the surface of what this city has to offer. Seoul, with its dynamic spirit, is an ongoing narrative, forever unfolding. It's a city that rewards the curious explorer and the patient observer, where each corner turned can lead to a new adventure, a new story waiting to be told.
Whether you've wandered through the peaceful trails of Bukhansan National Park, marveled at the future from the top of Lotte World Tower, or immersed yourself in the timeless tranquility of Bongeunsa Temple, you've embarked on a journey through the heart of Seoul.
In the whispers of the past echoing through the palace walls, in the pulsating energy of its shopping streets, in the serene moments by the Han River, and in the lofty views from towering heights, you've come to know Seoul not just as a city, but as a living, breathing entity, rich with stories and steeped in a culture that's as diverse as it is captivating.
As your journey concludes, I hope this guide has instilled in you a sense of Seoul's charm and character. Yet remember, the true essence of travel lies not just in the places you visit, but in the experiences you embrace, the memories you create, and the stories you weave along the way. Here's to your Seoul story, may it be one of many chapters in your grand adventure of exploration. Until the next journey, safe travels, fellow explorers!