Experiencing Osaka: An Insider's Guide to 10 Unforgettable Attractions
Dive into the heart of Japan and immerse yourself in the dynamic cityscape of Osaka, a place where modernity meets tradition, culinary adventures are around every corner, and warm-hearted locals greet you with a smile. As a first-time visitor, you'll discover that Osaka is not merely a stop on your itinerary, but a vibrant, pulsating city that's ready to capture your heart.
From the soaring heights of Umeda Sky Building's Kuchu Teien Observatory to the tranquil beauty of Sumiyoshi Taisha Shrine, Osaka offers a multitude of experiences that blend history, culture, food, and fun into a perfect mix. Feel the pulse of the city in the bustling district of Namba, indulge in gastronomic delights at Kuromon Market, or relive history at the formidable Osaka Castle – each day in Osaka unfolds a new chapter of your travel story.
Whether you're an urban explorer, a history enthusiast, a foodie, or an adventure-seeker, you'll find something to love in this ever-evolving city. So, get ready to explore the 'Kitchen of Japan', let yourself be swept up in the unique Osakan spirit, and create memories that will last a lifetime. Your journey begins here, in the city that's been a cultural powerhouse for centuries, in the city that never fails to surprise – Welcome to Osaka!
Here are the 10 best places to visit in Osaka:
1. Osaka Aquarium Kaiyukan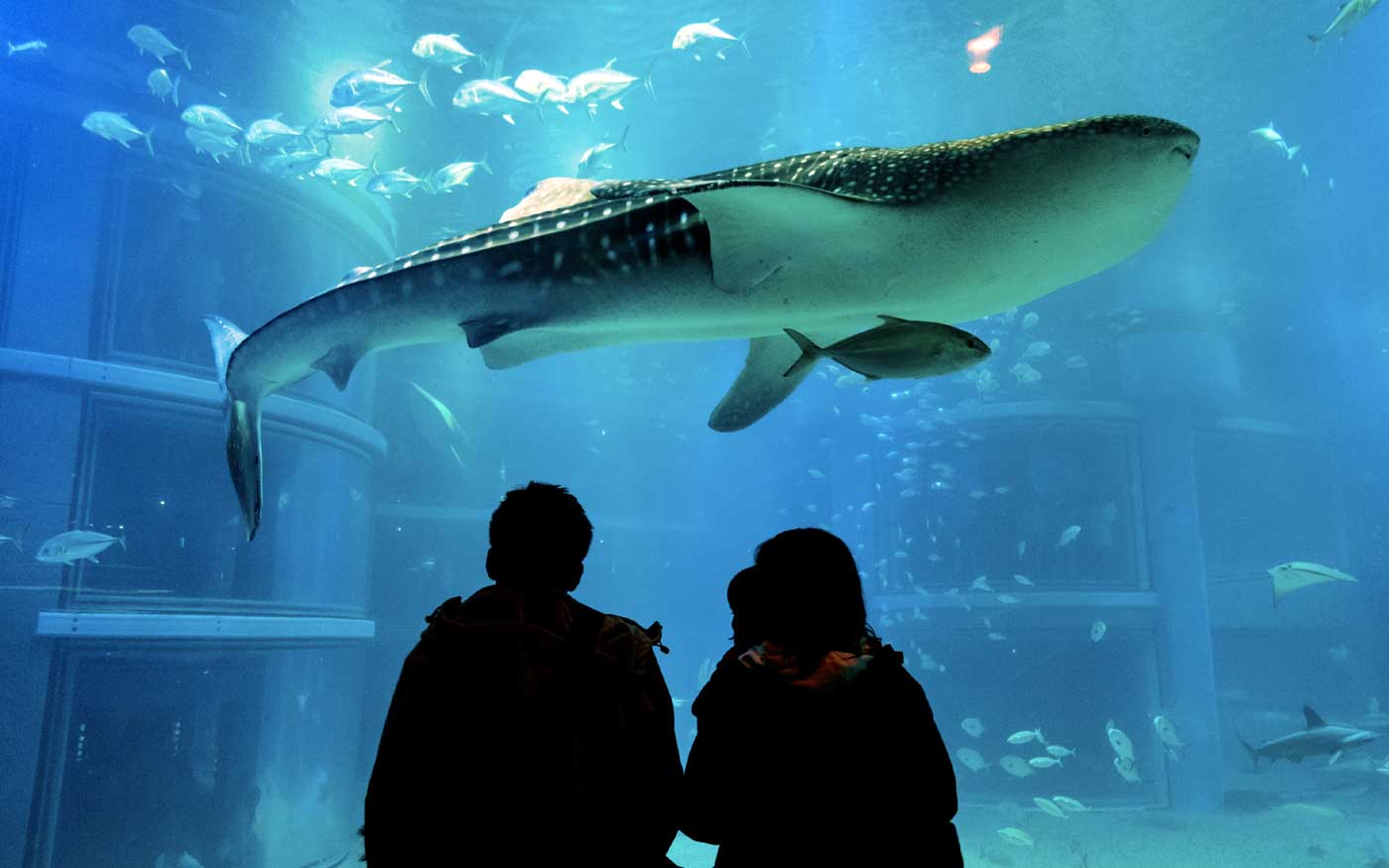 Welcome to one of Osaka's aquatic wonders – the Osaka Aquarium Kaiyukan, one of the largest public aquariums in the world. Here, you can journey across the Pacific Ocean without ever leaving the city, marveling at the vibrant life underneath the ocean's surface. From playful otters to majestic whale sharks, Kaiyukan offers a window into the marine ecosystems of the Pacific Rim. The aquarium is designed to transport you through different habitats, starting with the Japanese Forest and ending in the chilly Arctic. Remember to keep an eye out for the aquarium's main star – a gigantic whale shark that gracefully glides in the Pacific Ocean tank. Whether you're a seasoned ocean explorer or just dipping your toes in marine life, Osaka Aquarium Kaiyukan promises an unforgettable deep-sea adventure right in the heart of Osaka. So, ready to dive in?
2. Osaka Castle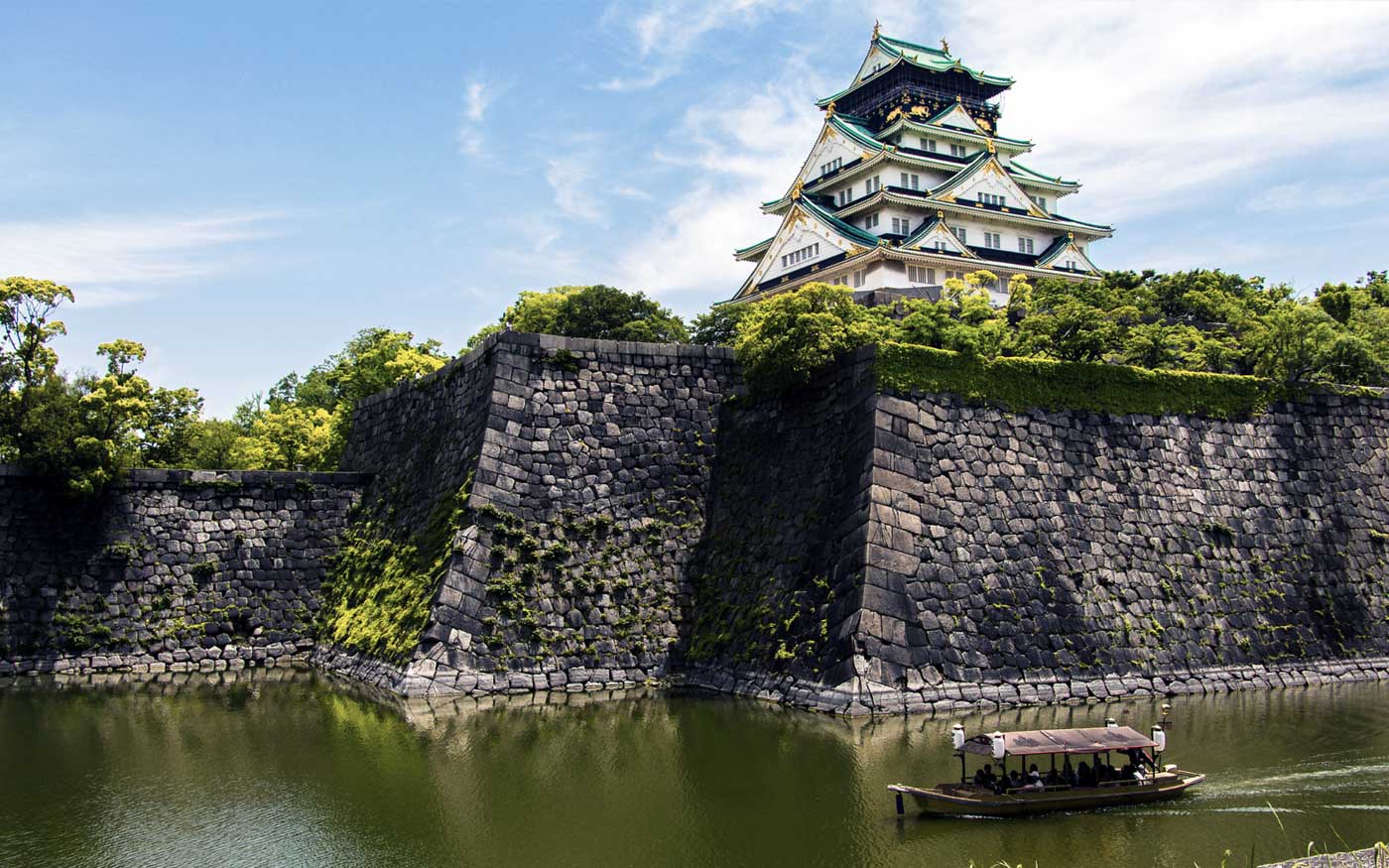 Standing tall amidst modern skyscrapers, the Osaka Castle is a vibrant reminder of Japan's rich past. This imposing castle, one of Japan's most famous landmarks, is a testament to Osaka's historical significance. Constructed in the late 16th century by Toyotomi Hideyoshi, a preeminent daimyo, warrior, and politician of the Sengoku period, it has been witness to many significant events in Japanese history. The castle's grandeur isn't limited to the exterior alone; inside, it houses a museum showcasing a fascinating collection of artifacts and exhibits, offering a window into the city's bygone era. Don't forget to climb up to the observation deck for a breathtaking view of Osaka in all its glory. Nestled within lush greenery and surrounded by moats, the Osaka Castle isn't just a step into the past but a tranquil escape from the bustling city. A visit to Osaka simply wouldn't be complete without soaking in the historical majesty of this iconic castle.
3. Universal Studios Japan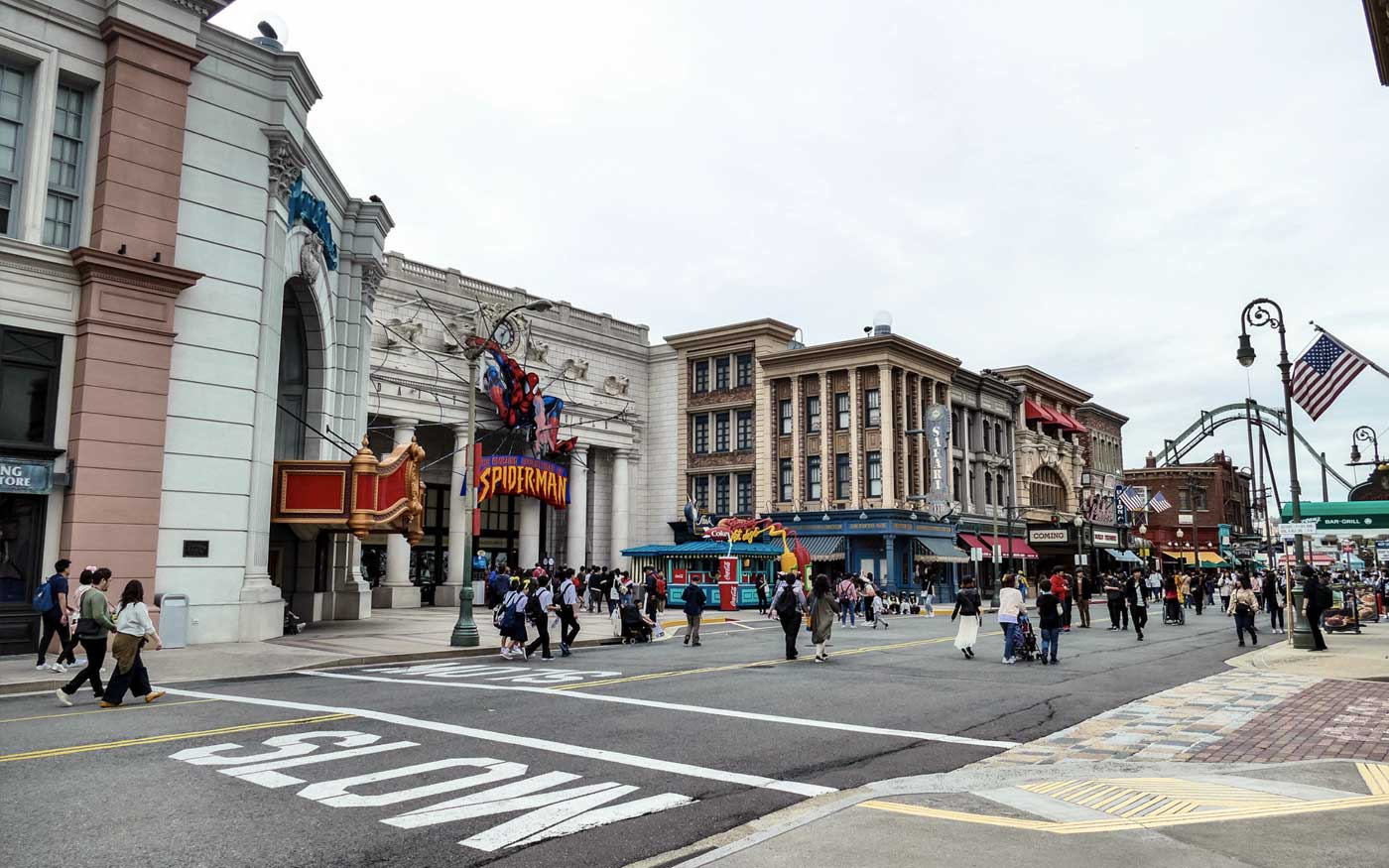 Step into a world where fantasy meets reality at Universal Studios Japan, one of Osaka's most exhilarating destinations. Here, your favorite movies and characters come to life across eight themed sections, including the Wizarding World of Harry Potter, Minion Park, and Jurassic Park, amongst others. Feel your heart race on thrilling rides, be charmed by enchanting live shows, and stroll down the streets of your favorite movie sets. And it's not just about the adrenaline rush! Universal Studios Japan is also a culinary voyage with a wide variety of themed restaurants and snack bars. From Butterbeer at the Three Broomsticks in Hogsmeade to Minion-inspired treats, there's a surprise waiting at every corner. The park's enchanting atmosphere is a hit among both children and adults, making it an unmissable part of any Osaka itinerary. So buckle up, because a visit to Universal Studios Japan is a rollercoaster ride of fun, excitement, and magical memories!
4. Osaka Castle Park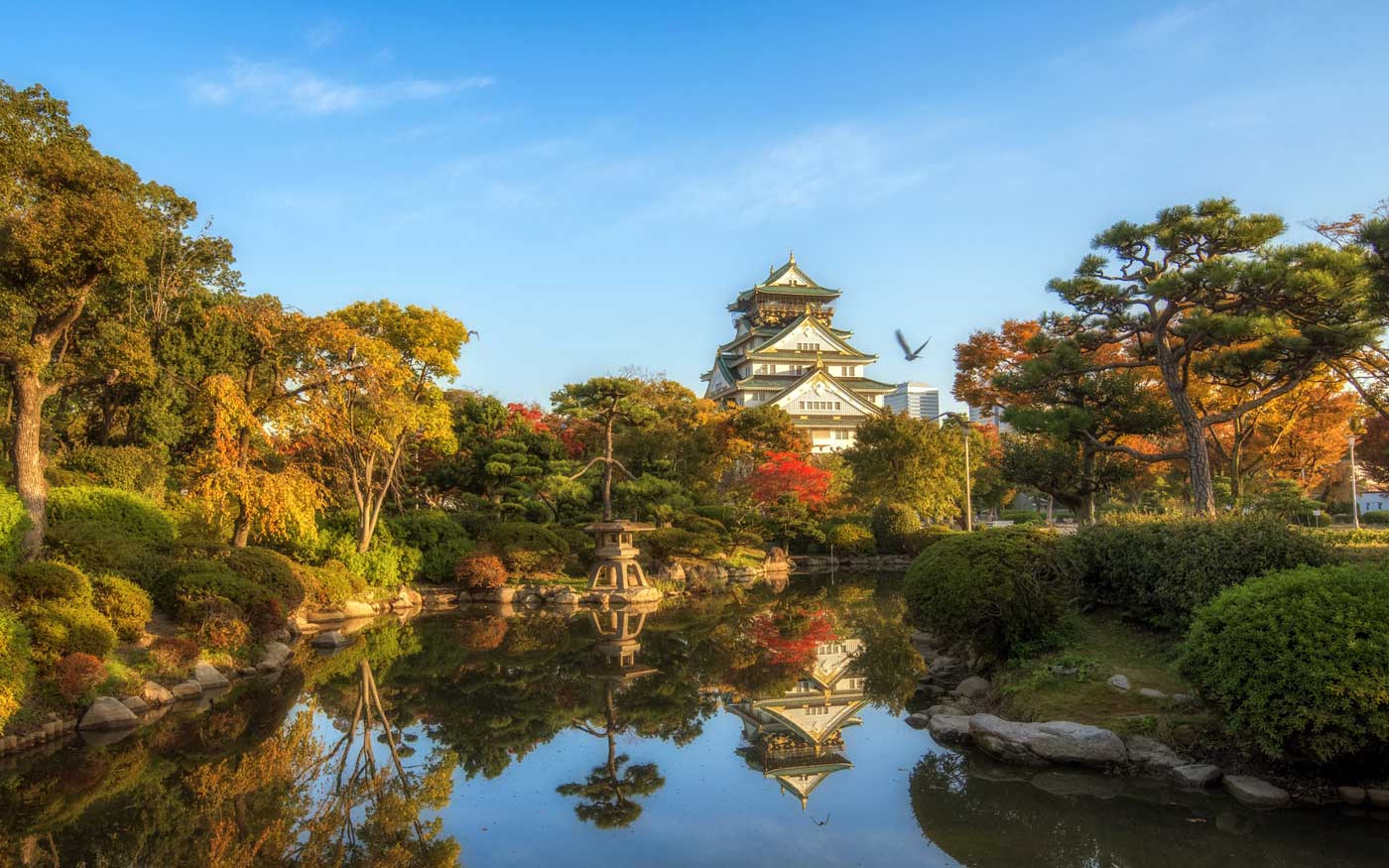 Wrapped around the iconic Osaka Castle is the tranquil haven of Osaka Castle Park, a sprawling 106.7-hectare green expanse in the heart of the city. With majestic trees, colorful flowers, and expansive lawns, it's a perfect place for a leisurely stroll or a picnic amidst Osaka's historic atmosphere. As you wander the winding paths, you'll discover charming tea houses, impressive stone walls, and scenic bridges crossing over serene ponds. But it's not just about relaxation; Osaka Castle Park is also a host to numerous events, including the famous cherry blossom viewing (Hanami) in spring, and provides facilities for various sports. For a stunning panoramic view of the city, make sure to visit the castle's observatory, but remember, the park itself is a gem that shines in every season, each one revealing a different aspect of its beauty. Come lose yourself in the timeless elegance of Osaka Castle Park, and discover the harmonious blend of history, nature, and city life.
5. Minami (Namba)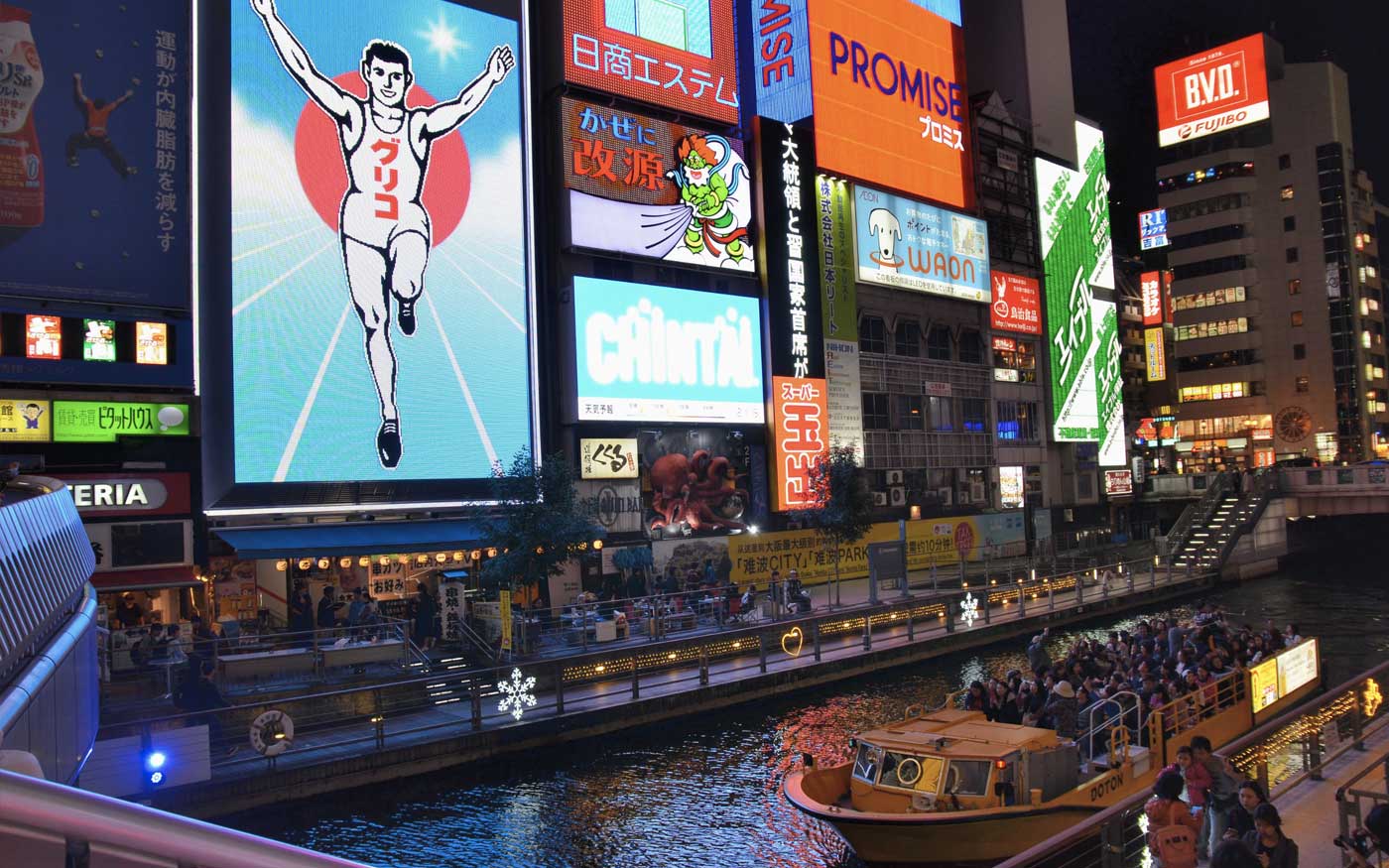 Welcome to Minami (Namba), the pulsating heart of Osaka. Known for its vibrant nightlife and limitless shopping opportunities, Namba is a district that never seems to sleep. As you weave through its bustling streets, you'll be immersed in an electrifying blend of traditional and contemporary Japanese culture. Don't miss Dotonbori, with its iconic Glico Running Man sign and an array of neon lights reflecting off the canal. This is the spot to indulge in Osaka's famous street food, from Takoyaki to Okonomiyaki. Shopping enthusiasts will revel in Shinsaibashi-suji, a covered shopping arcade with countless shops offering everything from high fashion to quirky souvenirs. For a tranquil escape, Hozenji Yokocho alley, with its moss-covered Fudo Myoo statue, offers a taste of old Osaka amidst the district's high-energy vibe. Namba is more than a destination; it's an experience – an energetic, vibrant, and essential piece of the Osaka adventure!
6. Kuromon Market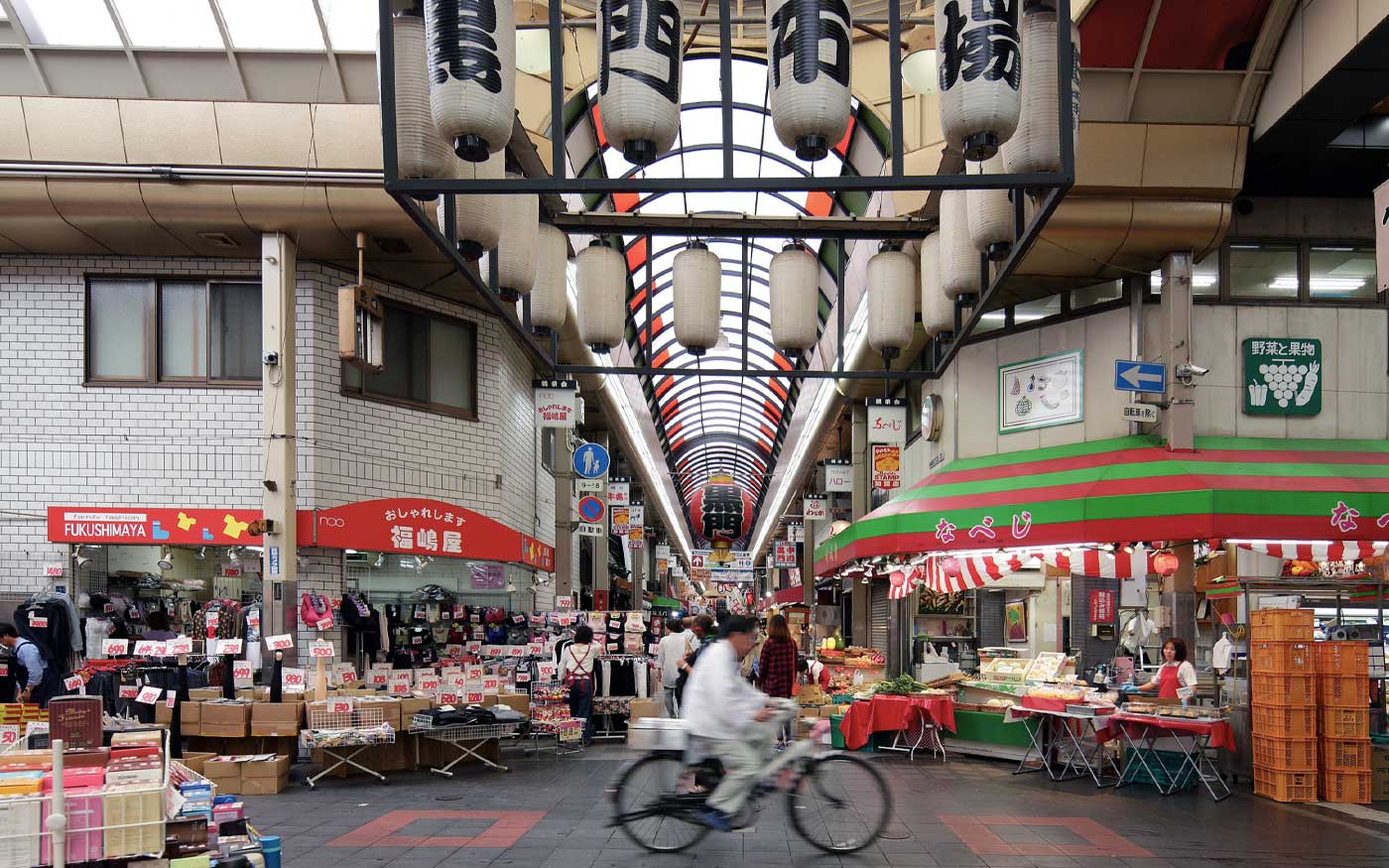 Embark on a culinary adventure at the Kuromon Market, affectionately known as 'Osaka's Kitchen'. This bustling food market is a gastronomic paradise, offering an array of fresh produce and ready-to-eat delicacies. With over 170 stalls lining its narrow lanes, you can indulge in a wide range of mouthwatering treats, from beautifully arranged sashimi and sushi to succulent grilled seafood and delectable sweets. But Kuromon Market isn't just about food; it's about experiencing the local culture. Watch as Osakan chefs and home cooks haggle over fresh produce, fishermen proudly display their catch of the day, and street vendors skillfully prepare local delicacies right before your eyes. Be prepared to eat your way through the market, savoring every bite as you uncover the vibrant flavors of Osaka. Kuromon Market is an unmissable stop on any Osaka itinerary for any food-loving traveler eager to dive fork-first into the city's rich culinary scene.
7. Shinsekai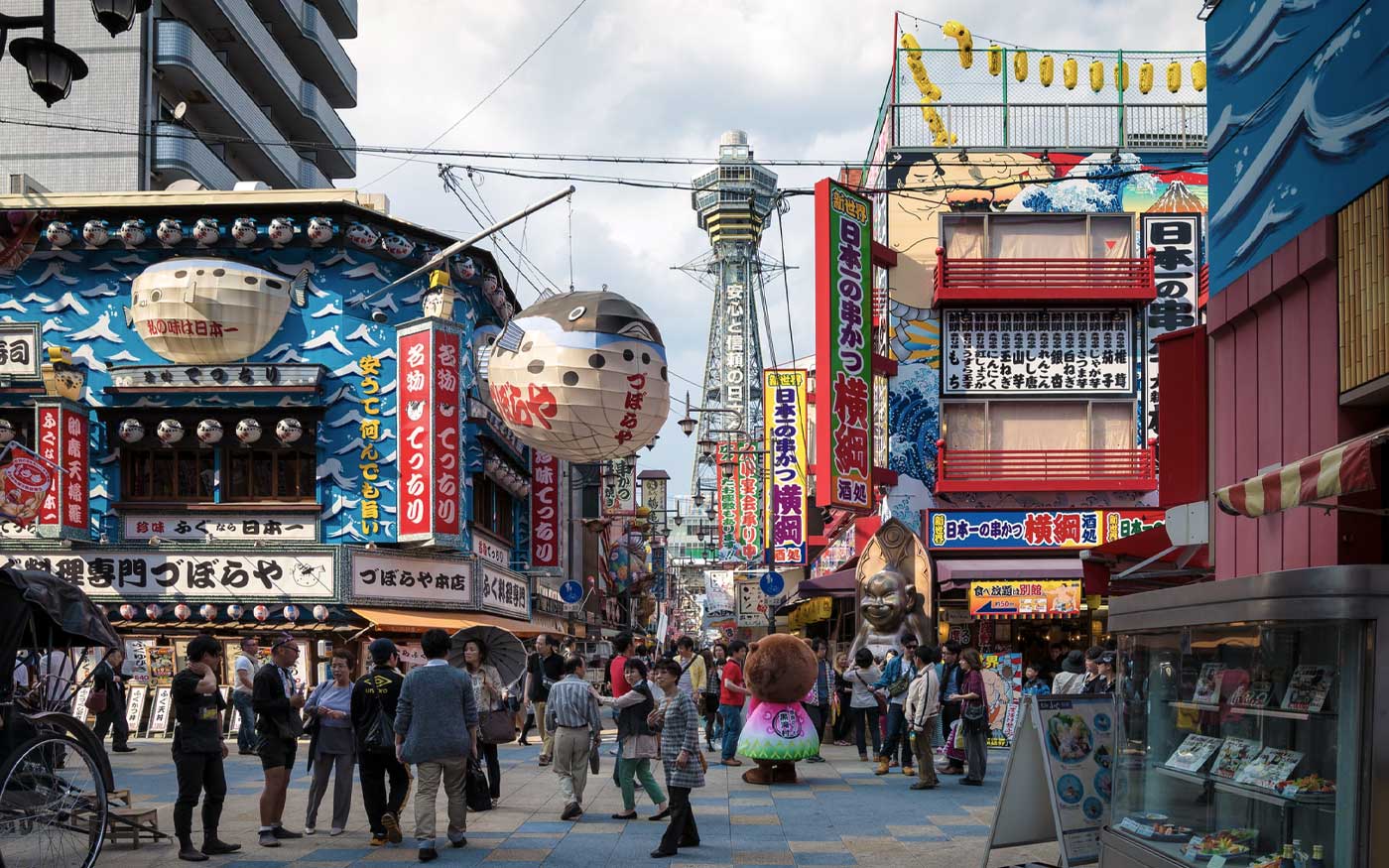 Step into a different time and place in Shinsekai, an eclectic district in Osaka that effortlessly blends the old and new. Translating to 'New World', Shinsekai is a colorful neighborhood designed with futuristic ideas of the early 20th century. The district's retro charm is centered around Tsutenkaku Tower, fondly referred to as the 'Eiffel Tower of Osaka'. The neighborhood streets buzz with vibrant eateries, old-school gaming arcades, and quirky shops selling vintage goods. Don't miss out on trying Kushikatsu, Shinsekai's signature dish – skewered meat and vegetables, breaded and deep-fried to perfection. As night falls, the district comes alive with neon lights, lending an atmospheric charm that's reminiscent of a bygone era. With its old-world charm and friendly, local atmosphere, Shinsekai offers a unique glimpse into Osaka's past while retaining a distinct, lively spirit that's hard to find anywhere else.
8. Sumiyoshi Taisha Shrine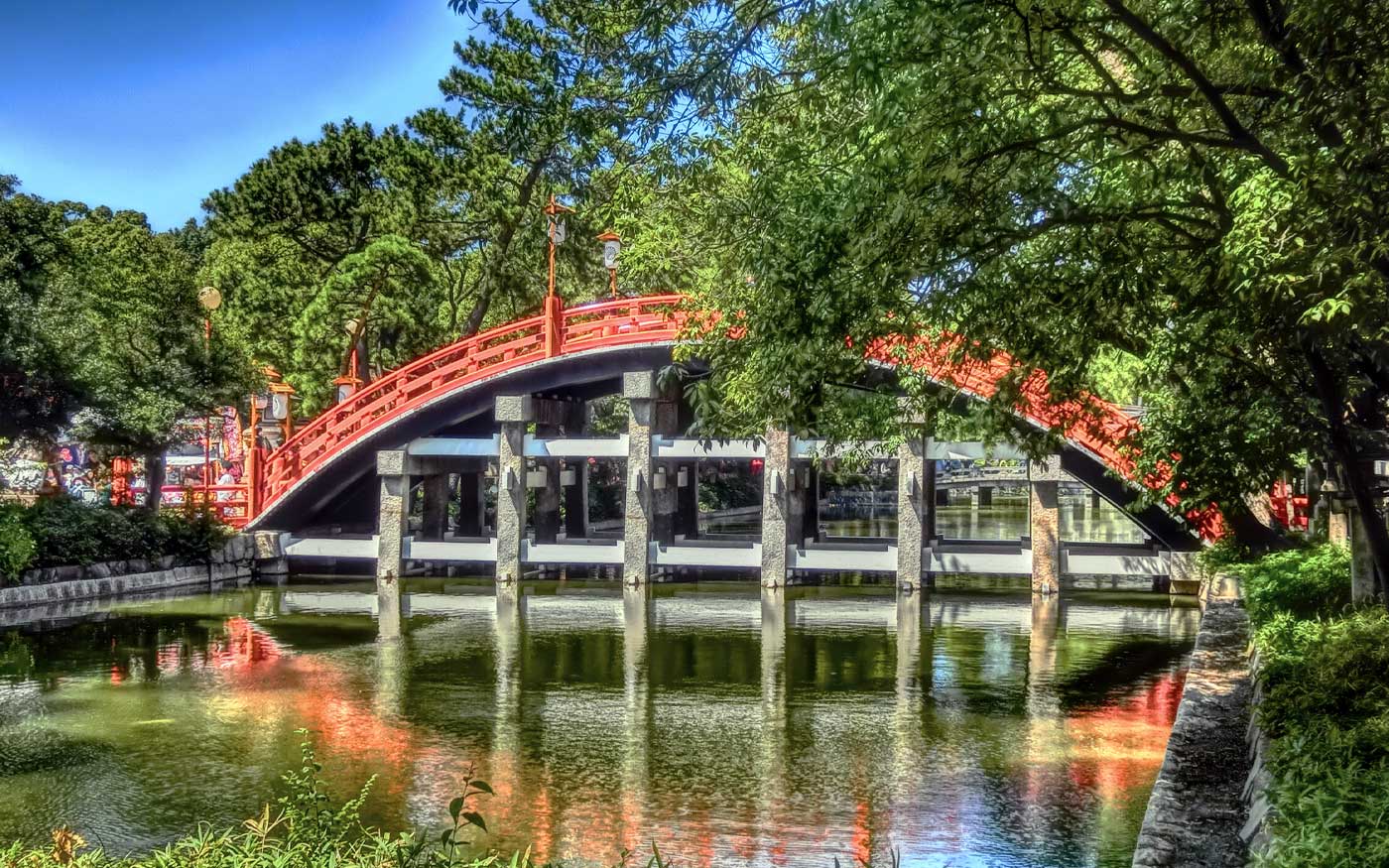 Venture off the beaten path and step into the serene world of Sumiyoshi Taisha, one of Japan's oldest Shinto shrines. Nestled in a peaceful park, this shrine's history stretches back over 1,800 years, serving as a place of worship and protection for fishermen, sailors, and travelers. The shrine complex is a testament to pure 'Sumiyoshi-zukuri' architecture, free from the influence of the Asian mainland, showcasing the deep roots of indigenous Japanese culture. The shrine's distinctive arched bridge, the Sorihashi Bridge, also known as Taiko-bashi (Drum Bridge), offers a breathtaking view reflected in the placid pond below, especially during cherry blossom season. Whether you partake in traditional customs, enjoy the tranquility, or simply soak in the historical ambience, a visit to Sumiyoshi Taisha offers a peaceful respite from the bustling city and a connection to Japan's ancient cultural heritage. In the heart of Osaka, discover a world steeped in tradition at Sumiyoshi Taisha Shrine.
9. Hozenji Yokocho
Tucked away in the bustling district of Namba, you'll discover the enchanting Hozenji Yokocho, a narrow, stone-paved alley that exudes an old-world charm. Stepping into this alley is like taking a step back in time to the Osaka of the Edo period. This enchanting area is lined with more than 60 traditional restaurants and bars, making it the perfect place to sample some authentic Osakan cuisine. At the end of the alley, you'll find Hozenji Temple. This small but atmospheric temple is home to a moss-covered statue of Fudo Myoo, one of the fierce and powerful deities in Japanese Buddhism. Local custom involves splashing water on the statue before making a prayer. Surrounded by modern skyscrapers, Hozenji Yokocho provides a delightful contrast, offering a tranquil oasis in the midst of the city's hustle and bustle. It's an absolute must-visit for anyone seeking a taste of traditional Osaka.
10. Kuchu Teien Observatory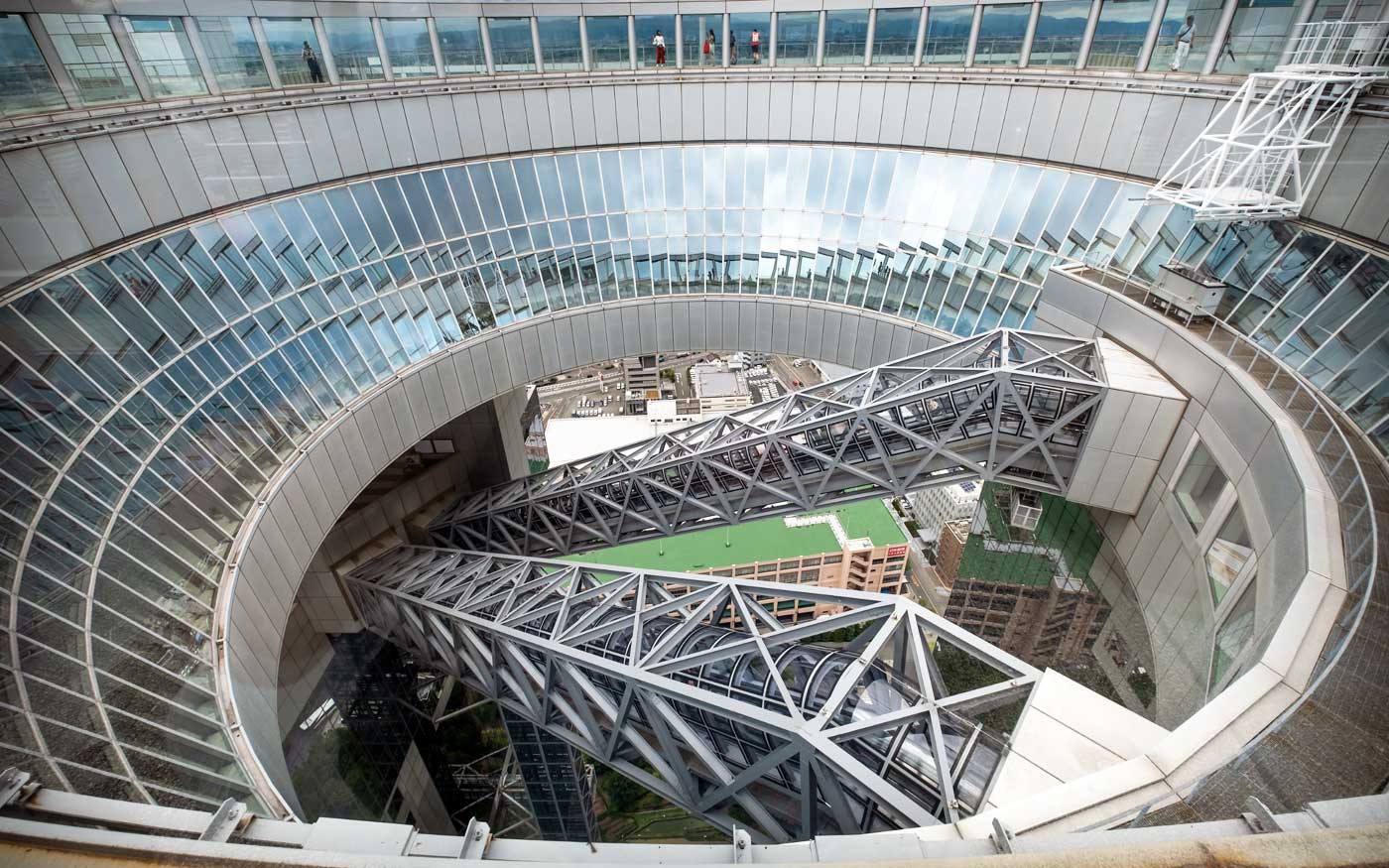 Prepare to be awed by panoramic views of Osaka at the Kuchu Teien Observatory, or the Floating Garden Observatory, a sky-high viewing platform situated at the top of the Umeda Sky Building. This unique architectural marvel, made up of two 40-story towers connected at their apex, offers a 360-degree view of the city that will leave you breathless. Whether you choose to visit during the day, witnessing the urban landscape sprawled beneath the clear blue sky, or at night, when the city is a dazzling display of twinkling lights, the view is equally mesmerizing. Don't miss the 'Lumi Deck', a spectacular open-air rooftop where you can feel the breeze while soaking up the city's sights. Also, make sure to explore the Sky Walk, a circular walkway with glass panels providing an unobstructed view of the surroundings. At the Kuchu Teien Observatory, you'll experience Osaka from a vantage point like no other, making it an unmissable part of your journey through this dynamic city.
Feel free to explore these pages as well:
A Traveler's Guide to Seoul: Top 10 Must-Visit Spots ↗️
As your journey through the vibrant city of Osaka comes to a close, it's time to take a moment to reflect on the memorable experiences that have made your visit truly special. From the dizzying heights of the Kuchu Teien Observatory to the hushed tranquility of the Sumiyoshi Taisha Shrine, from the bustle and culinary delights of Kuromon Market to the atmospheric Hozenji Yokocho alley, Osaka has served up an unforgettable journey filled with discovery, adventure, and flavor.
Whether you've marveled at Osaka's skyline, wandered the historic hallways of Osaka Castle, or ventured into the lively district of Namba, each experience has added a unique layer to your understanding and appreciation of this dynamic city. And while this may be the end of your first visit, remember – Osaka is a city of continuous evolution, always offering new and exciting experiences to its visitors.
As you prepare to say goodbye to this beautiful city, know that Osaka isn't just a destination you visit, but a place that stays with you, nestled in your memories and stories. It's been a pleasure guiding you through this adventure, and we hope to see you back soon for another round of exploration in the captivating cityscape of Osaka. Until then, hold on to the warmth, joy, and spirit of this city and its people, and let your memories of Osaka light up your wanderlust long after you've returned home. Safe travels!