From Sizzling Nightlife to Serene Parks: A Comprehensive Guide to Miami's Top 10 Destinations
Welcome, fellow travelers, to the heart of South Florida – Miami, a city that perfectly blends the charm of a tropical paradise with the zest of an urban jungle. Bathed in sunshine and adorned with palm-fringed coastlines, Miami or the "Magic City" is a playground of vibrant culture, rich history, iconic architecture, and a buzzing nightlife.
In this expansive city, every street corner, every neighborhood has a unique story to tell, whispering the tales of its glorious past and present. While the sun-kissed beaches might be the city's calling card, Miami is much more than a haven for sun worshippers. From Art Deco Historic District to vibrant Little Havana, from lush gardens to captivating museums, the city brims with attractions that cater to every kind of traveler.
As we embark on this journey together, I'll be your guide to the 10 must-see attractions in Miami. Fasten your seatbelts, because this tropical metropolis promises a ride full of culture, history, and, of course, unmatchable fun. So, put on your sun hat, grab your sunglasses, and let's dive deep into the heart of Miami!
Here are the 10 best places to visit in Miami:
1. Wynwood Walls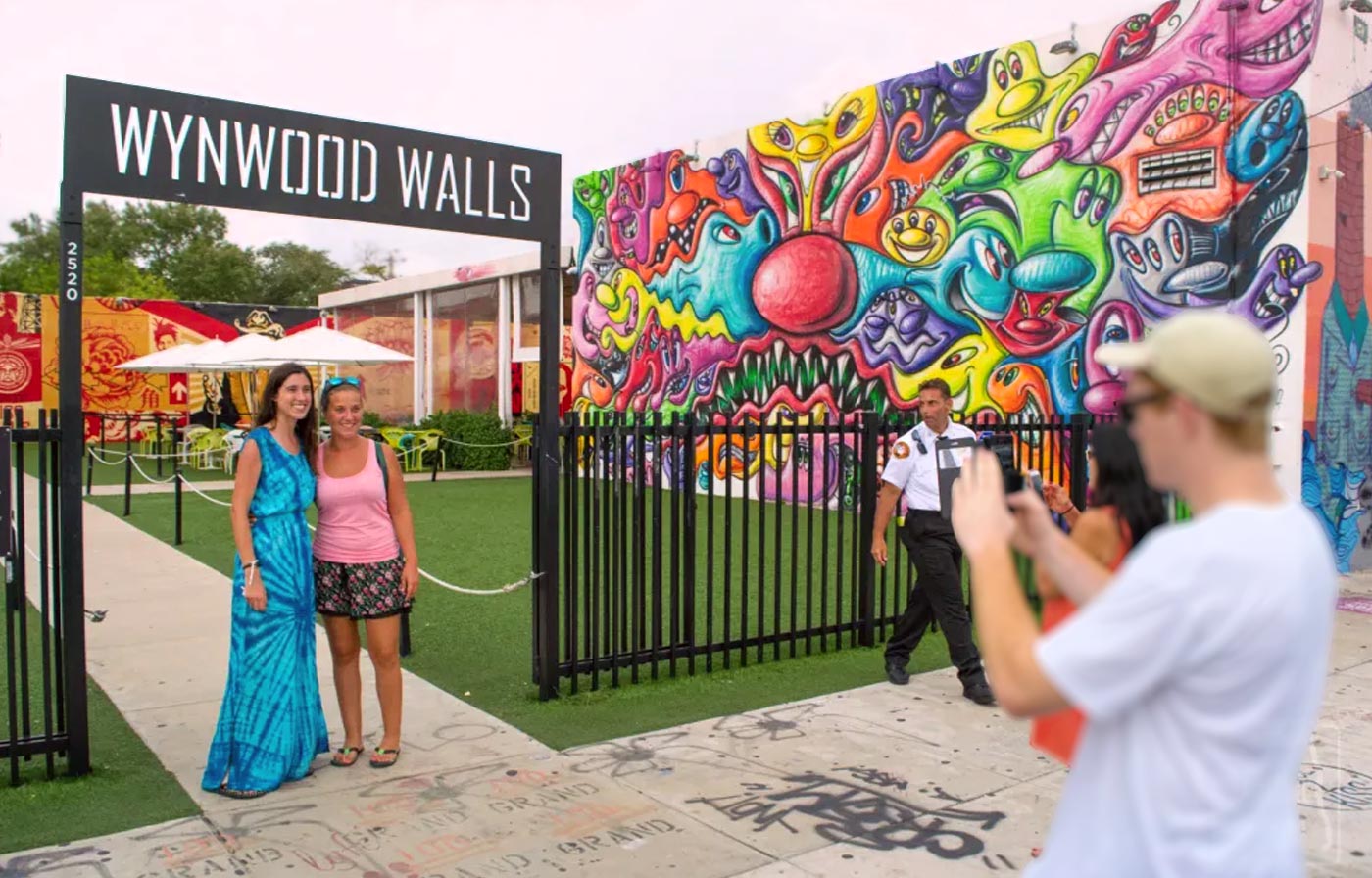 Imagine an urban jungle transformed into a colorful canvas, a place where art breathes life into every corner and alley. Welcome to the Wynwood Walls, an exceptional, vibrant gem nestled in Miami's bustling cityscape.
What was once a nondescript warehouse district has been transformed into a vibrant heart of Miami's art scene. Wynwood Walls is an outdoor museum that serves as a canvas for artists from around the globe, allowing them to express their unique perspectives and leave an indelible imprint on the Miami art scene. Since its inception in 2009, it has seen the city's largest concentration of street art, making it a must-see for art enthusiasts and casual visitors alike.
Here, you can immerse yourself in an array of giant murals, each telling a distinct story through its color palette, textures, and unique style. Every stroke on the walls is a tribute to creative expression, highlighting themes from social justice to fantastical realms, from abstract patterns to photorealistic portraits.
As you stroll through the open-air gallery, you can also enjoy the neighborhood's hip boutiques, eclectic eateries, and artisanal coffee shops that dot the streets. Don't forget to pop into the galleries and design shops that call Wynwood home, where you can discover and support local talents.
In essence, a visit to Wynwood Walls is not just a walk, but an exploration of creativity, inspiration, and the human spirit. So, put on your most comfortable shoes and get ready to be inspired as the magic of Wynwood Walls unfolds before your eyes.
2. Vizcaya Museum and Gardens
When you think of Miami, sprawling estates of the early 20th century with vast European-style gardens may not be the first thing that springs to mind. However, nestled in the vibrant heart of this city is the Vizcaya Museum and Gardens, a place that transports visitors to a different time and continent altogether.
Once the private winter home of businessman James Deering, the Vizcaya estate is a breathtaking spectacle, marrying Italian Renaissance style with the subtropical allure of South Florida. This stunning architectural gem, with its meticulously preserved main house and ten acres of formal gardens, stands as a testament to a bygone era of opulence and grandeur.
Step into the main house, and you'll find yourself immersed in a rich tapestry of art, furniture, and architectural elements from the 15th to early 19th centuries. Each room tells a different story, making you feel as if you've traveled through time. From the ornate ceilings to the antique furnishings, it's a captivating journey through history.
But the magic of Vizcaya extends beyond its majestic walls. The gardens are an integral part of the experience, designed in the French and Italian style with a unique Miami twist. Here, you can lose yourself in a maze of fountains, statuary, grottos, and beautifully landscaped plots that evoke the romance of European estates, all while overlooking the stunning Biscayne Bay.
The Vizcaya Museum and Gardens offer a serene and picturesque escape from the hustle and bustle of Miami. So, put on your explorer's hat and allow yourself to be transported back in time as you meander through the beautiful interiors and lush gardens of this extraordinary estate. It's not just a visit; it's an experience steeped in history, art, and beauty.
3. Art Deco Historic District
Nestled within the heart of Miami Beach, you'll find a vibrant neighborhood that looks as though it has stepped straight out of the 1930s and 40s. Welcome to the Art Deco Historic District, a colorful area that boasts the largest collection of Art Deco architecture in the world.
This architectural wonderland is home to over 800 historic buildings, each marked by distinct features of the Art Deco style – think geometric shapes, vibrant colors, neon signs, and nautical motifs. From hotels and restaurants to theaters and residences, these structures have been beautifully preserved and remain functional, offering a unique blend of history and modernity.
As you stroll along Ocean Drive, the heart of the district, you'll find iconic structures like the Colony Theater, the Beacon Hotel, and the Breakwater Hotel, all standing as proud symbols of the city's architectural heritage. The pastel-hued buildings set against the backdrop of Miami's clear blue skies are a sight to behold, particularly at sunset.
Beyond the architectural gems, the Art Deco Historic District offers a taste of Miami's vibrant nightlife and dining scene. From open-air restaurants and chic cafes to bustling nightclubs, the area is always alive with activity. And of course, the sandy shores of South Beach are just a stone's throw away, perfect for a day of sunbathing or a relaxing swim.
Don't forget to visit the Art Deco Museum and Welcome Center for insightful guided tours that provide an in-depth look into the history of the district.
A visit to the Art Deco Historic District is more than just a walk through Miami Beach; it's a journey back in time, offering an exciting peek into a glamorous era of Miami's history. So put on your walking shoes, grab your camera, and get ready to explore the stylish streets of this iconic neighborhood!
4. Dolphin Mall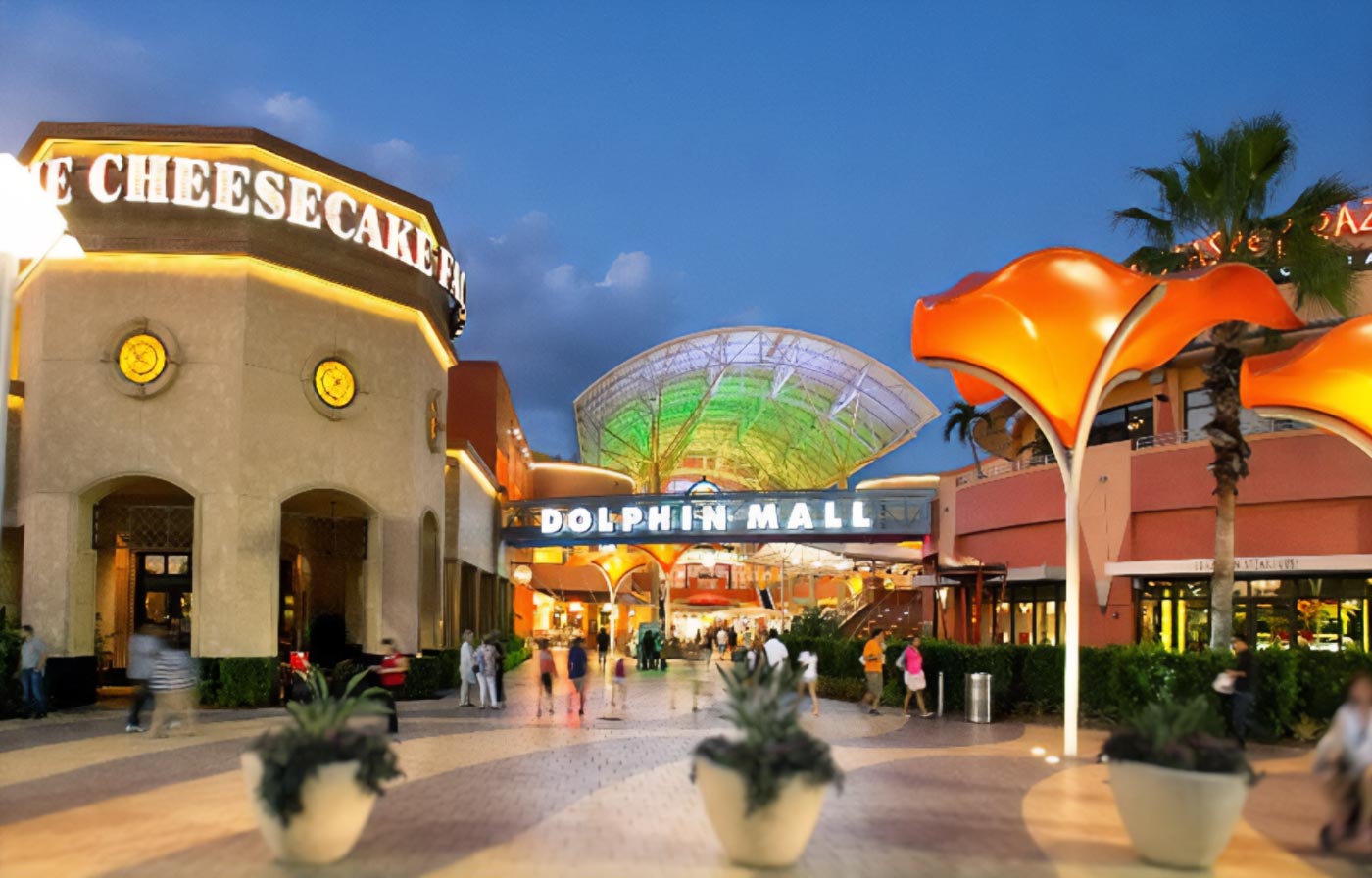 Located in Sweetwater, Miami, the Dolphin Mall offers more than just a shopping experience. It is a blend of entertainment, dining, and of course, retail therapy that leaves visitors yearning for more. From high-end fashion boutiques to tech stores and everything in between, Dolphin Mall is indeed a microcosm of Miami's vibrant culture.
As you step into the mall, your senses are immediately enveloped by the diverse range of shopping options. Dolphin Mall houses over 240 retail outlets from both globally acclaimed brands like Tommy Hilfiger, Calvin Klein, and Forever 21 to local Miami favorites. If you're hunting for deals, don't miss the mall's outlets section. Shopping here, amidst an array of styles and brands, feels like a grand treasure hunt.
Yet, the allure of Dolphin Mall extends far beyond shopping. Foodies will find themselves in a gastronomic haven with over 30 dining options. Whether you're craving Italian delicacies at Brio Tuscan Grille, or prefer the local flavors of Mojito's Cuban Cuisine, Dolphin Mall satisfies every palate. Don't forget to finish your meal with a mouth-watering dessert at Cheesecake Factory.
The mall also ensures a fun-filled day for families with its entertainment hubs. The young and young-at-heart can enjoy a variety of activities from bowling at Bowlero, catching the latest movie at Cobb Dolphin 19 Cinemas, or hopping into action at Dave & Buster's.
Planning your visit? Dolphin Mall is open from 10 am to 9:30 pm from Monday to Saturday, and 11 am to 8 pm on Sundays. It's only 20 minutes west of Downtown Miami and there are several transportation options, including a daily scheduled shuttle service from many Miami hotels.
Remember, Dolphin Mall is more than just a mall. It's an all-in-one destination where Miami's vibrant life thrives. So whether you're a fashion enthusiast, a foodie, or a fun-seeker, prepare for an unforgettable journey to this shopper's paradise. After all, when in Miami, the Dolphin Mall is not to be missed!
5. Zoo Miami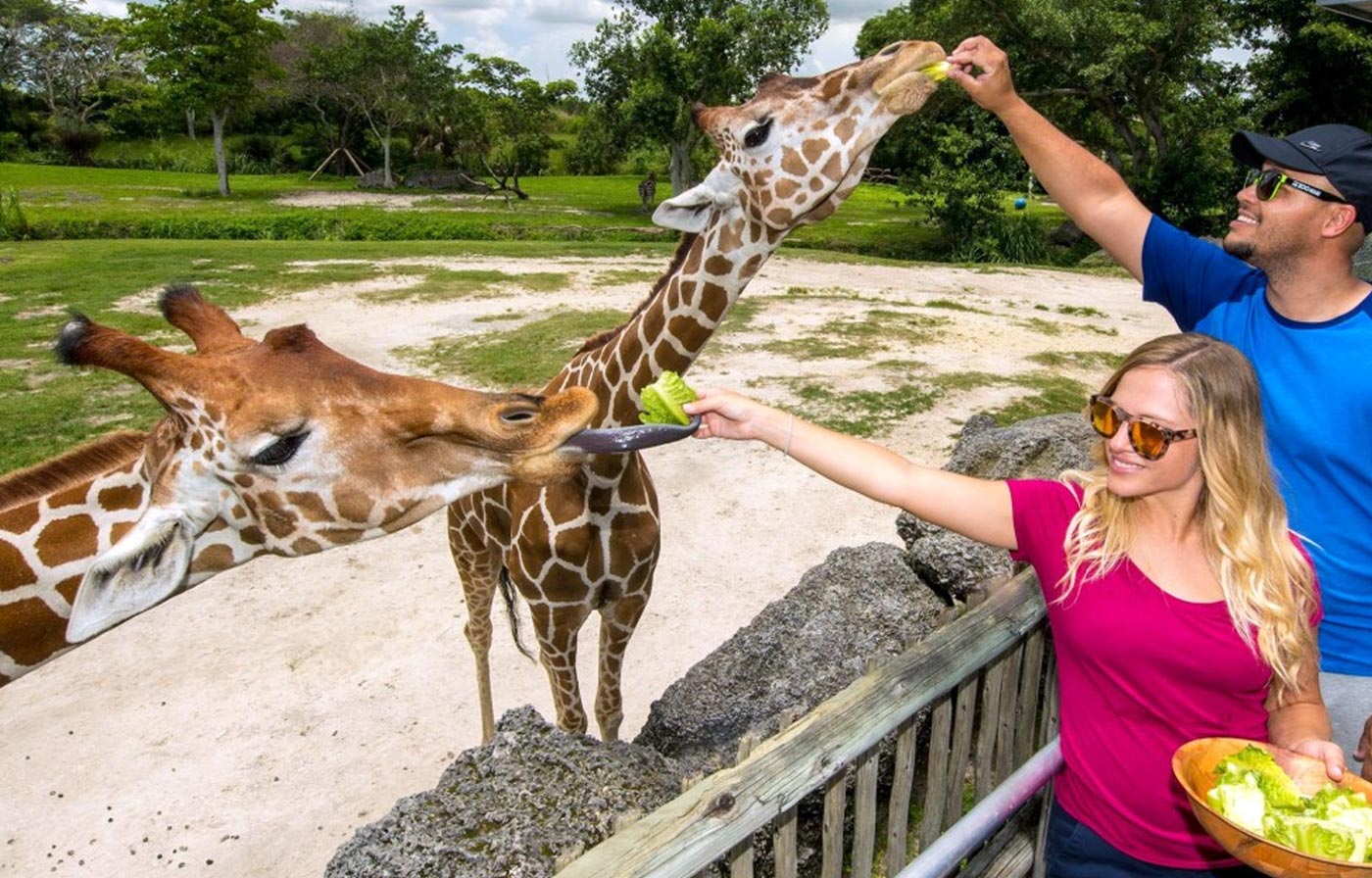 If you're looking to witness the heart of wildlife in the middle of a bustling city, there's no better place than Zoo Miami, Florida's largest and oldest zoological garden. Nestled in the serene surroundings of South Miami-Dade County, this 750-acre zoo gives you an opportunity to travel the world without ever leaving the city.
Zoo Miami is home to over 3,000 wild animals, including 40 endangered species. Their unique "cageless" design means you'll see these beautiful creatures as close to their natural habitats as possible. Explore the plains of Africa, the rainforests of Asia, and the wilderness of Australia, all within the span of a day.
Greet the long-necked giraffes, observe the powerful elephants, or watch the graceful flamingos. Not to forget the majesty of lions, cheetahs, and rhinos. The zoo's successful breeding programs also mean you might get to see adorable babies of gorillas, tigers, and orangutans during your visit!
Children can get up close with farm animals at the Children's Zoo, and if you're feeling adventurous, don't miss out on the camel rides. Zoo Miami also offers narrated tram tours and guided walking tours for those who want a more in-depth understanding of the animals and their habitats.
After hours of exploration, rest your feet and enjoy a meal at one of the zoo's multiple food venues. Whether you crave a simple snack or a hearty meal, there's something for everyone.
Zoo Miami operates from 10 am to 5 pm, with the ticket office closing at 4 pm. To beat the Miami heat, try visiting in the morning when the animals are most active. Also, keep in mind that the zoo is massive, so comfortable shoes and plenty of hydration are a must.
Whether you're a wildlife enthusiast or are simply seeking a fun-filled, educational outing for the family, Zoo Miami is an unbeatable choice. Embark on this global journey, without passport and airfare, and meet your favorite animals like never before. Remember, every visit supports Zoo Miami's mission of animal conservation and education, making your adventure an impactful one!
6. American Airlines Arena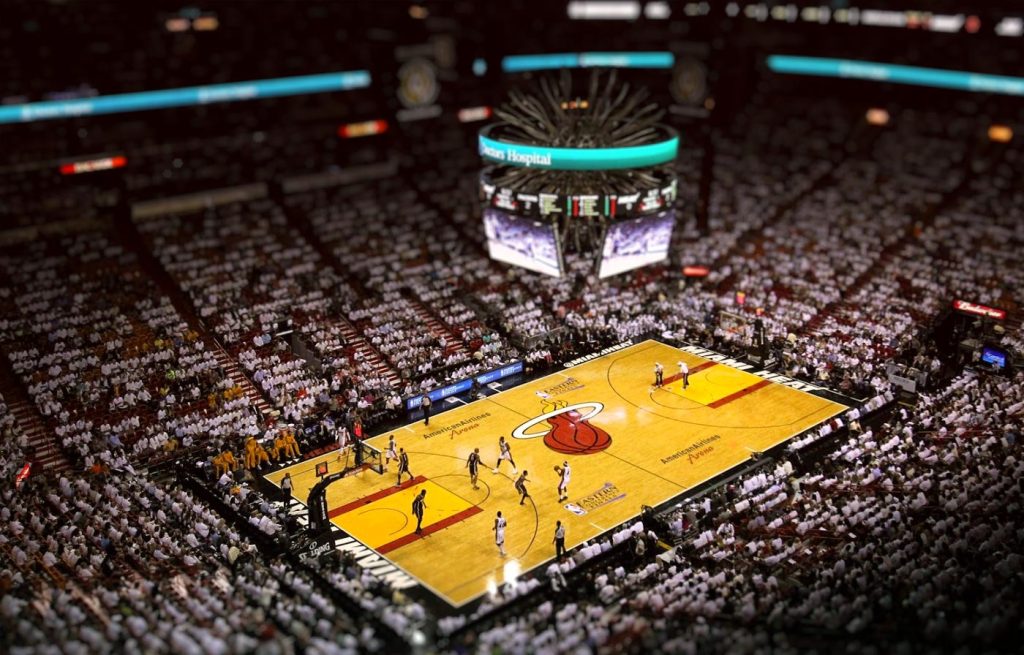 Welcome to the heart of Miami's pulsating sports and entertainment scene: the American Airlines Arena. This 19,600-seater venue, nestled along the waterfront in Downtown Miami, is much more than just a hub for sporting events; it's a symbol of the city's vibrant energy and passion.
Home to the NBA's Miami Heat, the American Airlines Arena comes alive during basketball season. If you're a sports enthusiast, witnessing a live game here should be on your Miami bucket list. The electrifying atmosphere, the roar of the crowd, the thrill of the game — it's an experience that transcends language and culture.
Yet, the allure of the American Airlines Arena extends far beyond the basketball court. As one of South Florida's premier entertainment venues, it has hosted an array of events and performances from globally renowned artists, musicians, and performers. So, if you're not into sports, check out their calendar for concerts, family events, or shows during your visit. The experience of watching your favorite artist perform in this state-of-the-art arena is unparalleled.
The arena itself is a sight to behold with its modern architecture and its LED exterior that changes colors to reflect the mood of the event. Inside, the arena features top-notch amenities including a variety of food and beverage options. From casual concession stands to upscale dining at the Dewar's Clubhouse, there's something to suit every taste.
Located in downtown Miami, the arena is easily accessible with several public transportation options nearby. It's also in close proximity to other popular attractions like Bayside Marketplace, Pérez Art Museum, and the Phillip and Patricia Frost Museum of Science.
Before you head there, remember to check their website for event schedules and ticketing information. Whether you're cheering on the Miami Heat or singing along with your favorite musician, a visit to the American Airlines Arena promises an unforgettable experience in the heart of the Magic City!
7. Metromover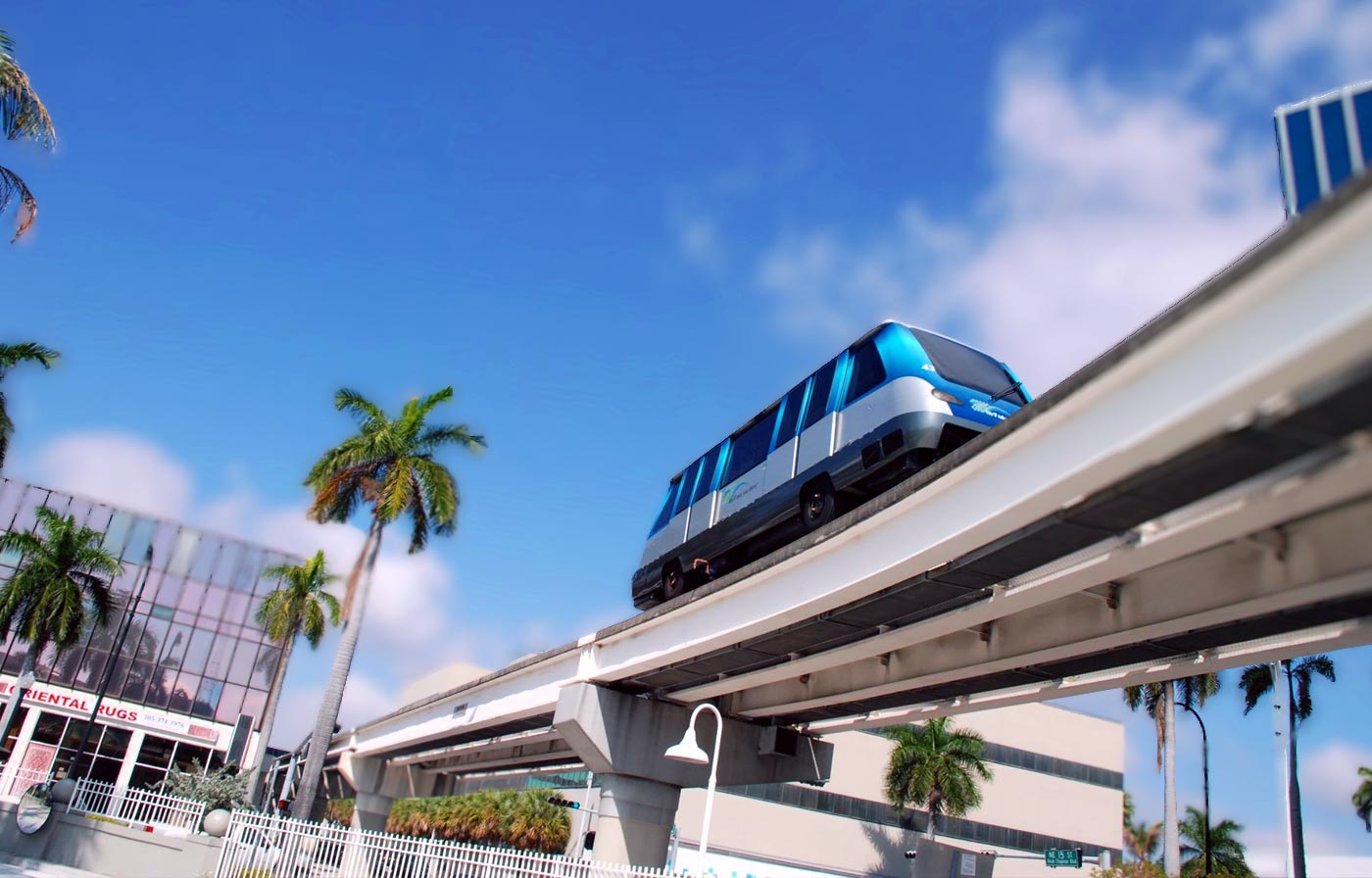 Looking to explore Miami like a true local? Say hello to the Metromover. This free, automated, electrically powered transit system traverses the vibrant districts of Downtown Miami, Brickell, Park West, and Omni, making it an effortless way to experience the city.
Operating from 5 am till midnight seven days a week, the Metromover is the ultimate ticket to the heart of Miami's pulsating lifestyle. Its 21 stations span nearly five miles, offering an easy and convenient way to navigate the city's bustling business districts, shopping centers, cultural venues, and more.
The system comprises three major loops — the Omni Loop, the Brickell Loop, and the Inner Loop. The Omni Loop takes you to the city's cultural hotspots like the Pérez Art Museum Miami and the Adrienne Arsht Center. The Brickell Loop navigates through Miami's financial district, leading to the spectacular Brickell City Centre. The Inner Loop covers essential spots like the Government Center Station and Bayfront Park.
But the Metromover isn't just about getting from Point A to Point B. It's a unique vantage point from which to view Miami's stunning urban landscape. As you journey through the loops, you'll be treated to panoramic vistas of the city's high-rises, waterways, and bustling streets.
In terms of convenience, Metromover connects seamlessly with other transit systems like Miami's Metrorail and Metrobus. The stations feature clear maps and signs, ensuring you won't lose your way.
In essence, the Metromover is more than just a mode of transportation. It's an efficient, eco-friendly, and cost-effective way to unlock the Magic City's charm. So, hop on the Metromover during your Miami visit and explore the city like never before.
8. Miami Design District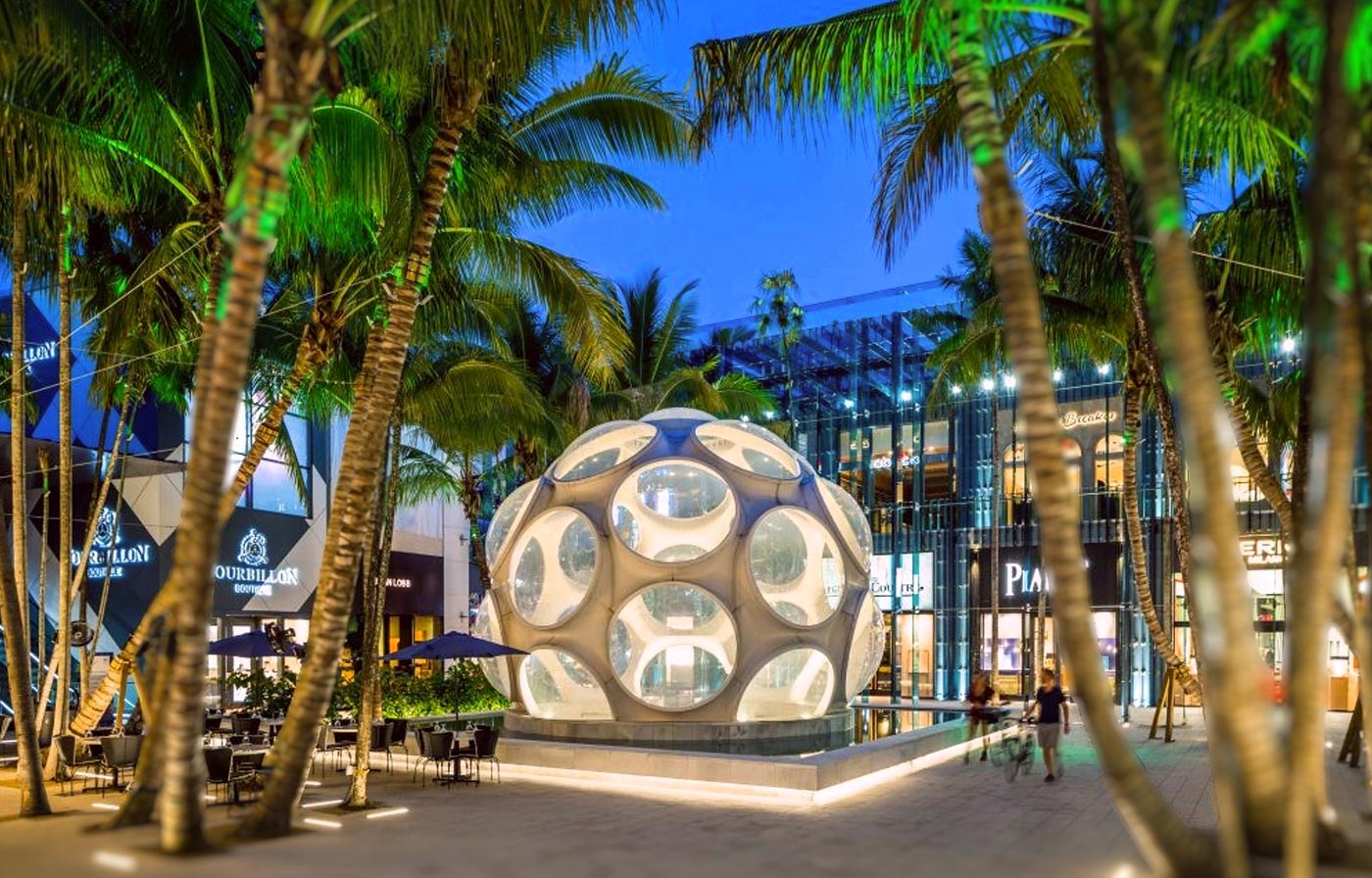 Welcome to the Miami Design District, a neighborhood that is as much a feast for the eyes as it is a shopper's paradise. This creative neighborhood, nestled just a few miles north of downtown Miami, is a vibrant fusion of design, architecture, and upscale shopping.
Once an overlooked area, the Miami Design District is now an epicenter of luxury fashion, unique boutiques, innovative art galleries, and stunning modern architecture. Walking through the streets, you'll see stunning murals, public art installations, and beautifully designed buildings — a testament to the neighborhood's commitment to celebrating creative expression.
For shopaholics, the district is home to an array of high-end designer stores like Louis Vuitton, Dior, and Prada, and hip furniture showrooms. Stroll along the Palm Court, a shopping area known for its striking architecture, and you'll feel as if you've stepped into an outdoor museum.
Yet, the district isn't just about retail therapy. The area is brimming with top-notch restaurants and cafes that cater to every palate. Whether you're indulging in celebrity chef cuisine at Estefan Kitchen or enjoying a casual brunch at OTL, your taste buds are in for a treat.
Art enthusiasts will also appreciate the array of galleries showcasing contemporary and innovative art. Don't miss the de la Cruz Collection or the Institute of Contemporary Art for some thought-provoking exhibitions. And be sure to check out the events calendar as the district regularly hosts art, design, and culinary events.
In essence, the Miami Design District is more than just a neighborhood; it's an immersive cultural experience. The district is a must-visit for anyone looking to explore Miami's artistic soul and savor its upscale lifestyle. So, put on your most comfortable shoes and prepare to be amazed by the creative spirit of Miami like never before.
9. Bayside Marketplace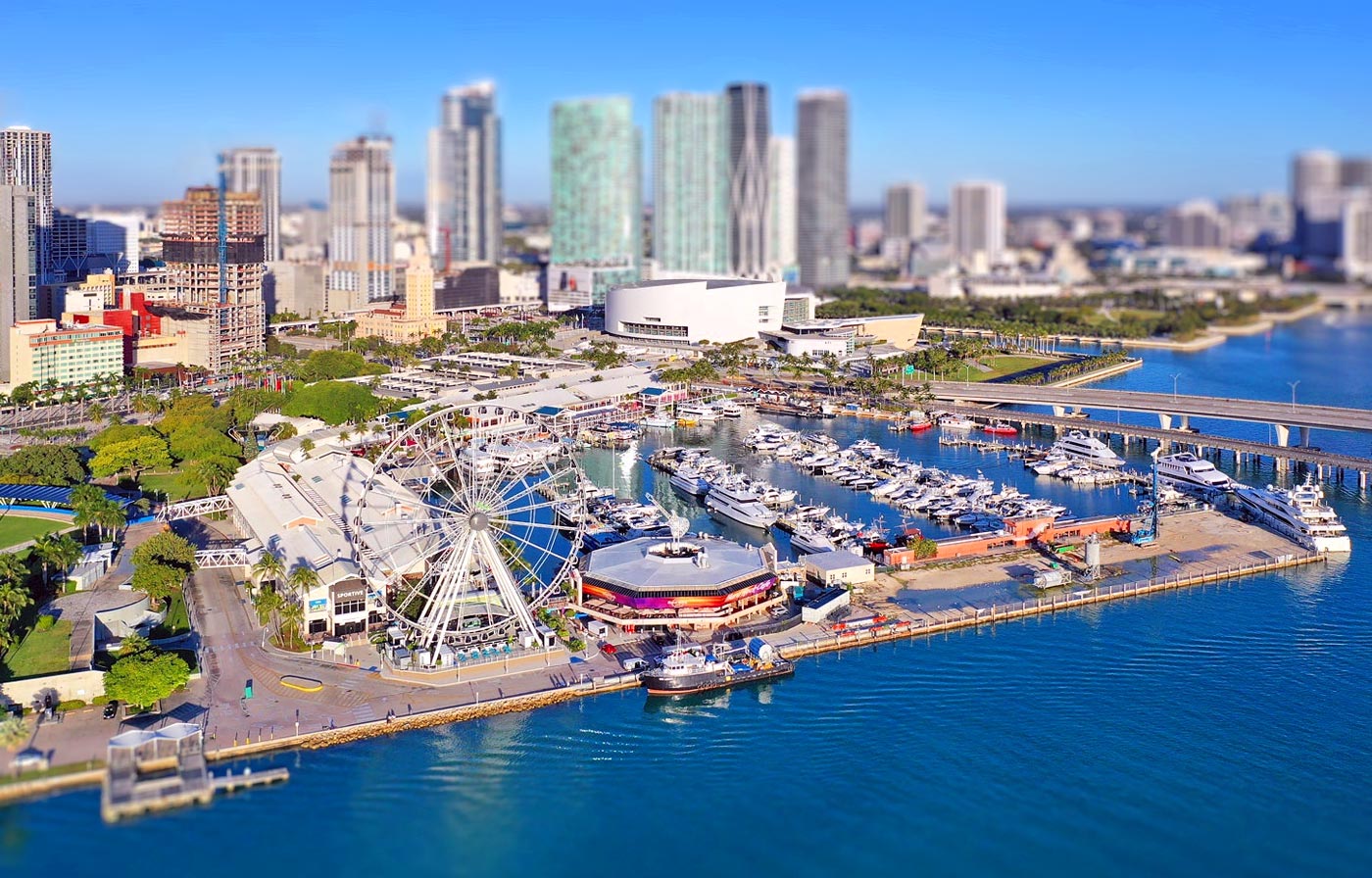 Located in the heart of downtown Miami, the Bayside Marketplace offers an unforgettable experience that fuses shopping, dining, and entertainment against the backdrop of stunning waterfront views. This two-story open-air shopping center attracts millions of visitors annually and remains an unmissable highlight of any Miami tour.
Shopping enthusiasts will find a mix of recognized brands and unique boutiques offering everything from apparel and accessories to electronics and souvenirs. From well-known stores like Gap and Victoria's Secret to local vendors selling Miami-inspired merchandise, there's plenty to browse and buy.
Yet, the Bayside Marketplace is more than a shopping destination. Its scenic location by the Biscayne Bay makes it a favorite spot for leisurely walks, boat rides, and soaking in the vibrant atmosphere. And don't miss the live daily performances by local musicians in the central plaza – nothing quite compares to the joy of discovering new music under the Miami sun.
When it comes to food, Bayside doesn't disappoint. With over 30 eateries offering a range of cuisines, from seafood at Bubba Gump Shrimp Co. to Cuban dishes at Latin American Café, your culinary cravings will be well catered to.
What's more, Bayside Marketplace serves as a gateway to further Miami exploration. Here, you can book boat tours, including cruises to Star Island, a famous haunt for celebrities, and tours to the beautiful Vizcaya Museum and Gardens.
Open from 10 am to 10 pm, the Bayside Marketplace offers an immersive taste of Miami's culture and lifestyle. So, whether you're shopping, dining, or simply taking in the sights and sounds, Bayside Marketplace ensures your Miami trip is a memorable one. Don't forget your camera – the sun setting over the waterfront is a sight you'll want to capture!
10. Little Havana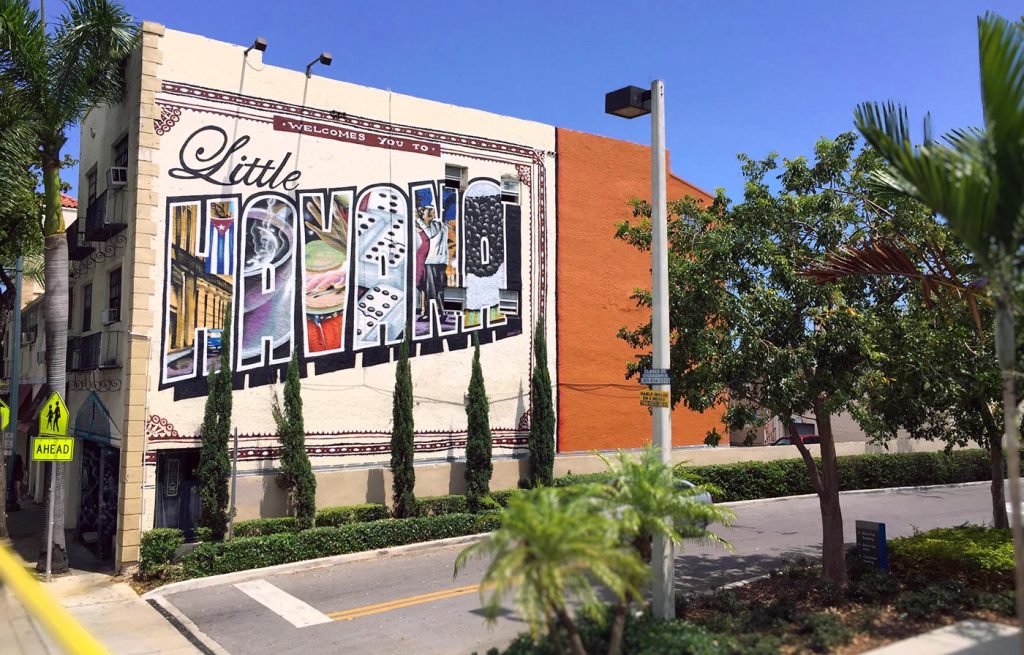 Imagine stepping into a lively neighborhood where the aroma of Cuban coffee fills the air, the sounds of Latin music reverberate through the streets, and the vibrant culture of Cuba is at your fingertips. Welcome to Little Havana, a Cuban heartland nestled in the city of Miami.
Strolling through Calle Ocho, the main street in Little Havana, is akin to taking a cultural journey through Cuba. One of the first things you'll notice is the Domino Park, where locals gather for spirited games of dominos, a beloved Cuban pastime.
Art lovers will be captivated by the numerous galleries showcasing Latin American art, and the beautifully adorned murals that narrate tales of Cuban heritage and the immigrant experience. Be sure to visit the Tower Theater, an iconic venue that hosts Spanish and English-language films and cultural events.
For a taste of authentic Cuban cuisine, stop by Versailles Restaurant, a local staple renowned for its delicious fare. From Cuban sandwiches to sweet pastelitos, your culinary journey through Cuba's flavors will be as rich and colorful as the neighborhood itself.
Not to be missed is a visit to a traditional cigar factory. Watch skilled torcedores hand-roll Cuban cigars, a craft passed down through generations, and if you're up to it, try one yourself.
As the day unwinds, the rhythm of Latin music fills the air. Salsa clubs spring to life, providing a perfect end to your cultural journey. Dance the night away, or enjoy the music over a glass of mojito.
Visiting Little Havana is more than just a sightseeing tour; it's a vibrant, sensory experience that brings you face to face with Miami's multicultural personality and the city's Cuban roots. So, put Little Havana on your Miami itinerary and immerse yourself in a world of rich cultural traditions, delicious food, and pulsating music. Miami's Cuban heart is waiting to welcome you!
Feel free to explore these pages as well:
In conclusion, the allure of Miami goes far beyond its pristine beaches and radiant sunshine. The Magic City, as it's aptly called, is a rich tapestry of diverse cultures, vibrant arts, thrilling sports, and world-class shopping, each facet adding to its distinctive charm.
Whether you're indulging in the Cuban culture of Little Havana, navigating the city via the Metromover, or discovering the artistry of the Miami Design District, the city offers something unique at every corner. From the roar of the crowd at the American Airlines Arena to the tranquil beauty of Zoo Miami, each destination tells a story that is as unique as the city itself.
And as the sun sets over the water and the city lights begin to twinkle, the Miami skyline paints a mesmerizing picture that lingers in your memory. So whether you're shopping at the Bayside Marketplace or Dolphin Mall, or exploring the unique treasures of the neighborhoods, every moment in Miami leaves a lasting imprint.
Remember, the real magic of Miami lies in its diversity and its ability to offer something for everyone. So here's to uncovering the city's magic, one unforgettable experience at a time. Miami awaits you with open arms and a promise of adventures like nowhere else. Happy travels!