So, you've chosen Las Vegas as your next destination. Brace yourself as you're about to embark on a journey to a city that is a sparkling blend of neon lights, captivating entertainment, sumptuous culinary delights, and yes, even a dash of unexpected natural beauty. Whether you're a thrill-seeker, a foodie, a history buff, or a night owl, the City of Lights has something for everyone.
In this guide, we will walk through the top 10 activities that you absolutely must add to your itinerary. These aren't just your typical Vegas experiences; we've included a few hidden gems and locals' favorites that are sure to make your visit to Sin City utterly unforgettable.
So, grab your adventurous spirit, pack your most comfortable shoes, and join me as we dive head-first into the vibrant, pulsating heart of the desert: Las Vegas. Let's make your visit not just a trip, but a lifetime experience!
Here are the 10 best places to visit in Las Vegas:
1. Red Rock Canyon National Conservation Area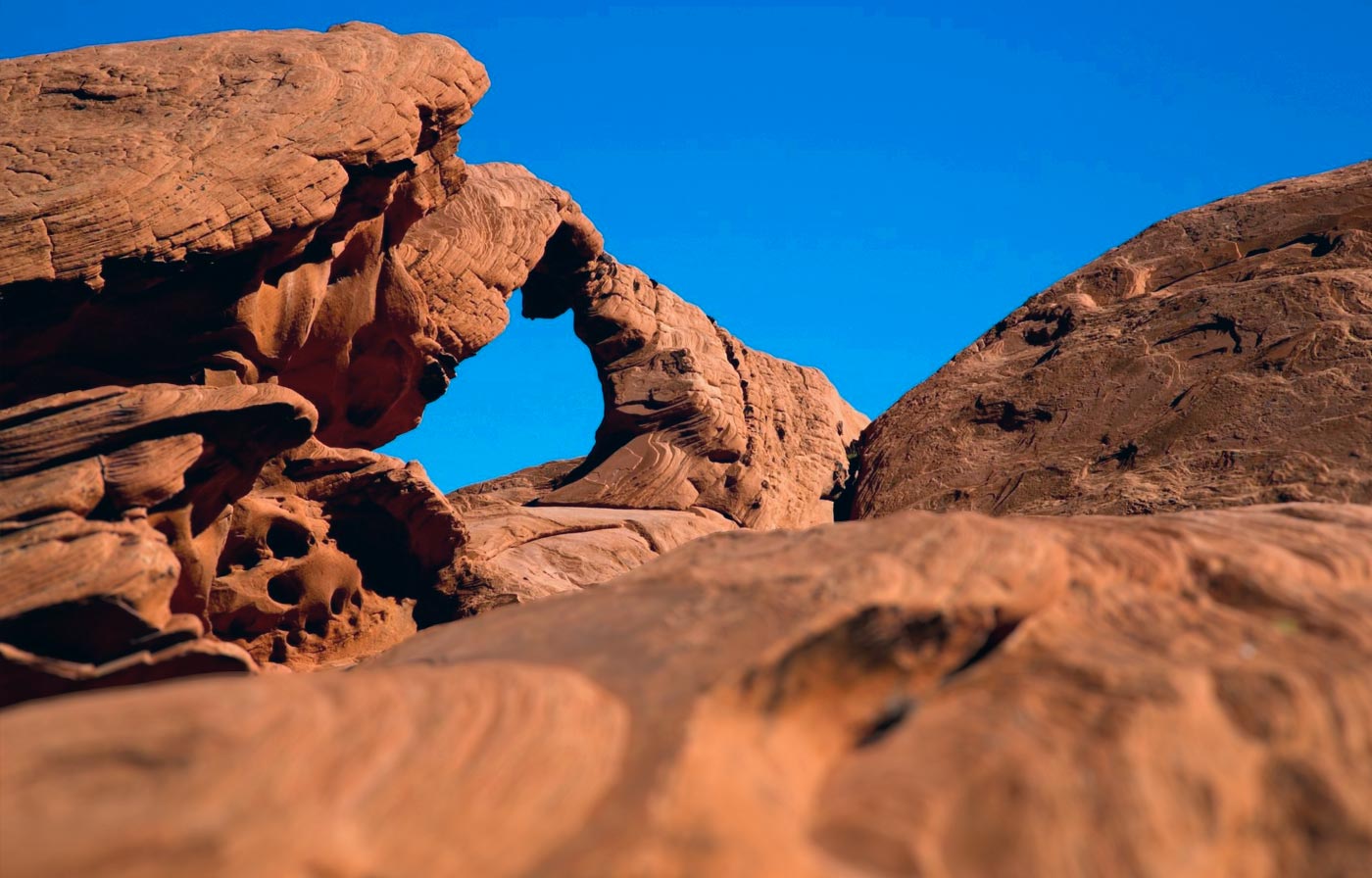 Just 17 miles west of the Las Vegas Strip, you'll find a place that seems worlds away from the glittering lights and bustling action of Sin City. Welcome to the Red Rock Canyon National Conservation Area, a true oasis in the desert, boasting a stunning panorama of fiery red sandstone peaks and cliffs that rise dramatically from the dusty earth.
A visit to Red Rock Canyon offers an invigorating escape from the artificial neon world. The conservation area encompasses a 13-mile scenic drive, more than 30 miles of hiking trails, rock climbing, horseback riding, mountain biking, road biking, picnic areas, nature observing, and a visitor center with exhibit rooms and a book store.
Whether you're an outdoor enthusiast or simply looking for a serene setting to reconnect with nature, Red Rock Canyon is a must-visit. If you've never hiked before, don't worry, trails cater to various levels of fitness and hiking experience. From the Calico Tanks trail that rewards you with a hidden water reservoir, to the Ice Box Canyon trail known for its cooler temperatures, there's a path for everyone. And don't miss the awe-inspiring sight at sunset when the rocks become illuminated in an ethereal glow, turning the landscape into an artist's palette of color.
Remember, the desert is a place of extreme conditions, so be sure to plan accordingly. Bring plenty of water, wear sun protection, and check the weather before you go. Now tie up those hiking boots, pack that sunscreen, and prepare to be dazzled by the natural beauty of Red Rock Canyon!
2. High Roller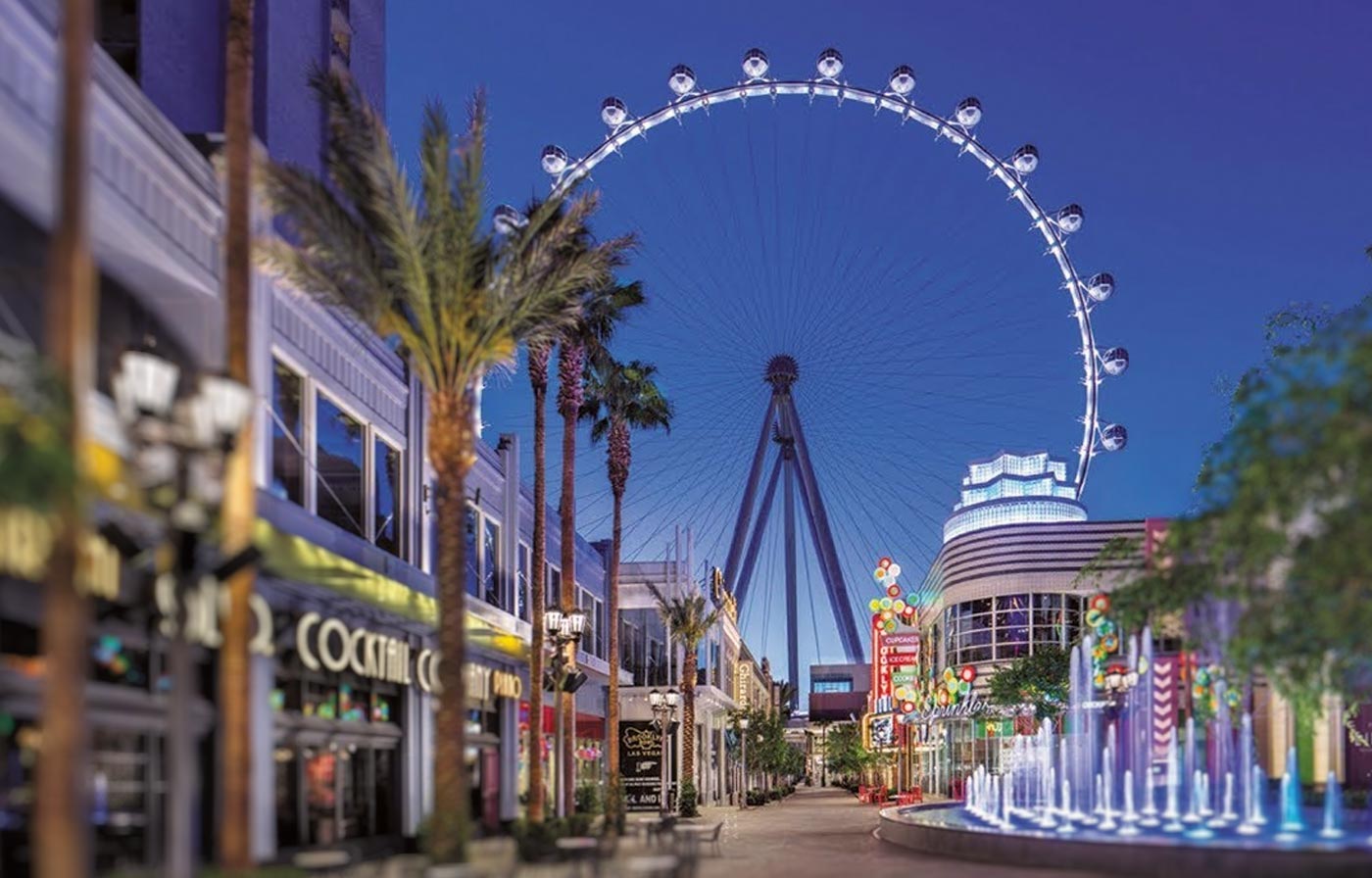 If you want to get a bird's eye view of the bustling, neon-lit Las Vegas cityscape, look no further than the High Roller. Towering 550 feet above the heart of the Las Vegas Strip, the High Roller isn't just any Ferris wheel – it's the world's tallest observation wheel!
Step into one of the 28 air-conditioned pods, and prepare for a 30-minute ride that offers 360-degree views of the Las Vegas valley and beyond. The experience is even more magical at night, when the city is aglow with millions of lights. And don't worry, these are not your standard Ferris wheel seats; you can comfortably walk around or sit while you marvel at the view.
Looking to elevate your experience? Consider booking a happy half hour ticket, which includes an open bar inside the pod. And for the romantics, the High Roller offers private cabins for a special occasion and even a wedding ceremony overlooking Las Vegas!
Remember to check the weather before you go, as rides can be canceled due to high winds. My recommendation? Try to time your visit for sunset when you can watch the city transition from day to night, an absolutely breathtaking sight!
The High Roller at The LINQ Promenade is not just an attraction, it's a quintessential Vegas experience. After all, in a city known for its high stakes and grandeur, it only makes sense to take to the sky!
3. The Strip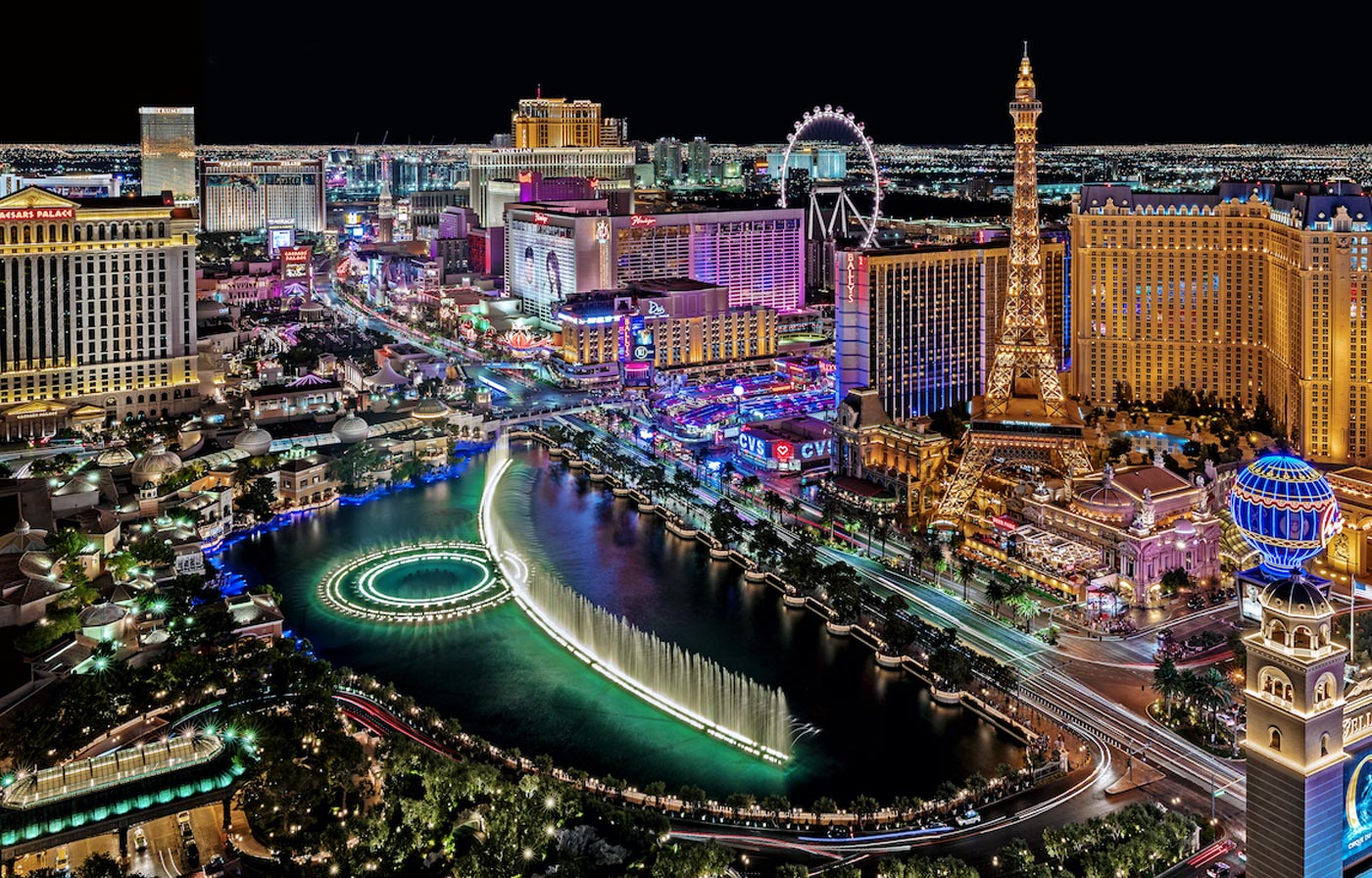 Ah, The Strip! The pulsating heart of Las Vegas, a 4.2-mile stretch of South Las Vegas Boulevard that's more than just a road – it's a world-renowned symbol of entertainment, glamour, and limitless possibilities.
When we say "The Strip," what we're talking about is a dazzling array of mega-resorts, themed hotels, myriad attractions, and culinary hotspots that seem to come straight out of a movie set. Each hotel and casino is a universe unto itself, with everything from the romantic gondola-filled canals of the Venetian, the iconic dancing fountains at the Bellagio, to the replicated skyline of New York-New York. And let's not forget the jaw-dropping shows from Cirque du Soleil to world-famous headliners, there's never a shortage of entertainment!
Walking down The Strip is like globe-trotting without leaving the boulevard. Egyptian pyramids? Check. Eiffel Tower? It's there. An erupting volcano? You bet. It's an explosion of lights, sounds, and experiences, unlike anything else.
Eating on The Strip is another adventure entirely. With a vibrant dining scene, you can find everything from Michelin-starred restaurants to hole-in-the-wall eateries and themed buffets.
While it might seem overwhelming, don't rush. Take your time and take it all in. The Strip is best experienced at a leisurely pace, preferably when the sun sets, and the city lights begin their nightly spectacle. Remember, in Las Vegas, the journey is just as important as the destination! Enjoy your trip down the extraordinary Strip, where you can make memories that will last a lifetime.
4. Fountains of Bellagio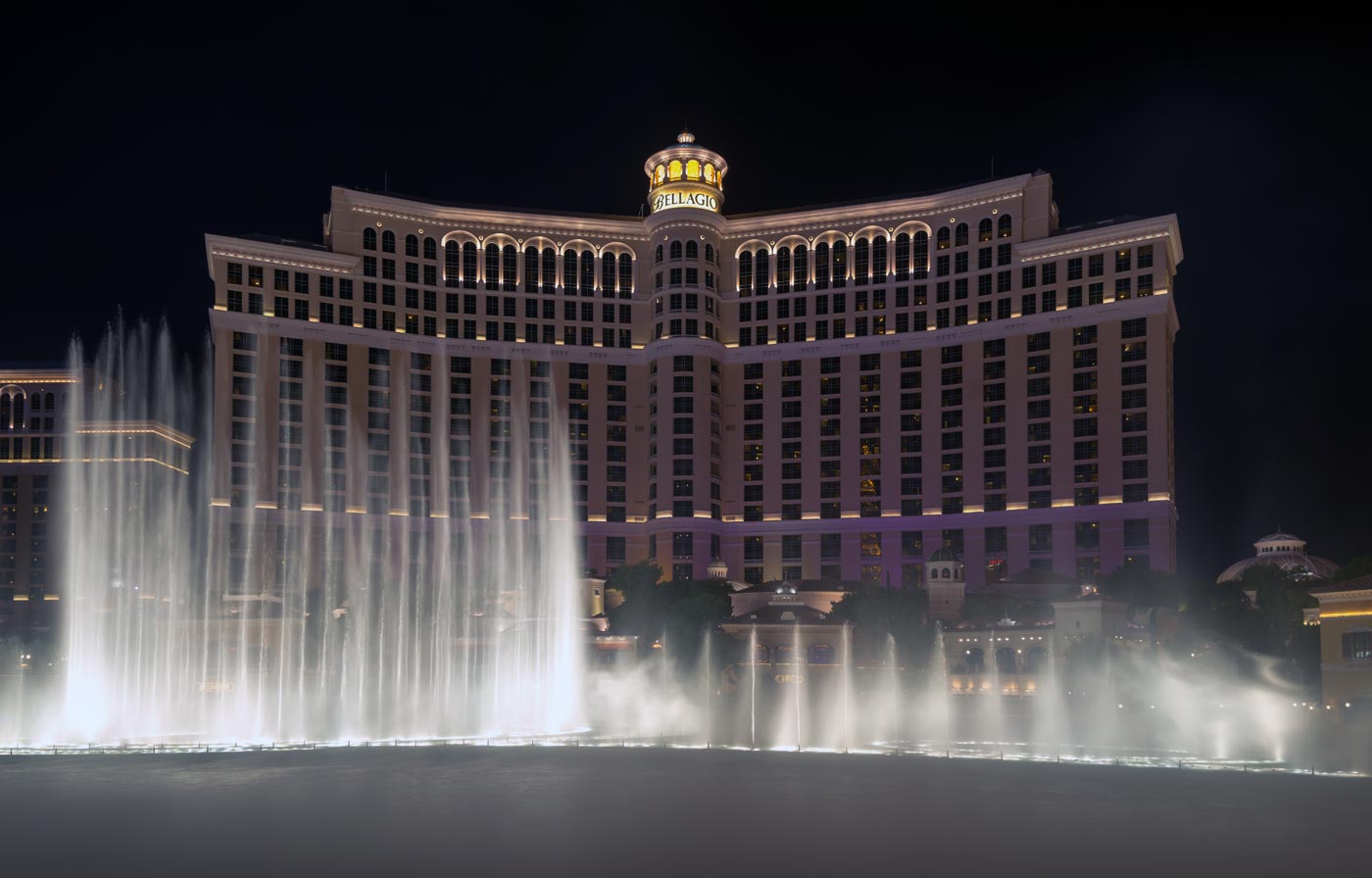 Picture this: you're standing on the edge of an 8.5-acre lake right in the heart of the bustling Las Vegas Strip, when suddenly, as if on cue, a symphony of water begins to dance in front of your eyes, choreographed to a soundtrack of popular tunes. This isn't a dream; it's the Fountains of Bellagio, one of the most mesmerizing free attractions Las Vegas has to offer.
These aquatic performances are truly a sight to behold. More than a thousand fountains soar as high as 460 feet into the air, swaying and twisting in a beautifully orchestrated ballet of water, music, and light. From pop hits to classical masterpieces, each performance is unique and unforgettable.
These spectacular shows take place every 30 minutes in the afternoons and early evenings, and every 15 minutes from 8 PM to midnight. To get the best view, try to snag a spot directly in front of the Bellagio Hotel and Casino, or, for a dining experience you'll never forget, book a table at one of the Bellagio's many restaurants overlooking the fountains.
But the Fountains of Bellagio aren't just about the spectacle. They're a symbol of the city itself: elegant, dramatic, and full of surprises. So, whether you're a first-time visitor or a seasoned Vegas veteran, make sure to take a moment, step away from the hustle and bustle of The Strip, and lose yourself in the magic of the Fountains of Bellagio. Trust me, you won't regret it!
5. The Mob Museum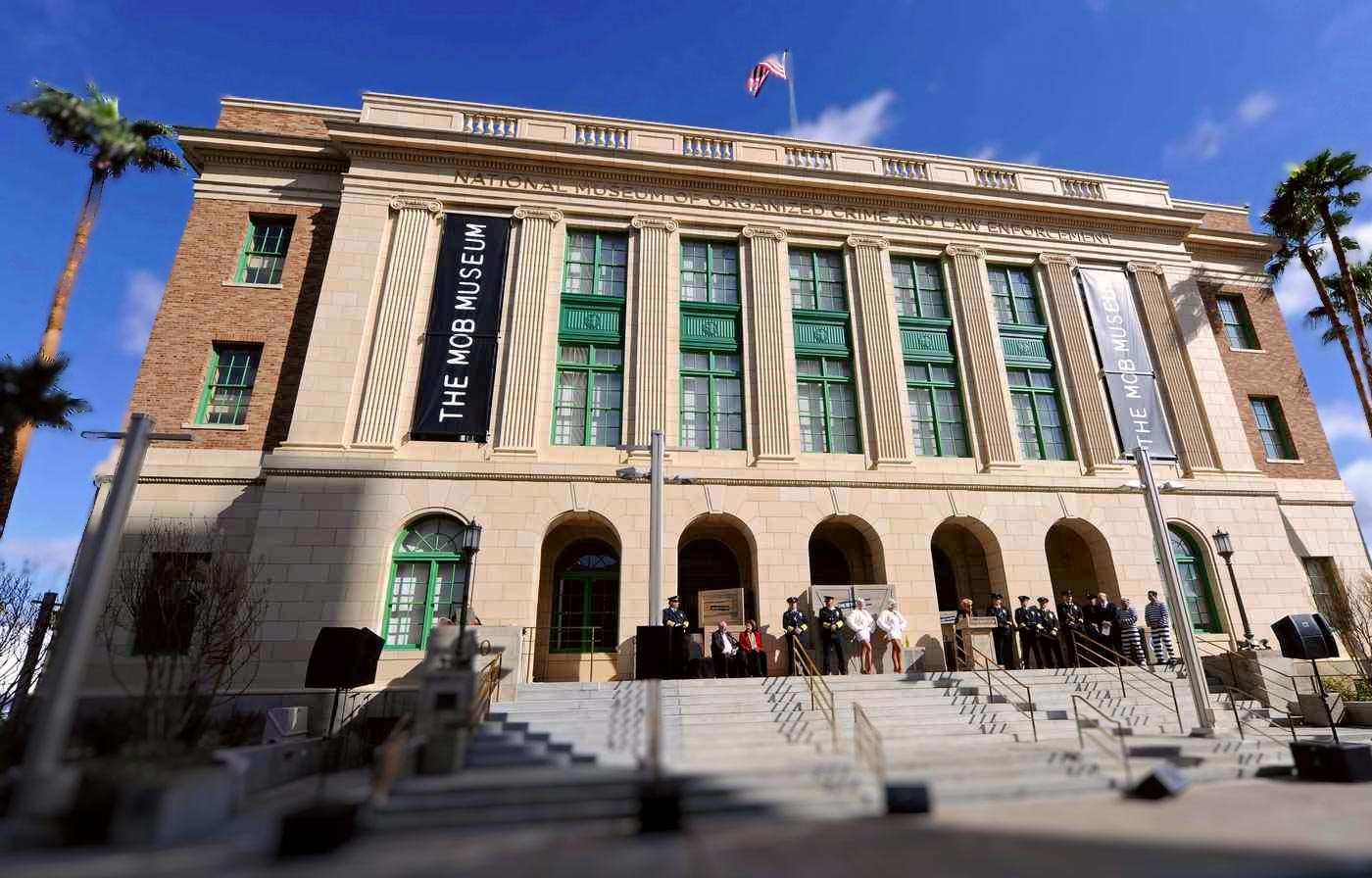 Looking to delve into the darker side of Sin City's history? Then don't miss The Mob Museum, a fascinating journey into the world of organized crime and law enforcement's tireless efforts to bring notorious criminals to justice.
Located in the heart of downtown Las Vegas, in a former courthouse that hosted part of the Kefauver Hearings into organized crime, The Mob Museum, or the National Museum of Organized Crime and Law Enforcement, delivers an authentic view of the Mob's impact on Las Vegas history, as well as its unique imprint on America and the world.
Through engaging, multi-sensory exhibits, you'll get to explore the real stories and events of Mob history. Witness the wall against which the infamous St. Valentine's Day Massacre took place, listen to wiretaps of mobsters, and see a variety of artifacts, including the actual brick wall from the infamous St. Valentine's Day Massacre.
You'll also get a chance to test your skills in the crime lab, take part in a police lineup, and explore a detailed timeline of organized crime and law enforcement from the late 19th century to the present day. The Prohibition exhibit is another highlight, featuring a working distillery and speakeasy where you can learn about the rise of the Mob during Prohibition and even sample a period-appropriate cocktail!
The Mob Museum is more than just a museum; it's an immersive, eye-opening experience that reveals an integral part of American history many of us know little about. So, step off the beaten path and step back into a time of lawlessness, corruption, and the pursuit of the American Dream in the most unconventional ways.
6. Eiffel Tower Viewing Deck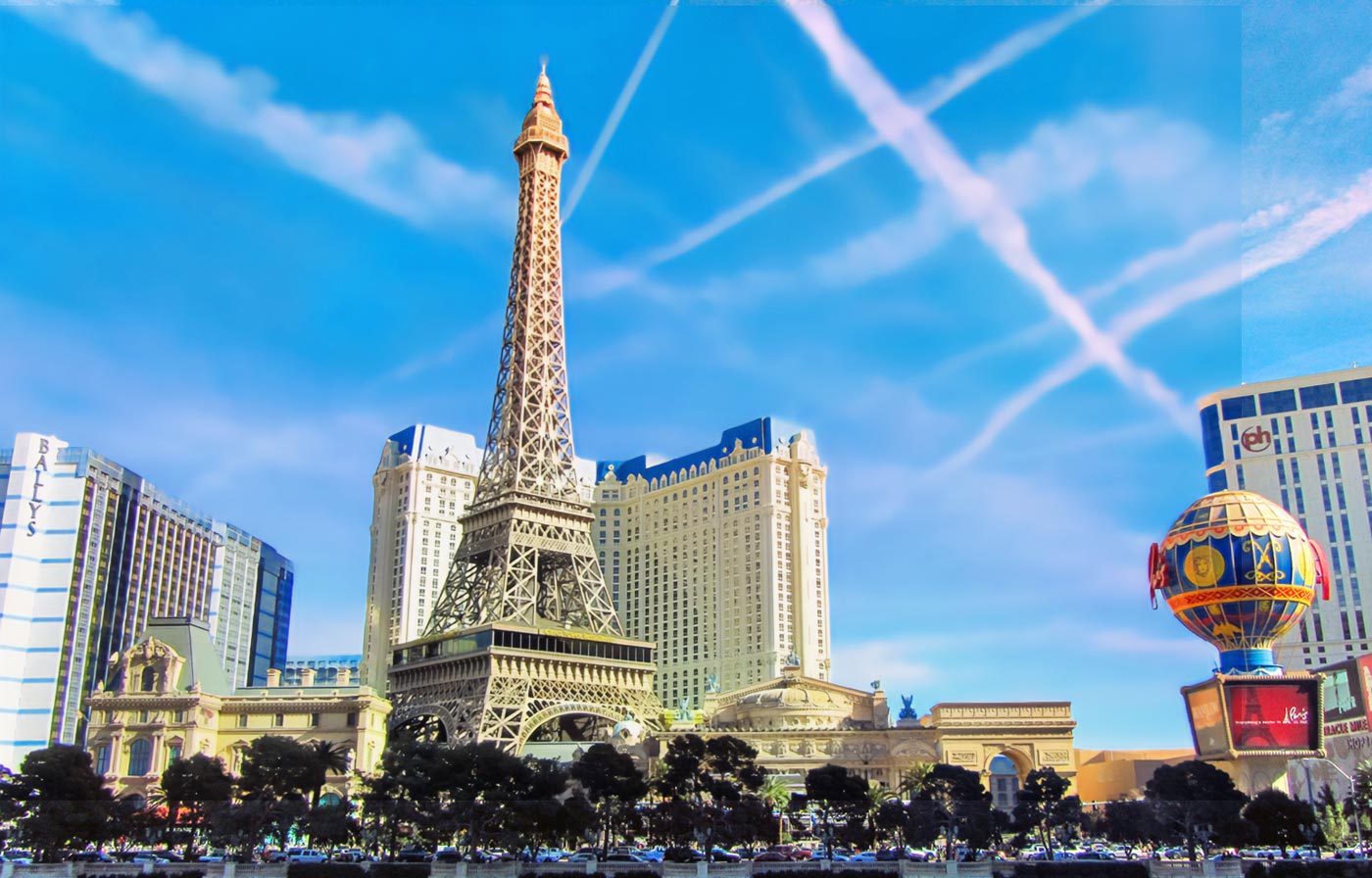 Dreaming of Paris while in the heart of Las Vegas? You're in luck! At the Paris Las Vegas Hotel and Casino, you'll find the Eiffel Tower Viewing Deck, a half-scale replica of the world-famous Parisian landmark, offering one of the best views of the Las Vegas skyline.
Step into the high-speed elevator for a quick ride to the top, 460 feet above the ground, where an expansive 360-degree view of the bustling city below awaits you. From this vantage point, you'll see iconic landmarks like the Bellagio Fountains, the gondolas of The Venetian, and the vast desert mountains in the distance.
The viewing deck also features a knowledgeable ambassador who can help you pinpoint various Las Vegas landmarks and provide fascinating insights about the city. For the most stunning views, visit at sunset when the cityscape transitions from day to night, bathing The Strip in a golden glow before the lights take over for their nightly show.
And if you're looking for romance, why not consider the Dinner in the Sky package? This unforgettable experience includes a gourmet meal at the Eiffel Tower Restaurant followed by a trip to the viewing deck.
So, whether you're a lover of heights, a fan of breathtaking views, or a romantic in search of the perfect photo op, the Eiffel Tower Viewing Deck is an experience not to be missed. Step into a little slice of Paris and take in Las Vegas from a whole new perspective.
7. Stratosphere Tower
Get ready for the ultimate adrenaline rush and an unparalleled Vegas view at the iconic Stratosphere Tower. Standing a staggering 1,149 feet tall, the Stratosphere is not just the tallest freestanding observation tower in the United States, but it also promises the most thrilling 'playground' for daredevil visitors.
At the top of the tower, you'll find the SkyPod, which offers indoor and outdoor observation decks for those stunning 360-degree views of the city. And if that's not enough, how about dining above the clouds at the Top of the World restaurant, rotating 360 degrees every 80 minutes for a full panorama of Las Vegas?
Now, for the thrill-seekers, the Stratosphere isn't just an observation tower – it's an amusement park in the sky. Test your nerves with the Big Shot, which catapults you 160 feet in the air at 45 mph to a dizzying height of 1,081 feet. If that's not enough, there's Insanity, a mechanical arm that extends out over the edge of the Tower and spins you around for a truly terrifying thrill. And let's not forget X-Scream, a roller coaster-style device that propels you off the edge of the tower. Still need more? Then take the SkyJump, a controlled descent, bungee-style jump that takes you from the 108th floor to the ground.
Whether you're an adrenaline junkie or prefer to keep your feet on solid ground, the Stratosphere Tower offers an unforgettable experience. So, strap in, step up, and see Las Vegas from a whole new height!
8. Bellagio Conservatory & Botanical Garden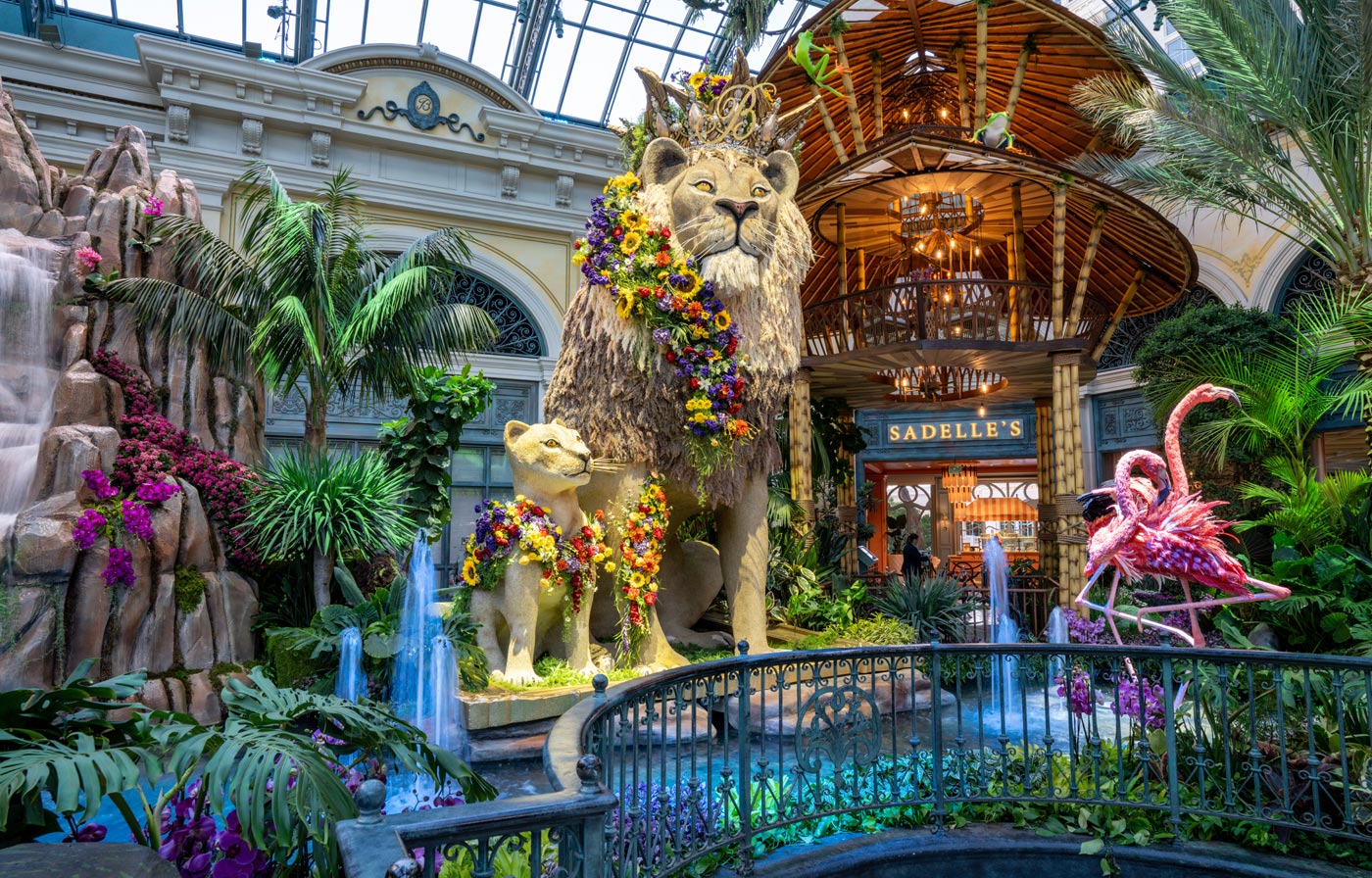 Imagine stepping into a world where it's always spring, where thousands of flowers bloom in a riot of colors, and where every corner you turn reveals a new botanical surprise. Welcome to the Bellagio Conservatory & Botanical Garden, a hidden gem within the bustling city of Las Vegas.
Situated within the elegant Bellagio Hotel and Casino, the Conservatory is a dazzling, ever-changing natural display that's transformed five times a year to reflect the seasons and celebrate Chinese New Year, spring, summer, fall, and winter holidays. Each transformation is a spectacle unto itself, as 140 expert horticulturists design, assemble, and maintain every exhibit.
Walking through the Conservatory, you'll be amazed by the intricate creations made entirely from flowers, plants, and trees. Majestic peacocks, playful pandas, grand gazebos, and serene water features are just some of the sights you might encounter. Every season brings a new theme and new elements, ensuring no two visits are the same.
What's even more amazing is that admission to this garden paradise is completely free! Open 24 hours a day, it's perfect for an early morning stroll or a late-night wander. And don't forget your camera – the Conservatory is one of the most Instagrammable spots in Vegas.
Whether you're a nature lover, a gardening enthusiast, or just someone looking for a peaceful respite from the city's hustle and bustle, the Bellagio Conservatory & Botanical Garden is a must-visit. It's a serene oasis in the heart of Sin City, where you can stop, smell the roses, and remember the simple beauty of nature.
9. Hoover Dam Bypass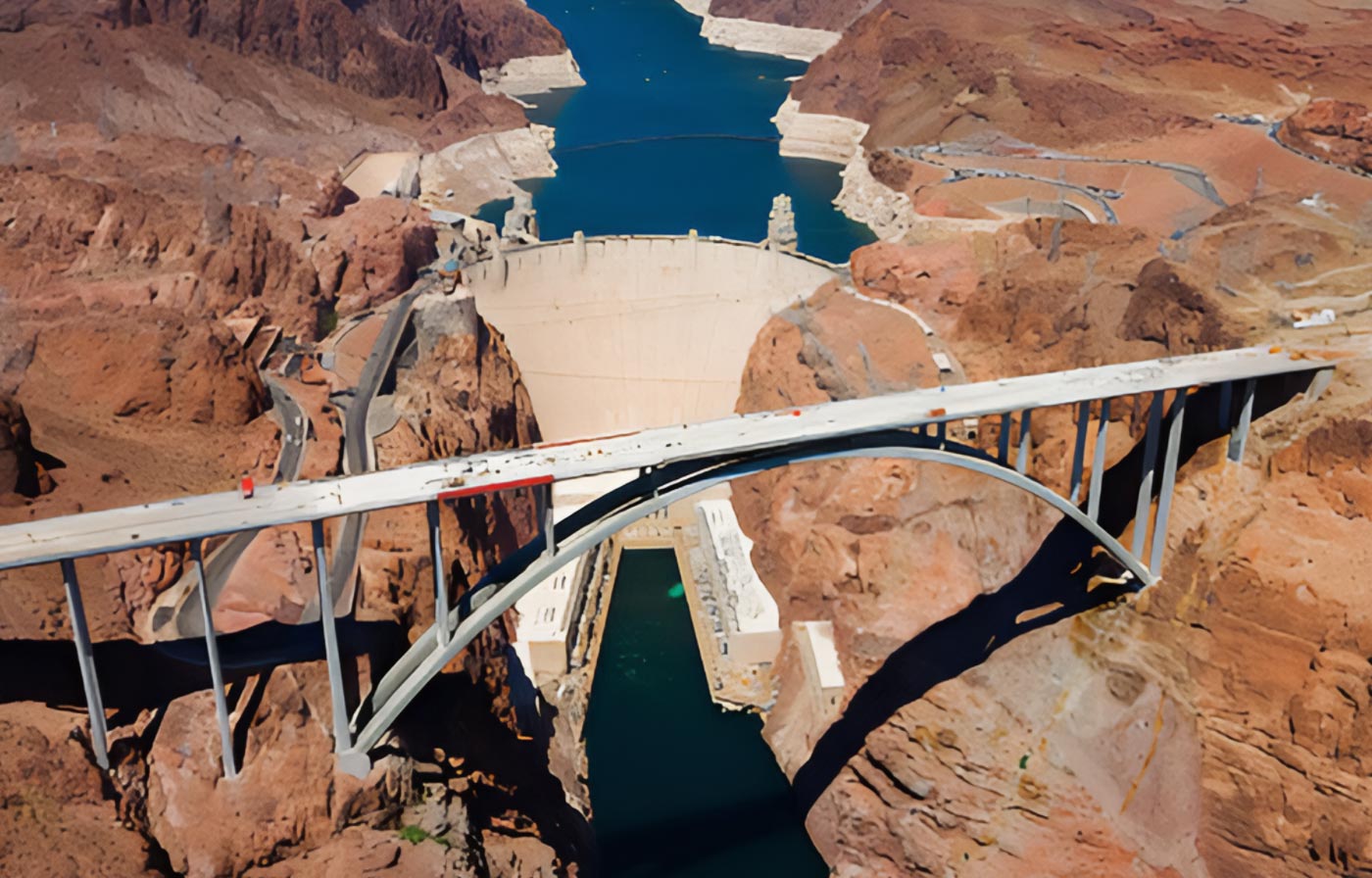 Looking to take a breather from the bright lights and endless energy of Las Vegas? Just a short drive away, the Hoover Dam Bypass is an architectural marvel that offers breathtaking views and a fascinating slice of American history.
Officially known as the Mike O'Callaghan-Pat Tillman Memorial Bridge, the Hoover Dam Bypass stands an impressive 890 feet above the Colorado River and offers spectacular views of the Hoover Dam and Lake Mead – the largest reservoir in the United States by volume.
Constructed to alleviate traffic congestion on U.S. Route 93, the bypass is a stunning feat of modern engineering. But it's not just about practicality; the pedestrian walkway along the bridge provides a unique vantage point to soak in the majestic surroundings and capture that perfect snapshot of the Hoover Dam nestled between the rocky cliffs of the Black Canyon.
Before or after walking the bridge, be sure to visit the Hoover Dam itself. This colossal structure, completed in 1935, tamed the mighty Colorado River and helped foster the growth of the American Southwest. Take a guided tour of the dam to learn about its construction and how it operates today.
But the Hoover Dam Bypass is more than just a gateway to the dam. It's a place to marvel at human ingenuity and the power of nature, a place where you can stand high above the rushing Colorado River and take in the grandeur of the American West. It's a must-see for anyone visiting the Las Vegas area.
Remember to bring plenty of water, sunscreen, and your camera. Happy exploring!
10. Welcome to Fabulous Las Vegas Sign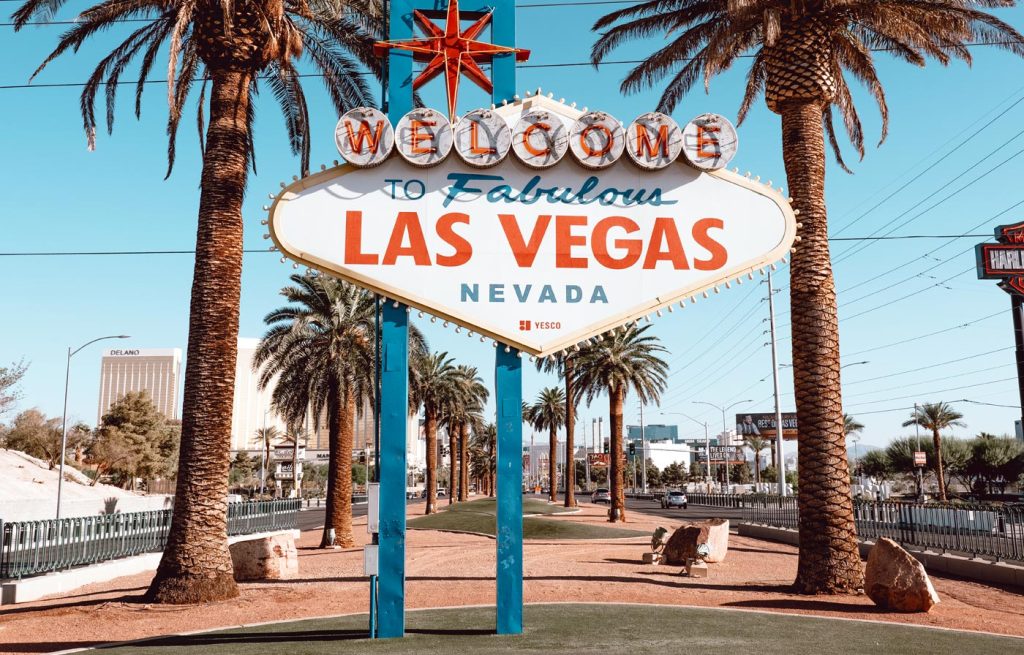 What better way to start your Las Vegas adventure than with a picture at the city's most iconic symbol? The "Welcome to Fabulous Las Vegas" sign is more than just a greeting; it's a world-famous landmark that's come to symbolize the glamour, excitement, and allure of Sin City.
Erected in 1959 and designed by Betty Willis, this neon beacon stands at the south end of the Las Vegas Strip, welcoming millions of visitors each year. It's a throwback to the golden age of Las Vegas when Rat Pack members ruled the stage, and neon signs lit up the night sky.
The 25-foot-tall sign, adorned with flashing lights and an iconic design, is nestled in a median and easily accessible to pedestrians. A small parking area is available if you're driving. Despite being a simple sign, it's become a beloved symbol of the city, a place where countless visitors have snapped a photo to announce their arrival in this electric city.
Whether it's your first visit or your fiftieth, no trip to Las Vegas is complete without a visit to this historic sign. Day or night, the "Welcome to Fabulous Las Vegas" sign is always ready for its close-up. So grab your camera, put on your best Vegas smile, and create a memento of your Vegas vacation that you'll treasure forever. Remember, what happens in Vegas, stays in Vegas, but a photo at the sign? That's for everyone to see!
Feel free to explore these pages as well:
As we wrap up our tour of the top 10 must-do activities in Las Vegas, I hope you've been inspired to explore beyond the poker tables and slot machines. Of course, Las Vegas is famous for its glittering casinos and nightlife, but as you've discovered, there's so much more to this vibrant city. From natural wonders like Red Rock Canyon to architectural marvels like the Hoover Dam Bypass, there's something for everyone in Las Vegas.
Whether you're an adrenaline junkie, a nature lover, a history buff, or a lover of all things luxurious, Sin City caters to all. Take a chance, step off the beaten path, and delve into the diverse experiences this city offers. You may arrive as a tourist, but you'll leave with a local's appreciation for Las Vegas's lesser-known charms.
Don't forget to take lots of pictures, try new experiences, meet new people, and most importantly, enjoy every moment. After all, Las Vegas isn't just a destination; it's an adventure.
Thank you for joining me on this journey. Remember, in Las Vegas, every day can be an unforgettable adventure. So, buckle up and enjoy the ride. Until next time, safe travels and happy exploring!