Exploring the Heart of Russia: An Ultimate Tourist Experience in Moscow
Welcome to Moscow, a city where centuries-old heritage meets contemporary culture, a place of magnificent beauty, and an epicenter of Russian history. As you embark on this journey, prepare to be awestruck by the grandeur of its iconic landmarks, the richness of its cultural scene, and the warmth of its people.
This guide, "Top 10 Must-Visit Places in Moscow," is curated with an explorer's passion and a local's insight. It promises to take you through the heart of Russia's capital, ensuring that you get an authentic taste of the city that has been at the forefront of historical revolutions, artistic movements, and scientific discoveries.
Whether it's your first time in this vibrant city or you're a seasoned traveler returning for another adventure, this guide will lead you to iconic landmarks, hidden gems, and local favorites. From standing in awe beneath the colorful domes of Saint Basil's Cathedral to tracing the footsteps of cosmonauts at the Museum of Cosmonautics, each stop promises a unique experience that will make your journey through Moscow truly unforgettable.
So, strap on your walking shoes, charge your camera, and get ready to discover Moscow like never before. Dive deep into its history, embrace its culture, and let the city's spirit captivate you. Welcome to the journey of a lifetime – welcome to Moscow.
Here are the 10 best places to visit in Moscow:
1. Saint Basil's Cathedral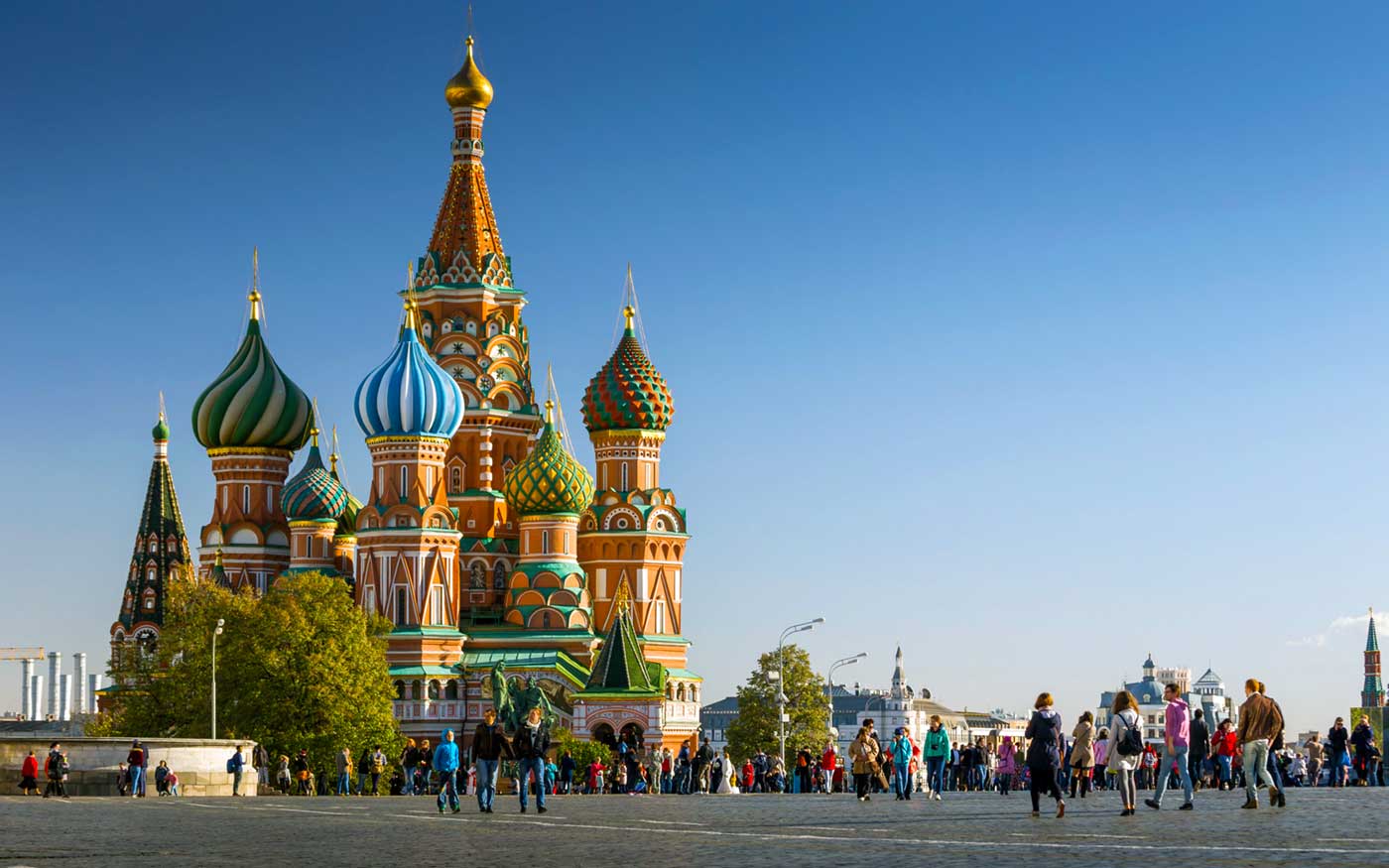 Saint Basil's Cathedral: A Symphony of Colors in the Heart of Moscow
Stepping into Moscow's Red Square, your eyes will undoubtedly be drawn to a sight that appears to have been taken right out of a fairy tale: Saint Basil's Cathedral. This architectural marvel, bursting with color and intricacy, is a sight to behold.
Built from 1555 to 1561 under the reign of Ivan the Terrible, Saint Basil's Cathedral (officially known as the Cathedral of Vasily the Blessed) is one of the most iconic structures in Russia, if not the world. With its swirling, candy-colored domes and towers, the cathedral appears more like a dream conjured up in an artist's imagination than a 16th-century place of worship.
Each of the cathedral's nine chapels is crowned with a unique dome, making it a true kaleidoscope of color and design. Inside, narrow, winding passages open up to beautiful, intimate chapels, each with their own rich history and adorned with ancient frescoes.
Saint Basil's Cathedral isn't just a pretty sight, though; it holds great cultural and historical significance. The structure was built to commemorate the capture of the Mongol strongholds of Kazan and Astrakhan, and it has stood the test of time, witnessing Moscow's history unfold over the centuries.
A visit to Saint Basil's Cathedral is an absolute must for any traveler to Moscow. Not only does it provide a visual feast unlike any other, but it also offers a fascinating glimpse into Russia's rich history and architectural traditions. So, be sure to have your camera ready and prepare to be amazed by this stunning symbol of Moscow's past and present.
2. State Tretyakov Gallery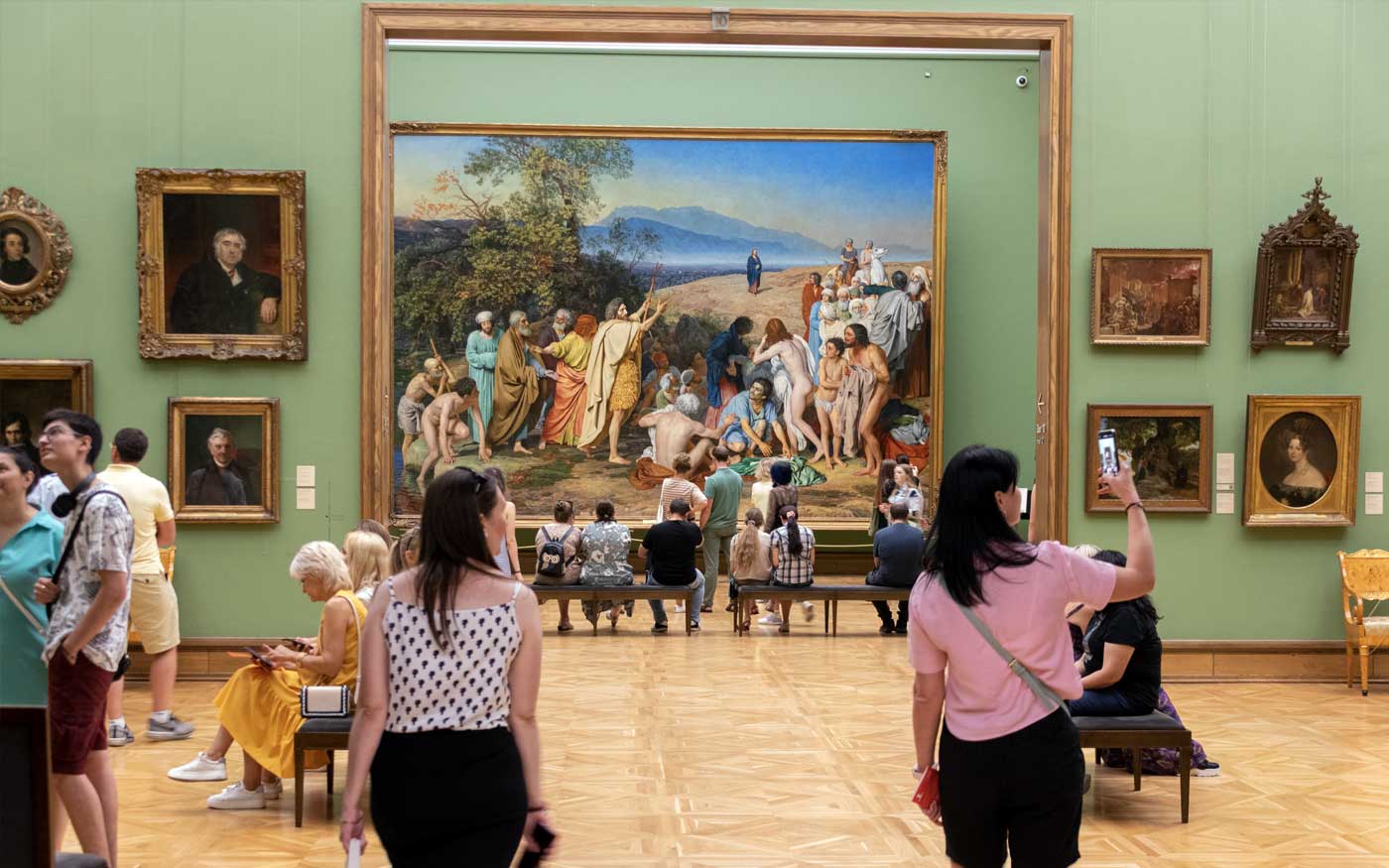 Immersing in Russian Artistry: The Unmissable State Tretyakov Gallery
If you're venturing into the dynamic cityscape of Moscow with an appetite for cultural immersion, the State Tretyakov Gallery should top your list of places to visit. It's not just a museum; it's an exciting journey through the epochs of Russian art, an unforgettable experience that art enthusiasts and casual travelers alike will treasure.
The State Tretyakov Gallery, founded by Moscow merchant Pavel Mikhailovich Tretyakov in 1856, boasts the world's most comprehensive collection of Russian fine art. The gallery features over 130,000 exhibits showcasing Russian realism, avant-garde, and other artistic movements from the 11th through the 20th centuries.
Walking through the grand halls of the Tretyakov Gallery is like stepping into different eras of Russia's rich cultural past. You'll see renowned works from great Russian artists such as Ilya Repin, Ivan Aivazovsky, and Vasily Surikov, among many others. Their masterpieces convey profound stories of Russia's history, traditions, and daily life.
The gallery is nestled within an impressive building in Moscow's historical Zamoskvorechye district. This area itself is a marvel of architectural beauty and old-world charm, making your trip to the gallery even more enchanting.
So, whether you're an art aficionado or just keen to delve into the depths of Russia's cultural heritage, the State Tretyakov Gallery is an absolute must-visit. This illustrious museum will leave you awestruck and enriched with a deeper understanding of the diverse and vibrant tapestry of Russian art.
3. Moscow Metro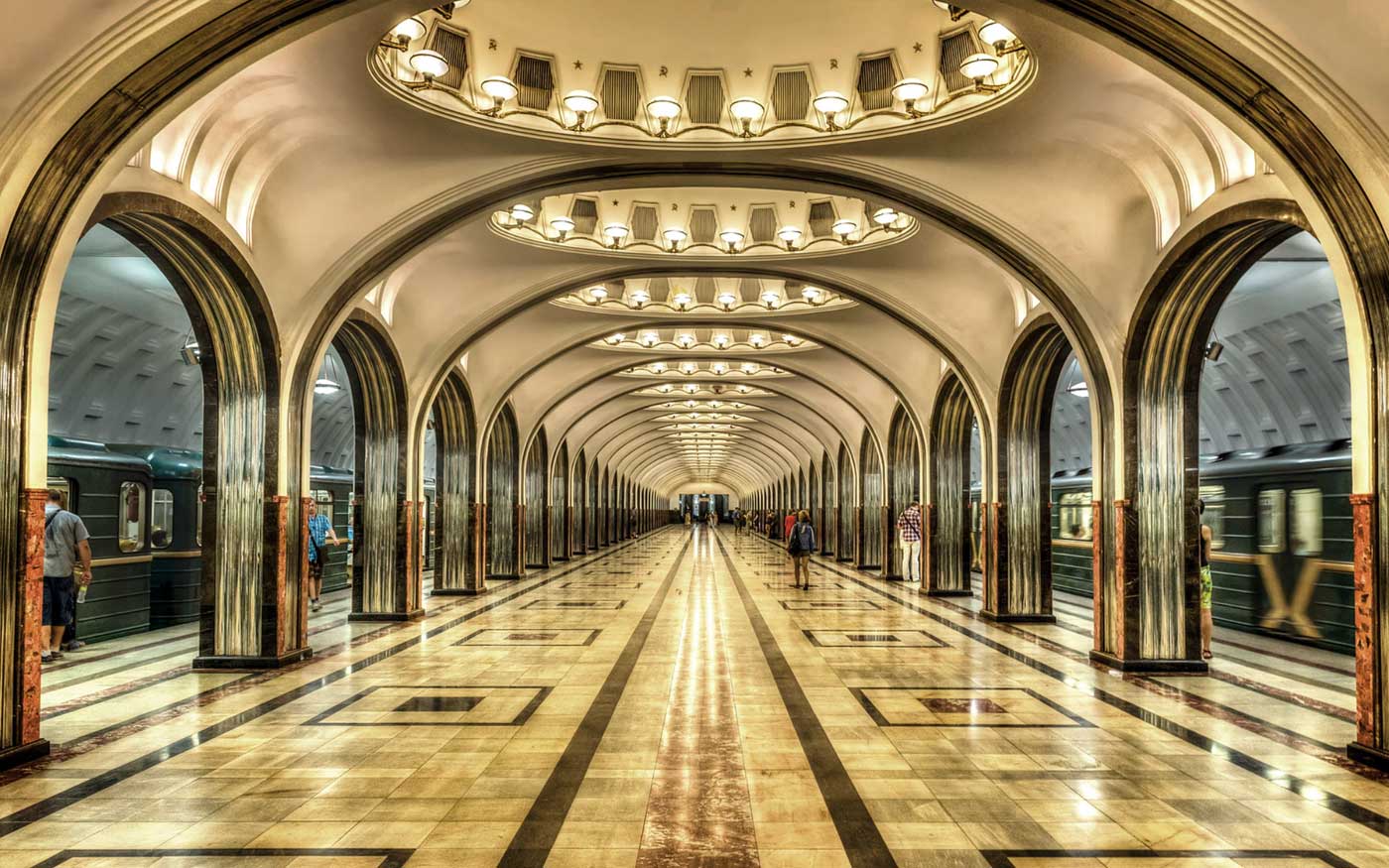 Riding the Subterranean Palaces: Moscow's Spectacular Metro System
As a traveler, when you think of using public transportation, the words 'stunning', 'historic', or 'artistic' might not be the first to spring to mind. However, in Moscow, that's exactly what you'll find. The Moscow Metro is not only an efficient way to navigate Russia's bustling capital, but it's also an underground museum, with stations that are a testament to the grandeur and history of this incredible city.
When the Moscow Metro was inaugurated in 1935, it was hailed as a masterpiece of Soviet engineering. Over the years, it has grown into one of the busiest metro systems in the world, and it's undeniably one of the most beautiful. Each station is unique, with many of them resembling grand halls, adorned with chandeliers, mosaics, statues, and intricate architectural designs. They truly are 'the people's palaces'.
Stations like Komsomolskaya, with its ornate yellow ceilings, or Kievskaya, with its beautiful mosaics depicting life in Ukraine, offer a feast for the eyes while you're on your commute. The newer stations, while not as opulent as their predecessors, still carry a certain level of charm and intrigue with their modern, creative designs.
Apart from being a living museum, the Metro is also an efficient and easy way to get around Moscow. With its extensive network covering nearly every corner of the city, it's an affordable and reliable means to explore Moscow's many attractions.
So, when you're in Moscow, don't just use the Metro as a means to get from point A to B. Take your time, look around, and appreciate the art, history, and culture that is on display in these subterranean palaces. Your Moscow adventure won't be complete without a ride on its extraordinary Metro system.
4.  Moscow Kremlin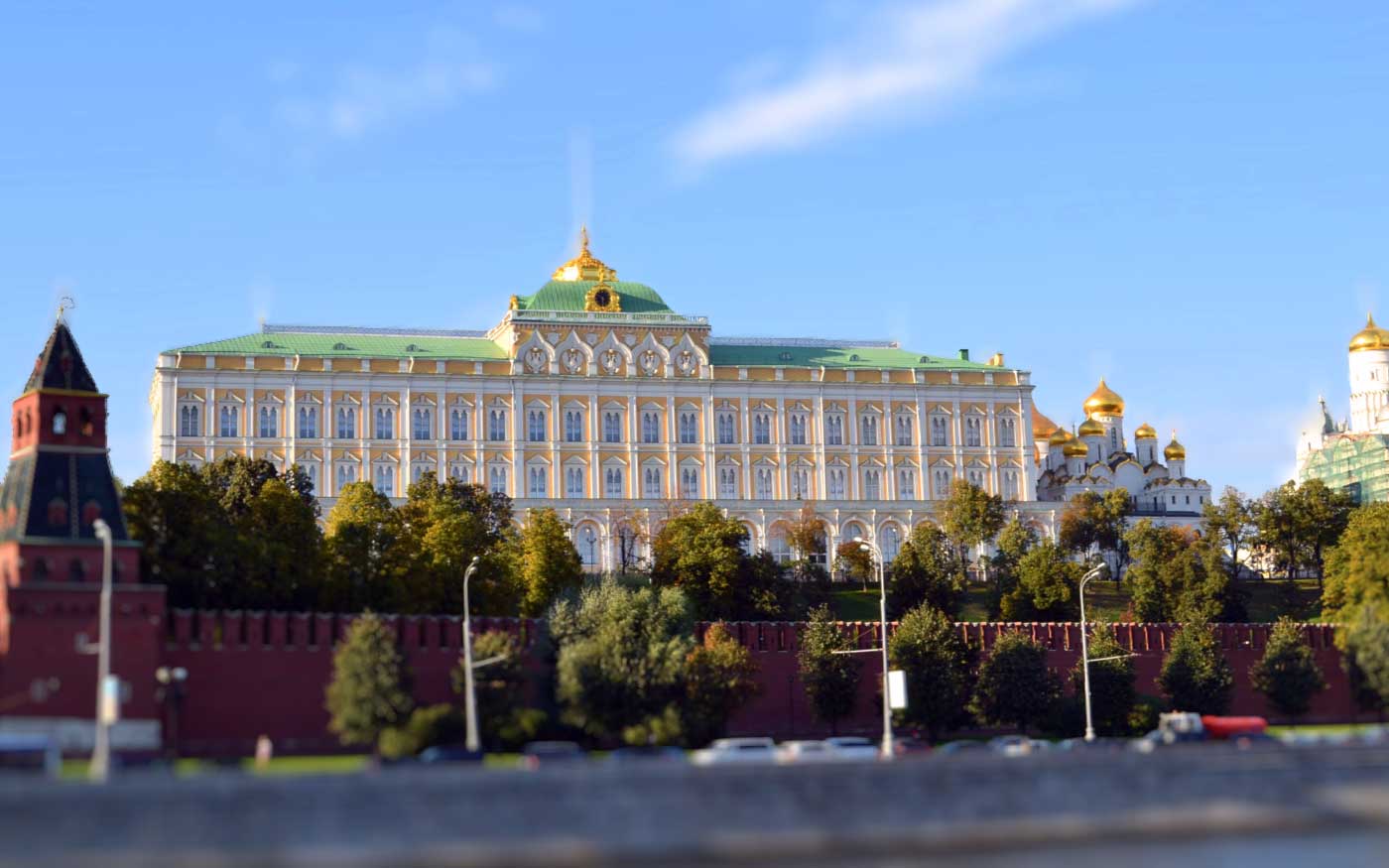 Exploring the Heart of Moscow: The Majestic Kremlin
The Moscow Kremlin, often simply called "the Kremlin," is not just Moscow's central fortress but also the core of the entire country. The symbol of Russian power and grandeur, the Kremlin's imposing walls and towers command a formidable presence on the city's landscape, making it an unmissable stop for any traveler journeying through Moscow.
Located in the heart of the city, overlooking the Moskva River, the Kremlin dates back to the 12th century and has been the residence of Russian czars, Soviet leaders, and modern-day presidents. The complex is a fascinating blend of history, architecture, and power that narrates the story of Russia from medieval times to the present day.
Within its walls, you'll find an array of historic buildings, churches, and monuments, each with its own intriguing story. Among them, the Cathedral of the Assumption, where Russian czars were crowned, and the Armory Chamber, housing an impressive collection of treasures, including Fabergé eggs, royal carriages, and intricate weaponry.
Yet, the Kremlin's allure isn't solely in its magnificent structures. It's also in the sense of history that permeates the air. You can almost feel the power that has been wielded within these walls and the momentous events that have taken place here.
In the Kremlin, you don't just see history—you live it. As you stroll through its courtyards, admire the beautiful onion-domed cathedrals, and marvel at the treasures within the museums, you'll be drawn into Russia's rich and diverse past.
So, as you map out your Moscow adventure, make sure to reserve ample time for the Kremlin. With its stunning architecture and deep-rooted history, it's not just a sightseeing spot but a journey through time. This historic citadel embodies the soul of Russia and is a must-see for anyone seeking to truly experience Moscow.
5. Red Square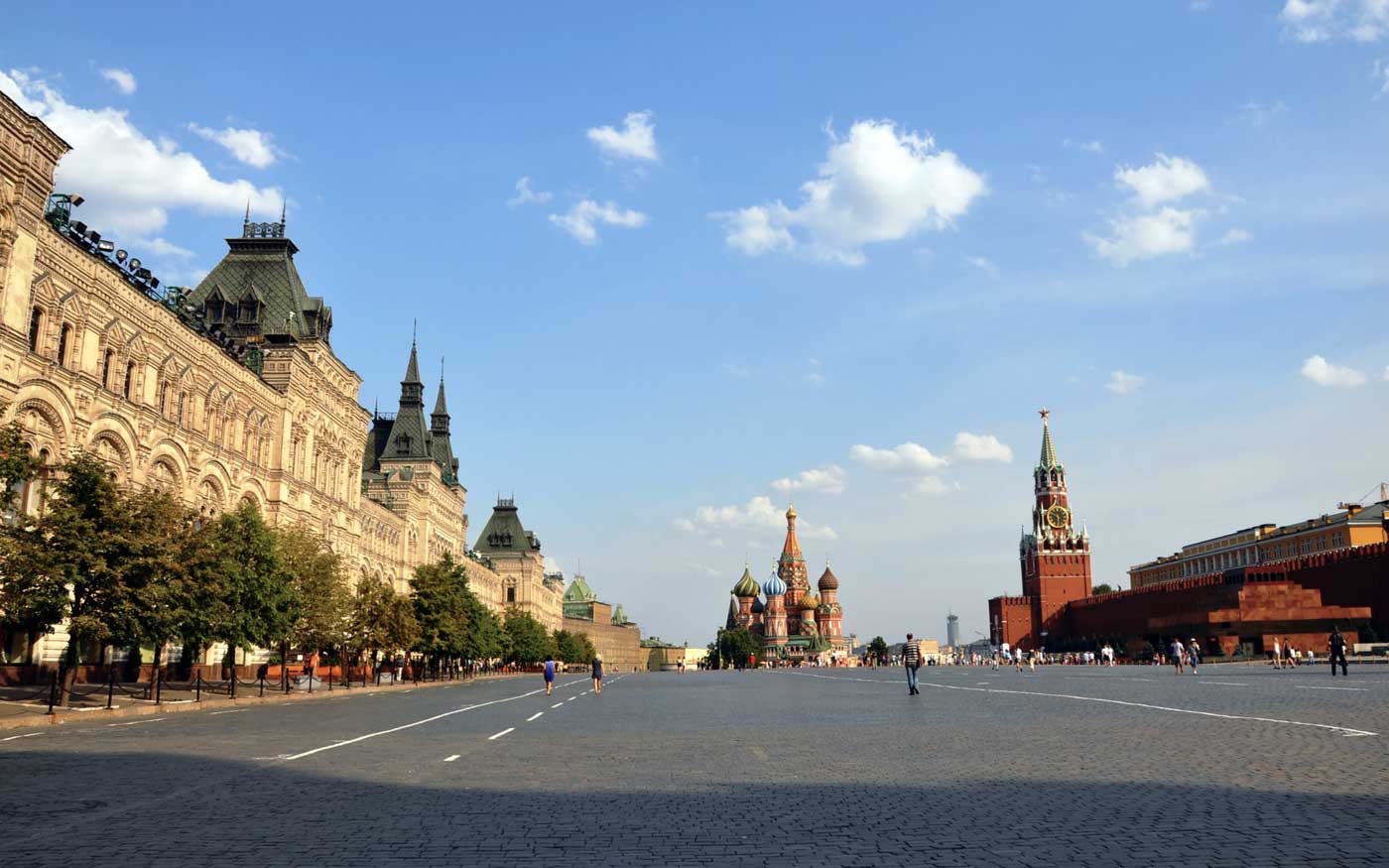 The Red Square: The Vibrant Heart of Moscow's Cultural Tapestry
For many, the mere mention of Moscow instantly brings to mind images of the Red Square. This expansive plaza is more than just the geographical heart of Moscow; it is the symbolic heart of Russia, steeped in history and brimming with architectural splendors that will leave you awe-inspired.
The Red Square's origins date back to the 15th century and, over the centuries, it has witnessed some of the most significant events in Russia's history. The square has seen countless military parades, historic speeches, concerts, and even high-profile executions. Today, it stands as a testament to Russia's turbulent past and dynamic present.
Surrounded by the iconic sights of the Moscow Kremlin, Saint Basil's Cathedral, the State Historical Museum, and the GUM department store, the Red Square presents an architectural feast for the eyes. Each edifice, with its distinctive style and ornate design, tells a story of a different era in Russian history.
Saint Basil's Cathedral, with its technicolor onion domes, is perhaps the most recognizable symbol of Russia, while the imposing Kremlin walls and towers convey a sense of power and history. The State Historical Museum's intricate façade is a grand showcase of Russian design, and the GUM department store offers a glimpse of Moscow's cosmopolitan side with its high-end shopping experience.
Visiting the Red Square is like stepping into a living history book. Every corner, every brick has a story to tell. As you walk across the cobblestones, the vibrant pulse of Moscow is almost tangible, reflecting the city's blend of history, culture, and modernity.
So, while in Moscow, make sure to spend ample time in the Red Square. Whether it's day or night, this bustling square is always alive, offering a myriad of experiences to every visitor. Breathtaking sights, a sense of history, and a vibrant atmosphere make it a must-visit destination on any Moscow itinerary.
6. Tsaritsyno Museum-Reserve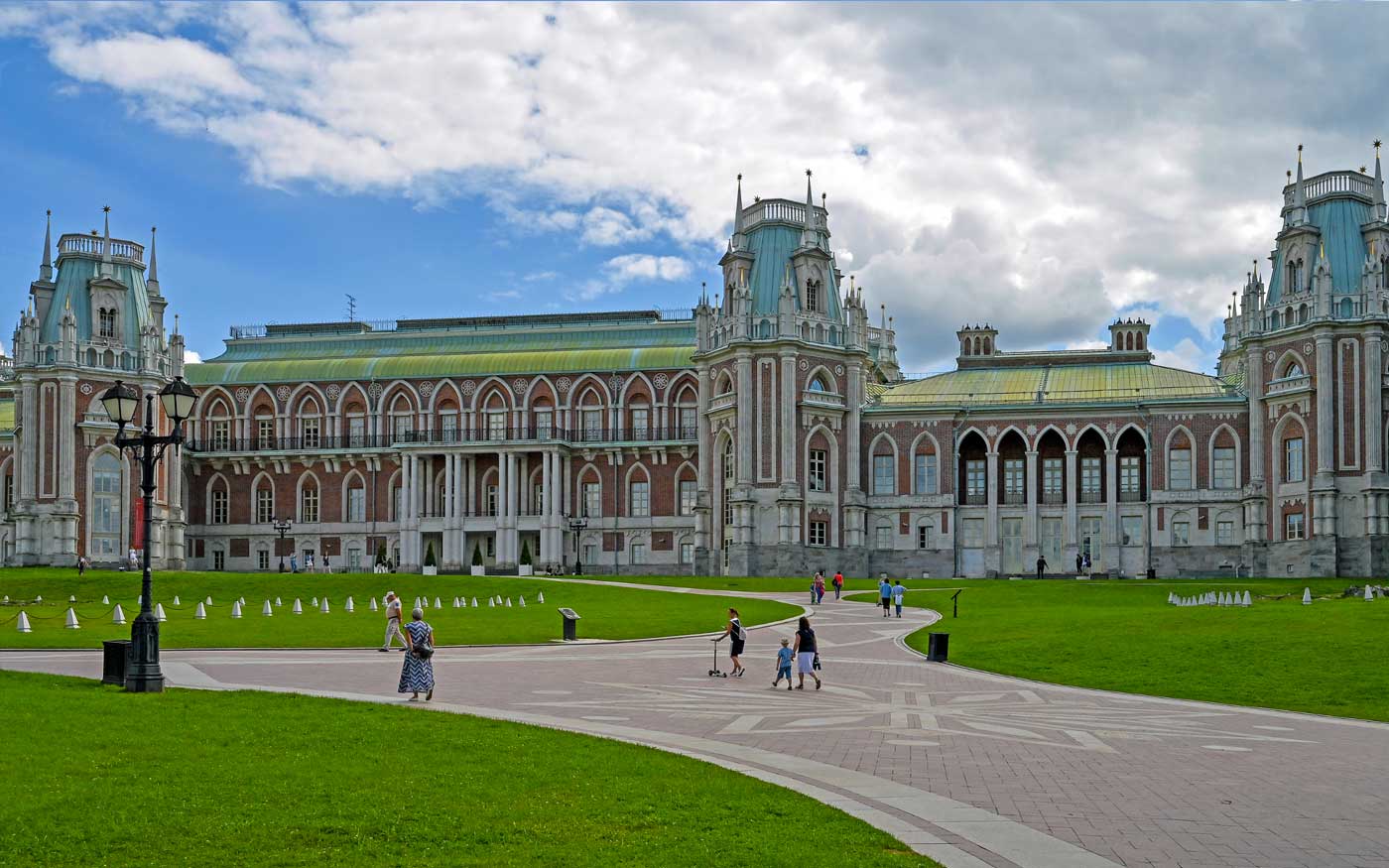 Immerse in Russia's Regal Past: A Journey through the Tsaritsyno Museum-Reserve
Picture a sprawling estate adorned with majestic palaces, beautiful gardens, picturesque bridges, and peaceful ponds. Welcome to the Tsaritsyno Museum-Reserve, an oasis of history, culture, and natural beauty tucked away in the bustling metropolis of Moscow.
Commissioned by Catherine the Great in 1776, the Tsaritsyno Museum-Reserve is a magnificent testament to Russian architecture and park design of the late 18th century. The reserve is home to a variety of stunning architectural structures, including the breathtaking Grand Palace, which remains a jewel of Russian neo-Gothic architecture.
However, the charm of Tsaritsyno extends beyond its majestic edifices. It also encompasses a massive landscape park complete with decorative ponds and picturesque landscapes that offer a tranquil retreat from the city's hustle and bustle. Regardless of the season, the park's natural beauty provides a scenic backdrop that promises a delightful leisurely stroll.
Inside the museum, you'll be transported back in time as you explore the rich collection of Russian and foreign art from the 18th to 20th centuries, including paintings, ceramics, glass, and tapestries. Each exhibit tells a fascinating story about the life and tastes of the Russian nobility during Catherine's reign.
Beyond the museum and park, Tsaritsyno hosts various cultural events, exhibitions, and festivals throughout the year, adding to its vibrant atmosphere. Whether it's a folk concert in the summer or a sledding event in the winter, there's always something to look forward to.
The Tsaritsyno Museum-Reserve is more than a sightseeing destination; it's a journey through the opulence of Russia's royal past and an immersion in natural tranquility. It is an absolute must-visit for any traveler eager to delve deeper into Russia's rich cultural heritage, all while enjoying a peaceful escape within Moscow's dynamic cityscape.
7. Bolshoi Theatre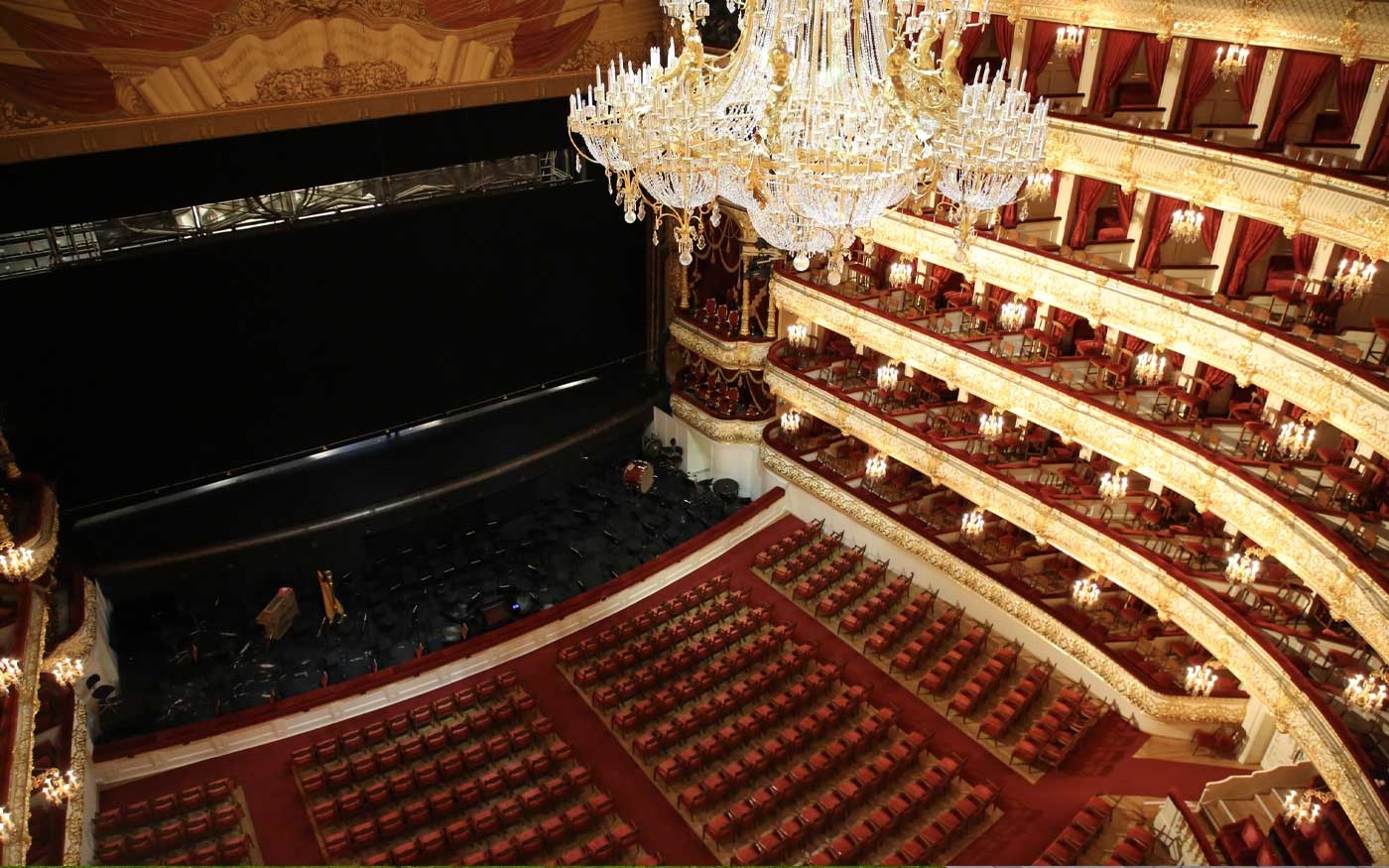 Curtain Up at the Bolshoi: A Must-See Icon of Moscow's Cultural Scene
Step into the world of Russian art and culture at its finest with a visit to the legendary Bolshoi Theatre, an iconic symbol of Moscow and a treasured gem of the city's cultural heritage.
Standing majestically at the heart of Moscow since 1825, the Bolshoi Theatre is renowned worldwide for its grandeur, history, and, most importantly, its exceptional ballet and opera performances. The name 'Bolshoi' translates to 'big' or 'grand' in Russian, a fitting descriptor for this impressive six-tier theatre with its gilt and crimson interiors and colossal crystal chandelier.
A visit to the Bolshoi is a feast for the senses, from the moment you first see the grand neoclassical façade adorned with the statue of Apollo in his quadriga. Stepping inside, you'll be greeted with an atmosphere of elegance and history, which sets the stage for the world-class performances that await.
The Bolshoi Ballet and Bolshoi Opera are among the oldest and most prestigious companies in the world. Over the centuries, the Bolshoi Theatre has premiered many of the greatest works in the canon of ballet and opera, showcasing the talents of some of the world's most gifted performers. Watching a performance here isn't just a night at the theatre; it's a step into a world of grace, beauty, and emotive storytelling that's likely to leave you spellbound.
Even if you don't consider yourself an avid theatre-goer, a tour of the Bolshoi Theatre is still a worthwhile addition to your Moscow itinerary. Behind-the-scenes tours offer a fascinating glimpse into the theatre's history and backstage secrets, enhancing your appreciation of this cultural masterpiece.
8. The Museum of Cosmonautics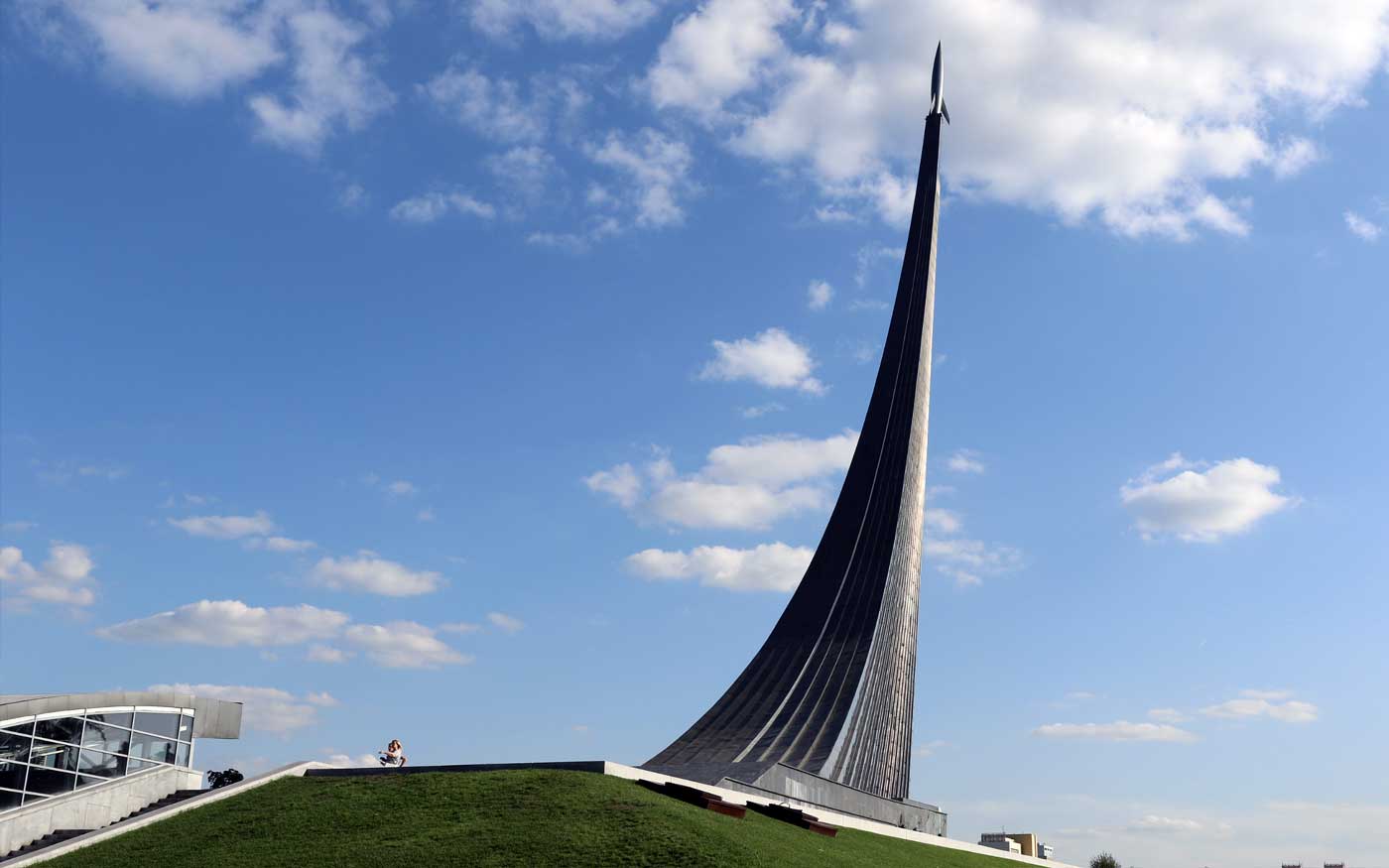 Journey to the Stars: A Voyage through the Museum of Cosmonautics in Moscow
If you've ever dreamed of journeying to the stars or been fascinated by the mysteries of space, then the Museum of Cosmonautics in Moscow is a destination you simply can't miss. This impressive museum takes visitors on an exciting journey through the history of space exploration, from the early dreams of skyward-bound adventures to modern interstellar travel.
The Museum of Cosmonautics is housed beneath the striking Monument to the Conquerors of Space, a soaring titanium obelisk that is a landmark in its own right. As you approach the monument and see the rocket seemingly soaring into the sky, you'll feel the sense of excitement and wonder that has always surrounded space exploration.
Inside the museum, the journey continues with a wealth of exhibits that tell the story of space exploration in detail. The collection includes authentic space equipment, models of spacecraft, space suits, and even moon rock samples. One of the major highlights is the life-size model of the Mir Space Station, which lets you understand the living conditions of astronauts aboard the station.
Visitors can learn about the legendary figures of space travel, including Yuri Gagarin, the first man in space, and Valentina Tereshkova, the first woman to orbit Earth. There's also a tribute to Laika, the first animal to orbit our planet.
The museum also features interactive exhibits that make the experience even more engaging, especially for younger explorers. You can try your hand at controlling a lunar rover, feel the pull of a gravity chair, or even step inside a centrifuge.
Whether you're a space enthusiast or not, the Museum of Cosmonautics offers a unique, enlightening, and inspiring experience. As you journey through the history of space travel and gaze at the stars from a new perspective, you'll leave with a deeper appreciation of humanity's quest to explore the final frontier. So, strap in and prepare for a journey to the stars right in the heart of Moscow.
9. Armoury Chamber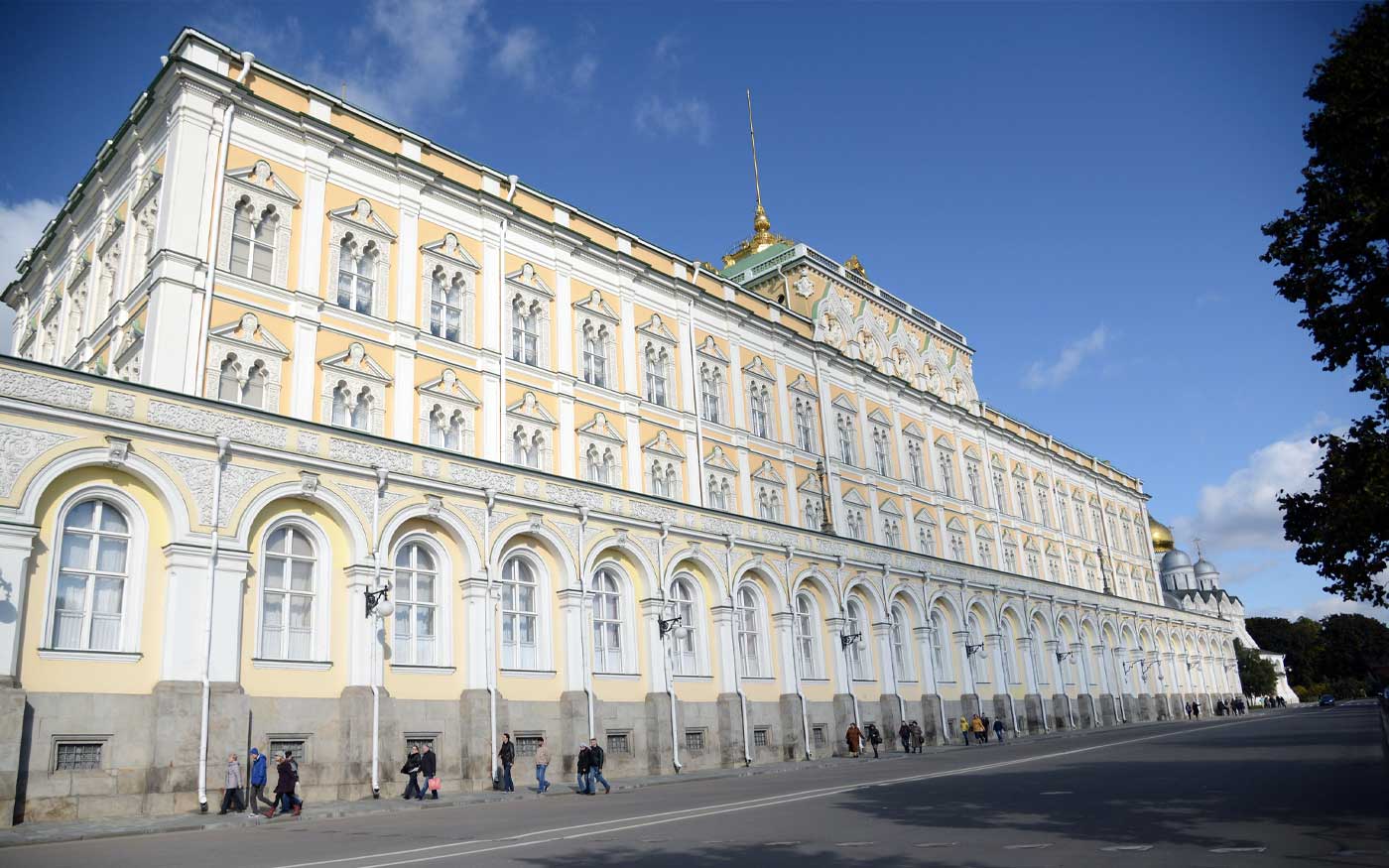 Treasures of the Tsars: A Visit to the Armoury Chamber in Moscow
Situated within the Moscow Kremlin, the Armoury Chamber is a must-visit showcase of Russian grandeur and history. Established in 1808, it holds an extensive array of the Tsars' riches, capturing the essence of Russia's imperial epoch.
From exquisitely designed Fabergé eggs and ceremonial regalia to grand royal carriages and opulent attire, the Armoury Chamber leaves no stone unturned in exhibiting the Tsars' wealth. It also houses an impressive collection of arms and armor, reflecting the military prowess of the Russian Empire.
This treasure trove offers visitors a unique glimpse into the lavish lifestyle of the Russian nobility, making it an essential stop for history enthusiasts and art lovers alike. Be sure to carve out time for the Armoury Chamber on your Moscow adventure; its fascinating history and glittering treasures promise an unforgettable journey into Russia's opulent past.
10. Kolomenskoye Historical and Architectural Museum and Reserve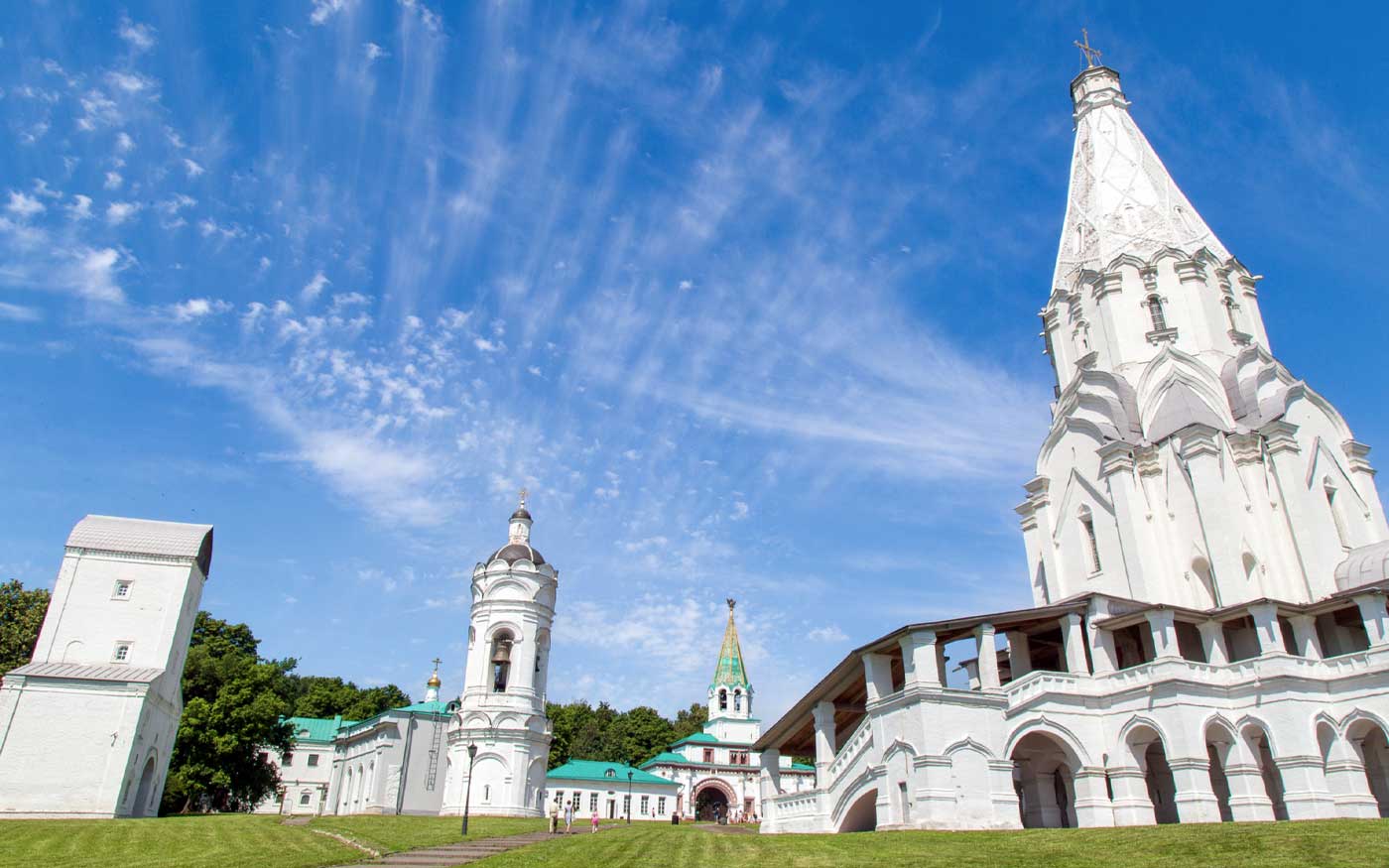 A Step Back in Time: Discover Kolomenskoye Historical and Architectural Museum and Reserve
Embark on a journey into Russia's illustrious past at Kolomenskoye Historical and Architectural Museum and Reserve, an enchanting escape from Moscow's bustling city life. Set within a stunning 390-hectare park along the banks of the Moscow River, this former royal estate showcases remarkable architectural structures and historical treasures.
Most prominent among Kolomenskoye's structures is the Church of the Ascension, an UNESCO World Heritage Site. Erected in 1532 to celebrate the birth of the future Ivan the Terrible, this white-stone church with its tent-like tower has become a symbol of Russian traditional architecture.
Wander the paths of the park and you'll encounter a variety of wooden buildings transported from all over Russia, including the charming Peter the Great's cabin and several traditional Russian izbas (peasant houses). Each of these structures offers a window into different aspects of Russian life over the centuries.
In addition to its historical structures, Kolomenskoye offers lush gardens and orchards perfect for leisurely strolls. The park's natural beauty comes alive during the spring with blossoming apple trees, making it an idyllic picnic spot.
Whether you're a history buff or a nature lover, Kolomenskoye offers an unforgettable retreat. Its blend of rich history, architectural wonders, and natural beauty make it a must-see gem on your Moscow adventure.
Feel free to explore these pages as well:
Largest Cities of Russia: From Moscow to Rostov ↗️
And there you have it – the "Top 10 Must-Visit Places in Moscow," a curated guide to some of the city's most iconic landmarks and hidden treasures. Each stop on this journey promises to provide you with a glimpse into the city's rich tapestry of history, culture, and unparalleled beauty.
Whether you marveled at the opulence of the Armoury Chamber, soaked in the history at the Red Square, or reveled in the tranquility of Kolomenskoye, each experience has hopefully left an indelible mark and sparked a deeper appreciation for Moscow's allure.
But remember, Moscow is a city that's continually evolving and reinventing itself, meaning there's always something new to discover. Even if you've visited these ten sites, countless more adventures await your return. From its vibrant food scene to its flourishing arts and music culture, Moscow is a city that never ceases to surprise and inspire.
So, as you step out from the golden domes and sprawling parks, keep your explorer's spirit alive. Carry the memories, the stories, and the beauty of Moscow with you. And most importantly, keep that sense of curiosity kindled, ready for the next journey in this fascinating city. Until next time, до свидания (goodbye) and safe travels!