Journey through Rio: A Traveler's Guide to the City's Must-See Attractions
Uncover the vibrant heart of Brazil in Rio de Janeiro, a city that pulses with life, color, and the rhythm of samba. Rio, with its stunning landscapes and vibrant culture, offers an array of unforgettable experiences waiting to be explored.
From the world-famous beaches of Copacabana and Ipanema, where the city's lively spirit is on full display, to the breathtaking views atop Sugarloaf Mountain and Corcovado's Christ the Redeemer – Rio presents a spectacular mix of urban life and natural beauty.
Venture beyond the beaches to the bustling streets of Santa Teresa, home to eclectic art and architecture, or lose yourself in the beats of the samba schools in the Sambódromo. Dig deeper into the culture with a visit to the vibrant favelas, where the real carioca spirit thrives amidst colorful buildings and steep, winding streets.
Whether you're seeking thrilling outdoor adventures, captivating cultural experiences, or simply wish to soak in the carioca lifestyle – the "Marvelous City" has something for every traveler.
In this blog, we delve into the top 10 experiences that define Rio de Janeiro, helping you plan an unforgettable journey in this city of wonders. Let's unveil the real Rio, as captivating as samba, as vibrant as its carnival, and as warm as its sun-kissed beaches. So strap in, as we embark on this exhilarating journey.
Here are the 10 best places to visit in Rio de Janeiro:
1. Sugarloaf Mountain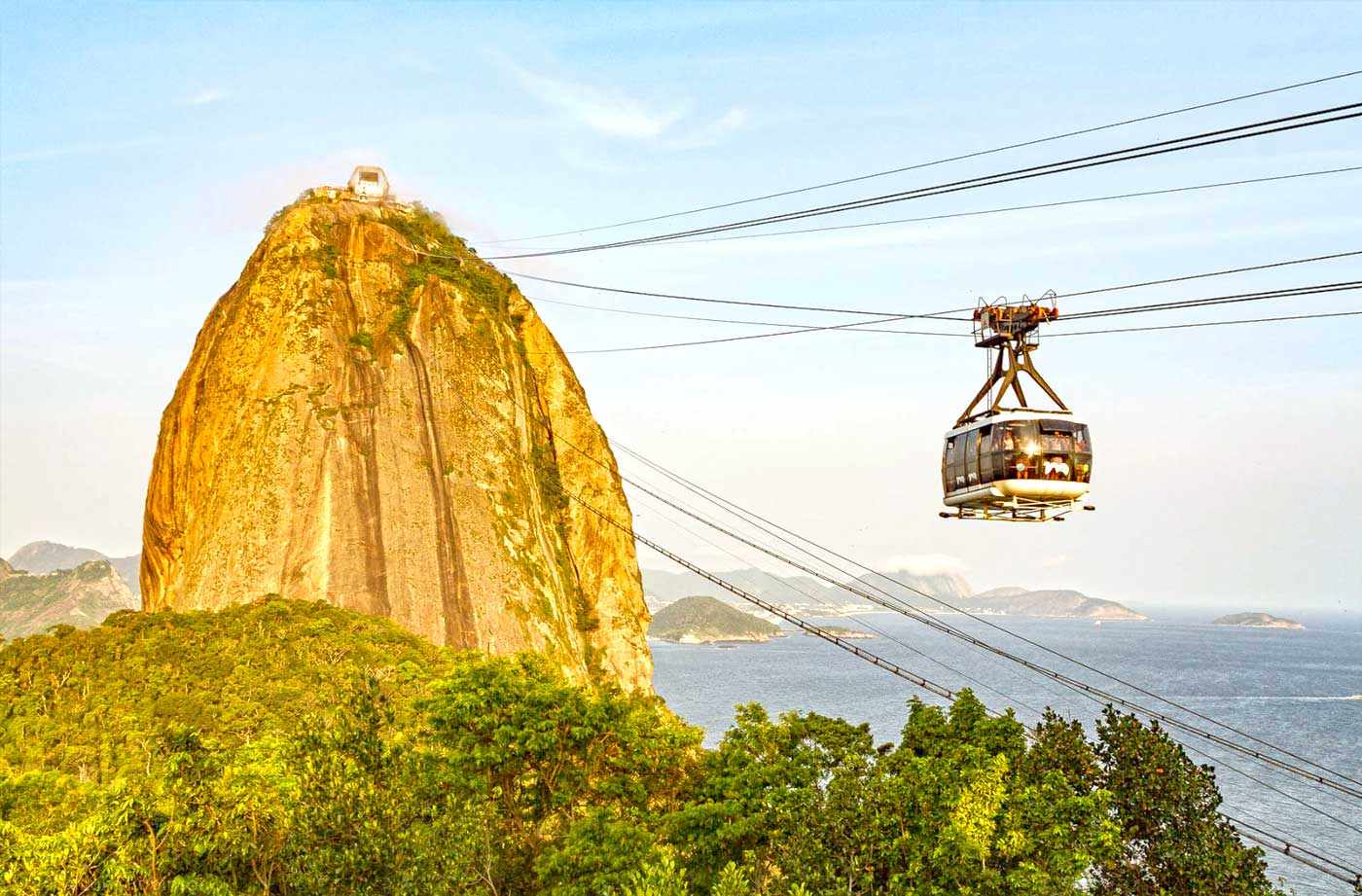 Prepare yourself for an unforgettable journey as we ascend Rio's iconic Sugarloaf Mountain. The name "Sugarloaf" was coined by the Portuguese in the 16th century who thought the shape of the mountain resembled a traditional loaf of refined sugar. Today, this majestic peak offers some of the most panoramic views of Rio de Janeiro that you'll ever encounter.
With its peak reaching 396 meters above sea level, Sugarloaf Mountain stands as a silent guardian over Rio's famed beaches and sparkling blue waters. And it's not just about the view; getting there is an adventure in itself! Board the cable car, known as "Bondinho", for a breathtaking ascent with stunning cityscape views unfolding beneath you.
On the mountain itself, you'll find more than just a magnificent vista. Sugarloaf Mountain is also home to a diverse ecosystem brimming with flora and fauna, making it a paradise for nature enthusiasts. Spot the small marmosets, native birds, and butterflies as you take leisurely walks around.
And if you're lucky enough to visit during sunset, prepare for a sight that will imprint on your memory forever as the vibrant colors of dusk dance across the cityscape. It's no wonder this peak has earned its place as a must-visit destination for any traveler in Rio. So, are you ready for the journey?
2. Corcovado – Christ the Redeemer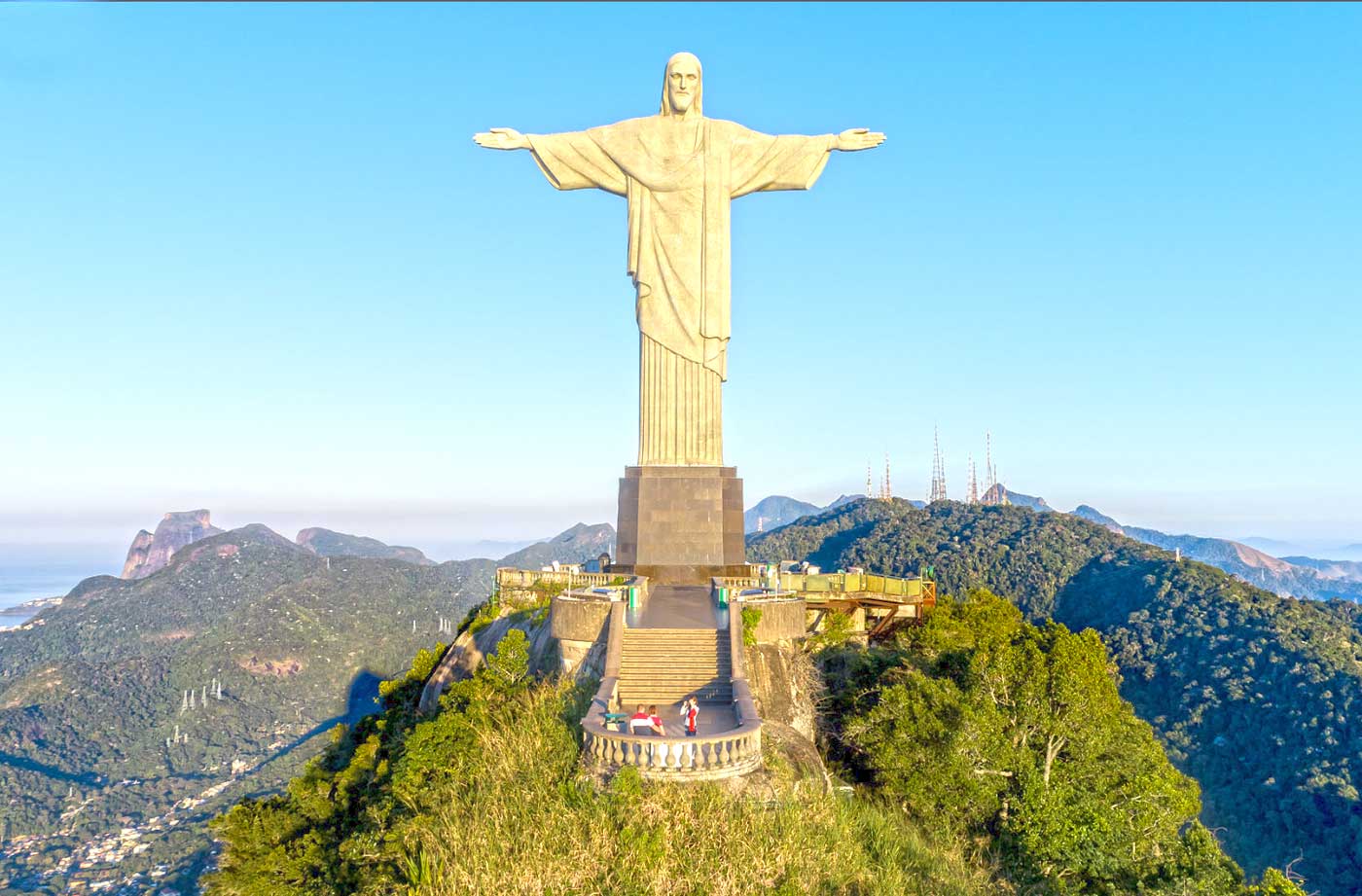 Make your way to one of the New Seven Wonders of the World, the awe-inspiring statue of Christ the Redeemer on Corcovado Mountain. This symbol of Brazilian Christianity since 1931 has been welcoming all with open arms.
Ascend the 710-meter peak either through a vibrant hike in the Tijuca Forest or aboard the traditional Corcovado Train. Each route offers enchanting views and an unforgettable journey.
At the summit, behold the enormity of the statue. Standing 30 meters tall (without including the 8-meter pedestal), and stretching 28 meters wide, it's a marvel of engineering and faith. Don't forget to absorb the panoramic vista of Rio, from the bustling beaches to the distant horizon of the Atlantic Ocean.
Visiting Christ the Redeemer is not just sightseeing; it's an immersive cultural and spiritual experience that encapsulates the essence of Brazil.
3. Botanical Garden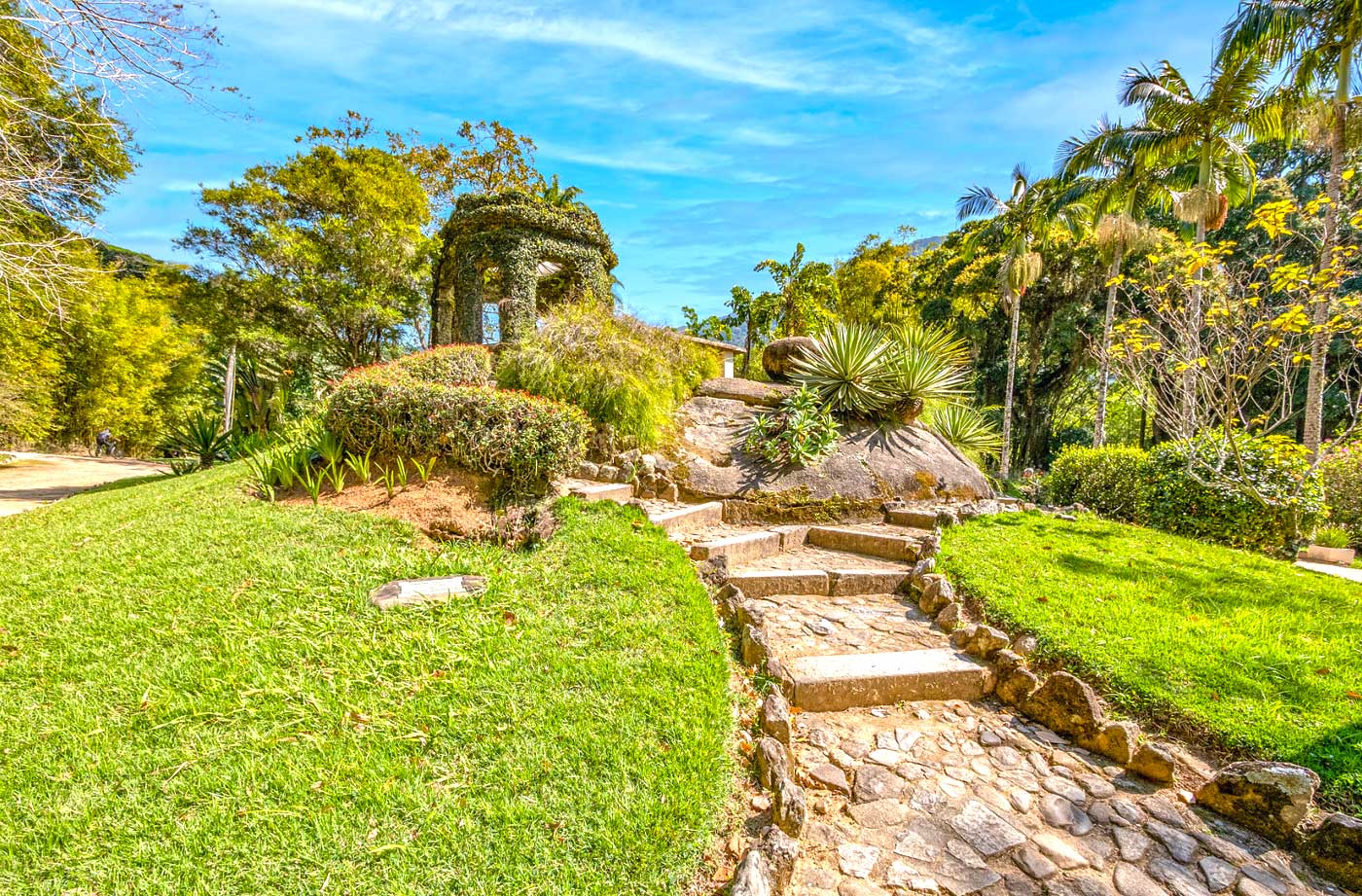 Immerse yourself in the serene beauty of Rio de Janeiro's Botanical Garden, a lush oasis in the heart of the bustling city. This 140-hectare garden is not just a collection of beautiful plants; it's a living museum, home to over 6,500 species from Brazil and around the world.
As you wander through the garden, you'll encounter its stunning diversity – from the majestic royal palms lining the Avenue of Royal Palms, to the captivating orchids in the Orquidário. Look out for the Amazonian section with its giant water lilies, or the Japanese Garden that offers a tranquil retreat.
But the garden isn't just for plant lovers. It's also a haven for birds and other wildlife. Keep your eyes open for the playful marmosets, or listen for the melodious calls of the various birds that call the garden home.
The Botanical Garden is a sanctuary of calm and natural beauty amidst Rio's energetic rhythm. Whether you're an avid botanist, a wildlife enthusiast, or a traveler seeking a peaceful retreat, the Botanical Garden is a must-visit destination on any Rio de Janeiro itinerary. So, take a break from the city's lively pace and lose yourself in the tranquility of nature.
4. Morro da Urca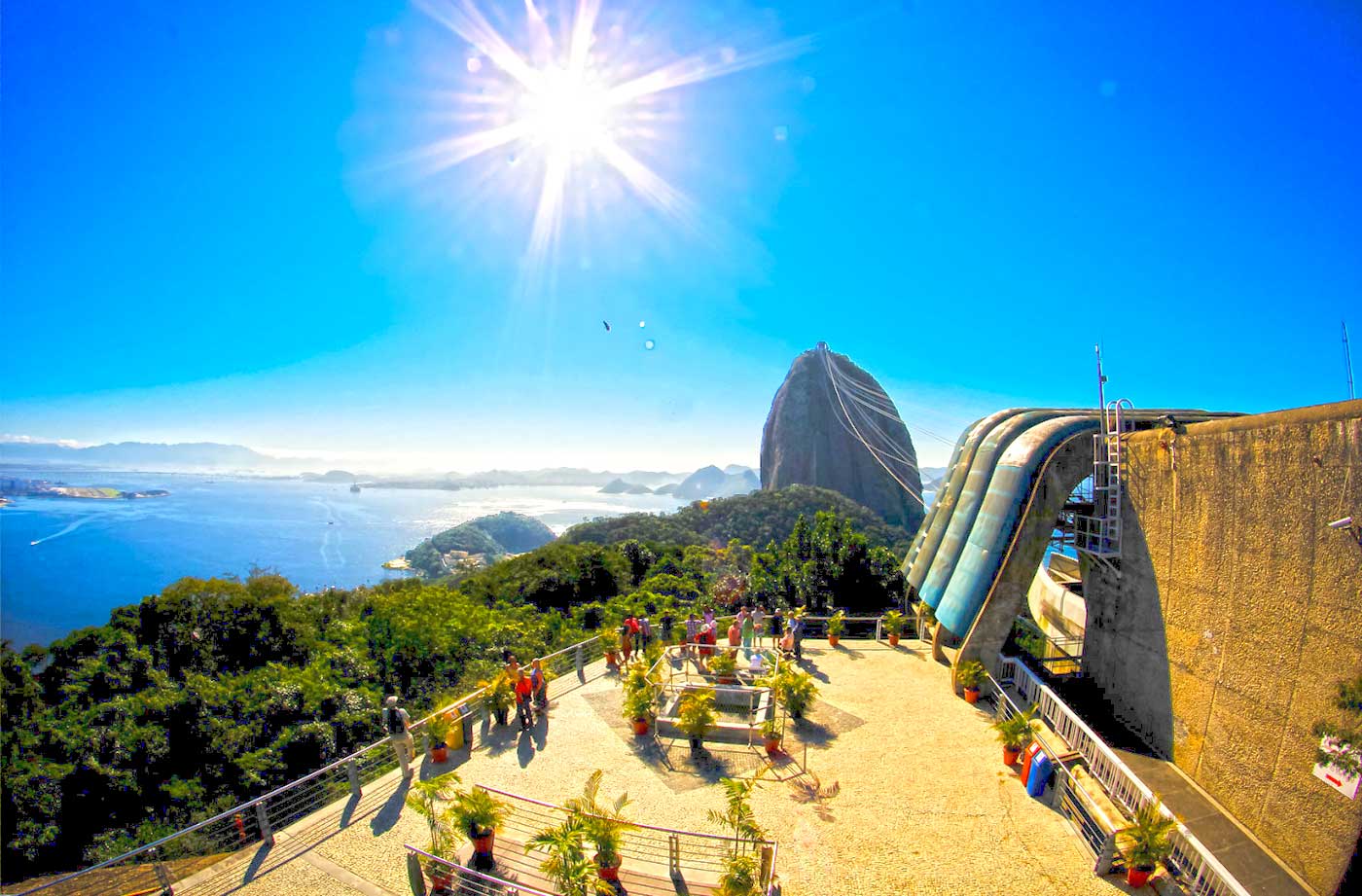 Venture to Morro da Urca, the lesser-known yet captivating first stop on the cable car route to Sugarloaf Mountain. While standing at a height of 220 meters, it presents stunning panoramic views of Rio's iconic cityscape, coastlines, and landmarks.
Accessible via the Bondinho or cable car, the journey offers an aerial perspective of the city's beauty. On arrival, enjoy vistas encompassing Guanabara Bay, the Rio-Niterói Bridge, and the distant Christ the Redeemer statue.
Besides the views, Morro da Urca hosts various amenities, including restaurants, shops, and a helipad for scenic rides. As night falls, it comes alive with music and a bustling nightlife, perfect for a sunset drink overlooking the twinkling city lights.
From day to night, Morro da Urca offers an unforgettable slice of Rio, blending stunning vistas with vibrant experiences.
5. Ipanema Beach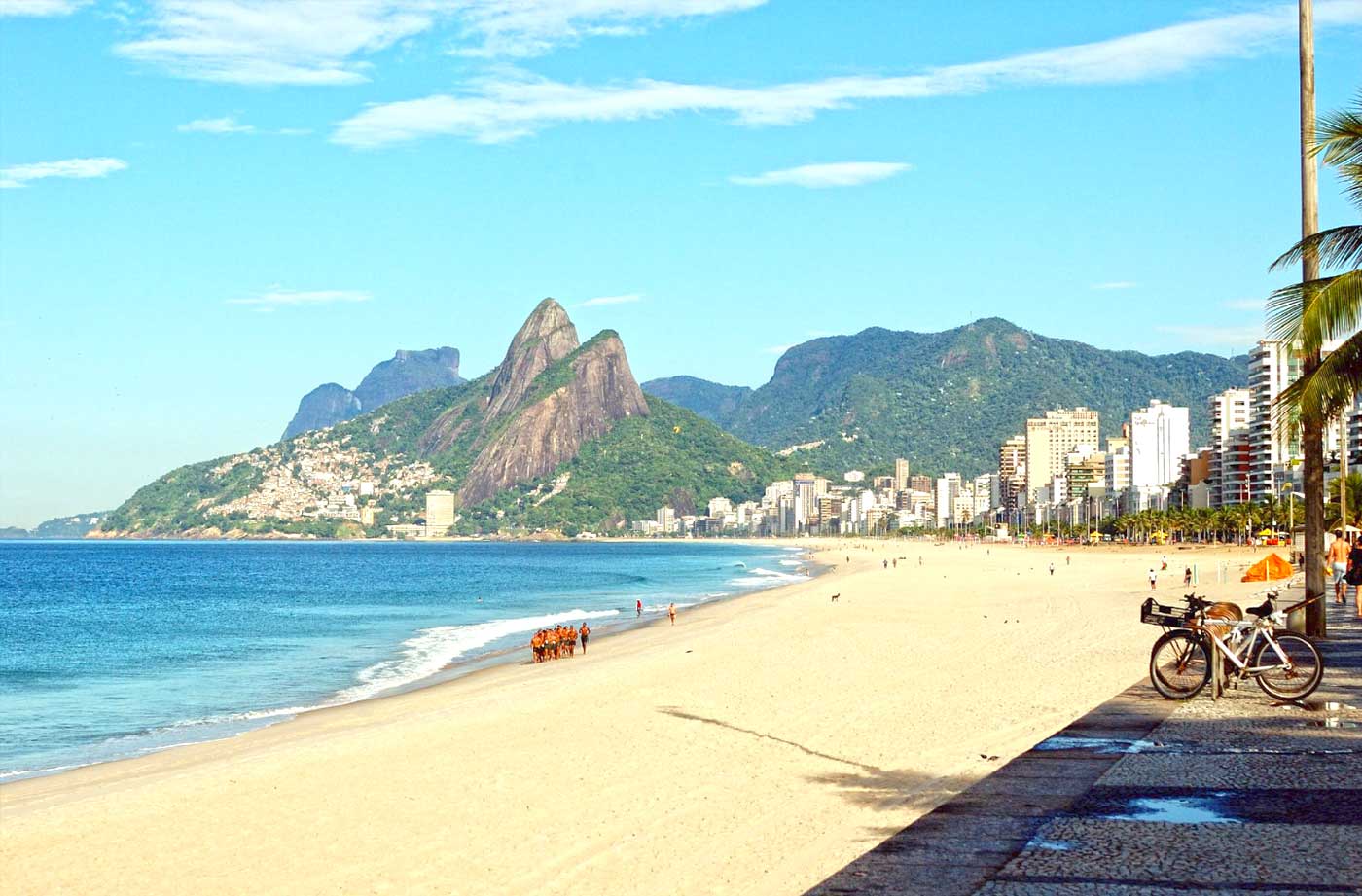 Discover the vibrant spirit of Rio de Janeiro at Ipanema Beach, the legendary locale immortalized in "The Girl from Ipanema" song. A blend of sun, sea, and sport, this coastline epitomizes Rio's lively beach culture.
Ipanema bustles with a plethora of activities – from football and volleyball games to surfers riding waves. This is the place to bask under the Brazilian sun or enjoy a refreshing Caipirinha while soaking in the lively ambiance.
Marked by lifeguard stands, known as postos, the beach attracts diverse crowds, with Posto 9 being a trendy hotspot. A must-experience tradition is the applauding of the sunset from Arpoador rock, followed by a night exploring the nearby bustling restaurants, bars, and boutiques.
More than just a beach, Ipanema is a slice of Rio life, rich in energy, diversity, and relaxed charm, making it a must-visit for any traveler.
6. Barra da Tijuca Beach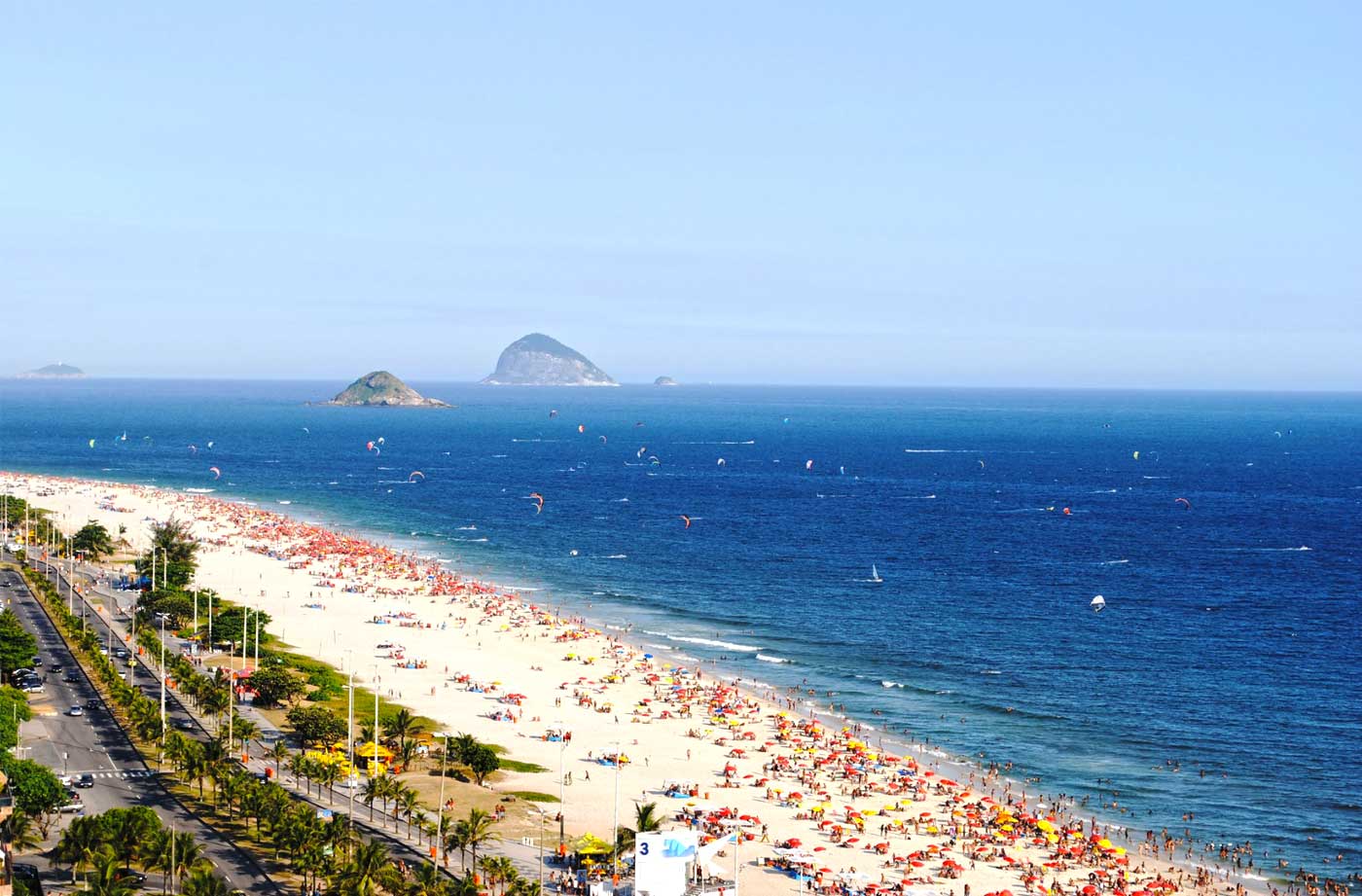 Experience the relaxed vibes at Barra da Tijuca Beach, the longest beach in Rio de Janeiro. Known locally as just 'Barra', this 18-kilometer stretch of soft white sand provides a quieter, more spacious alternative to the city's bustling southern beaches.
Barra da Tijuca is a paradise for water sports enthusiasts. Here, surfers, kite surfers, and bodyboarders ride the Atlantic waves, while the beach's flat terrain is ideal for cycling and jogging. It's also home to some of the city's best beachfront restaurants and kiosks, where you can sample fresh seafood and sip on refreshing tropical drinks.
The beach is bordered by the towering peaks of the Pedra da Gávea and the Pedra Bonita, creating a stunning backdrop for your beach day. It's also close to the Marapendi lagoon, where you can enjoy a serene boat ride or a walk along the shore.
Whether you're seeking active pursuits or simply want to unwind away from the crowds, Barra da Tijuca Beach offers a laid-back beach experience with its own unique charm. The mix of leisurely beach life, exhilarating water sports, and natural beauty makes it a must-visit spot for every Rio traveler.
7. Museu do Amanha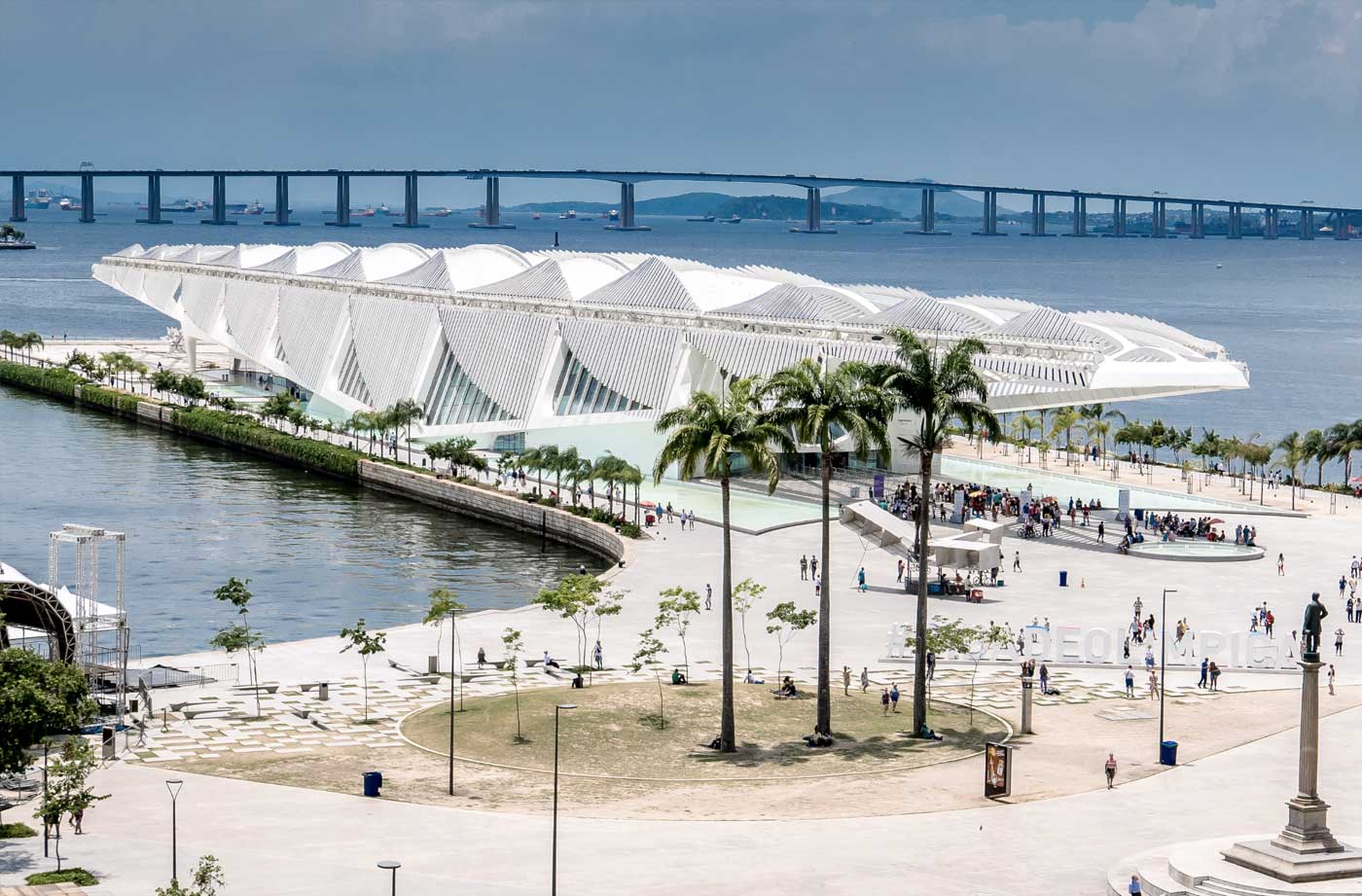 Explore the future at the Museu do Amanhã (Museum of Tomorrow) in Rio de Janeiro. This innovative science museum, located in the revitalized Porto Maravilha, merges art, science, and exploration, stimulating thoughts about our future.
Designed by the renowned architect Santiago Calatrava, the building itself is a piece of sustainable art. Inside, interactive exhibits tackle complex concepts like climate change and population growth, presenting an immersive, thought-provoking journey.
Beyond the museum, Mauá Square offers a vibrant waterfront ambiance with food trucks and local vendors. The Museu do Amanhã isn't just a museum; it's an enlightening voyage into our potential future, a must-visit for every curious traveler in Rio.
8. Mirante Dona Marta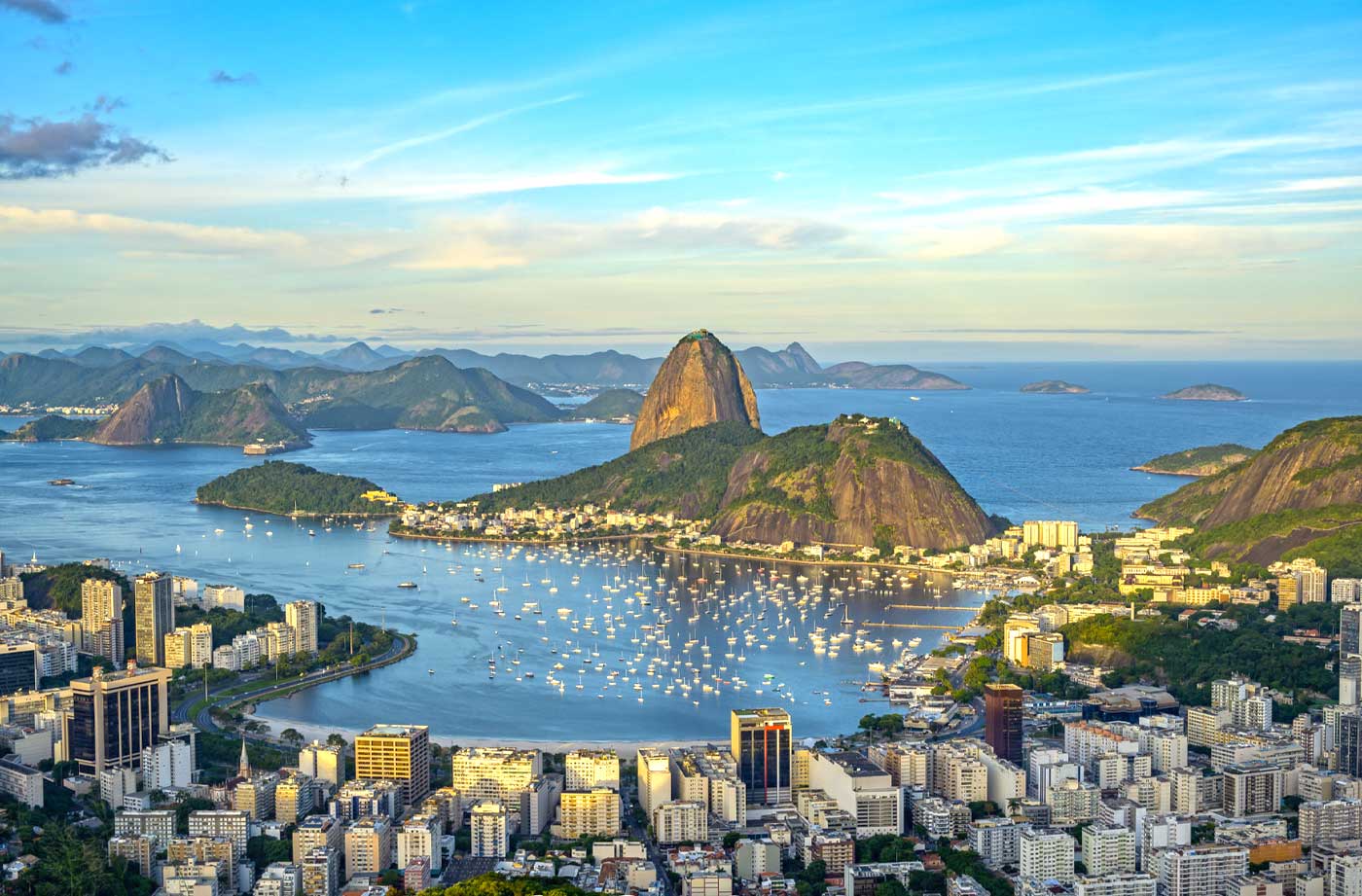 Ascend to one of Rio de Janeiro's best-kept secrets, the Mirante Dona Marta. This lesser-known viewpoint offers unobstructed panoramic vistas of the city, often hailed as the best view in Rio. From this vantage point, the city unfolds beneath you like a 3D map.
From the heights of Mirante Dona Marta, you can see iconic sights such as the Christ the Redeemer statue, Sugarloaf Mountain, the Maracanã Stadium, and the Rodrigo de Freitas Lagoon. The beautiful Guanabara Bay also stretches out before your eyes, fringed by the cityscape on one side and the vast Atlantic Ocean on the other.
The lookout is easily accessible by car or van, and there's often less crowd than at more famous viewpoints, making it a tranquil spot to soak in the city's splendor. Don't forget to bring your camera; the breathtaking scenery offers countless photo opportunities.
Mirante Dona Marta is an unforgettable experience for anyone exploring Rio de Janeiro, offering a unique perspective on this city of samba, sun, and stunning natural beauty. Make sure to add this hidden gem to your Rio itinerary.
9. Arpoador Beach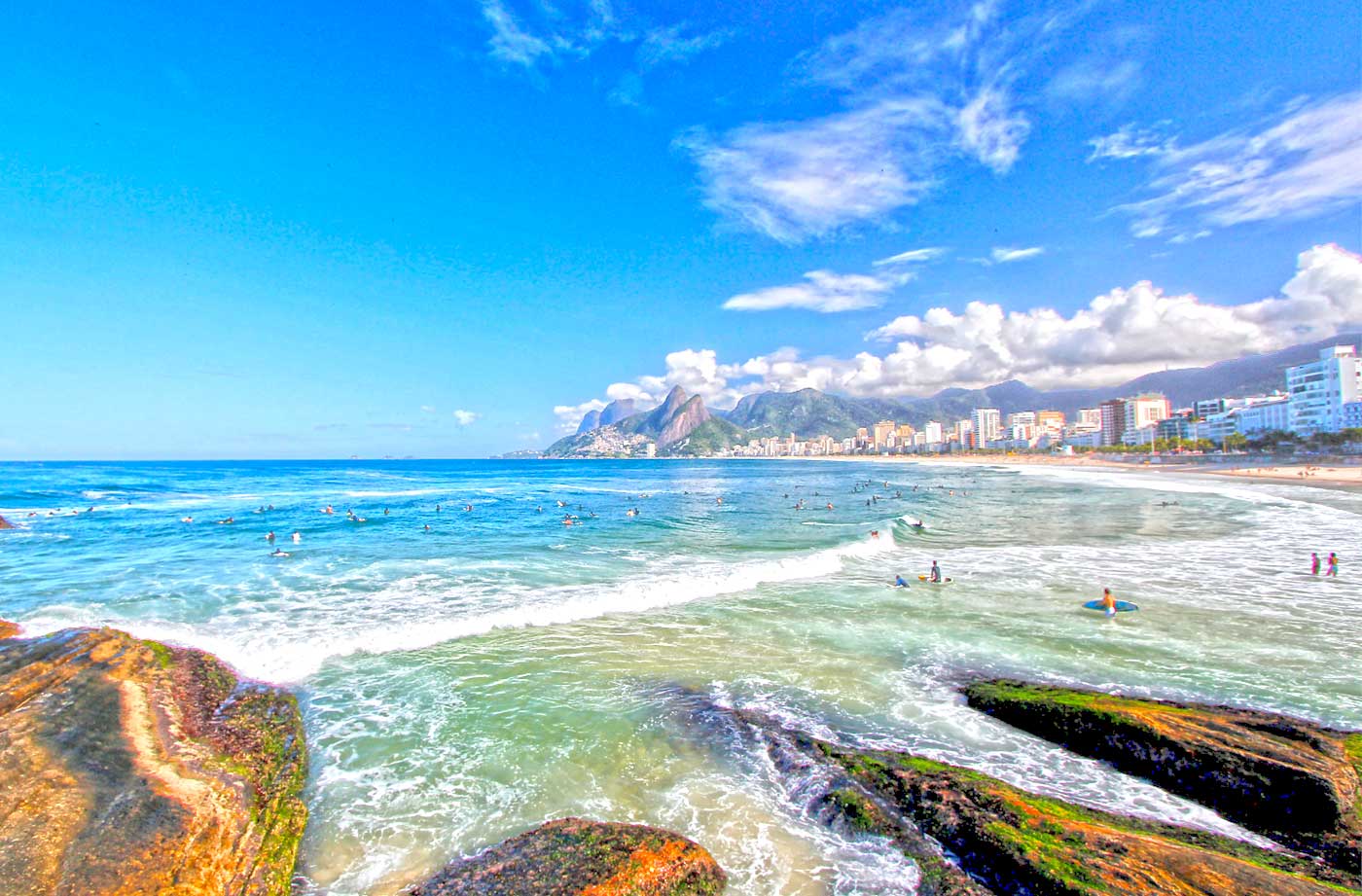 Nestled between Copacabana and Ipanema, Arpoador Beach is a must-visit spot in Rio. Though smaller in size, it's big on character, known for its excellent surfing conditions and magnificent sunsets.
Renowned among surfers, Arpoador's consistent waves attract all levels of surf enthusiasts. But the beach is not just about surfing. It's also the place for the city's best sunset, where applauding as the sun sets is a magical local tradition.
After sunset, the beach transforms with street musicians and locals gathering, adding to the authentic carioca atmosphere. Arpoador Beach, with its natural beauty, vibrant energy, and local culture, is a captivating slice of Rio life.
10. Copacabana Beach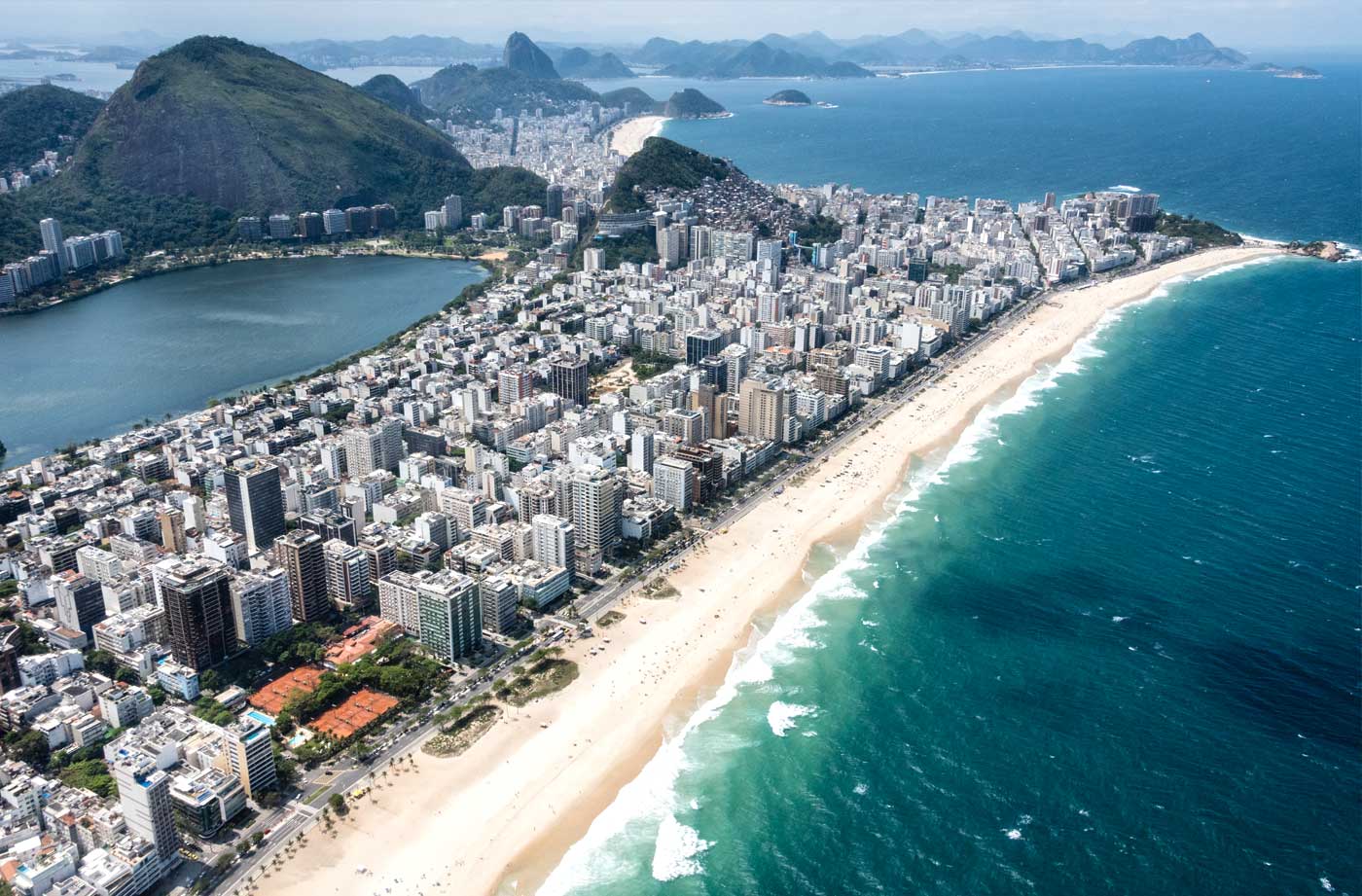 Immerse yourself in the iconic Copacabana Beach, a pulsating hub in Rio de Janeiro. Known for its crescent-shaped stretch of golden sand, Copacabana is more than just a beach; it's a vibrant microcosm of Rio life.
Copacabana is a hive of activity, with locals and tourists playing beach soccer and volleyball, practicing yoga, or simply basking under the Brazilian sun. The palm-lined promenade, designed by Roberto Burle Marx, is perfect for leisurely strolls or cycling.
The beach is known for its lively kiosks, where you can indulge in a refreshing caipirinha or savor local snacks like acai and grilled cheese. At night, the area transforms into a vibrant nightlife scene with its beachfront restaurants and bars offering live samba and bossa nova performances.
No visit to Rio is complete without a walk along Copacabana Beach, watching the waves crash against the shore while the city buzzes behind you. Whether for relaxation, sports, or cultural experiences, Copacabana Beach promises a true taste of the carioca lifestyle.
Feel free to explore these pages as well:
And there you have it – the top 10 experiences that make Rio de Janeiro a truly unforgettable destination. From the vibrant energy of its famous beaches to the awe-inspiring vistas atop its iconic landmarks, the rhythmic pulse of samba to the rich flavors of its local cuisine – each facet of Rio offers a unique glimpse into its soul.
However, this is just the tip of the iceberg. Rio de Janeiro, in all its captivating vibrancy and diversity, is a city best experienced firsthand. Each corner hides a story, each street echoes with music, and each local you meet radiates the warm carioca spirit.
As you plan your visit, remember to keep an open heart and mind. Be prepared to be swept off your feet by the city's infectious energy, to fall in love with its beauty, and to leave a piece of your heart behind in Rio.
In this city of samba, sunshine, and spectacular sights, your adventure is only just beginning. So pack your bags, book your ticket, and get ready to experience the magic of Rio de Janeiro. Trust me, as a seasoned traveler and passionate blogger, I assure you, Rio is a place you'll want to return to, again and again.