Exploring Madrid: A Traveler's Guide to the 10 Essential Attractions
Nestled in the heart of Spain, Madrid offers an irresistible blend of history, culture, gastronomy, and vibrant nightlife. This bustling metropolis is a city that never sleeps, where ancient architecture coexists with modern skyscrapers, and where every corner echoes with the rhythm of life. This guide to the top 10 must-see attractions in Madrid is designed to help you navigate through the city's rich offerings and make the most out of your trip.
Whether you're a first-time visitor or a seasoned traveller returning for another dose of Madrid's charm, this list combines the iconic with the hidden, the historical with the contemporary. You'll explore world-class museums holding centuries-old artefacts, walk through verdant parks offering an oasis in the city, and marvel at palatial architecture telling stories of Spain's regal past. From the bustling Gran Via to the serene Parque del Retiro, each attraction unravels a unique facet of Madrid's character.
So, get ready to step into Madrid's bustling streets, immerse yourself in its lively atmosphere, taste its culinary delights, and explore its artistic treasures. This guide will navigate you through the must-see sights and hidden gems of Madrid, ensuring your experience in Spain's capital is nothing short of memorable. Welcome to the journey of discovering Madrid – a city where history meets modernity, and culture comes alive.
Here are the 10 best places to visit in Madrid:
1. Prado National Museum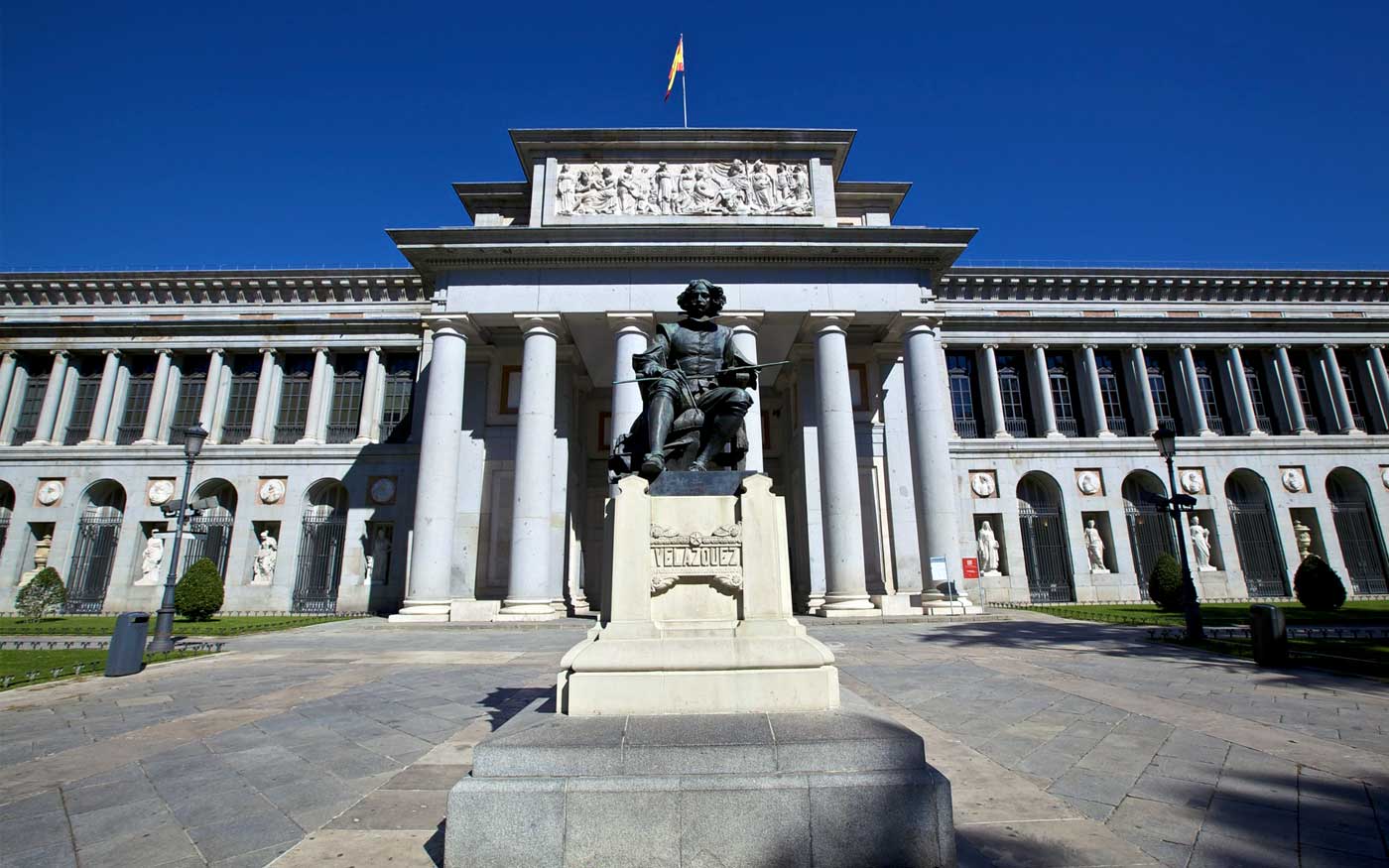 In the heart of Madrid, you'll find the Prado National Museum, widely regarded as one of the world's greatest art galleries and an absolute must-visit for any culture and art aficionado. Housed in an 18th-century Neo-Classical building, the museum is a treasure trove of Western art, with a focus on Spanish masters.
The Prado's collection is vast, with over 8,000 drawings, 7,600 paintings, 4,800 prints, and 1,000 sculptures. Yet, it's the quality, not just the quantity, that leaves visitors in awe. The museum is especially renowned for its assemblage of Spanish Golden Age masterpieces by artists such as Velázquez and El Greco, as well as works by Goya, who is often described as the last of the Old Masters and the first of the moderns.
Don't miss "Las Meninas" by Velázquez and "The Third of May 1808" by Goya, two of the most famous paintings in the collection. Yet, the Prado's treasures aren't limited to Spanish art. It also boasts an impressive collection of works by other European masters, such as Titian, Rubens, Bosch, and Raphael.
The museum's layout allows for a comfortable, chronological exploration of the artworks, offering a journey through the evolution of art over several centuries. Whether you're an art historian or a casual visitor, the Prado National Museum's magnificent collection provides a unique opportunity to witness the great epochs of Western art under one roof.
Allow plenty of time to soak in the richness of the Prado – it's a cultural immersion that invites you to step back in time and experience the world through the eyes of some of history's most brilliant artists.
2. Parque del Retiro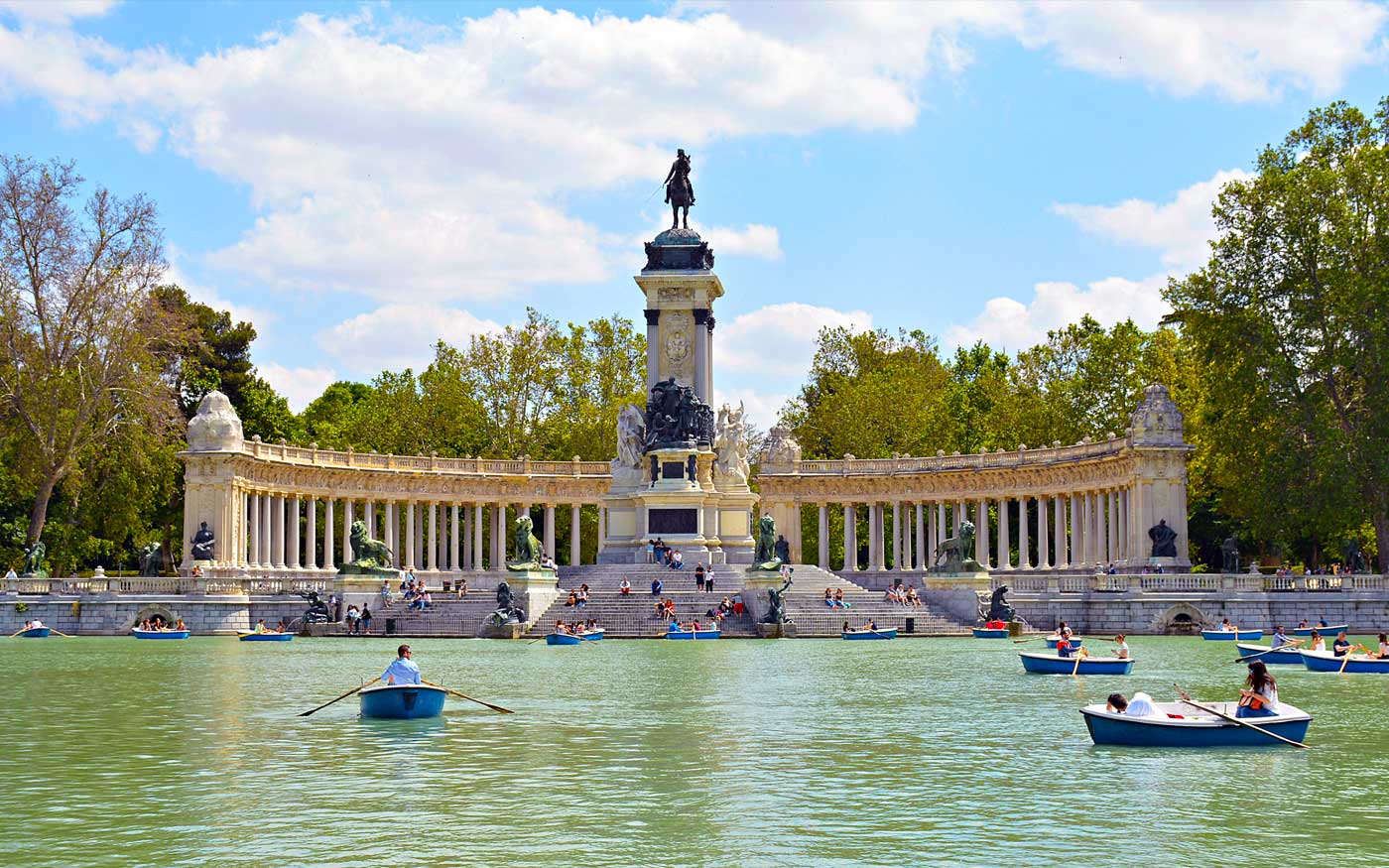 Just steps away from Madrid's bustling city center lies the Parque del Retiro, a sprawling oasis that offers an idyllic retreat from the urban hustle. Covering over 350 acres, the Retiro Park, as it's often called, is a beautifully landscaped sanctuary filled with shady trees, serene ponds, blooming flowerbeds, and historic monuments.
Originally a royal retreat in the 17th century, Retiro Park is now a beloved spot for both locals and tourists alike. Its most famous feature is perhaps the vast Estanque Grande del Retiro, a large artificial lake where you can rent a rowboat, relax, and enjoy the picturesque view of the monument to King Alfonso XII on the lakeside.
Art lovers shouldn't miss the Palacio de Velázquez and the Palacio de Cristal, two exquisite exhibition spaces managed by the Reina Sofía Museum. The latter, a beautiful glass structure nestled by a small lake, is especially striking when it catches the sunlight.
The park also offers numerous gardens, each with its own unique character. The Rosaleda rose garden is a riot of color in spring, while the formal French-style Parterre Francés boasts a 400-year-old cypress tree, believed to be Madrid's oldest tree.
Whether you're enjoying a picnic under the shade, taking a leisure stroll, participating in a free outdoor yoga class, or simply watching the world go by from a park bench, Retiro Park is a versatile space that caters to all types of visitors. A microcosm of Madrid life, it is the perfect place to unwind, people-watch, and truly soak in the leisurely Spanish pace of life.
3. Santiago Bernabeu Stadium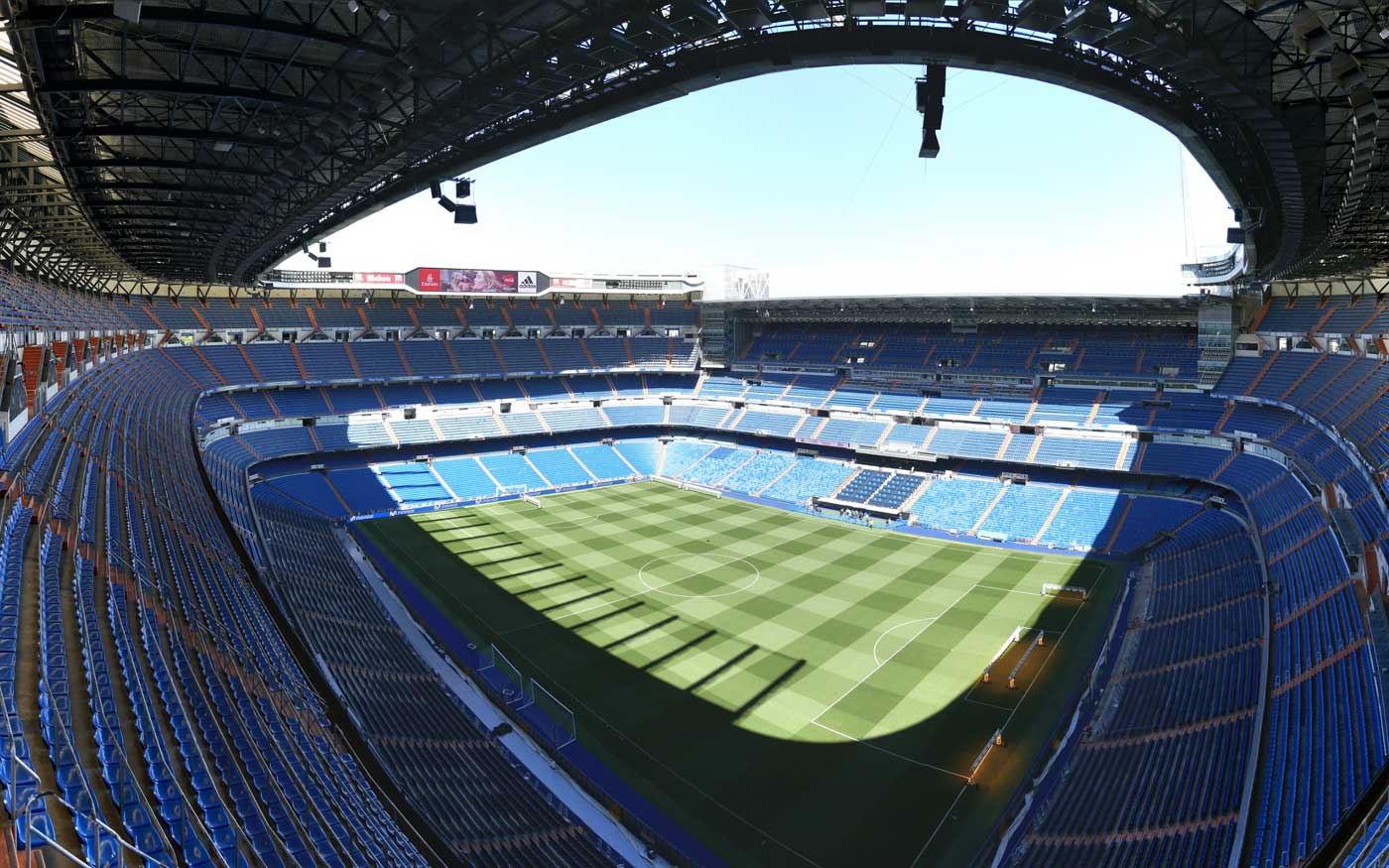 An iconic symbol of Madrid's passion for football, the Santiago Bernabéu Stadium is more than just a sports venue – it's a cathedral of football, and a must-visit for any sports enthusiast. Home to the Real Madrid Football Club, one of the most successful clubs in the world, the Bernabéu is steeped in history and prestige.
Named after former club president Santiago Bernabéu, the stadium was inaugurated in 1947 and has since become one of the world's most famous football grounds. It has an impressive seating capacity of over 80,000, making it one of the largest stadiums in Europe.
A tour of the Bernabéu offers a deep dive into the rich history of Real Madrid. Visitors can explore the 'Tunnel' and the 'Dugout' where players have waited for their turn to make football history, and the 'Presidential Box,' the most exclusive area of the venue. Another highlight is the 'Trophy Room,' showcasing an extensive collection of the club's glittering prizes, a testament to Real Madrid's sporting success.
But perhaps the most thrilling part of the tour is stepping onto the panoramic view point, a unique vantage point offering breathtaking views of the entire stadium. From here, you can imagine the electric atmosphere on match days, with the roars of passionate fans echoing around the stadium.
Whether you're a football fan or not, the Bernabéu offers an insight into the city's heart and soul. It's not just about the sport – it's about the passion, the community, the shared joys and sorrows that come with being part of this football family. A visit to Santiago Bernabéu is a peek into this deep-seated cultural phenomenon that is truly Madrileño at heart.
4.  Royal Palace of Madrid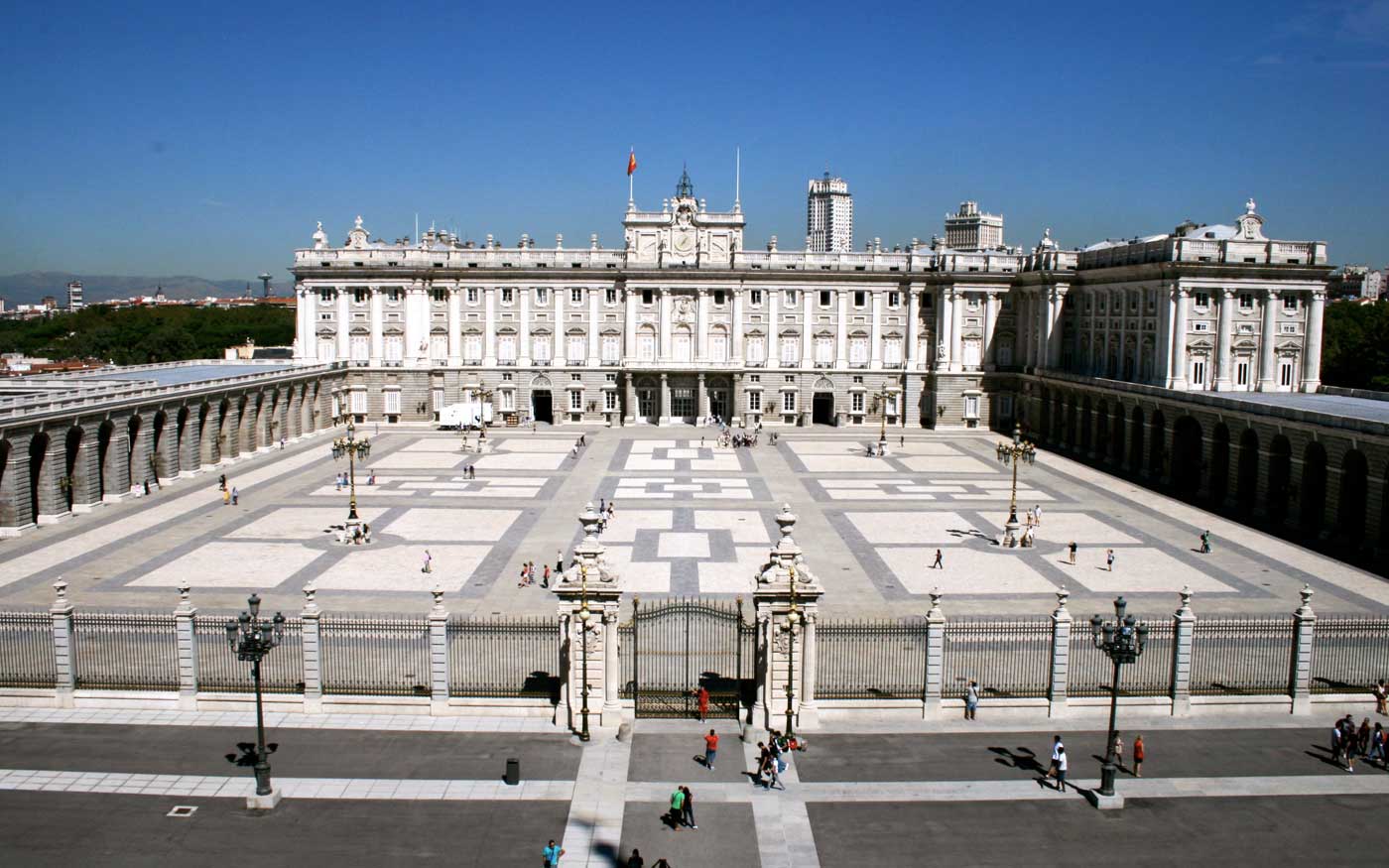 Steeped in history and grandeur, the Royal Palace of Madrid, known as Palacio Real, is one of the city's most stunning landmarks. A testament to Madrid's regal past, it's an absolute must-visit for any tourist seeking to delve into the rich tapestry of Spanish history and culture.
The palace, which serves as the official residence of the Spanish Royal Family, is a spectacular example of 18th-century Baroque architecture. However, the royal family doesn't currently live here; instead, the palace is used for state ceremonies, meaning much of it is open for public exploration.
Inside, you'll find a labyrinth of 3,000 rooms brimming with art, furniture, and fixtures from centuries past. Among the many highlights are the opulent Throne Room, with its stunning ceiling fresco by Tiepolo, the Royal Pharmacy, filled with old medicine bottles, and the Royal Armoury, which contains an impressive collection of weaponry dating back to the 15th century.
Equally impressive are the palace's gardens, Campo del Moro and Sabatini Gardens, both of which provide tranquil spaces for leisurely walks, and offer stunning views of the palace facade.
It's worth noting that the Royal Palace of Madrid is one of the largest in Europe, so it's a good idea to set aside plenty of time for your visit. A guided tour is a great way to navigate the vast complex and gain insights into the history and significance of the various rooms and exhibits.
With its rich history and jaw-dropping beauty, the Royal Palace is more than just a building; it's a journey into the heart of Spanish royal tradition and an essential stop on any Madrid itinerary.
5. Museo Nacional Thyssen-Bornemisza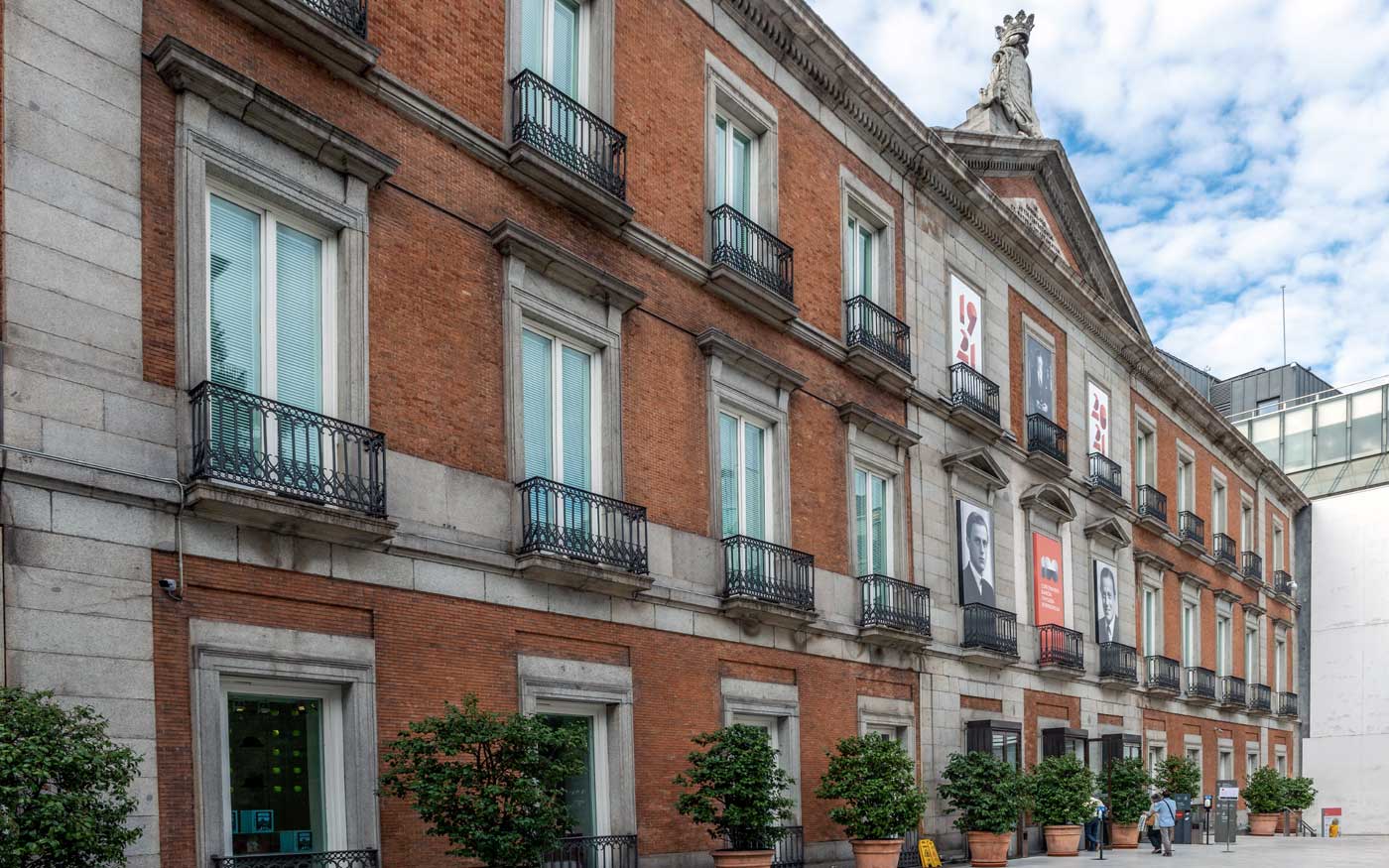 Located in the heart of Madrid, the Museo Nacional Thyssen-Bornemisza is an essential destination for any art lover. Filling the gap between the Prado Museum's classical works and the Reina Sofia Museum's modern collection, the Thyssen-Bornemisza boasts a stunning array of masterpieces spanning eight centuries of Western art.
Housed in the neoclassical Villahermosa Palace, the museum came into being in the 1980s, when the Spanish government purchased the once private collection of the Thyssen-Bornemisza family. Today, it's considered one of the most extraordinary private art collections in the world.
Visitors can explore over 1,000 works of art, ranging from medieval and gothic paintings to avant-garde movements of the 20th century. The museum is especially noted for its exceptional holdings of European painting, including Renaissance, Baroque, Rococo, and Romanticism, with pieces from renowned artists like Caravaggio, Rembrandt, Monet, Renoir, Van Gogh, and Picasso.
One of the museum's highlights is its collection of 19th-century American paintings, an area underrepresented in most European museum collections. Here, you'll find works by iconic American artists like Winslow Homer and Edward Hopper.
Art aside, the museum also offers a delightful outdoor café and a well-stocked bookshop, perfect for a post-art viewing rest and browse.
The Thyssen-Bornemisza offers visitors a chance to take a comprehensive journey through art history, in a welcoming and manageable setting. Its diverse and broad collection ensures that there is something for every art lover to enjoy and appreciate.
6. Museo Nacional Centro de Arte Reina Sofía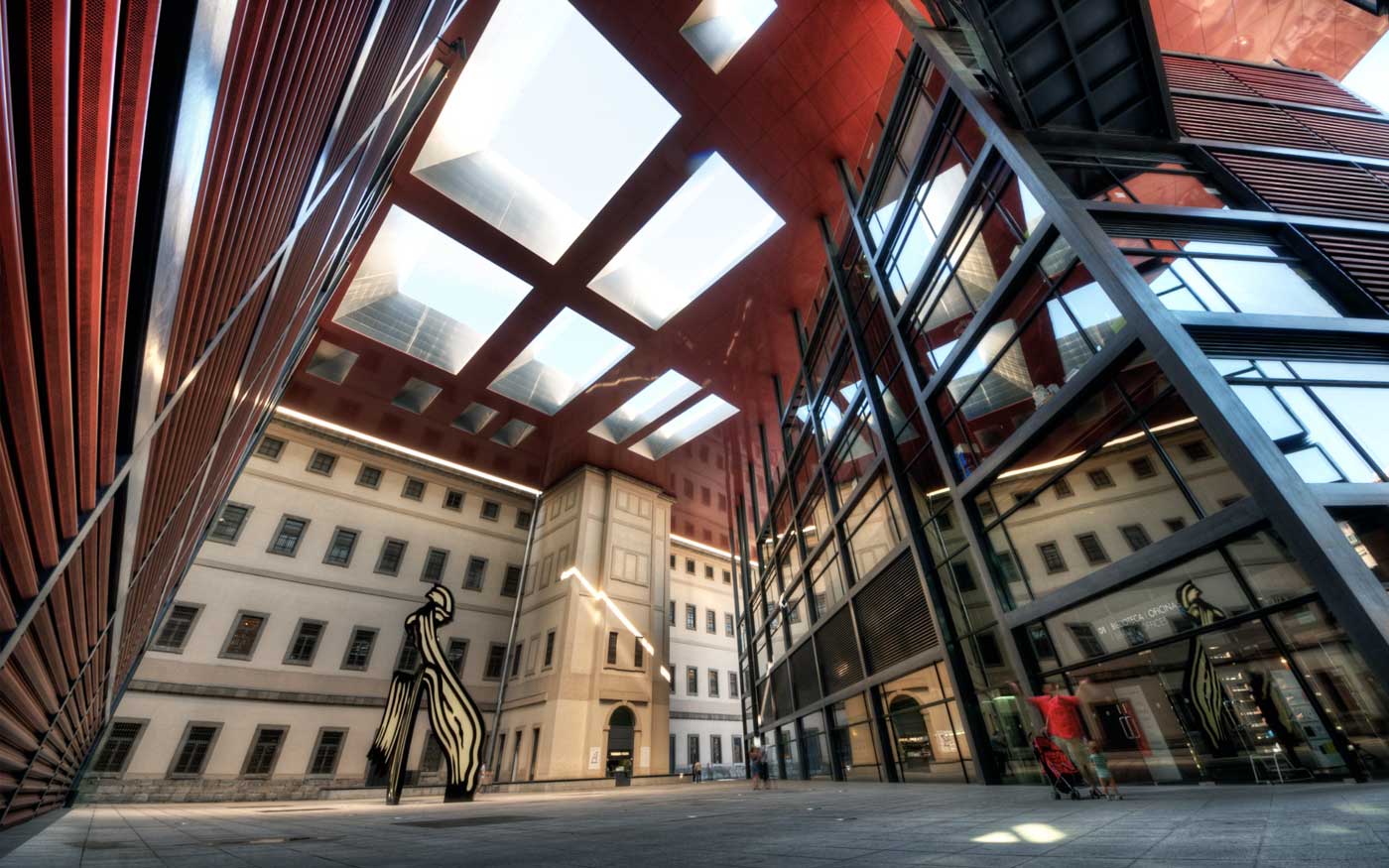 The Museo Nacional Centro de Arte Reina Sofía is one of the pillars of Madrid's famed "Golden Triangle of Art," and it's a must-visit for anyone with an interest in 20th-century art. Named after Queen Sofia, the museum is housed in a former 18th-century hospital building, an architectural marvel in itself.
Reina Sofia's claim to fame lies in its outstanding collection of modern and contemporary art. It is here that you can immerse yourself in the vibrant world of Spain's most famous artists – Pablo Picasso and Salvador Dalí.
The crown jewel of the museum is undoubtedly Picasso's 'Guernica', a powerful anti-war painting created in response to the bombing of Guernica during the Spanish Civil War. Its stark black-and-white imagery and monumental size create a deeply moving experience that draws visitors from around the globe.
But there's so much more to explore beyond 'Guernica'. The museum's vast collection includes a host of works by Dalí, Joan Miró, and other prominent artists of the 20th and 21st centuries. Here, you can explore surrealism, cubism, pop art, and many other artistic movements that shaped the last century.
Additionally, the museum often hosts temporary exhibitions and contemporary installations, offering a new perspective on art and society. And when you need a break, the museum's terraced café offers a pleasant spot to relax and take in the Madrid skyline.
With its compelling collection and engaging exhibitions, the Reina Sofia Museum not only celebrates the creativity and innovation of modern art but also encourages a dialogue about its role in representing social and political realities. It's more than just a museum – it's a vibrant cultural hub that brings art to life.
7. Plaza de Cibeles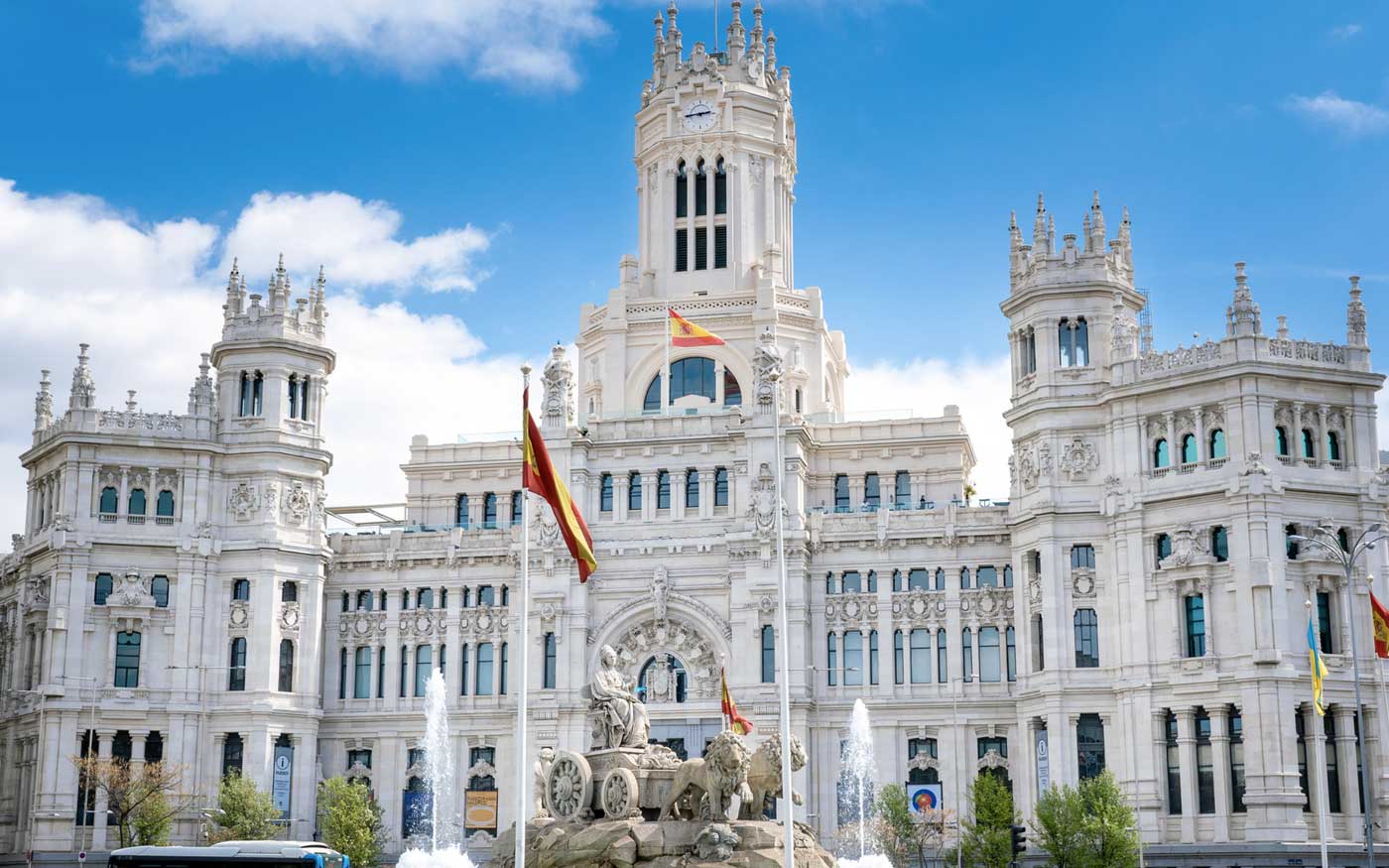 At the heart of Madrid, where the city's hustle and bustle converges, you'll find the iconic Plaza de Cibeles. With its grand architecture and vibrant atmosphere, this square is more than just a landmark – it's a symbol of Madrid's lively spirit and its rich historical tapestry.
Crowned by the stunning Cibeles Fountain, the plaza gets its name from Cybele (or Cibeles in Spanish), the Roman goddess of nature and agriculture, who is depicted in the fountain's sculpture. The fountain, designed in the late 18th century, is one of Madrid's most famous symbols and a popular spot for celebrations by Real Madrid fans when the football team wins a major tournament.
Surrounding the plaza, you'll find some of Madrid's most important and impressive buildings. To the north, there's the majestic Banco de España, Spain's national bank, with its stunning 19th-century façade. To the south, you'll see the grand Palacio de Linares, which now houses the Casa de América, a center promoting Latin American culture.
On the east side of the square stands the iconic Palacio de Cibeles. Once the city's main post office, this magnificent building now serves as Madrid's City Hall and is home to a cultural center. Visitors can venture up to its 8th-floor lookout for an enchanting panoramic view of Madrid.
Whether you're a history buff, an architecture lover, or a passionate city wanderer, Plaza de Cibeles offers a slice of Madrid's vibrant energy and rich heritage. It's more than just a square – it's a testament to Madrid's past and present, and a must-see on any Madrid tour.
8. Gran Via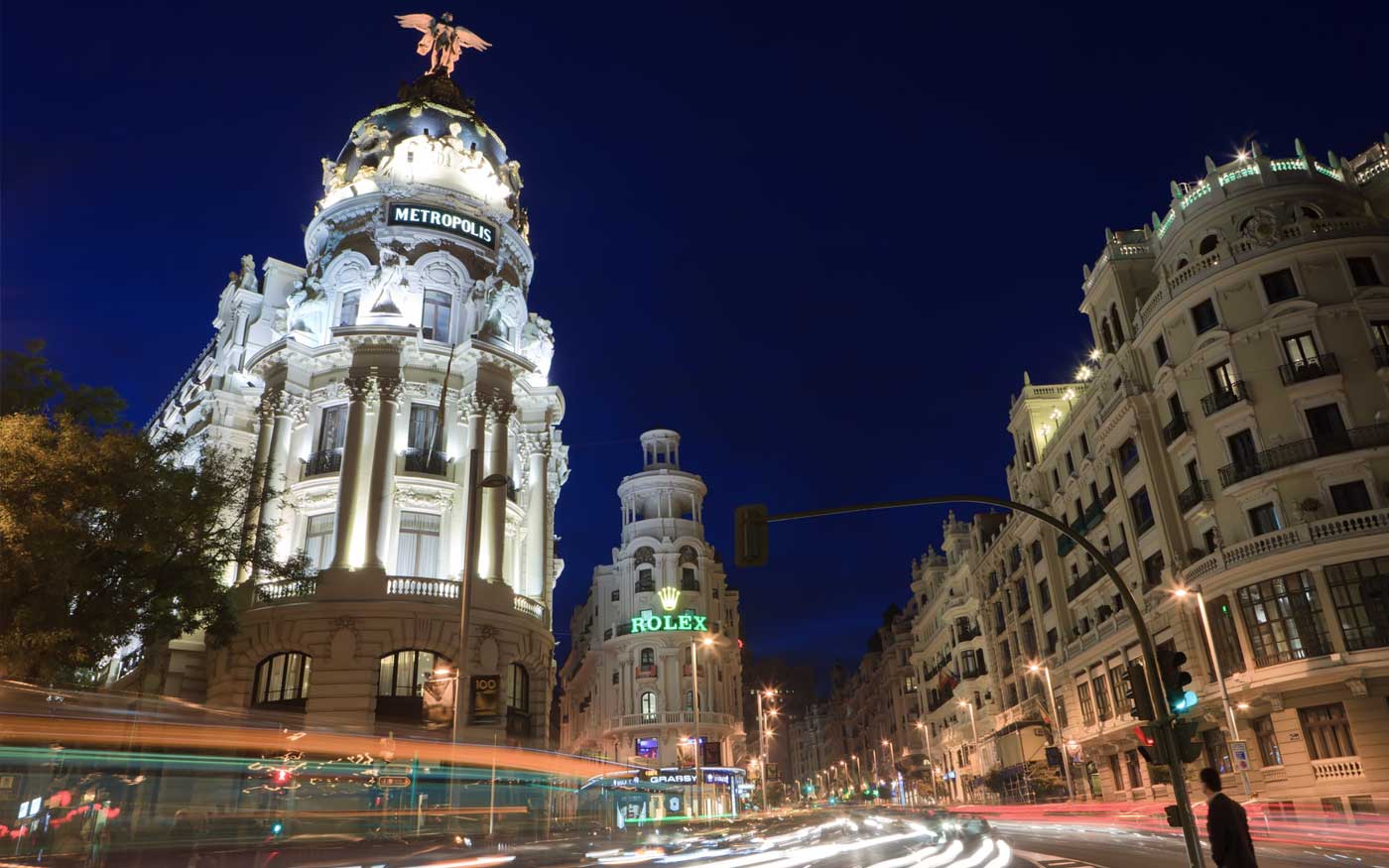 There's no better place to feel the pulse of Madrid than Gran Via, the city's most famous and vibrant street. Often referred to as the "Spanish Broadway" or the "street that never sleeps", Gran Via is a bustling artery running through the heart of Madrid, brimming with culture, history, and entertainment.
Built in the early 20th century to connect Calle de Alcalá and Plaza de España, Gran Via quickly became a showcase of early 20th-century architecture. Walking down this grand boulevard, you'll be captivated by the ornate facades and the sheer variety of architectural styles, including Art Deco, Vienna Secession, and French-inspired designs. Notable buildings include the Edificio Telefónica, one of Europe's first skyscrapers, and the beautiful Metropolis Building, with its iconic dome.
But Gran Via isn't just about architecture. It's Madrid's main shopping street, lined with countless boutiques and major international brands. Whether you're hunting for the latest fashion trends or searching for a perfect Spanish souvenir, you'll find it here.
Gran Via is also the epicenter of Madrid's theater scene, boasting numerous venues that host a variety of performances, from Broadway-style musicals to traditional Spanish plays. And when it comes to food and drink, the area is teeming with everything from traditional tapas bars to chic rooftop lounges offering spectacular views over the city.
In essence, Gran Via is more than a street. It's a living, breathing embodiment of Madrid's indomitable spirit and cultural richness. A walk down Gran Via is not just a stroll—it's an experience that perfectly encapsulates the energy and allure of Spain's captivating capital.
9. Plaza Mayor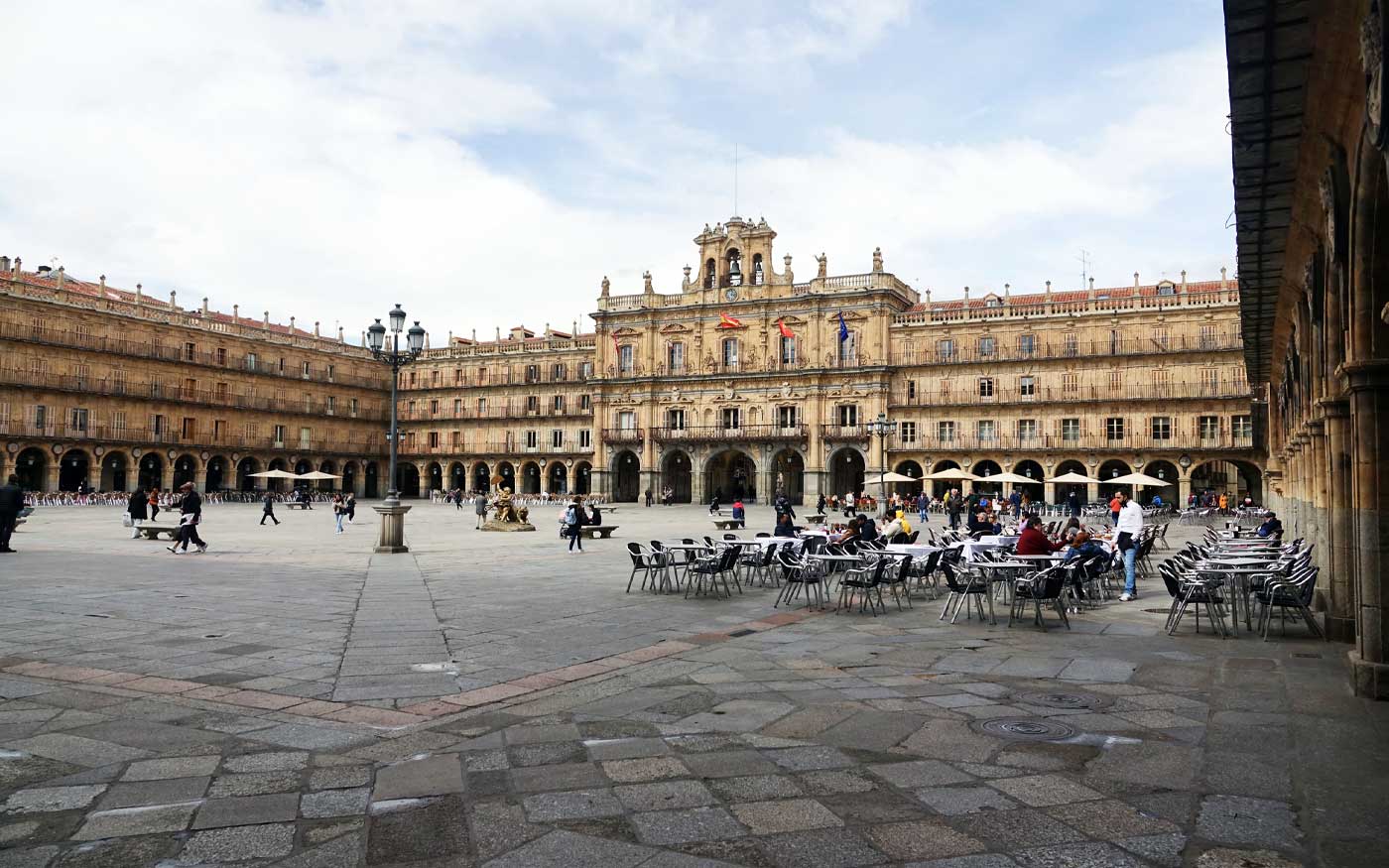 Right in the heart of Madrid lies Plaza Mayor, a grand square that has been the center of city life for centuries. Designed in a symmetrical rectangular shape and enclosed by three-story residential buildings with 237 breathtaking balconies facing the square, Plaza Mayor is a testament to Madrid's rich history and vibrant culture.
Built during the reign of Philip III, whose bronze statue adorns the center of the square, Plaza Mayor has witnessed everything from royal ceremonies and bullfights to public executions during the Spanish Inquisition. Its storied past adds a layer of intrigue to its beautiful architecture.
One of the most impressive buildings in Plaza Mayor is the Casa de la Panadería, recognized by its frescoed facade. Though it once served as the main bakery, it now houses the Madrid Tourist Information Center, offering valuable resources for explorers of the city.
Plaza Mayor is not just about history, though. It's a lively hub teeming with cafés and restaurants, making it a perfect spot for people-watching over a cup of coffee or enjoying traditional Spanish cuisine like tapas, paella, and the beloved calamari sandwich.
During Christmas, Plaza Mayor transforms into a festive market, selling holiday decorations, nativity figurines, and seasonal treats. The square also hosts various concerts and events throughout the year, adding to its dynamic atmosphere.
In essence, a visit to Plaza Mayor offers a perfect blend of history, culture, and Spanish lifestyle. Whether you're a history buff, a foodie, or a culture vulture, Plaza Mayor is sure to charm you with its distinct Madrid character.
10. Museo Arqueologico Nacional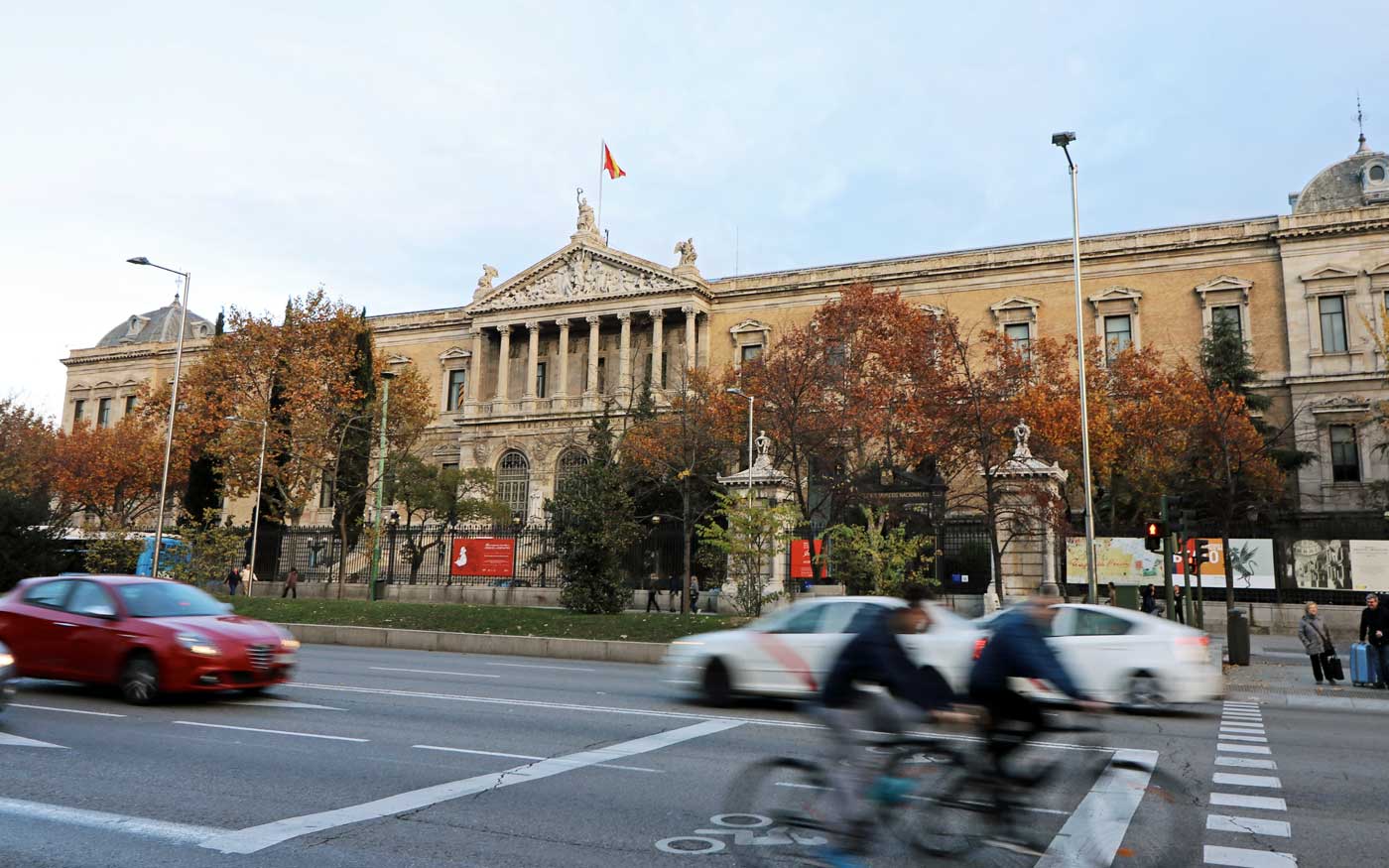 A must-visit for history buffs in Madrid is the Museo Arqueológico Nacional (National Archaeological Museum). This treasure trove of artifacts takes you on a journey through Spain's rich and diverse past, from prehistoric times to the early modern period.
Located in the Palacio de Bibliotecas y Museos, the museum boasts an impressive collection of over 1.5 million pieces. Highlights include the Lady of Elche, a striking stone bust from the 4th century BC, and masterpieces of Celtic goldwork, Roman mosaics, and Islamic art.
The museum's exhibits are presented chronologically, offering a unique perspective on the evolution of cultures that shaped Spain. With detailed information in both Spanish and English, each display tells a story, bringing history to life in a captivating way.
Whether you're delving deep into Spain's history or just seeking a fascinating cultural experience, the Museo Arqueológico Nacional promises an enriching journey back in time. It's not just a museum; it's a testament to Spain's intriguing past.
Feel free to explore these pages as well:
Discover Moorish Andalucia, Spain 1 ↗️
And so concludes our tour of Madrid's top 10 must-see attractions. Each location tells a unique story, reflecting the spirit and culture of this diverse city. From the ancient artefacts housed in the Prado Museum to the bustling life of the Gran Via, Madrid truly offers an experience to satisfy every type of traveler.
As we've explored, Madrid's beauty extends beyond its major landmarks. Its charm is also nestled in its vibrant markets, tantalizing tapas bars, and its spirited people. The real magic of Madrid lies in its ability to make you feel at home while offering countless new experiences at every turn.
Remember, this guide is just a starting point. Madrid, a city rich in culture and history, has many more layers to discover. So, let your curiosity guide you and wander down the less-traveled paths. Who knows what hidden treasures you might stumble upon?
As you pack your bags and say adiós to Madrid, know that this city will always welcome you back with open arms, ready to reveal more of its secrets. Madrid isn't just a destination; it's an experience that keeps on giving. Until your next visit, keep Madrid's zest for life with you, and let the memories of this journey inspire your future travels. Safe journey, wanderers!