Discovering Palma de Mallorca: Your Essential Itinerary to the Island's Best Spots
Welcome to the sparkling jewel of the Mediterranean, Palma de Mallorca. A fusion of history, culture, and sun-soaked beauty, this capital city of the Balearic Islands offers an enchanting array of experiences just waiting to be discovered. From the mesmerizing architecture of La Seu Cathedral to the lively buzz of Mercat de l'Olivar, Palma is a city that manages to mix the old with the new in the most captivating ways.
Whether you're strolling down the stylish Passeig des Born, basking in the sun on Platja de Palma, or exploring the historic corridors of the Palau de l'Almudaina, Palma welcomes you with open arms. Its quaint, narrow streets are packed with hidden gems, and its long sandy beaches are the perfect antidote to the city's hustle and bustle.
We've curated a list of the top 10 sights you can't miss during your visit. So, tighten your shoelaces and put on your explorer's hat as we embark on this journey to discover the best that Palma de Mallorca has to offer. Get ready to create unforgettable memories on this sun-kissed Mediterranean island.
Here are the 10 best places to visit in Palma de Mallorca:
1. Catedral de Mallorca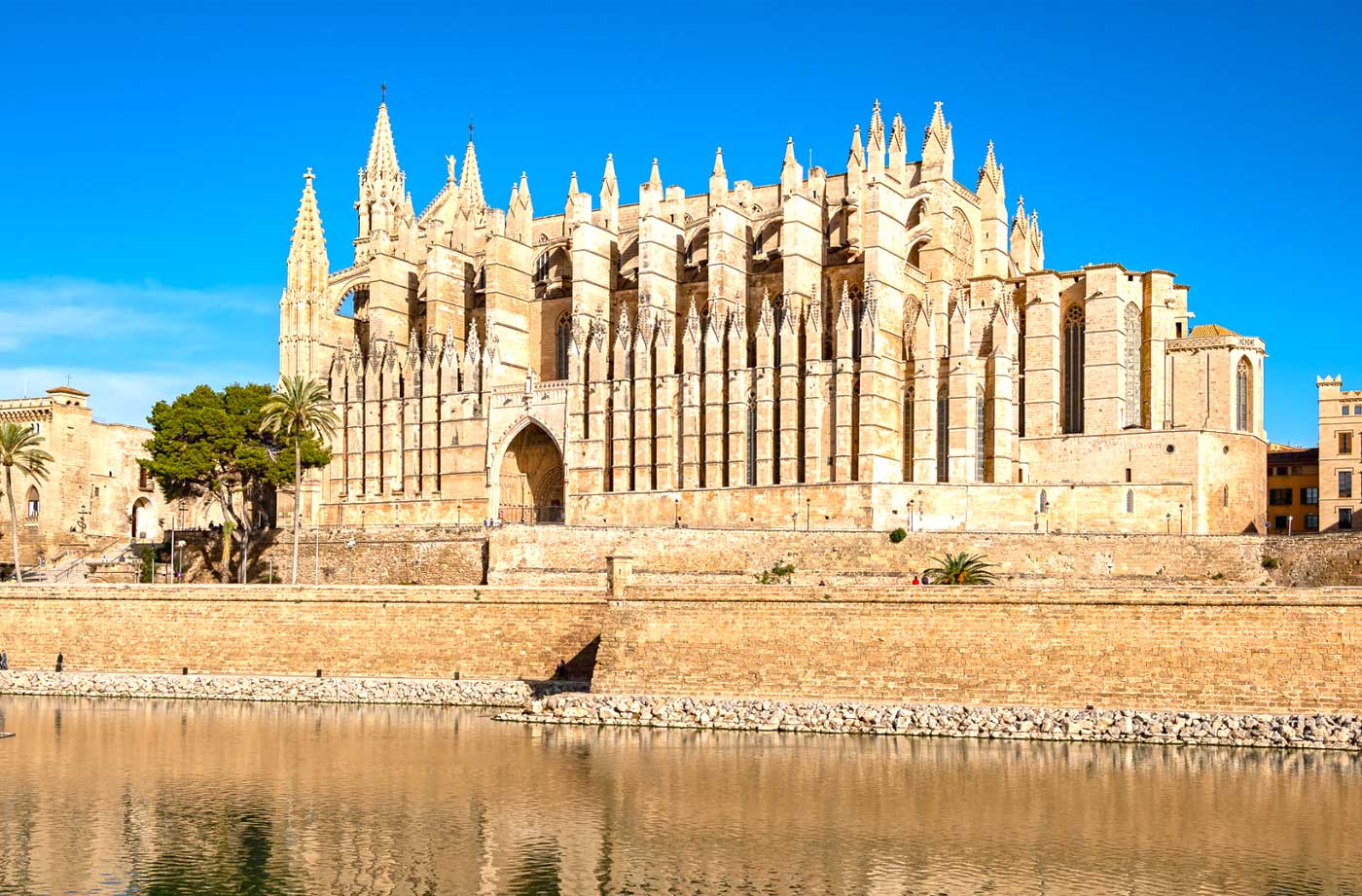 Standing majestically against the blue Mediterranean sky, the Catedral de Mallorca, or La Seu as it is commonly known, is an architectural marvel that stands testament to the island's rich history. Built over centuries, from the 13th to the 17th, this awe-inspiring gothic cathedral is one of the largest in Europe, boasting one of the world's largest rose windows, known as the 'Gothic eye', which casts an ethereal light inside the cathedral in the morning sun.
Beyond its sheer size and grandeur, La Seu is also a melting pot of architectural styles, representing periods of Moorish, Gothic, and Modernist influences. Among its many treasures is the spectacular alteration by the renowned architect Antoni Gaudí, who worked on the cathedral's interior in the early 20th century, along with a chapel designed by the contemporary artist Miquel Barceló.
Whether you are a history buff, a lover of architecture, or someone drawn to spiritual places, a visit to the Catedral de Mallorca is an immersive journey into the past and a feast for the eyes. It is not just a building; it is a piece of art, a slice of history, and a symbol of Palma de Mallorca. So prepare to be inspired and captivated as you step into this masterpiece of gothic splendour.
2. Castell de Bellver
Commanding the skyline of Palma de Mallorca, Castell de Bellver is an imposing circular castle that's unique in Europe. Constructed in the 14th century as a royal residence, it now serves as a history museum with a fascinating collection of artifacts.
The castle's unique round design, the beautiful central courtyard, and the arch-lined chambers immediately transport you back to the Middle Ages. Inside, the museum presents a rich tapestry of Palma's history from the Roman, Arab, and Spanish periods.
One of the highlights of a visit to Castell de Bellver is the breathtaking panoramic view from its battlements. The sweeping vistas encompass the city, the bay, and the Tramuntana mountain range. This vista, coupled with the surrounding pine forest's tranquility, make it a must-visit on any Palma de Mallorca itinerary.
3. Palma Aquarium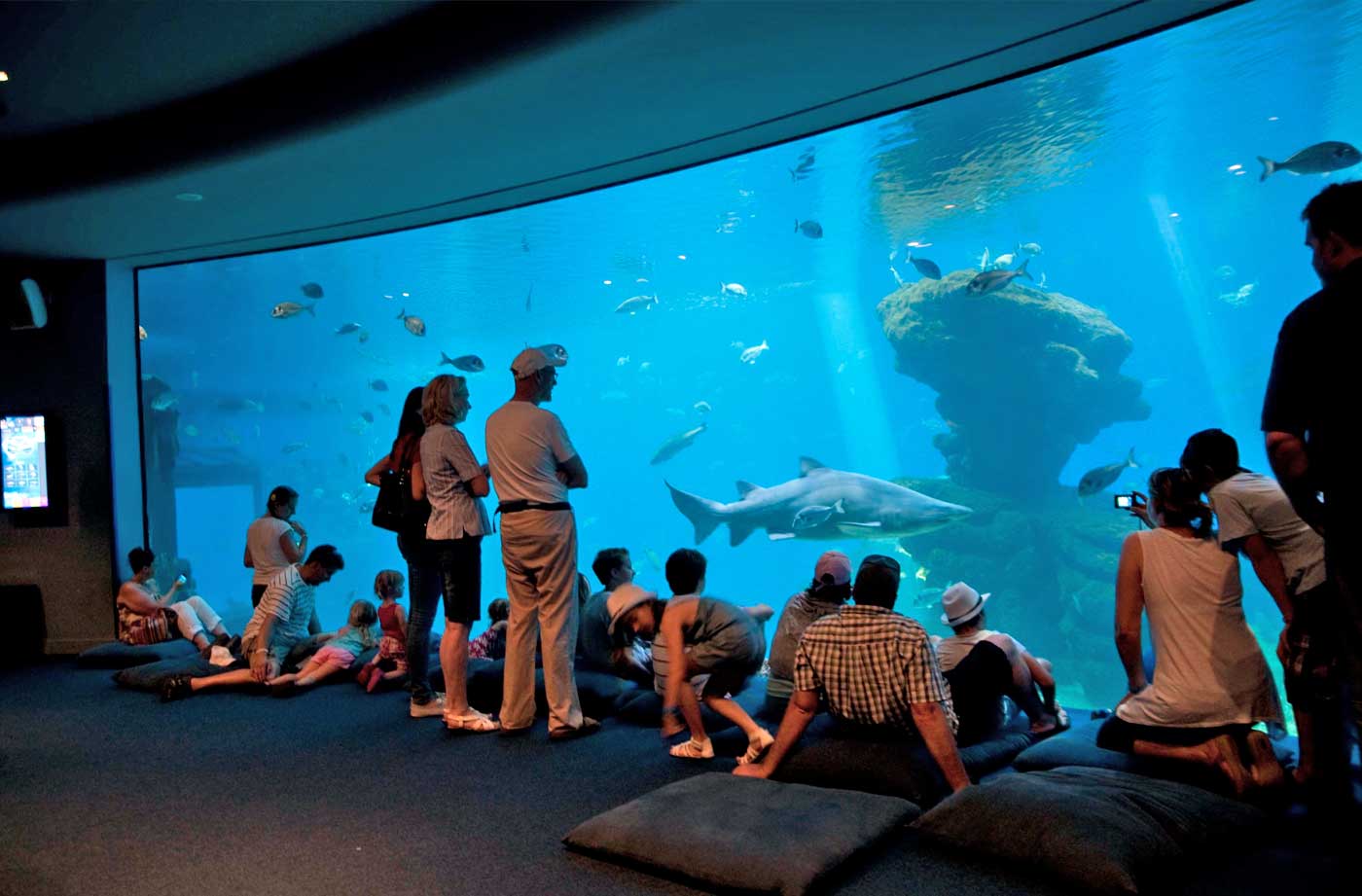 Dive into the underwater world without getting wet at the Palma Aquarium. This marvel of marine conservation, located in Palma de Mallorca, provides a unique journey beneath the waves that's enjoyable for all ages.
The Aquarium boasts 55 tanks teeming with creatures from the Mediterranean Sea and the Indian, Atlantic, and Pacific Oceans. From the hypnotic dance of the jellyfish to the vibrant colours of tropical fish, and from graceful rays to awe-inspiring sharks, the aquatic life on display here is truly diverse.
The standout experience is the 'Big Blue' tank, the deepest shark tank in Europe, where you'll feel immersed in an ocean environment as you watch these majestic predators glide past.
Beyond the aquatic exhibits, Palma Aquarium is committed to marine conservation, education, and research, offering various workshops and activities for children and adults alike.
The beautiful Mediterranean gardens, a delightful play area for kids, and the variety of eateries make it more than just an aquarium – it's a day out for the whole family. So, whether you're a marine life enthusiast or looking for an engaging experience for the kids, Palma Aquarium is an attraction not to be missed on your visit to Mallorca.
4. Calo Des Moro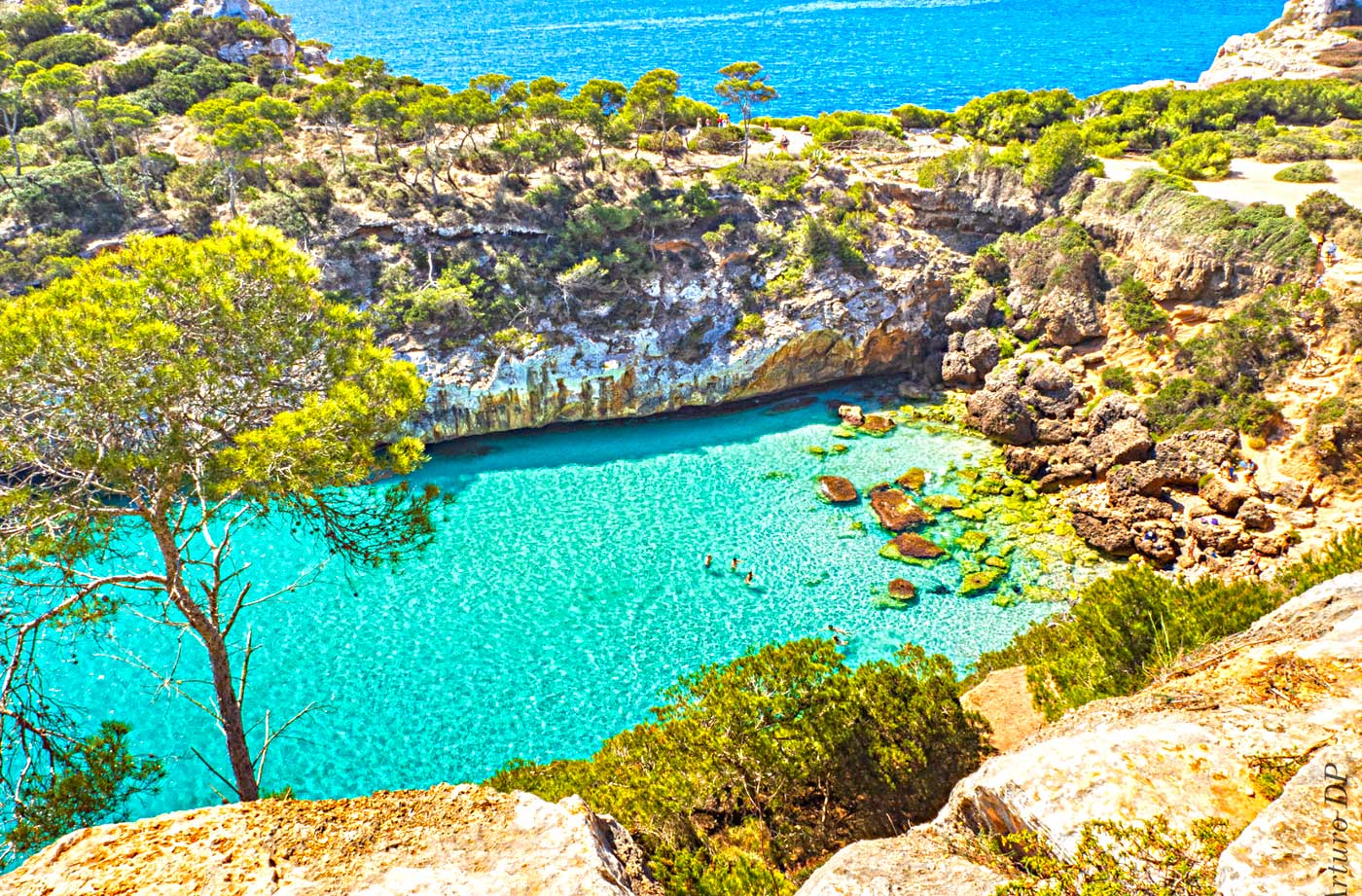 Tucked away in the southeastern part of Mallorca, Calo Des Moro is a hidden gem that offers visitors a slice of paradise. This small beach, accessible only by a footpath through a pine forest, rewards those who venture here with its pure, crystal-clear turquoise waters and the unspoiled natural beauty of its surroundings.
The beach itself is a small strip of white sand set against the backdrop of high cliffs covered in lush vegetation, offering a dramatic and photogenic landscape. It's the perfect place to relax, sunbathe, or take a dip in the clear, calm waters. With its secluded location, it's a little escape from the crowded main beaches, offering a sense of tranquility that's hard to match.
For the adventurous souls, the surrounding cliffs provide excellent spots for cliff jumping, while the underwater caves in the area are great for snorkeling.
However, please note, Calo Des Moro has remained unspoiled partly due to its lack of facilities – there are no restaurants, shops, or restrooms here, so it's essential to bring what you need for the day.
In short, Calo Des Moro is a hidden jewel for beach lovers and those seeking serene beauty, making it a must-visit spot on your Mallorca itinerary.
5. Passeig des Born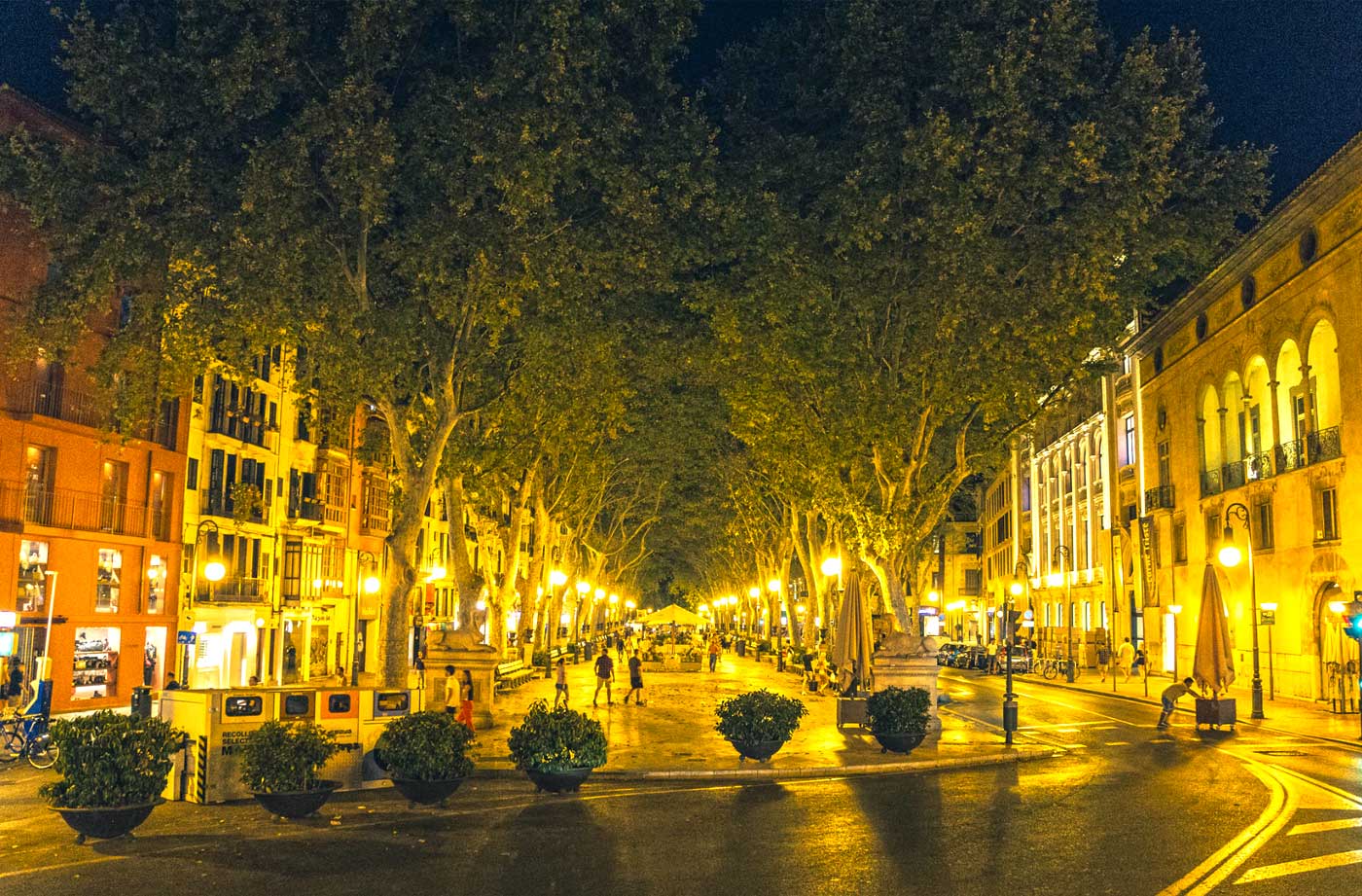 Passeig des Born, often known as the 'Golden Mile', is the vibrant heart of Palma de Mallorca. This elegant boulevard is flanked by lush trees, chic boutiques, and delightful cafes, making it a haven for shoppers, foodies, and people-watchers.
A historic jousting site, today it's a lively thoroughfare where street musicians, performers, and artists contribute to a dynamic atmosphere. At the promenade's end, a charming fountain serves as a popular rendezvous spot.
As dusk descends, Passeig des Born transforms into a lively hub of nightlife, with bars and restaurants buzzing with energy. Offering a mix of history and modernity, a visit to Passeig des Born provides a true taste of Palma's vibrant city life.
6. Mercat de l'Olivar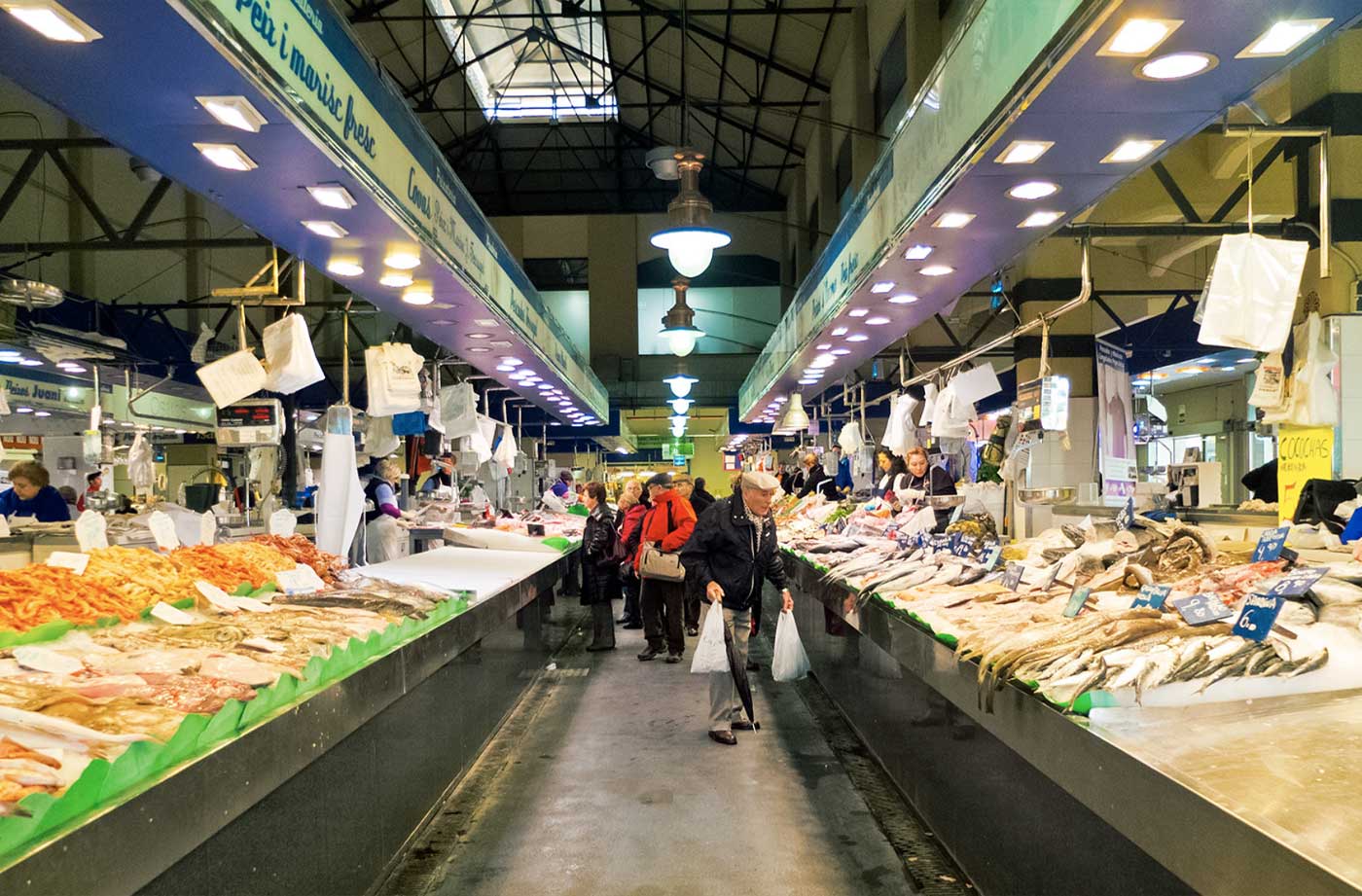 Stepping into Mercat de l'Olivar is like entering a bustling hive of culinary delight. Situated in the heart of Palma de Mallorca, this expansive food market is a gastronomic paradise that has been serving locals and tourists since 1951.
The market is divided into different sections, each dedicated to a variety of fresh local produce. The vibrant fruit and vegetable stalls display a rainbow of produce, while the fish market is a sight to behold with its array of fresh seafood caught daily from the Mediterranean.
Foodies will be drawn to the numerous cheese, meat, and bakery stalls, while gourmands can enjoy a taste of local and international cuisine at the market's bars and tapas counters. It's the perfect place to sample traditional Mallorcan dishes, fresh seafood tapas, or even sushi.
Beyond food, the market also hosts stalls selling flowers, spices, and local handicrafts, making it a fantastic place for an immersive cultural experience.
In essence, a visit to Mercat de l'Olivar offers an authentic taste of Mallorca's rich culinary landscape, an experience that no food lover should miss while in Palma. Whether you're on the hunt for local produce, a delicious meal, or simply soaking up the vibrant atmosphere, this market ticks all the boxes.
7. Platja de Palma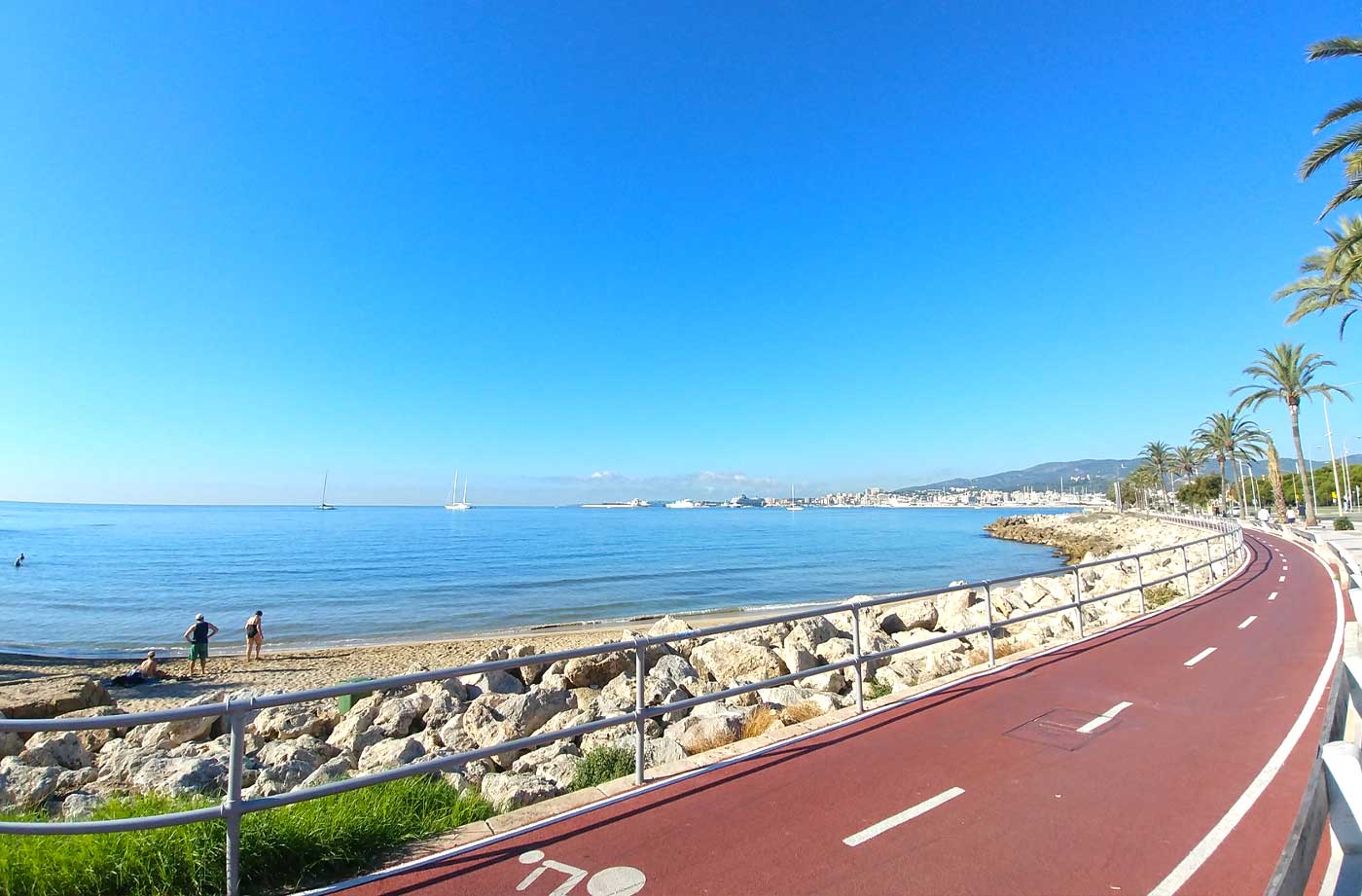 Stretching out along the dazzling blue waters of the Mediterranean, Platja de Palma is one of Mallorca's most popular and accessible beaches. This extensive stretch of golden sand extends for about 6 kilometres, offering plenty of space for visitors to relax, sunbathe, or partake in various water activities.
Known for its calm and clear waters, Platja de Palma is a great spot for swimming or trying out water sports such as windsurfing and paddleboarding. The beach is also dotted with sun loungers and umbrellas for rent, providing perfect comfort for a leisurely day by the sea.
Lining the beach is a vibrant promenade teeming with restaurants, bars, and shops, making it easy to find a spot for a seaside lunch or a refreshing drink. The area is also well-known for its energetic nightlife, with a variety of clubs and bars offering entertainment long after the sun has set.
With its easy accessibility from Palma city, ample amenities, and a lively atmosphere, Platja de Palma provides an ideal setting for a fun and relaxed beach day on your Mallorca visit.
8. Palau de l'Almudaina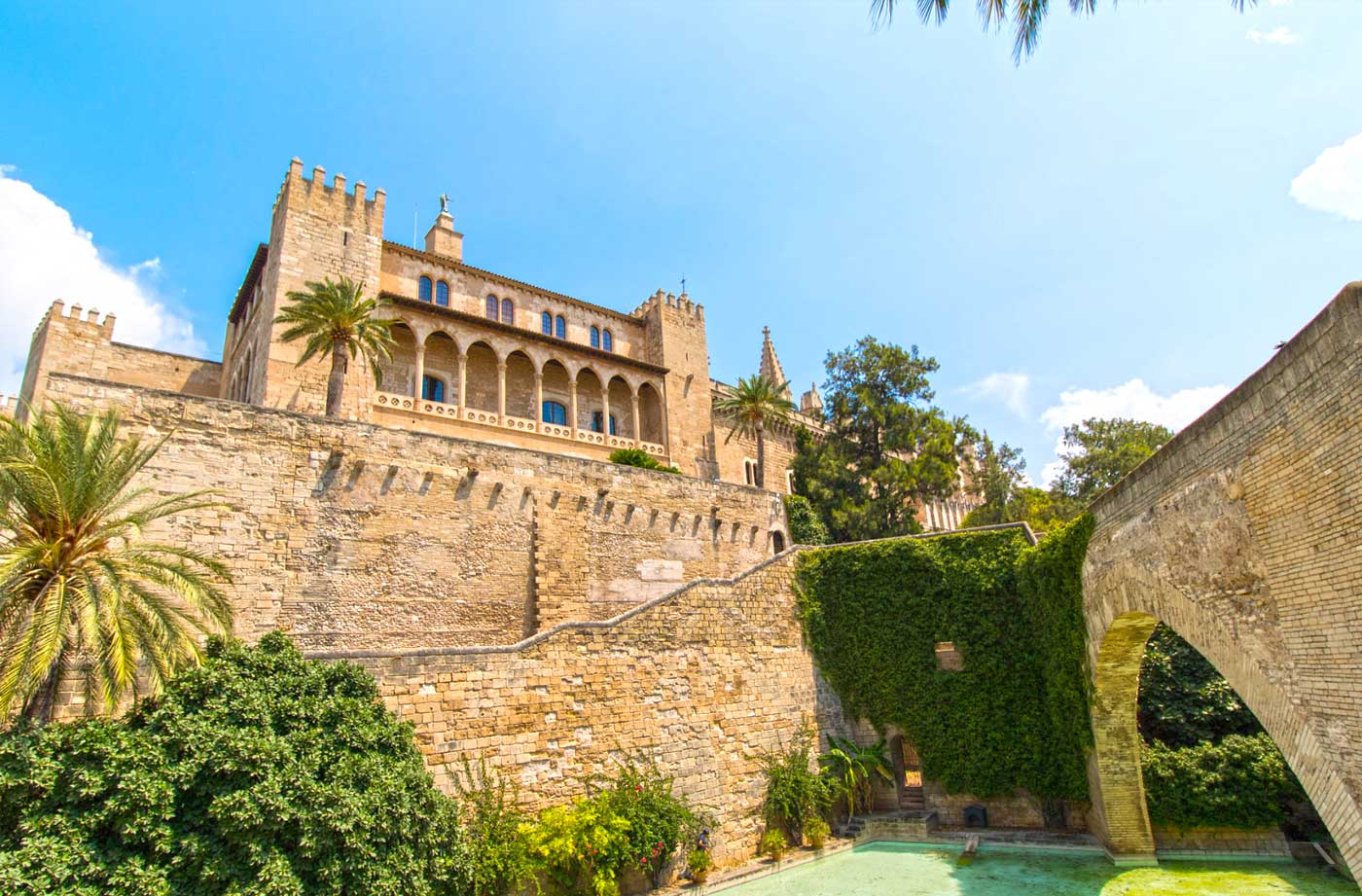 Standing proud in the heart of Palma de Mallorca, the Palau de l'Almudaina is a royal palace that echoes the city's rich history. Originally built as an Arabian Fort, the palace was claimed as the official royal residence in the 14th century and is a remarkable blend of Moorish and Gothic architectural styles.
As you explore the grand rooms and chapels, you'll encounter a collection of tapestries, historical artifacts, and regal furnishings that transport you back to Palma's medieval era. The palace is also home to the Chapel of Saint Anne and the Chapel of Saint Raymond, both of which contain intricate woodwork and religious artworks.
Outside, the palace overlooks the Parc de la Mar and the Mediterranean Sea, providing stunning views. A stroll through the adjoining lush gardens of the palace, known as the King's Garden and the Queen's Garden, is a tranquil experience not to be missed.
In essence, the Palau de l'Almudaina offers a unique journey through the regal history of Mallorca, presenting a side of the island that extends beyond its renowned beaches. It's an unmissable stop for any history enthusiast visiting Palma.
9. Sa Llotja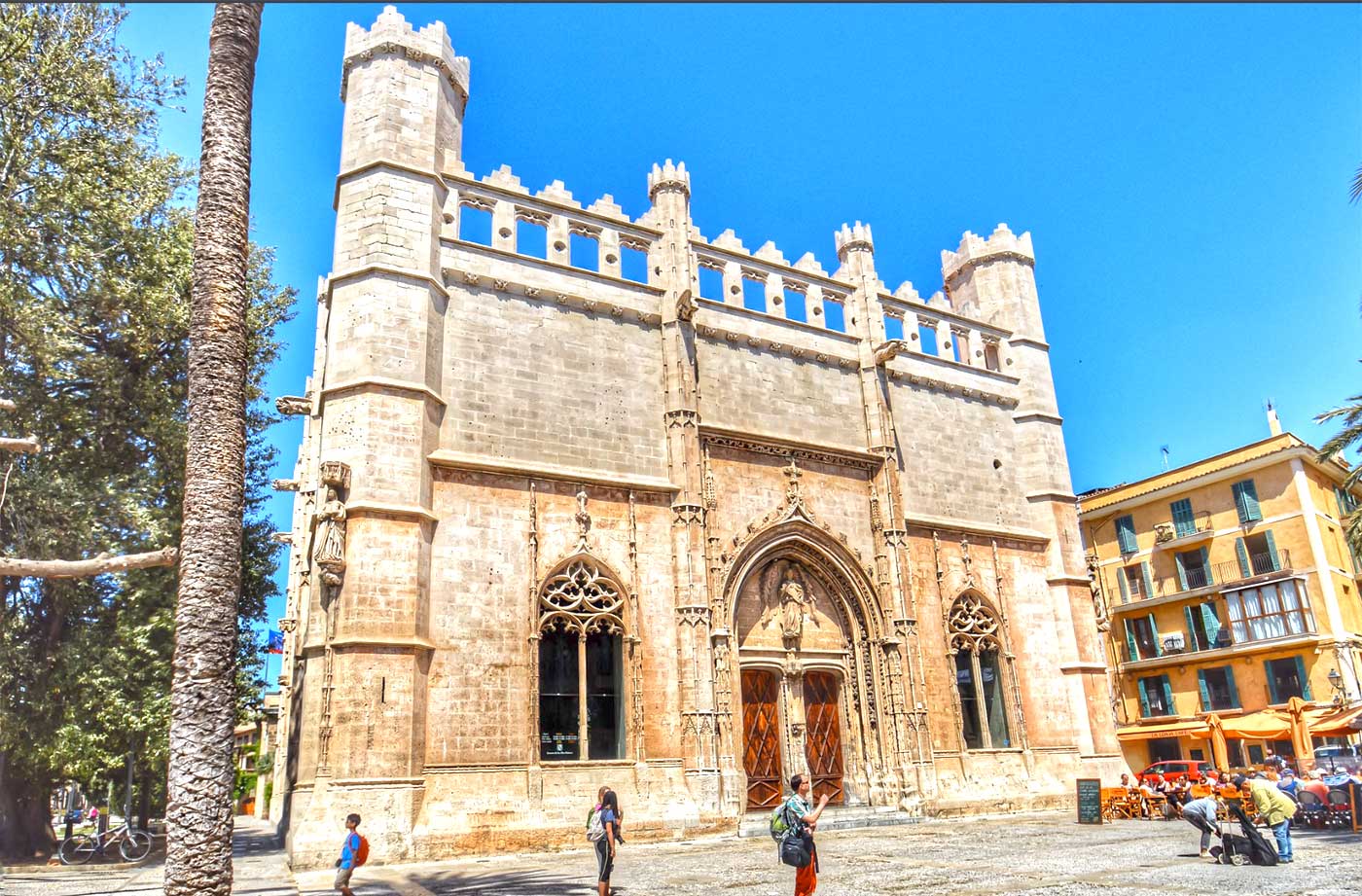 Located in the bustling center of Palma, Sa Llotja is a captivating blend of history and architecture. This 15th-century Gothic building, once the city's bustling trading exchange, now stands as a symbol of Palma's rich maritime past.
Built by famed architect Guillem Sagrera, Sa Llotja is renowned for its distinctive architecture. Its striking exterior, featuring a display of intricate reliefs, gives way to an interior equally impressive. The main hall, with its ribbed vault ceiling supported by six helicoidal columns, is a masterclass in Gothic design.
Though no longer a hub of trade, Sa Llotja regularly hosts art exhibitions, keeping the building alive with cultural activity. Its central location makes it easily accessible for tourists exploring the city and the nearby marina and Passeig Sagrera offer picturesque walking routes.
In essence, a visit to Sa Llotja is a step back into Palma's maritime history, offering visitors a taste of the city's vibrant past amidst its contemporary city life. It's a must-visit spot for any history and architecture enthusiasts in Palma de Mallorca.
10. Basilica de Sant Francesc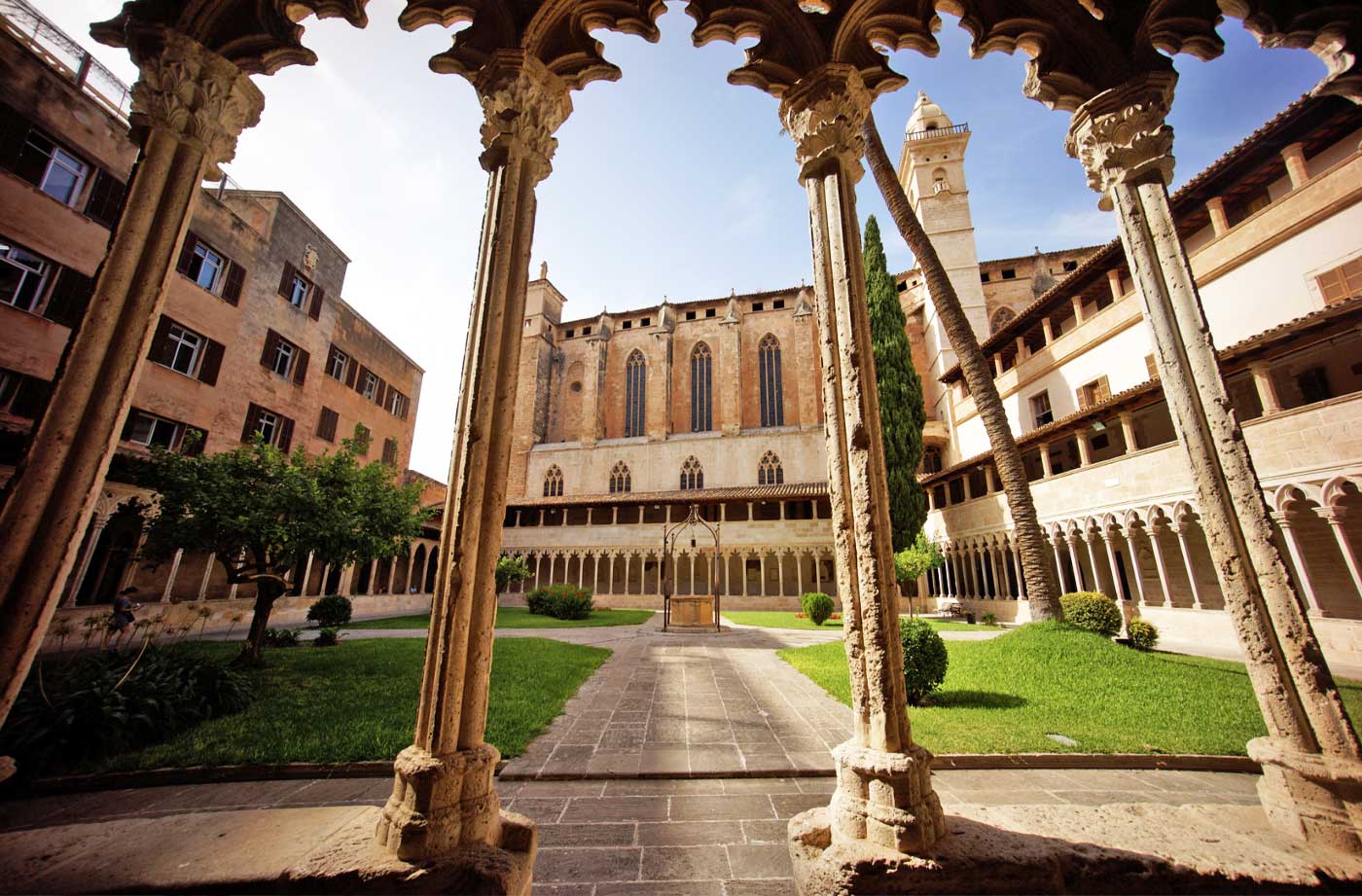 Nestled in the heart of Palma, the Basilica de Sant Francesc stands as a stunning testament to the city's medieval past. This 13th-century Franciscan church is an architectural marvel, with its majestic sandstone façade and elegant Gothic detailing.
Step inside, and you're met with a spacious, tranquil interior, lit by a rose window and punctuated by the towering pillars that support its vaulted ceiling. Notable elements include the beautiful choir stalls and the serene cloister, which offers a peaceful retreat from the city's hustle.
The Basilica is also the final resting place of the revered Mallorcan philosopher and theologian, Ramon Llull. His simple tomb can be found within the quiet sanctuary of the church.
Despite being less well-known than the city's cathedral, the Basilica de Sant Francesc offers a serene, spiritual experience and a glimpse into Palma's deep-rooted religious history. Its tranquil beauty makes it a worthy stop for those exploring the rich tapestry of Palma de Mallorca.
Feel free to explore these pages as well:
10 Unmissable Experiences in Barcelona for First-Time Visitors ↗️
Top 10 Must-See Attractions in Madrid ↗️
Discover Moorish Andalucia, Spain ↗️
As we conclude our journey through the sun-drenched streets of Palma de Mallorca, it's clear that this city is more than just a Mediterranean getaway. From the royal grandeur of Palau de l'Almudaina to the lively energy of Mercat de l'Olivar, each corner of Palma tells a story of its rich history, vibrant culture, and undeniable charm.
Whether you've spent your days lounging on the golden sands of Platja de Palma or navigating the artistic wonders housed within Sa Llotja, we hope this island city has captured your heart as it has ours. As you depart, carry with you not just souvenirs, but also memories of Palma's intoxicating blend of sun, sea, and history.
Remember, the beauty of travel lies in discovery and Palma de Mallorca, with its never-ending surprises, is a testament to this. So, until we meet again, keep exploring, keep discovering, and let every journey be a story worth telling. Safe travels!