Journey Through Barcelona: The Top 10 Attractions Every Tourist Should See
Imagine a city where grand, centuries-old cathedrals share the skyline with innovative modern architecture, where narrow, winding Gothic lanes open onto vibrant food markets, and where the lively beat of flamenco echoes in the shadow of the serene Mediterranean. Welcome to Barcelona, a city that dances to its own rhythm and invites you to join the fiesta.
Our guide, "10 Unmissable Experiences in Barcelona for First-Time Visitors," is your passport to the best that this Catalan capital has to offer. From the towering spires of the Sagrada Familia to the bustling stalls of Mercat de la Boqueria, we will lead you on a journey of discovery through Barcelona's rich tapestry of history, culture, and cuisine.
But this guide is not just about ticking off the tourist spots. It's about delving into Barcelona's soul, about witnessing the passion in a flamenco performance, about tasting the flavors of Catalonia in a rustic tapas bar, and about watching the sunset over the city from the heights of Montjuïc.
So, whether you're an art aficionado, a foodie, a history buff, or simply a curious traveler, this guide is your key to experiencing Barcelona, not just as a tourist, but as a true explorer. Let's start this unforgettable journey together and let Barcelona's vibrant spirit capture your heart!
Here are the 10 best places to visit in Barcelona:
1. Basílica de la Sagrada Familia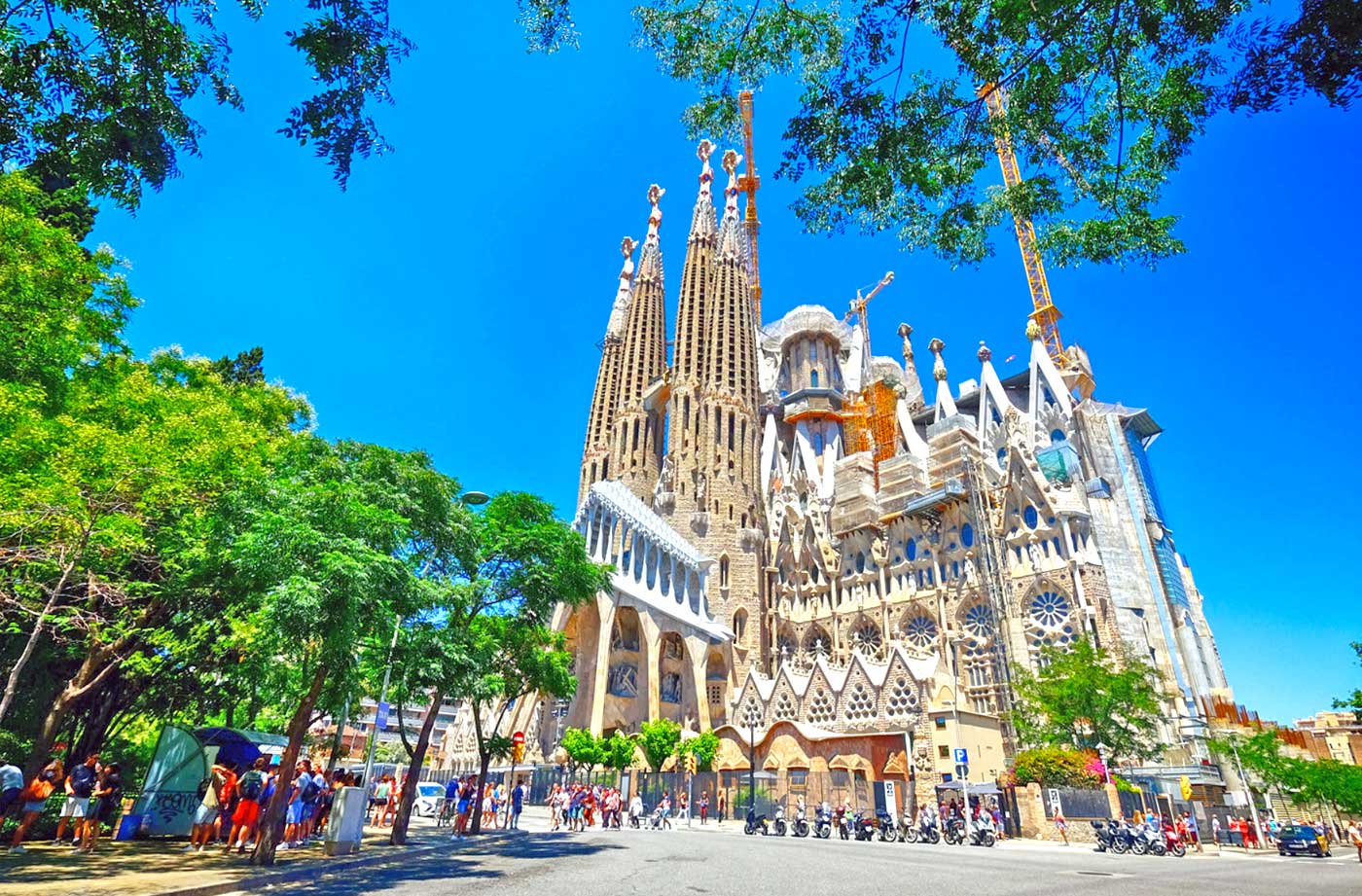 Tucked away in the heart of Barcelona, the Basílica de la Sagrada Familia is a masterpiece that captures the city's unique blend of tradition and innovation. Conceived by the legendary Antoni Gaudí, this architectural marvel is a testament to the limitlessness of human creativity.
As you step into the basilica, prepare to be mesmerized by the play of light that filters through the stained glass windows, transforming the interior into a kaleidoscope of colors. The intricate carvings, each telling a biblical story, are a testament to the time and dedication poured into the construction of this UNESCO World Heritage Site.
But perhaps what makes the Sagrada Familia truly remarkable is that it remains unfinished, despite over a century of work. This perpetual state of becoming only adds to its allure, as it promises something new and exciting with each visit. The ongoing work makes every visitor a part of its history, and its future.
So whether you're an art enthusiast, an architecture buff, or simply a curious traveler, the Basílica de la Sagrada Familia is a must-see when visiting Barcelona. It's not just a building, but a symbol of Barcelona's spirit – bold, creative, and eternally evolving.
2. Gothic Quarter (Barri Gotic)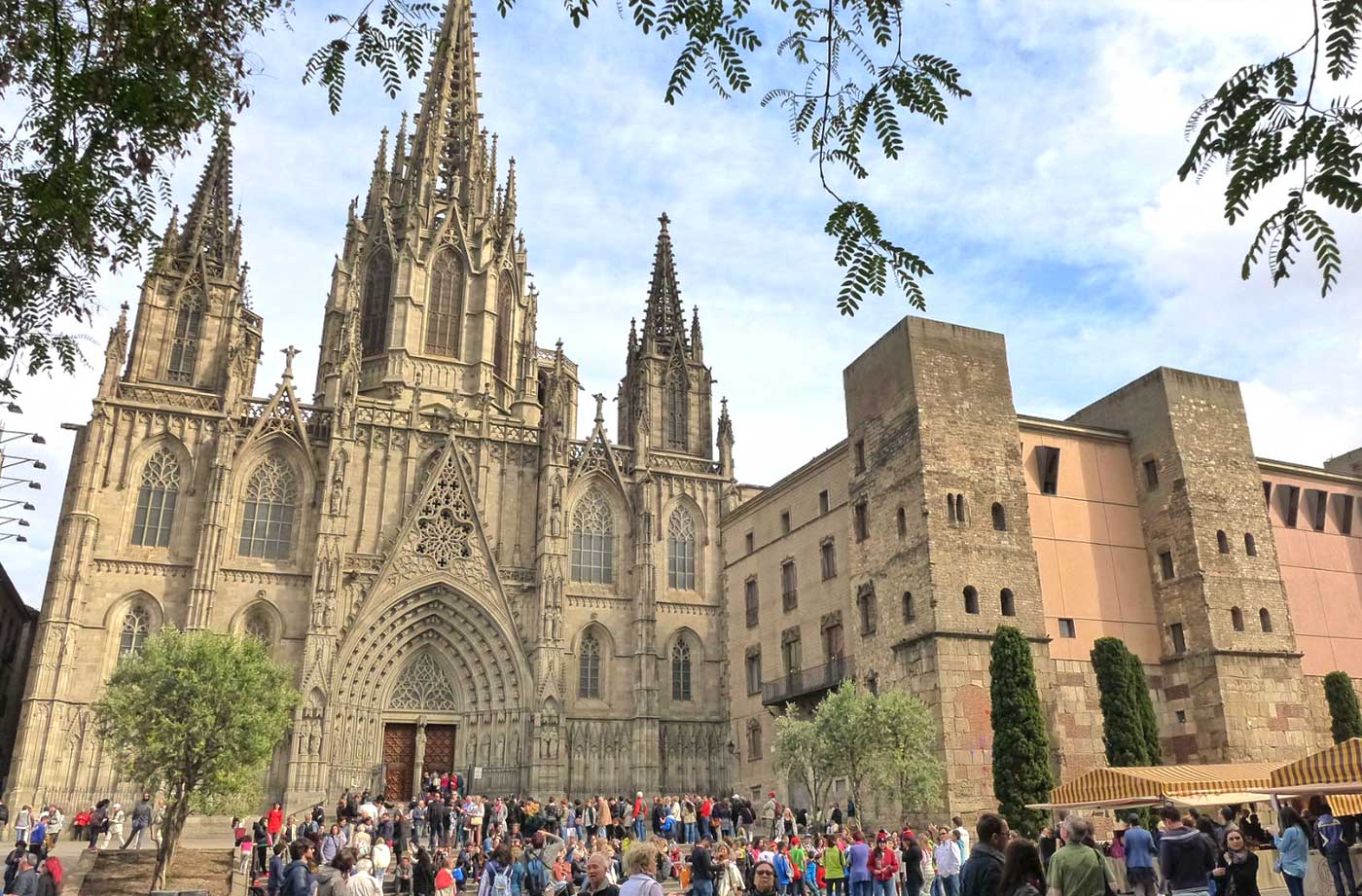 Stepping into the Gothic Quarter, or Barri Gotic, is like stepping back in time. Nestled in the heart of Barcelona, this historic neighborhood is a labyrinth of narrow, winding streets, each one holding a piece of the city's vibrant past.
Lose yourself in the beauty of the gothic architecture, with the Barcelona Cathedral standing as the crowning jewel. The meticulous detail of its facade and the serene beauty of its cloister, home to a gaggle of resident geese, is sure to leave a lasting impression.
A walk through the Gothic Quarter is more than a journey through alleyways. It's a treasure hunt. Here, ancient Roman walls stand next to 19th-century modernist reconstructions, giving a glimpse into Barcelona's multilayered history. Look closely, and you might find remnants of the ancient Roman city of Barcino imprinted in the old stones.
The quarter also boasts some of the city's most popular spots, like Plaça Reial, a bustling square brimming with restaurants and nightclubs. Or Plaça Sant Jaume, the administrative heart of the city, where the grand City Hall and Palau de la Generalitat de Catalunya stand.
The Gothic Quarter is a testament to Barcelona's enduring spirit, a place where the past and present coexist seamlessly. As you walk its ancient streets, you'll discover not just a neighborhood, but the soul of Barcelona itself.
3. Casa Batllo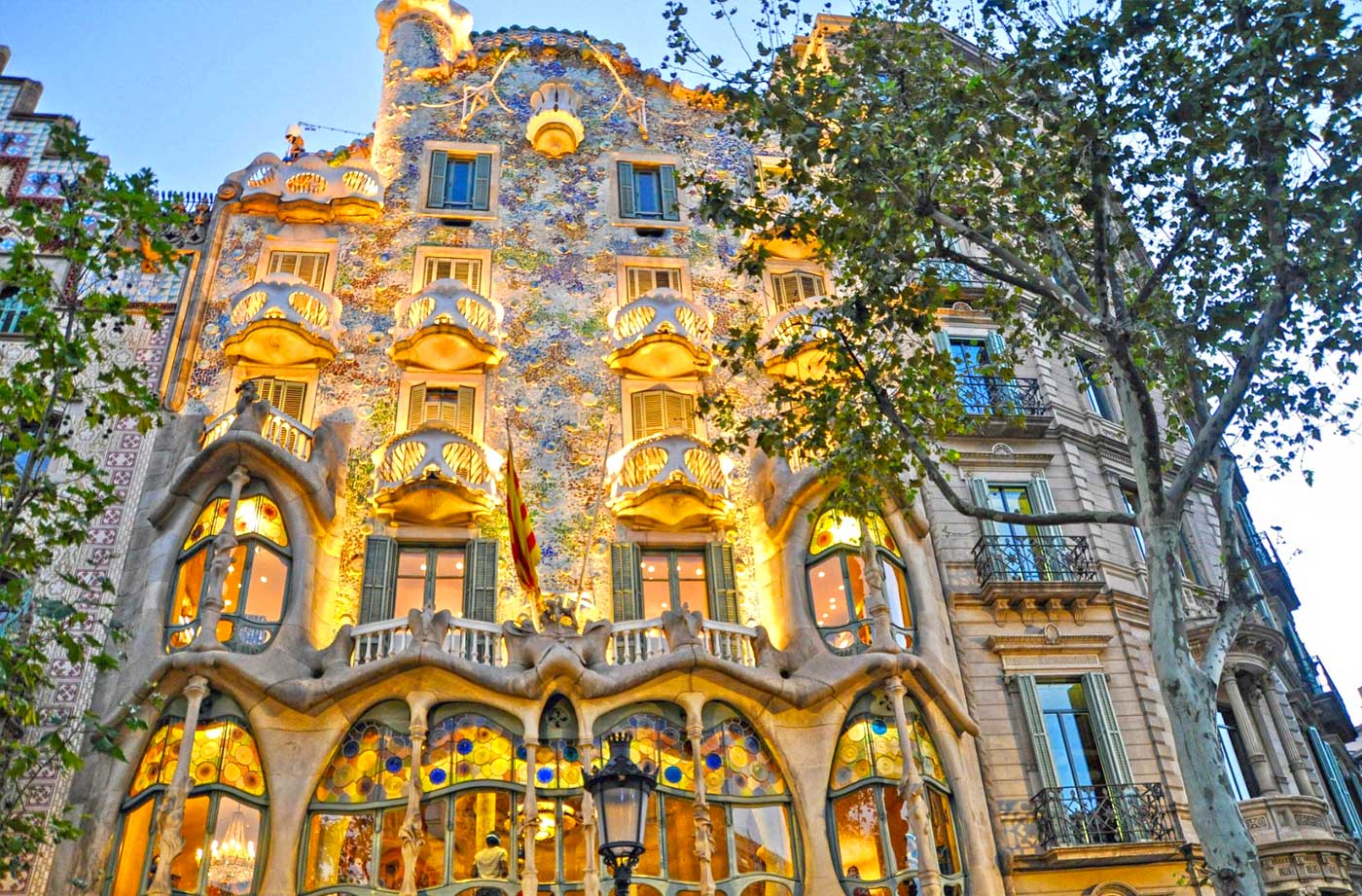 Imagine stepping into a world where the boundaries of architecture, nature, and imagination blur. That's exactly what you experience at Casa Batlló, a gem of Barcelona's Modernist trail and one of Antoni Gaudí's iconic works.
Sitting proudly on Passeig de Gràcia, Casa Batlló is more than a building – it's a living, breathing entity. The façade, a riotous blend of vibrant ceramic tiles, resembles a seascape with wave-like balconies and skeletal pillar details. It's no wonder it's often referred to as the 'House of Bones'.
As you explore its interiors, each room unravels a story, each corner unveils a surprise. Gaudí's love for natural shapes is evident throughout, from mushroom-shaped fireplaces to a central light well tiled in a gradient of blue. Every element is designed with meticulous detail, demonstrating Gaudí's unparalleled ability to create a holistic sensory experience.
One must not miss the building's roof terrace, home to the famous 'Dragon's Back' – an arched, tiled roof that according to local lore, represents the dragon slain by St. George, Catalonia's patron saint.
Visiting Casa Batlló isn't simply about admiring a house, it's about immersing yourself in Gaudí's imaginative universe. This architectural wonder stands as a testament to a vision that dared to redefine the norms, offering every visitor a glimpse into the extraordinary.
4. Casa Milà – La Pedrera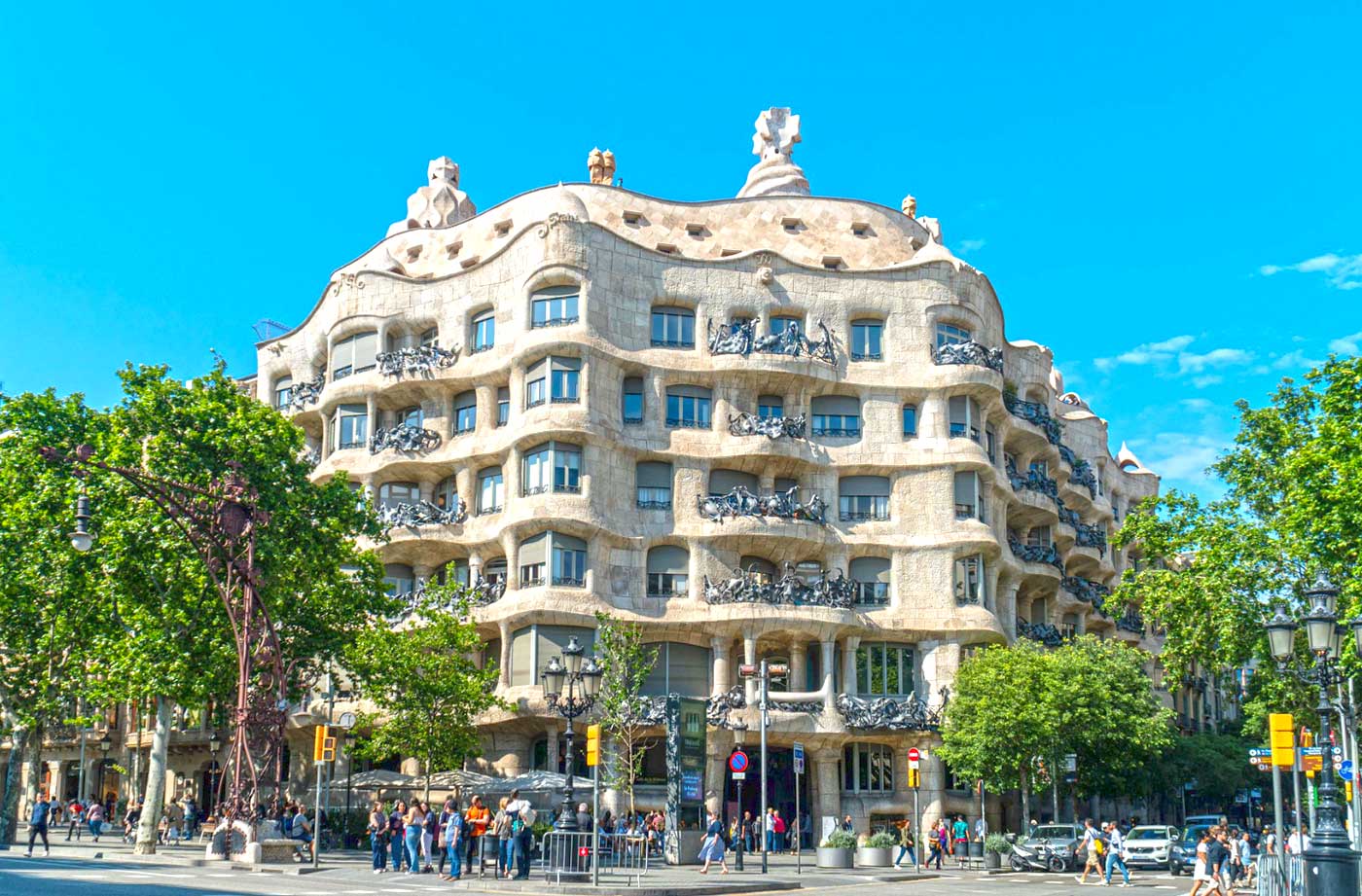 At the heart of Barcelona's prestigious Passeig de Gràcia stands Casa Milà, better known as La Pedrera, or 'The Stone Quarry'. As one of the final residential buildings designed by the extraordinary Antoni Gaudí, this UNESCO World Heritage Site offers a captivating insight into the genius architect's avant-garde vision.
At first glance, the façade of La Pedrera is a startling departure from conventional architecture, with its undulating stone exterior and wrought iron balconies that appear to have been sculpted by the forces of nature. It's as if the building breathes, living in harmony with its environment.
Inside, every corner is a celebration of organic architecture, from the courtyards that ensure natural light filters into every apartment, to the twisting, uneven pillars in the attic that mimic a forest's trees. No detail is an afterthought; even the furniture is designed by Gaudí himself, seamlessly blending with the curves of the building.
Then, there's the rooftop, an otherworldly landscape of chimneys, ventilation shafts, and stairwells, all organically designed and often likened to a warrior's dream. The chimneys, or 'espanta bruixes' (witch scarers), are particularly famous for their unique, sentinel-like appearance.
A visit to Casa Milà isn't just a tour of a building, it's an immersive journey into Gaudí's world, where nature meets architecture and every detail tells a story. This is not just a structure, but a testament to the boundless possibilities of the human imagination.
5. Camp Nou Stadium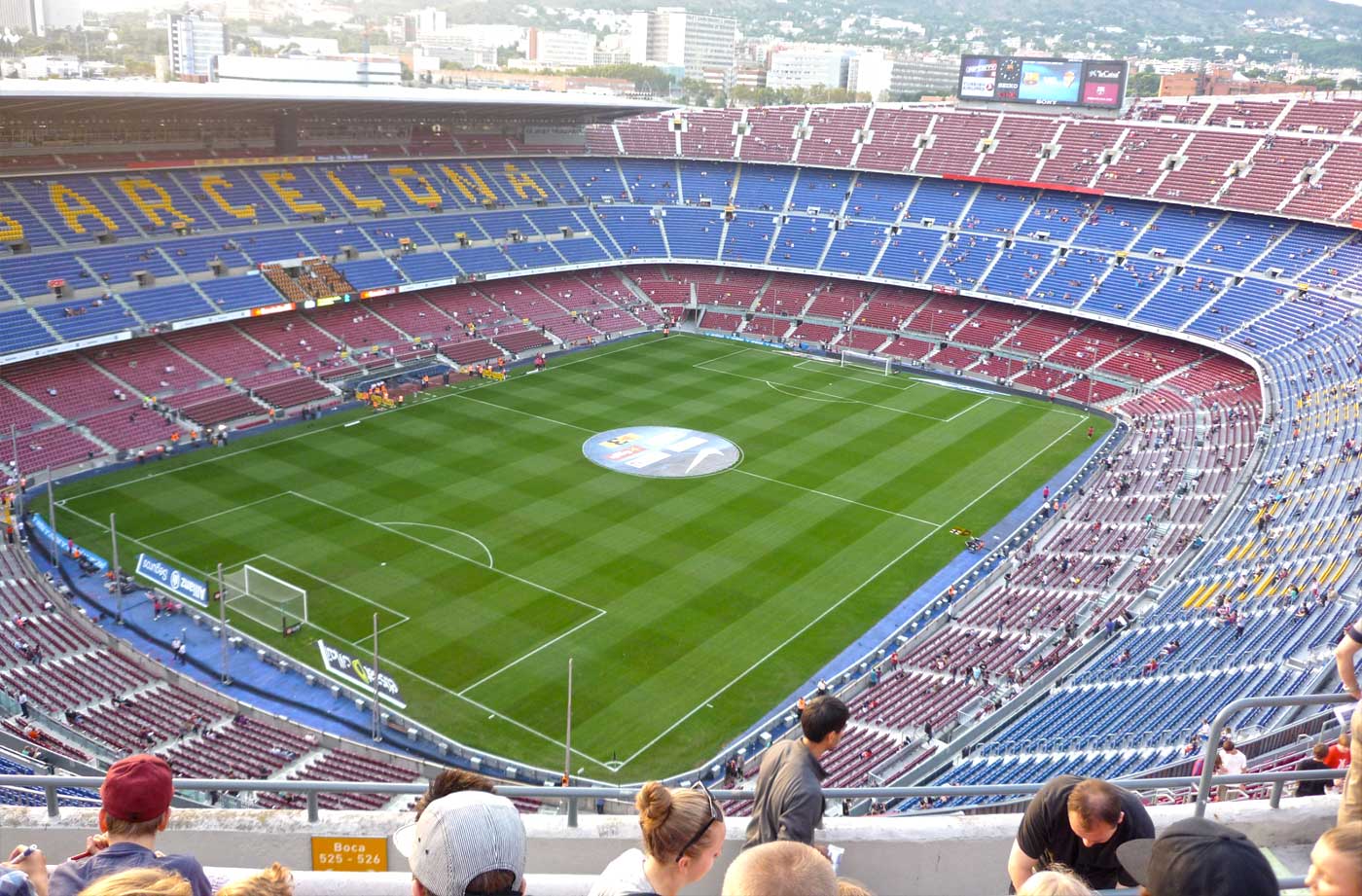 In the realm of world football, few stadiums hold the gravitas and prestige of Barcelona's Camp Nou. Home to FC Barcelona, one of the most successful clubs in the history of the sport, Camp Nou is a pilgrimage site for football lovers across the globe.
Seating over 99,000 spectators, it stands as Europe's largest stadium, and the energy here during a match is electrifying. The echo of thousands of fans chanting in unison, the intense anticipation before a crucial penalty, the eruption of joy with every goal – it's a spectacle that promises goosebumps, regardless of where your allegiances lie.
But Camp Nou is more than just a football stadium. It's a cathedral of sport, a testament to Barcelona's enduring love affair with football. The onsite FC Barcelona Museum is a treasure trove for fans, boasting a mesmerizing display of trophies, memorabilia, interactive exhibits, and a fascinating narrative of the club's rich history.
Don't miss the opportunity to walk through the players' tunnel, stand on the hallowed pitch, and sit in the dugouts. The stadium tour offers an exclusive behind-the-scenes peek at areas typically reserved for players and staff.
A visit to Camp Nou, whether to witness the magic of a match day or to explore its impressive facilities, is an experience that resonates well beyond the final whistle. It's not just about football; it's about the passion, the community, the culture, and the unwavering Catalan spirit that FC Barcelona symbolizes.
6. Mercat de la Boqueria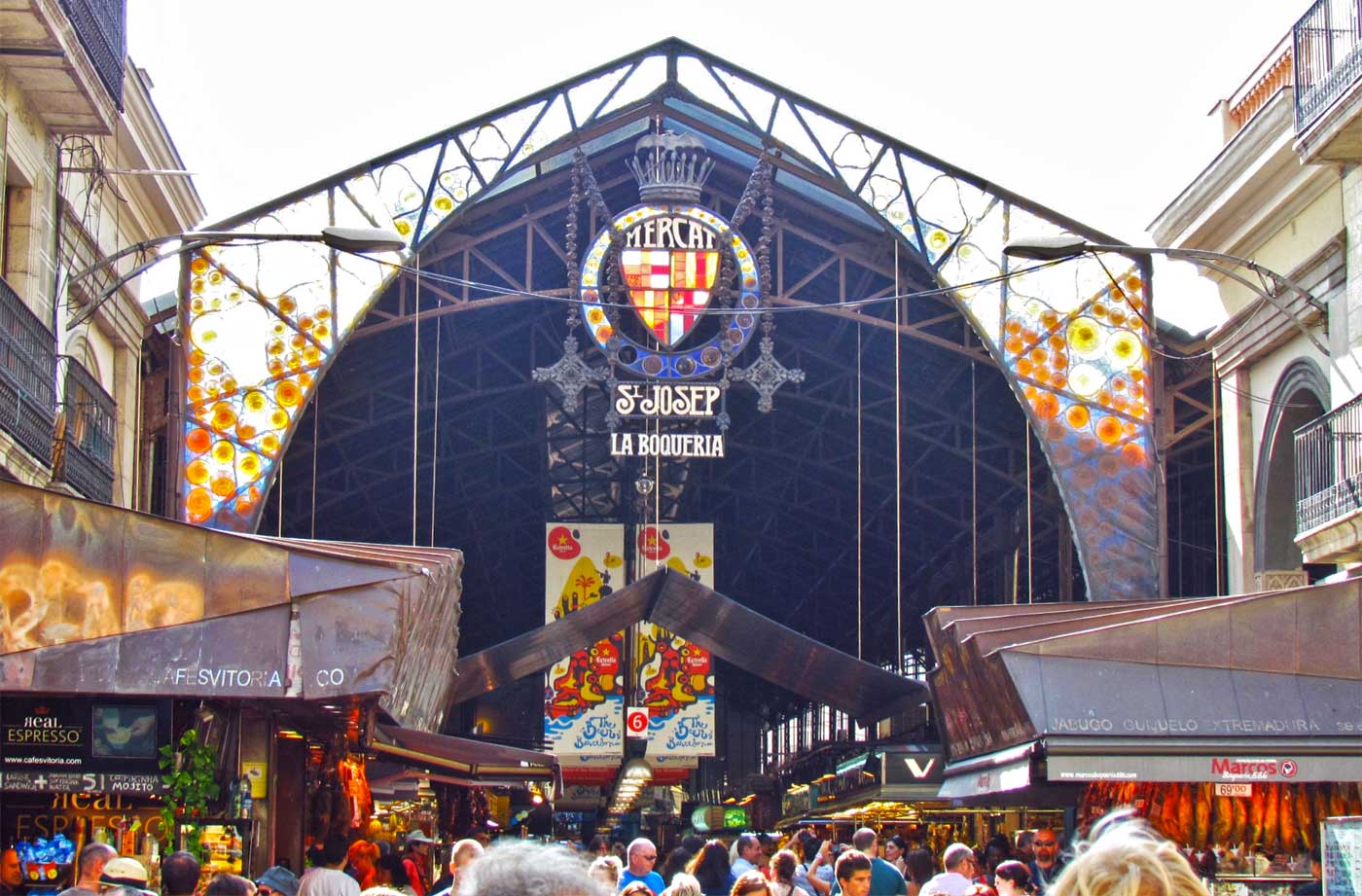 Dive into the pulsating heart of Barcelona's culinary scene at Mercat de la Boqueria, the city's most famous food market. Located along the bustling La Rambla, this colorful market is a sensory feast, teeming with exotic aromas, vibrant colors, and the lively chatter of vendors and customers.
From the moment you step under the market's iconic iron entrance, you're greeted by a dizzying array of fresh produce, locally sourced meats, seafood still glistening from the Mediterranean, and an assortment of cheeses that would make any food lover's heart skip a beat.
However, La Boqueria is not just about fresh ingredients. The market is also a foodie's playground, dotted with tapas bars and food stalls that offer mouth-watering dishes. Grab a stool at one of the counters and savor traditional Catalan dishes, from the classic tortilla española to the indulgent Iberian ham. Be sure to wash it down with a glass of fresh, tangy juice from one of the many fruit stands.
But what truly sets La Boqueria apart is its soul. This is a place where generations of vendors have shared their passion for food, where locals shop for their daily meals, where chefs find inspiration, and where visitors are invited to partake in Barcelona's rich culinary culture.
Whether you're a food enthusiast, a home cook, or a curious traveler, a visit to Mercat de la Boqueria is an unmissable slice of Barcelona's vibrant life. It's more than a market – it's a gastronomic adventure.
7. Basílica de Santa Maria del Mar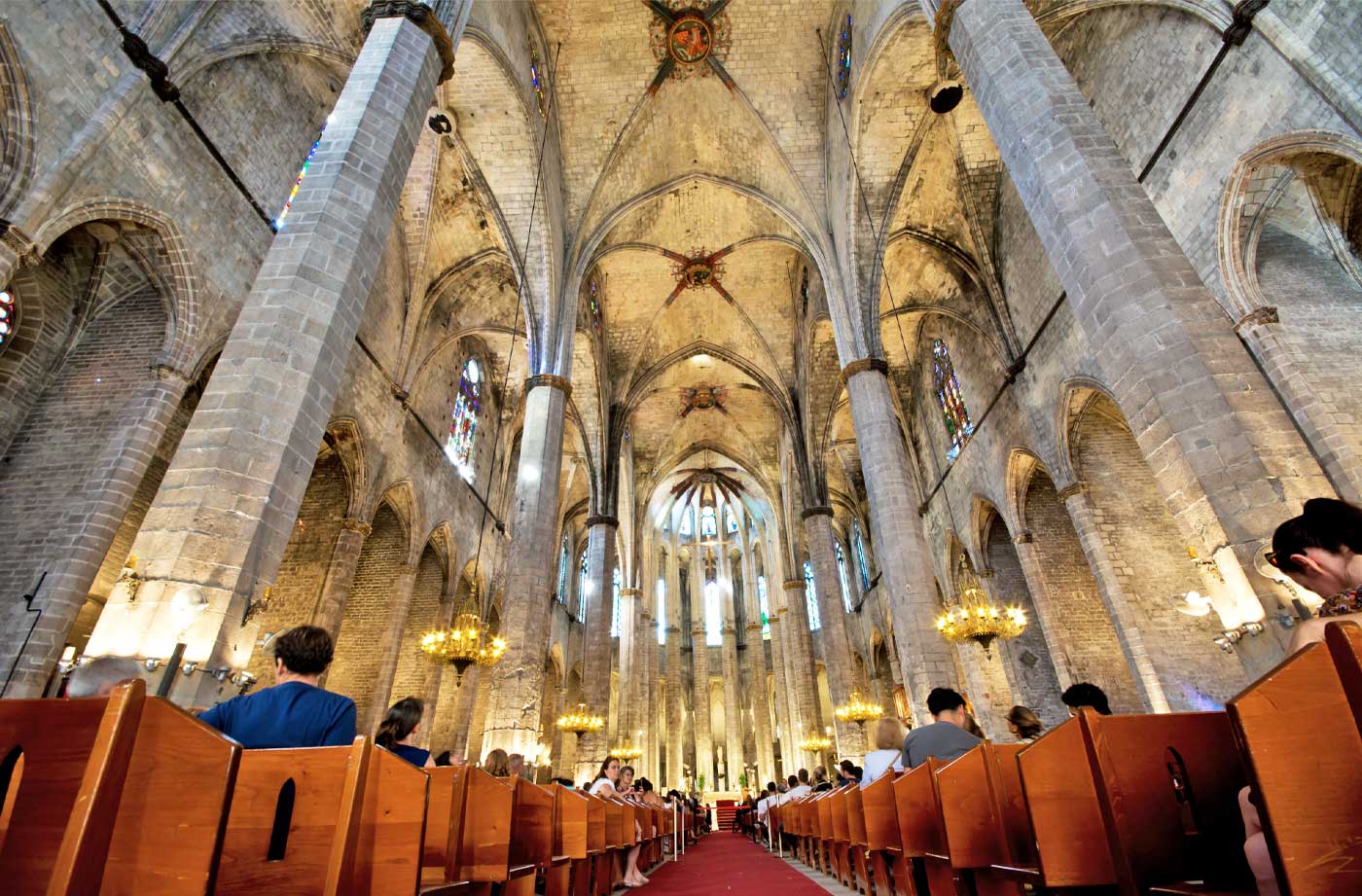 Situated in Barcelona's vibrant Born district, the Basílica de Santa Maria del Mar is an epitome of Catalan Gothic architecture. This 14th-century marvel is both a visual delight and a serene retreat, offering an intimate glimpse into Barcelona's historical tapestry.
Despite its grand exterior, the interior is distinct in its simplicity. The tall, slender columns and high vaulted ceiling evoke a sense of lightness, while the uniform design of the three naves enhances the unity of the space.
The stained glass windows, particularly the rosette at the back, are a highlight, casting a gentle, multicolored light that adds to the tranquil atmosphere.
Visiting Santa Maria del Mar is not only a journey into Barcelona's maritime past, but also a moving encounter with the city's resilience and unity. It's an experience that promises to linger long after you've left its hallowed grounds.
8. Recinte Modernista de Sant Pau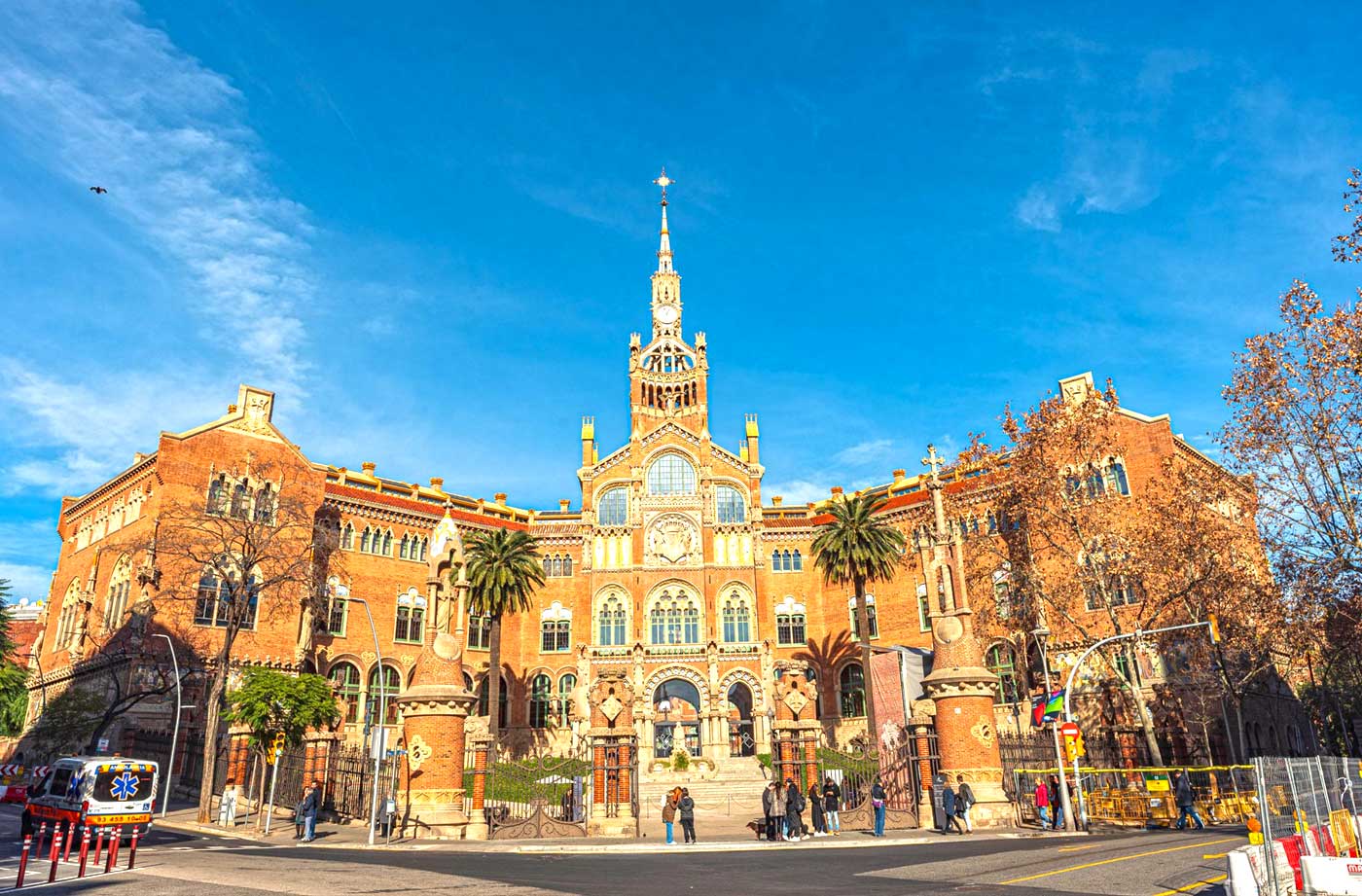 In the heart of Barcelona, a stone's throw away from the iconic Sagrada Familia, you'll find the lesser-known but equally impressive Recinte Modernista de Sant Pau. As one of Europe's most important Art Nouveau sites, this architectural masterpiece offers a fascinating peek into Catalonia's Modernista movement.
Designed by Lluís Domènech i Montaner, the complex originally served as a hospital, striving to create a healing environment through its beauty. Today, its intricate mosaics, colorful domes, and lush gardens continue to inspire and captivate visitors.
What truly sets Sant Pau apart is its brilliant synthesis of form, function, and symbolism. Each building, pathway, and decorative detail is laden with meaning, from the use of natural motifs to the representation of Catalonia's patron saints.
As you explore the site, don't miss the Sant Rafael Pavilion and the Administration Building, both showcasing Montaner's innovative use of light, color, and space. Moreover, the underground tunnels, which connected the various buildings in the hospital era, offer a unique perspective of the complex.
Visiting the Recinte Modernista de Sant Pau is an immersive journey into a bygone era of architectural brilliance. It's a testament to the philosophy that beauty can serve a purpose, and a monument to the innovative spirit of Barcelona.
9. Museu Nacional d'Art de Catalunya – MNAC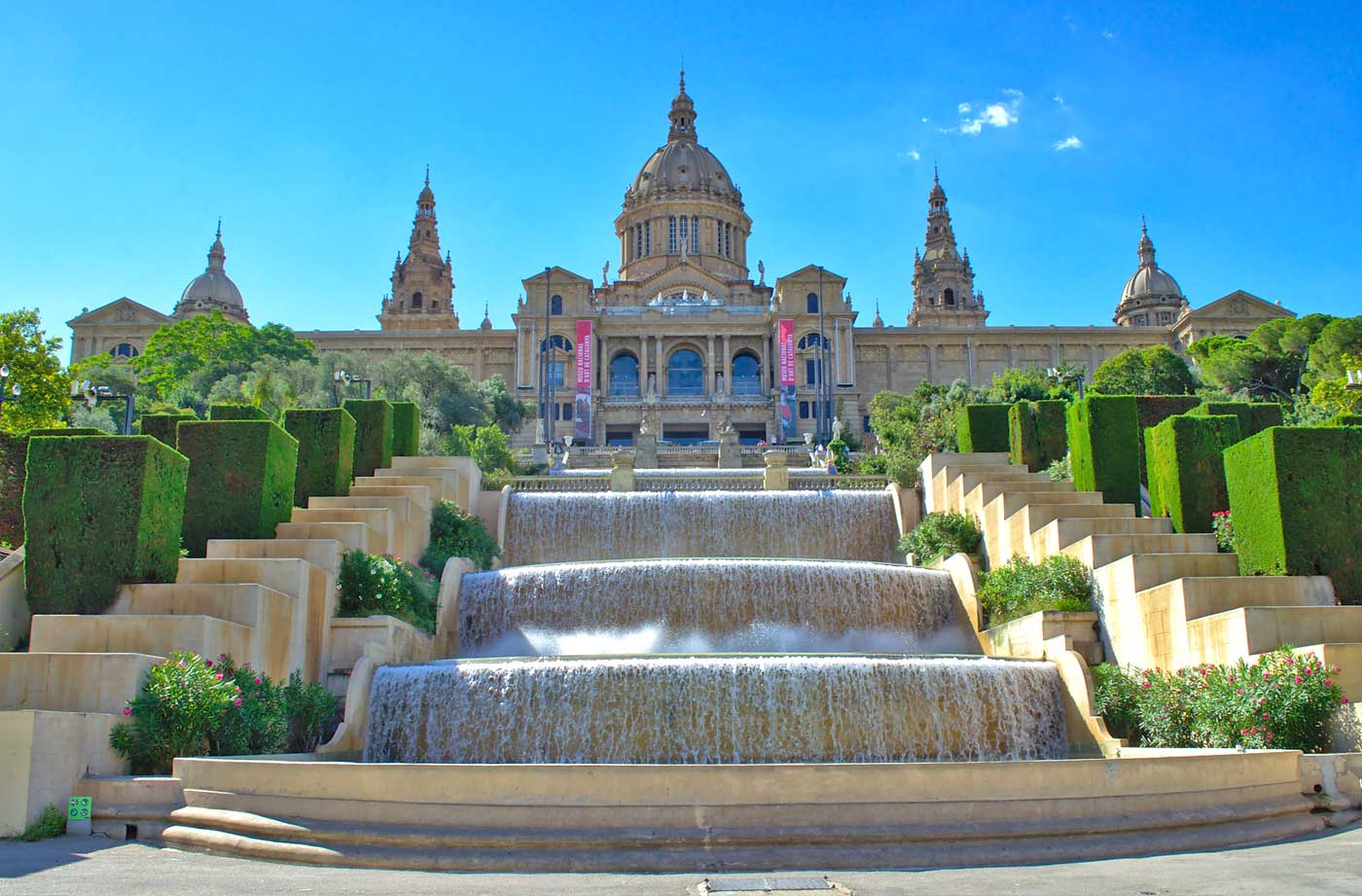 Perched atop Montjuïc hill with commanding views over Barcelona, the Museu Nacional d'Art de Catalunya (MNAC) is a treasure trove of Catalan art. The museum is housed in the magnificent Palau Nacional, a regal building erected for the 1929 International Exhibition.
Inside, MNAC's extensive collection sweeps across a thousand years of Catalan art, offering an unparalleled journey through the region's artistic evolution. From Romanesque church paintings and Gothic altarpieces to Renaissance canvases and Modernist masterpieces, every corner unravels a piece of Catalonia's rich artistic tapestry.
Noteworthy among its collections is the Romanesque Art section, which houses an impressive array of murals, some of which were saved from Pyrenean churches. Equally striking is the Modern Art section, where works of Catalan greats like Ramon Casas and Santiago Rusiñol shine a light on Catalonia's role in modern art movements.
But it's not just the art that captivates visitors. The museum itself is a spectacle, with its grand domed ceiling, spacious halls, and beautiful rooftop terrace offering a panoramic vista of the city.
A visit to MNAC is more than an art tour—it's an immersive journey through Catalonia's artistic soul, revealing stories of the past, resonating with the present, and inspiring visions of the future. For art lovers and history buffs alike, it's a Barcelona must-see.
10. Barcelona Cathedral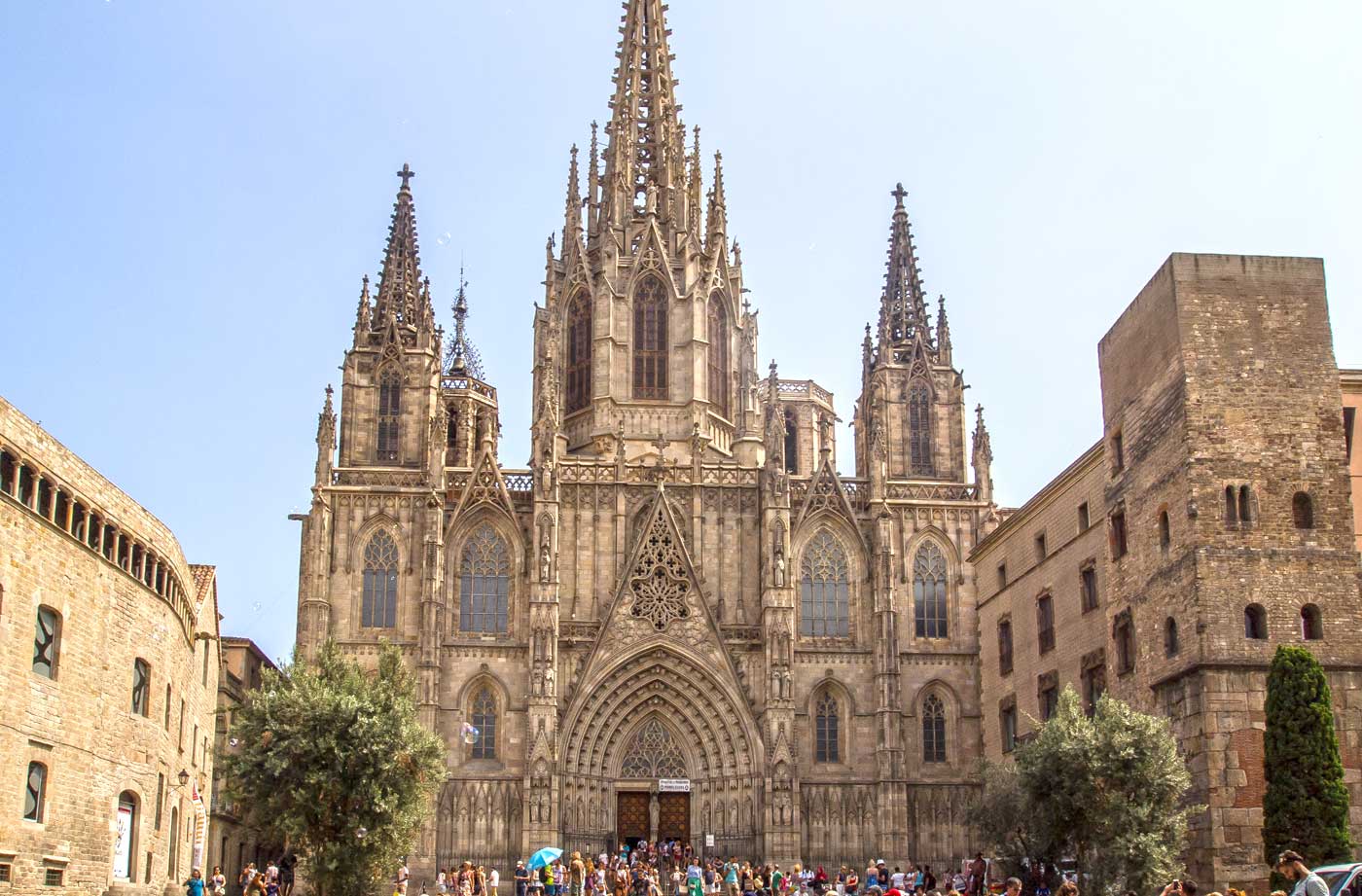 Situated in the heart of Barcelona's Gothic Quarter, the Barcelona Cathedral, officially known as the Cathedral of the Holy Cross and Saint Eulalia, is a beacon of Catalan Gothic architecture. Its soaring spires and intricate façade resonate with centuries of history and cultural significance.
Stepping inside the cathedral, one is struck by the awe-inspiring interior. Ribbed vaults soar overhead, punctuated by a magnificent 15th-century altarpiece. Its side chapels, each a showcase of Gothic design, are dedicated to various saints and figures of religious importance.
However, the true magic lies in its cloister. Enclosed within its walls is a serene oasis, complete with lush greenery, a central fountain, and even a gaggle of resident geese. The silence here, a stark contrast to the bustling city outside, invites introspection and tranquility.
Don't miss the opportunity to climb to the rooftop. Here, you can marvel at a panoramic view of Barcelona's skyline, framed by the cathedral's ornate spires. It's a vista that merges the old with the new, showcasing the city's vibrant mix of history and modernity.
From its richly adorned exterior to its tranquil cloister, the Barcelona Cathedral offers a unique blend of spiritual, architectural, and historical exploration, making it an essential stop on any Barcelona itinerary.
Feel free to explore these pages as well:
Top 10 Must-See Attractions in Madrid ↗️
Discover Moorish Andalucia, Spain ↗️
As we conclude our journey through the "10 Unmissable Experiences in Barcelona for First-Time Visitors," it's clear that Barcelona's charm lies not just in its spectacular sights, but also in the vibrant rhythms of everyday life, the compelling layers of its history, and the infectious warmth of its people.
Through exploring Barcelona's iconic landmarks and hidden gems, immersing ourselves in the intoxicating Catalan culture, and savoring the delectable flavors of its cuisine, we've experienced the heartbeat of a city that artfully marries the old with the new, the familiar with the extraordinary.
But remember, this guide only scratches the surface of Barcelona's rich tapestry. Each visit promises new surprises, new experiences, and new insights into this captivating city. So even as you step away from Barcelona, keep its spirit alive in your heart and mind, and know that the city always awaits your return, ready to unfold yet more of its enchanting tales.
Thank you for joining us on this unforgettable journey. May the memories of Barcelona inspire your future travels and keep your wanderlust aflame. Until the next adventure!