Navigating Paradise: Bali's Top 10 Hidden Gems
Bali, often referred to as the 'Island of the Gods,' is a paradise that delivers far more than just breathtaking beaches and stunning sunsets. This Indonesian island serves up a rich blend of vibrant culture, spiritual sanctuaries, warm-hearted locals, exotic wildlife, and delicious cuisine, all wrapped up in its lush tropical landscapes.
Whether you're an adrenaline junkie eager to ride the waves, a curious explorer ready to trek active volcanoes, a culture enthusiast aiming to delve deep into ancient traditions, or a foodie looking to feast on local delicacies, Bali's tapestry of experiences will leave you enamored.
In this guide, we've curated the 'Top 10 Must-Visit Spots in Bali for Travelers,' designed to take you on a journey from the bustling streets of Seminyak to the serene shores of Nusa Dua, the sacred temples in Ubud to the breathtaking cliffs of Nusa Penida.
Join us as we explore this diverse island paradise, unraveling its best-kept secrets and popular hotspots, and uncover why Bali continues to charm travelers from around the globe. Let's dive into the Balinese adventure waiting to captivate your wanderlust.
Here are the 10 best places to visit in Bali:
1. Sacred Monkey Forest Sanctuary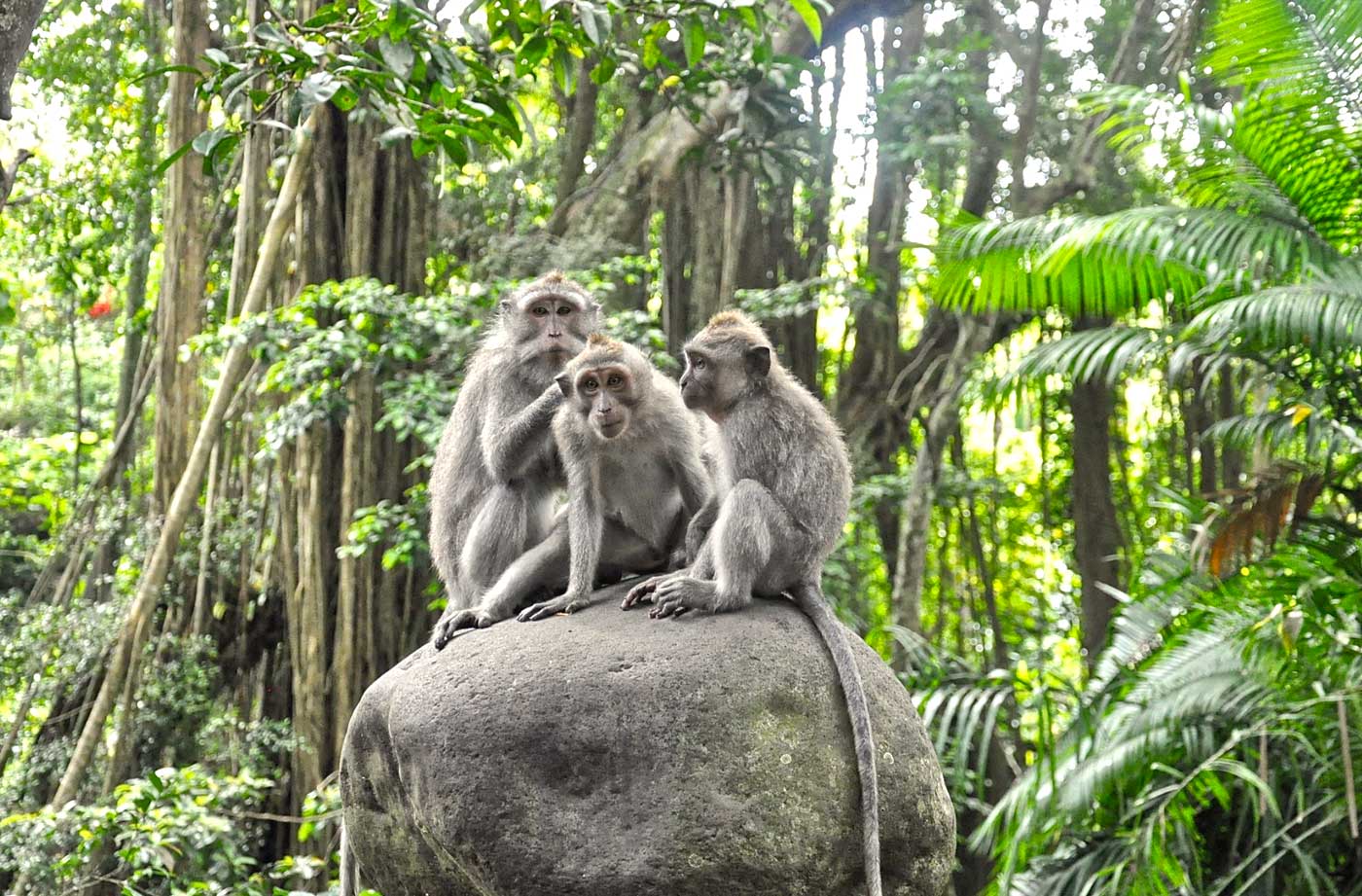 The Sacred Monkey Forest Sanctuary, found in Ubud, is a must-visit for any Bali traveler. Home to over 700 Balinese long-tailed monkeys, it offers a unique encounter with wildlife in a spiritual and culturally significant setting. This sanctuary is more than just a tourist attraction; it's a significant part of Bali's conservation efforts.
Ancient temples adorn the sanctuary, adding to its serene beauty. Among them, the Pura Dalem Agung Padangtegal, the 'Great Temple of Death', dates back to the 14th century.
Remember, these monkeys are wild, so respect their space and follow the sanctuary's guidelines. Visiting this magical place, you'll experience an incredible connection with nature and Balinese culture, making it a memorable part of your Bali journey.
2. Mount Agung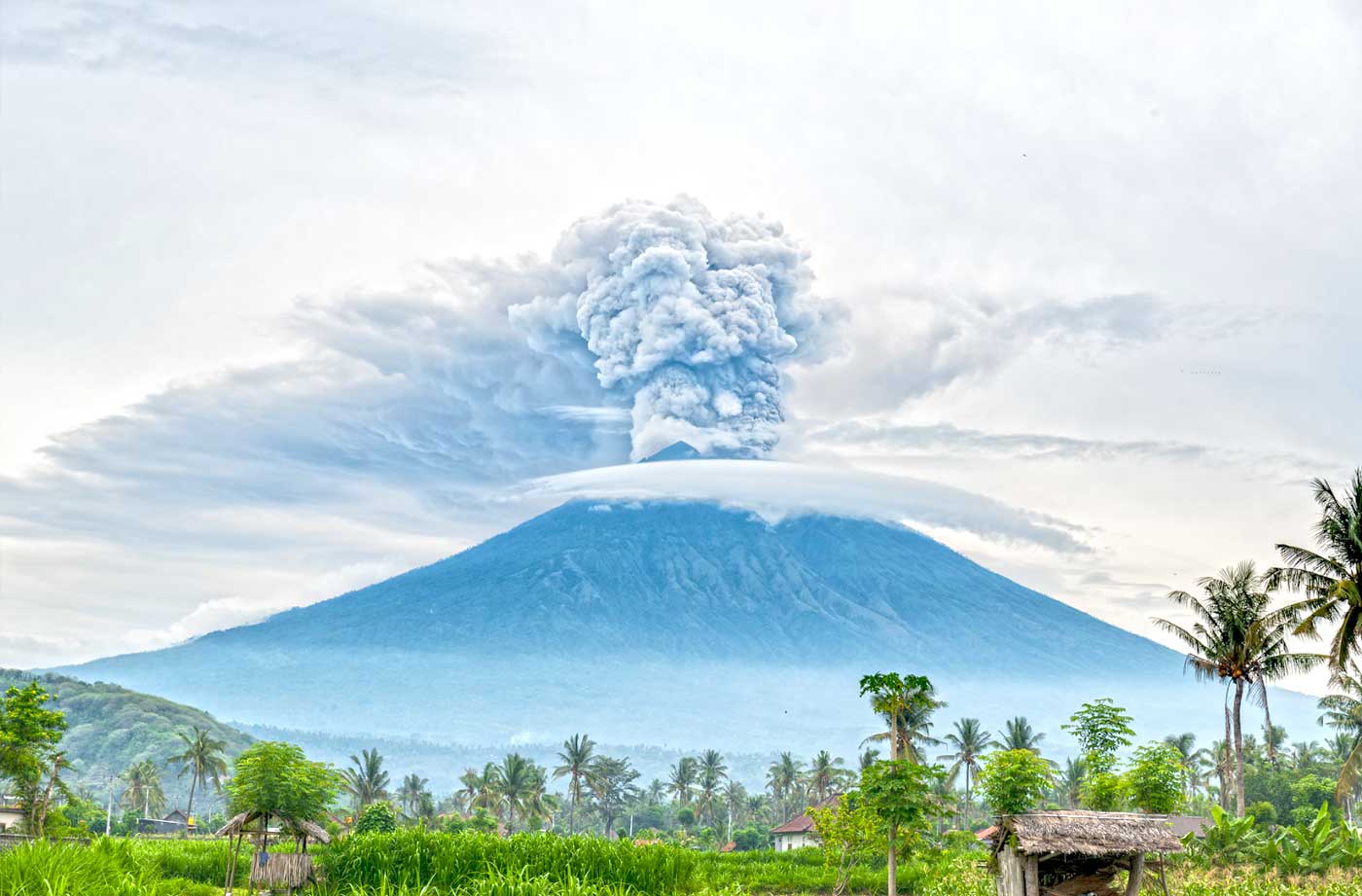 Mount Agung, Bali's highest peak, offers a mix of natural beauty and spiritual significance. This active volcano, considered the home of the gods, dominates the island's northeast skyline.
A demanding but rewarding adventure, the sunrise trek to the summit provides spectacular panoramic views of Bali, and even Mount Rinjani on nearby Lombok, weather permitting. The steep climb requires good fitness but promises a unique and unforgettable experience at the top.
Remember, Mount Agung holds a sacred status among locals. If you're considering the climb, doing so with a knowledgeable local guide ensures respect for local customs and a safer journey. Whether you're a thrill-seeker or a spiritual traveler, an expedition to Mount Agung is a Bali highlight.
3. Waterbom Bali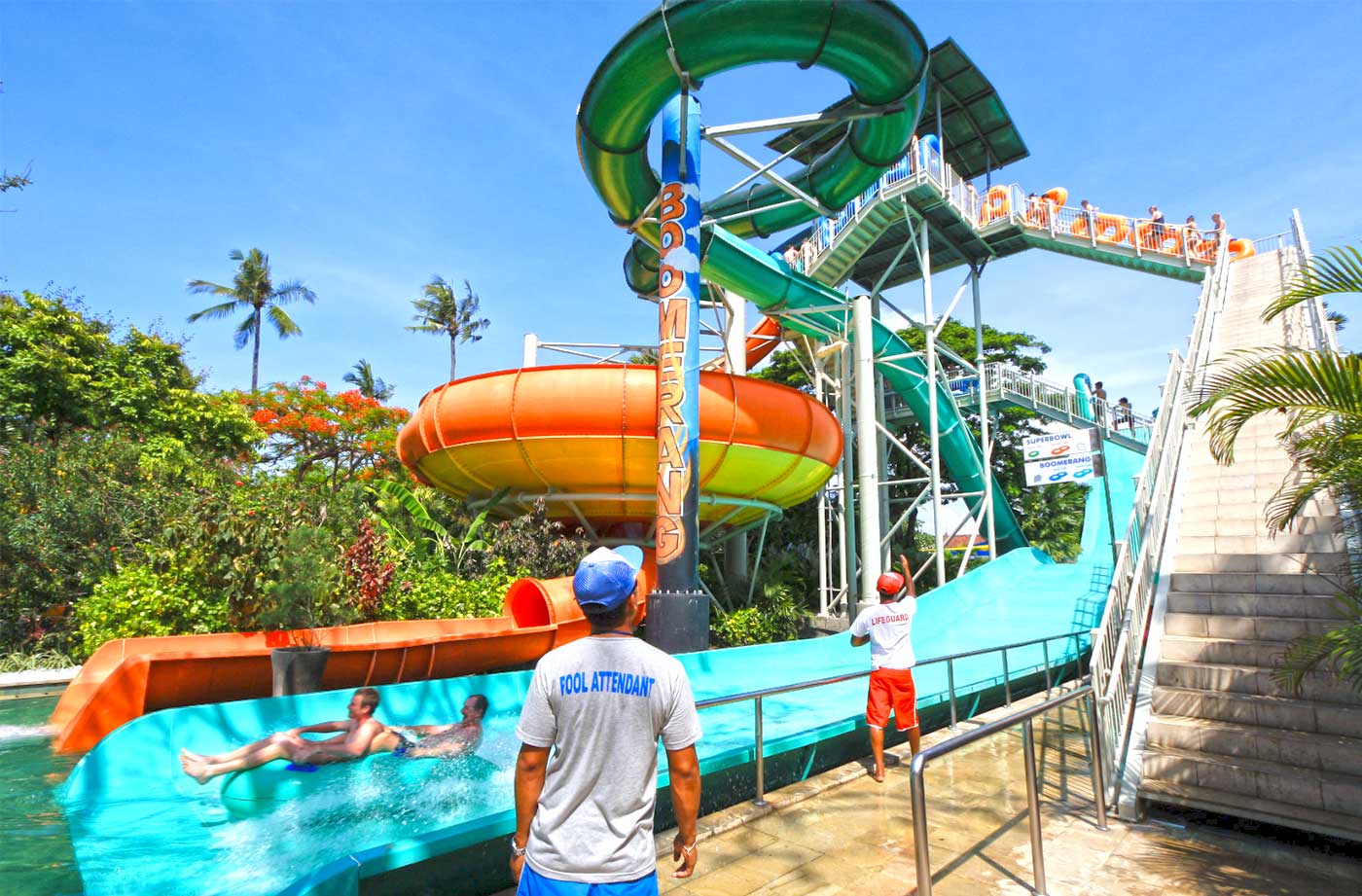 Waterbom Bali, located in the bustling area of Kuta, provides a fun-filled escape from Bali's heat and a thrilling alternative to the island's beaches and temples. Ranked among the top water parks in Asia, it's packed with rides and slides to entertain both thrill-seekers and families.
From adrenaline-pumping slides like 'The Climax', with its near-vertical drop, to the more relaxed 'Lazy River', there's something for everyone. Amidst the fun, don't miss the tropical gardens that cover over 50% of the park, offering a peaceful spot to unwind.
All the attractions in Waterbom adhere to international safety standards, and attentive lifeguards ensure a safe environment. For a break from the action, a wide variety of dining options cater to all tastes.
Whether you're a family looking for a kid-friendly day out, or an adrenaline junkie in search of your next thrill, Waterbom Bali guarantees a day of laughter, splashes, and unforgettable fun.
4. Double Six Beach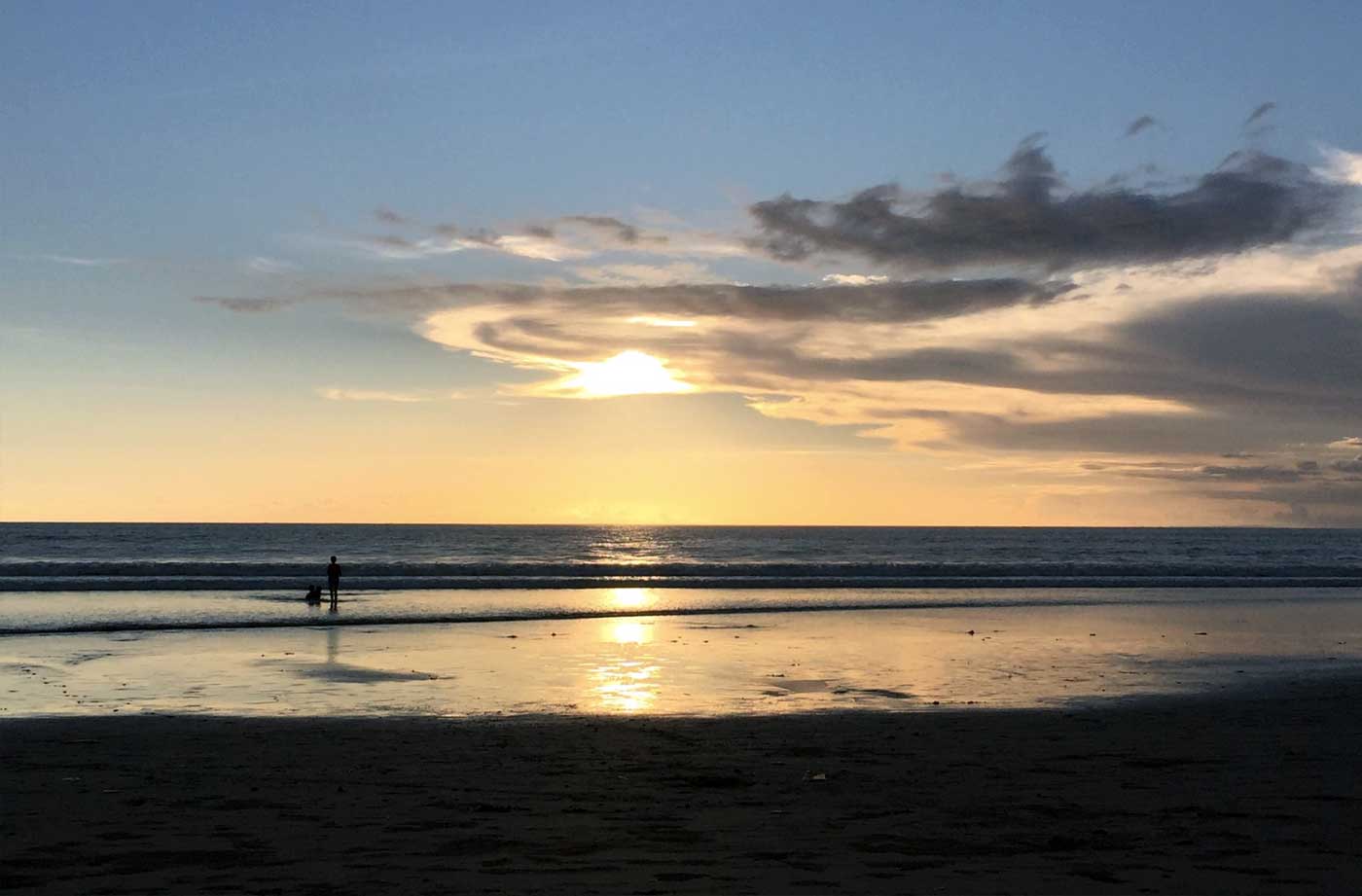 Situated in the heart of Seminyak, Double Six Beach offers a vibrant atmosphere that sets it apart from many other beaches in Bali. It's a go-to place for a relaxed sun-soaked day, followed by a lively night.
By day, the wide sandy stretch invites sunbathing, surfing, or playing beach games. As the sun starts to set, the beach transforms into a social hotspot. Lined with beach bars and restaurants, the ambiance is imbued with the sounds of live music and the clinking of cocktail glasses.
The real star of the show, though, is the spectacular sunset. Visitors are treated to a daily spectacle as the sky transforms into a canvas of vibrant colors, with the sun setting dramatically into the ocean.
Whether you're a sunset chaser, a food lover, or a beach enthusiast, Double Six Beach offers an exciting mix of relaxation and social buzz, making it a must-visit for those touring Bali.
5. Seminyak Beach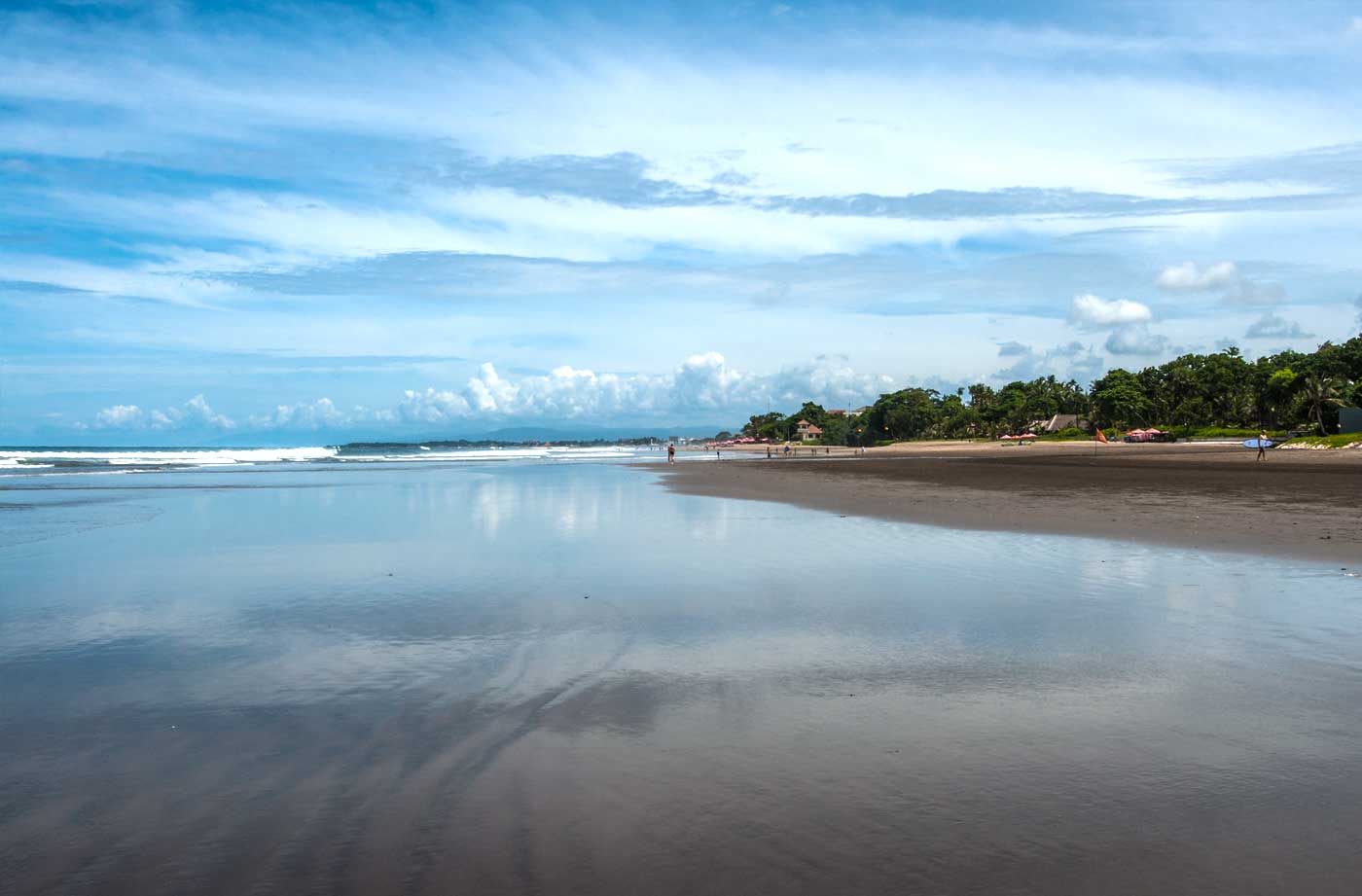 A hallmark of the upmarket town of Seminyak, Seminyak Beach is a stylish destination known for its sandy shores, high-end resorts, and vibrant nightlife. It's a hotspot for those who love the finer things in life, while also offering a great beach experience.
During the day, the beach is a hub for surfers seeking its powerful waves, while sun-lovers sprawl out on the sandy expanse or lounge in chic beach clubs. As the day mellows, the beach is perfect for a peaceful stroll, with the added allure of trendy boutiques and art galleries nearby.
As evening falls, Seminyak Beach truly comes alive. Trendy beachside bars and clubs serve cocktails with the backdrop of the stunning Balinese sunset. The atmosphere is chic yet laid-back, allowing visitors to soak in the vibes and dance under the stars.
Seminyak Beach, with its blend of beach relaxation, shopping, dining, and nightlife, caters to a wide range of tastes, promising a dynamic and luxurious Balinese beach experience.
6. Bali Wake Park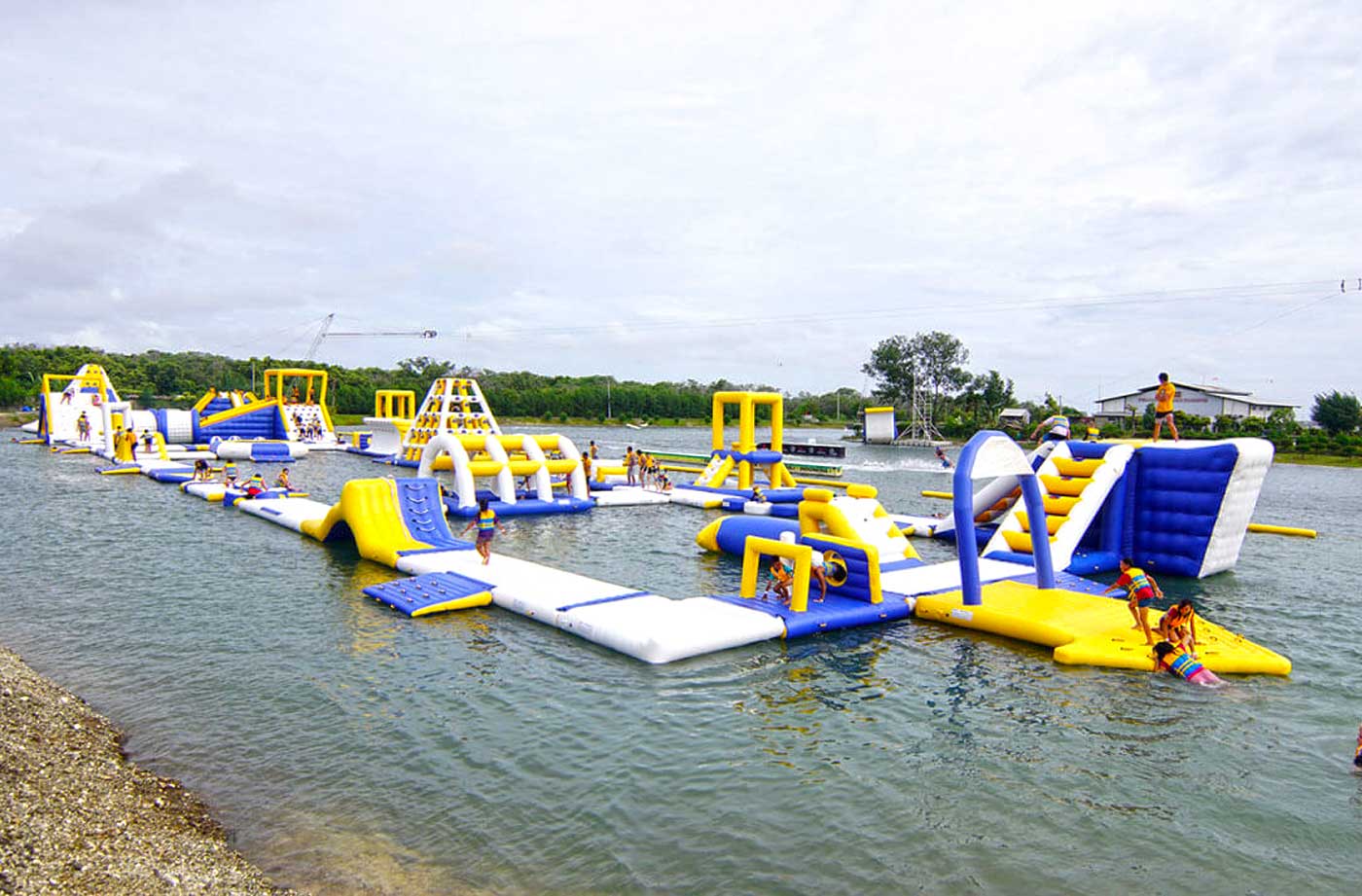 Bali Wake Park, located in Benoa, presents an exhilarating alternative to Bali's usual surf scene. As the first and only wakeboarding facility in Bali, it caters to both seasoned wakeboarders and those wanting to try this exciting water sport for the first time.
Spread over an expanse of lakes, the park features state-of-the-art cable systems and obstacles that promise an adrenaline-filled adventure. For beginners, there's a dedicated training area with professional instructors ensuring a fun and safe experience.
In between sessions, you can relax at the park's restaurant and bar, taking in the sweeping views of the course and the surrounding area.
Whether you're a seasoned rider or a beginner looking to learn, Bali Wake Park guarantees a day of thrill, fun, and laughter, a truly unique way to enjoy Bali's aqua-centric offerings.
7. Nyaman Gallery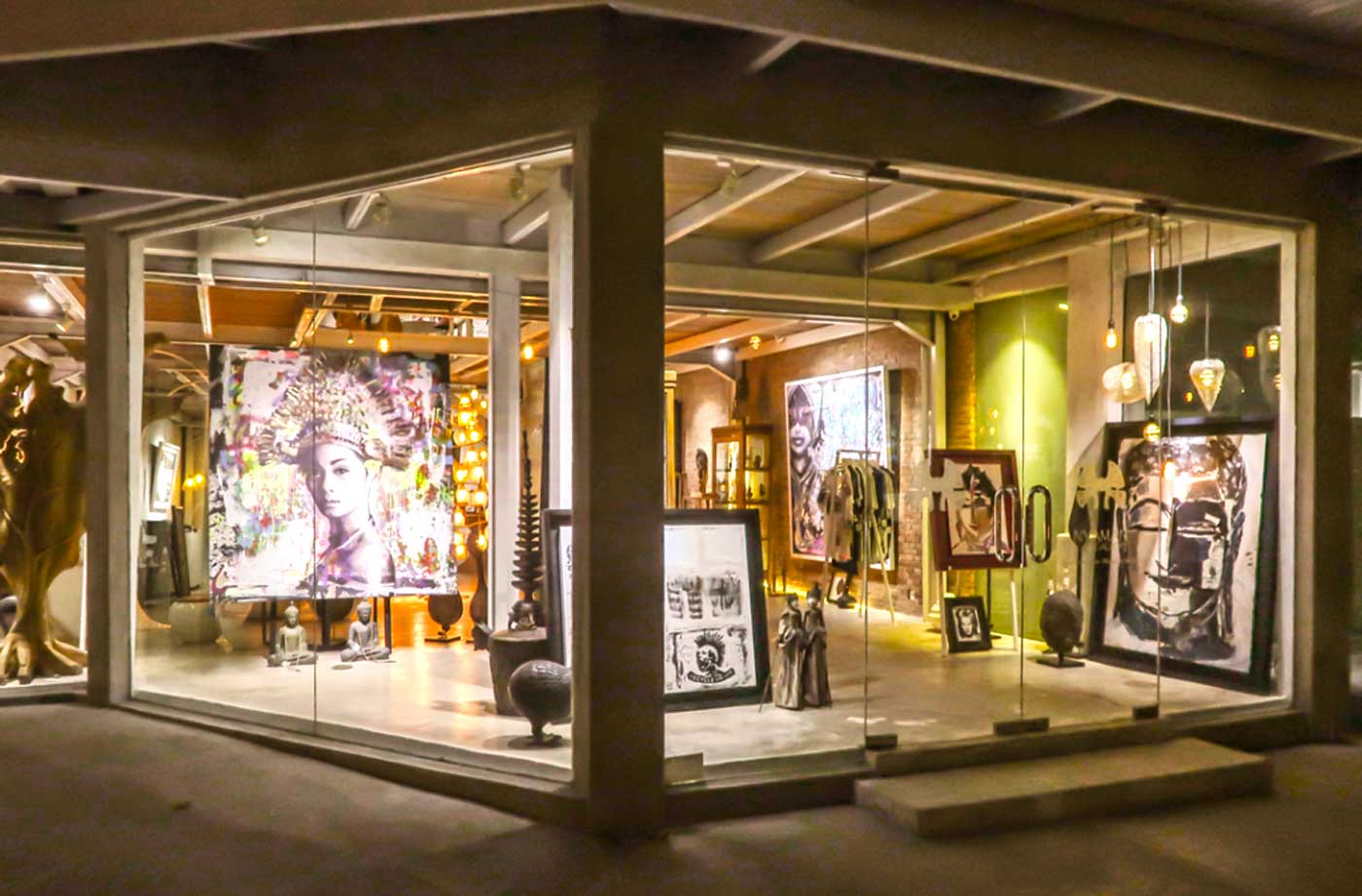 Located in the heart of Seminyak, Nyaman Gallery is a contemporary art lover's dream. This creative hub showcases a rich collection of works from both emerging and established Indonesian and international artists.
Walking through the gallery, you're greeted by an array of art forms, from modern paintings and intriguing sculptures to innovative installations and artful jewelry. Each piece carries its own narrative, reflective of the diverse styles and stories of the artists.
The gallery's relaxed atmosphere invites visitors to take their time exploring, and the friendly staff add to the welcoming experience, happy to share insights about the artists and their works.
A visit to Nyaman Gallery is not just about appreciating art; it's about immersing yourself in a cultural experience. It's a must-visit for art enthusiasts seeking to get a deeper understanding of Bali's vibrant art scene.
8. Sindhu Market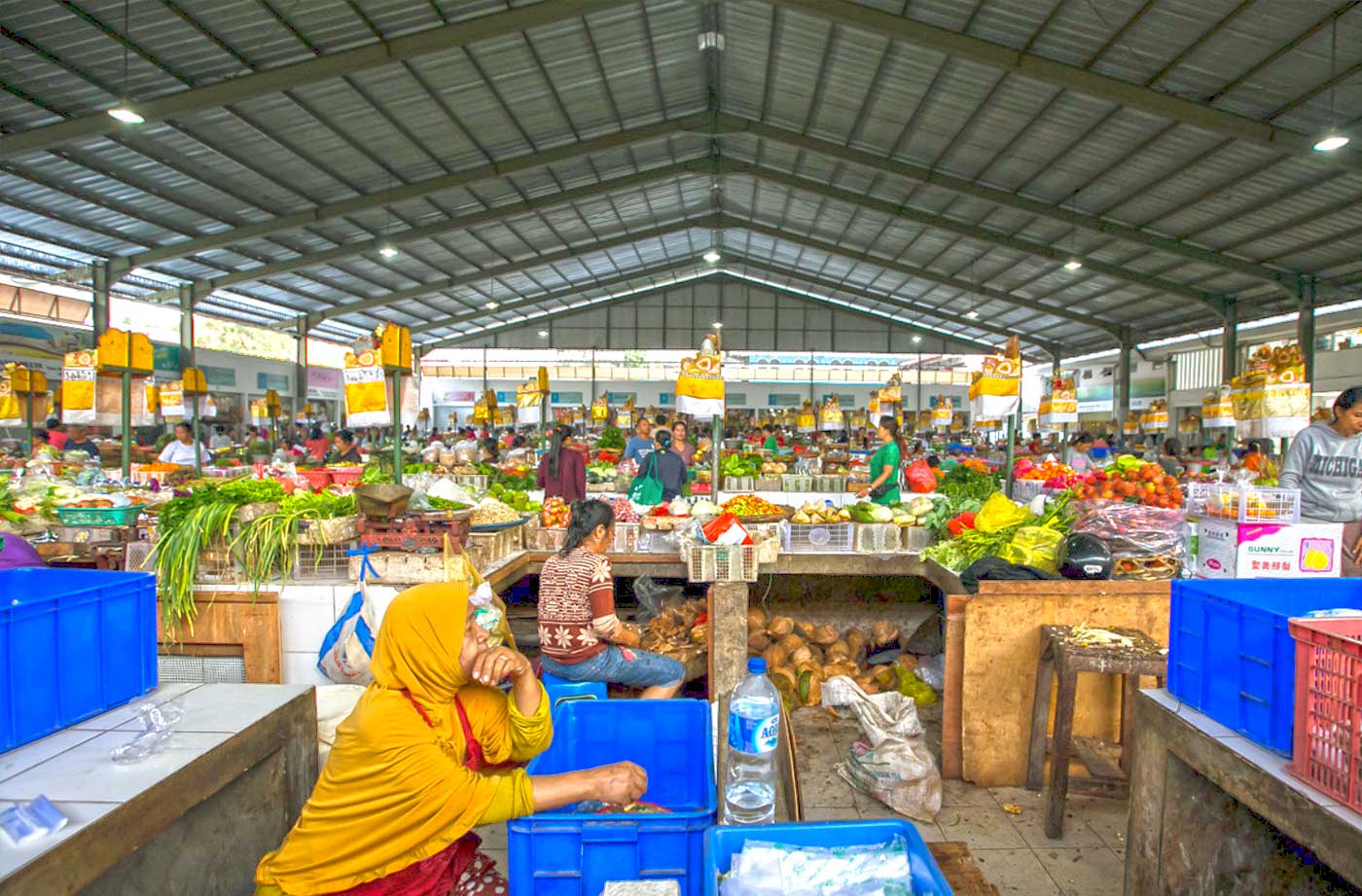 Situated in the heart of Sanur, Sindhu Market is a quintessential Balinese market teeming with life and color. During the day, it's a bustling fresh market, where locals shop for produce, spices, and traditional Balinese street food. As evening settles, the night market comes alive, serving an array of mouth-watering local delicacies.
Strolling through Sindhu Market is an immersive sensory experience. The vibrant sights, enticing smells, and bustling sounds provide a true taste of everyday life in Bali. The food stalls offer everything from satay and seafood to the famous Nasi Goreng, making it a haven for food lovers.
Bargain hunters can also find a range of local goods and souvenirs to take home. Don't forget to haggle – it's all part of the experience!
Sindhu Market provides an authentic glimpse into Balinese culture and cuisine. A visit here promises to be a memorable part of your Bali adventure.
9. Nusa Dua Beach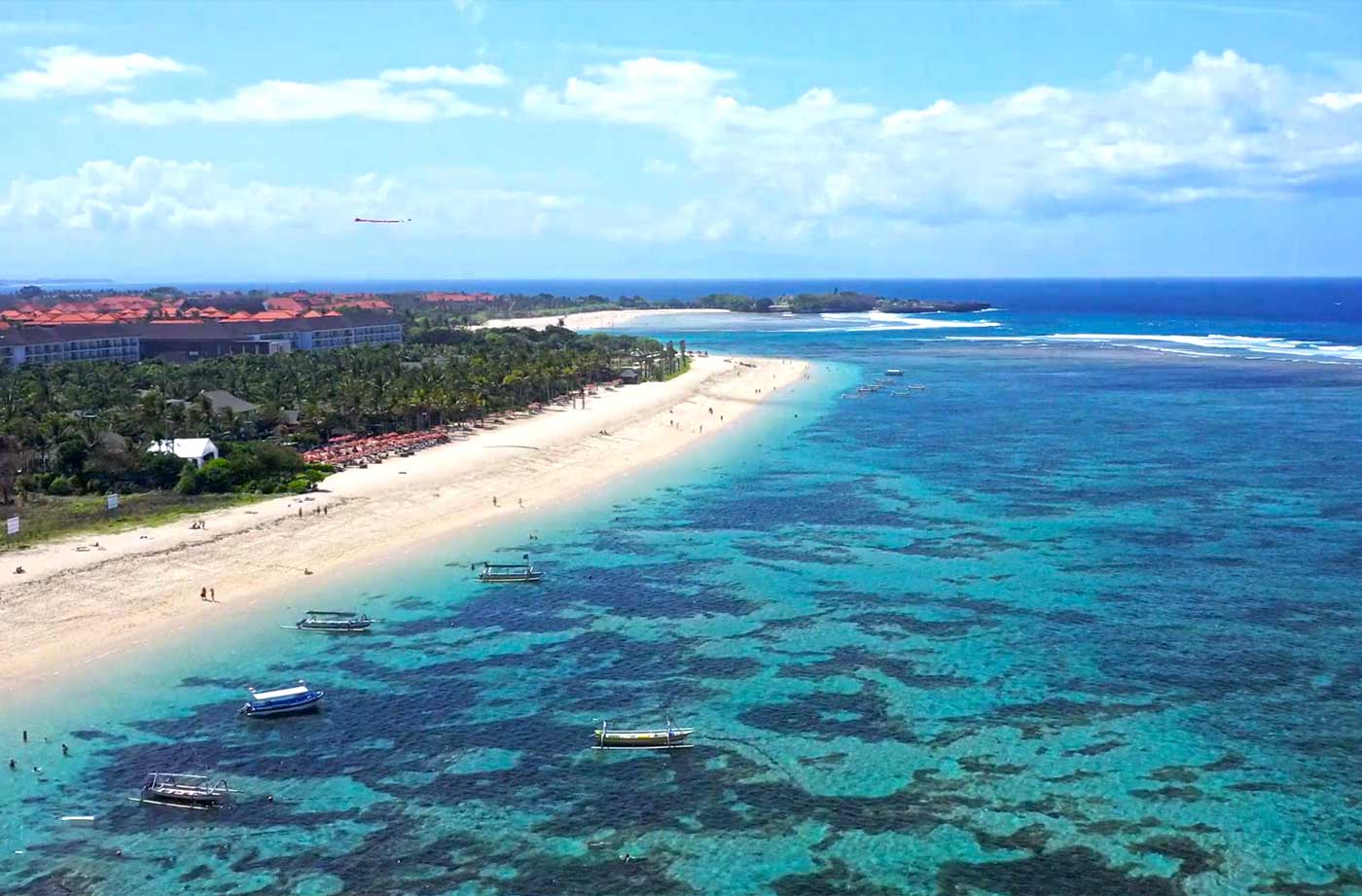 On the eastern side of Bali's Bukit Peninsula, you'll find the serene and beautiful Nusa Dua Beach. Known for its pristine white sand, crystal clear waters, and luxurious resorts, it offers a more peaceful beach experience compared to other parts of Bali.
The calm waters make it an ideal spot for swimming and for beginners to try water sports such as jet-skiing or snorkeling. The nearby coral reefs are teeming with vibrant marine life, promising an unforgettable underwater adventure.
Nusa Dua Beach is not just about water activities. The manicured gardens and palm trees lining the beachfront offer a tranquil setting for a leisurely walk or a picnic.
For those looking for a bit of luxury, the beach is surrounded by upscale resorts offering top-tier dining experiences and spa services.
Whether you're an active traveler or someone seeking a tranquil beach escape, Nusa Dua Beach promises a slice of paradise with its stunning natural beauty and high-end amenities.
10. Kelingking Beach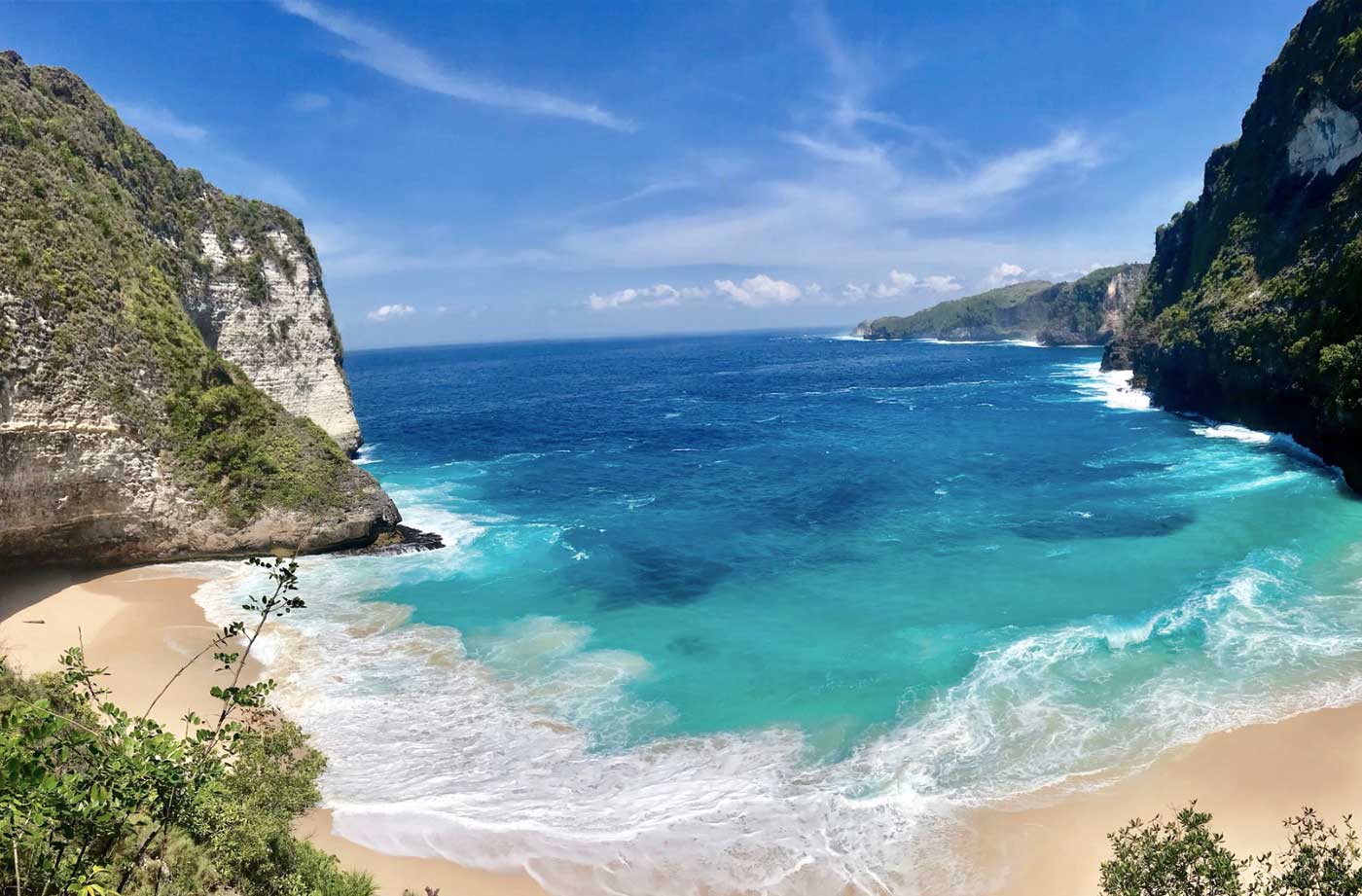 Kelingking Beach, a hidden gem on Nusa Penida Island, offers one of the most breathtaking views in all of Bali. The beach is renowned for its dramatic cliffside in the shape of a T-Rex, offering an incredible backdrop for photos.
Getting down to the beach itself is a bit of an adventure. The path is steep and challenging, but for those willing to make the trek, the reward is a secluded, untouched beach with soft white sand and clear blue waters. Note that this isn't for the faint-hearted, and appropriate footwear is a must.
From the viewpoint, you can also spot manta rays swimming off the coast, and during the right season, you might even see a few humpback whales.
Visiting Kelingking Beach isn't just about lounging on the sand. It's about immersing yourself in nature and appreciating the raw beauty that Bali has to offer. If you're up for an adventure, Kelingking Beach is a must-visit.
Feel free to explore these pages as well:
As our journey through the 'Top 10 Must-Visit Spots in Bali for Travelers' comes to an end, it's clear to see why this Island of the Gods has won the hearts of many. From vibrant cultural sites and exhilarating outdoor adventures to serene beaches and charming markets, the diverse offerings of Bali ensure there's something to pique every traveler's interest.
But remember, the magic of Bali extends far beyond its landmarks. The island's true spirit lies in its rich cultural tapestry, the ever-smiling locals, the sacred rituals that fill the air with spirituality, and the mesmerizing natural beauty that never ceases to inspire awe.
So, whether you're a seasoned globetrotter or a first-time visitor, let the magic of Bali captivate your heart. Explore beyond the well-trodden paths, delve deeper into the local culture, and allow yourself to be swept away by the island's unique charm.
We hope this guide has inspired your wanderlust and equipped you with insights for an unforgettable Balinese adventure. Until the next journey, keep exploring, keep discovering, and most importantly, keep cherishing each moment as a new story unfolds in your traveler's diary. Selamat jalan, or safe travels!