Navigating Zurich Like a Local Discovering Top Tourist and Hidden Attractions
Unleash your wanderlust and gear up for an adventure like no other in the heart of Switzerland, the dynamic city of Zurich. Known for its perfect blend of urban life and nature, Zurich's charm lies in its diverse offerings. Whether it's soaking in the historic aura of the Old Town, reveling in the tranquil beauty of Lake Zurich, or exploring the cutting-edge contemporary art scene, there's a unique experience waiting around every corner.
This guide, 'Zurich's 10 Best Place List for Every Adventurous Traveler', is your go-to itinerary, meticulously curated to ensure you don't miss a beat of what this incredible city has to offer. From hidden gems tucked away in cobblestone streets to stunning vistas atop Uetliberg Mountain, every location promises to be a memorable escapade.
So, strap on your exploration boots, and get ready to embark on a remarkable journey through Zurich's captivating locales. Remember, every turn holds a new story and each place its unique thrill. With this guide in hand, you're all set to seize the adventure that Zurich promises and make your trip an unforgettable tale of exploration. Happy adventuring!
Here are the 10 best places to visit in Zurich:
1. Old Town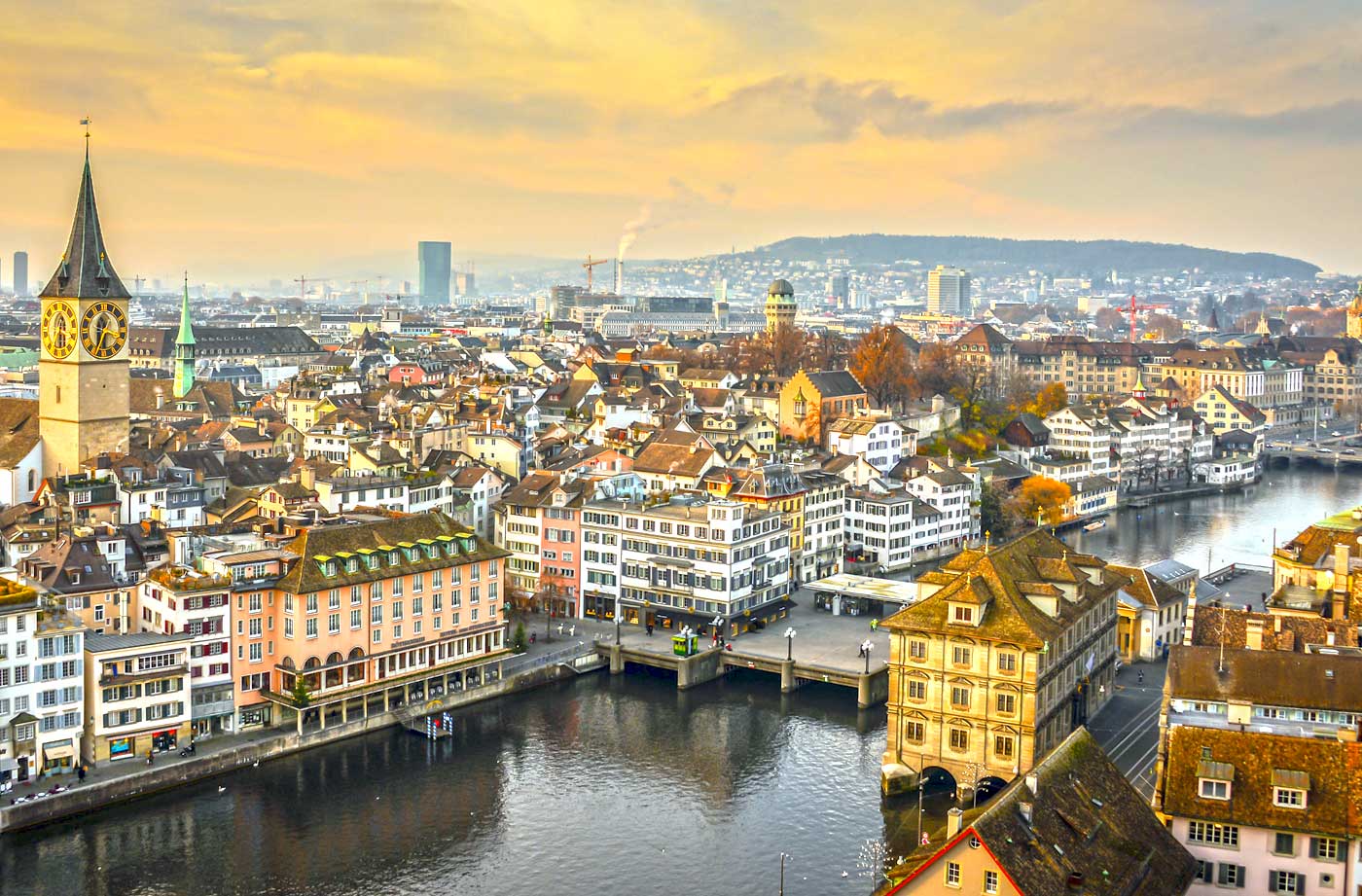 Nestled in the heart of Zurich is the Old Town, a place where the past and present harmoniously blend. As you wander through its meandering cobblestone streets, you'll be transported back in time by the beautifully preserved medieval buildings, each one a silent witness to the city's rich history. Yet, amidst these ancient edifices, you'll also find the pulse of modern Zurich. Quaint boutiques, trendy cafés, and world-class galleries have found their homes in these historic buildings, infusing the Old Town with a vibrant, contemporary energy.
One of the most compelling aspects of Zurich's Old Town is its wealth of architectural treasures. As you explore the winding lanes, the Grossmünster Church's towering twin spires are a sight to behold. This Zurich landmark looms over the cityscape, anchoring the Old Town with its imposing presence. Equally captivating are the Fraumünster, known for its stunning stained glass windows, and St. Peter's Church, which boasts the largest clock face in Europe. But the Old Town's magic doesn't end when the sun sets. The pedestrian zone, Niederdorf, comes alive with a bustling nightlife scene that is as enticing as the district's day-time allure. With its blend of historical charm and modern dynamism, Zurich's Old Town leaves an indelible imprint on every traveler's heart.
2. Lake Zurich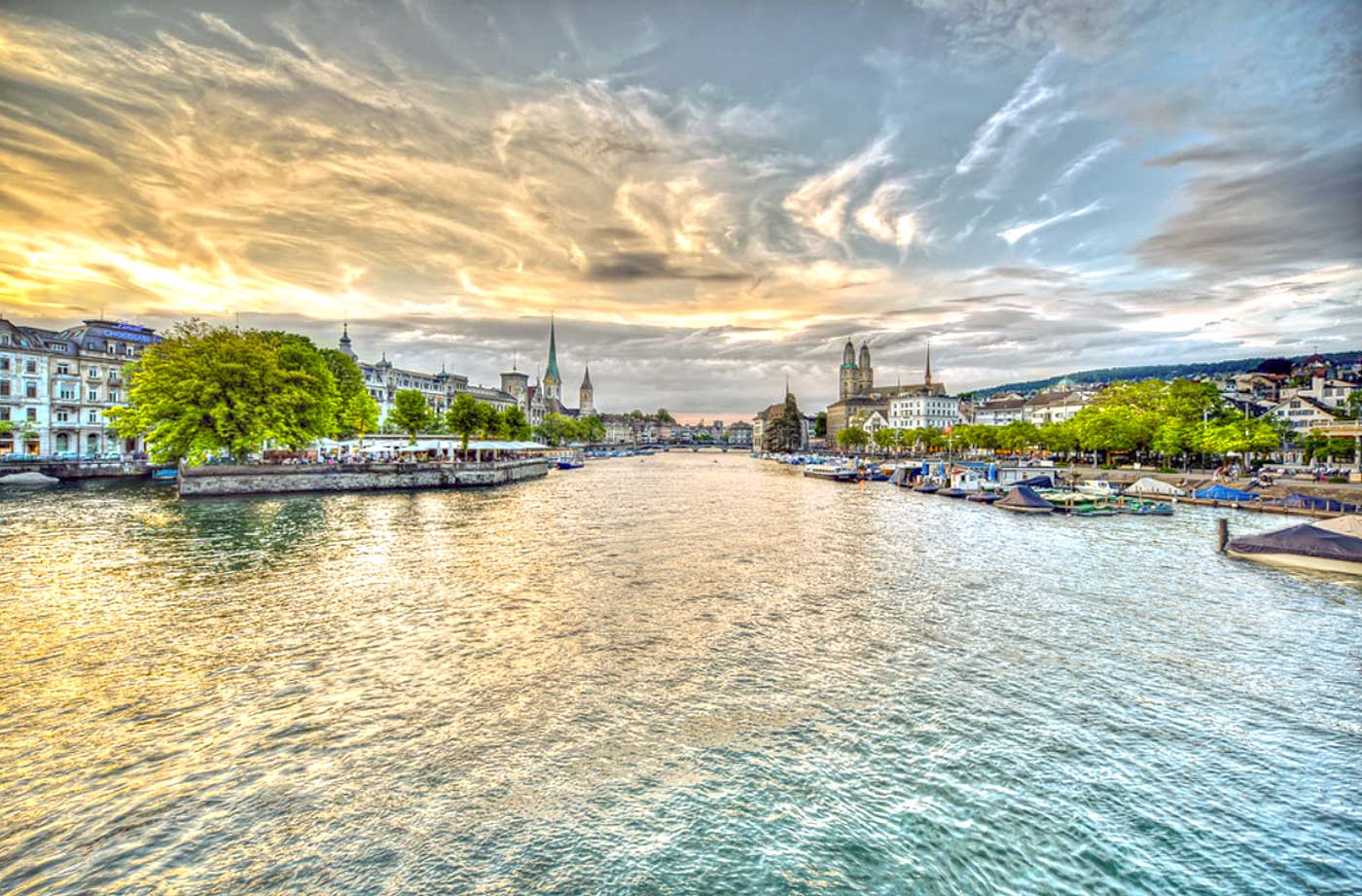 The sparkling jewel of the city, Lake Zurich, is a natural wonder that never fails to captivate visitors. Sprawling against the backdrop of the towering Swiss Alps, this majestic lake provides a tranquil escape from the urban hustle and bustle of Zurich.
A plethora of activities awaits you here, from leisurely boat rides across the glittering waters to picturesque hiking and biking trails along the lake's perimeter. The Lake Promenade is a favorite among locals and tourists alike – a paradise for joggers, picnickers, and anyone seeking a moment of respite amidst natural beauty.
Imbibe the serene beauty of Lake Zurich from one of the many lakeside restaurants, where you can treat your taste buds to the local cuisine while soaking in panoramic views. And if you're visiting during the summer, the lake transforms into a refreshing outdoor swimming spot, surrounded by lush lawns and cozy beach bars. No matter the season, Lake Zurich presents a mesmerizing encounter with nature in the heart of the city.
3. Uetliberg Mountain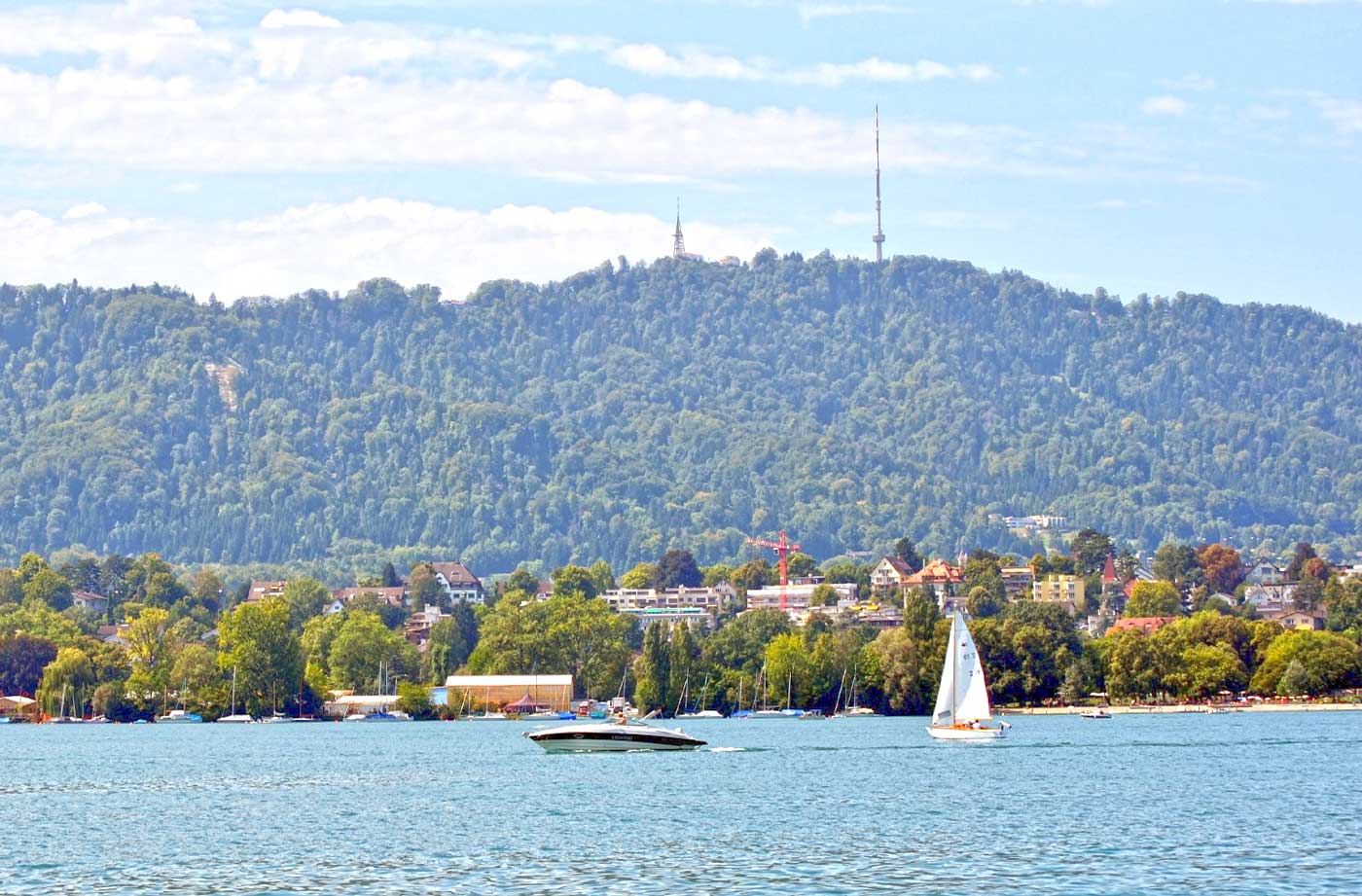 Rising proudly over Zurich, Uetliberg Mountain offers a slice of alpine paradise without ever leaving the city. This local favorite stands as a testament to Switzerland's natural beauty, providing an escape for those seeking tranquility, adventure, and breathtaking views.
The mountain's well-marked hiking and biking trails invite you to immerse yourself in a world of lush greenery during the warmer months. As you ascend, each twist and turn of the path reveal panoramic vistas of Zurich, the lake, and the distant snow-capped peaks of the Swiss Alps. The experience is nothing short of a visual symphony that crescendos at the summit, where the panoramic view leaves you awe-struck.
In the winter, Uetliberg transforms into a wonderland for snow sports enthusiasts, with trails for sledding and winter hiking. Whether you're after the thrill of outdoor activities or the serene beauty of a mountainous retreat, Uetliberg Mountain delivers a revitalizing encounter with nature that's just a stone's throw from Zurich's city center.
4. Zoo Zurich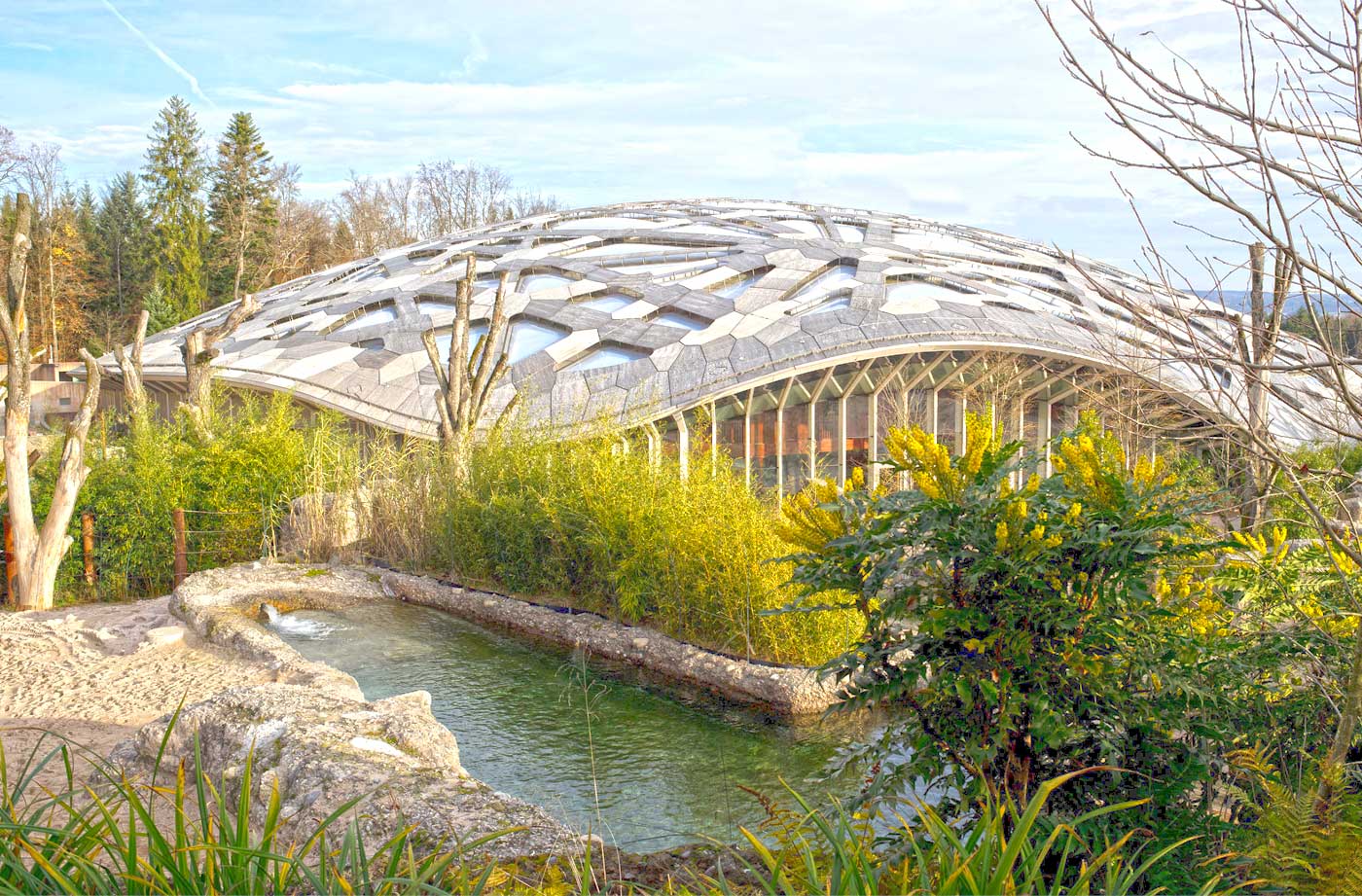 Zoo Zurich is more than just a zoo; it's a doorway into a world of biodiversity that showcases over 4000 animals from around the globe. As the largest and most diverse zoo in Switzerland, it takes you on a journey through diverse habitats, from the African Savannah to the Australian outback, all within the boundaries of Zurich.
At the heart of the zoo is the Masoala Rainforest, a lush, vibrant ecosystem housed in a sprawling glass dome. Here, you can walk among free-flying birds, watch lemurs leap from tree to tree, and marvel at colorful butterflies fluttering around. It's a slice of Madagascar in the heart of Zurich.
Your adventure doesn't end there. Venture into the Kaeng Krachan Elephant Park, where you can watch these magnificent creatures play and bathe. Explore the Pantanal area, where you can spot exotic South American species in a recreated tropical wetland.
With its focus on conservation and education, Zoo Zurich not only offers a day of family fun but also a deeper understanding and appreciation of our planet's rich biodiversity. It's a must-visit destination for any animal lover or curious traveler visiting Zurich.
5. Museum of Art (Kunsthaus Zurich)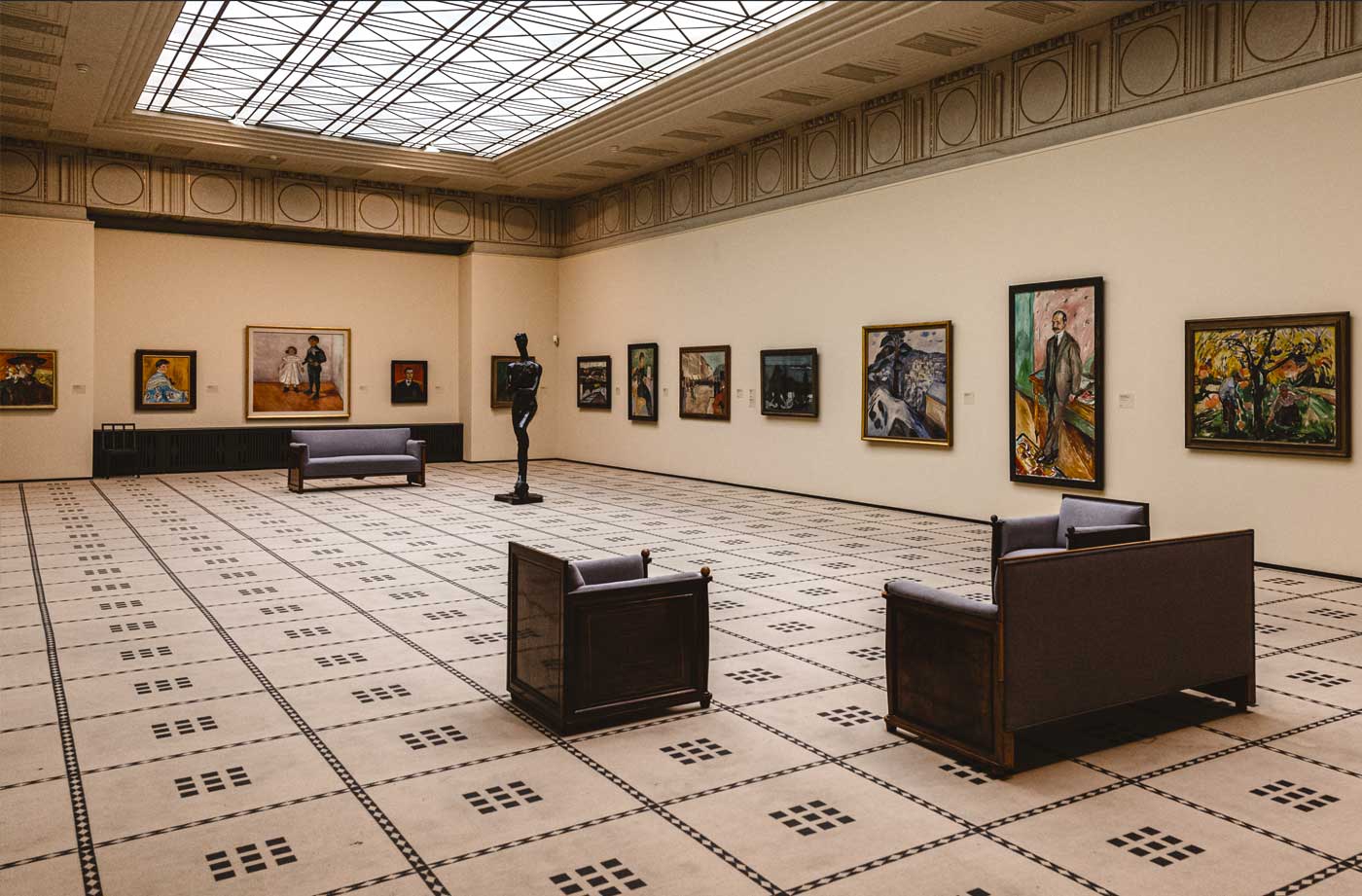 Nestled in the heart of Zurich, the Museum of Art, commonly known as Kunsthaus Zurich, stands as a beacon for art enthusiasts and casual visitors alike. This renowned institution houses one of the most significant collections of modern and contemporary art in Switzerland, offering a rich tapestry of visual experiences that span centuries.
From the impressionist and post-impressionist masterpieces of Munch, Picasso, and Giacometti to the groundbreaking abstract works of the 20th century, Kunsthaus Zurich is a journey through the evolution of art. But it's not just about the past; the museum continually evolves, showcasing innovative pieces from contemporary artists, ensuring that it remains at the forefront of the global art scene.
The elegant architecture of the museum itself, combined with its thoughtfully curated exhibitions, offers a serene ambiance, making it more than just a visit—it's an experience. Whether you're a seasoned art aficionado or someone looking to delve into the world of art for the first time, Kunsthaus Zurich promises a captivating exploration of creativity and human expression. Don't miss this cultural gem on your Zurich itinerary!
6. Bahnhofstrasse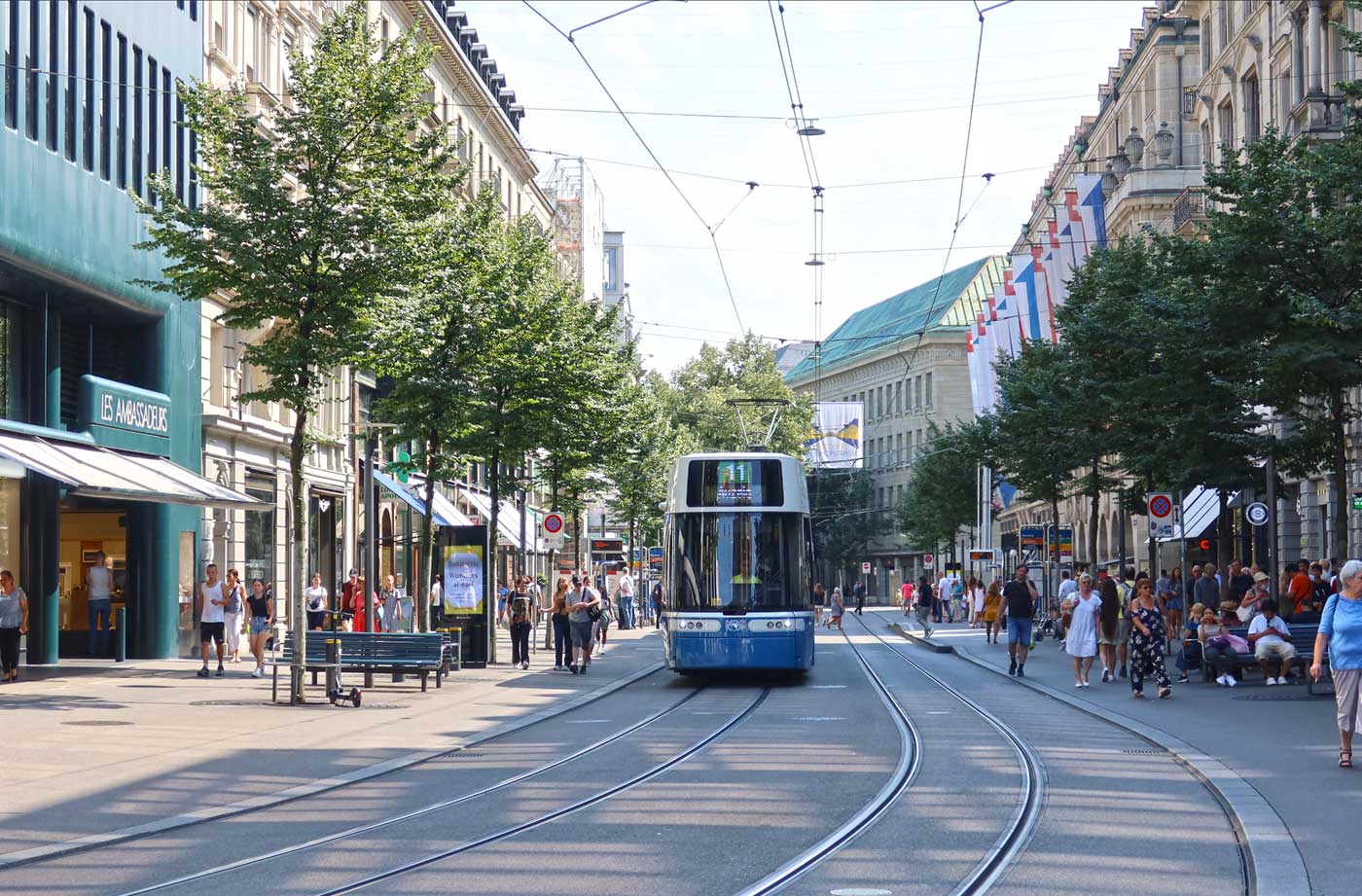 As you step onto Bahnhofstrasse, you're stepping into one of the world's most exclusive shopping streets, where luxury meets elegance in the heart of Zurich. Stretching from Zurich Hauptbahnhof all the way to Lake Zurich, Bahnhofstrasse is not just a shopping mecca, but a symbol of Zurich's style and sophistication.
Whether you're seeking high fashion from global designer labels, exquisite Swiss watches, or unique pieces from local boutiques, Bahnhofstrasse offers a shopping experience like no other. It's the perfect place to indulge in some retail therapy or simply window-shop while soaking in the vibrant atmosphere.
But Bahnhofstrasse is more than just a shopping destination. This beautifully maintained boulevard, lined with grand architecture and sprinkled with delightful cafés and eateries, is a visual treat. A leisurely stroll here unveils a different side of Zurich, where opulence blends with everyday life. Whether you're a seasoned shopper or a curious traveler, a walk down Bahnhofstrasse is a must-do when in Zurich.
7. Grossmunster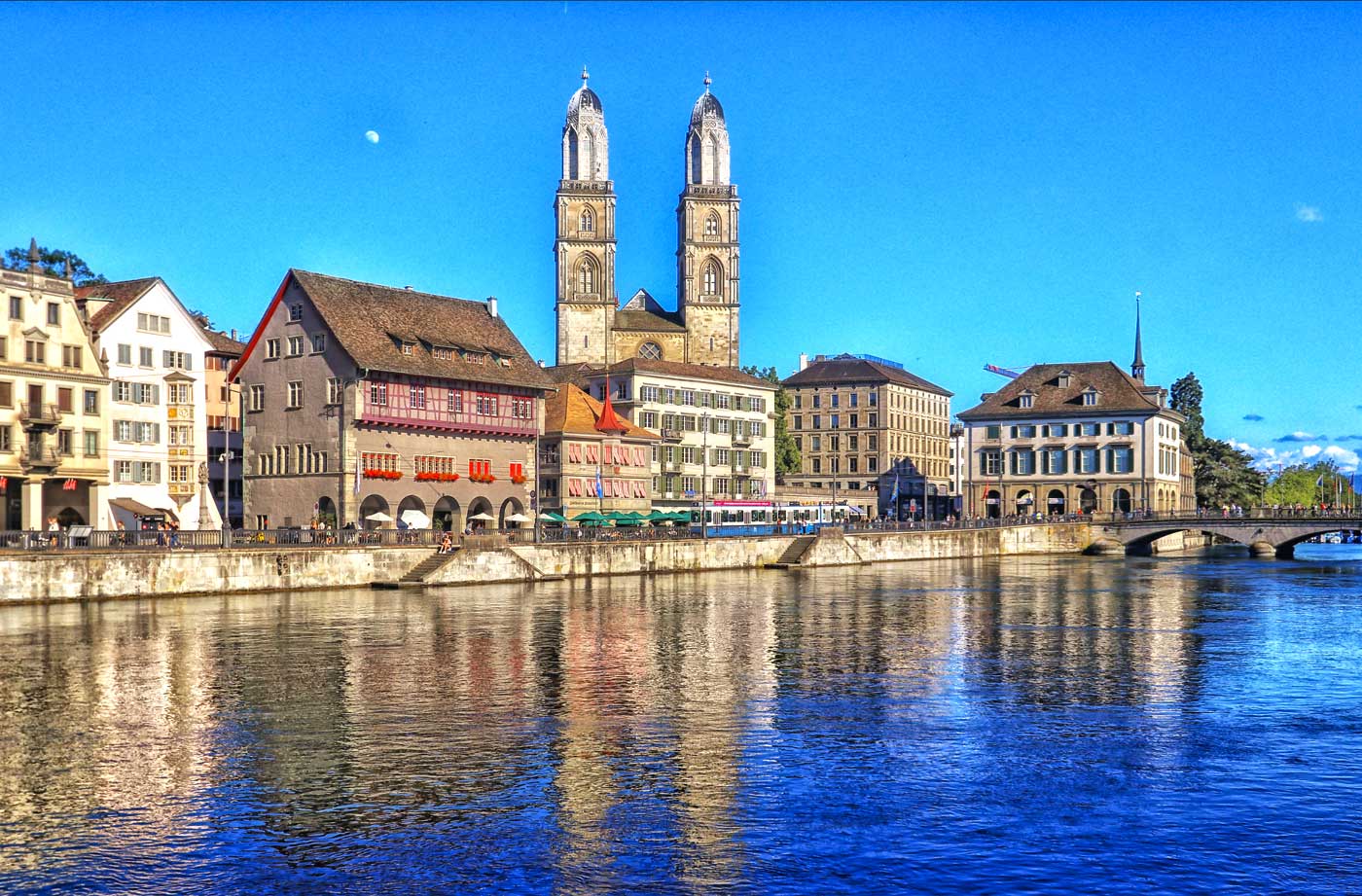 Dominating Zurich's skyline with its distinctive twin towers, the Grossmunster is more than just a church; it's a symbol of the city and a beacon of its rich history. This iconic landmark, dating back to the 12th century, is a must-visit for any traveler seeking to delve into Zurich's historical and architectural splendor.
As you step inside the Grossmunster, the minimalist interiors offset by stunning stained glass windows create an ambiance of tranquil reverence. The church is as much a testament to religious devotion as it is to artistic expression, with windows designed by prominent artists like Augusto Giacometti and Sigmar Polke.
For the more adventurous, a climb up the narrow staircases of the towers is a must. It's a bit of a workout, but the reward at the top is worth every step. From here, you're treated to a breathtaking panoramic view of Zurich, the lake, and the snow-capped Alps in the distance.
Whether you're a history enthusiast, architecture lover, or just a curious traveler, the Grossmunster offers an enriching insight into Zurich's past and a view that will leave an indelible imprint on your travel memories.
8. Lindenhofplatz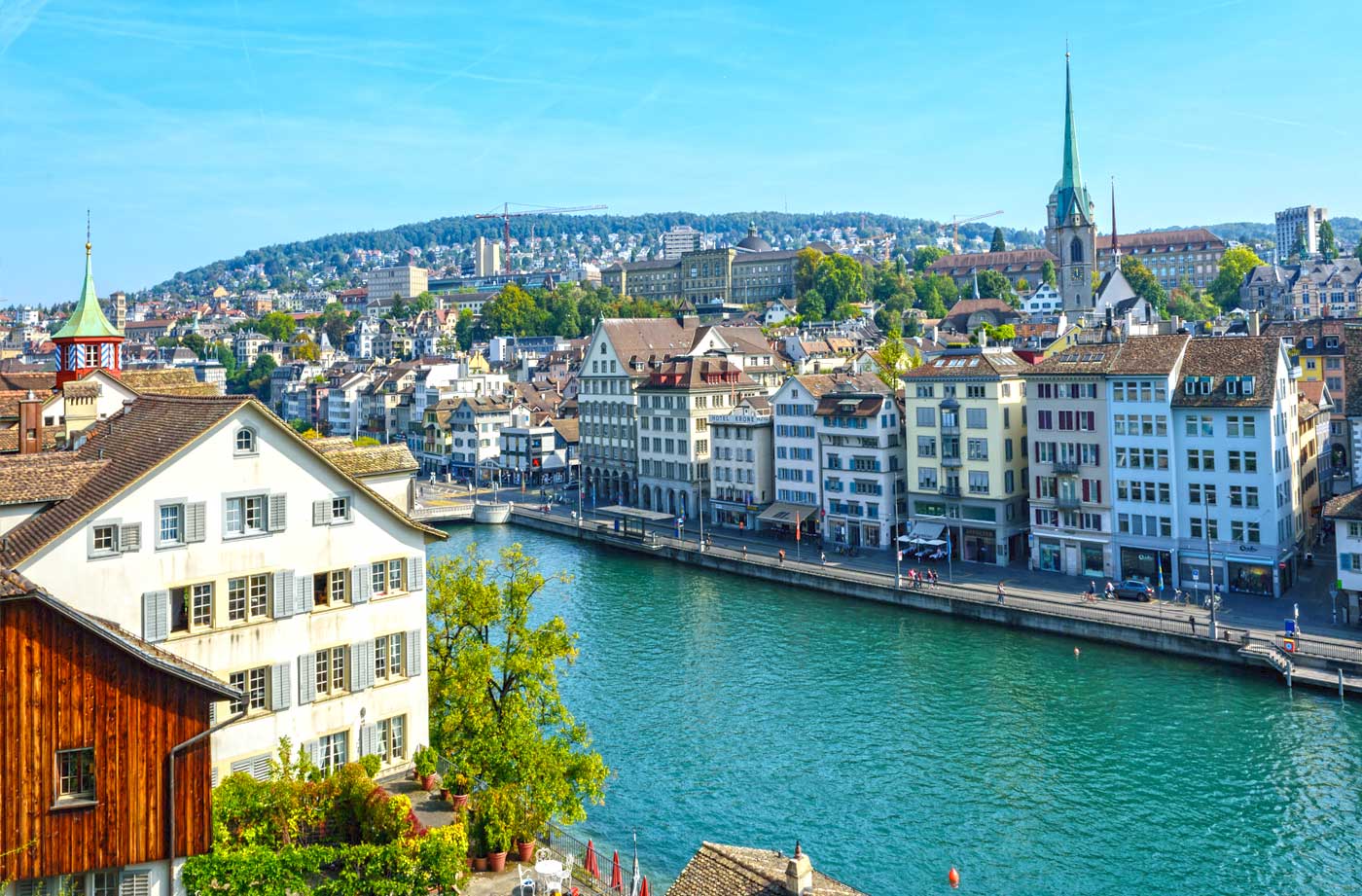 Tucked away in the heart of Zurich's Old Town is Lindenhofplatz, a peaceful oasis that offers both a serene retreat and a fascinating glimpse into the city's history. This leafy square, set on the Lindenhof hill, is a favorite among locals and tourists alike, providing a panoramic view of the old town, the University of Zurich, and the Limmat River.
The Lindenhof has a history that traces back to the Roman era, and even today, it holds a distinct atmosphere that harks back to quieter, older times. You'll find an array of benches beneath its linden trees, making it a perfect spot to sit, unwind, and soak in the sights of Zurich.
But it's not just the tranquility and views that draw people here. Lindenhofplatz is also a hive of social activity, with chess players setting up boards for friendly matches, locals enjoying their lunch breaks, and visitors capturing their Swiss memories with the city as their backdrop.
Whether you're seeking a moment of respite after exploring the city, a romantic spot to watch the sunset, or a place to understand Zurich's rich history, Lindenhofplatz is a charming pocket of peace in the bustling cityscape.
9. Hauptbahnhof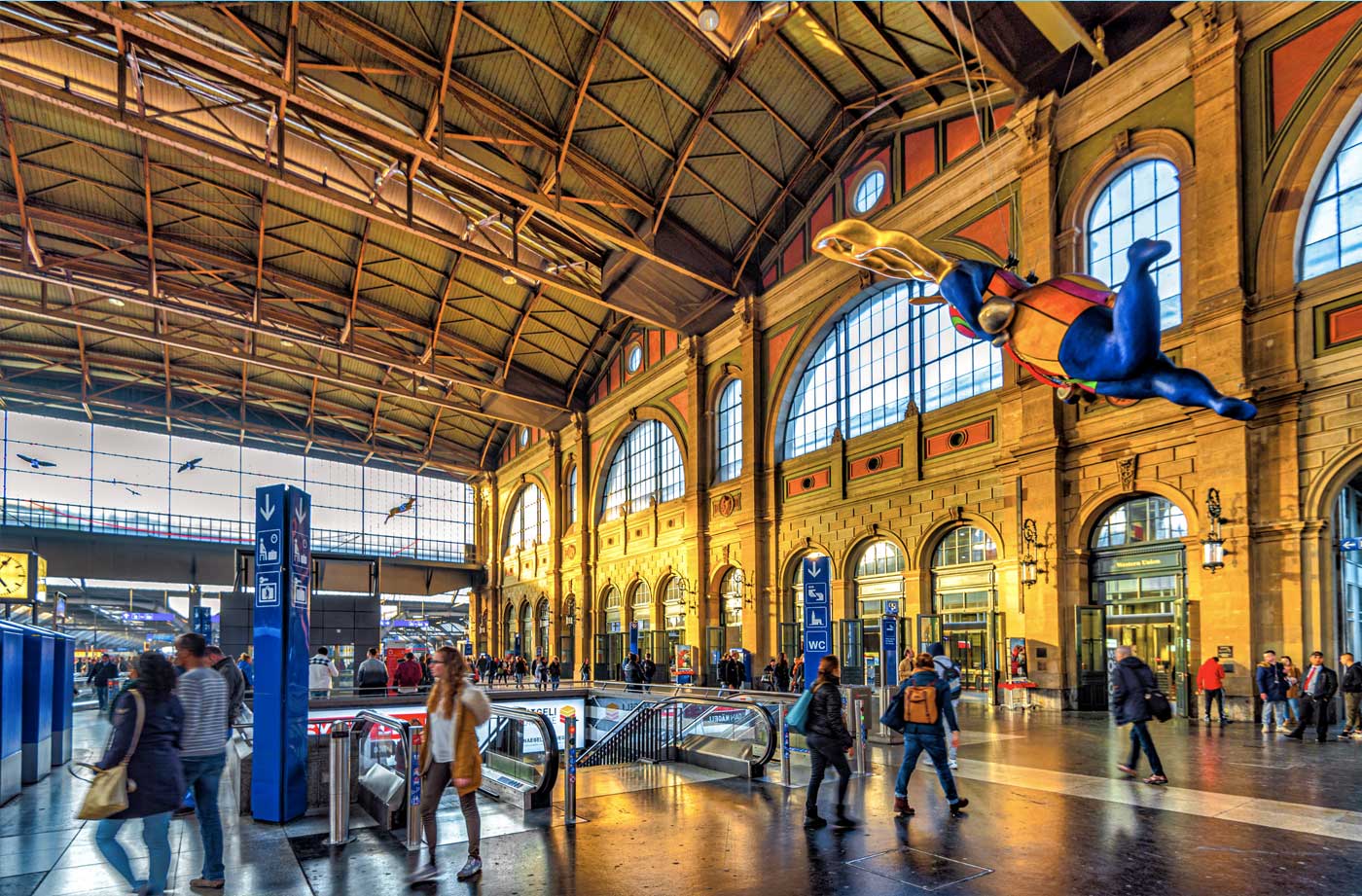 At the heart of Zurich pulses Hauptbahnhof, not just a bustling transportation hub but a landmark in its own right. More than just a station, Hauptbahnhof is a testament to Zurich's harmony of tradition and modernity, serving as the gateway to the city for visitors from around the world.
Built in the late 19th century, the station's imposing neo-Renaissance architecture and magnificent arched hall are a sight to behold. The station's grandeur extends to its functionality, housing over 20 tracks that link Zurich to cities across Switzerland and Europe, making it one of the continent's busiest railway stations.
But Hauptbahnhof offers more than just transport connections. It's home to a multitude of shops, eateries, a fresh food market, and even a sweeping underground shopping mall, ShopVille, that caters to a range of tastes and budgets.
Notably, the station's main hall often hosts art installations and cultural events, transforming this travel hub into an artistic venue. Whether you're passing through or starting your Zurich adventure, Hauptbahnhof offers an enticing introduction to the city's efficient transport, vibrant commerce, and rich culture.
10. Museum Rietberg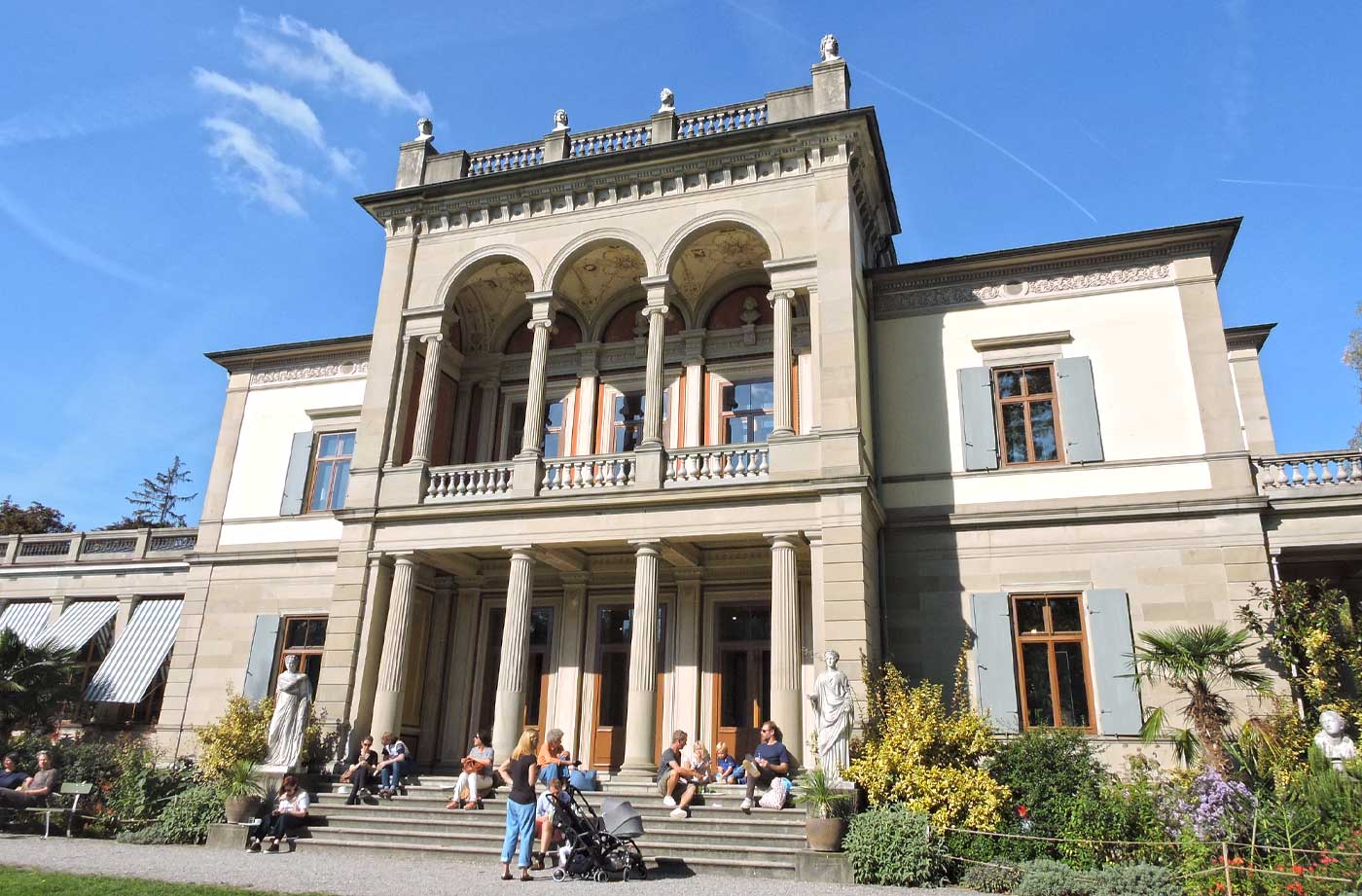 Nestled amidst the verdant expanse of Rieterpark, Zurich's Museum Rietberg stands as a beacon of global artistic expression. This unique institution, the only one of its kind in Switzerland, offers visitors a mesmerizing journey through non-European cultures. From the delicate intricacies of Asian pottery to the vibrant motifs of African textiles, every exhibit transports visitors to distant lands, revealing the stories, beliefs, and histories that have shaped civilizations across the globe.
The museum's architectural landscape mirrors its eclectic collection. Traditional Swiss villas, reminders of Zurich's historic charm, coexist with modern marvels like the Smaragd, a luminous green glass pavilion that captures the spirit of contemporary design. Beyond its physical exhibits, Museum Rietberg enriches its visitors with thematic exhibitions throughout the year, spotlighting diverse regions and epochs. For anyone keen on unraveling the threads of global heritage and art, the museum offers a tapestry of experiences, making it an essential pitstop in Zurich's cultural itinerary.
Feel free to explore these pages as well:
As we draw the curtains on our adventurous journey through the ten best places in Zurich, it's worth taking a moment to reflect on the diversity and vibrancy that this Swiss city has to offer. From the panoramic views at Uetliberg Mountain to the bustling lanes of Bahnhofstrasse, and the immersive history of the Old Town to the serenity of Lake Zurich, every corner of this city holds a unique allure.
However, as any seasoned traveler knows, the soul of a city is not just in its must-visit places but also in the unexpected turns, chance encounters, and small surprises that unfold along the journey. While this guide has given you a roadmap to Zurich's top attractions, the city's true charm lies in its details – the aroma of fresh pastries wafting from a local bakery, the quaint corner bookshop, the friendly smile from a local, the hidden garden nestled in a city square.
So, while our 'Zurich's 10 Best Place List for Every Adventurous Traveler' comes to a close, remember that your Zurich adventure is only just beginning. There are still countless streets to stroll, views to admire, meals to savor, and stories to discover. Keep exploring, keep adventuring, and let Zurich continue to surprise and delight you. Here's to the stories yet to be written and the adventures yet to be experienced in this captivating city. Until next time, happy travels!