From Dawn to Dusk in Montreal An Insider's Guide to Unforgettable Experiences
Welcome to Montreal, a city that effortlessly combines old-world charm and new-world dynamism, a place where the past and the future exist side by side in a beautiful coexistence. In Montreal, the aroma of freshly baked bagels in Mile-End competes with the savory smell of poutine, an architectural marvel sits just steps away from an ancient church, and the rhythm of the city pulses with the warmth of its diverse communities.
In this blog post, we'll venture together through Montreal's cobblestone streets, stroll through its vast green parks, admire its historic landmarks, and savor its world-renowned cuisine. Whether you're a culture seeker, a history buff, a food enthusiast, or just someone looking for a unique city experience, Montreal has something for you. So, join me as we embark on this journey and explore the top 10 can't-miss experiences in Montreal. Let's discover why this city is not just a destination, but a way of life.
Here are the 10 best places to visit in Montreal:
1. Mount Royal Park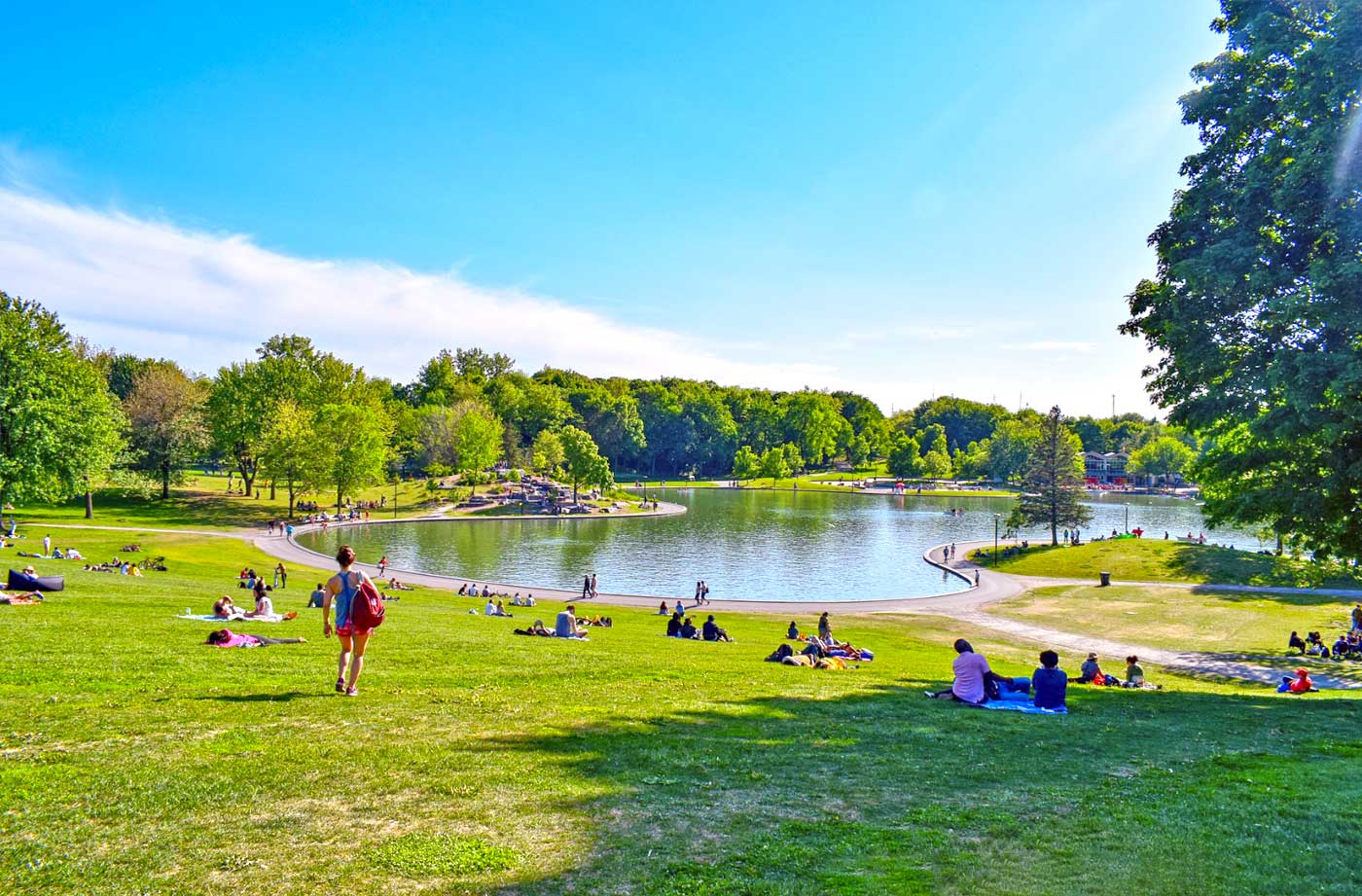 Imagine stepping into an urban oasis right in the heart of Montreal – welcome to Mount Royal Park. This verdant refuge is a masterpiece crafted by Frederick Law Olmsted, the same genius who co-designed New York's Central Park. The star of the park is the small mountain from which it takes its name, Mount Royal. Following the trails up this hilly landscape is an adventure suitable for all, with paths for leisurely strollers and ambitious hikers alike. The summit rewards each visitor with a breathtaking panorama of Montreal's skyline, an especially enchanting spectacle as the city lights ignite at sunset.
As seasons shift, so does the park's allure. Winter wraps Mount Royal in a snowy blanket, transforming it into a hub for cross-country skiing, ice-skating, and snowshoeing. Come warmer months, the park blossoms into a prime location for picnics, hiking, and bird-watching, or merely unwinding by Beaver Lake. Mount Royal Park isn't just a walk in the park; it's an encapsulation of Montreal's harmonious blend of city life and natural beauty, a must-visit destination for every traveler seeking to truly experience the heart of the city.
2. Old Montreal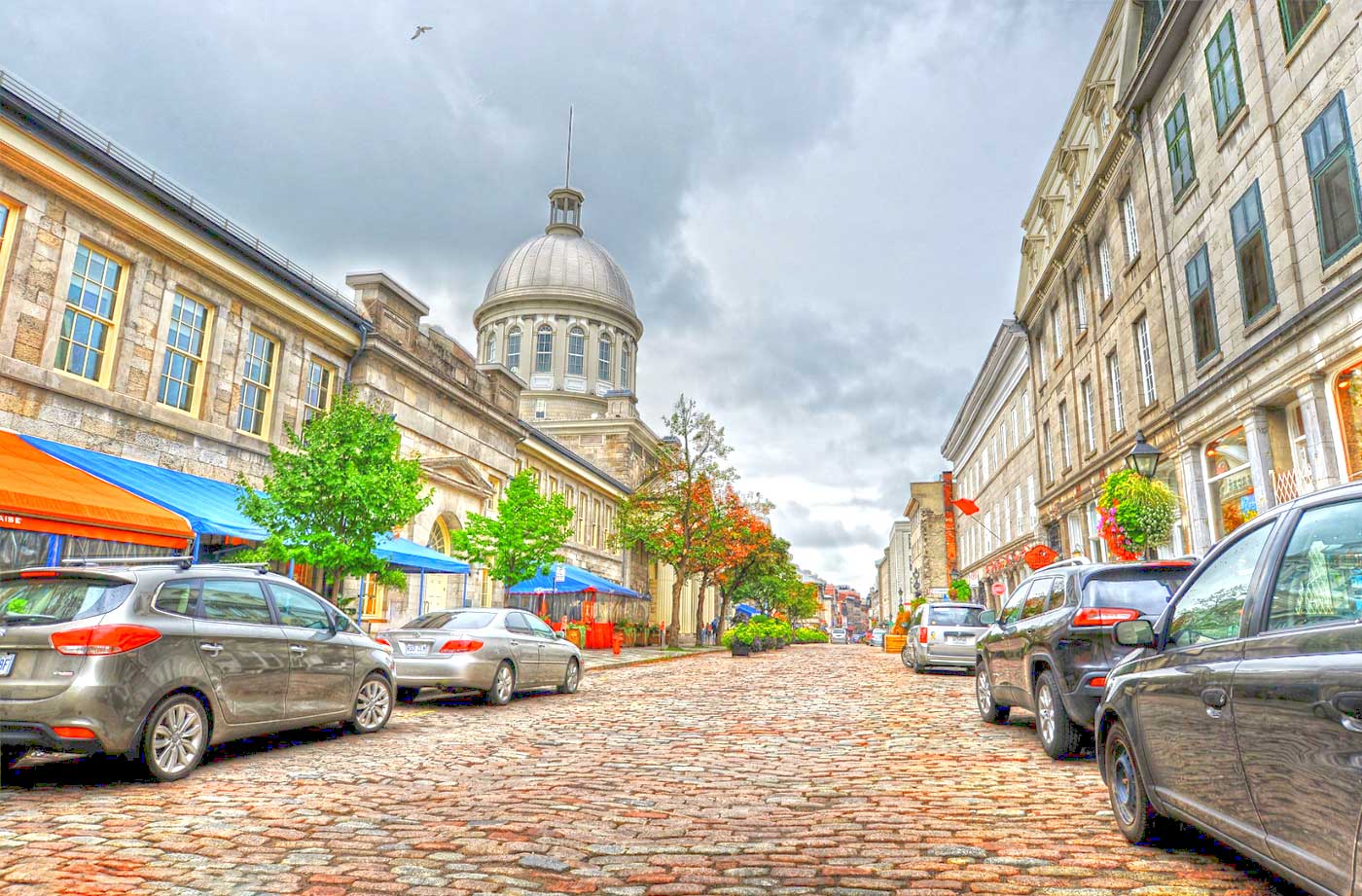 In the heart of Quebec's metropolis, Old Montreal invites visitors into a historic tableau brimming with charm. Cobblestone streets and architecture hailing from the 17th century coalesce to form a captivating backdrop, almost like stepping into a different era. Whether exploring the intriguing Rue Saint-Paul or gazing upon the Gothic Revival majesty of the Notre-Dame Basilica, there's a sense of awe and timeless beauty around every corner.
Beyond its historic allure, Old Montreal is also a vibrant cultural hub. The Old Port, once a bustling trading post, now entertains with boutique shopping, a wide range of restaurants, and seasonal activities such as ice-skating and outdoor exhibitions. Museums like the Pointe-à-Callière provide a deeper dive into Montreal's rich history, while local bistros, cafes, and specialty food shops offer culinary delights that complete the cultural immersion. Old Montreal is truly a dance between past and present, offering an unforgettable experience to every visitor.
3. Notre-Dame Basilica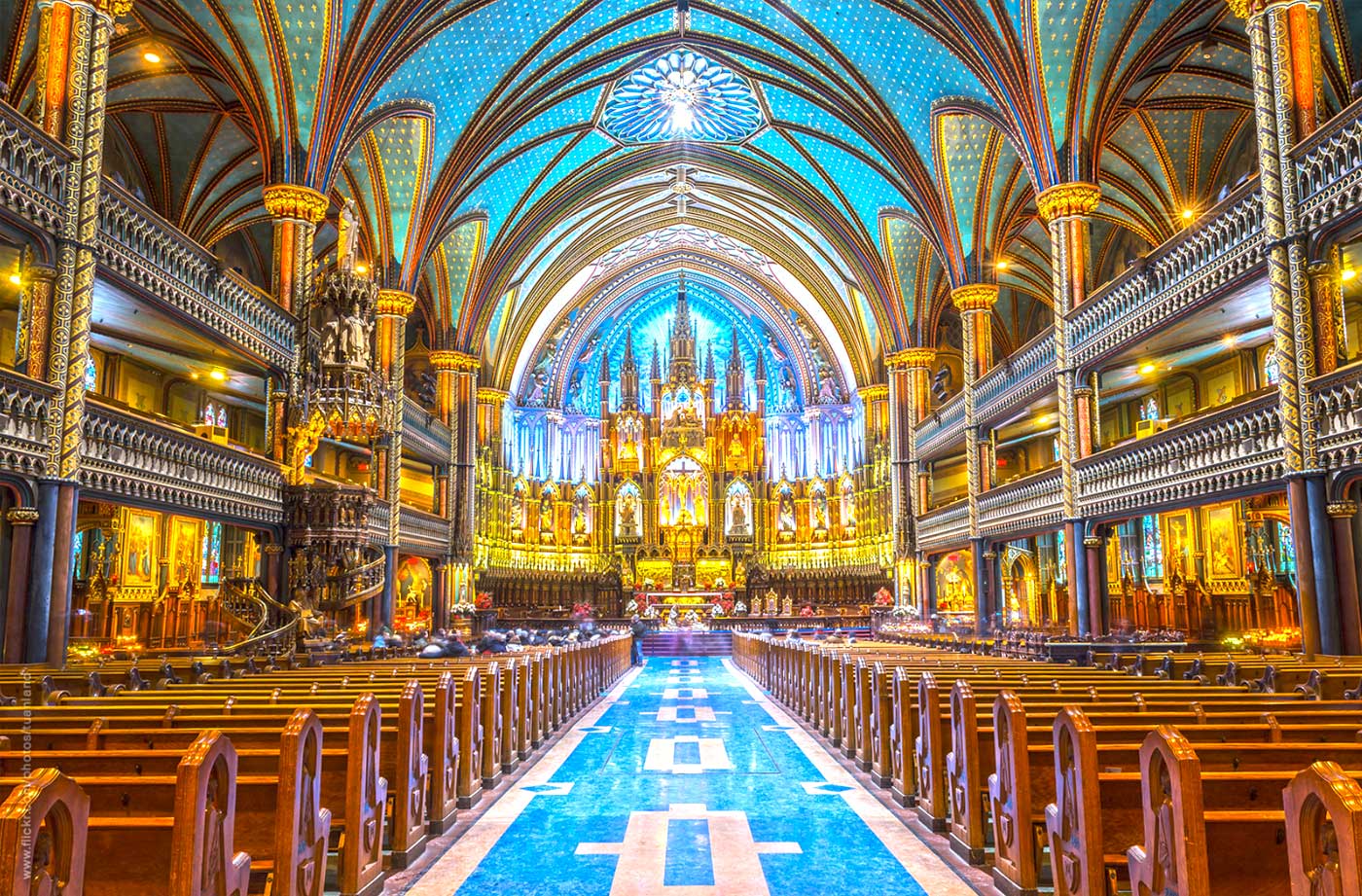 Lying at the heart of Old Montreal, the Notre-Dame Basilica stands as an architectural marvel that continues to captivate visitors. This 19th-century masterpiece, resplendent in Gothic Revival style, echoes the grandeur of its Parisian namesake with its striking twin towers. But it's upon entering that the basilica truly reveals its artistic splendor, immersing visitors in an awe-inspiring palette of blues, azures, and gold.
Inside, the basilica houses one of the largest pipe organs in the world, boasting over 7000 individual pipes. The combination of visual grandeur and the captivating resonance of the organ, especially during a concert, creates a truly immersive experience. More than a religious landmark, Notre-Dame Basilica is a testament to Montreal's rich historical tapestry and an extraordinary celebration of architectural and artistic excellence that leaves every visitor with lasting memories.
4. Saint Joseph's Oratory of Mount Royal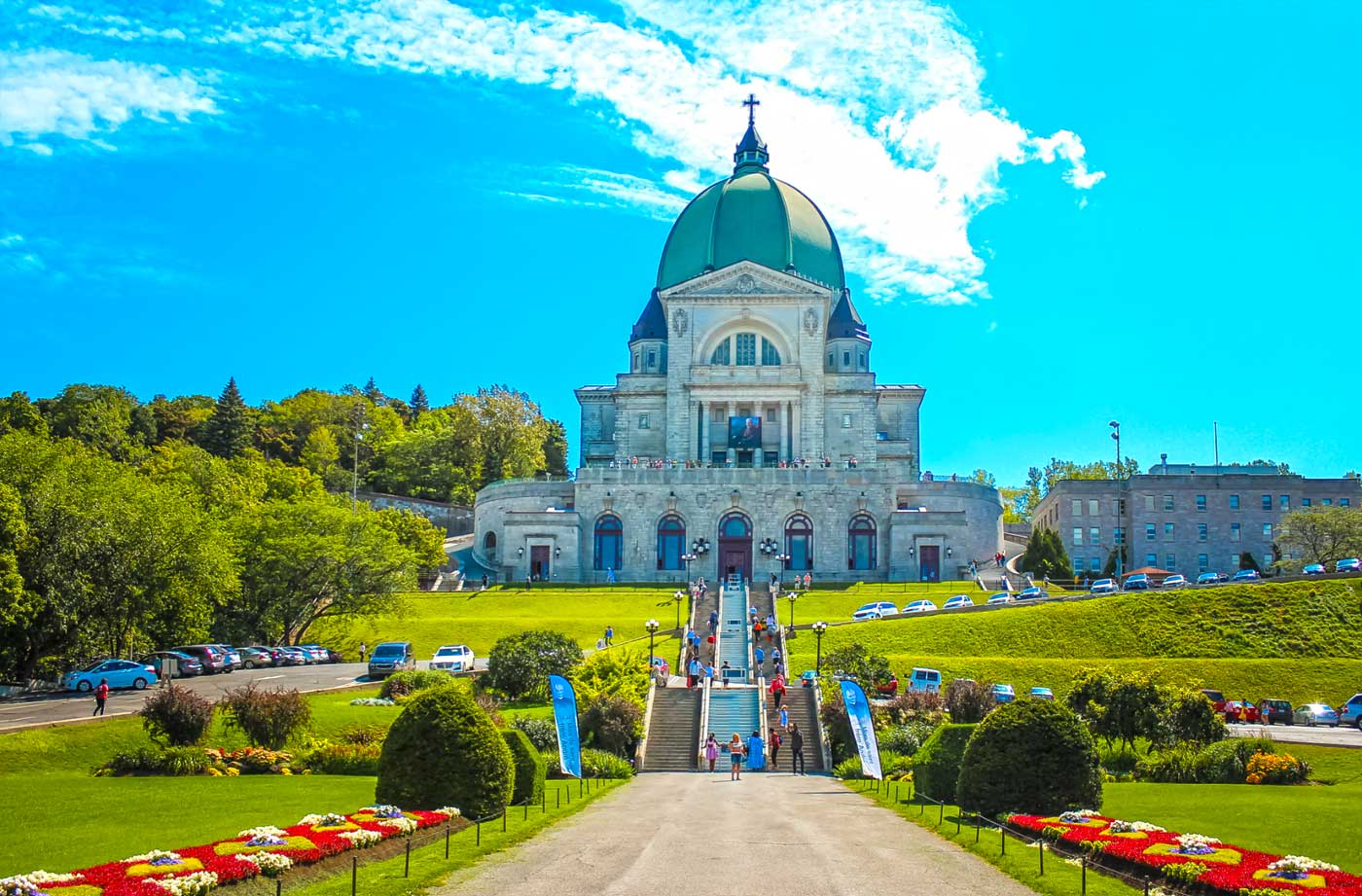 Perched atop Mount Royal, Saint Joseph's Oratory is an iconic landmark that offers a slice of serenity amidst Montreal's cityscape. It's not just the largest church in Canada but also one of the most significant pilgrimage sites in the world. Its striking dome, visible for miles around, is among the largest of its kind, adding to the Oratory's unique allure.
The Oratory is an oasis of calm and spiritual reflection, regardless of faith. Its lush gardens and stunning views over Montreal make it an excellent spot for peaceful contemplation. The inside is just as magnificent, with the Basilica featuring stunning artwork and the heart of Brother André, the Oratory's founder. Whether you're drawn by the spiritual significance, architectural grandeur, or simply the panoramic views of the city, Saint Joseph's Oratory is a memorable part of any Montreal journey.
5. Montreal Botanical Garden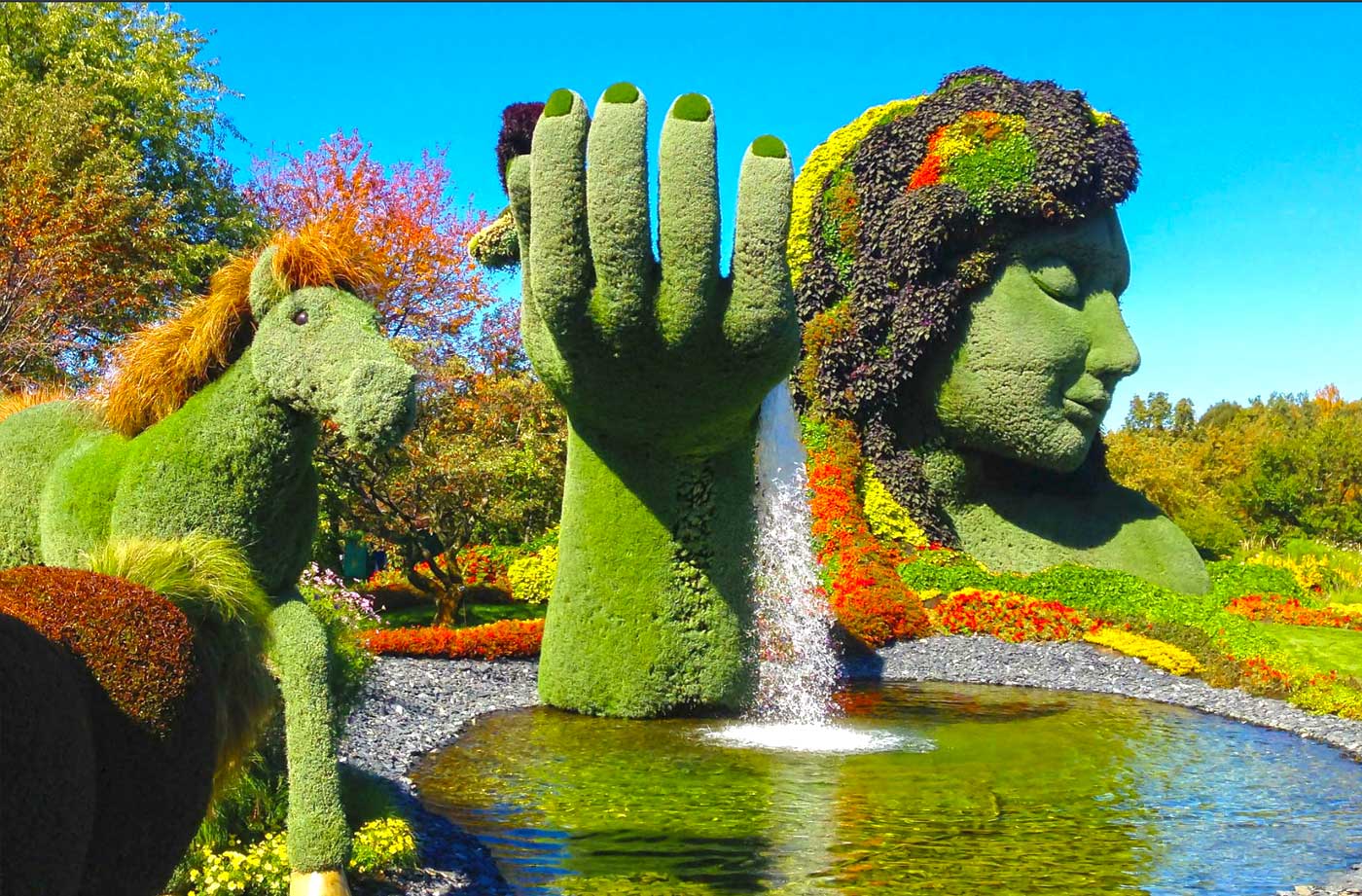 Among Montreal's many gems, the Montreal Botanical Garden stands as a verdant sanctuary, an oasis of tranquility and beauty. Regarded as one of the world's greatest botanical gardens, it showcases a remarkable diversity of plant life across 75 hectares of thematic gardens and greenhouses.
Whether strolling through the serene Japanese Garden, marvelling at the exotic flora in the Tropical Rainforest, or exploring the myriad plants in the Alpine Garden, there's a world to discover in each section. Throughout the seasons, the Montreal Botanical Garden offers an ever-changing canvas of colors and textures, making each visit a unique experience. A visit to this botanical paradise not only enchants the senses but also offers an insightful journey into the world of plant biodiversity and conservation.
6. Musée des beaux-arts de Montréal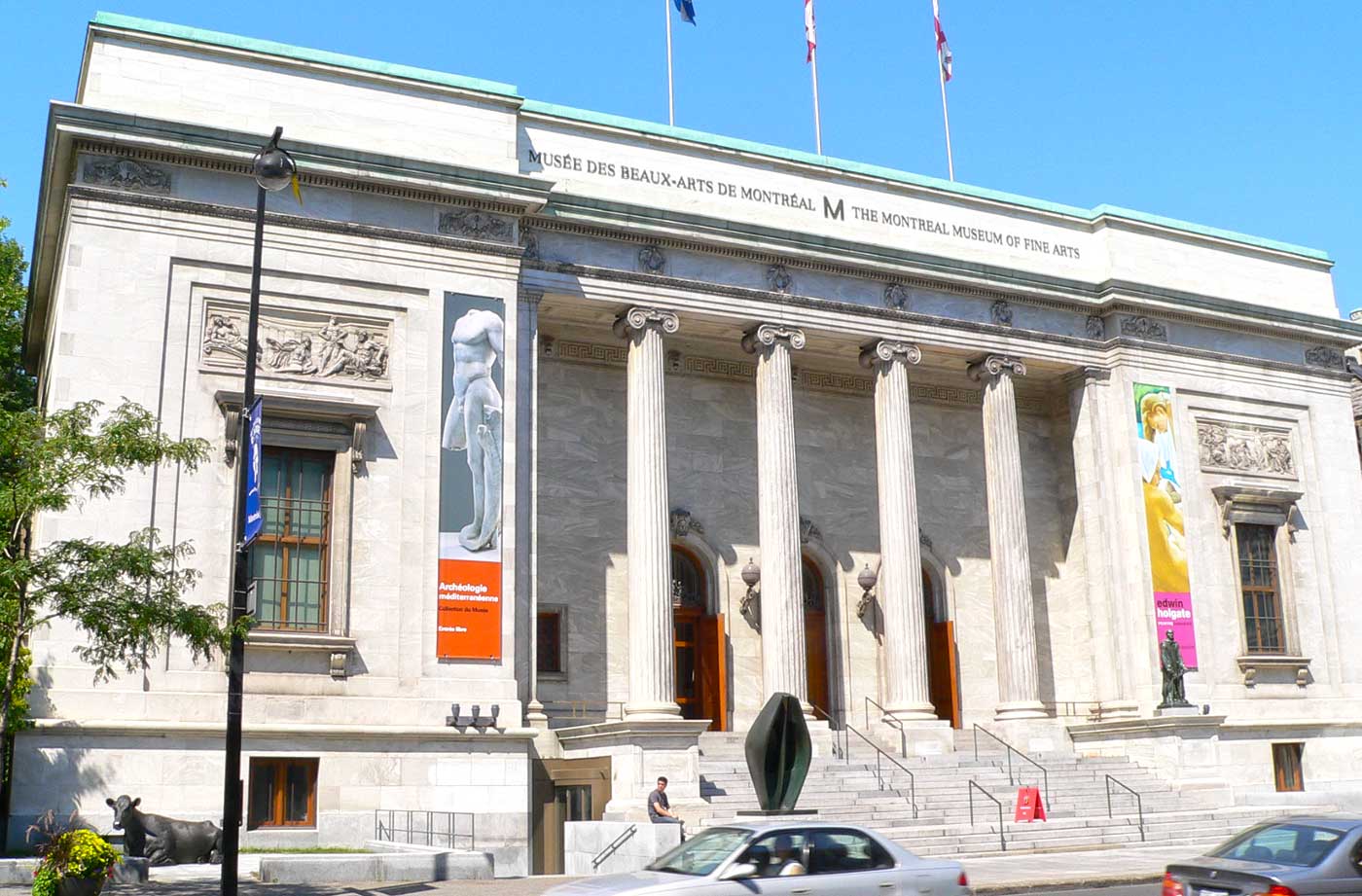 In the heart of Montreal lies a treasure trove of art and culture – the Montreal Museum of Fine Arts (Musée des beaux-arts de Montréal). As one of Canada's most prominent museums, it houses an expansive collection that spans centuries and continents, celebrating the diverse spectrum of human creativity.
The museum's galleries unfold a journey through ancient cultures, European masters, contemporary art, and more, all within an architectural environment as varied and compelling as the artworks themselves. From the collections of old masters to the groundbreaking exhibitions of modern and contemporary art, the Montreal Museum of Fine Arts offers a rich, multifaceted experience that enlightens the mind and stirs the soul. For art enthusiasts and casual visitors alike, a visit to this institution is a must when exploring Montreal's cultural landscape.
7. Barbie Expo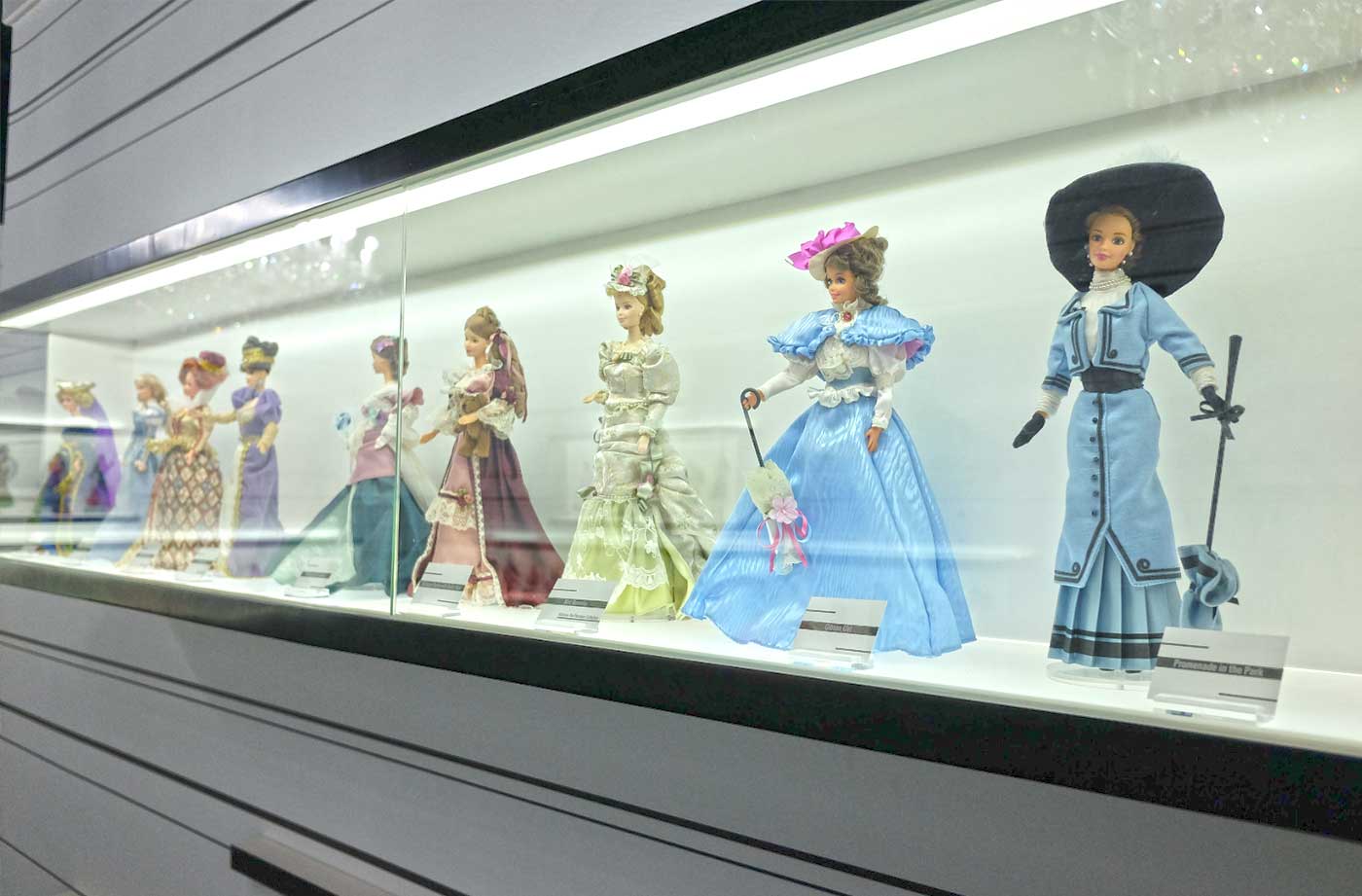 Tucked away in the heart of downtown Montreal, the Barbie Expo offers a vibrant and unexpected cultural attraction. Housed within Les Cours Mont-Royal, this unique exhibition is far more than a trip down memory lane; it's the world's largest permanent display of Barbie dolls, showcasing over a thousand variations of this iconic fashion figure.
The collection captivates with a diverse array of Barbies, from haute couture-clad models gracing the runway to versions of famous personalities, including Audrey Hepburn and Marilyn Monroe. Each doll represents a particular era, style, or cultural phenomenon, making the Expo a fascinating visual journey through the evolution of fashion and societal trends. Whether you're a doll enthusiast, a fashion lover, or simply curious, the Barbie Expo promises a fun, whimsical, and distinctly Montreal experience.
8. Jean-Talon Market
In Montreal's Little Italy district, the lively Jean-Talon Market bustles with life, making it a favorite spot for locals and tourists alike. As one of North America's largest open-air markets, it overflows with fresh produce, local goods, and a vibrant energy that truly embodies the spirit of Montreal.
Brimming with seasonal fruits and vegetables, local cheeses, fresh bread, and specialty food stalls, the Jean-Talon Market is a paradise for food lovers. Amidst the lively chatter, the rich aromas of coffee and pastries intermingle with the fresh scent of produce, creating an immersive sensory experience. Whether you're on a hunt for fresh ingredients, sampling Quebecois specialties, or soaking in the vibrant atmosphere, a visit to the Jean-Talon Market is a feast for the senses and a unique insight into Montreal's foodie culture.
9. Pointe-a-Calliere, Montreal Archaeology and History Complex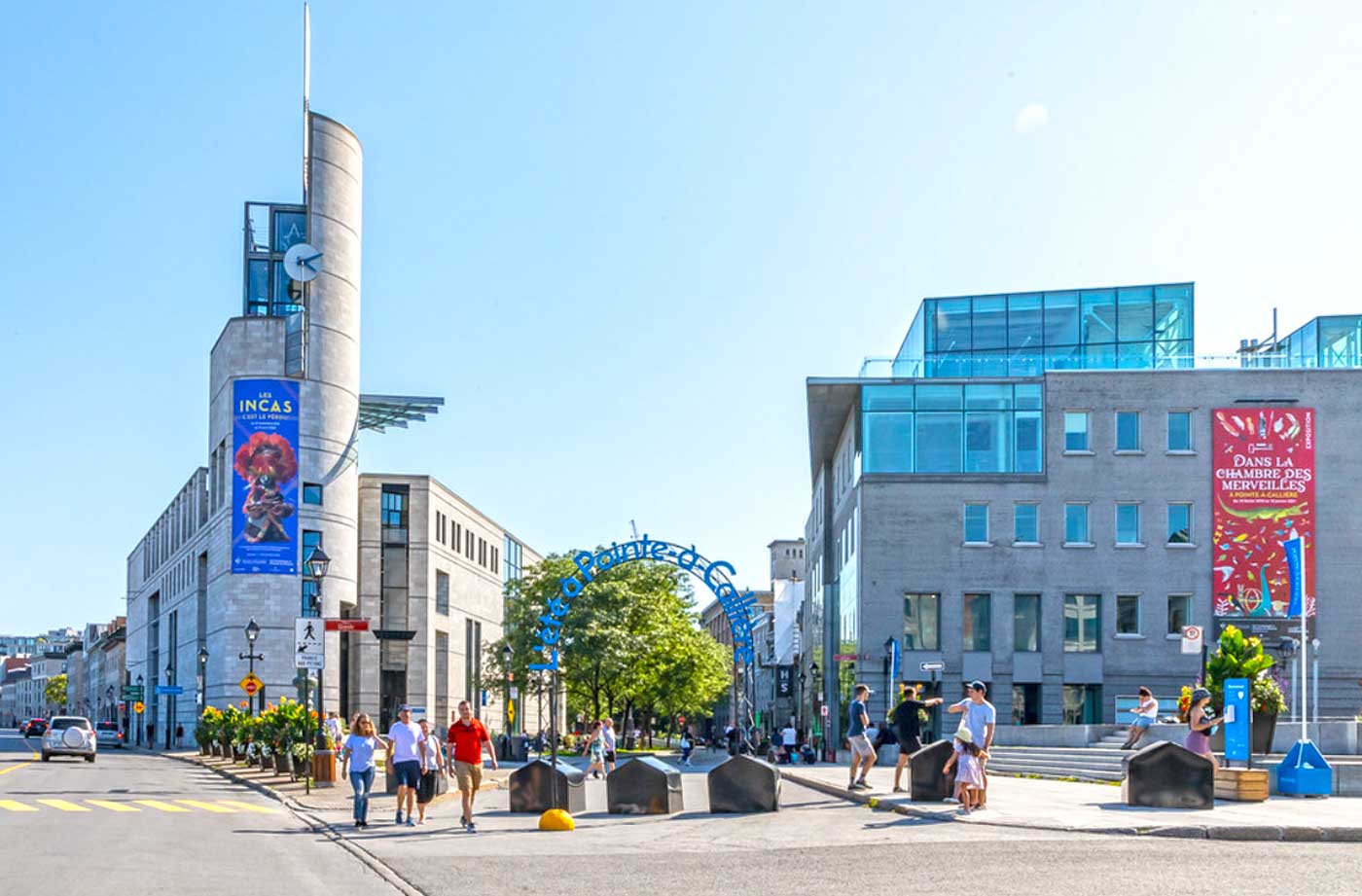 Nestled in Old Montreal, Pointe-à-Callière, the Montreal Archaeology and History Complex, stands as a testament to the city's rich history. Built on the city's birthplace, the museum offers a unique opportunity to explore the diverse layers of Montreal's past, from its indigenous origins to the present day.
The museum's exhibits take visitors on a fascinating journey through time. From the original archaeological excavation site revealing the city's foundations, to multimedia presentations that bring history to life, every aspect of Pointe-à-Callière resonates with learning and discovery. An emblem of Montreal's historic and cultural heritage, a visit to this museum provides an in-depth understanding of the city's evolution and its vibrant character.
10. Old Port of Montreal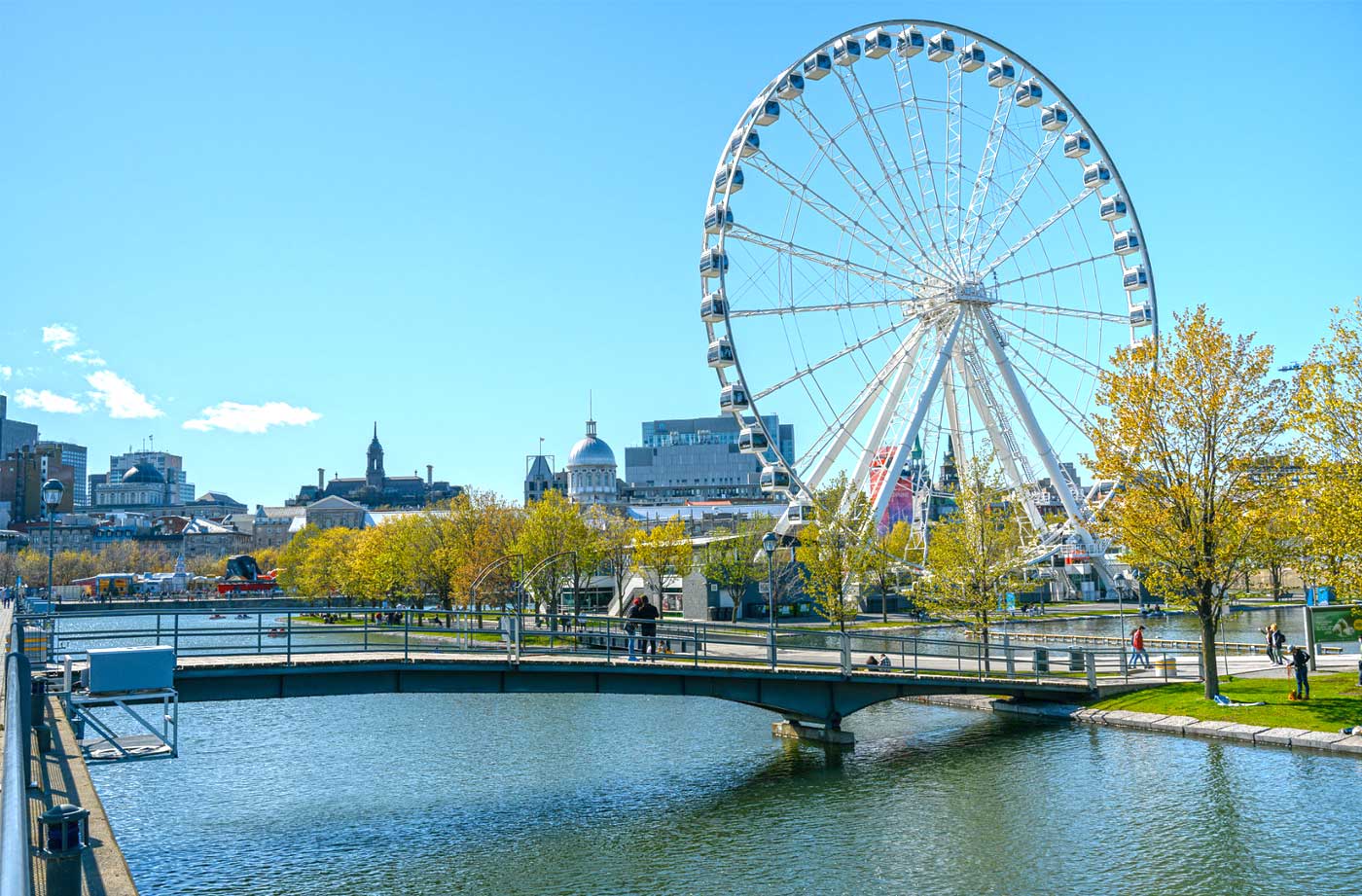 The Old Port of Montreal, nestled against the picturesque backdrop of the Saint Lawrence River, is a cherished historical site and a vibrant cultural hub. Once the center of the city's booming trade industry in the 17th century, today it blends the charm of its past with an abundance of modern recreational activities.
Walking along the cobblestone quays, visitors can explore the rich history through interpretive signs, enjoy the breathtaking views, or indulge in the array of leisure offerings. From taking a scenic ride on the Ferris wheel, exploring the Science Centre, to simply enjoying a leisurely bike ride along the promenade, there's something for everyone. During the winter, the area transforms into a wonderland with ice-skating and festive events. The Old Port of Montreal is a place where history, nature, and contemporary culture merge to create an unforgettable visitor experience.
Feel free to explore these pages as well:
And there you have it – a curated list of Montreal's top experiences that capture the essence of this captivating city. From the serene vistas of Mount Royal Park to the animated ambiance of Jean-Talon Market, from the rich historicity of Pointe-à-Callière to the avant-garde exhibits of the Montreal Museum of Fine Arts, Montreal beckons with an unending variety of experiences.
As we conclude this virtual journey, I hope you've caught a glimpse of Montreal's multifaceted charm, a city that is much more than its emblematic poutine and the majestic Saint Lawrence River. Each corner of this vibrant city tells a story, every experience imprints a memory, and each visit feels like a new chapter in an ongoing love affair with Montreal.
So, until you set foot on this extraordinary city and create your own Montreal memories, au revoir and bon voyage. Remember, in Montreal, the magic is in the journey as much as the destination. Montreal awaits you, ready to welcome you with open arms and unforgettable experiences. Happy exploring!