Discover the Heart of Brazil: Top Ten Things to Do in Vibrant Sao Paulo
Where I'll be your guide to the vibrant city of Sao Paulo. In this bustling metropolis, there are countless sights, sounds, and experiences waiting to be discovered. Whether you're a culture enthusiast, a food lover, or an avid explorer, Sao Paulo has something for everyone.
In this essential guide, I will take you on a journey through the 10 best spots that should be on every traveler's itinerary. From iconic landmarks to hidden gems, we'll uncover the city's rich history, immerse ourselves in its diverse culture, and indulge in its tantalizing culinary scene. Get ready to explore Sao Paulo's dynamic neighborhoods, wander through art-filled streets, and savor the vibrant energy that pulses through this cosmopolitan city.
So, let's embark on this adventure together. From world-class museums to vibrant markets, from serene botanical gardens to captivating street art, I'll share insider tips, fascinating stories, and practical advice to help you make the most of your visit to Sao Paulo. Join me as we unlock the secrets of this incredible city and create memories that will last a lifetime.
Here are the 10 best places to visit in Sao Paulo:
1. Parque Ibirapuera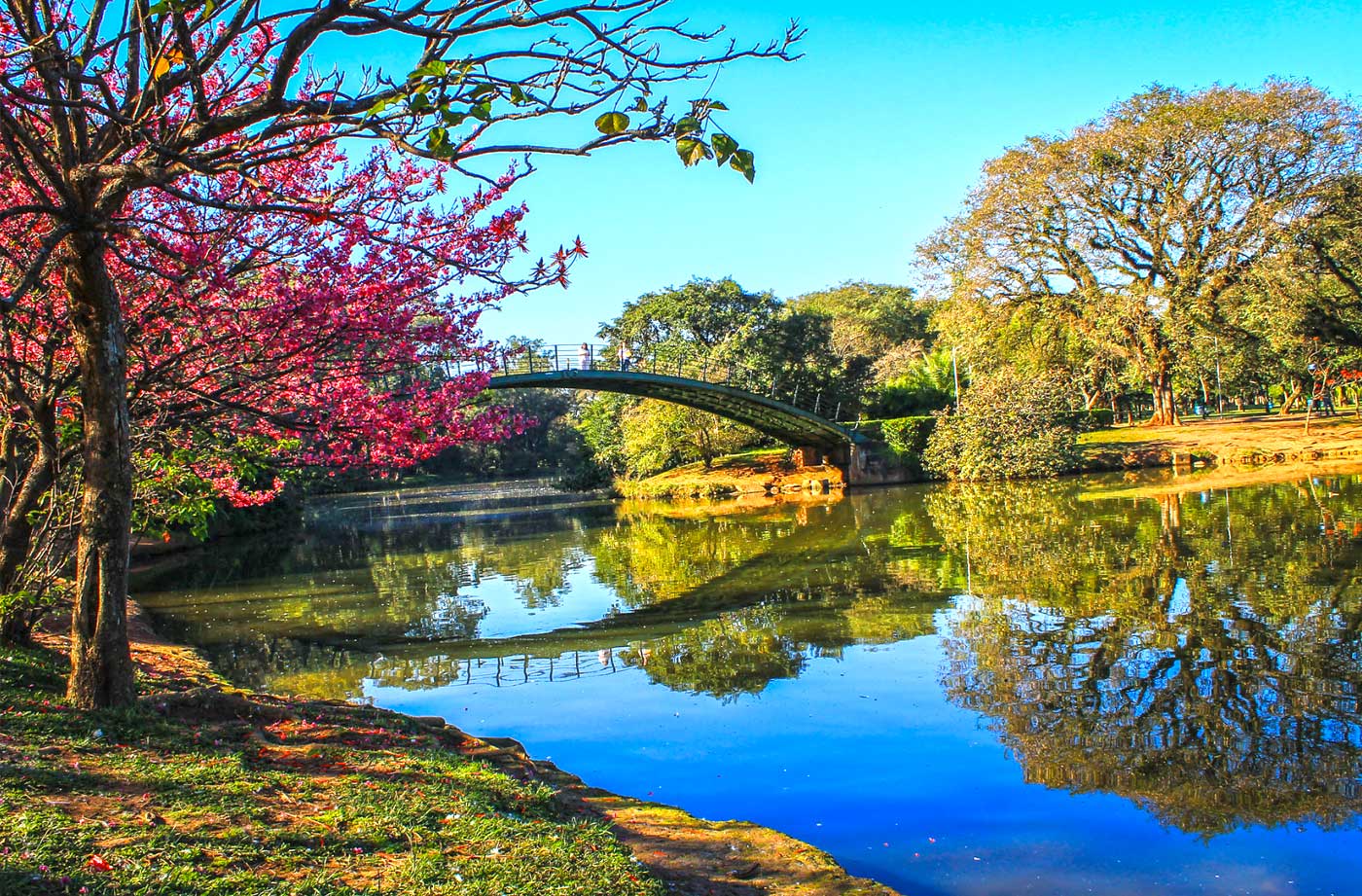 Get ready to escape the bustling cityscape of Sao Paulo and immerse yourself in the serene oasis that is Parque Ibirapuera. Often referred to as the Central Park of Sao Paulo, this verdant paradise is the city's largest green space and a sanctuary for nature lovers, fitness enthusiasts, and art aficionados alike.
Here, you can wander through well-kept gardens, enjoy a leisurely paddle on the lake, or simply find a quiet spot to relax. The park also houses several important cultural institutions, including the Museum of Modern Art and the Museum of Contemporary Art, offering you a dose of culture amidst the tranquil surroundings. With a plethora of activities to choose from, a visit to Parque Ibirapuera is a perfect way to enjoy a sunny day in Sao Paulo. From early morning runners to late-night musicians, the park pulses with the vibrant rhythm of Brazil's most cosmopolitan city. Your visit to Sao Paulo won't be complete without experiencing the many layers of Parque Ibirapuera.
2. Paulista Avenue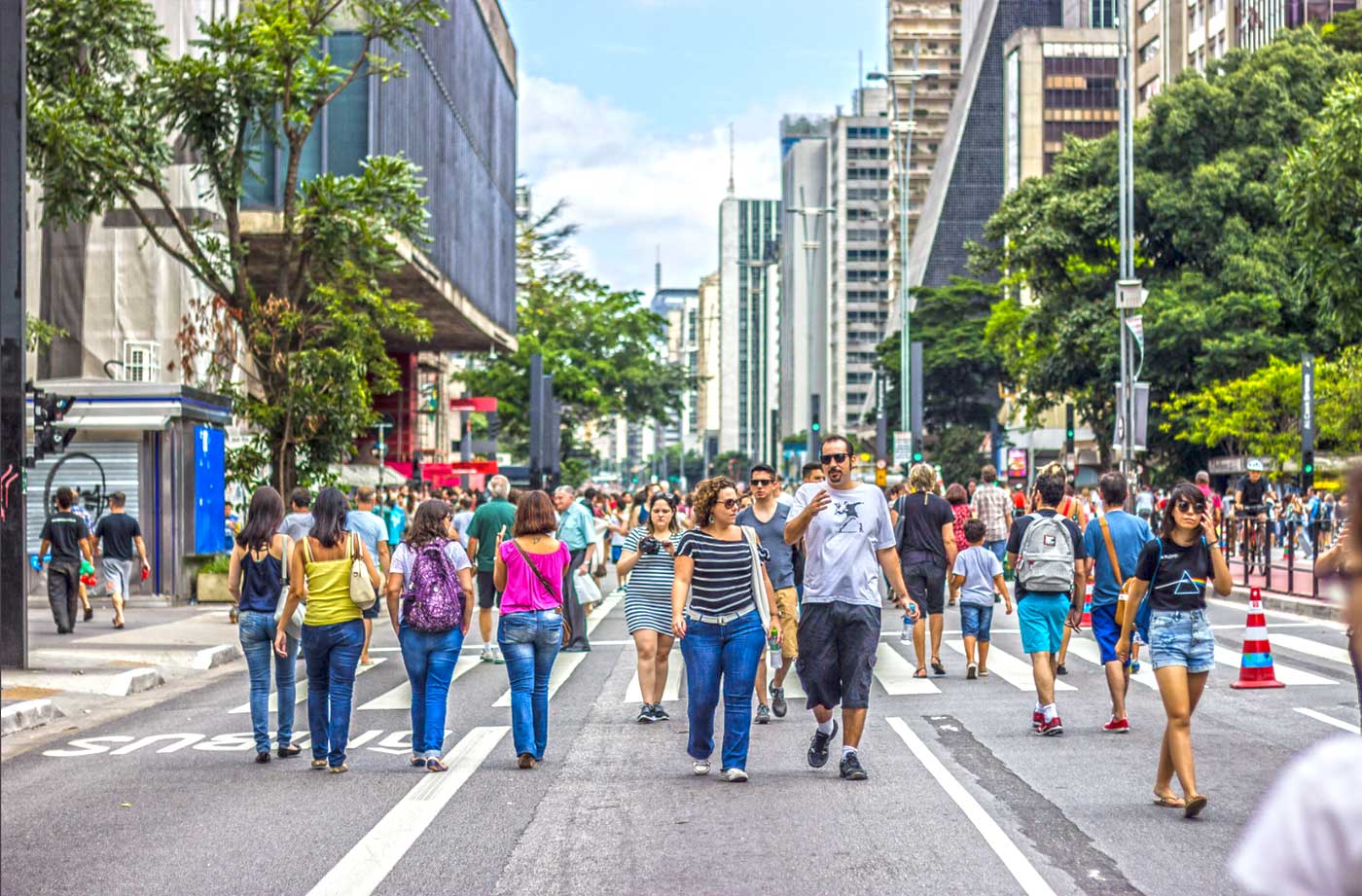 Step onto Paulista Avenue and feel the heartbeat of Sao Paulo. This bustling thoroughfare is more than just a road; it's a vibrant slice of Brazilian life, a cultural epicenter, and a must-visit spot for any traveler exploring Sao Paulo.
Dominated by towering skyscrapers and teeming with life, Paulista Avenue is the city's financial hub, but there's more to this avenue than banks and business. It's also home to an impressive array of cultural attractions including the Sao Paulo Museum of Art, known for its distinctive floating building design and its collection of Brazilian art, making it a must for any art lover.
On Sundays, the avenue becomes pedestrian-only, transforming into a dynamic space where street performers, food vendors, and local artisans come out to play. Whether you're looking to shop at trendy boutiques, enjoy local cuisine at a variety of eateries, or simply soak up the vibrant street life, Paulista Avenue is a dynamic and lively locale that encapsulates the spirit of Sao Paulo. So, get ready to delve into this thriving metropolis and experience the pulse of the city on Paulista Avenue.
3. Neo Quimica Arena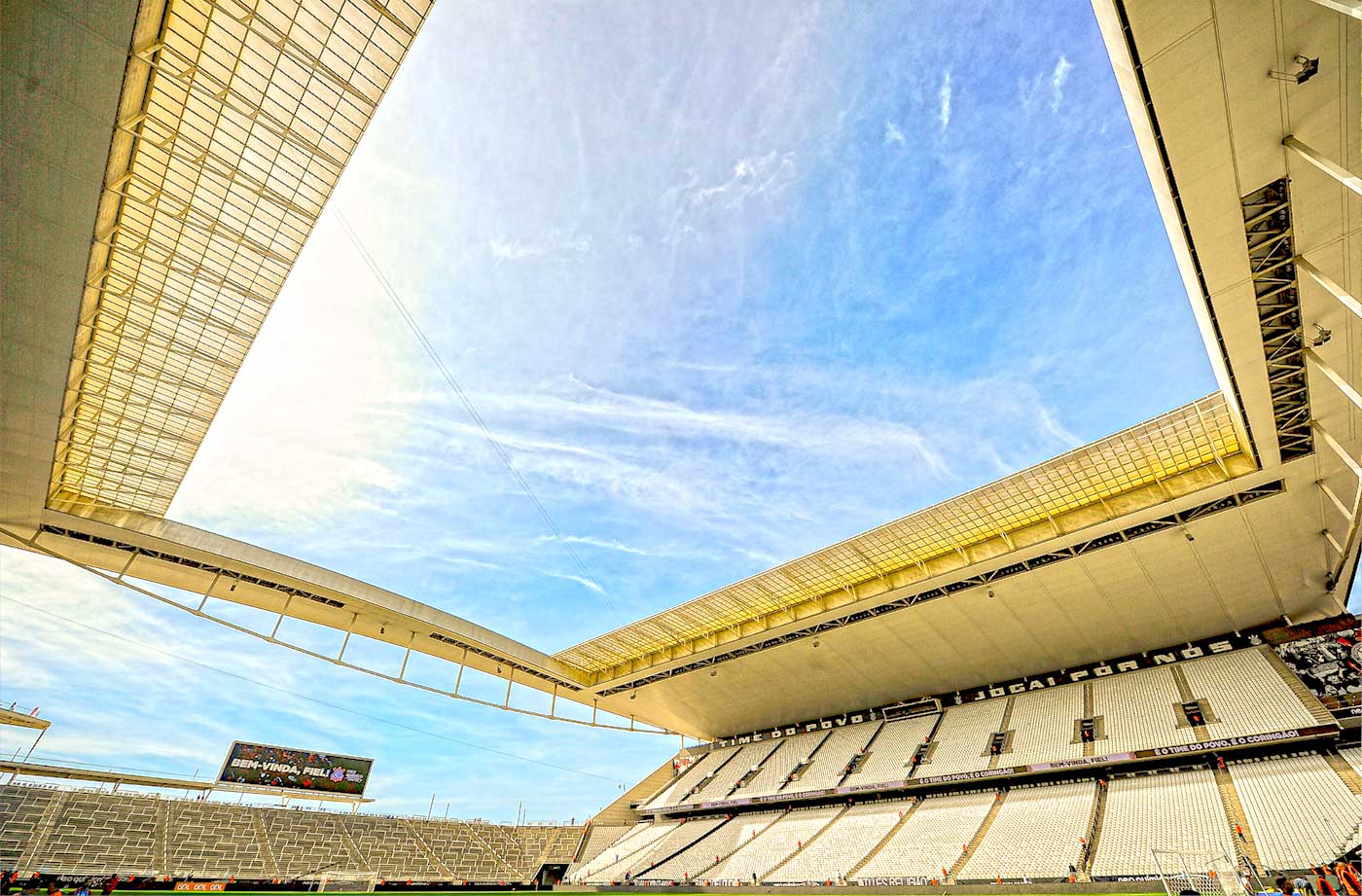 Immerse yourself in the vibrant spirit of Brazilian football at the Neo Química Arena, home of the Corinthians, one of Sao Paulo's premier football clubs. This impressive stadium seats over 40,000 fans, offering a thrilling atmosphere that captures Brazil's deep-rooted passion for the sport.
However, the Neo Química Arena is more than just a football stadium. It's an entertainment hub, featuring an array of shops, eateries, and the Corinthians' museum. The latter provides an insightful journey into the club's rich history, complete with a treasure trove of memorabilia and a tour of the stadium's inner workings.
Whether you're a football enthusiast or a culture vulture, a visit to Neo Química Arena offers a unique blend of sport, history, and local culture, making it a must-visit attraction in Sao Paulo.
4. Pinacoteca do Estado de São Paulo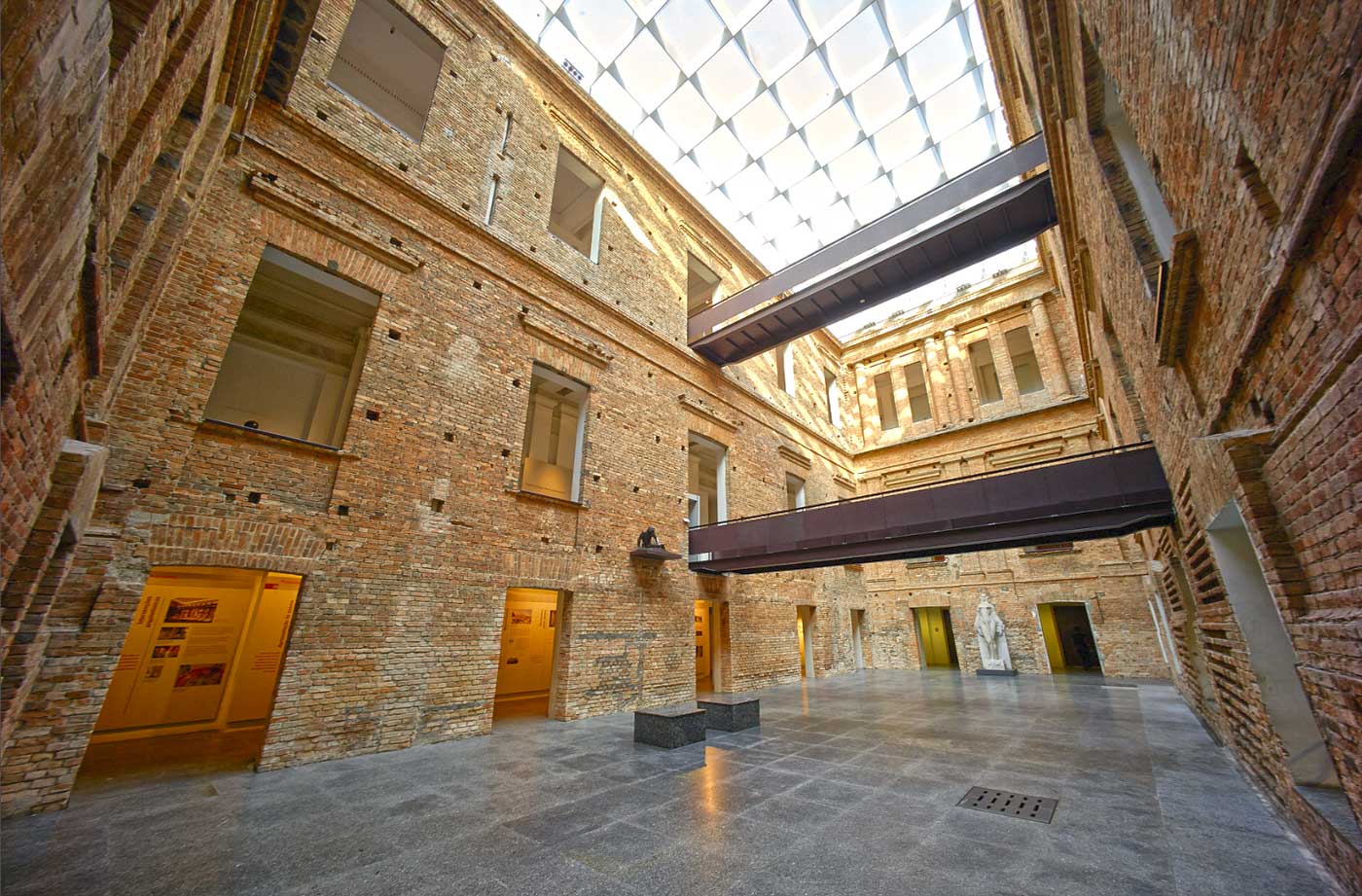 Step into the artistic heart of Brazil at the Pinacoteca do Estado de São Paulo, a cultural jewel of the city. Set within an architecturally impressive 19th-century building, this museum offers a deep dive into Brazilian art. With a collection of over 9,000 pieces that span from the 19th century to contemporary works, it showcases an expansive timeline of Brazilian creativity. The diverse range of paintings, sculptures, drawings, prints, and photographs on display tell a compelling visual story of the nation's artistic evolution.
But the allure of the Pinacoteca extends beyond its gallery walls. It is also home to a beautifully landscaped garden designed by the famed Brazilian artist Roberto Burle Marx. This verdant space provides a serene counterpoint to the bustling city, offering visitors a peaceful oasis to reflect on the art they've just seen. Whether you're an avid art lover or a traveler seeking to understand Brazil's cultural history, the Pinacoteca do Estado de São Paulo is a must-visit landmark on your Sao Paulo journey.
5. Museu do Futebol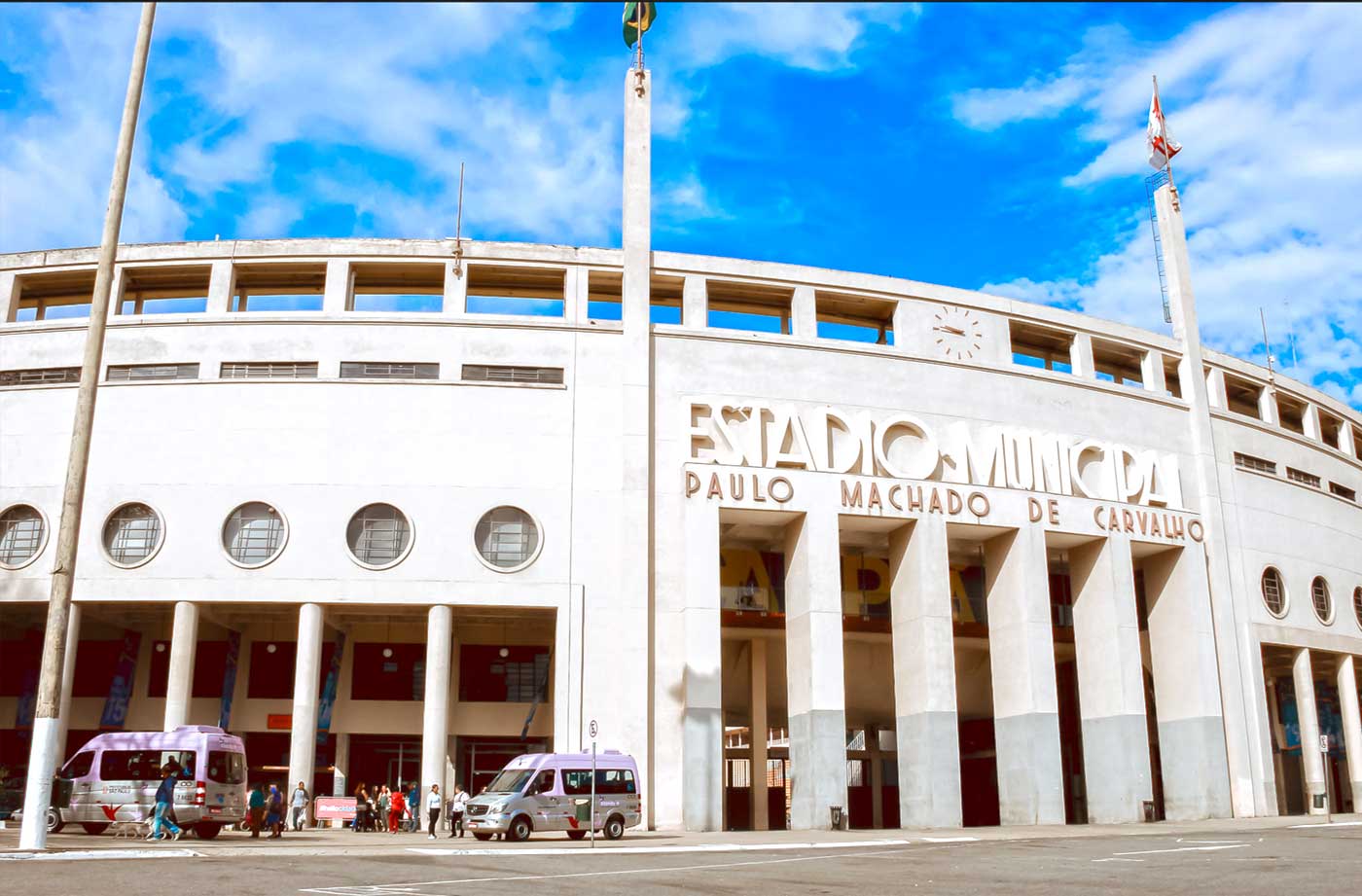 Feel the pulse of Brazil's national passion at the Museu do Futebol, located within the iconic Pacaembu Stadium in Sao Paulo. This unique museum offers a vibrant exploration of football, a sport that holds a special place in the hearts of Brazilians.
At the Museu do Futebol, you're not just a spectator; you're an active participant. Interactive exhibits invite visitors to engage in the sport in a myriad of ways, from virtually experiencing the excitement of a packed stadium on a match day to attempting a penalty kick in a simulation game.
The museum also delves into the history and cultural impact of football in Brazil and beyond, showcasing a rich collection of memorabilia, including vintage jerseys, photographs, and significant match footage. Its multimedia exhibits narrate the stories of legendary Brazilian footballers, iconic matches, and the evolution of the sport over time.
Whether you're a die-hard football fan or a curious traveler, the Museu do Futebol is an energetic celebration of Brazil's football heritage and a must-visit destination in Sao Paulo.
6. Allianz Parque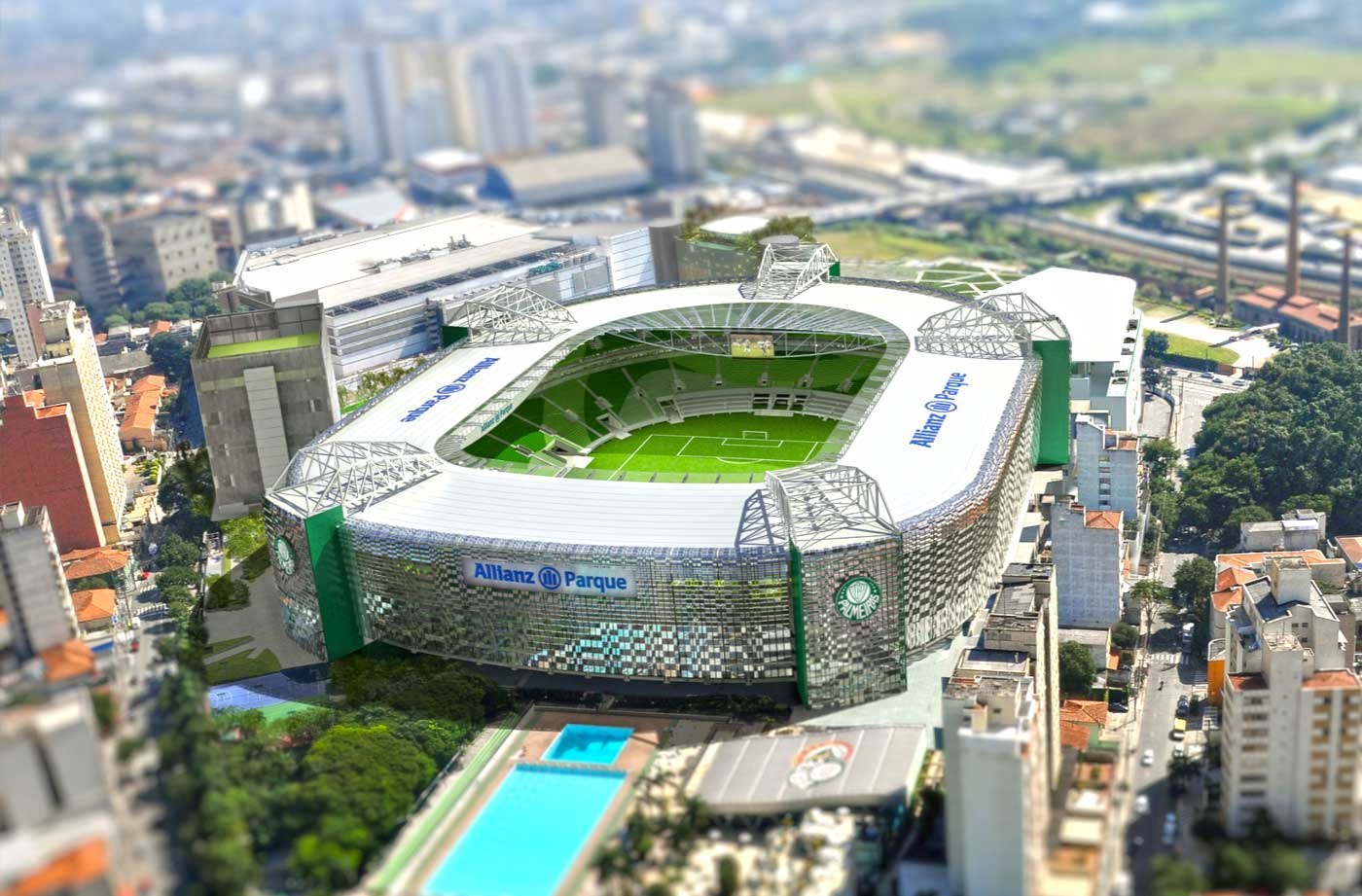 Experience the thrills of Brazilian football culture at Allianz Parque, the home of the Palmeiras Football Club, nestled in the heart of Sao Paulo. This modern architectural feat boasts a capacity of over 40,000, providing a stage for the captivating spectacle that is Brazilian football. On match days, the stadium is electrified with the passionate cheers of fans, offering a truly immersive experience of the country's beloved sport.
However, the appeal of Allianz Parque extends beyond football. The state-of-the-art venue is also a renowned stage for world-class concerts and cultural events, featuring a lineup of globally celebrated artists and performers. Coupled with a variety of dining options and shops, the stadium has earned its reputation as a premier entertainment destination. The Allianz Parque Tour takes you behind the scenes, with exclusive access to the player's tunnel, locker rooms, and the pitch. Whether you're a dedicated sports fan, a concert-goer, or a visitor eager to tap into the local culture, Allianz Parque is a vibrant embodiment of Sao Paulo's dynamic spirit.
7. Municipal Market of Sao Paulo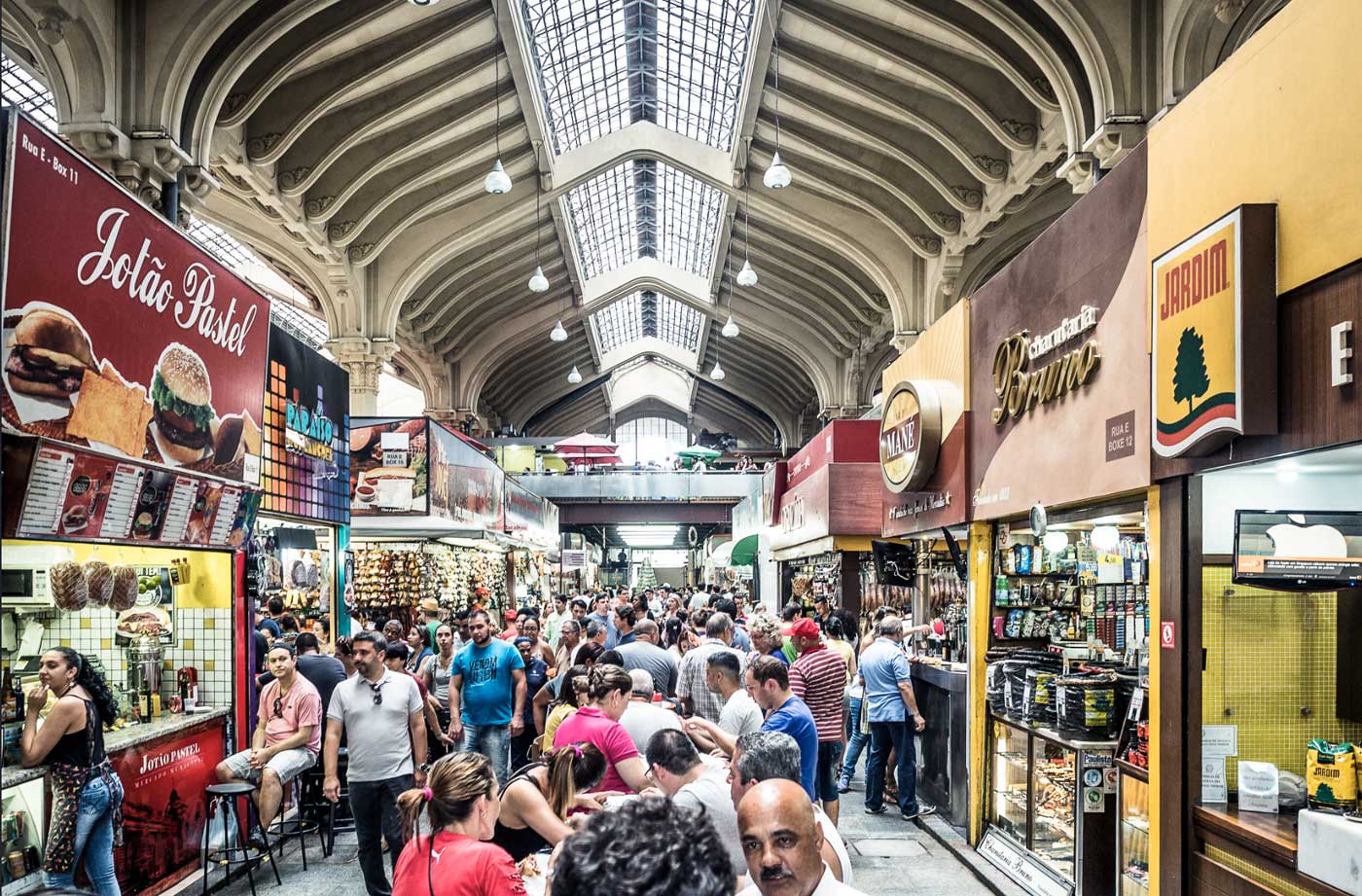 Immerse yourself in the vibrant flavors and colors of Brazil at the Municipal Market of Sao Paulo, also known as Mercado Municipal. Situated in a striking historic building from the 1930s, the market is a feast for the senses. Each stall tells a unique story of the country's rich culinary culture, brimming with fresh local produce, enticing spices, meats, cheeses, and a variety of exotic fruits that might be unfamiliar to international palates.
But the gastronomic adventure doesn't end with the market stalls. Mercado Municipal also houses several restaurants offering authentic Brazilian cuisine. Visitors can savor traditional dishes, with the famed Mortadella sandwich being a standout favorite among both locals and tourists. Beyond the culinary delights, the market's architecture is a sight to behold, adorned with intricate stained glass windows crafted by Russian artist Conrado Sorgenicht Filho, portraying the scenes of Brazilian rural life. Whether you're a food enthusiast or a cultural explorer, the Municipal Market of Sao Paulo serves as a vibrant hub of local flavor and heritage, well worth a visit on your Sao Paulo itinerary.
8. Liberdade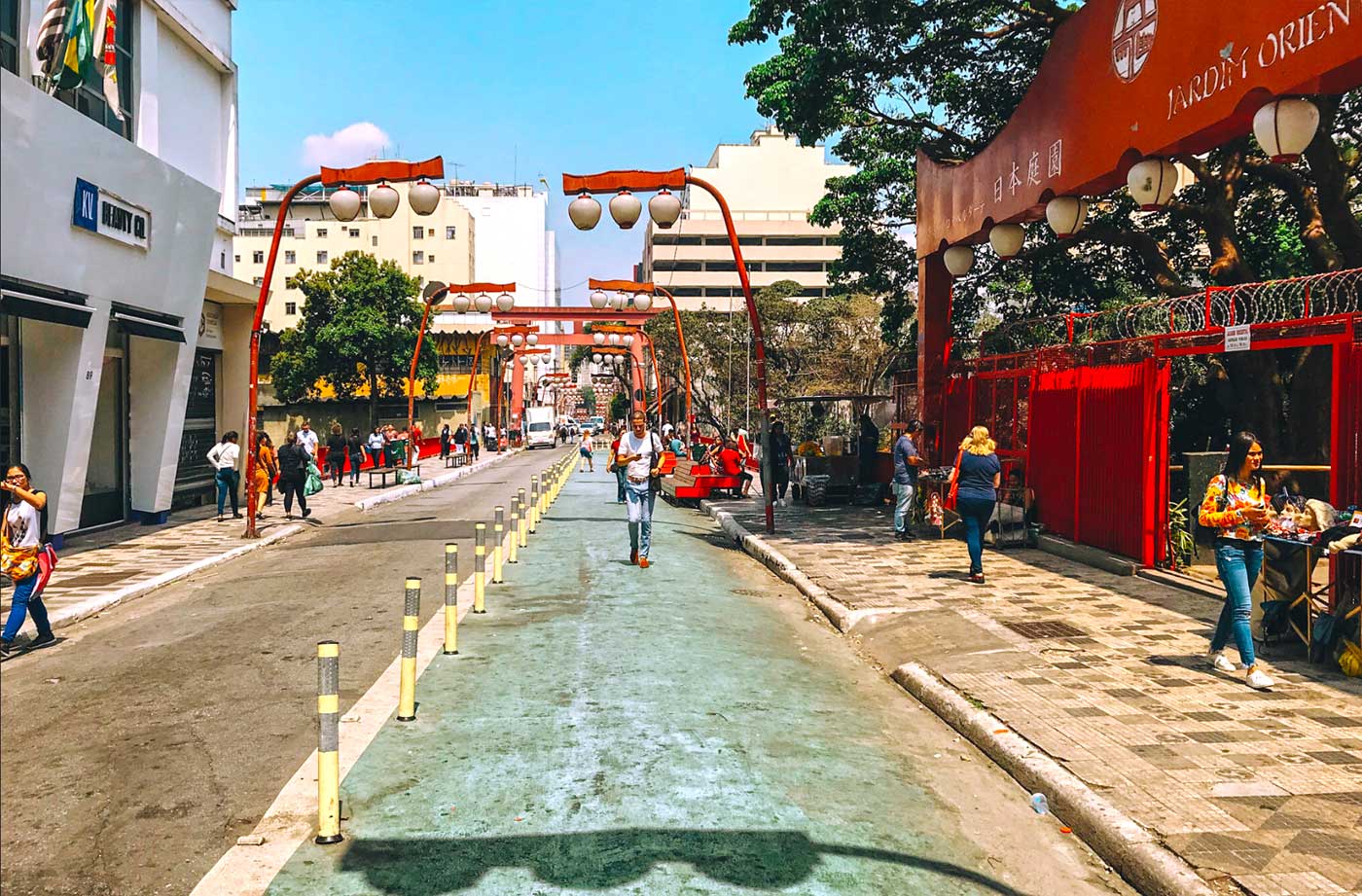 Experience a taste of Asia in the midst of Sao Paulo at Liberdade, the largest Japanese community outside of Japan. From the red lanterns that line the streets to the traditional Japanese torii gates, Liberdade is a vibrant blend of Brazilian and Japanese cultures. The neighborhood's eclectic mix of shops offers everything from anime merchandise to traditional Japanese crafts, reflecting the area's rich cultural heritage.
Liberdade's culinary scene is a feast for the senses. A plethora of restaurants and food stalls serve up a variety of dishes ranging from authentic sushi and ramen to traditional Brazilian pastel, making it a food lover's paradise. The weekly Liberdade Street Market is a cultural spectacle, offering a range of Japanese and other Asian foods, as well as crafts and souvenirs. For a deeper understanding of the district's cultural identity, the Museum of Japanese Immigration tells the compelling story of Japanese immigrants' journey to Brazil. With its vibrant energy and cultural fusion, Liberdade offers a unique slice of Sao Paulo's multicultural identity, making it a must-visit during your time in the city.
9. Jardim Botânico de São Paulo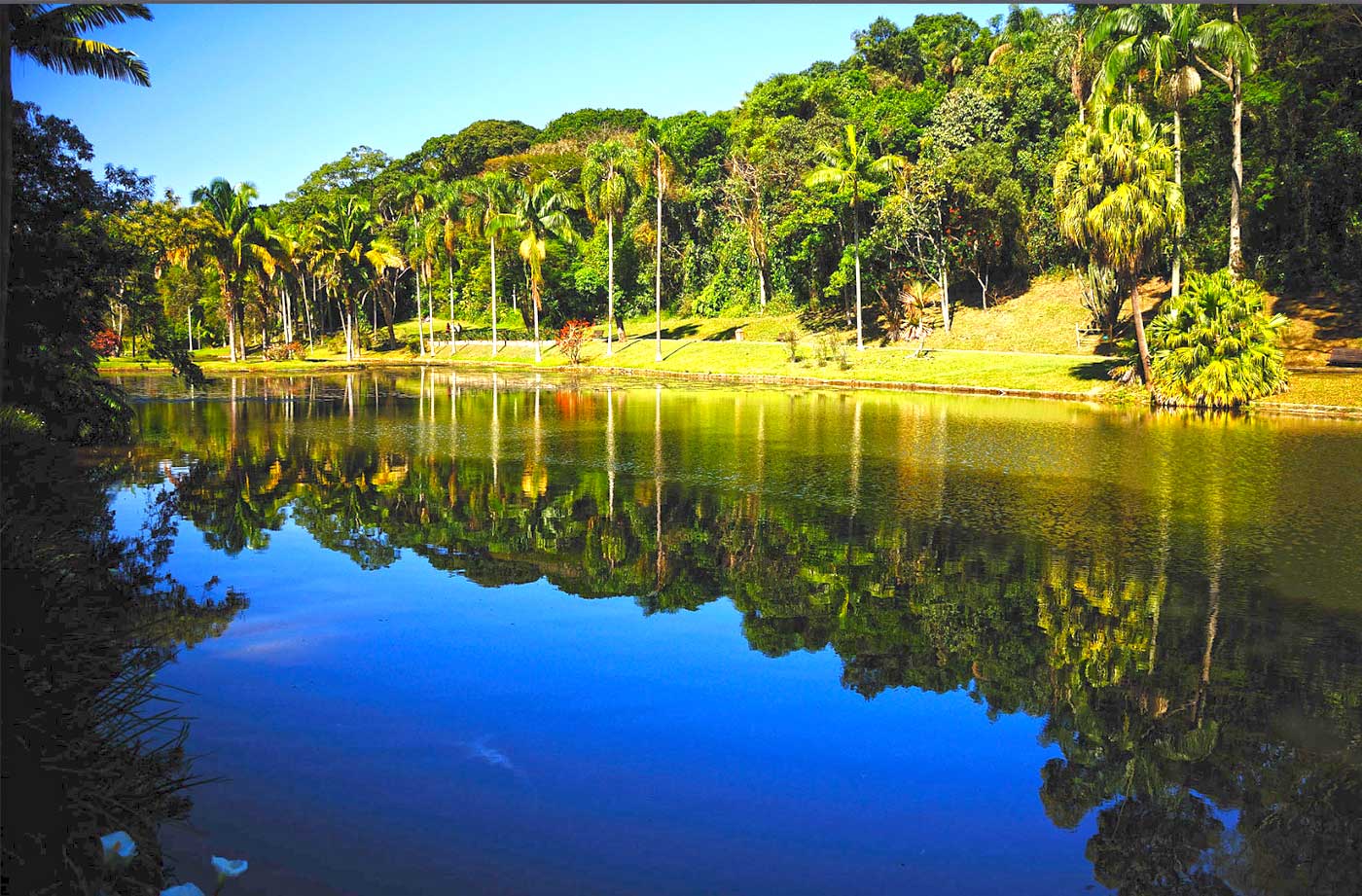 Escape the hustle and bustle of Sao Paulo city life in the tranquil haven of the Jardim Botânico. Sprawling over 360 acres in the city's south zone, the garden is a testament to Brazil's rich biodiversity. As you stroll through the lush, landscaped pathways, you'll encounter a varied array of Brazilian flora, from towering palm trees to exotic orchids housed in the charming orchidarium.
Beyond the verdant foliage, Jardim Botânico boasts an impressive greenhouse and several thematic gardens, each providing a unique glimpse into different habitats. The garden is also a sanctuary for a diverse range of bird species, making it a popular spot among bird watchers and nature enthusiasts. Additionally, the grounds feature notable historical structures, such as a picturesque water reservoir and the Von Martius monument, honoring the garden's founder. Offering a peaceful respite amid the city's urban sprawl, the Jardim Botânico de São Paulo is an essential stop on your city tour, promising a refreshing communion with nature.
10. Batman Alley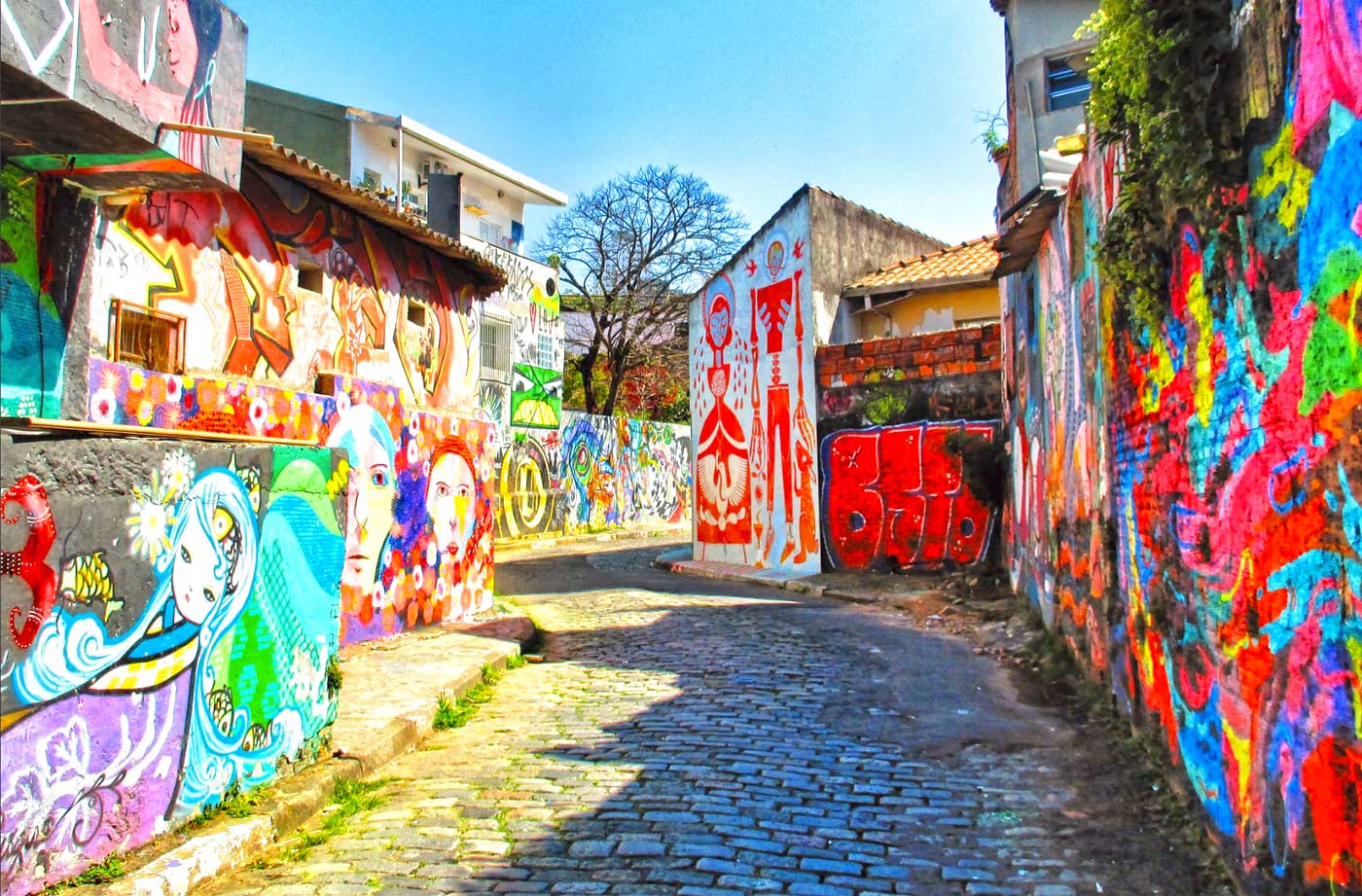 Get ready to dive into the vibrant world of street art at Batman Alley in Sao Paulo. Tucked away in the lively neighborhood of Vila Madalena, this enchanting alleyway is a visual feast for art lovers and a testament to the city's thriving urban art scene.
Batman Alley is a haven for talented street artists who use its walls as their canvas to showcase their creativity and unique perspectives. As you step into this colorful alley, you'll be greeted by an explosion of colors, intricate designs, and captivating murals that tell stories, convey messages, and ignite your imagination. Each artwork is a testament to the artist's skill and passion, creating an immersive experience that sparks conversations and stirs emotions.
But Batman Alley is more than just an outdoor gallery. It has become a cultural hotspot, with nearby cafes, bars, and shops adding to its vibrant atmosphere. Take a leisurely stroll, stop for a coffee, and immerse yourself in the bohemian spirit that permeates the surrounding streets. Whether you're an art enthusiast or simply seeking a unique and inspiring experience, Batman Alley promises an unforgettable adventure through the vibrant streets of Sao Paulo.
Feel free to explore these pages as well:
As we come to the end of our journey exploring the vibrant city of Sao Paulo, I hope this guide has been a valuable resource for your visit. We've covered a diverse range of attractions, each showcasing the unique character and charm of this dynamic metropolis.
From the captivating street art of Batman Alley to the tranquil beauty of Jardim Botânico, from the electric atmosphere of Allianz Parque to the cultural immersion at Liberdade, Sao Paulo has offered us a tapestry of experiences that will leave a lasting impression.
Remember to savor the culinary delights at the Municipal Market, be awe-inspired by the artworks at Pinacoteca do Estado, and soak up the passion of Brazilian football at Neo Química Arena and Paulista Avenue. These iconic spots are a testament to the city's cultural richness and will undoubtedly make your visit to Sao Paulo truly unforgettable.
I hope this guide has inspired you to venture beyond the beaten path, embrace the local culture, and discover hidden gems throughout the city. As you explore Sao Paulo, may you create memories, forge connections, and leave with a deeper understanding and appreciation for this incredible destination.
Thank you for joining me on this journey. Until we meet again, happy travels and may your adventures continue to be filled with excitement, discovery, and unforgettable experiences. Safe travels, fellow explorers!