Journey Through Vancouver: Top Attractions for First-Time Visitors
From lush gardens and expansive parks to bustling markets and captivating museums, Vancouver truly offers something for every kind of traveler. As a city nestled between the Pacific Ocean and soaring mountain peaks, Vancouver seamlessly blends the vibrancy of urban life with the tranquility of nature. This guide takes you on a journey through the top 10 must-visit places in this coastal seaport city, highlighting the charm and diversity of Vancouver's landscape and culture.
Whether you're a nature lover wanting to explore the serene paths of Stanley Park, a foodie eager to savor the diverse offerings at the Granville Island Public Market, or a history buff interested in the rich artifacts of the Museum of Anthropology, you're in for a treat. Each location embodies a unique aspect of Vancouver, providing an immersive experience that transcends the ordinary. So strap on your walking shoes, grab your camera, and let's discover the wonders of Vancouver together. Your adventure awaits!
Here are the 10 best places to visit in Vancouver:
1. Stanley Park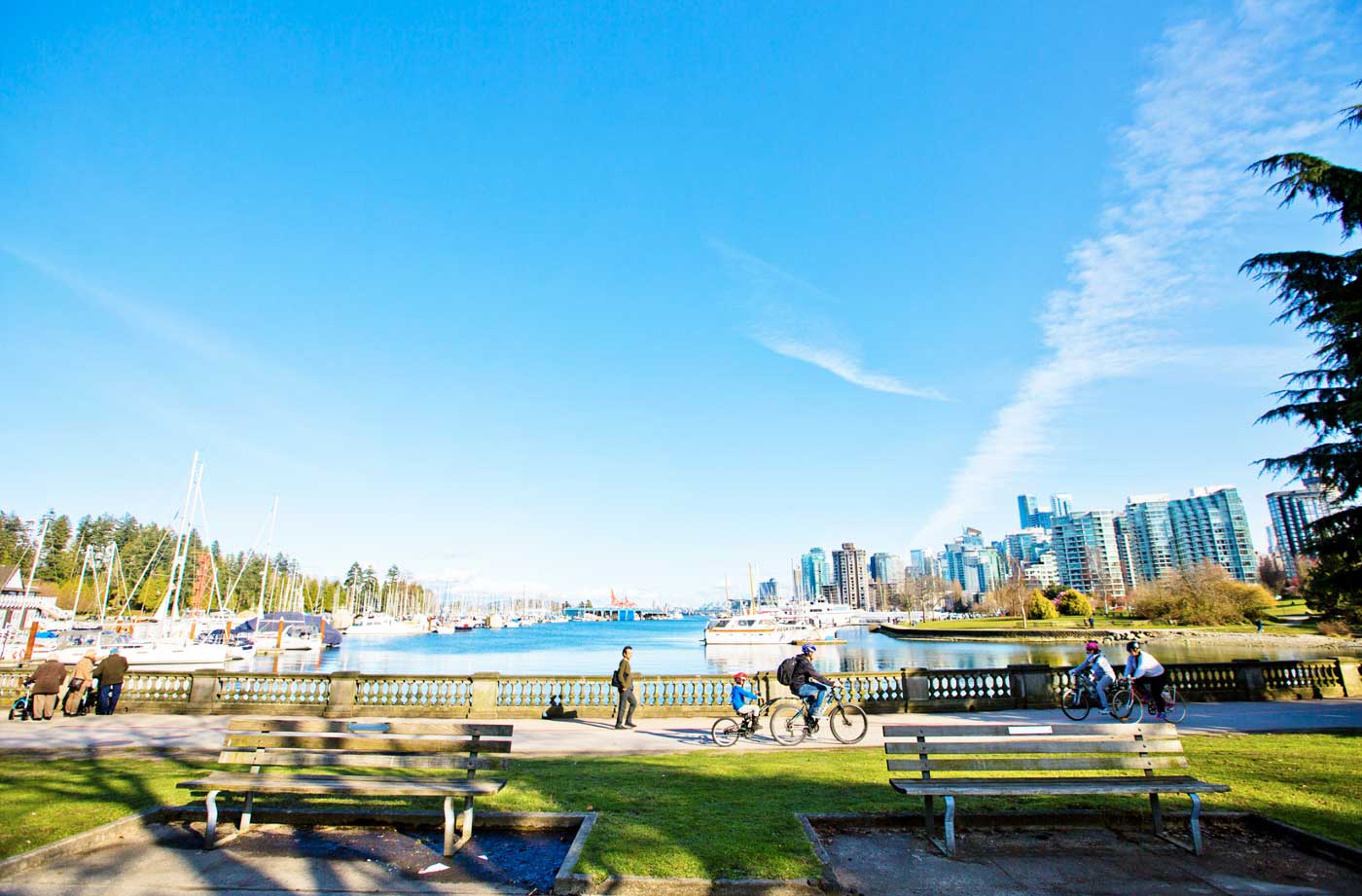 Stanley Park, nestled on the edge of downtown Vancouver, is an urban oasis offering a refreshing blend of natural beauty and urban sophistication. Covering 1,001 acres, it's larger than New York's Central Park and is the city's first, largest, and most beloved urban park. This vast green space is a rich tapestry of forests, gardens, beaches, and wildlife, including a sizable population of raccoons and a variety of bird species, all encased within a thriving metropolis.
Upon entering, you'll be greeted by stunning totem poles, the symbols of the region's rich indigenous history. The park boasts 27 kilometers of trails, including the Seawall, a popular 9-kilometer pathway hugging the water's edge, perfect for biking, rollerblading or a leisurely stroll. Don't miss the Vancouver Aquarium, an engaging hub of marine life, or the Rose Garden, a colorful feast for the eyes. Stanley Park is not just a park, but a mirror that reflects Vancouver's love for the great outdoors and its deep-rooted cultural heritage. So come ready for an adventure that offers both tranquility and vibrant energy, just like the city itself.
2. Granville Island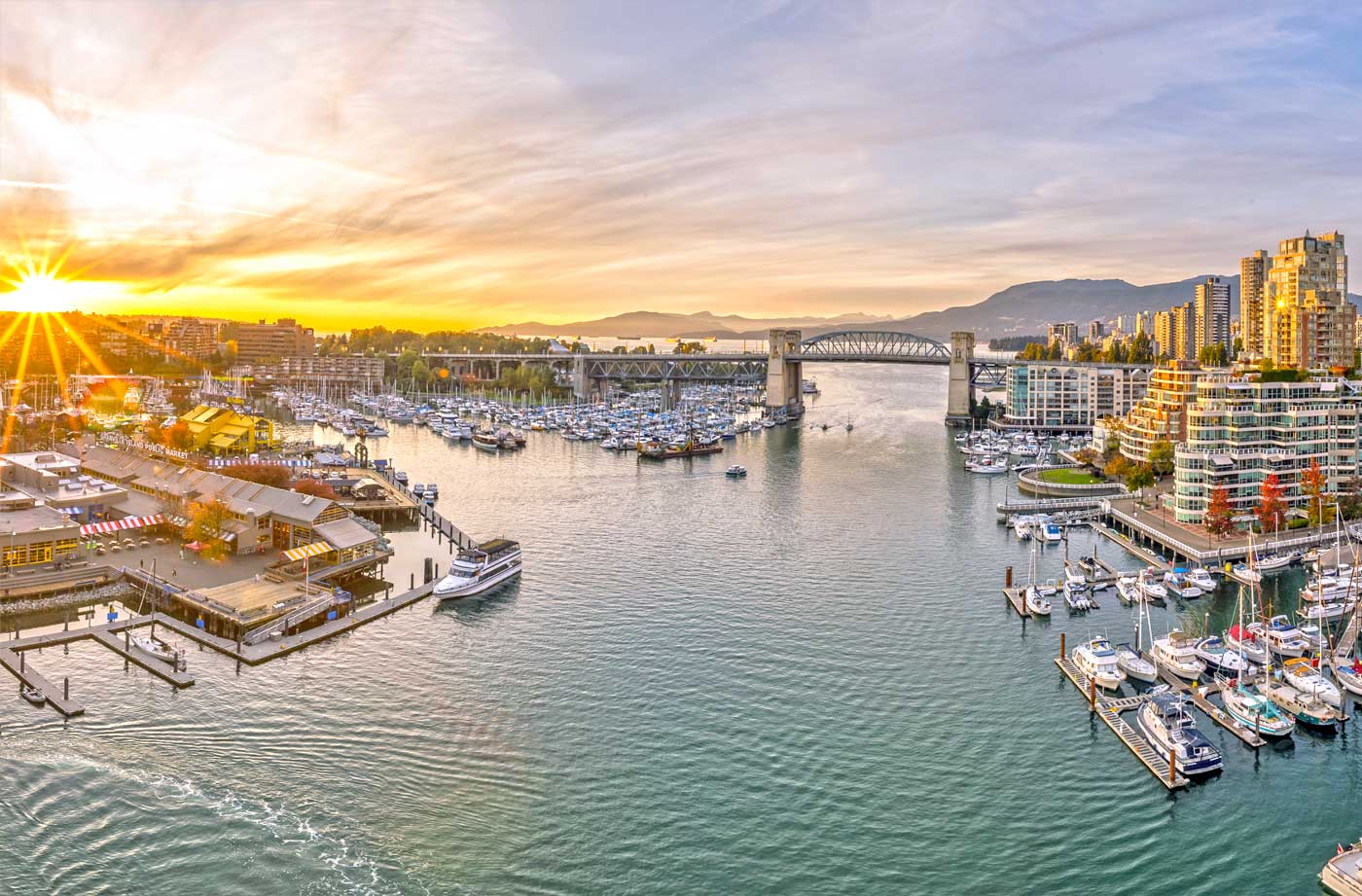 Granville Island, tucked under the south end of the Granville Street Bridge, is one of Vancouver's most treasured spots. Once an industrial manufacturing area, this petite peninsula has been transformed into a hotspot of culture, food, and unique shopping experiences, attracting millions of visitors each year. Its beating heart is the bustling Granville Island Public Market, teeming with fresh produce, gourmet foods, and local artisan products.
As you stroll through the market's labyrinth of stalls, you'll be greeted by the delightful aroma of fresh bread from the bakeries, the tangy scent of local cheeses, and the sweet fragrance of seasonal fruits. Beyond the market, Granville Island is also home to a vibrant arts community, including the Emily Carr University of Art and Design, numerous theater companies, and countless craft studios and galleries. Kids will adore the Granville Island Water Park and the Kids Market, which brim with games and fun activities. With its dynamic blend of artistic expression, culinary delights, and lively atmosphere, Granville Island is an irresistible destination that encapsulates the lively spirit of Vancouver.
3. Vancouver Aquarium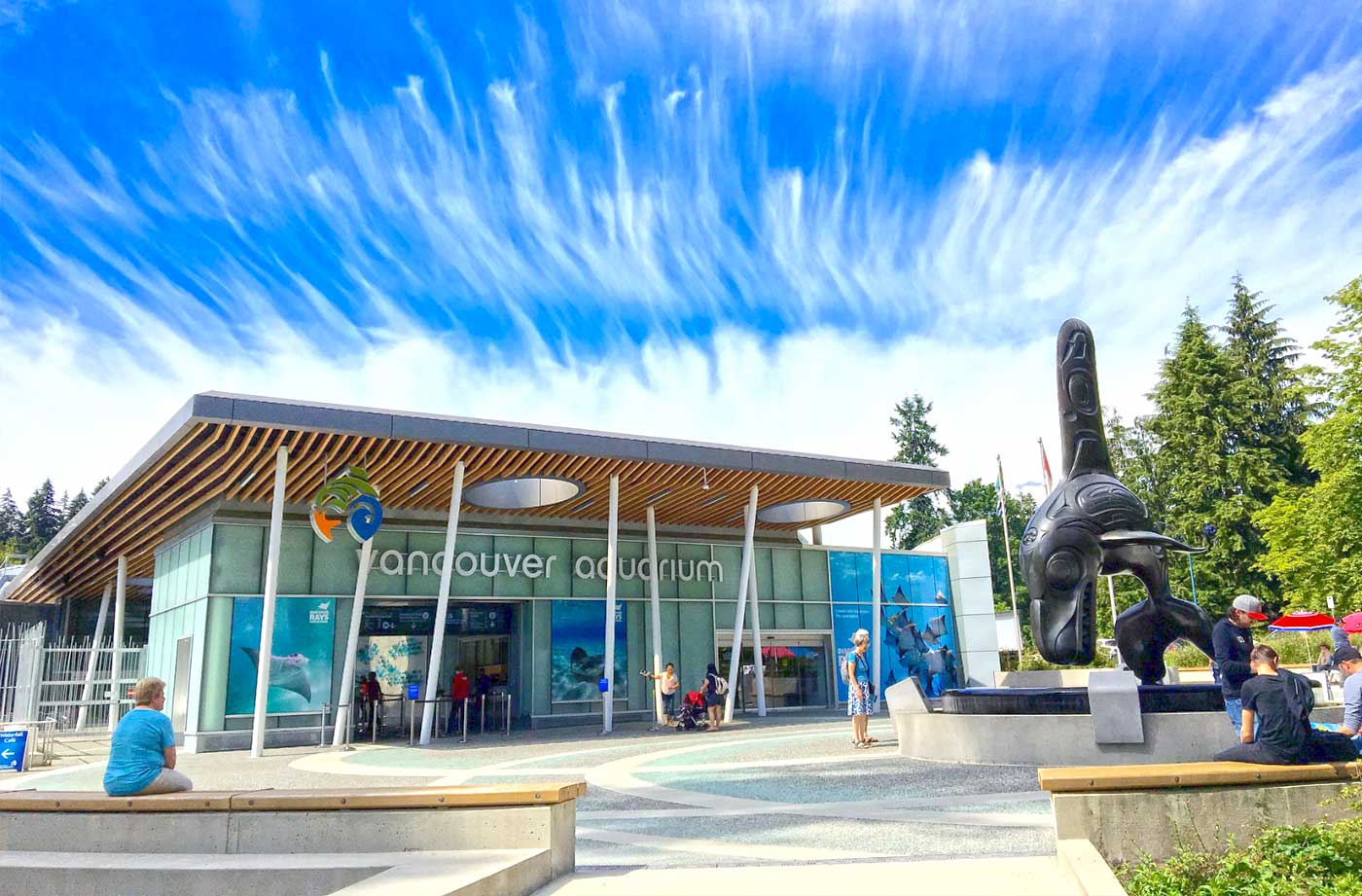 Situated in the heart of Stanley Park, the Vancouver Aquarium is an engaging marine science centre that doubles as a conservation hub. Known as the largest aquarium in Canada, this sanctuary of sea life offers visitors an intriguing glimpse into the aquatic world, home to over 70,000 animals spanning across nearly 800 species.
You'll have the chance to explore fascinating exhibits like the Tropic Zone, home to the captivating Amazon Rainforest exhibit, or the Arctic gallery, where you can marvel at the playful antics of beluga whales. Interactive exhibits such as the "Discover Rays" touch pool allow visitors to get up close and personal with the aquatic life. Meanwhile, the aquarium's 4D theater offers an immersive cinematic experience that's sure to captivate both children and adults alike. Beyond the exhibits, the Vancouver Aquarium is committed to conservation, playing a significant role in marine animal rescue and rehabilitation. As such, a visit to the aquarium is not only a thrilling adventure but also a great opportunity to learn about and contribute to conservation efforts.
4. Queen Elizabeth Park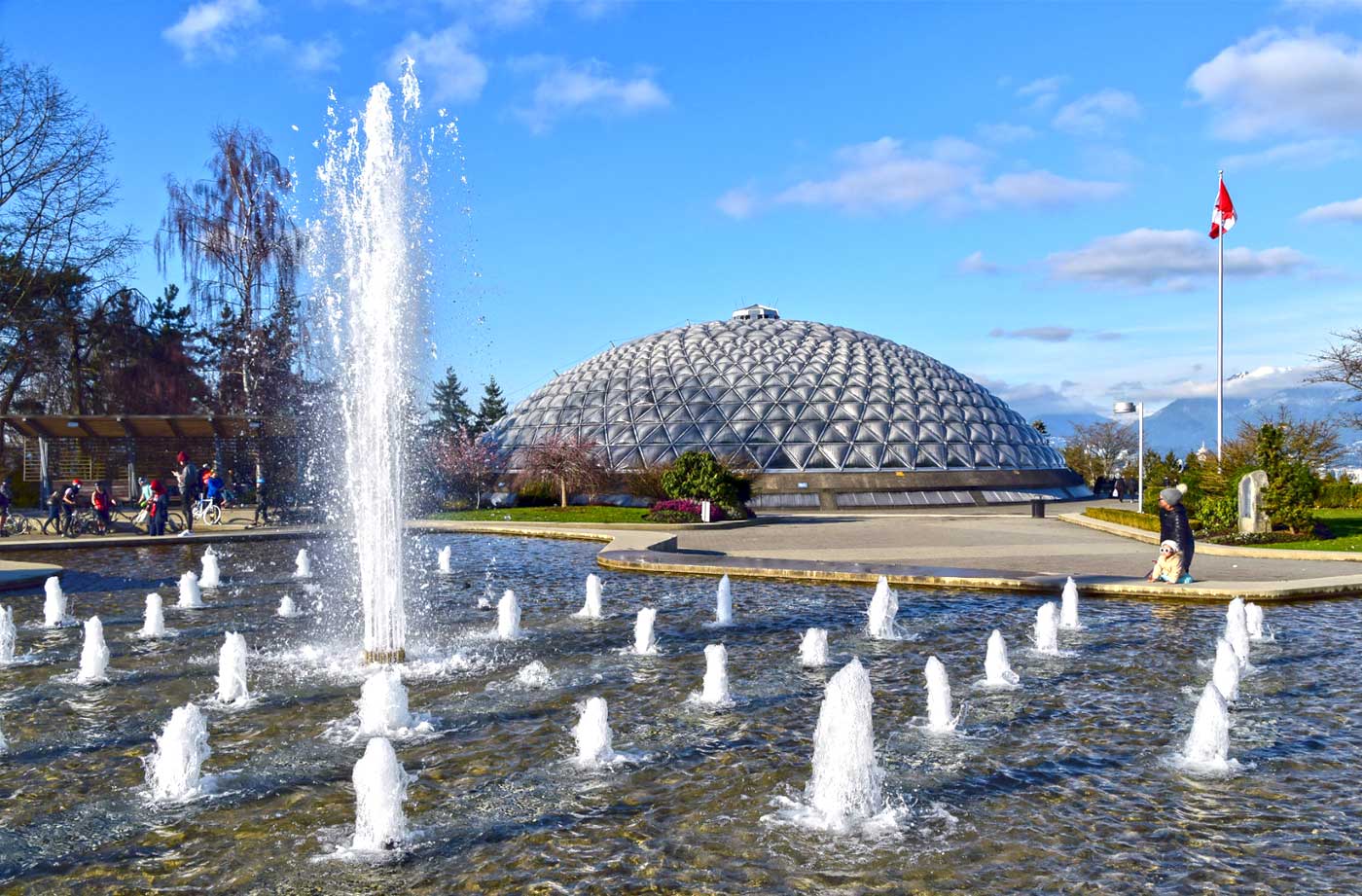 Queen Elizabeth Park, a 130-acre municipal park, sits atop the city's highest point, offering unrivaled views of Vancouver and its mountainous backdrop. This former quarry has been transformed into a magnificent green oasis, blending beautifully manicured gardens with recreational facilities and attractions, offering something for everyone.
The park's crown jewel is the Bloedel Conservatory, a domed tropical paradise housing a collection of exotic plants and birds. Its subtropical rainforest, tropical and desert ecosystems will transport you to far-off lands without ever leaving the city. Outside, the Quarry Garden, with its richly planted cliffs, offers a stunning contrast to the Rose Garden's formal elegance. If you're looking for recreational activities, the park also provides tennis courts, a pitch & putt golf course, and the Dancing Waters fountain, a favorite with children in the summer. As you wander through Queen Elizabeth Park, don't forget to admire the public art and sculptures scattered throughout. This splendid park, with its myriad attractions, ensures that each visit holds a new adventure.
5. VanDusen Botanical Garden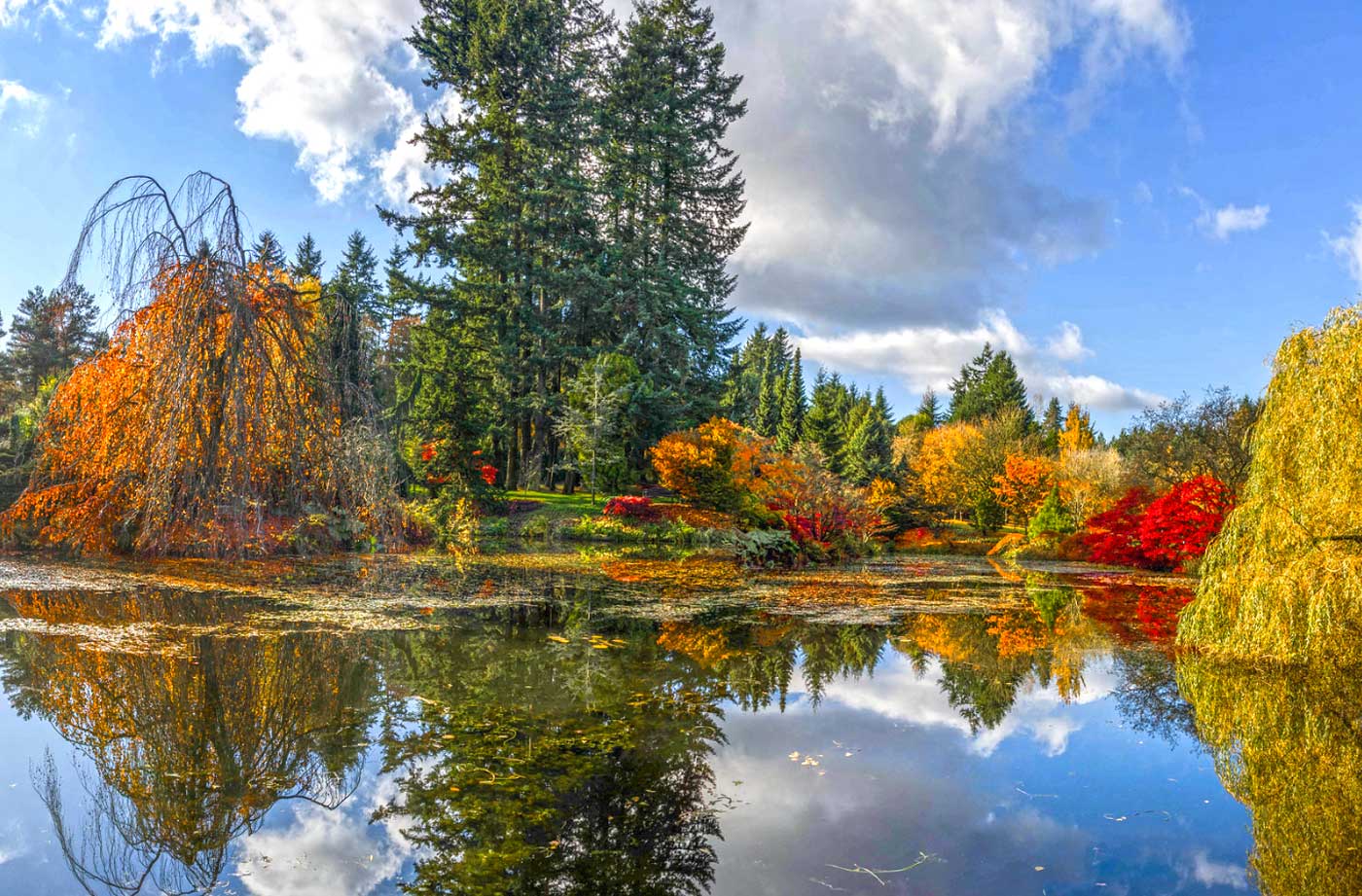 VanDusen Botanical Garden, located in the heart of Vancouver, is a serene 55-acre oasis renowned for its vast collection of plants sourced from around the globe. With over 7,500 plant species and varieties, the garden is beautifully arranged into areas representing different regions of the world, offering visitors a botanical journey without the need for a passport.
As you wander through the meandering paths, you'll discover the enchanting Elizabethan Maze made of 3,000 pyramidal cedars, the tranquil Japanese Garden with its authentic tea house, and the vibrant Rhododendron Walk, among others. For those with a curiosity for nature's oddities, the garden also showcases an extensive collection of carnivorous plants. Visit in spring to marvel at the explosion of color from blooming bulbs, or in autumn to enjoy the fiery hues of deciduous trees. VanDusen Botanical Garden isn't just about plants; it's also home to diverse wildlife, including various bird species, making it a birder's paradise. With its breathtaking landscapes and serene setting, VanDusen offers an idyllic retreat from the city's hustle and bustle.
6. Granville Island Public Market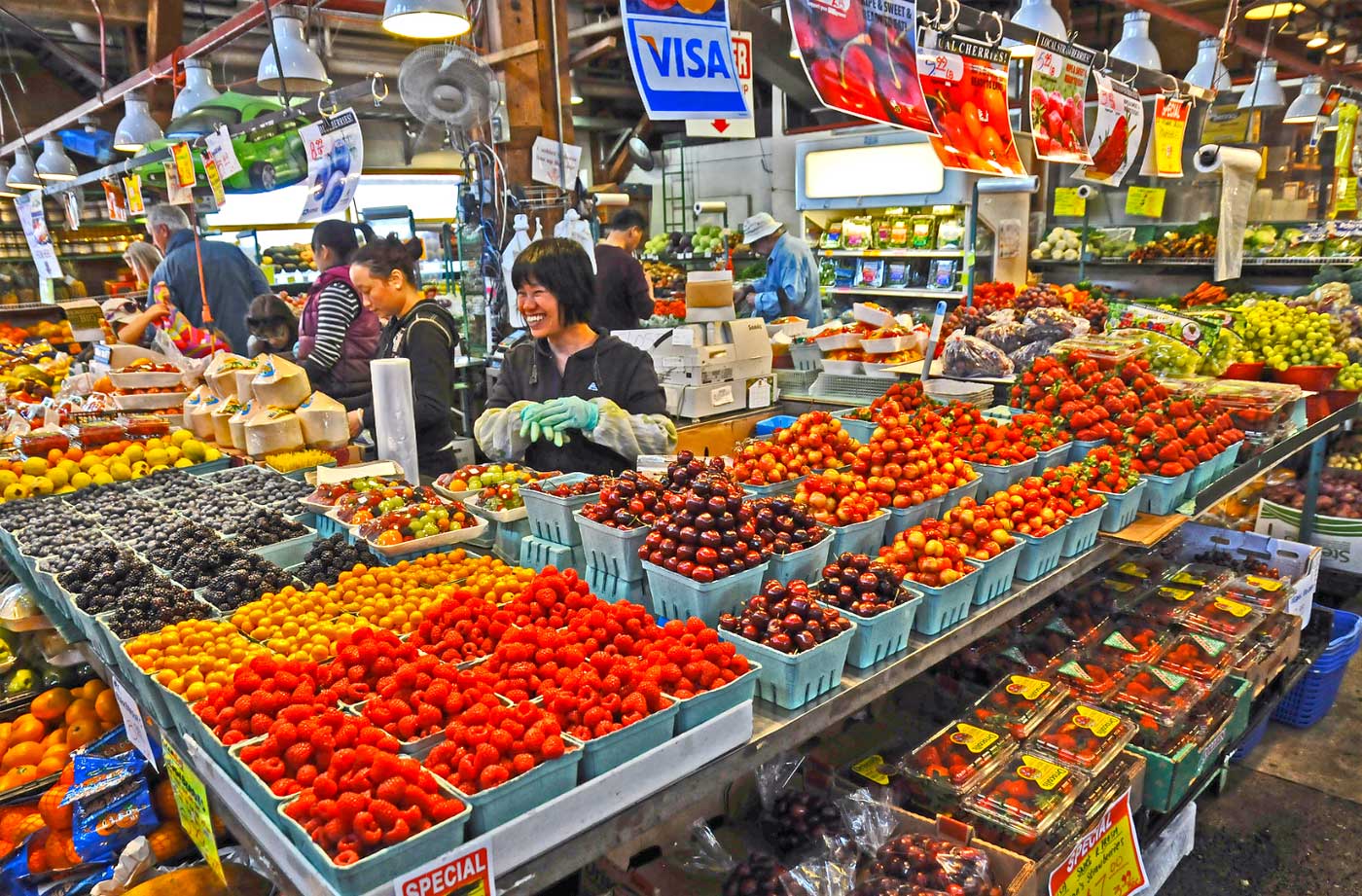 Located in the heart of Granville Island, the Granville Island Public Market is a food lover's paradise and an essential stop for anyone visiting Vancouver. Housed in a refurbished old factory, it's a bustling, vibrant gathering place filled with stalls that sell a dizzying array of fresh, local produce, gourmet foods, and handmade crafts.
From the freshest fish and the finest artisan cheeses to delectable pastries and mouth-watering local fruits, the market is a sensory feast. But it isn't just a haven for foodies. Art lovers will be entranced by the stalls offering unique crafts, artworks, and jewelry by local artisans. Don't forget to take a breather and sample some of the local delicacies at the ready-to-eat food stands, ranging from comfort foods like savory pies to international cuisine like sushi or curry. Whether you're hunting for that perfect souvenir or simply enjoying the bustling atmosphere, the Granville Island Public Market provides an authentically local Vancouver experience.
7. Museum of Anthropology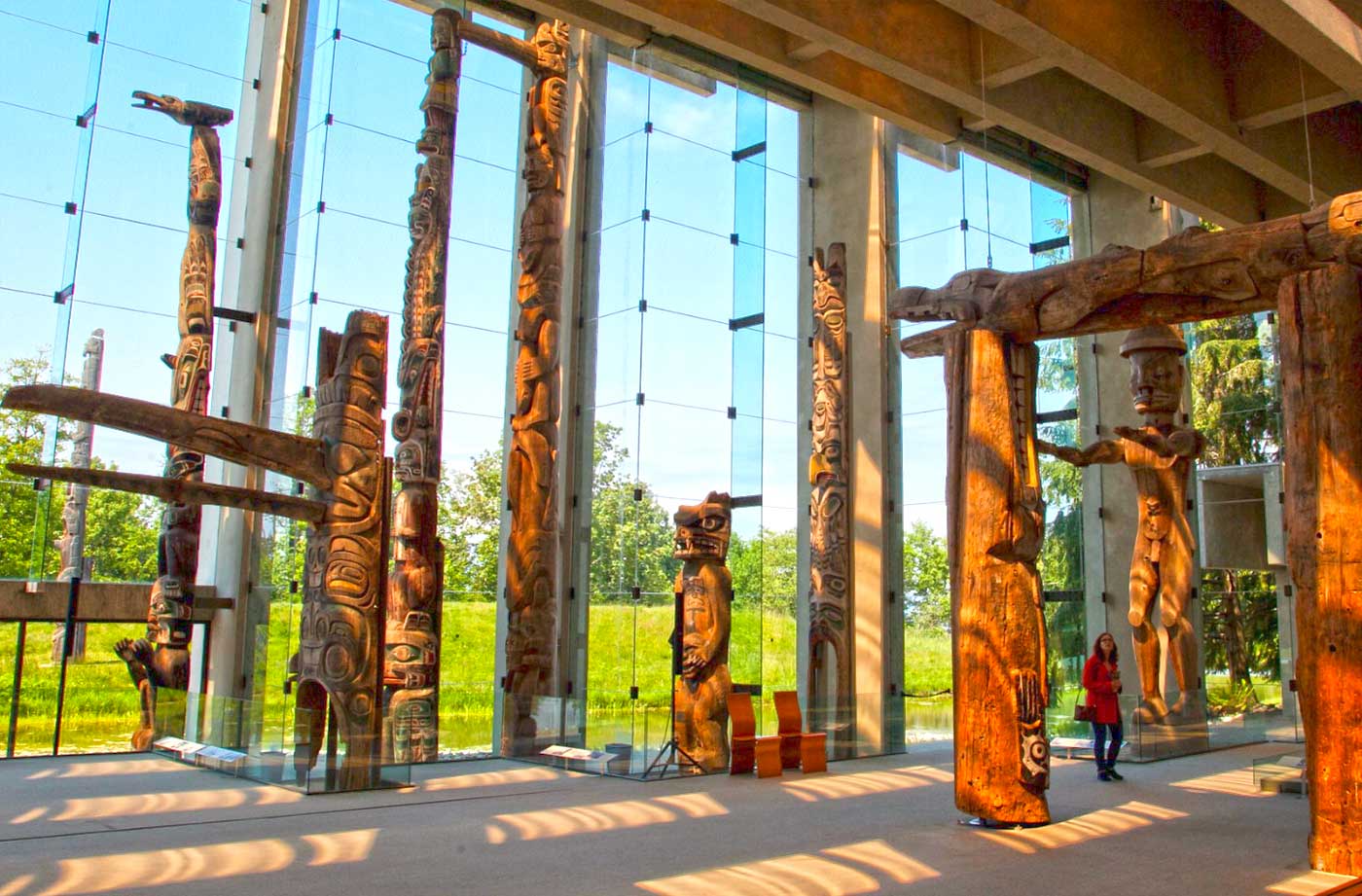 Nestled in the University of British Columbia campus, the Museum of Anthropology (MOA) is a world-renowned centre dedicated to understanding and appreciating the world's cultural diversity. Designed by famed architect Arthur Erickson, the museum building is a work of art in itself, combining modern design with traditional Northwest Coast First Nations motifs.
Inside, you'll be greeted by an impressive collection of First Nations totem poles, intricately carved feast dishes, and other artifacts, displayed in the soaring Great Hall. Beyond the hall, the museum houses an incredible 50,000 ethnographic objects, as well as 535,000 archaeological objects in its collections. Highlights include the Bill Reid Rotunda, showcasing a stunning gold and enamel sculpture of a raven and a clamshell, and the Multiversity Galleries, where visitors can explore thousands of objects from cultures around the world. Throughout your visit, the museum's emphasis on highlighting Indigenous voices and perspectives offers a thoughtful, meaningful exploration of the cultures represented. A visit to the Museum of Anthropology is not just a journey through history, but a journey through human creativity and cultural diversity.
8. Vancouver Seawall
Hugging Vancouver's waterfront, the Vancouver Seawall is a stunning 28-kilometer path that showcases the city's beautiful landscape and vibrant outdoor culture. Constructed over several decades, the seawall stretches from the Vancouver Convention Centre in Coal Harbour, around Stanley Park, along the beaches of English Bay, around False Creek, past the Burrard Street Bridge, through Vanier Park, and ends at Kitsilano Beach Park.
Whether you prefer to walk, jog, cycle, or rollerblade, the seawall provides an ideal route to soak in the city's spectacular natural beauty. Along the way, you'll pass sandy beaches, lush forests, tranquil lagoons, and bustling marinas. The Stanley Park section is a particular highlight, offering iconic sights like Siwash Rock, Brockton Point Lighthouse, and the Girl in a Wetsuit statue. Throughout the journey, there are plenty of scenic spots for a picnic or just to relax and watch the boats glide by. As you traverse the seawall, you're not just following a path – you're tracing Vancouver's heartbeat, which pulses with the love for the great outdoors.
9. FlyOver Canada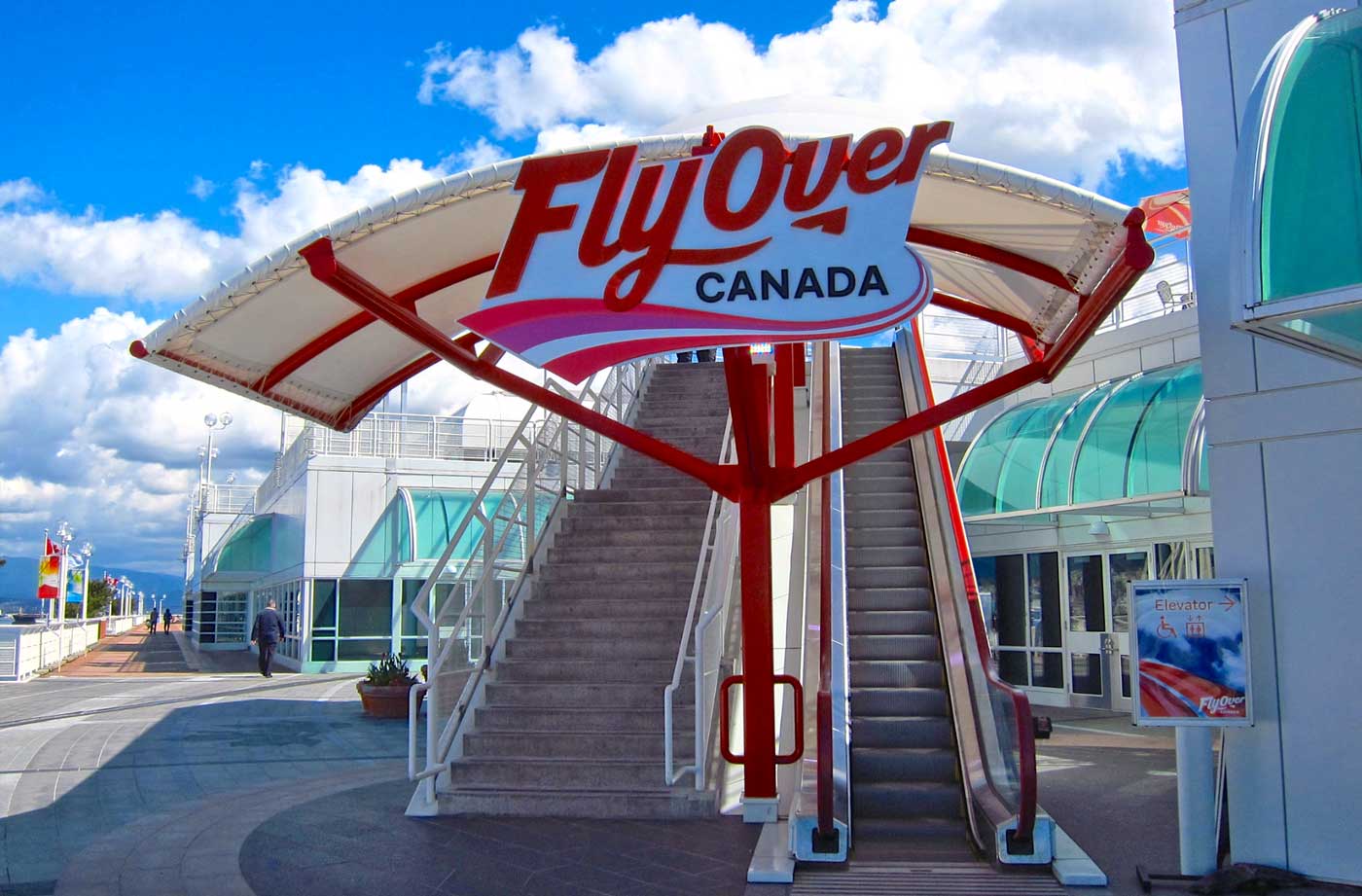 Located at Canada Place in downtown Vancouver, FlyOver Canada offers an exhilarating virtual flight experience that showcases the country's stunning landscapes. The simulation transports visitors from coast to coast, soaring over mountains, glaciers, cities, and the ocean, creating a truly immersive way to discover Canada's breathtaking beauty.
The ride begins with a pre-show presentation that sets the stage for the main event. Next, guests are securely strapped into their seats and lifted into the air before a 20-meter spherical screen. Enhanced by wind, mist, and scent effects, the 8-minute flight simulation gives the sensation of flight as you watch a continuous film shot from a helicopter. Feel the rush of wind as you dip into deep valleys, the cool mist from towering waterfalls, and the fragrant scent of forests. The FlyOver Canada experience is more than just a ride, it's a thrilling sensory journey across Canada's vast and varied landscapes, all from the heart of Vancouver.
10. Vancouver Downtown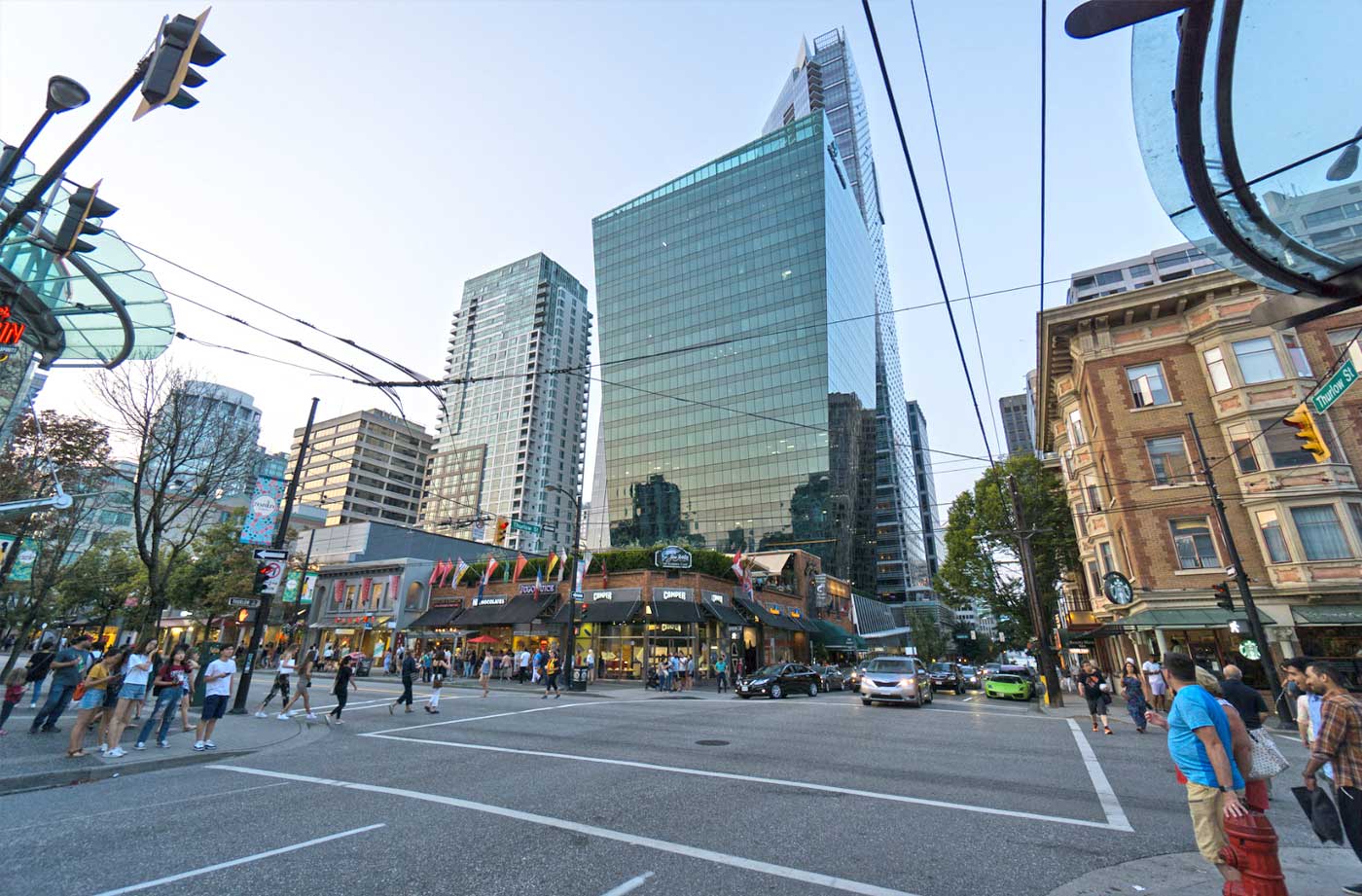 Downtown Vancouver, the city's business, cultural, and entertainment epicenter, is a vibrant mix of gleaming skyscrapers, picturesque streets, and waterfront paths. Its unique setting, sandwiched between the sparkling Pacific Ocean and the dramatic North Shore mountains, offers stunning views and a myriad of experiences.
Stroll along the trendy streets of Gastown, where the city began, to admire its Victorian architecture, explore unique boutiques, and grab a bite in one of the hip eateries. Not far away, Yaletown is a stylish haven of fashionable shops, patio-dining restaurants, and cocktail bars. Robson Street, the city's premier shopping boulevard, beckons with international brands and independent stores. Downtown also houses many of Vancouver's top cultural attractions, including the Vancouver Art Gallery, the Orpheum Theatre, and the contemporary Bill Reid Gallery of Northwest Coast Art. And when you need to rest your feet, the lush Stanley Park and Vancouver's famous Seawall are just a stone's throw away. With its dynamic blend of natural beauty, historic charm, and urban sophistication, Downtown Vancouver is a microcosm of the city itself.
Feel free to explore these pages as well:
Montreal's Top 10 Best Can't-Miss Experiences for Tourists ↗️
As our journey through Vancouver's top 10 must-visit places comes to an end, it's clear that this city offers more than just scenic beauty. It's a city of diverse cultures, rich history, vibrant markets, artistic enclaves, and culinary delights, all set against a backdrop of stunning natural landscapes.
Whether you've been mesmerized by the sprawling city views from Queen Elizabeth Park, enthralled by the enchanting aquatic life at the Vancouver Aquarium, or captivated by the multicultural tapestry at the Museum of Anthropology, you've only just begun to scratch the surface of what Vancouver has to offer.
The magic of Vancouver lies in its ability to offer something for everyone, whether you're an outdoor enthusiast, an art lover, a foodie, or a history buff. It's a city that invites you to explore, to discover, and to come back for more. So until next time, keep the spirit of exploration alive and cherish the memories of Vancouver. Here's to the next adventure!