Unforgettable Tokyo Adventures Every Tourist Should Embark On
Tokyo, a city that seamlessly entwines centuries-old traditions with cutting-edge modernity, is a dream destination teeming with unforgettable experiences. Its streets pulse with an energy unlike any other city, offering an exquisite cocktail of the historic and the futuristic, the tranquil and the electric. Whether it's your first visit or you're a seasoned traveler returning for another dose of its magic, Tokyo's myriad attractions never cease to inspire awe. Here, we embark on a journey through the top 10 must-visit spots in this dynamic metropolis, guiding you through the quintessential experiences that encapsulate the soul of Tokyo. Buckle up, fellow wanderers, for an adventure through the heartbeats of Japan's dazzling capital!
Here are the 10 best places to visit in Tokyo:
1. Tsukiji Outer Market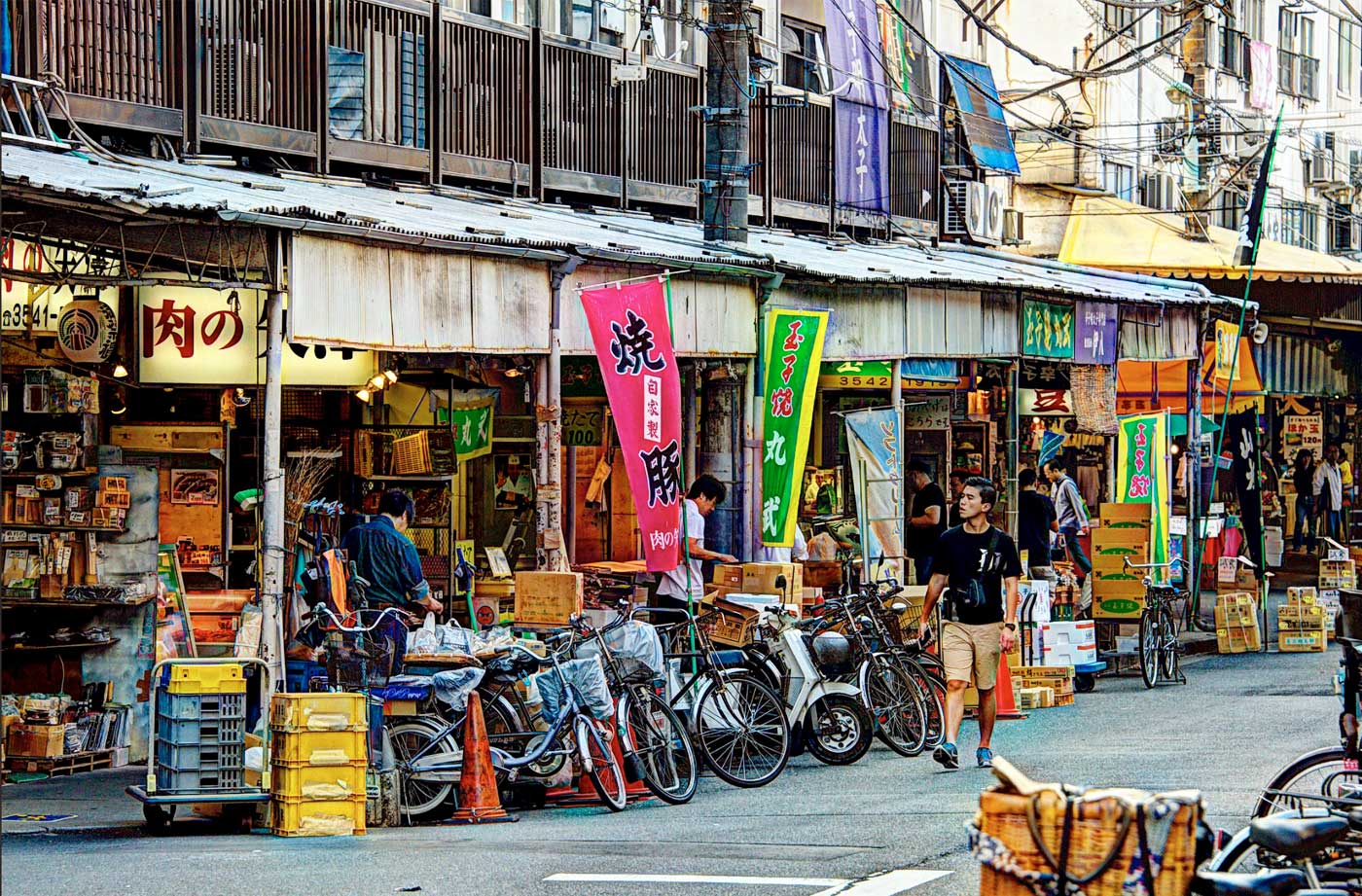 In the vibrant heart of Tokyo lies a gem that resonates with both history and gastronomy: the Tsukiji Outer Market. While the renowned Tsukiji Inner Market, once famed for its bustling tuna auctions, has relocated to Toyosu, the Outer Market remains in its original locale, bustling with life and flavors.
The Tsukiji Outer Market is a paradise for food enthusiasts. Narrow lanes are lined with stalls offering an array of fresh seafood, from glistening sashimi to grilled seafood skewers. Alongside seafood, visitors can also discover traditional Japanese sweets, pickled vegetables, and other gourmet finds. But it's not just about buying – the market is also a haven for tasting. Numerous small restaurants and sushi bars provide the perfect spot to savor fresh catches of the day.
Venturing into this market is like diving deep into Tokyo's culinary soul. Each stall tells a story, every aroma invites curiosity, and every bite is a taste of Tokyo's rich culinary heritage. Whether you're a seasoned foodie or a curious traveler, the Tsukiji Outer Market offers a feast for the senses.
2. Senso-ji Temple (Asakusa)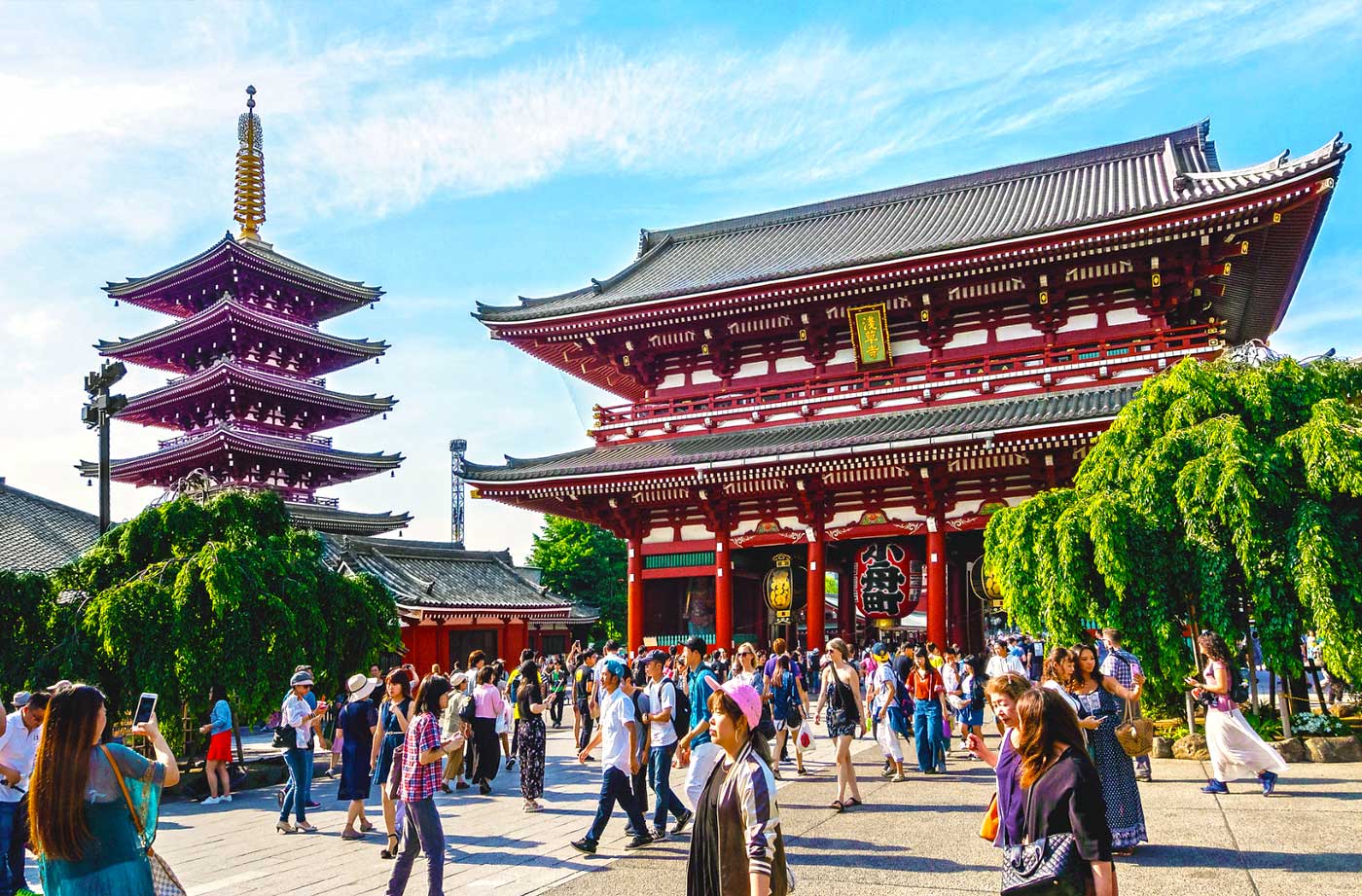 Nestled within the bustling district of Asakusa, the Senso-ji Temple stands as a testament to Tokyo's rich tapestry of history and spirituality. Established in the 7th century, it's not only Tokyo's oldest temple but also one of its most significant, drawing millions of pilgrims and tourists each year.
As you approach the temple, the iconic Thunder Gate (Kaminarimon) greets you with its massive red lantern, setting the stage for the historical journey ahead. Walking along Nakamise-dori, a shopping street leading to the temple's main hall, visitors are enveloped in an atmosphere that marries the ancient and the contemporary. From traditional crafts and souvenirs to delightful snacks, it's an immersive experience that transports you back in time.
Beyond its grandeur and beauty, Senso-ji offers a tranquil escape from the city's frenzy. The wafting incense, intricate carvings, and serene ambiance invite reflection and connection. As you wander its grounds, you're not just exploring a place, but also tapping into the timeless spirit of Tokyo.
3. Meiji Shrine (Meiji Jingu)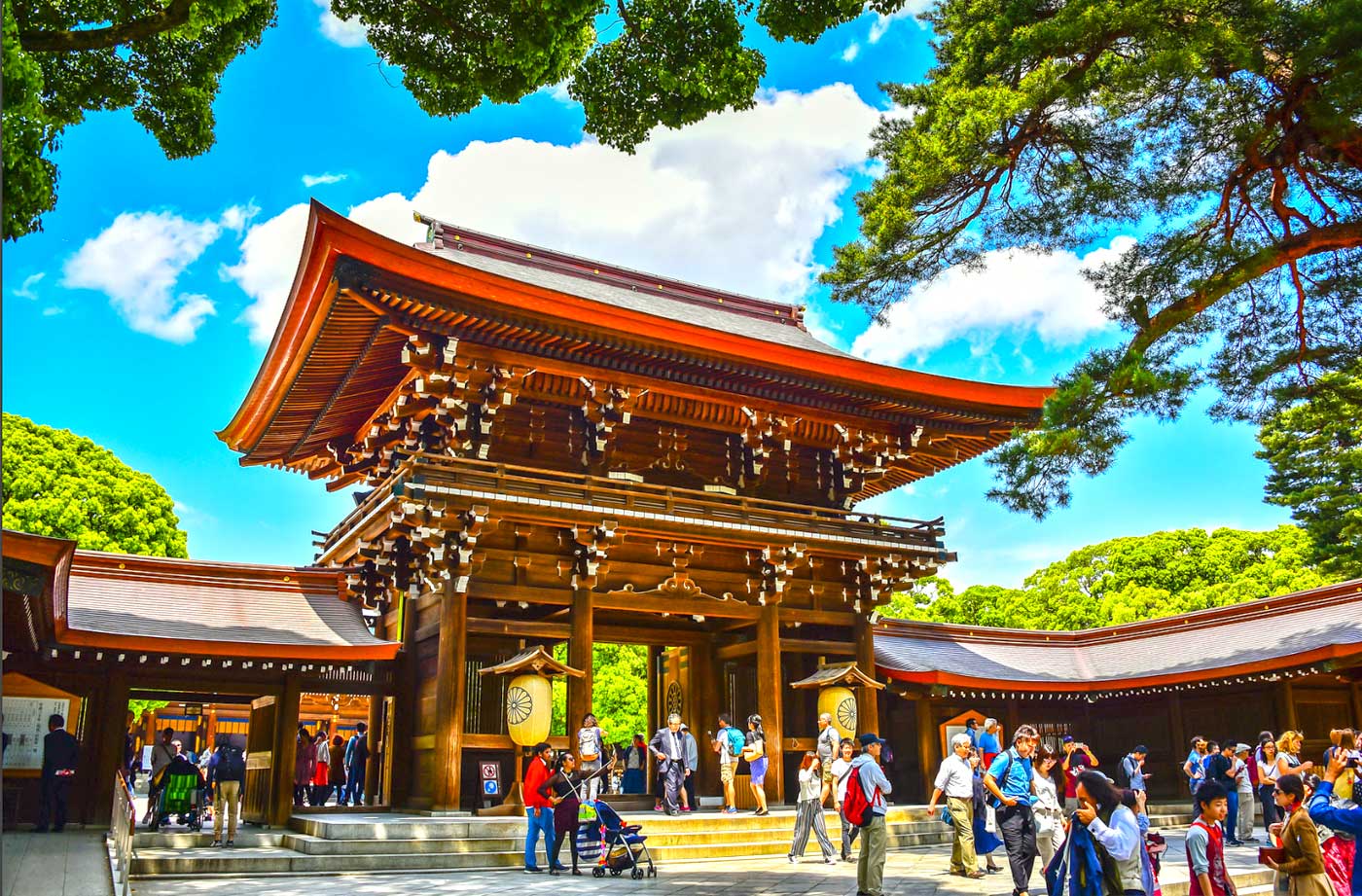 Tucked away amidst the bustling streets of Shibuya and Harajuku, the Meiji Shrine offers a stark contrast to Tokyo's urban landscape. Dedicated to Emperor Meiji and Empress Shoken, this Shinto shrine serves as a serene reminder of Japan's rich imperial history and deep spiritual roots. Enclosed by a lush, 170-acre forest, Meiji Jingu stands as a verdant oasis in the heart of one of the world's most dynamic cities.
The journey to the shrine begins at its massive torii gates, which majestically mark the transition from the city's hustle and bustle to a realm of tranquility. As visitors walk along the gravel paths, flanked by towering trees and traditional lanterns, the ambiance becomes one of reflection and reverence. The central shrine buildings, crafted using traditional Japanese techniques, further evoke a sense of timelessness, transporting visitors to an era far removed from contemporary Tokyo.
For those looking to truly grasp the essence of Tokyo, a visit to Meiji Shrine is indispensable. It's a place where the past and present intertwine, revealing a side of Tokyo that is as profound as it is enchanting. Whether you partake in traditional Shinto blessings, observe age-old rituals, or simply soak in the serene surroundings, Meiji Jingu offers a deeply grounding experience in a city that never seems to stop.
4. Tokyo Skytree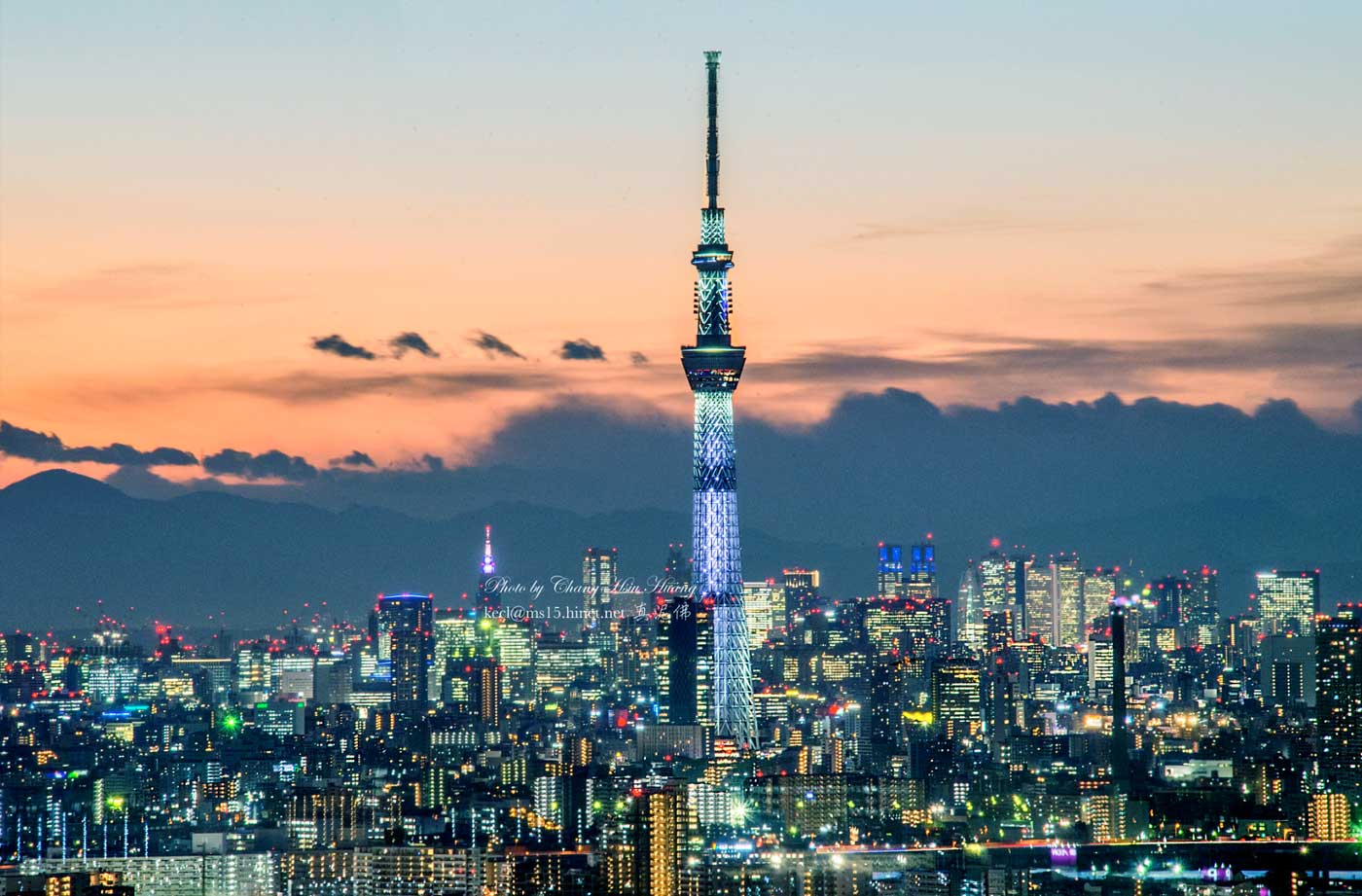 Rising confidently above Tokyo's skyline, the Tokyo Skytree isn't just a broadcasting tower—it's a symbol of the city's blend of innovation and tradition. Standing at a staggering 634 meters, it's recognized as the world's tallest freestanding broadcasting tower, offering breathtaking views that stretch out to the horizon and, on clear days, even reveal the majestic Mount Fuji in the distance.
The journey up the tower is an experience in itself. As visitors ascend in high-speed elevators, the vast expanse of Tokyo gradually unveils beneath them. At the observation decks, one can truly appreciate the sheer scale and beauty of this sprawling metropolis. The panorama is especially enchanting during the evening when the city transforms into a dazzling sea of lights.
Beyond the views, Tokyo Skytree offers a plethora of experiences, from shopping at Tokyo Solamachi—an adjacent mall with over 300 stores—to dining in sky-high restaurants. Its design, inspired by traditional Japanese pagoda architecture, is a testament to Tokyo's ethos: ever-evolving, yet deeply rooted in its heritage. In the heart of a city that seamlessly weaves the old with the new, the Tokyo Skytree stands as a beacon, inviting all to see Tokyo from a perspective like no other.
5. Shibuya Crossing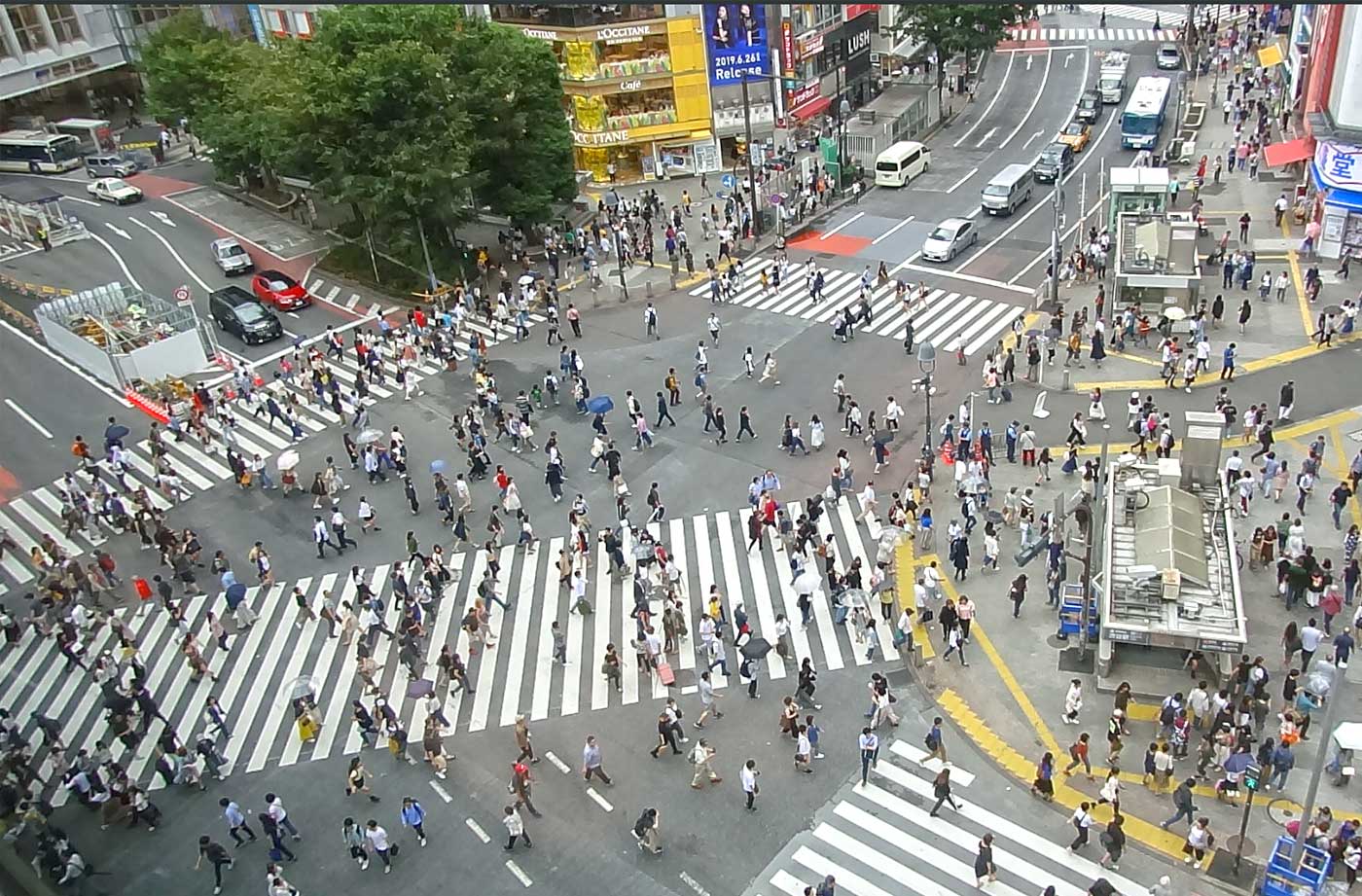 At first glance, Shibuya Crossing might seem like any other city intersection. But as the traffic lights change, a mesmerizing dance begins. Thousands of pedestrians from all directions converge in a choreographed movement that, for many, encapsulates the essence of Tokyo's vibrant urban life. Dubbed "The Scramble", this iconic crossing in Shibuya is not just a testament to the city's dense population, but also its remarkable sense of order amidst apparent chaos.
From the vantage point of the nearby Starbucks or one of the surrounding buildings, one can truly grasp the spectacle's allure. As day turns to night, the crossing transforms, bathed in the neon glow of surrounding advertisements and screens—a scene reminiscent of many a movie set. It's a pulsating, living entity, reflecting the heartbeat of a city that never truly sleeps.
For travelers, Shibuya Crossing is more than just a must-see landmark. It's an immersion, a chance to join the rhythmic flow of Tokyoites in their daily life. Each crossing becomes a transient moment of connection with the city, a brief yet profound brush with the heart of Tokyo's ceaseless energy.
6. Shinjuku Gyoen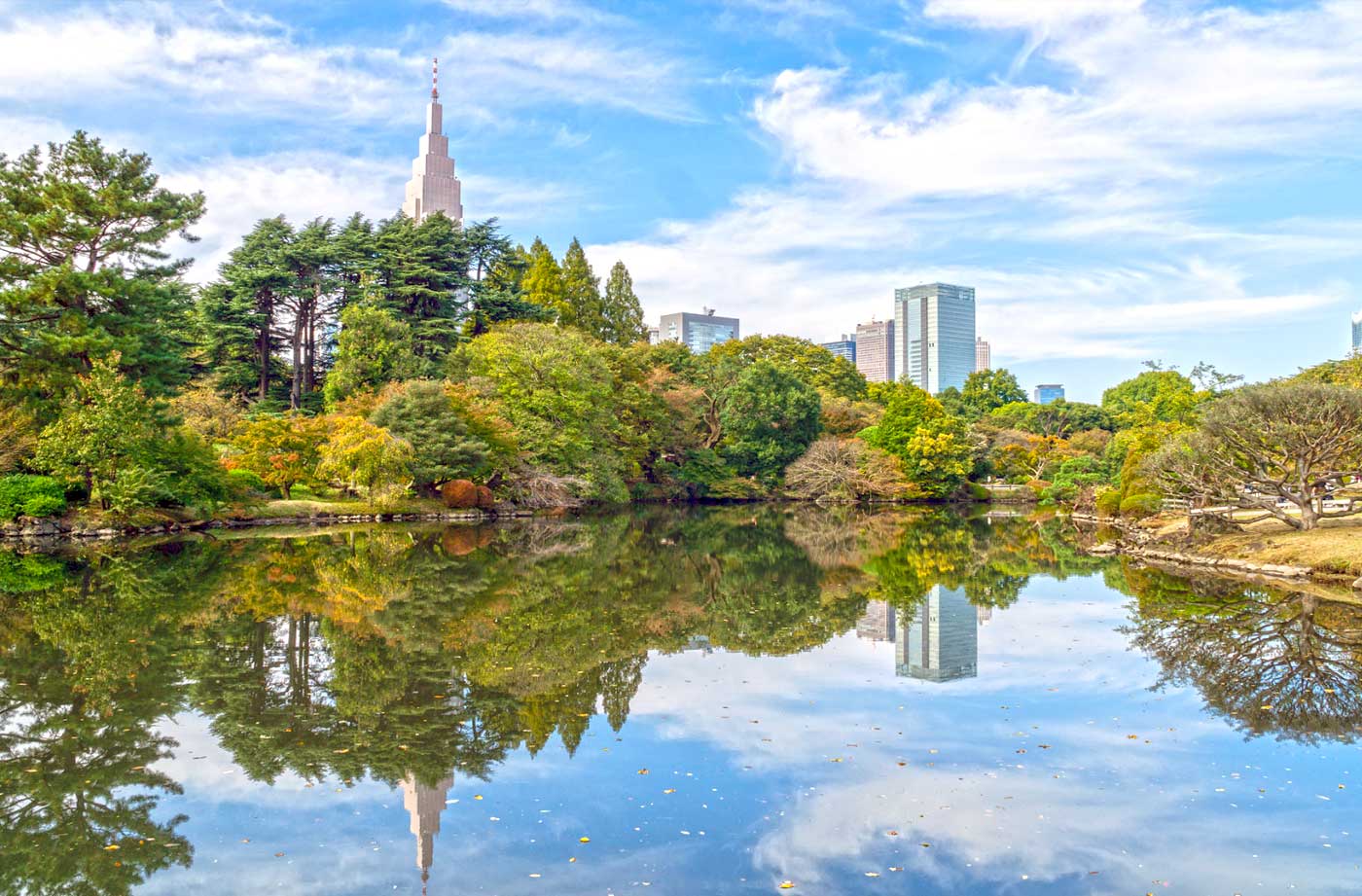 In the midst of Tokyo's urban dynamism, Shinjuku Gyoen emerges as a verdant haven, offering respite to both locals and travelers alike. Spanning over 58 hectares, this expansive park seamlessly blends three distinct garden styles: a traditional Japanese landscape garden with tranquil ponds and tea houses, a formal French garden, and an English landscape garden with vast lawns and meandering pathways.
The allure of Shinjuku Gyoen is magnified during the cherry blossom season, when the park is adorned with a delicate pink canopy, drawing crowds for the age-old tradition of "hanami" or cherry blossom viewing. But beyond this famed season, the park offers year-round beauty—from the chrysanthemums in autumn to the snow-draped trees in winter.
Stepping into Shinjuku Gyoen is like pressing the pause button on Tokyo's bustling life. Whether you're sketching the picturesque vistas, picnicking under the shade of cherry trees, or simply meandering through its diverse landscapes, the park invites a moment of reflection and rejuvenation. It's a reminder that even in the heart of one of the world's most frenetic cities, nature's serenity is never far away.
7. Akihabara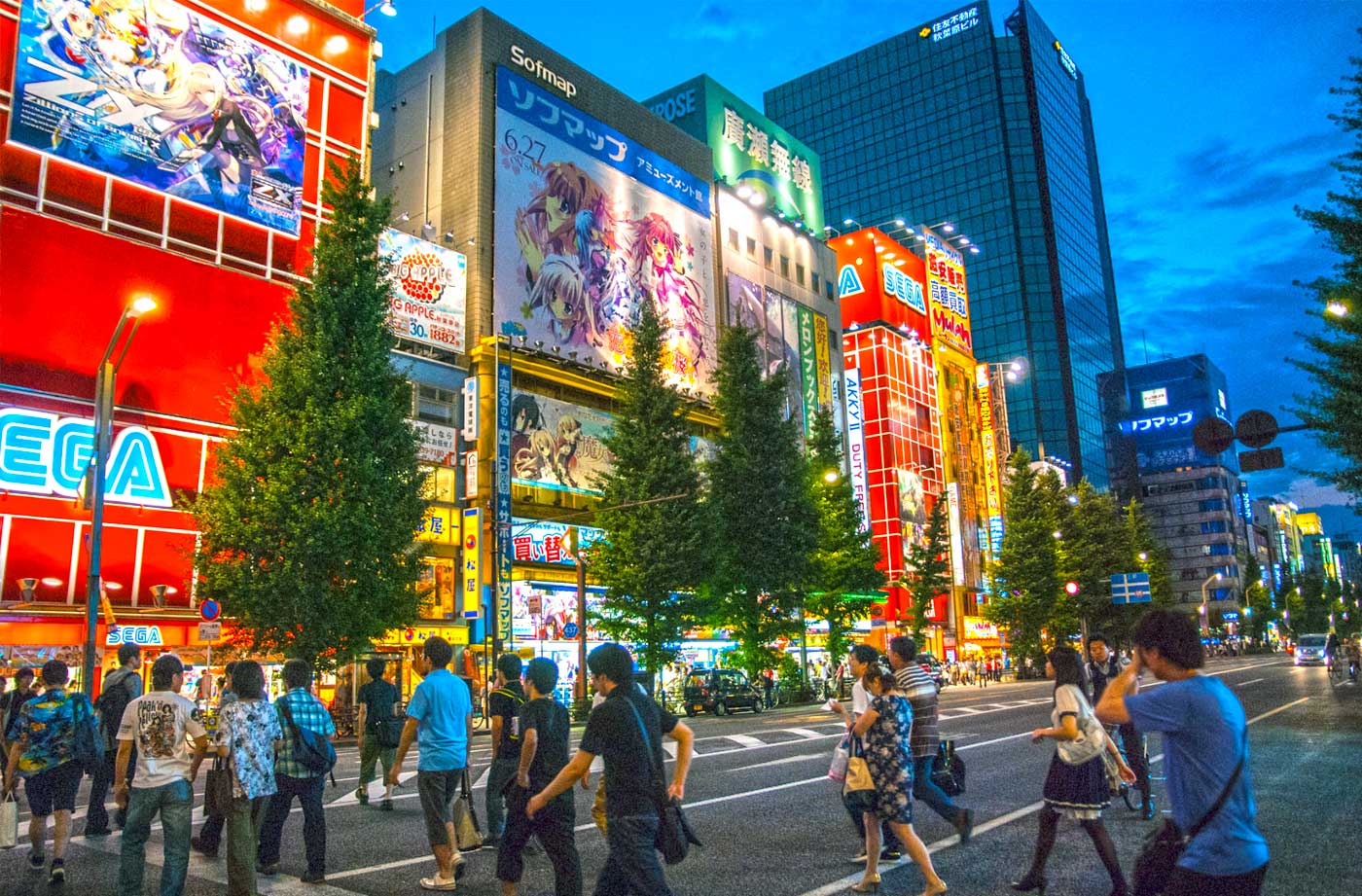 In the vast metropolis of Tokyo, Akihabara stands out as the neon-drenched epicenter of Japan's vibrant otaku (geek) culture. Often referred to as "Electric Town", Akihabara was historically the go-to district for electronics and gadgets. Today, while it still buzzes with tech stores, its essence has evolved to represent a unique blend of technology, anime, manga, and video gaming.
Wandering through Akihabara's bustling streets, visitors are greeted with towering buildings plastered in colorful anime billboards, shops overflowing with the latest gadgets, and countless stores dedicated to manga and action figures. The energy is palpable, with themed cafes, like the renowned maid cafes, offering a quirky and memorable experience. Here, waitresses dressed as maids or anime characters serve patrons, adding a theatrical flair to the dining experience.
For anyone looking to dive deep into the heart of modern Japanese pop culture, Akihabara is a sensory overload of sights and sounds, a testament to Tokyo's ever-evolving identity. Whether you're a seasoned otaku hunting for a rare collectible or a curious traveler looking for a unique cultural experience, Akihabara offers a vivid slice of Tokyo's eclectic spirit.
8. Odaiba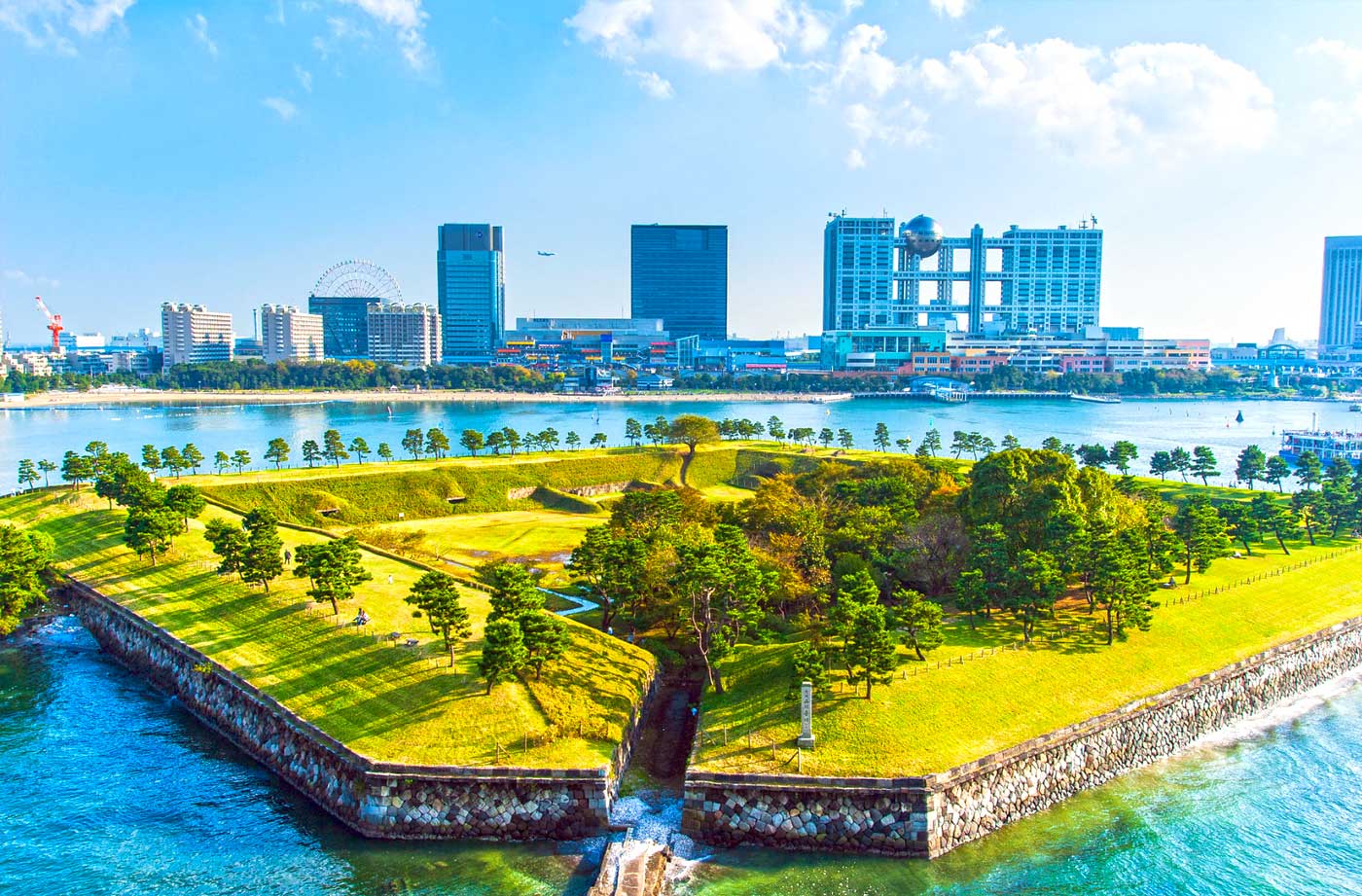 Anchored in Tokyo Bay, Odaiba is a man-made island that feels like a seamless blend of the future and the present. Originally constructed for defensive purposes in the 1850s, today's Odaiba is a hub of entertainment, shopping, and relaxation, renowned for its futuristic architecture and panoramic views of Tokyo's skyline, especially the iconic Rainbow Bridge.
The island is brimming with attractions for every kind of traveler. Tech enthusiasts flock to the high-tech exhibition halls of Miraikan, Japan's National Museum of Emerging Science and Innovation, while shopaholics revel in the expansive malls like DiverCity Tokyo Plaza, which also houses the life-sized Gundam statue—a towering testament to Japan's influence in global pop culture. For those seeking leisure, Odaiba offers sandy beaches, hot spring theme parks, and serene spots to witness the sunset over Tokyo Bay.
Odaiba encapsulates Tokyo's spirit of innovation, yet it doesn't lose touch with nature and tranquility. Whether you're riding the automated Yurikamome train line that snakes through the island, exploring its plethora of attractions, or simply enjoying a seaside stroll, Odaiba is a refreshing, modern escape in the heart of Tokyo.
9. Ueno Park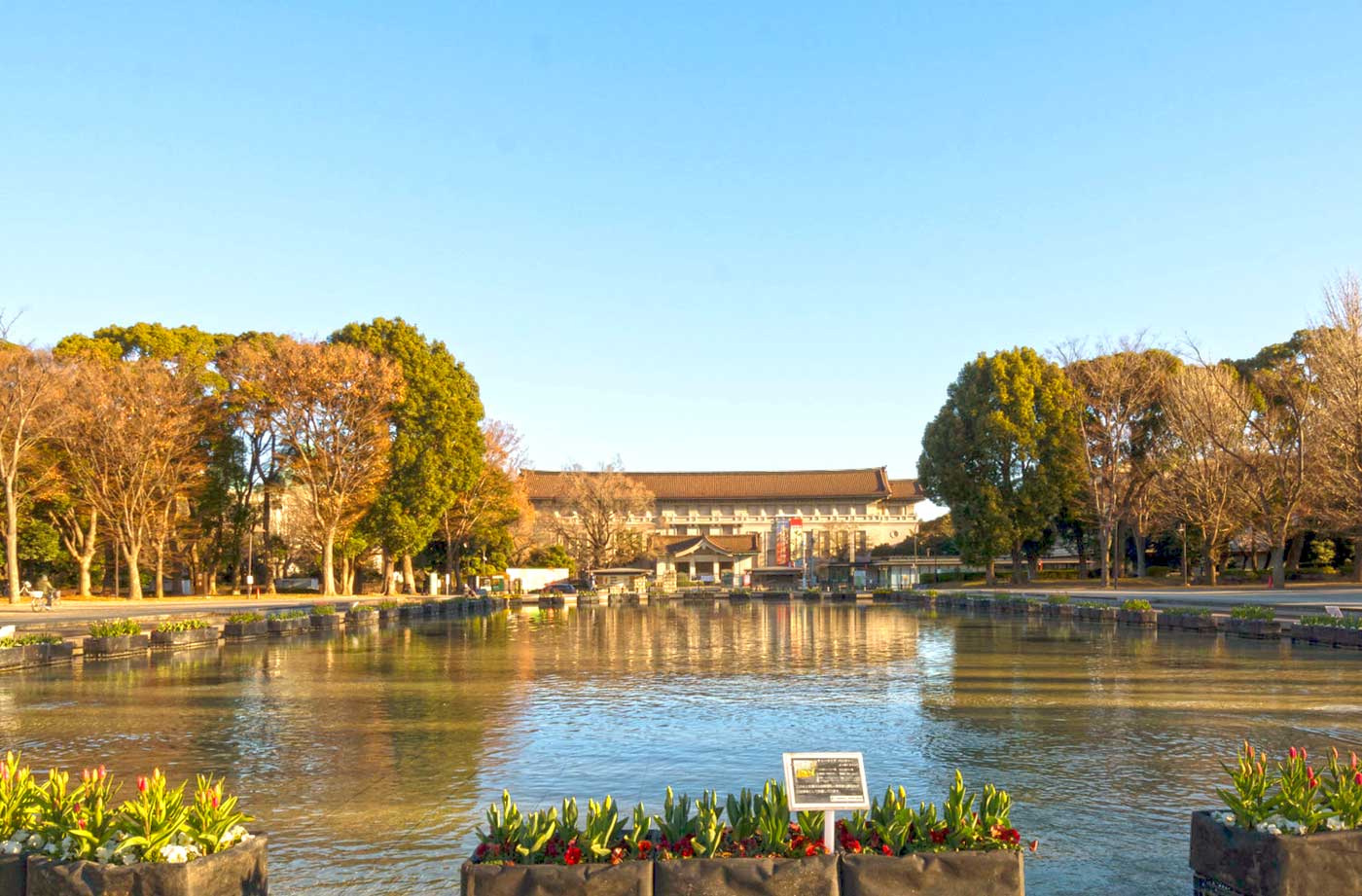 Nestled in Tokyo's Taito City, Ueno Park is a sprawling oasis that offers far more than just greenery. As one of Japan's first public parks, Ueno has blossomed into a hub of culture, art, and history, hosting a myriad of world-class museums, galleries, and even a zoo. But the beauty of Ueno doesn't rest solely in its establishments; the park itself is a canvas of nature, adorned with numerous statues, monuments, and, in spring, the quintessential cherry blossoms that Tokyo is so famed for.
Visitors can effortlessly float between eras and worlds within the park's boundaries. The Tokyo National Museum beckons with its vast collection of traditional Japanese artifacts, while the Ueno Toshogu Shrine, with its golden details, offers a serene spiritual retreat. Meanwhile, leisure seekers can paddle boats in Shinobazu Pond or stroll beneath cherry trees that explode in a riot of pink during hanami season.
Ueno Park, with its rich tapestry of offerings, embodies the diversity and depth of Tokyo's culture. Whether you're an art aficionado, a history buff, or simply a nature lover, Ueno is a microcosm of Tokyo's vast treasures, waiting to be explored.
10. Roppongi Hills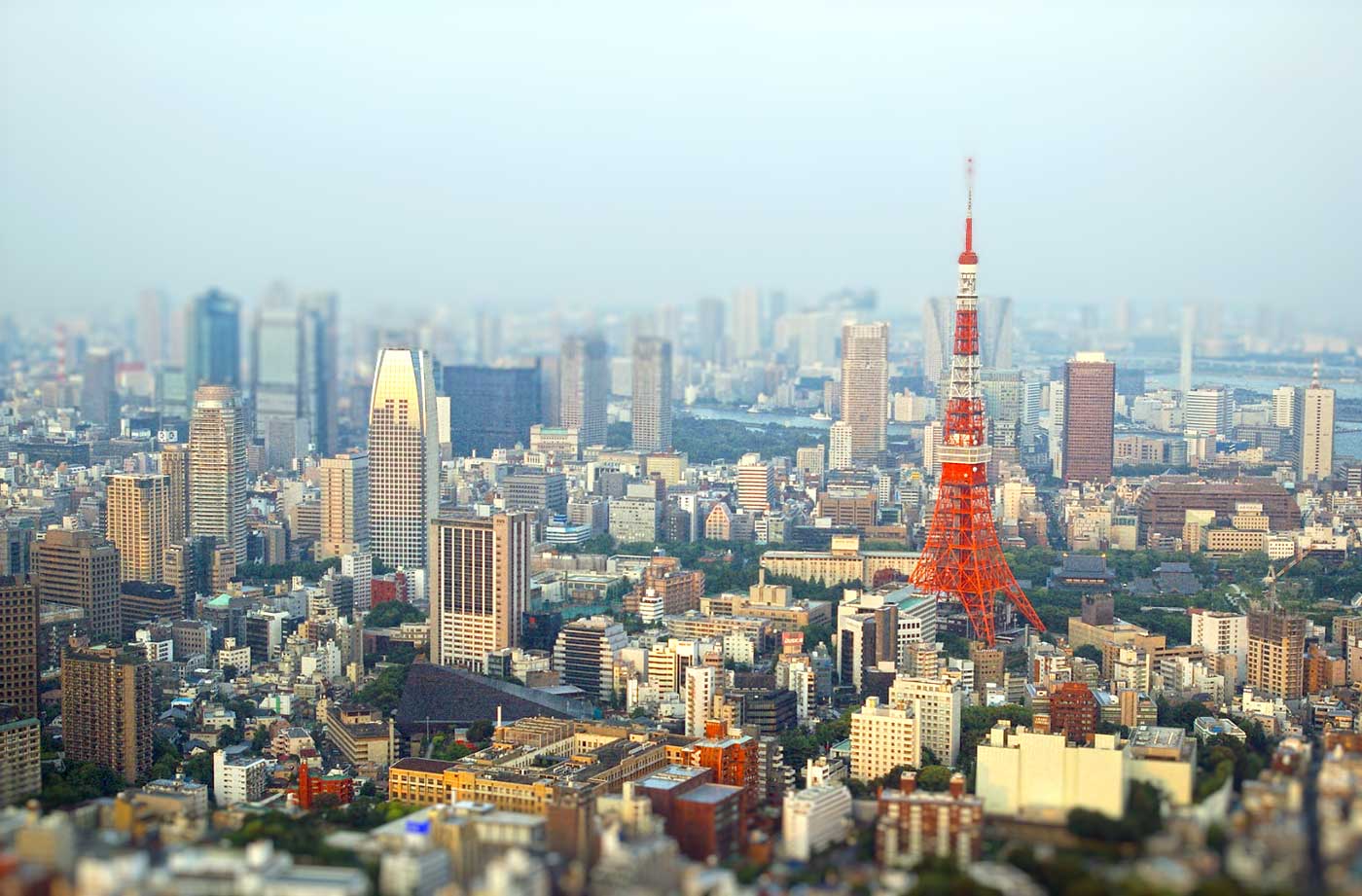 In the heart of Tokyo's metropolitan expanse, Roppongi Hills rises not just as a physical entity but as an emblem of the city's cosmopolitan flair and contemporary luxury. This multifaceted urban complex effortlessly marries art, culture, business, and leisure, creating a microcosm that mirrors Tokyo's progressive spirit.
At its core stands the Mori Tower, a skyscraper that not only houses corporate offices but also the Mori Art Museum—a sanctuary for contemporary art enthusiasts. The tower's observation deck, Tokyo City View, offers a mesmerizing panorama of Tokyo, from the sprawling urban landscape below to the distant silhouette of Mount Fuji. The complex also boasts a rich selection of gourmet dining spots, upscale boutiques, and the verdant Mohri Garden—a tranquil escape amid the urban buzz.
For those eager to experience Tokyo's modern pulse, Roppongi Hills encapsulates it all. It's a nexus where tradition meets innovation, and where one can immerse in Tokyo's vibrant arts scene, indulge in retail therapy, or simply enjoy the city's stunning vistas from high above.
Feel free to explore these pages as well:
Top 10 Must-See Sights in Osaka for First-Time Visitors ↗️
And so, our whirlwind journey through Tokyo's most iconic landmarks draws to a close. From its soaring skyscrapers to serene temples, Tokyo has unfolded its myriad layers, each offering a unique narrative of its rich history and forward-thinking vision. But remember, fellow explorers, this list merely scratches the surface. Tokyo is an ever-evolving tapestry of experiences, waiting for you to weave your own stories into its vast canvas. Until next time, keep those wanderlust flames alive and may your travels always lead you to new horizons and unforgettable moments. Sayonara and happy adventuring!