Copenhagen Uncovered: The Top 10 Experiences for Intrepid Travelers
With its cobblestone streets, picturesque canals, historic landmarks, and lively culture, Copenhagen has an endless array of attractions to delight the first-time visitor. The Danish capital, rich in history and brimming with innovative spirit, offers an irresistible blend of old-world charm and contemporary dynamism.
This guide unveils the top 10 unique attractions in Copenhagen, each offering a different lens to explore and experience the city. From towering castles whispering tales of royal grandeur to vibrant food markets bursting with Nordic delicacies, and from tranquil gardens providing a green escape in the city to cutting-edge museums and galleries leading the charge in art and design, Copenhagen truly has something for everyone.
So, let's embark on this journey of discovery, where every turn uncovers a piece of Copenhagen's soul and every moment deepens your connection with this enchanting Nordic city. Get ready to create memories that will last a lifetime and stories that you'll be eager to recount. Welcome to Copenhagen, a city where fairy tales blend seamlessly with sleek modernity, and where every visitor leaves with a piece of its magic in their heart.
Here are the 10 best places to visit in Copenhagen:
1. Nyhavn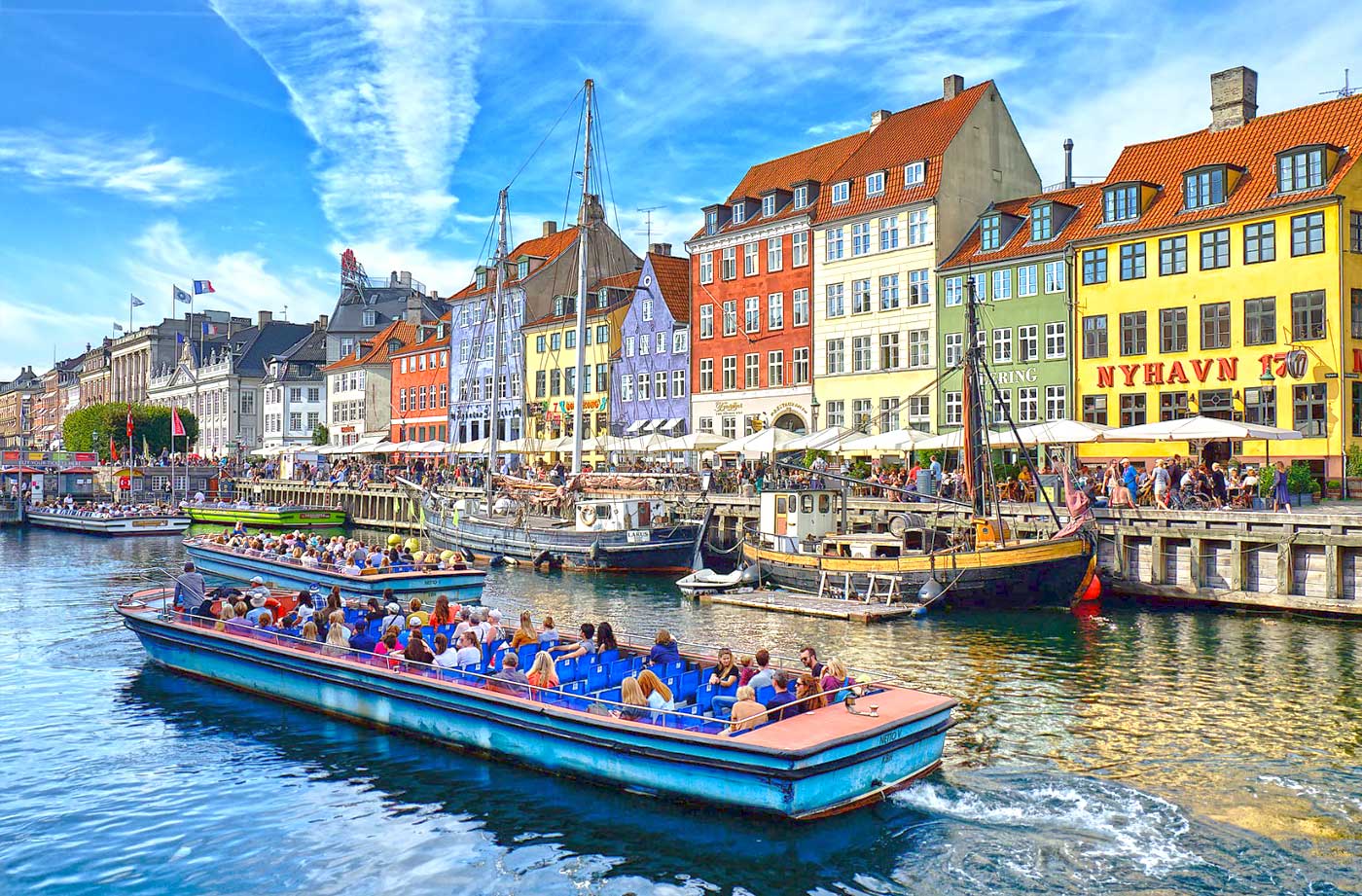 Nestled in the heart of Copenhagen, Nyhavn is an unforgettable sight. Once a bustling commercial port where ships from all over the world would dock, this vibrant 17th-century district is now the go-to spot for a perfect blend of old-world charm and lively entertainment. Its iconic brightly colored townhouses, classic sailboats, and canal-side cafes paint an enchanting picture that's quintessentially Copenhagen.
The heritage harbor area is an epitome of Danish coziness, or "hygge", a concept that embodies all things comforting and convivial. Stroll along the idyllic harbor, treat yourself to delectable Danish cuisines, or unwind at one of the historic pubs – every experience is a delight. While you're there, be sure to explore the house at Nyhavn 20 – once home to the world-renowned author Hans Christian Andersen. Nyhavn is not just a sightseeing spot, but a heartwarming journey into Danish culture and history. Whether it's day or night, summer or winter, Nyhavn is a Copenhagen gem you simply can't miss.
2. Tivoli Gardens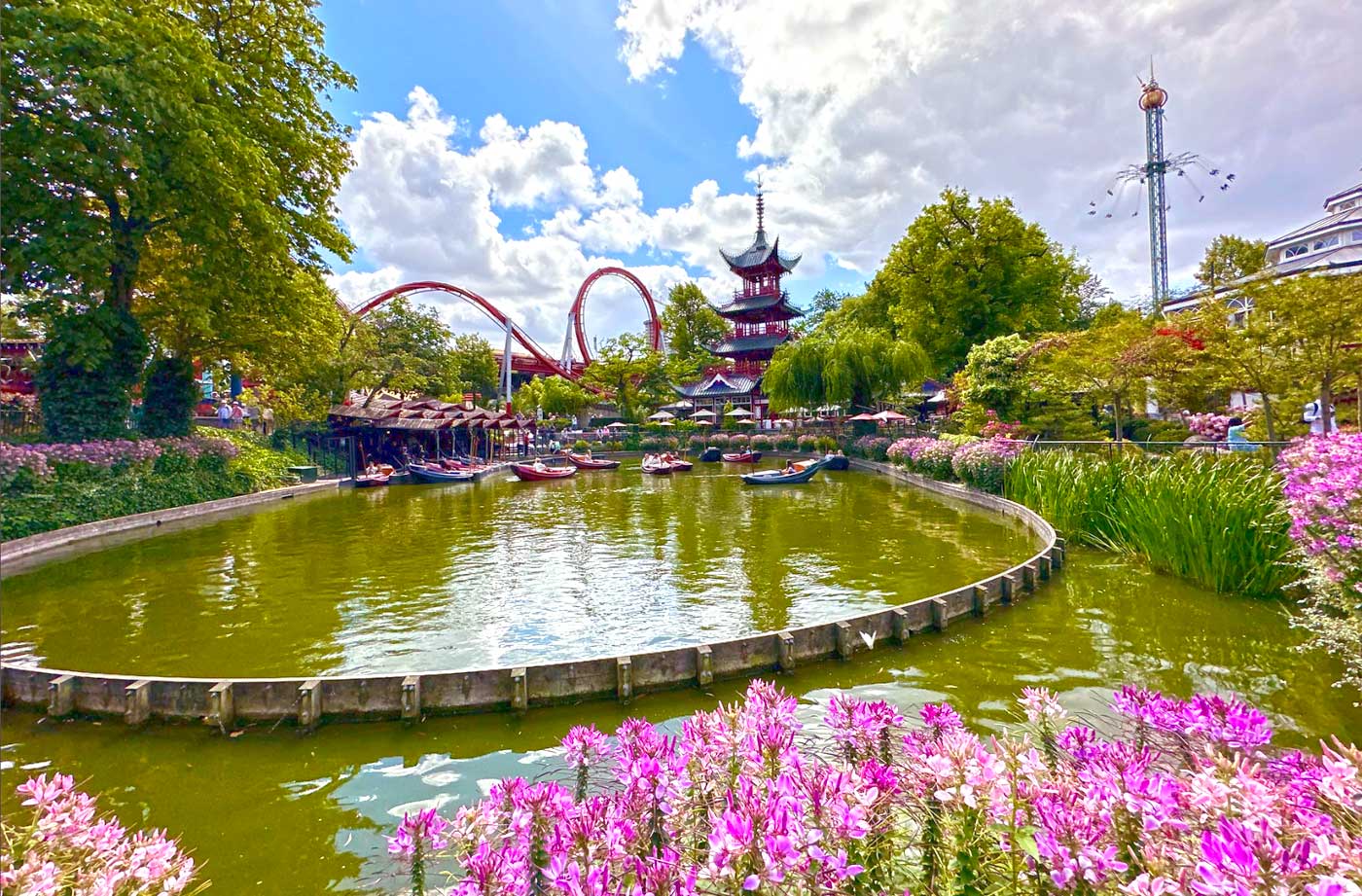 Copenhagen's Tivoli Gardens is more than just an amusement park; it's a timeless slice of history and a magical adventure rolled into one. First opened its doors in 1843, it's the second-oldest operating amusement park in the world. Set in the heart of the city, this legendary attraction charms visitors with its eclectic mix of enchanting rides, beautiful gardens, and cultural offerings.
Visitors are instantly transported to a fairy-tale world with Tivoli's vintage roller coasters, the classic Ferris wheel, and the ever-so-popular pantomime theater. Add to this, the picturesque gardens dotted with vibrant flowers, charming pavilions, and tranquil lakes – a treat for nature enthusiasts. As night falls, thousands of colored lights create a dreamlike atmosphere that is simply mesmerizing. Numerous restaurants offer everything from Danish classics to gourmet international dishes, catering to every palate. Tivoli Gardens is more than a day's delight; it's an unforgettable experience that captures the spirit of Copenhagen in the most magical way.
3. Rosenborg Castle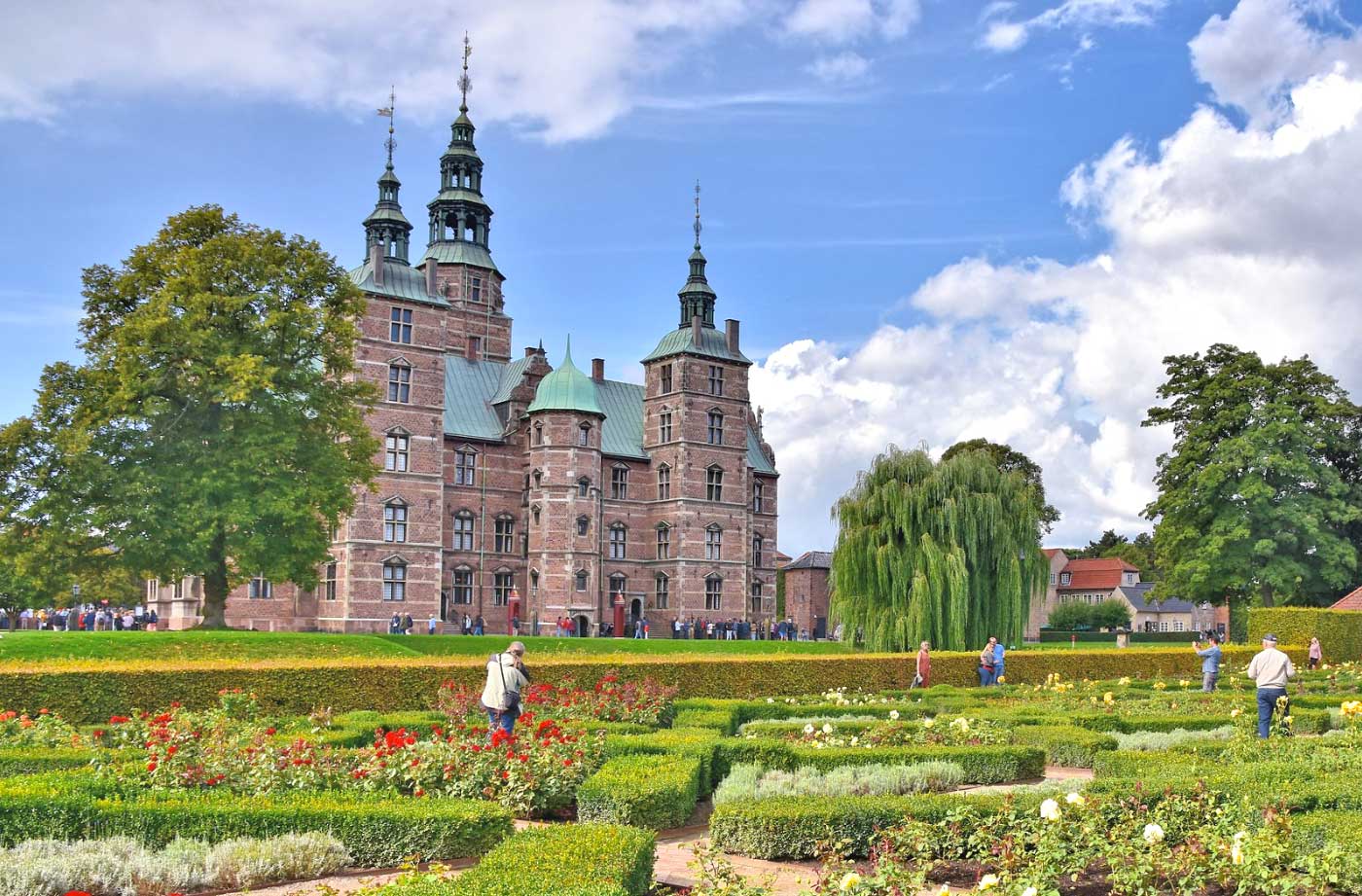 If you're yearning to experience the grandeur of Denmark's royal history, look no further than the majestic Rosenborg Castle. Situated in the heart of Copenhagen, this remarkable 17th-century edifice is steeped in history and regality. Designed as a country summerhouse in Dutch Renaissance style, the castle was built by one of the most famous Scandinavian kings, Christian IV, and today serves as a royal hermitage.
Venture inside and you'll be mesmerized by the castle's elaborate interiors, adorned with beautiful frescoes and furnished with period pieces. Not to miss is the castle's treasury which houses the Crown Jewels and the Danish Crown Regalia. Amidst all its grandeur, it's the awe-inspiring Knights' Hall with its coronation thrones guarded by three life-sized silver lions that stands as the highlight. Surrounding the castle are the vibrant King's Garden, Copenhagen's oldest royal garden, offering a tranquil retreat. Visiting Rosenborg Castle is like stepping into a time machine, a chance to walk through centuries of Danish royal history, right in the center of Copenhagen.
4. Frederiksberg Slot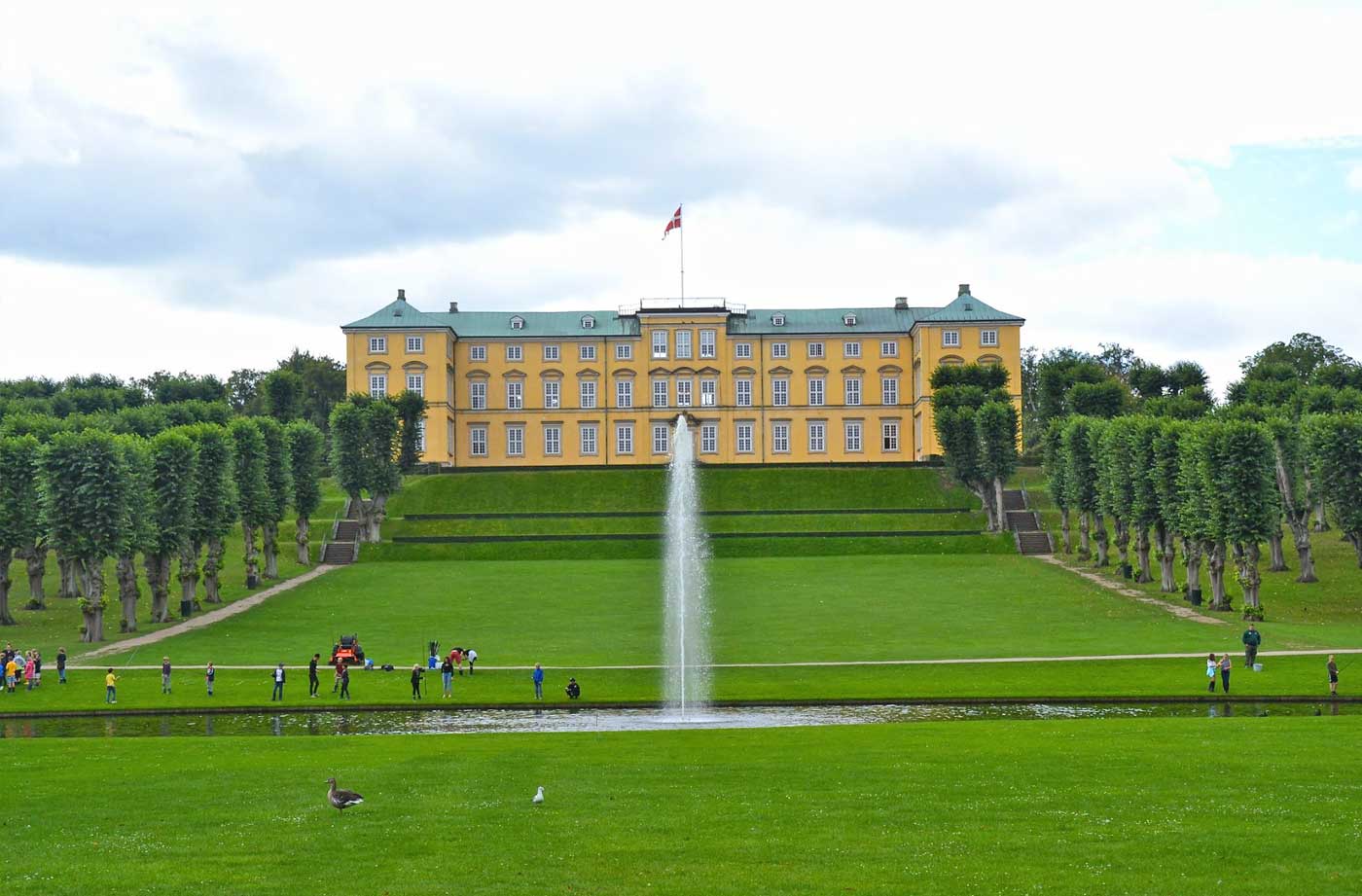 Situated atop a hill overlooking the lush expanse of Frederiksberg Gardens, Frederiksberg Palace (Frederiksberg Slot) stands as an epitome of the Danish Royal Family's historic opulence. Constructed in the early 18th century in the Italian Baroque style, this imposing structure was once a royal residence and today serves as the Danish Army's Officer School.
The Palace's regal façade beckons visitors into a world of royal grandeur. Although the interior is not open to the public due to its current function, the exterior and the surrounding areas offer plenty to explore. The impeccably maintained gardens that envelop the Palace are a sight to behold, adorned with manicured lawns, charming water features, and a variety of plants. The Palace grounds also boast a historic Chinese-style pavilion and the Swiss Cottage, which add to the estate's allure. From atop the hill, you can enjoy a stunning panorama of the gardens and Copenhagen's cityscape beyond. A visit to Frederiksberg Palace is not merely sightseeing; it's stepping into a royal landscape that merges history, architecture, and natural beauty.
5. Our Saviour's Church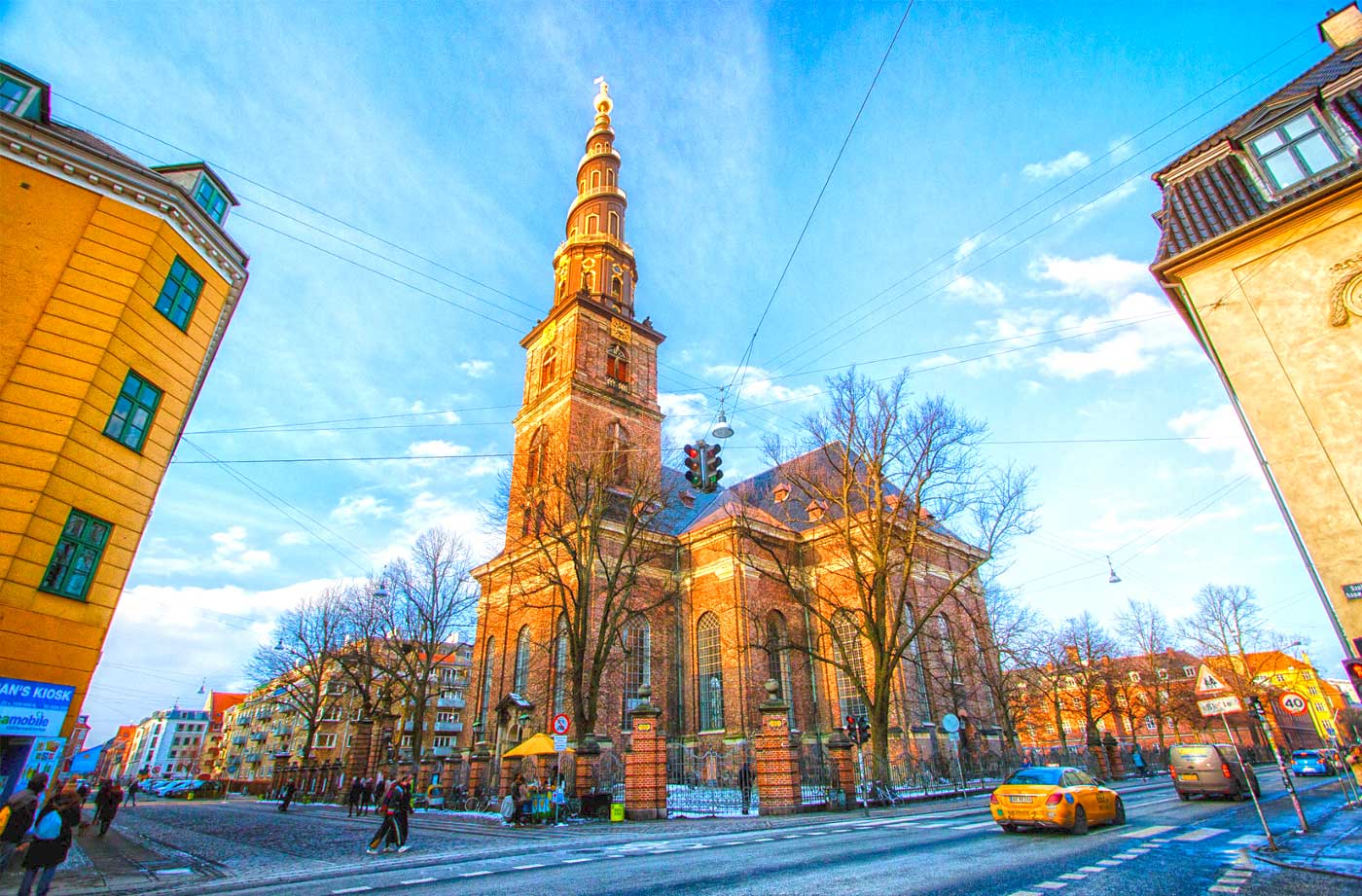 Copenhagen's skyline wouldn't be the same without the distinctive twisted spire of Our Saviour's Church (Vor Frelsers Kirke). This iconic Baroque church, built in the late 17th century, is located in the Christianshavn district and is renowned for its helix spire with an external winding staircase.
The church's interior is equally captivating, featuring a beautifully carved pulpit illustrating the life of Christ and an intricately designed organ from the 18th century. However, the main draw is undoubtedly the 400-step climb up the spiral steeple. As you ascend, take time to admire the church's remarkable architecture and enjoy the increasingly expansive views of Copenhagen's cityscape. Once at the top, you're rewarded with a breathtaking panorama of the Danish capital, a sight that's sure to remain etched in your memory. A visit to Our Saviour's Church offers not just a spiritual journey, but also an adventure and a visual feast. It's a must-visit for any explorer in Copenhagen.
6. Christiansborg Slot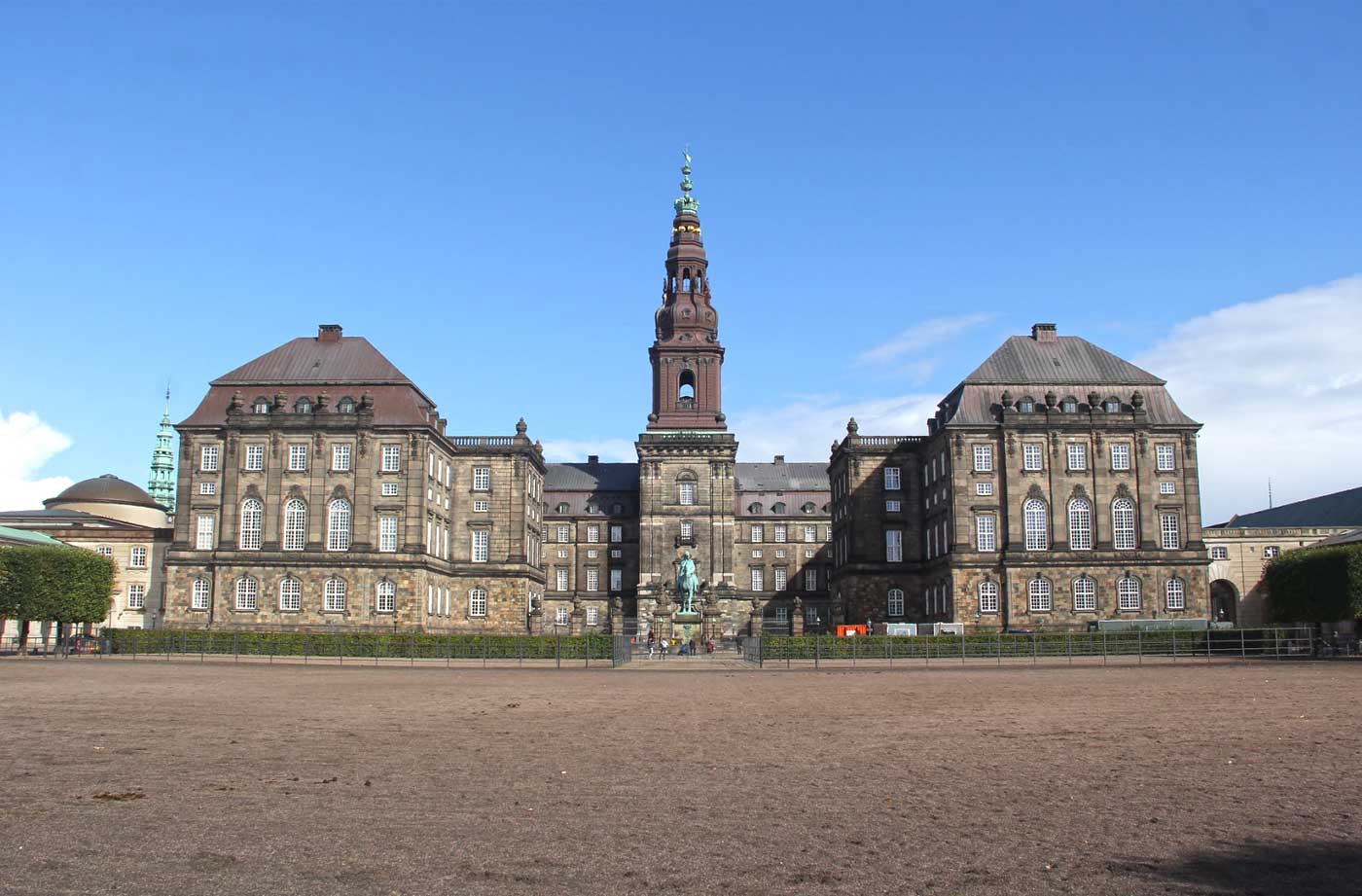 In the heart of Copenhagen on the tiny island of Slotsholmen, Christiansborg Palace (Christiansborg Slot) stands as a monument to Danish political and royal history. Home to the Danish Parliament, the Supreme Court, and the Ministry of State, it is the only building in the world to house all three of a country's branches of government. Yet, its historical significance does not end there. The palace is built upon the ruins of Bishop Absalon's Castle, the very birthplace of Copenhagen, and has seen three iterations, each destroyed by fire and rebuilt.
Today, Christiansborg is open to the public and offers an abundance of attractions. Visitors can marvel at the royal reception rooms, resplendent with opulent tapestries and the grandeur of the Throne Room. Down below, the palace's historical underbelly reveals the ancient ruins of Absalon's Castle and Copenhagen's medieval fortifications. On the other end of the spectrum, the palace's contemporary significance can be observed in the active parliamentary chambers. Lastly, a climb to the 106-meter high tower rewards you with a magnificent panoramic view of the city. Visiting Christiansborg Palace means traversing centuries of Danish history, all under one grand roof.
7. Torvehallerne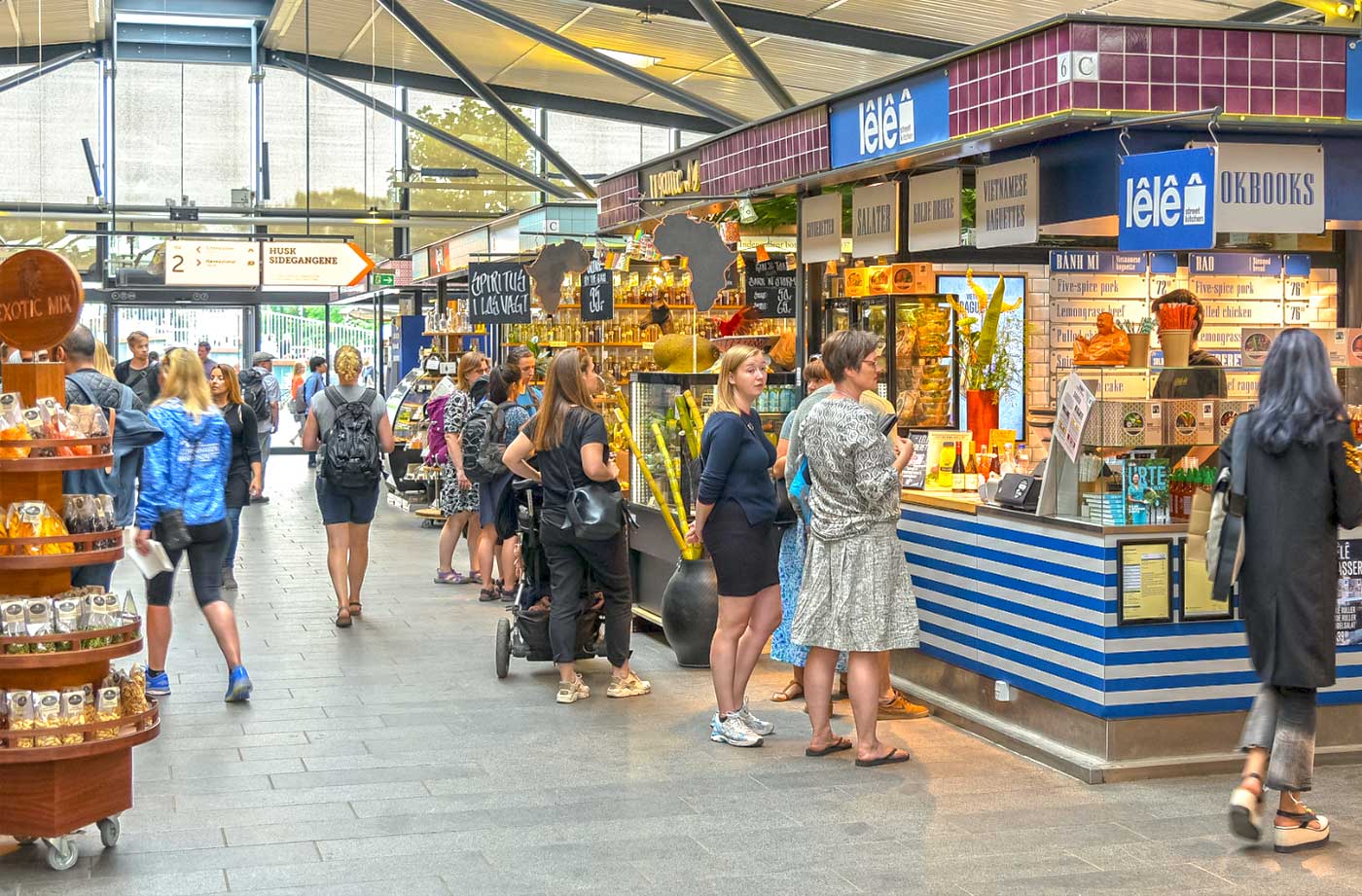 Welcome to Torvehallerne, Copenhagen's premier food market where the spirit of the city truly comes alive. Located in the heart of the city near Nørreport Station, this gourmet food hall brims with over 60 stands selling everything from fresh produce to artisanal cheese, coffee, wine, pastries, and a variety of international foods.
Whether you're a devoted foodie or just a curious traveler, the vibrant atmosphere and the array of mouthwatering tastes and aromas at Torvehallerne are bound to captivate your senses. Take a stroll through the market, sample the variety of culinary delights, or pick up some local Danish produce. The market is not just a place to shop; it's a venue to experience Copenhagen's thriving food culture. From gourmet chocolate shops to fresh seafood stalls, and from wine bars to organic bakeries, the gastronomic offerings reflect the city's diverse culinary landscape. A visit to Torvehallerne is more than a meal; it's an immersion into Copenhagen's lively and appetizing world.
8. Rundetårn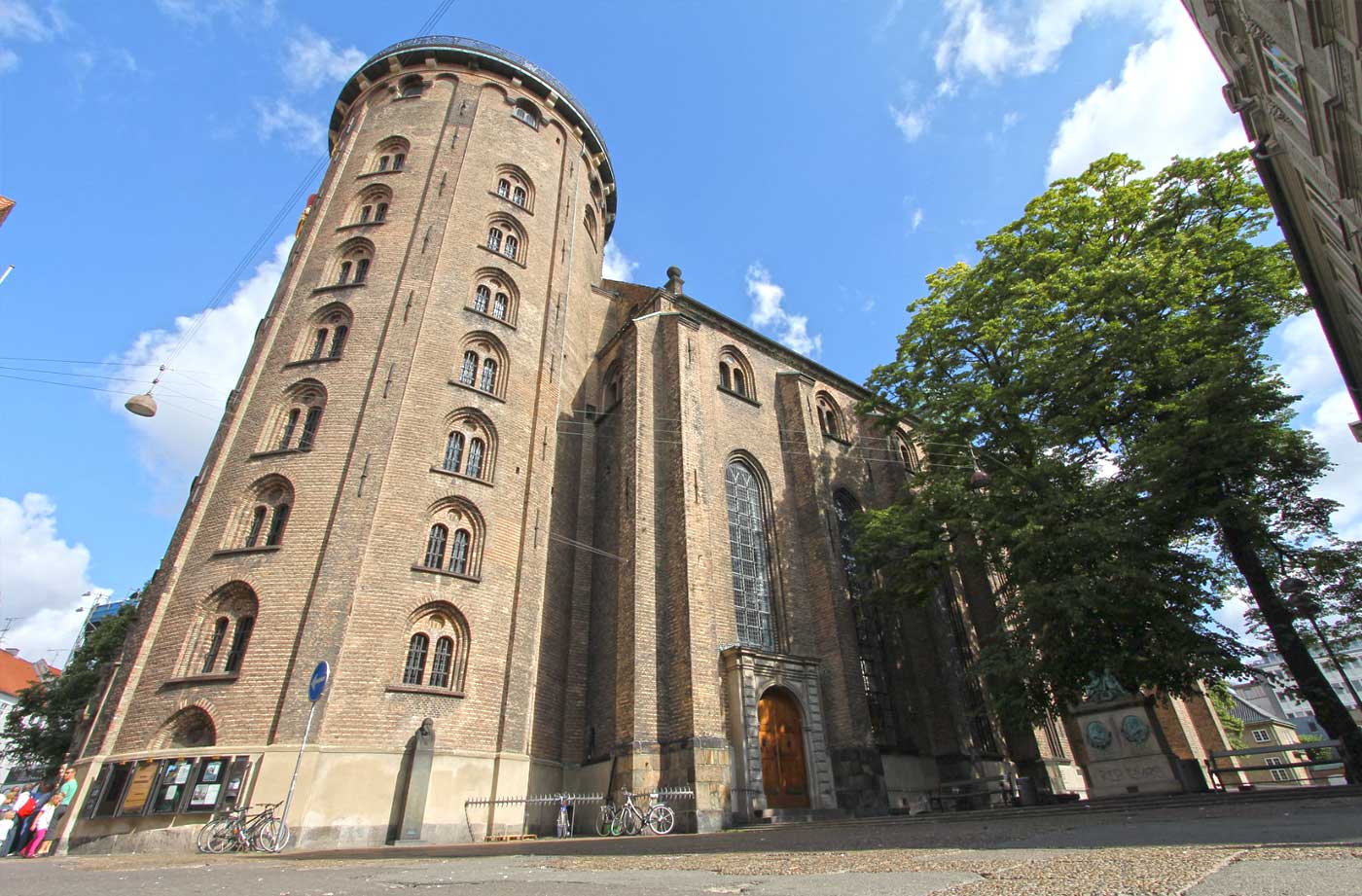 In the heart of Copenhagen stands the Rundetårn, or Round Tower, an iconic 17th-century structure that has been a beacon of knowledge and exploration for centuries. Commissioned by King Christian IV, this astronomical observatory is Europe's oldest functioning observatory and an epitome of architectural uniqueness, featuring a 7.5-turn helical corridor leading to the top instead of stairs.
As you ascend the winding white-washed spiral walk, take a moment to appreciate the simplicity and beauty of the design. At the top awaits an outdoor platform offering panoramic views of the old part of Copenhagen, a sight that's worth the climb. The tower also houses a library hall where, once, the University's books were kept, and which now serves as a venue for exhibitions and concerts. With its rich history and spectacular views, Rundetårn is a mesmerizing blend of science, history, and architecture, making it an essential Copenhagen experience.
9. Ny Carlsberg Glyptotek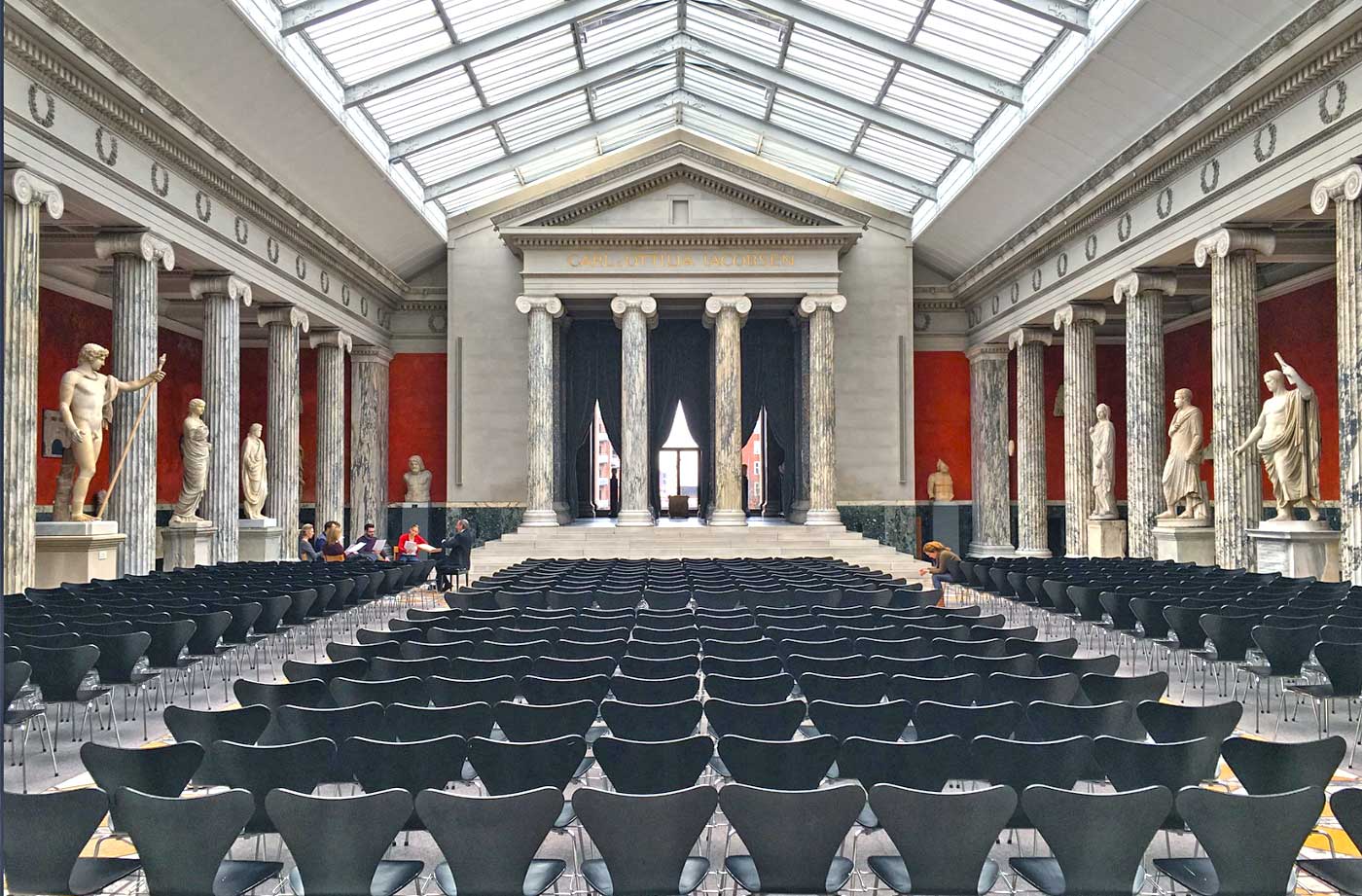 Art and history enthusiasts exploring Copenhagen must not miss the Ny Carlsberg Glyptotek, an art museum boasting an impressive collection that spans over 6,000 years. Founded by the son of the founder of the Carlsberg Breweries, Carl Jacobsen, this museum stands as a testament to his passion for art and culture.
The Glyptotek's collections are split into two primary departments. The Department of Antiquities houses a vast collection of Egyptian, Greek, Etruscan, and Roman art, providing fascinating insights into ancient civilizations. The Modern Department, on the other hand, contains a significant collection of 19th and 20th-century Danish and French art, with works by masters such as Rodin, Monet, Renoir, Degas, and Gauguin, among others. The museum isn't just about the art; it's a serene sanctuary in itself, complete with an idyllic winter garden with tall palm trees and a sparkling fountain. Visiting the Ny Carlsberg Glyptotek is more than an artistic pilgrimage; it's a journey through time and cultures, right in the heart of Copenhagen.
10. Copenhagen ZOO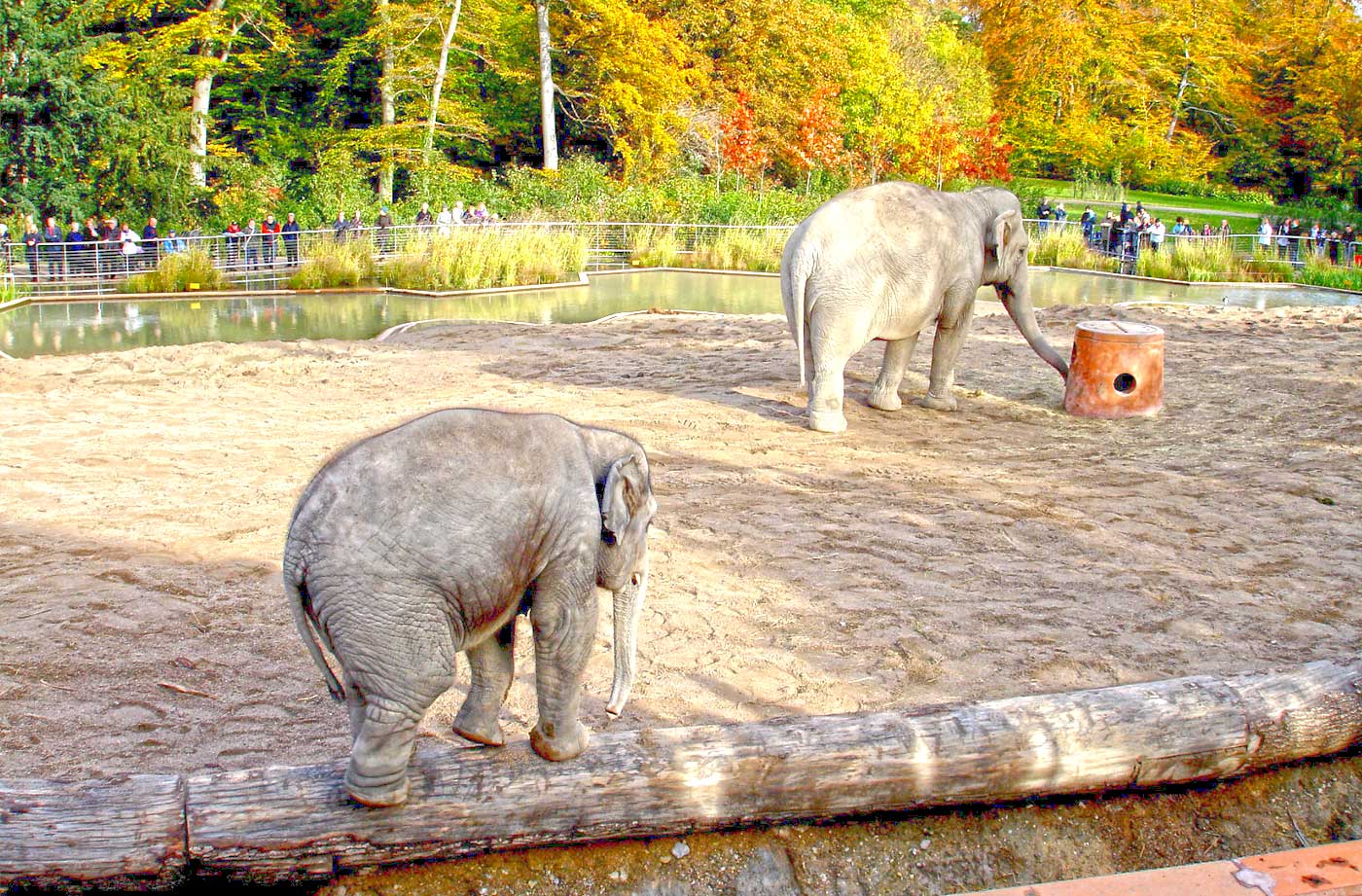 A visit to the Copenhagen Zoo is like stepping into a world of exotic wildlife, where nature unfurls in the heart of the city. This celebrated zoo, located in the Frederiksberg district, is one of the oldest in Europe, having opened its doors to the public in 1859.
Home to more than 3,000 animals representing over 250 species, the zoo offers an opportunity to observe creatures from every corner of the globe. Some of the standout exhibits include the Tropical Zoo, where you can walk amidst free-roaming butterflies and birds, the African savannah featuring lions and zebras, and the Arctic Ring, which allows you to get up close and personal with polar bears. The Copenhagen Zoo also prides itself on its commitment to conservation and education, offering various programs aimed at raising awareness about wildlife and environmental preservation. A day at the Copenhagen Zoo is more than just an outing; it's an adventurous learning journey into the wonders of the animal kingdom.
Feel free to explore these pages as well:
The 10 Must-Visit Cities from the 2023 Liveability Index ↗️
As our journey through Copenhagen's most unique attractions comes to a close, it's clear that this city is a tapestry of varied experiences, interwoven with history, culture, nature, gastronomy, and creativity. These top 10 attractions only skim the surface of what Copenhagen has to offer to the first-time visitor, and hopefully, they've sparked an enduring fascination with the Danish capital.
From the tranquil hush of historic castles to the vibrant hum of the food markets, and from the cool depths of its museums to the lively chatter in its cafes, Copenhagen has shared its spirit with you. But remember, the city still holds many secrets and countless experiences await your next visit.
So, as you leave the fairy-tale towers and modern masterpieces behind, carry Copenhagen in your heart and memories, and let the echoes of its streets guide you back soon. Until then, tak (thank you in Danish) for joining this journey through Copenhagen's unique attractions, and safe travels wherever your wanderlust may lead you next.