Unlocking Paradise: Top 10 Unmissable Cancún Adventures for Every Traveller
When it comes to tropical paradises brimming with sun-kissed beaches, stunning blue waters, and vibrant nightlife, Cancún certainly tops the list. But the allure of this Mexican city extends far beyond its picturesque landscapes and lively atmosphere. From ancient Mayan ruins whispering tales of a time long past, to thrilling adventure parks promising a surge of adrenaline, Cancún offers a diverse range of experiences guaranteed to make your trip unforgettable.
In this ultimate guide, we've curated the top 10 experiences in Cancún that every traveler should embark on. We'll journey together through the city's bustling boulevards, bask in the beauty of its tranquil beaches, dive into the heart of its cultural and culinary scene, and uncover the secrets of its rich historical heritage.
Whether you're an adventure junkie looking for your next thrill, a history buff eager to delve into the past, or a foodie ready to taste the best of Mexican cuisine, this guide has got you covered. So, buckle up as we set off on this exciting journey and explore the best that Cancún has to offer. Ready? Let's dive in!
Here are the 10 best places to visit in Cancún:
1. Playa Delfines (Dolphin Beach)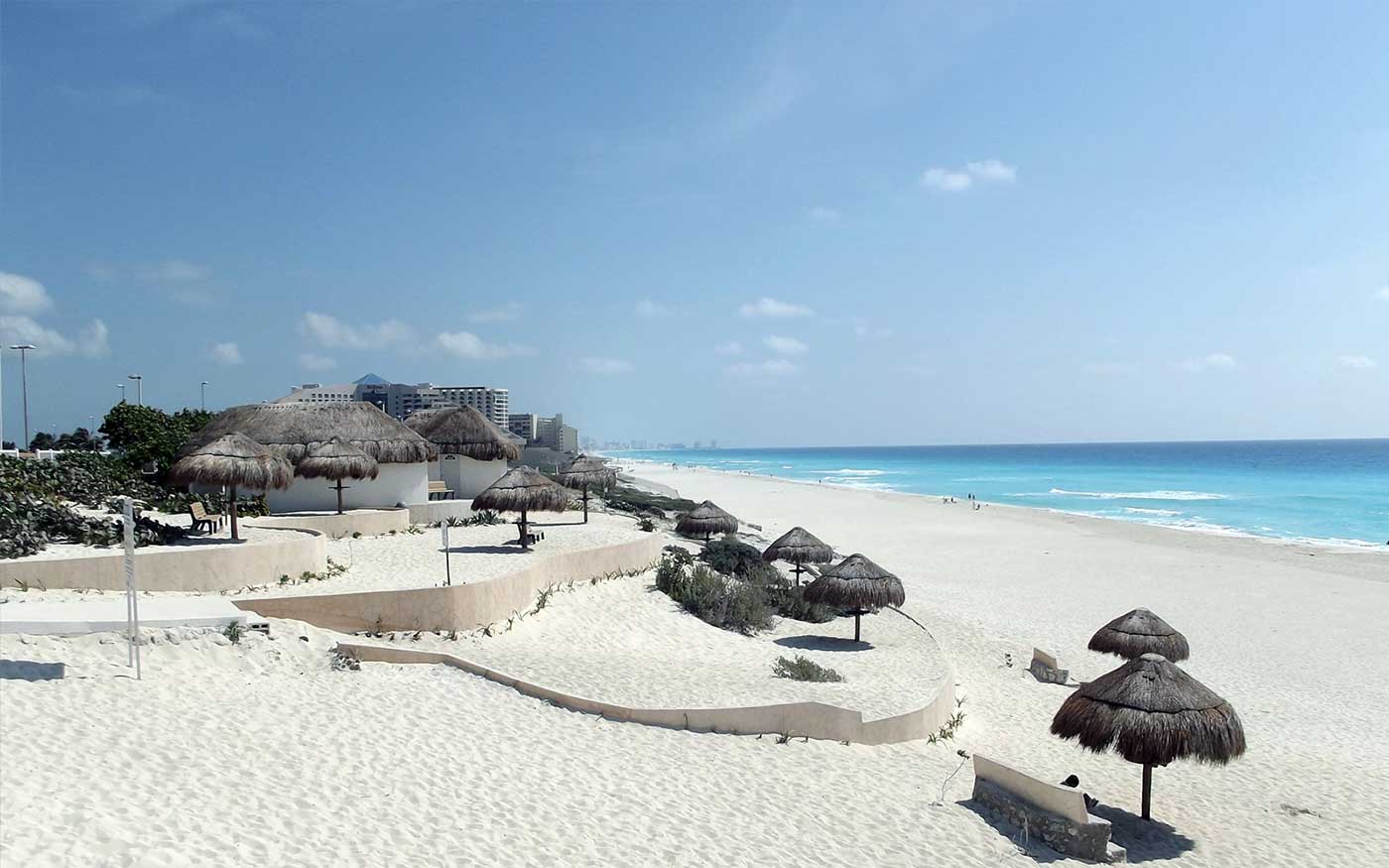 Welcome to Playa Delfines, or 'Dolphin Beach', one of Cancún's largest and most beloved beaches. This sprawling expanse of pure, powdery white sand, against the backdrop of the crystal-clear turquoise Caribbean Sea, is a sight that will leave you breathless.
Playa Delfines is cherished for its pristine, unspoiled beauty – a serene contrast to some of Cancún's more commercialized areas. Here, you won't find any resorts or beach clubs crowding the landscape. It's the perfect destination for those seeking a tranquil escape, a spot to lay down a towel, open a good book, and relish in the stunning natural scenery.
Don't forget to take a snapshot at the iconic Cancún sign, a colorful tribute to this tropical paradise, which proudly stands on the beach.
However, be aware that the strong currents can make swimming a bit challenging, so it may not be the best spot for those not confident in their swimming abilities.
Remember, Playa Delfines is more than just a beach – it's an experience, a true reflection of Cancún's raw, untouched beauty, and it awaits you!
2. La Isla Shopping Village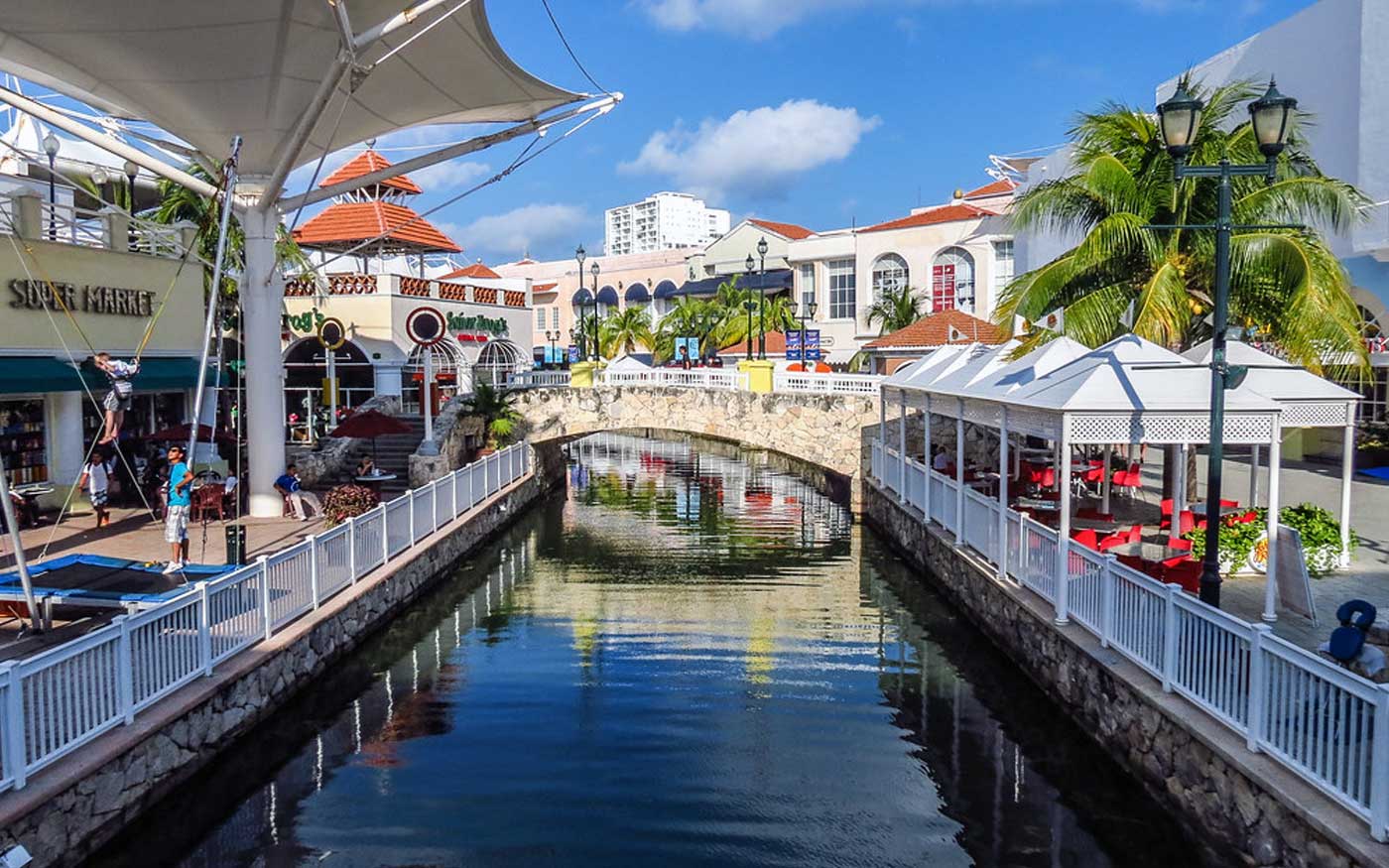 La Isla Shopping Village, Cancún's premier shopping and entertainment complex. Nestled in the heart of Cancún's Hotel Zone, La Isla is far more than just a mall; it's an entire experience that caters to all ages and tastes.
The mall is designed like a small village with canals, bridges, and lots of open-air areas, providing shoppers with a unique blend of indoor and outdoor shopping experiences. It's home to more than 150 stores, ranging from high-end luxury brands to unique local boutiques, ensuring that you'll find whatever you're shopping for.
But La Isla is not just about shopping. It also offers a fantastic array of dining options, where you can indulge in anything from authentic Mexican cuisine to international favorites. The entertainment options are equally impressive, including the Interactive Aquarium, where you can swim with dolphins or feed sharks, and the 6D cinema for an immersive movie experience.
And when the sun sets, take a romantic stroll along the lagoon side, offering breathtaking views of the Nichupte lagoon. This beautifully designed complex truly encapsulates the spirit of Cancún, blending shopping, dining, entertainment, and natural beauty into one unforgettable experience.
3. Xoximilco Cancun by Xcaret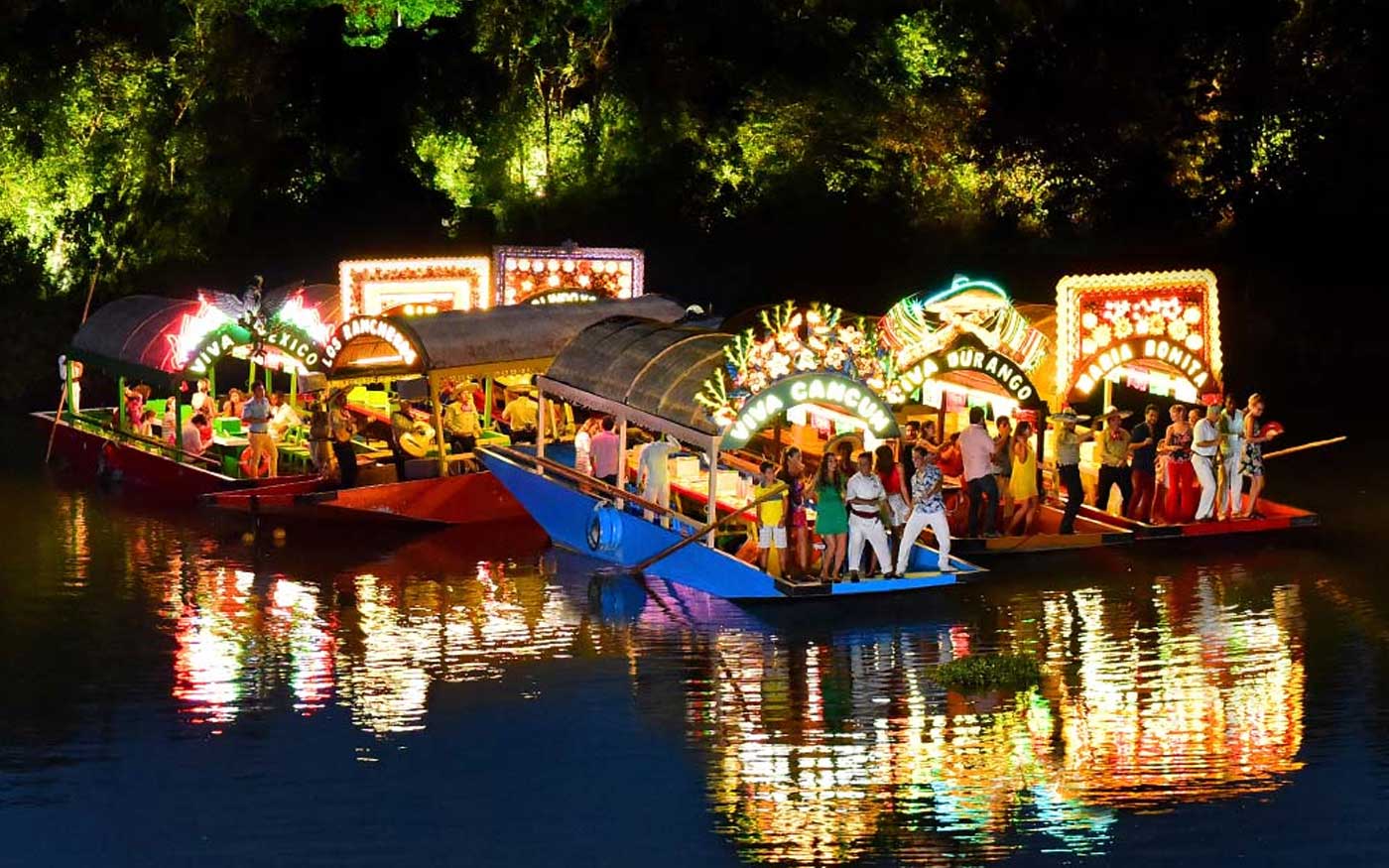 Prepare yourself for a festive journey as we dive into the lively and colorful world of Xoximilco Cancun by Xcaret.
Inspired by the world-famous Xochimilco district of Mexico City, Xoximilco Cancun transports you into the heart of Mexican tradition and culture. Imagine yourself on a floating fiesta aboard a vibrant 'trajinera', a traditional, gondola-like boat, serenaded by mariachis beneath the starlit sky.
As you journey through the canals, the night comes alive with the sounds of marimba and the laughter of fellow revelers. But the entertainment doesn't stop at music and dance. Xoximilco Cancun also offers a gastronomic adventure, with more than 20 different types of delicious Mexican cuisine to taste.
So, are you ready to don your sombrero, dance to the lively tunes, and savor some mouthwatering Mexican dishes? Xoximilco Cancun promises a night of unending fun, cultural immersion, and a celebration of the vibrant Mexican spirit. This is not just an activity – it's a must-have experience! Don't forget to add Xoximilco Cancun by Xcaret to your Cancún itinerary. The floating fiesta awaits you!
4.  Mayan Museum of Cancun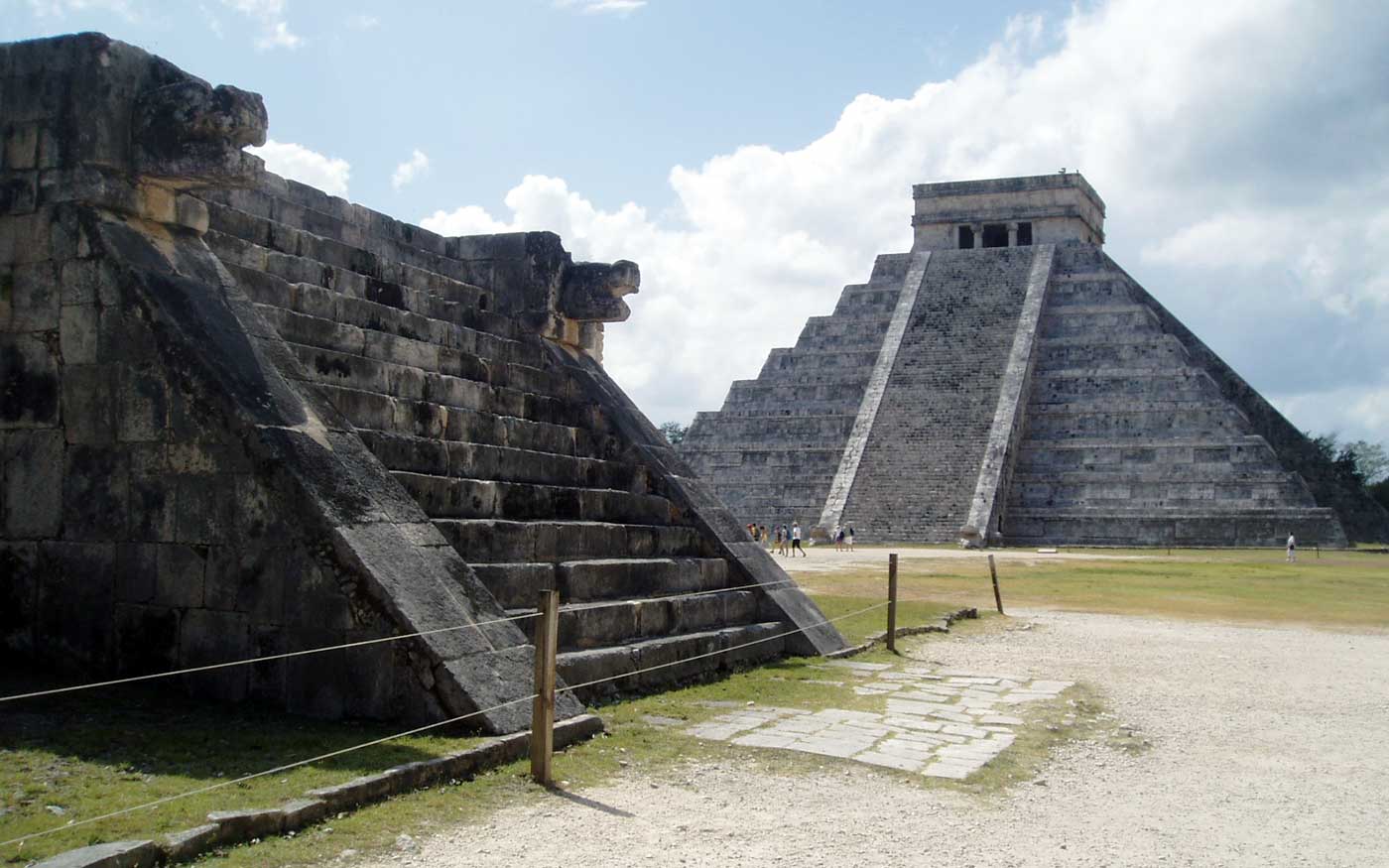 For the history buffs and culture enthusiasts out there, there's a gem that shouldn't be missed on your trip to Cancún – The Mayan Museum of Cancun.
This museum is a time portal that takes you back to the era of the Mayans, a civilization that was far ahead of its time. With its sleek, modern architecture juxtaposing the ancient artifacts housed within, the museum is a testament to the beautiful collision of the past and present.
The museum boasts one of the most significant collections of Mayan artifacts in Mexico, housing over 400 valuable pieces spread across three exhibition halls. You'll find everything from ceramics and jewelry to full-scale models of ancient Mayan architecture. Each artifact tells a story, painting a vivid picture of what life was like in this advanced pre-Columbian civilization.
But the journey doesn't end inside the museum. Step outside, and you'll find the San Miguelito archaeological site, where the ruins of a Mayan settlement are nestled amidst lush greenery. Walking among these ancient structures provides a visceral connection to the past that's sure to leave you in awe.
So, if you're looking to enrich your Cancún experience with a dose of culture and history, the Mayan Museum of Cancun should be at the top of your list. It's more than just a museum – it's a captivating journey through time.
5. Torre Escenica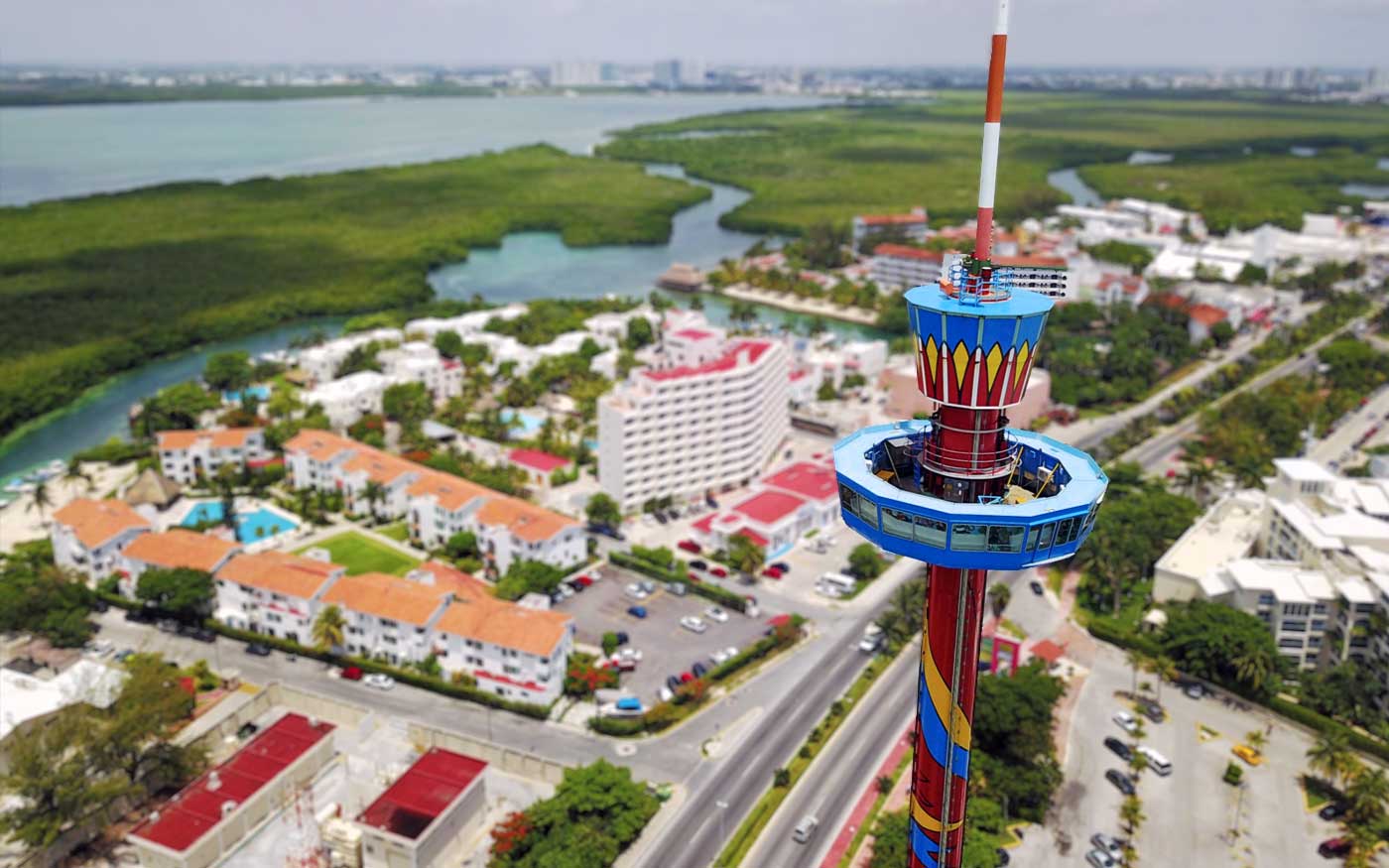 Strap in, adventurers, because it's time to take to the skies without leaving the ground at the Torre Escenica! This iconic rotating scenic tower, standing proud at 80 meters tall, is a beloved part of Cancún's skyline and a must-visit for panoramic views of the city.
Located in the heart of the Hotel Zone, the Torre Escenica is a ride like no other. As you slowly ascend in the comfortable and secure cabin, you'll be treated to an unparalleled 360-degree view of Cancún. From the sparkling blue Caribbean Sea and the lagoon to the bustling city below, the sights from this vantage point are absolutely breathtaking.
But the tower isn't just about the view. As you take in the stunning panorama, an informative audio guide narrates the history and important aspects of the landmarks you see from the tower. It's an engaging way to learn about Cancún and its surrounding areas.
Whether you're a first-time visitor wanting to grasp the layout of the city or a return guest looking to see Cancún from a different perspective, the Torre Escenica offers a unique and memorable experience. Day or night, clear skies or starry ones, the view is always enchanting.
So, if you're seeking a bird's eye view of Cancún, look no further than Torre Escenica. And remember, don't forget your camera – the photo opportunities are unbeatable!
6. Avenida Kukulkan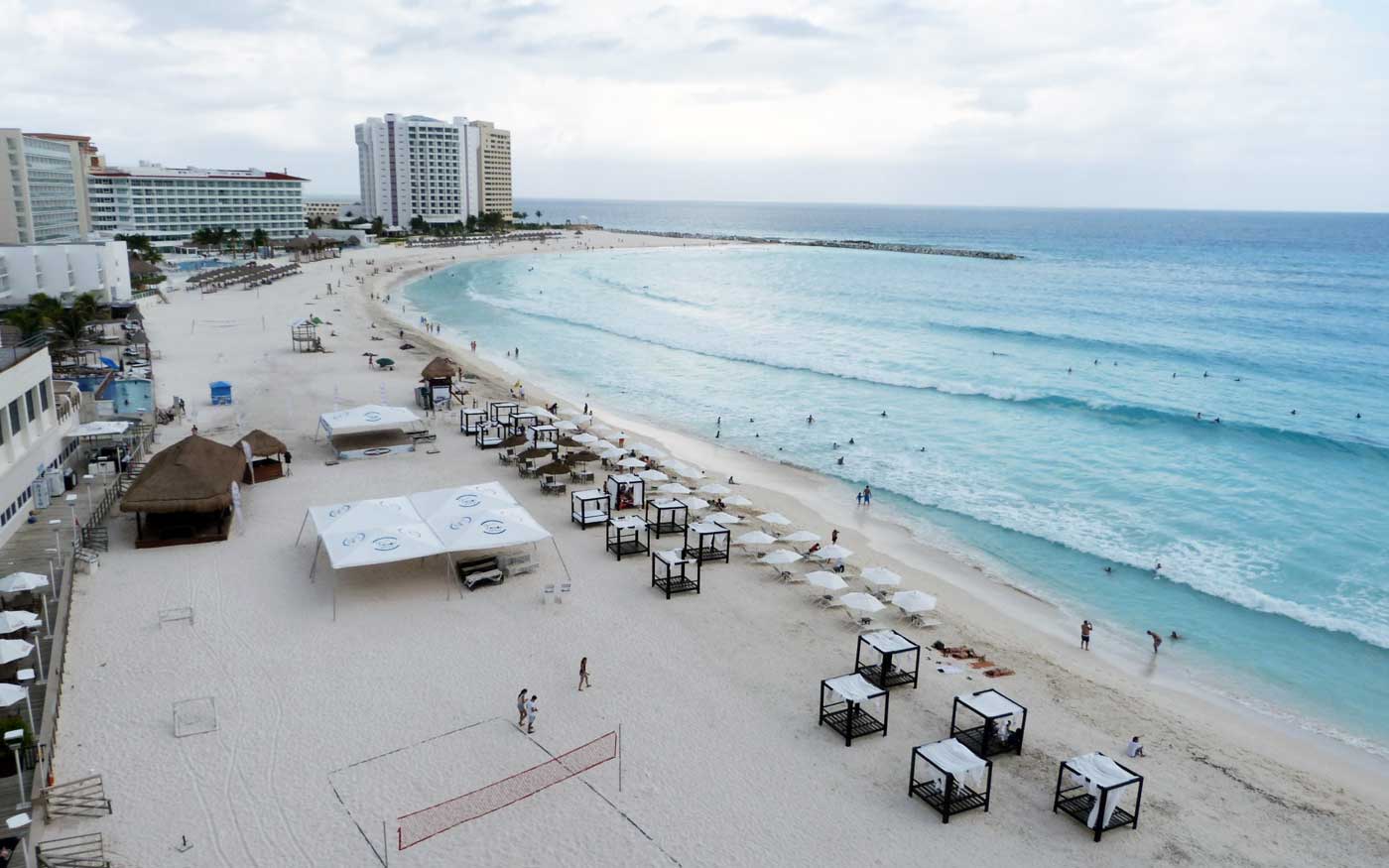 If there's a heart that beats in Cancún, it is undeniably the vibrant Avenida Kukulkan. Named after the feathered serpent deity in Mayan mythology, this bustling boulevard is the city's main artery, connecting the airport with the famous Hotel Zone and stretching right up to the downtown area.
Avenida Kukulkan is where you'll find everything you need for an unforgettable Cancún experience. On one side, you have the sparkling turquoise Caribbean Sea with its picturesque beaches, while on the other, you'll find the serene Nichupté Lagoon. It's a drive filled with natural beauty, unlike any other.
But it's not just about the natural scenery. Avenida Kukulkan is the hub of Cancún's shopping, dining, and entertainment scene. Here, you'll find a plethora of upscale resorts, world-class restaurants serving both local and international cuisine, vibrant nightclubs, and high-end shopping malls such as La Isla Shopping Village and Luxury Avenue.
And for the culture enthusiasts, the boulevard is dotted with several remarkable sculptures and landmarks, including the popular Cancún sign and the Scenic Tower.
Avenida Kukulkan is not just a road; it's a journey that encapsulates the essence of Cancún. Whether you're strolling down the sidewalk, biking, or driving, the avenue offers something for everyone, making it an unmissable part of any Cancún itinerary.
7. Dolphin Discovery
For those seeking a once-in-a-lifetime aquatic adventure during their stay in Cancún, look no further than Dolphin Discovery. This renowned establishment provides visitors the unforgettable opportunity to interact directly with some of the ocean's most endearing creatures in their natural habitat.
Located in the idyllic setting of Isla Mujeres, Dolphin Discovery offers a range of programs tailored to all ages and swimming abilities. Whether you're simply wanting to pet and kiss a dolphin, or are looking for a more immersive experience like the 'Dolphin Royal Swim' where you can be propelled through the water via 'dorsal tow' or 'foot push', there's something for everyone.
The joy of interacting with these intelligent creatures is something truly special, but what makes Dolphin Discovery stand out is its commitment to the animals' welfare and conservation. The dolphins are cared for by a team of professional veterinarians and are provided with ample space and environmental enrichment, ensuring they live a happy and healthy life.
But dolphins aren't the only marine life you'll encounter. Dolphin Discovery also provides opportunities to meet manatees and sea lions, making it an all-round marine adventure.
So, if you've ever dreamed of swimming with dolphins or getting a sea lion kiss, Dolphin Discovery is the place for you. It's more than just a fun day out – it's an educational, interactive, and heartwarming experience that will leave you with memories to last a lifetime.
8. Xavage Park by Xcaret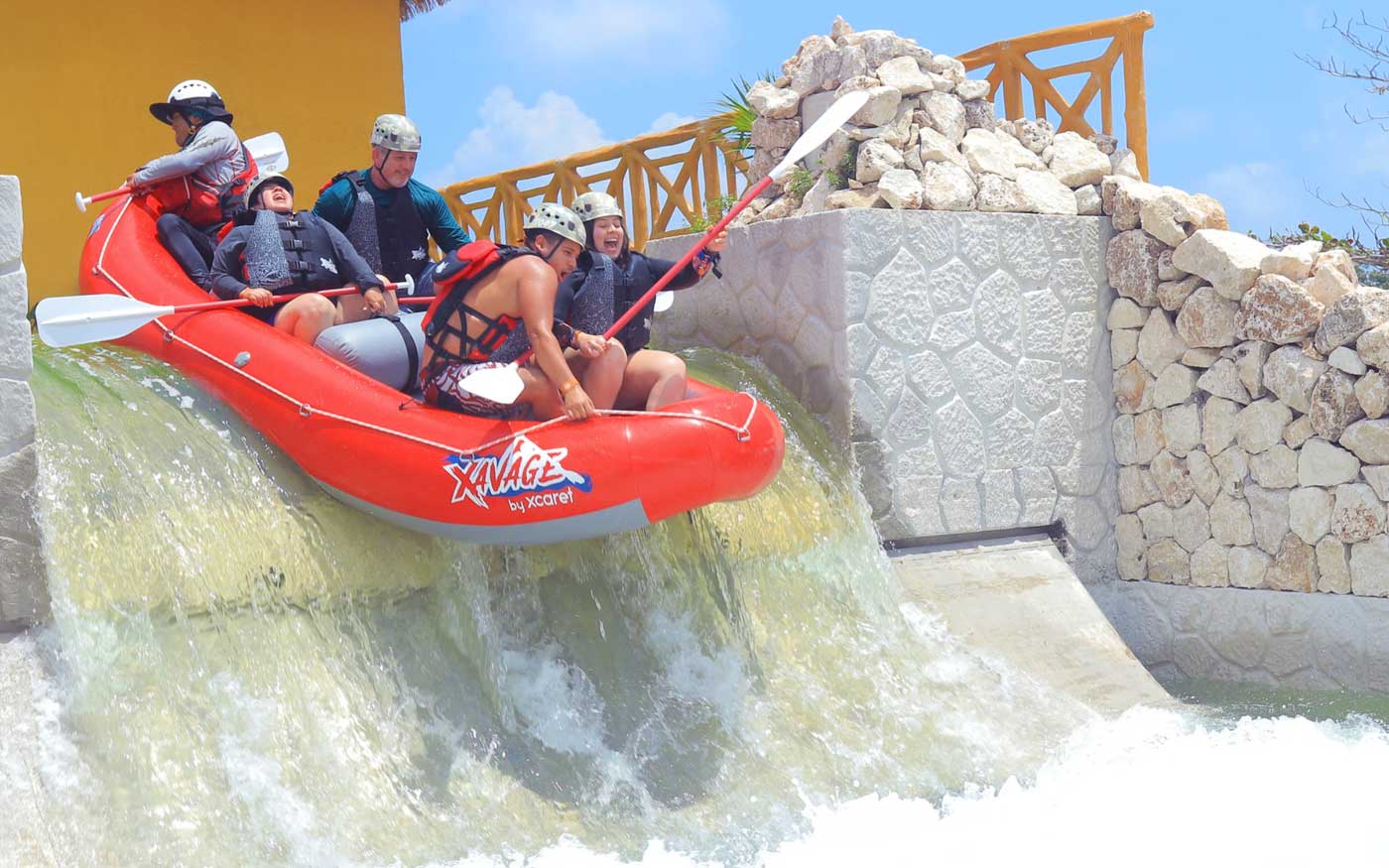 Calling all thrill-seekers! If you're looking to pump some adrenaline into your Cancún vacation, Xavage Park by Xcaret is just the place for you. This one-of-a-kind adventure park promises a day of high-energy activities and challenges designed to test your mettle and ignite your spirit of adventure.
Located just south of Cancún's Hotel Zone, Xavage offers a unique blend of land, water, and aerial activities. Fancy testing your driving skills? Get behind the wheel of an off-road vehicle and navigate the park's rocky terrain. If you're more inclined towards water-based adventure, white-water rafting and kayaking through winding channels are sure to get your heart racing.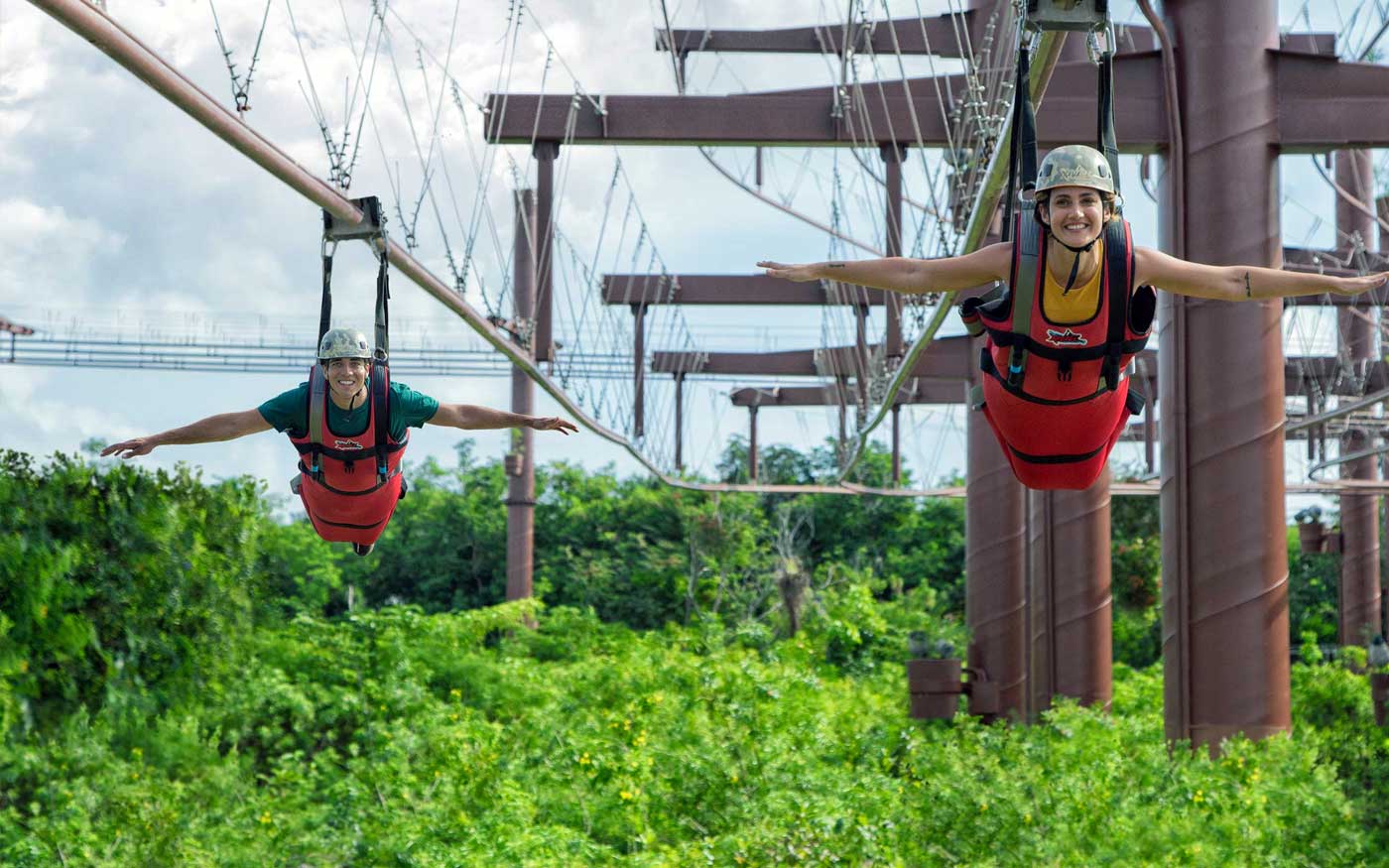 For those not afraid of heights, there's the 'Dragonfly' – a high-speed jet boat ride helmed by an expert pilot that makes sharp turns and sudden accelerations. Or, soar through the air on the 'Hawk' zip-line, and take in the breathtaking views of the park from a bird's eye perspective.
But Xavage isn't all about the rush. The park is also home to 'Crocodile', a thrilling yet fun-filled water slide for all the family. And when you're ready to refuel, the park offers a selection of dining options to satisfy your hunger.
So, if you're up for a challenge and ready to push your boundaries, Xavage Park by Xcaret is the place to be. Remember, it's not about how many challenges you take on, but about embracing the spirit of adventure. Xavage is not just a park – it's a testament to the wild, adventurous heart that beats within us all.
9. Zona Arqueologica El Rey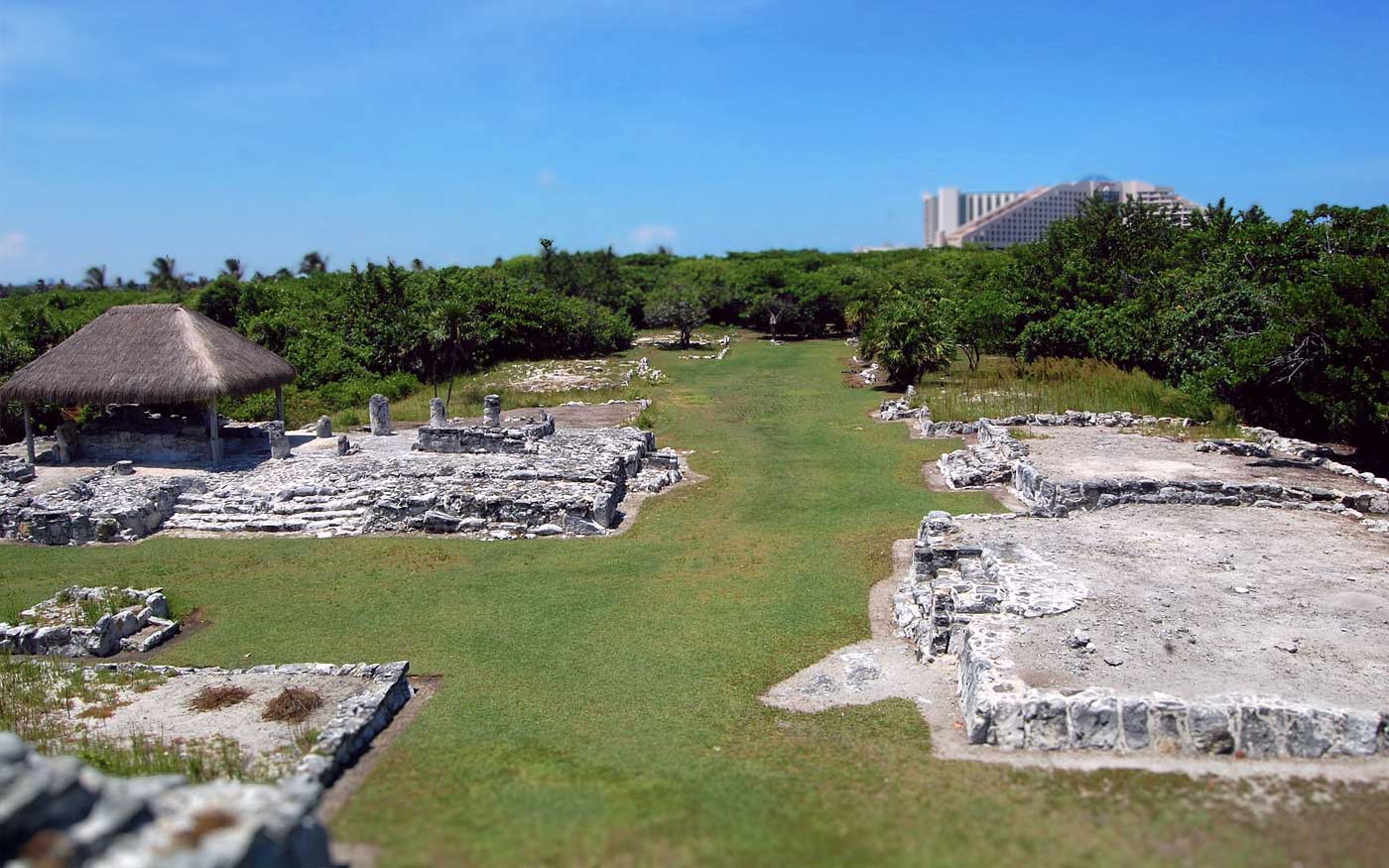 Unearth the remnants of a bygone era at Zona Arqueologica El Rey, Cancún's very own archaeological site nestled right in the heart of the Hotel Zone. This often-overlooked site is a perfect addition to your Cancún itinerary if you're intrigued by history and long to explore the ancient Mayan civilization without venturing too far from the city.
Named after a sculpture found here believed to represent the Mayan Sun god (often called "El Rey" or "The King"), this site was once a significant post-classical Mayan settlement, primarily functioning as a key trading post. As you stroll through the well-preserved ruins, you'll find structures like temples, ceremonial platforms, and columns that speak volumes about the architectural prowess of the Mayans.
One of the striking features of El Rey is its serene and quiet atmosphere, making it a pleasant contrast to the bustling city life of Cancún. Walking amongst these ruins, you can almost feel the whispers of the past.
Another surprise that awaits visitors to El Rey is the abundance of local wildlife, most notably the friendly iguanas that can be seen basking in the sun amongst the ruins. They are the current inhabitants of the site and add a unique charm to the whole experience.
So, if you wish to step back in time and walk in the footsteps of the ancient Mayans, be sure to carve out time for Zona Arqueologica El Rey. It's not just a historical site; it's a quiet oasis where history and nature coexist in the heart of Cancún.
10. El Parque de las Palapas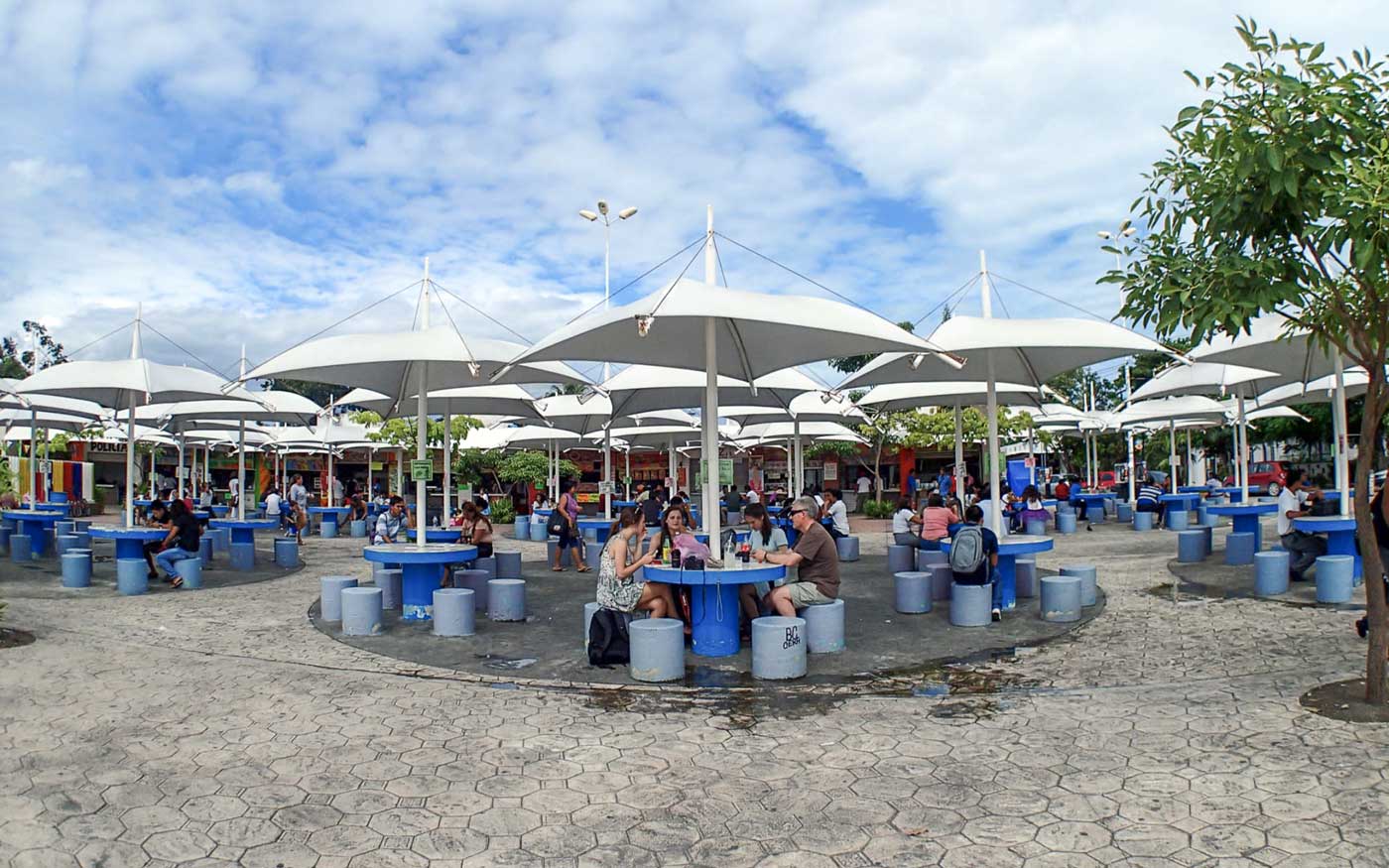 Step off the beaten tourist path and immerse yourself in local culture at El Parque de las Palapas, Cancún's main public square. Situated in the downtown area away from the Hotel Zone, this lively park offers a genuine taste of Mexican life and is the perfect place to experience the city's local color.
A hub of activity at all times, El Parque de las Palapas transforms into a vibrant marketplace in the evening, filled with local food stalls offering a wide array of mouth-watering Mexican street food. From tacos and tortas to churros and marquesitas, this is your chance to sample authentic, home-cooked delicacies.
But the appeal of El Parque de las Palapas goes beyond just food. It's the heart of Cancún's cultural scene, often hosting live music performances, traditional dances, and other local events. The sight of locals gathering to enjoy the performances or just casually strolling with their families lends a charming community atmosphere to the park.
For those traveling with kids, the park also features a playground area, making it a family-friendly destination. And if you're in the mood for shopping, there are plenty of stalls selling artisanal crafts, souvenirs, and handmade jewelry.
So, if you're looking to experience the local vibe and indulge in some delectable street food, make sure to spend an evening at El Parque de las Palapas. It's not just a park, but a lively gathering place that truly embodies the spirit and culture of Cancún.
Feel free to explore these pages as well:
Mexico ↗️
Mexico Map ↗️
And so, our journey through the top 10 experiences in Cancún comes to an end. But remember, the real magic lies not just in ticking off a checklist, but in immersing yourself in the sights, sounds, and flavors of this vibrant city.
From the footprints in the soft sands of Playa Delfines to the echo of your laughter in the thrilling Xavage Park by Xcaret; from the awe-inspiring ruins of Zona Arqueologica El Rey to the unforgettable tastes of the local cuisine at El Parque de las Palapas, each experience forms a unique thread in the vibrant tapestry of your Cancún adventure.
Whether you're leaving with a camera full of breathtaking pictures, a suitcase full of souvenirs, or a heart full of memories, we hope that this guide has helped you uncover the multifaceted charm of Cancún.
As you bid farewell to Cancún, you'll realize that it's not just a destination, but a feeling – a symphony of unforgettable experiences that will remain etched in your heart long after you've returned home. So, until next time, keep the spirit of Cancún alive within you. After all, once a Cancún traveler, always a Cancún traveler. Safe travels!