Welcome, fellow explorers! Today, we embark on an unforgettable journey through the heart of Vietnam: the bustling and dynamic Ho Chi Minh City. Formerly known as Saigon, this city is a complex blend of the traditional and the modern, a place where skyscrapers coexist with ancient temples, and where every street corner tells a story.
This thriving metropolis is rich in history, cultural significance, and unique experiences. And there's no better way to dive into the authenticity of Vietnam than exploring the gems that Ho Chi Minh City has to offer. Whether it's tantalizing street food that tingles your taste buds, age-old markets that hum with activity, or stunning architectural masterpieces that take you back in time, this city has it all.
Get ready as we delve into the top 10 experiences you can't afford to miss in Ho Chi Minh City. This blog post is your ultimate guide, designed to help you navigate the city's vibrant maze of unforgettable moments. So buckle up, and let's begin our adventure through the heart and soul of Vietnam, exploring the wonders of Ho Chi Minh City together.
In this curated guide, we will explore historic landmarks, sample some of the finest cuisine in Southeast Asia, and uncover hidden gems nestled in the city's bustling streets. So whether you're a seasoned traveller seeking a new adventure, or a first-time visitor looking to experience the magic of Ho Chi Minh City, this guide is for you. Let's get started!
Here are the 10 best places to visit in Ho Chi Minh City:
1. Cu Chi Tunnels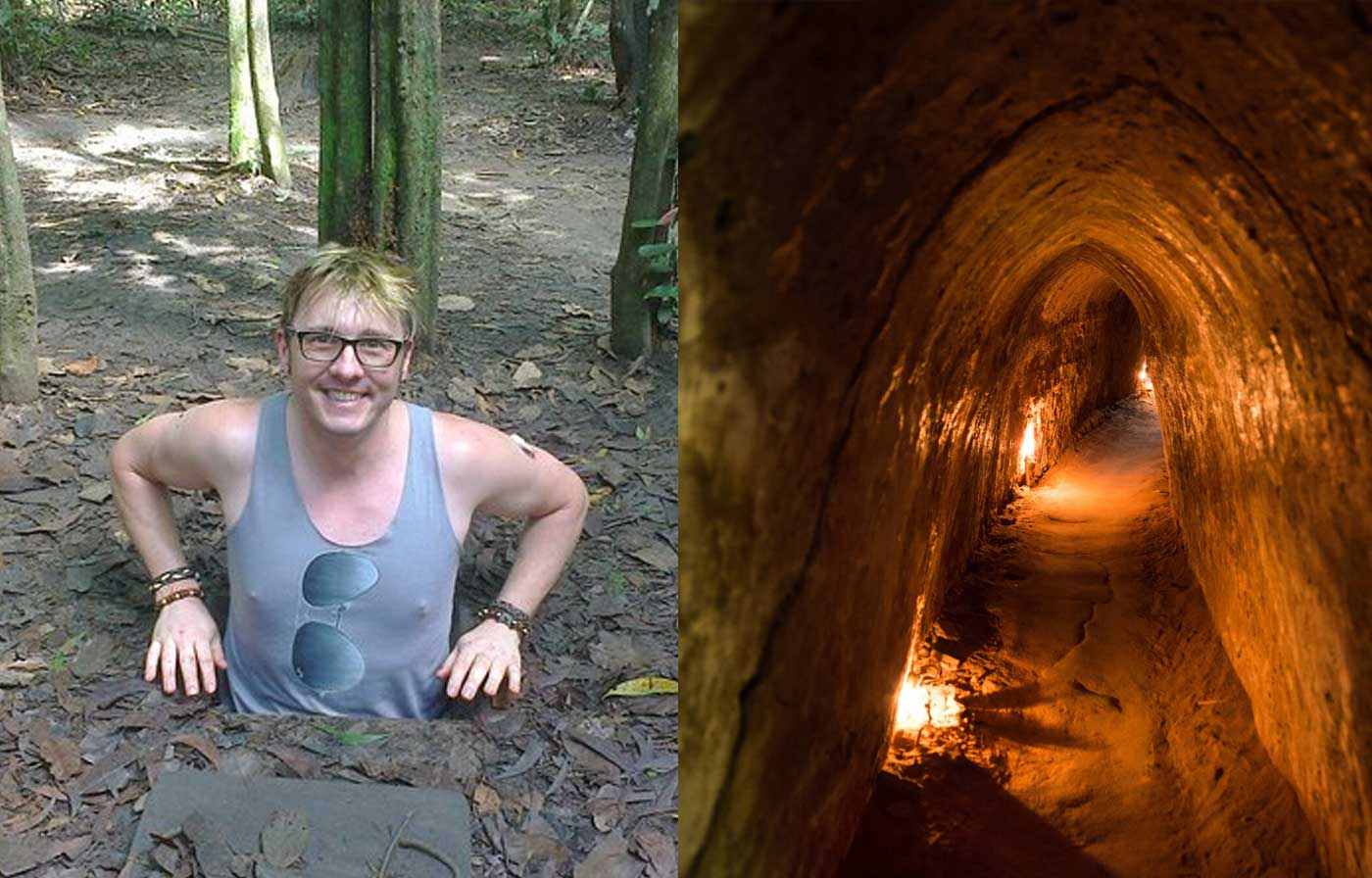 Welcome to the labyrinth of the Cu Chi Tunnels – a crucial part of Vietnam's historical tapestry and a testament to the resilience and ingenuity of its people. An exploration of these tunnels offers an insightful journey back in time, taking you deep into the realities of the Vietnam War.
The Cu Chi Tunnels are a sprawling network of underground passageways, encompassing an astounding 250 kilometers. These tunnels were intricately constructed by the Viet Cong during the Vietnam War, serving as hidden bases, supply routes, hospitals, and living quarters for the Viet Cong soldiers. The tunnels represent an incredible feat of engineering, given that they were largely dug by hand, under the cover of darkness, with minimal tools.
Touring these narrow, winding tunnels offers a gripping first-hand look into the lives of the Viet Cong soldiers. Despite the harsh conditions – limited air and light, and tight spaces – these tunnels sustained thousands of soldiers and civilians during the war, underscoring the determination and resourcefulness of the Vietnamese people.
Whether you're a history buff, an adventurer, or simply curious, a visit to the Cu Chi Tunnels is sure to leave you with a deeper understanding of Vietnam's tumultuous past and the indomitable spirit of its people. Remember, this is more than just an attraction; it's a piece of living history that helped shape modern Vietnam.
2. War Remnants Museum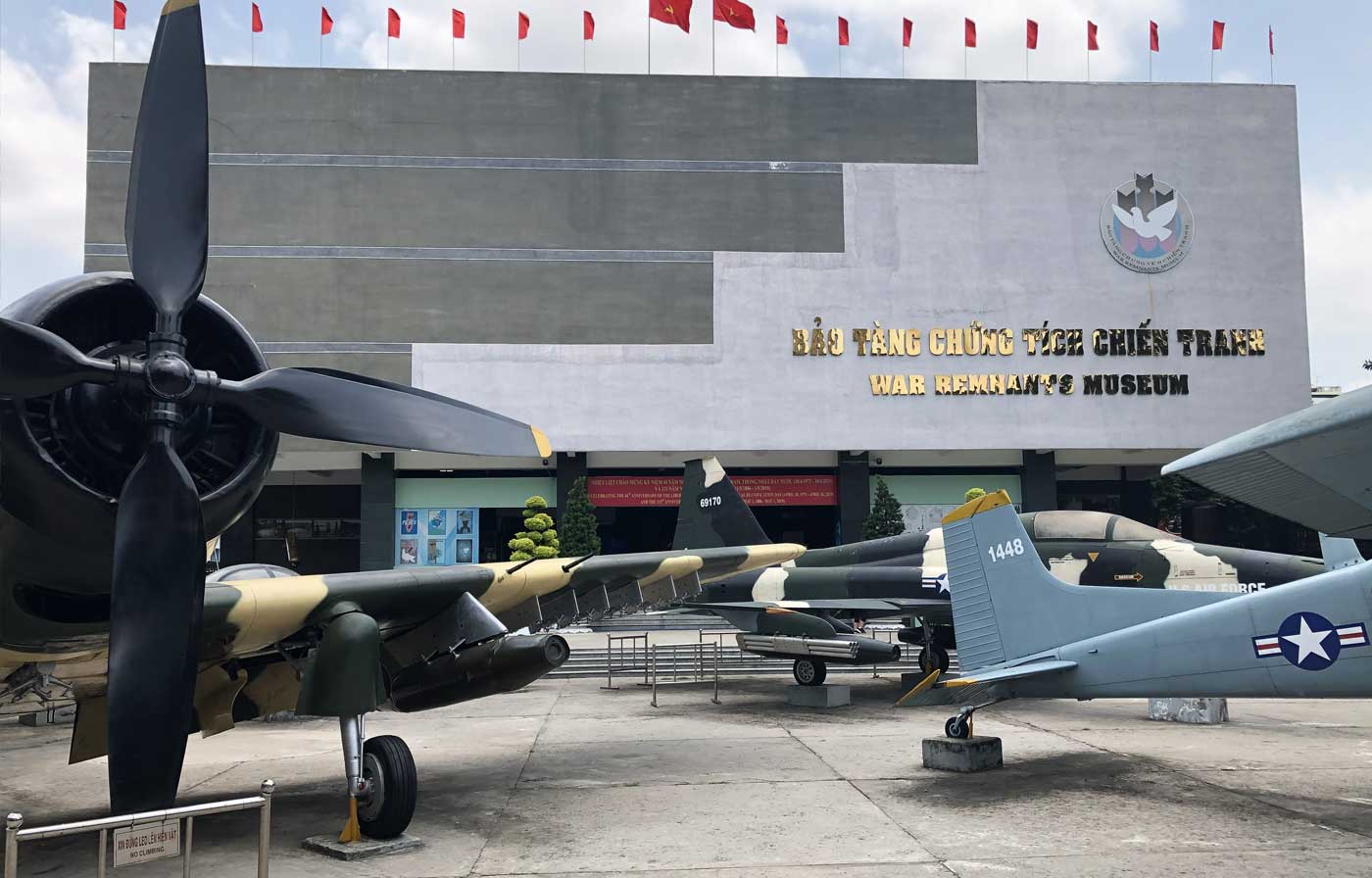 One of the most poignant and powerful destinations in Ho Chi Minh City is the War Remnants Museum. As you make your way through its halls, be prepared to embark on an eye-opening journey through a critical period in Vietnam's history.
The War Remnants Museum is a stark reminder of the long-lasting impacts of war. It houses exhibits that depict the atrocities of the Vietnam War, showcasing a collection of artifacts, photographs, and stories that capture the realities of the conflict from the Vietnamese perspective.
One of the most popular tourist destinations in the city, the museum doesn't shy away from showing the raw and brutal consequences of war. With exhibits including graphic photography and preserved military equipment, the museum aims to portray the truth, however harsh it may be. It offers visitors a chance to see the effects of war on the people involved, particularly civilians.
While it may not be a light-hearted visit, the War Remnants Museum is an essential stop in Ho Chi Minh City for anyone wishing to understand Vietnam's past and its journey to the present day. It's a sobering and unforgettable experience, reminding us all of the cost of war, the value of peace, and the indomitable strength of the human spirit.
3. Bitexco Financial Tower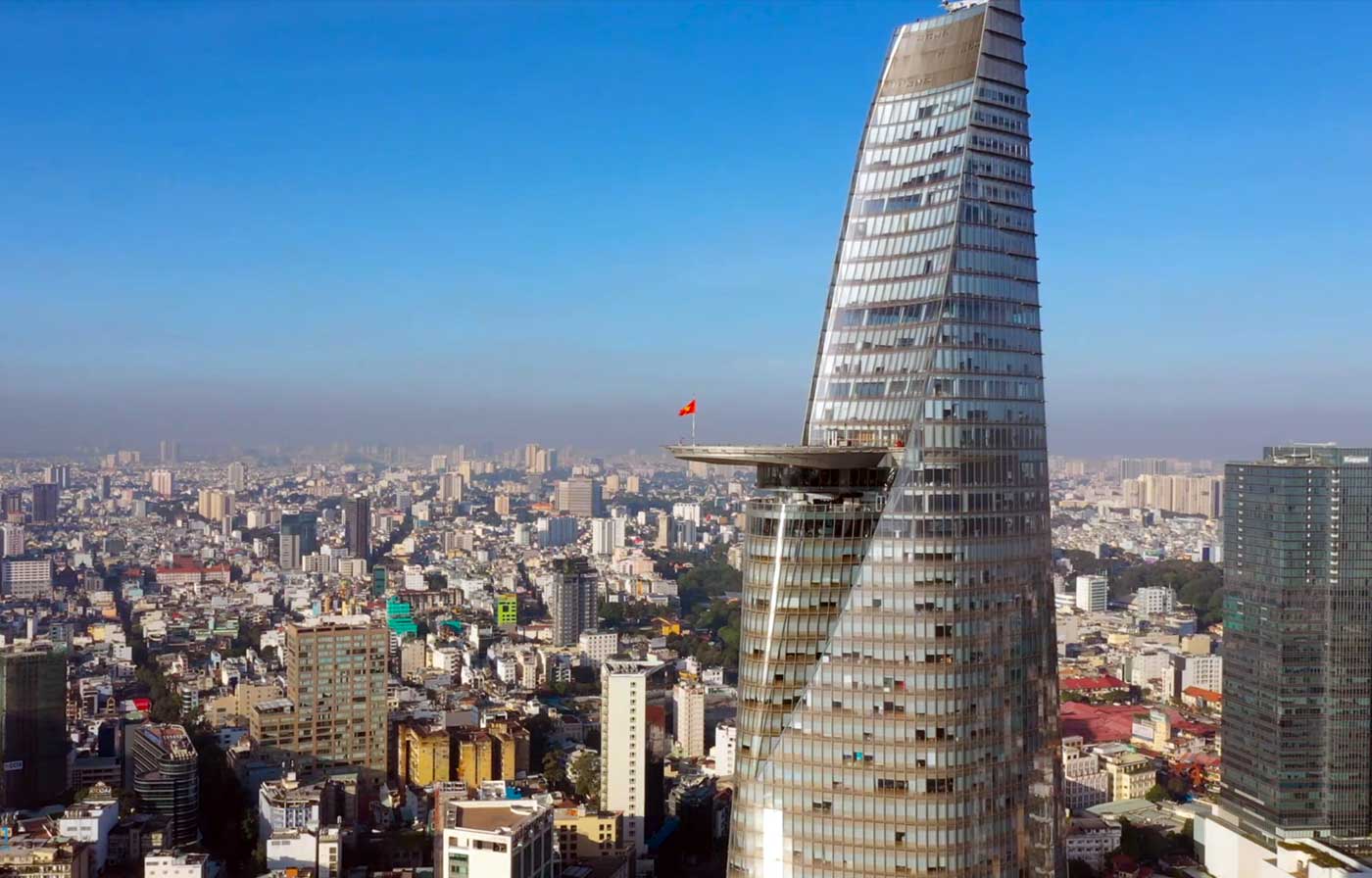 When it comes to capturing the breathtaking skyline of Ho Chi Minh City, there's no better place to be than atop the Bitexco Financial Tower. A symbol of the city's rapid development and modernisation, this 68-story skyscraper stands at an impressive 262.5 meters tall, making it one of the tallest buildings in Vietnam.
The Bitexco Financial Tower is truly a sight to behold, with its distinctive lotus shape inspired by Vietnam's national flower. But it's not just about what's on the outside; the inside is equally impressive. The tower is a bustling hub of offices, retail spaces, restaurants, and a high-end shopping mall.
For tourists, the main attraction is the Saigon Skydeck on the 49th floor. With an awe-inspiring 360-degree view of the city, it's the perfect place to watch the sun set over the sprawling metropolis below. You can also visit the EON Heli Bar on the 52nd floor, where you can enjoy a drink while soaking up the panoramic view.
So whether you're a cityscape photographer, a fan of modern architecture, or simply someone who enjoys a great view, the Bitexco Financial Tower is a must-visit on your trip to Ho Chi Minh City.
4.  A O Show – Lune Production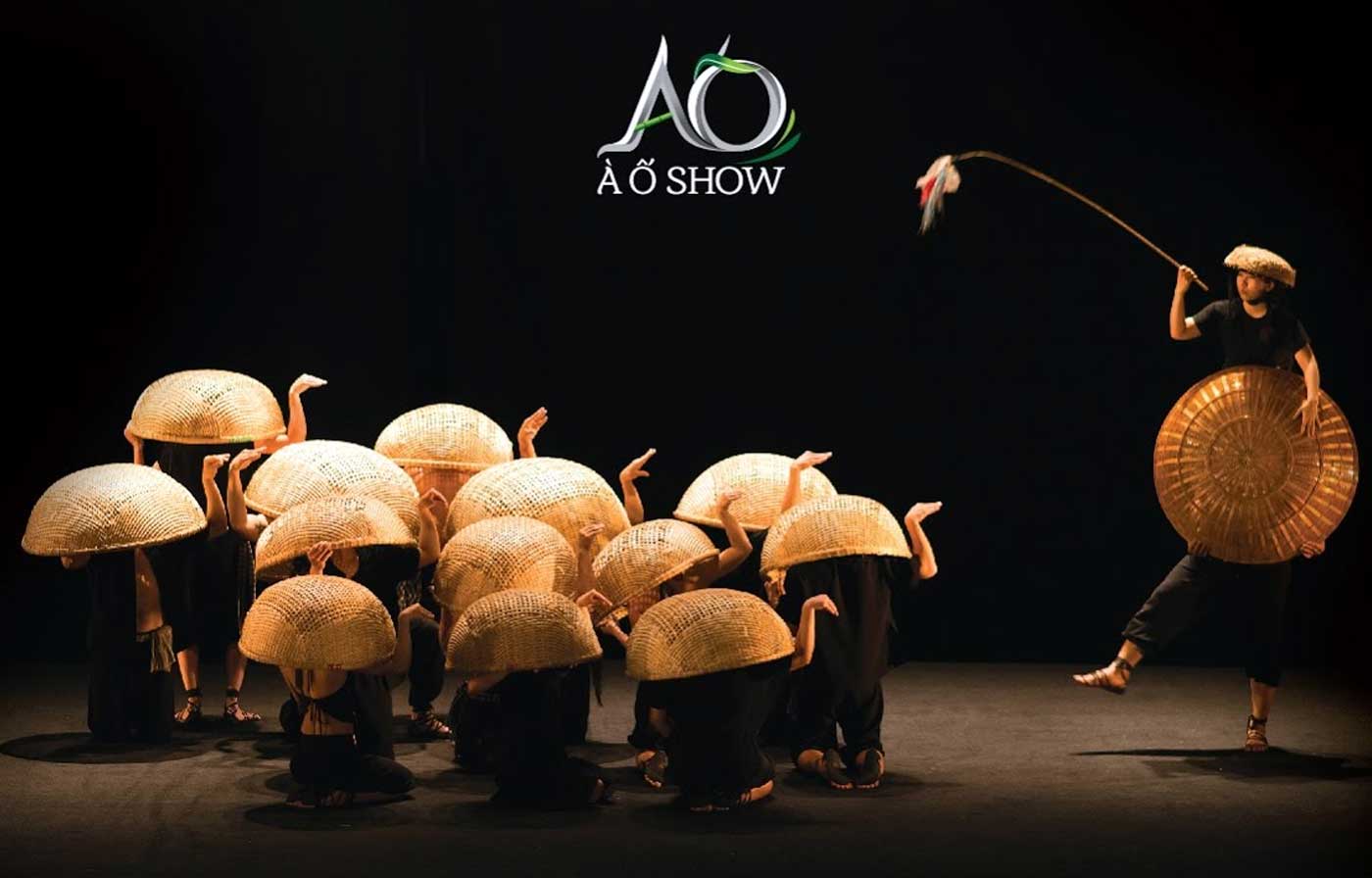 If you're looking for a night of culture, entertainment, and spectacle in Ho Chi Minh City, then look no further than the renowned A O Show by Lune Production. Held at the city's historic Saigon Opera House, this show is a stunning blend of acrobatics, contemporary dance, and theatrical visual art that uniquely encapsulates the spirit and culture of Vietnam.
The A O Show dives into the essence of Vietnamese life, portraying the rural and urban transformation in a spectacularly creative way. From the simple, traditional life in the countryside to the bustling rhythm of contemporary city life, the performance captures the contrast beautifully.
In the performance, the stage comes alive with bamboo baskets, woven boats, and lively, athletic performers. The artists' athleticism and the precision of their choreography leave audiences spellbound. Coupled with light and music effects, the show creates an immersive experience that will make you feel as if you've stepped into another world.
So, whether you're a lover of the performing arts, or you simply wish to experience something unique on your trip to Ho Chi Minh City, a visit to the A O Show – Lune Production is an absolute must. Its riveting performance will offer you an insight into the vibrant culture and the rich tapestry of life in Vietnam that's hard to find elsewhere.
5. Golden Dragon Water Puppet Theater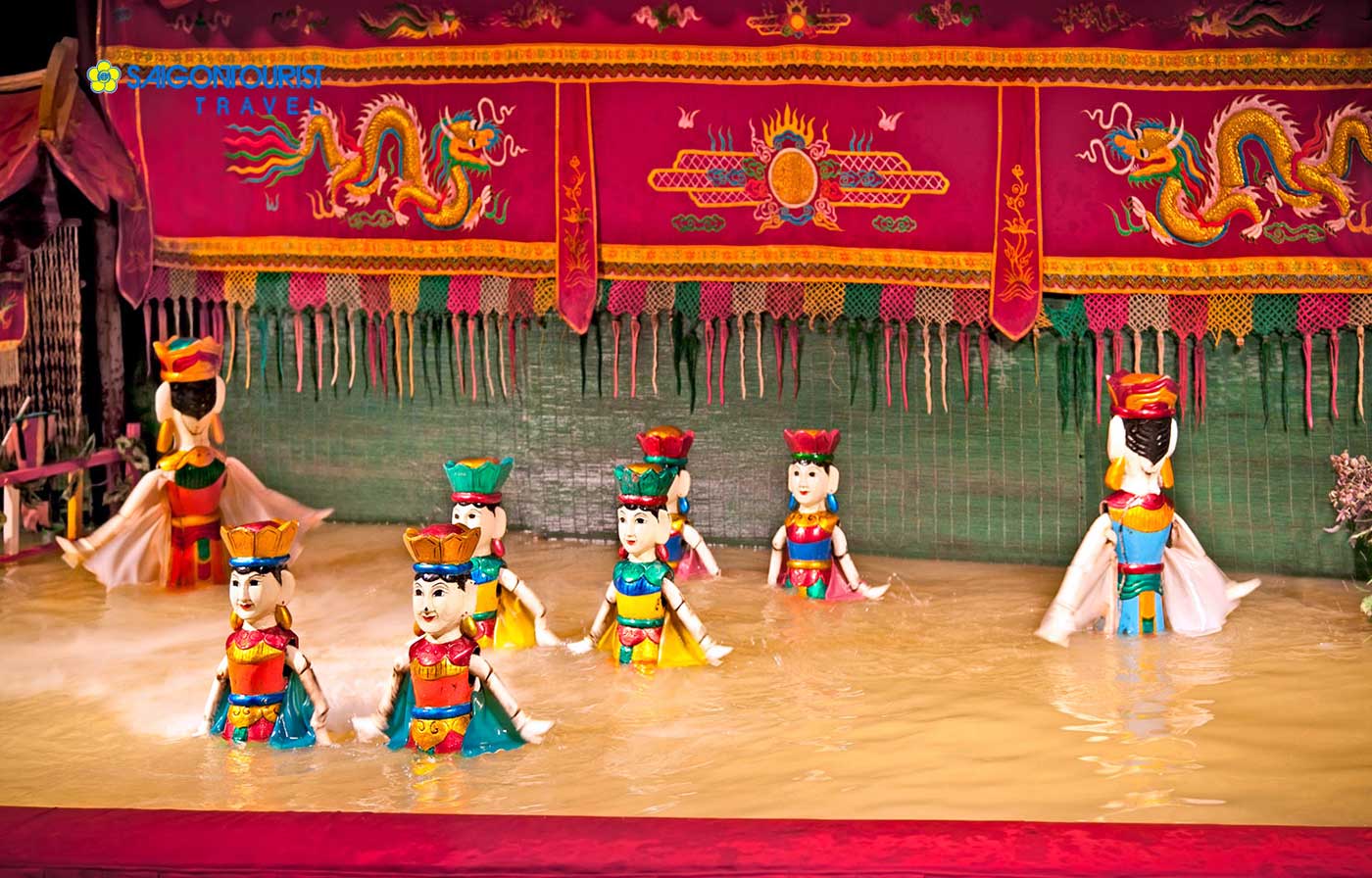 Step into the magical world of Vietnamese folklore with a visit to the Golden Dragon Water Puppet Theater in Ho Chi Minh City. Here, the ancient art of water puppetry, a tradition dating back to the 11th century, comes alive in a vibrant spectacle of color, sound, and mastery.
Performances at the Golden Dragon Water Puppet Theater are a unique experience, with wooden puppets seemingly dancing on water, controlled by skilled puppeteers hidden behind a screen. The stage is a pool of water, and the puppeteers use rods under the water to control the puppets, making them glide, dance, and perform intricate maneuvers to the delight of the audience.
The shows themselves are a riot of color and activity, showcasing scenes from Vietnamese rural life and episodes of national history. Accompanied by live musicians performing on traditional Vietnamese instruments, the tales of heroes, mythical creatures, and love stories unfold in a captivating performance.
As well as being a lively entertainment, a visit to the Golden Dragon Water Puppet Theater is an excellent way to immerse yourself in Vietnamese culture. Whether you're a culture enthusiast or a family with children, a trip to see this age-old art form is a must when in Ho Chi Minh City.
6. Saigon Opera House (Ho Chi Minh Municipal Theater)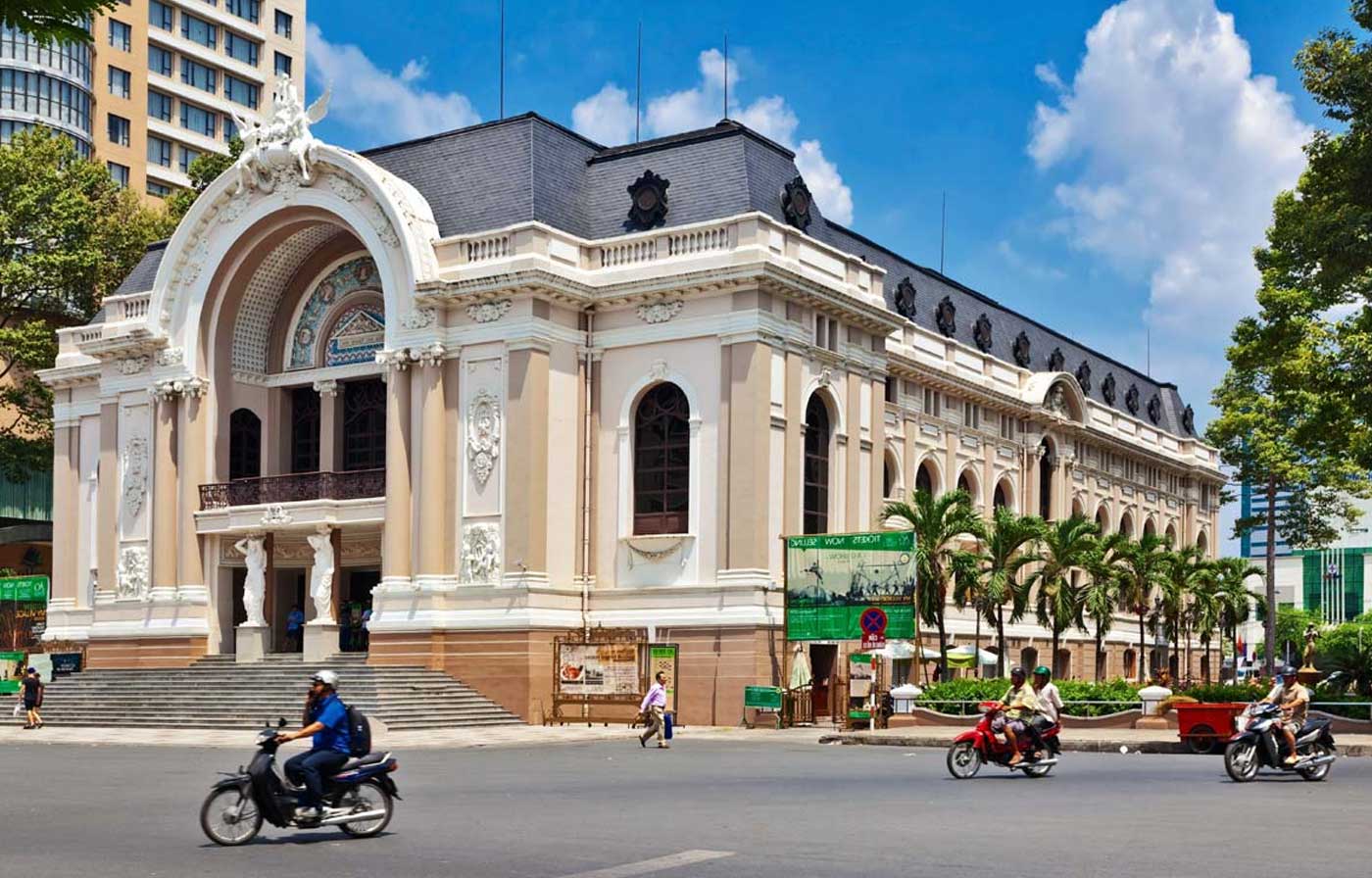 Immerse yourself in the rich tapestry of Vietnamese culture and history at the Saigon Opera House (Ho Chi Minh Municipal Theater), an exquisite example of French colonial architecture in the heart of vibrant Ho Chi Minh City.
Constructed in 1897, the Saigon Opera House stands as a testament to the city's colonial past. With its towering columns, intricate relief work, and sweeping balconies, this theater is a visual masterpiece. Its flamboyant facade echoes the grandeur of Petit Palais in Paris, a highlight of the French Renaissance.
The opera house is not only an architectural gem but also a beacon of performing arts in Ho Chi Minh City. Visitors are treated to a variety of performances ranging from classical ballet and opera to traditional Vietnamese dance and modern theatrical arts. Each performance is a spectacle of sound, light, and vibrant costume design, often accompanied by traditional Vietnamese music.
A trip to the Saigon Opera House provides a unique opportunity to explore Vietnam's rich cultural heritage while basking in the opulence of its colonial past. Whether you're an architecture enthusiast, a history buff, or a performing arts lover, the Saigon Opera House offers a uniquely enriching experience.
7. Central Post Office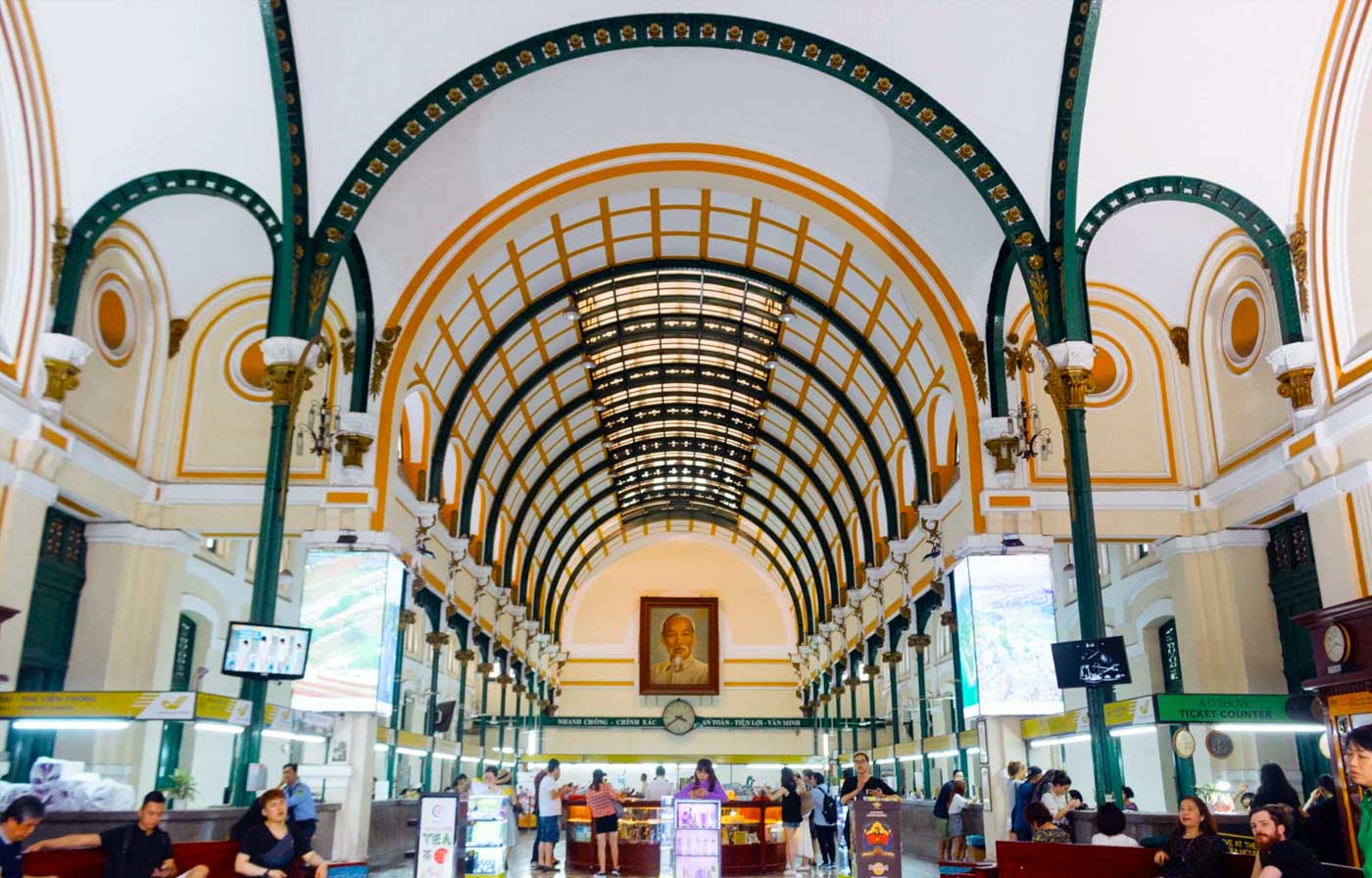 Journey into the heart of Ho Chi Minh City and discover the Central Post Office, an architectural marvel that effortlessly combines the old and the new. Built in the late 19th century during French Indochina, this iconic landmark continues to capture the imagination of visitors from around the world.
Designed by Gustave Eiffel, the same mastermind behind the Eiffel Tower and the Statue of Liberty's iron framework, the Central Post Office is a stunning blend of Gothic, Renaissance, and French architectural influences. With its grand vaulted ceiling, intricate carvings, and vintage maps of old Saigon, stepping into the post office is like stepping back in time.
But don't let the historic façade fool you. This is a fully functioning post office, complete with modern postal services and telecommunications. Here, you can send a postcard back home or browse through the selection of local stamps and souvenirs available for purchase.
Whether you're a history enthusiast, a philatelist, or simply a curious traveler, the Central Post Office offers a glimpse into Vietnam's past and present. So, why not add it to your travel itinerary?
8. The Independence Palace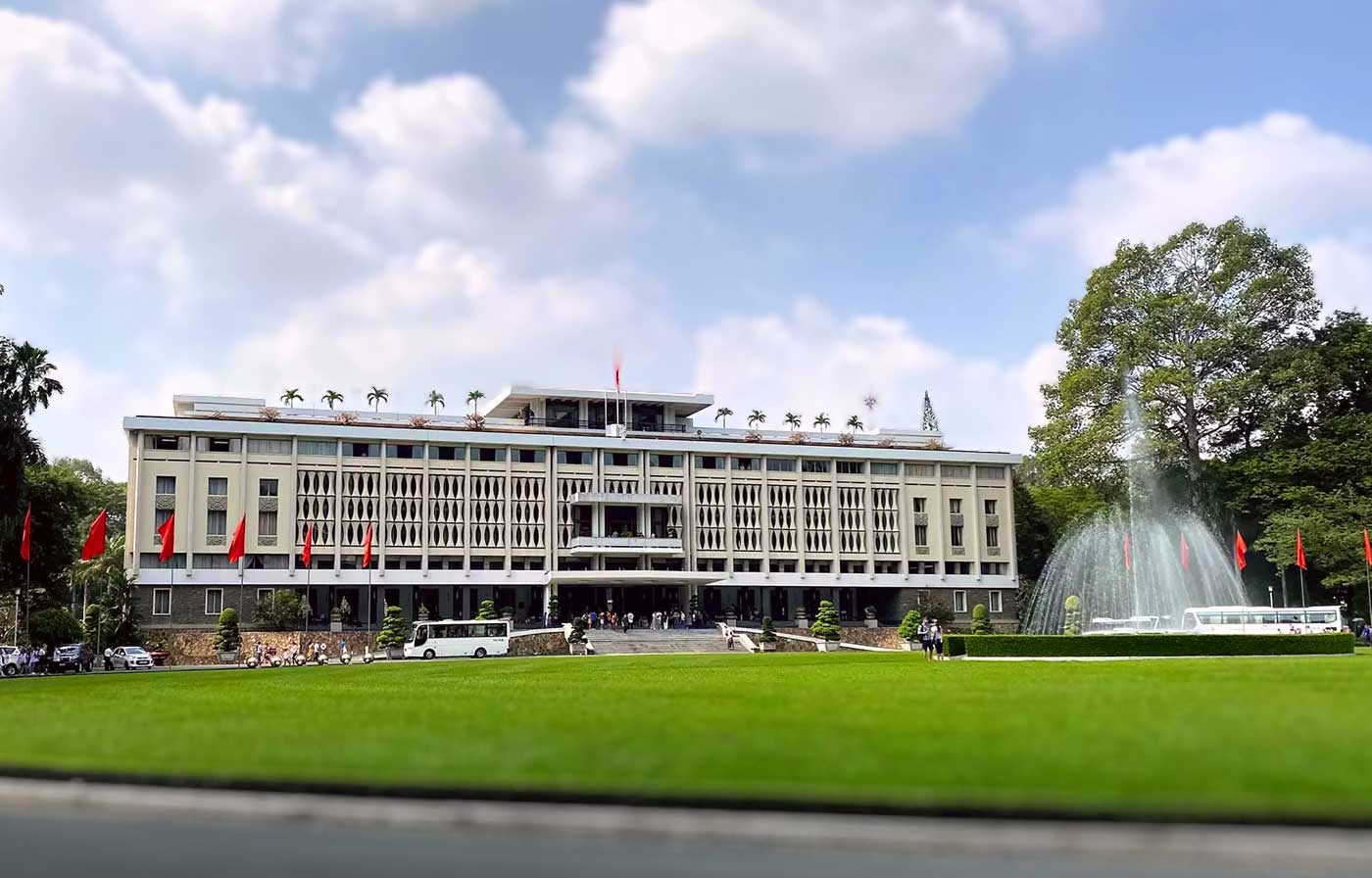 Step back in time and immerse yourself in the history of Vietnam at the Independence Palace in Ho Chi Minh City. Also known as the Reunification Palace, this fascinating site serves as a powerful reminder of Vietnam's tumultuous past and symbolizes the end of the Vietnam War.
Built on the site of the former Norodom Palace, the Independence Palace was the home and workplace of the President of South Vietnam during the Vietnam War. It was here that the conflict officially ended on April 30, 1975, when a North Vietnamese Army tank crashed through its gates – a moment immortalized in many iconic photographs.
Today, the palace has been preserved almost exactly as it was in the 1970s. Each room is a snapshot of the past, from the President's office with its huge desk and old phones, to the war command room with maps still hanging on the walls. You'll even find a helipad and warren of tunnels in the basement, showcasing the palace's role in wartime strategies.
Whether you're a history buff or a casual tourist, a visit to the Independence Palace provides a profound insight into Vietnam's history. It is an essential stop on your journey through Ho Chi Minh City.
9. Nguyen Hue Street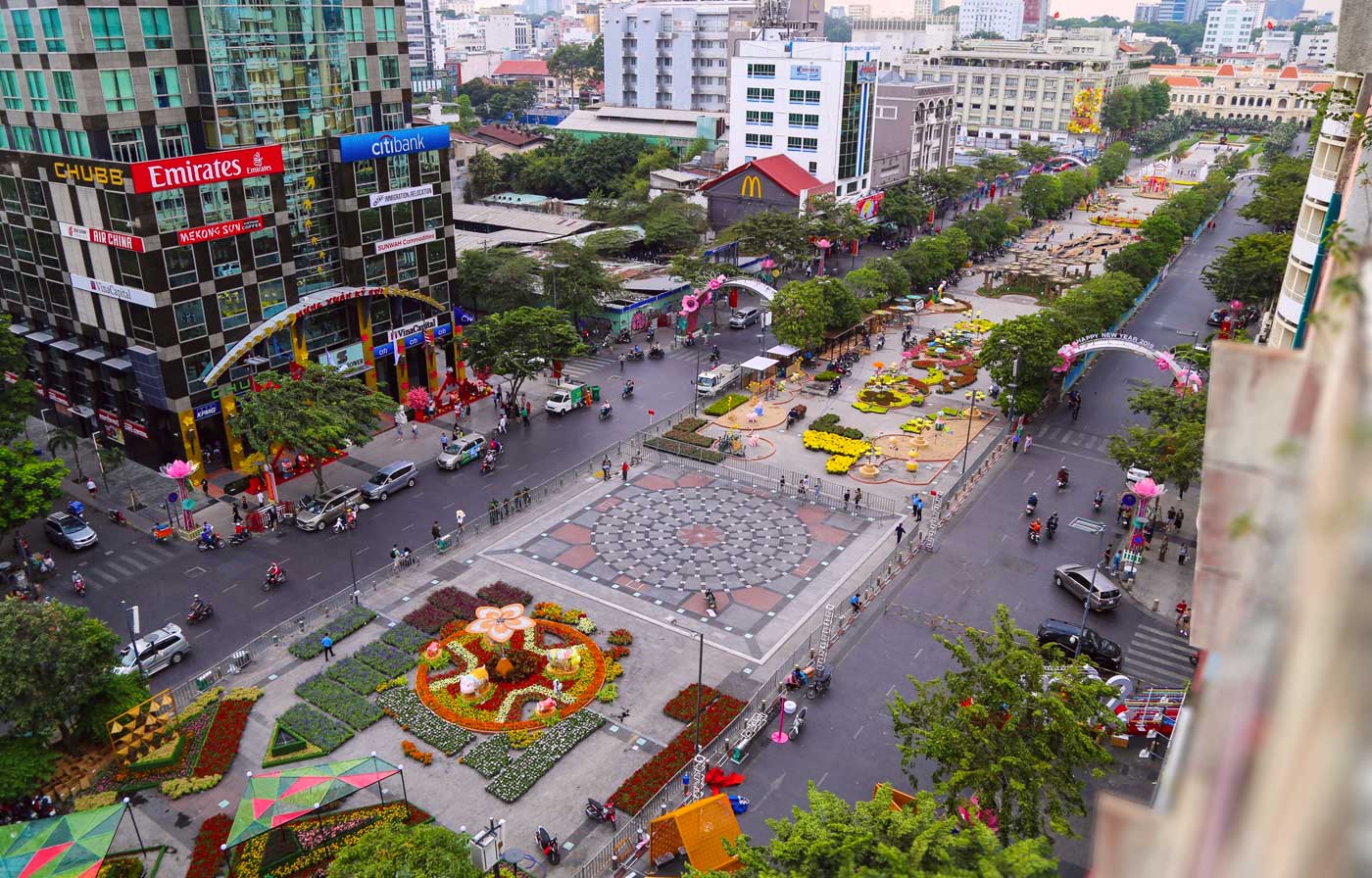 Welcome to Nguyen Hue Street, one of the most vibrant and dynamic areas in Ho Chi Minh City. As the city's main pedestrian street, it is a bustling hub of activity both day and night, offering tourists a real taste of life in Vietnam's largest city.
Located in District 1, Nguyen Hue Street stretches half a kilometer from the Ho Chi Minh City Hall to the Saigon River. Once a simple residential street, it was transformed into a pedestrian boulevard in 2015 and has quickly become a must-visit destination for locals and tourists alike.
By day, you'll find locals enjoying the wide, tree-lined space, while street vendors hawk delicious Vietnamese food, from steaming bowls of pho to sweet banh mi sandwiches. Keep an eye out for the vibrant public art installations and impromptu performances that bring the street to life.
As night falls, Nguyen Hue Street truly comes alive. The bars and restaurants that line the street light up, each one offering a unique dining experience. From local Vietnamese fare to international cuisine, there's something for everyone. The street is also a popular spot for evening promenades, with an atmosphere that is simultaneously bustling yet laid-back.
No matter the time of day, a visit to Nguyen Hue Street is an essential part of any trip to Ho Chi Minh City. So come and soak up the atmosphere, sample the local food, and immerse yourself in the heart of Vietnamese city life.
10. FITO Museum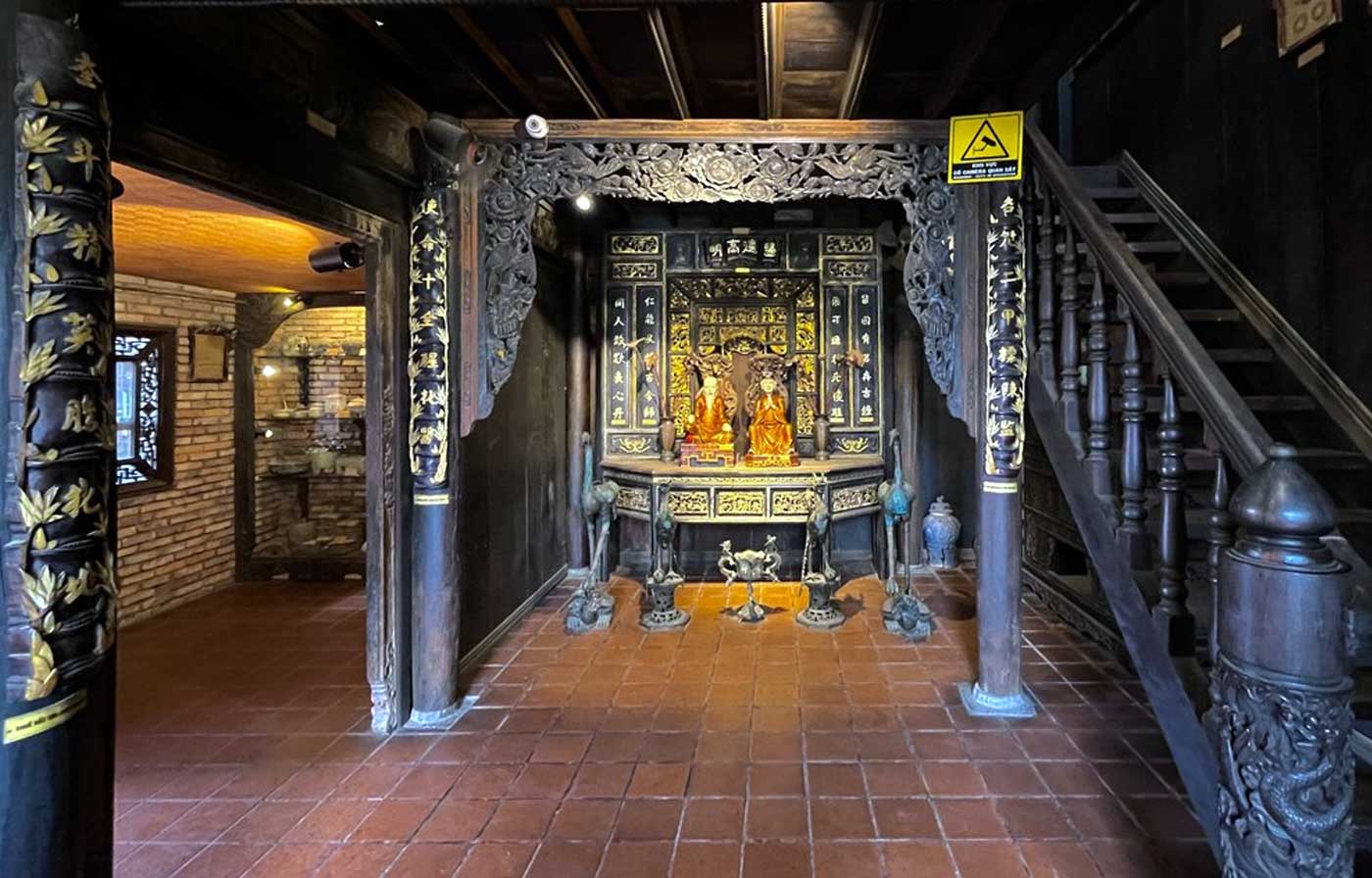 Welcome to the FITO Museum, a truly unique destination that offers an insightful look into the traditional world of Vietnamese medicine. Located in Ho Chi Minh City, this museum is an excellent place to learn about the country's rich medical history and its deep-rooted tradition of using natural ingredients for healing.
The first museum of its kind in Vietnam, FITO (which stands for Museum of Traditional Vietnamese Medicine) houses an impressive collection of around 3,000 artifacts, all thoughtfully displayed across its five floors. From stone medicine grinders to aged books of traditional remedies, each artifact tells a unique story of the evolution of Vietnamese medicine.
As you explore the museum, you'll discover the crucial role of herbal medicine in Vietnamese culture, learn about the different traditional medicinal practices, and perhaps even gain a new appreciation for the art of healing. The exhibits beautifully illustrate the various facets of traditional Vietnamese medicine, including acupuncture, steam baths, and the use of medicinal plants.
One of the highlights of the museum is the opportunity to witness a traditional medicine preparation demonstration. This allows visitors to get an up-close view of how traditional Vietnamese herbs are selected, prepared, and used in treatments. It's a captivating experience that truly brings the ancient practice of herbal medicine to life.
A visit to the FITO Museum is more than just an educational outing. It's a journey through time that offers a deeper understanding of Vietnamese culture, tradition, and its respect for nature. Whether you're a history buff, a medical professional, or a curious traveler, the FITO Museum promises a fascinating and enriching experience.
Feel free to explore these pages as well:
China Map ↗️
Learn More About Taiwan and Facts ↗️
See More Taiwan Photo Galleries ↗️
And so, our journey through the vibrant heartbeat of Vietnam, Ho Chi Minh City, comes to an end. We've wandered through history in the Independence Palace, discovered a world of tradition at the FITO Museum, immersed ourselves in the energy of Nguyen Hue Street, and taken in the city from above at the Bitexco Financial Tower.
Ho Chi Minh City, with its compelling blend of the old and the new, is a destination that both intrigues and embraces. The city tells a story of resilience, of culture and history intermingling with modern-day innovation. It's a city where every street corner has a story to tell, and each destination is a chapter in its rich tapestry of life.
Whether you've already packed your bags, or are still contemplating that trip, remember, this guide only scratches the surface of what Ho Chi Minh City has to offer. The true magic lies in exploring the city at your own pace, discovering hidden gems, and creating your own unique adventure.
So, here's to the exciting experiences that await you in Ho Chi Minh City. May your journey be filled with unforgettable moments, captivating discoveries, and the pure joy of exploration. Happy travels!