Discovering Buenos Aires: Hidden Gems and Top 10 Tourist Attractions
Buenos Aires, often dubbed the "Paris of South America," is a city where passion, history, and culture converge in a vibrant dance of colors, sounds, and flavors. As the birthplace of tango and a melting pot of architectural wonders, this Argentine capital never ceases to enchant its visitors. From its historic barrios and lush parks to its grandiose theaters and bustling markets, Buenos Aires promises a myriad of experiences waiting to be uncovered. In this guide, we'll venture into the top 10 attractions that encapsulate the city's essence, ensuring every traveler gets a taste of its undying spirit and magnetic allure. Ready to embark on an unforgettable journey? Vamos!
Here are the 10 best places to visit in Buenos Aires:
1. Teatro Colon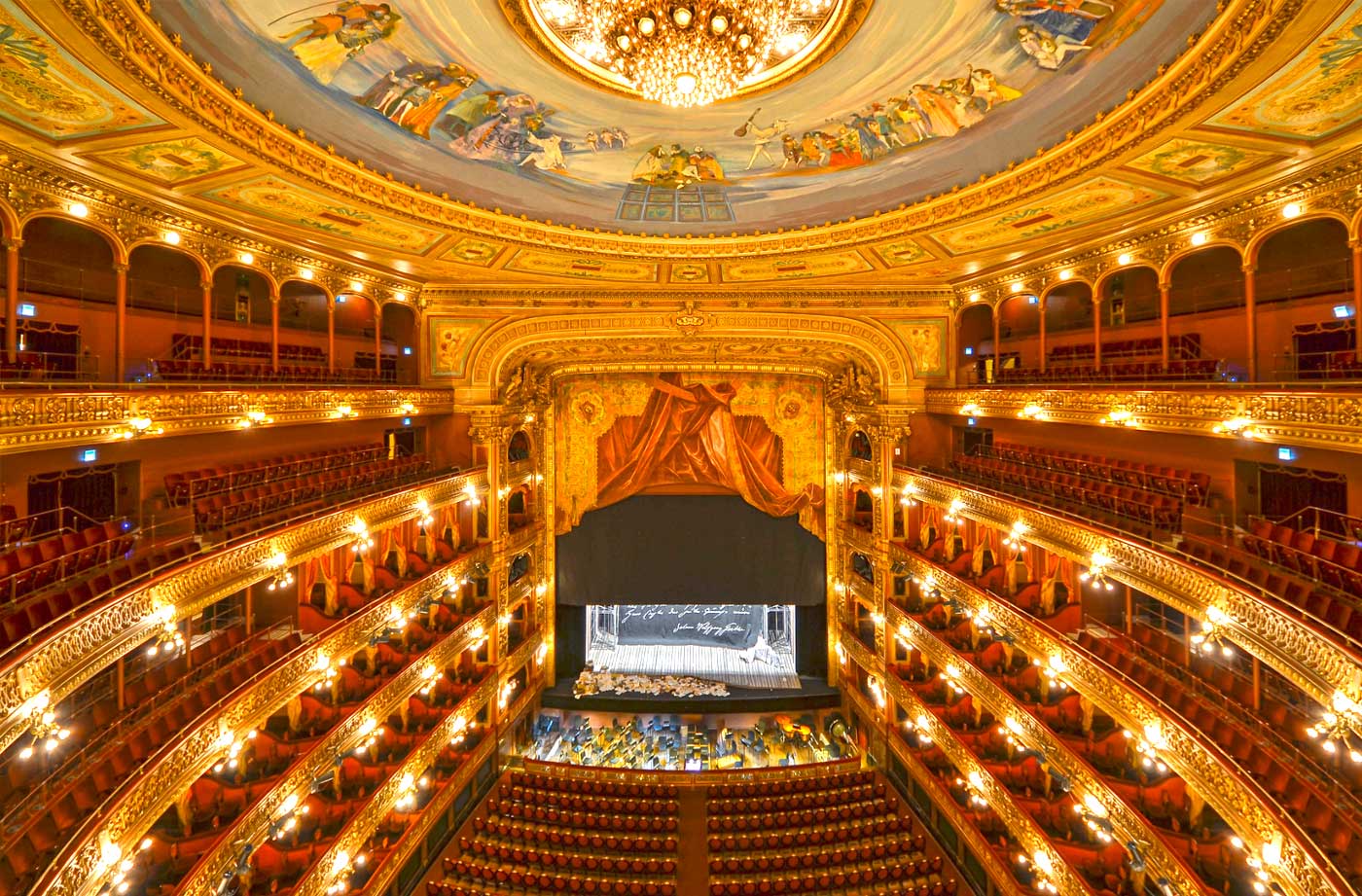 Nestled in the heart of Buenos Aires, Teatro Colón stands as a beacon of artistry, a testament to Argentina's rich cultural heritage. This opulent opera house, inaugurated in 1908, is renowned not only for its stunning architecture but also for its exceptional acoustics, ranking it among the top five concert venues in the world.
During your visit, you'll be captivated by the harmonious blend of French, Italian, and German designs, reflecting the diverse influences that shape Argentinian culture. Whether you're fortunate enough to catch a world-class opera, ballet, or orchestral performance, or you simply partake in a guided tour, Teatro Colón promises an immersive dive into a world where every corner tells a story of passion, art, and history. Don't miss this architectural gem on your Buenos Aires adventure!
2. Puerto Madero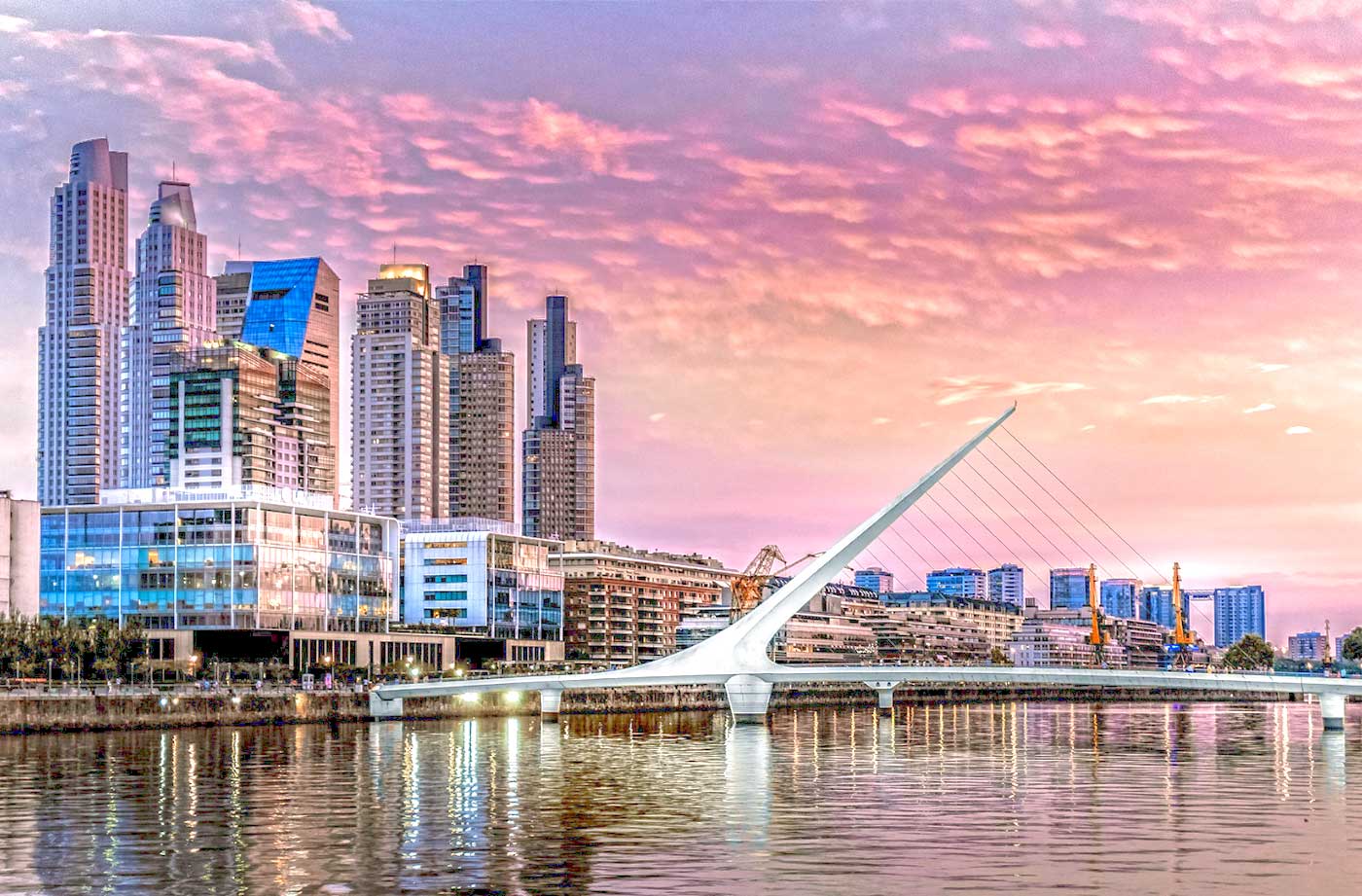 Once a bustling port area, Puerto Madero has transformed into one of Buenos Aires' most modern and luxurious districts, perfectly encapsulating the city's blend of history and contemporary allure. Skyscrapers kiss the sky, gleaming beside the historic red-brick warehouses that now house chic restaurants, loft apartments, and avant-garde offices, offering visitors a unique juxtaposition of the old and the new.
Stroll along the waterfront promenade, and you'll discover the Puente de la Mujer, an iconic rotating footbridge designed by the renowned architect Santiago Calatrava. This area isn't just about modernity; nature lovers will find solace in the Reserva Ecológica Costanera Sur, a sprawling green oasis brimming with wildlife, right next to the urban setting. As the sun sets, the district comes alive with vibrant nightlife, making Puerto Madero a must-visit for anyone seeking the true essence of Buenos Aires.
3. Recoleta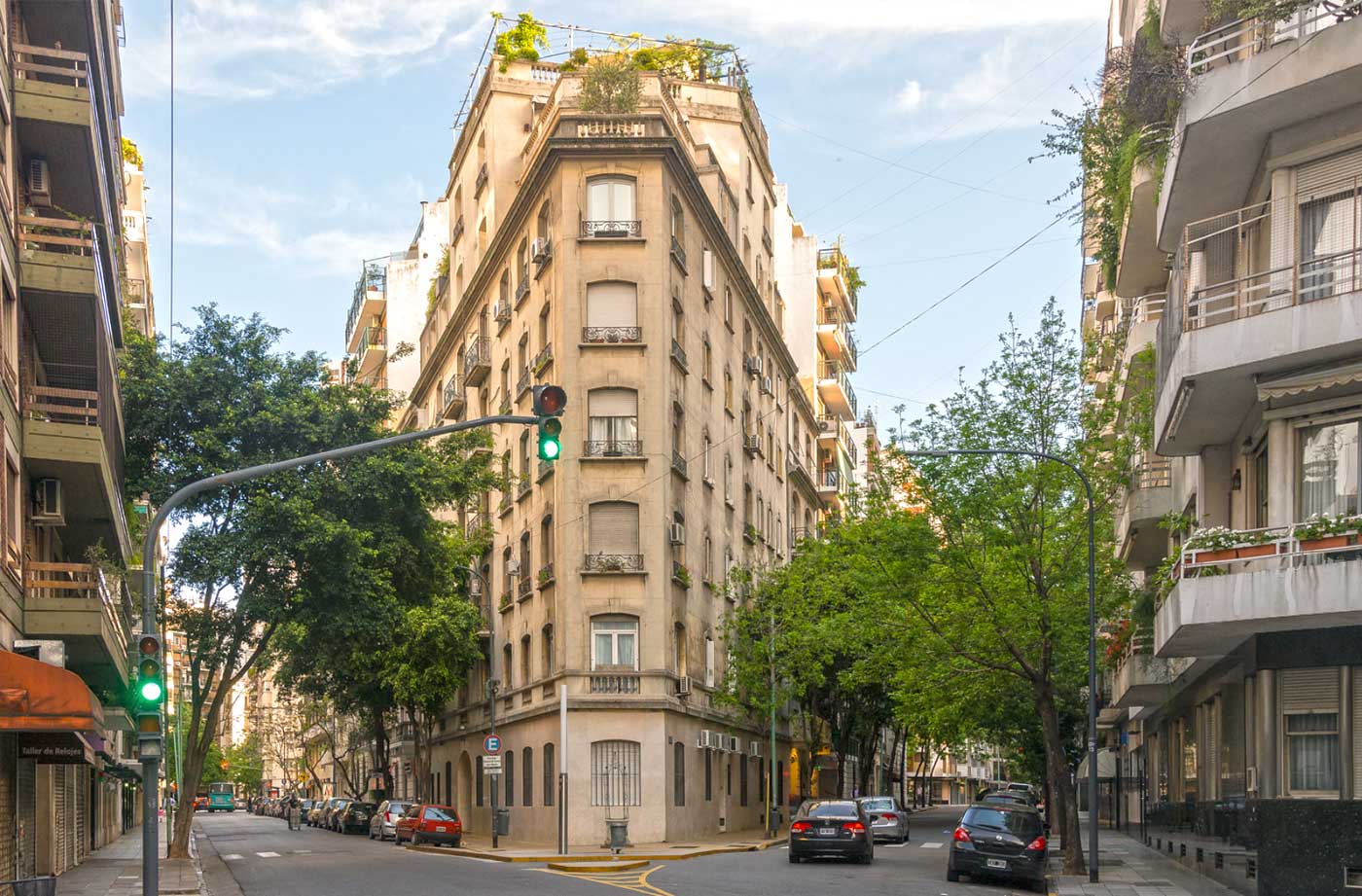 Nestled in the heart of Buenos Aires, the upscale neighborhood of Recoleta beckons with its Parisian-style architecture, tree-lined avenues, and a history rich enough to enrapture any traveler. This district, often described as the "Paris of South America," exudes an old-world charm that seamlessly blends with its modern cafes, boutiques, and galleries, making it a favorite haunt for both locals and visitors.
But beyond its elegant facade, Recoleta is perhaps best known for the Recoleta Cemetery, a vast necropolis housing ornate mausoleums and statues. As you meander through its labyrinthine pathways, you'll encounter the resting places of Argentina's most celebrated figures, including Eva Perón. After a contemplative walk, take a moment to relax in the neighboring Plaza Francia or sip a coffee at one of the area's chic cafes. Exploring Recoleta, you'll soon discover it's more than just a neighborhood; it's a journey through Argentina's rich tapestry of culture and history.
4. Bosques de Palermo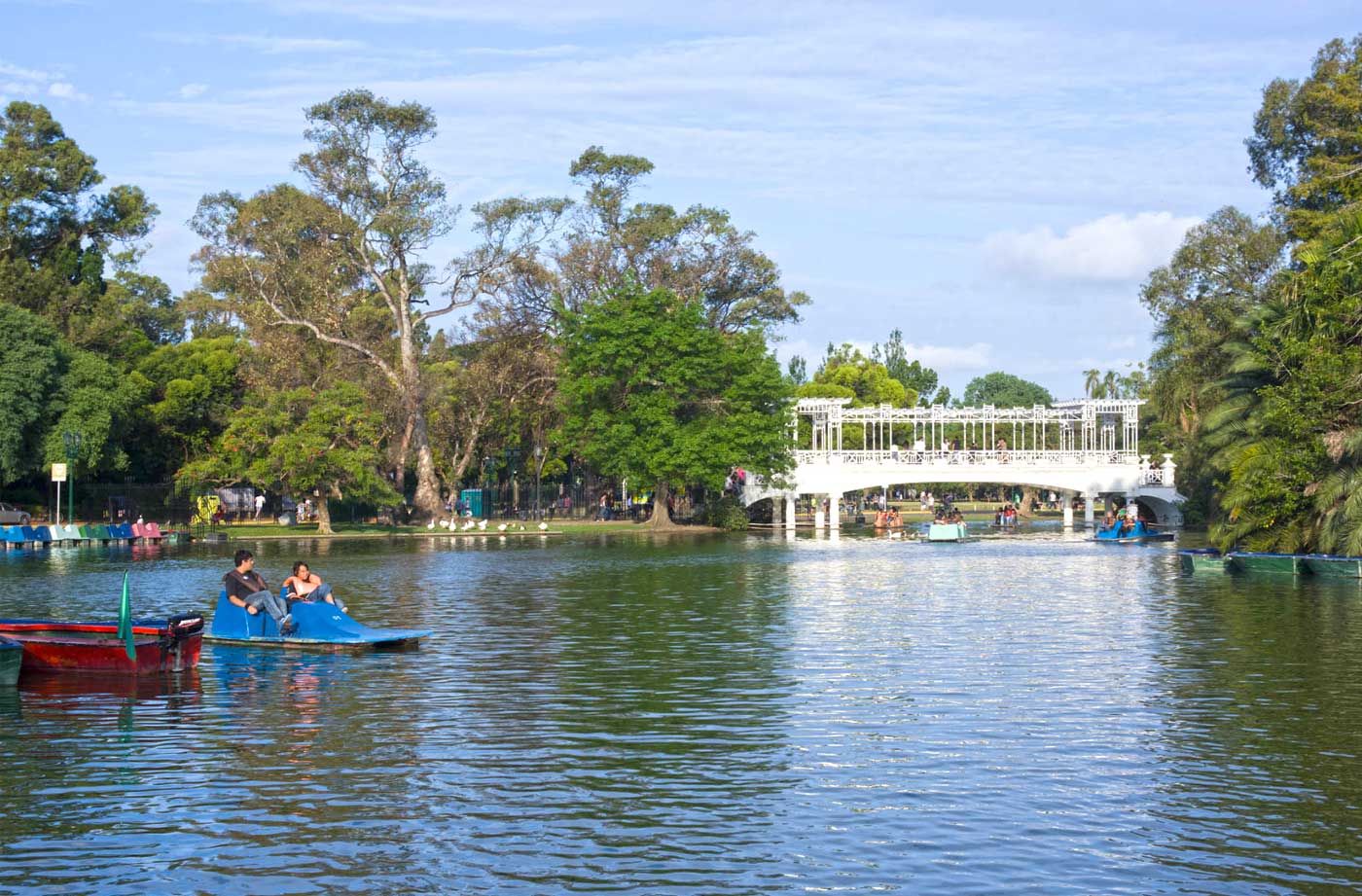 Often referred to as the "lungs" of Buenos Aires, Bosques de Palermo, or Palermo Woods, is a sprawling green haven in the midst of the city's hustle and bustle. Covering nearly 400 hectares, this urban oasis is the perfect spot for visitors looking to unwind, offering serene lakes, fragrant rose gardens, and meandering pathways shaded by towering trees.
Whether you're keen on renting a paddle boat to drift along the park's calm waters, admiring over 8,000 rose bushes in the renowned El Rosedal garden, or simply lounging on the lush grass with a good book, Bosques de Palermo has something for every nature lover. As the day winds down, watch as locals gather for picnics, joggers complete their evening runs, and families revel in the park's tranquil atmosphere. No trip to Buenos Aires is complete without immersing oneself in the peaceful embrace of Palermo Woods.
5. Jardin Japones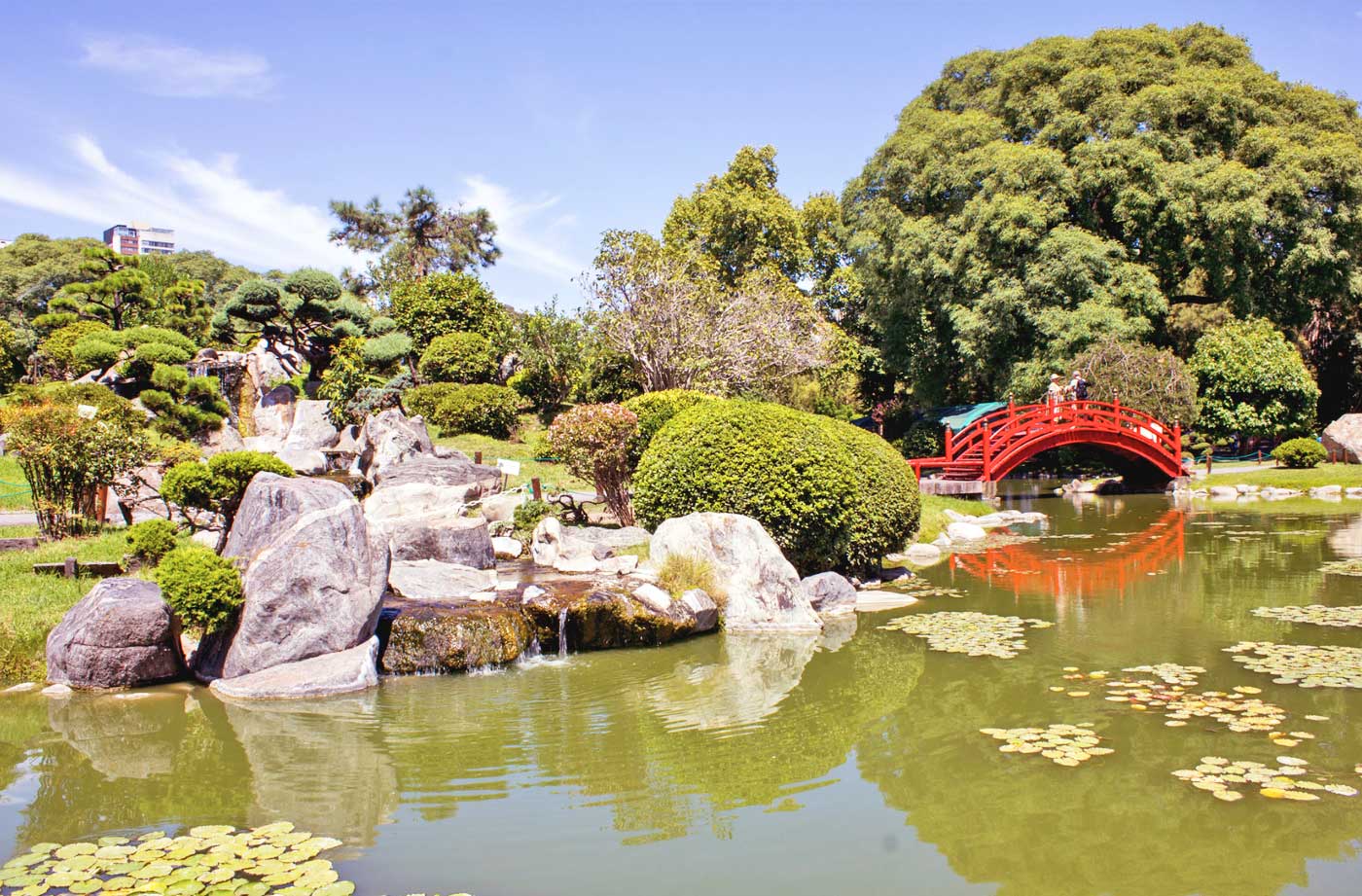 Tucked away in the expansive Palermo neighborhood of Buenos Aires, the Jardín Japonés, or Japanese Garden, offers a serene escape into a world meticulously designed to mirror the traditional gardens of Japan. Gifted by the Japanese community to the city in the 1960s, this beautifully maintained space is a testament to the harmonious blend of Argentine and Japanese cultures.
Each element within the garden — from the tranquil koi ponds and ornate bridges to the carefully pruned bonsai trees and stone lanterns — has been thoughtfully placed to embody the principles of balance and tranquility. As you wander through, the distant sounds of Buenos Aires melt away, replaced by the gentle rustling of leaves and the soft murmurs of water. Before leaving, make sure to visit the cultural center within the garden to indulge in traditional tea ceremonies or to discover art exhibitions showcasing Japanese heritage. In Jardín Japonés, the essence of two worlds merges, offering visitors a unique and enriching experience amidst the city's urban heartbeat.
6. Museo Nacional de Bellas Artes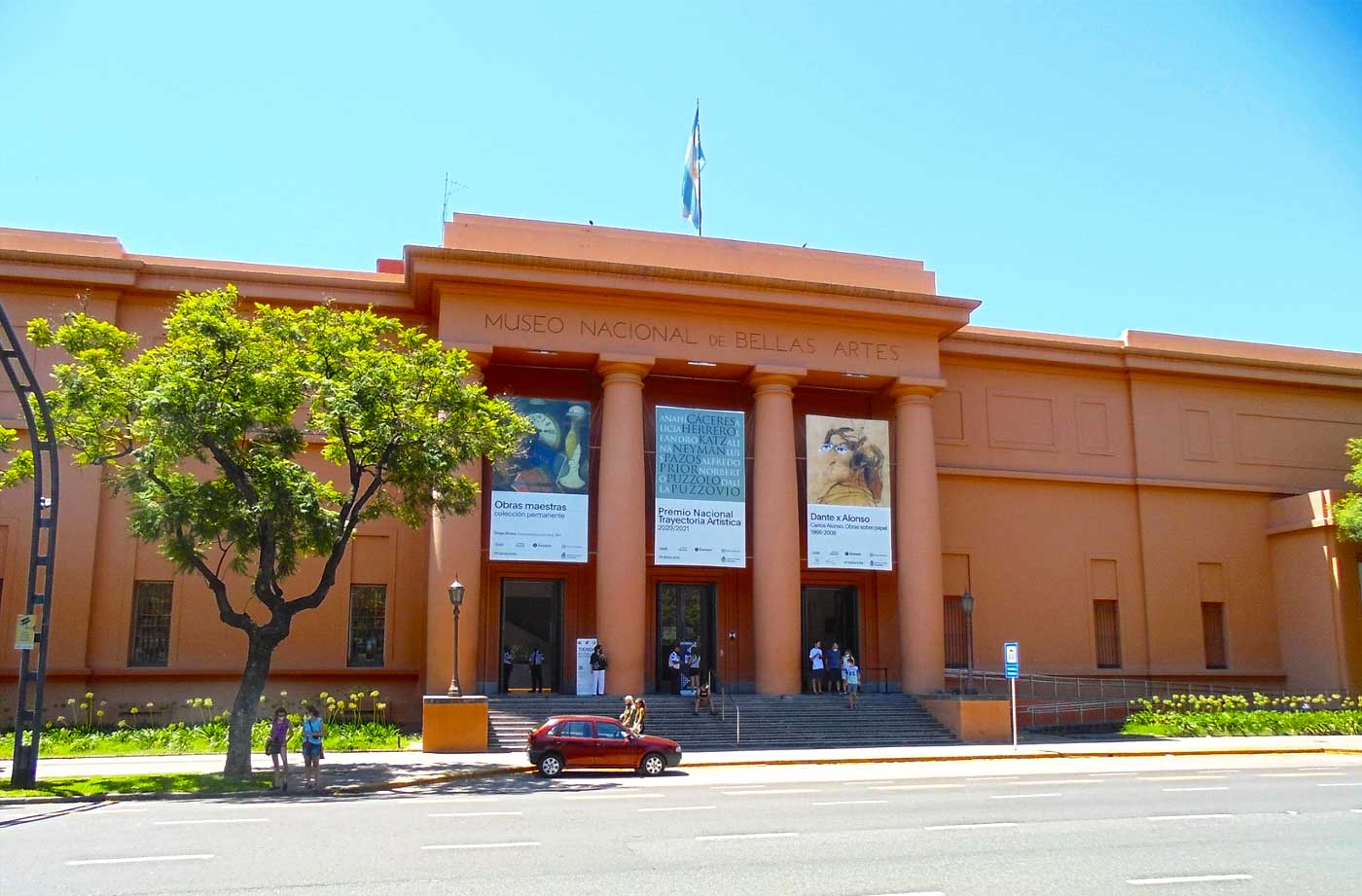 In the cultural heart of Buenos Aires stands the Museo Nacional de Bellas Artes, a beacon for art enthusiasts from around the globe. Housing the most extensive public art collection in Latin America, this iconic museum offers visitors a journey through time, showcasing masterpieces that span from the Middle Ages to contemporary works.
Within its walls, art aficionados will encounter an impressive array of European and Argentine artists, including works by Renoir, Monet, and Van Gogh, juxtaposed with pieces from renowned local talents such as Xul Solar and Antonio Berni. The museum's architectural beauty, with its spacious, well-lit halls, further enhances the viewing experience, making it an absolute must-visit for anyone with a penchant for art and culture. As you meander through the galleries of the Museo Nacional de Bellas Artes, you'll be embraced by the rich tapestry of human creativity, a testament to Buenos Aires' standing as a global cultural capital.
7. Palermo Soho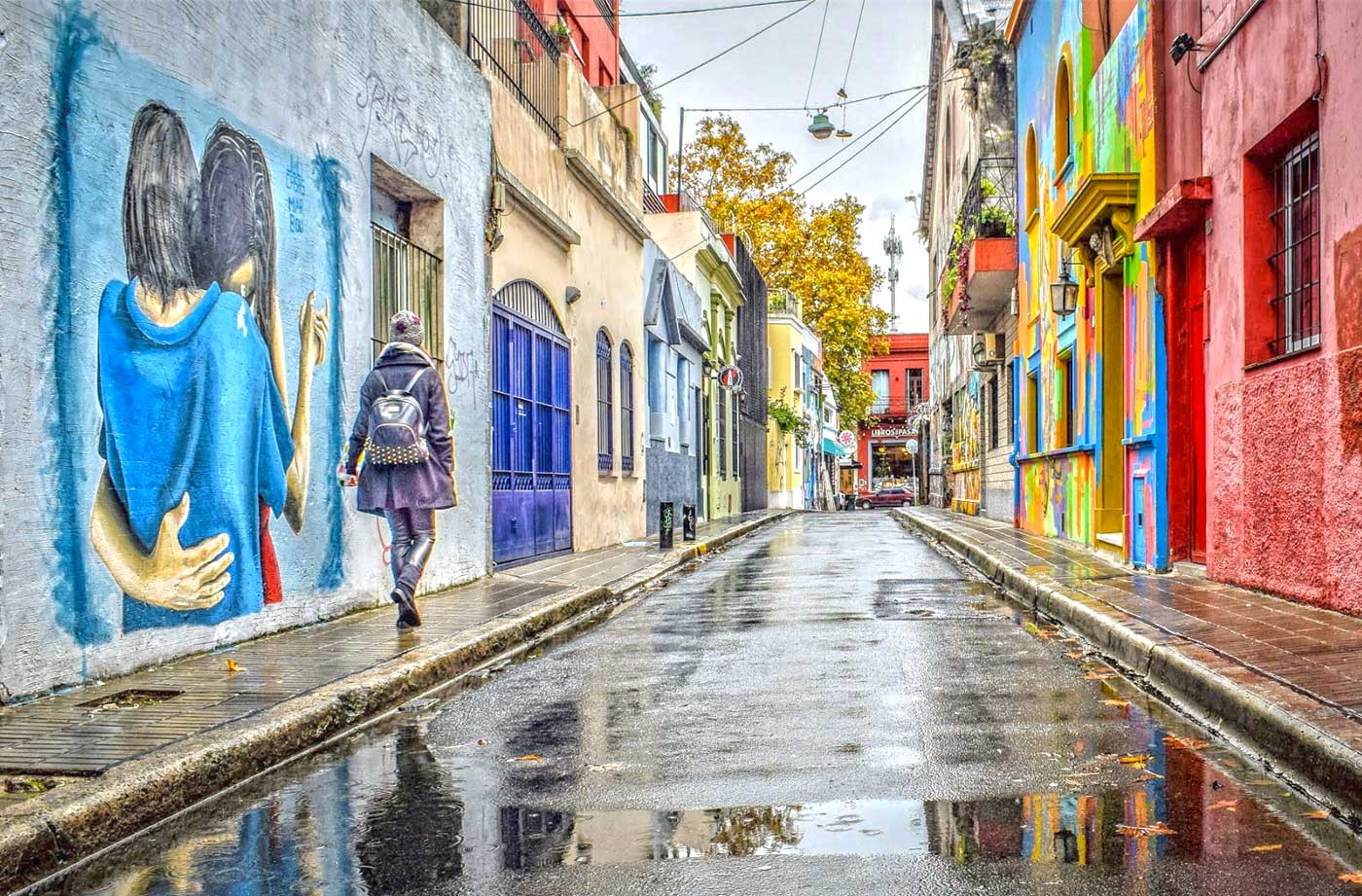 Nestled within Buenos Aires' sprawling Palermo district, Palermo Soho emerges as a vibrant enclave of bohemian flair and contemporary chic. Named in homage to New York's famous SoHo, this trendy neighborhood is a hub for artists, designers, and food enthusiasts, making it an essential stop for those looking to capture the city's modern pulse.
Every corner of Palermo Soho bursts with creativity. The cobblestone streets are lined with boutique shops showcasing the works of local designers, murals painted by urban artists, and cafes that buzz with the chatter of Porteños and travelers alike. When night descends, the neighborhood transforms into a hotspot for nightlife, with its bars, restaurants, and clubs offering a taste of Buenos Aires' cosmopolitan allure. Dive into Palermo Soho, and immerse yourself in a world where traditional Argentine charm meets contemporary sophistication.
8. Palermo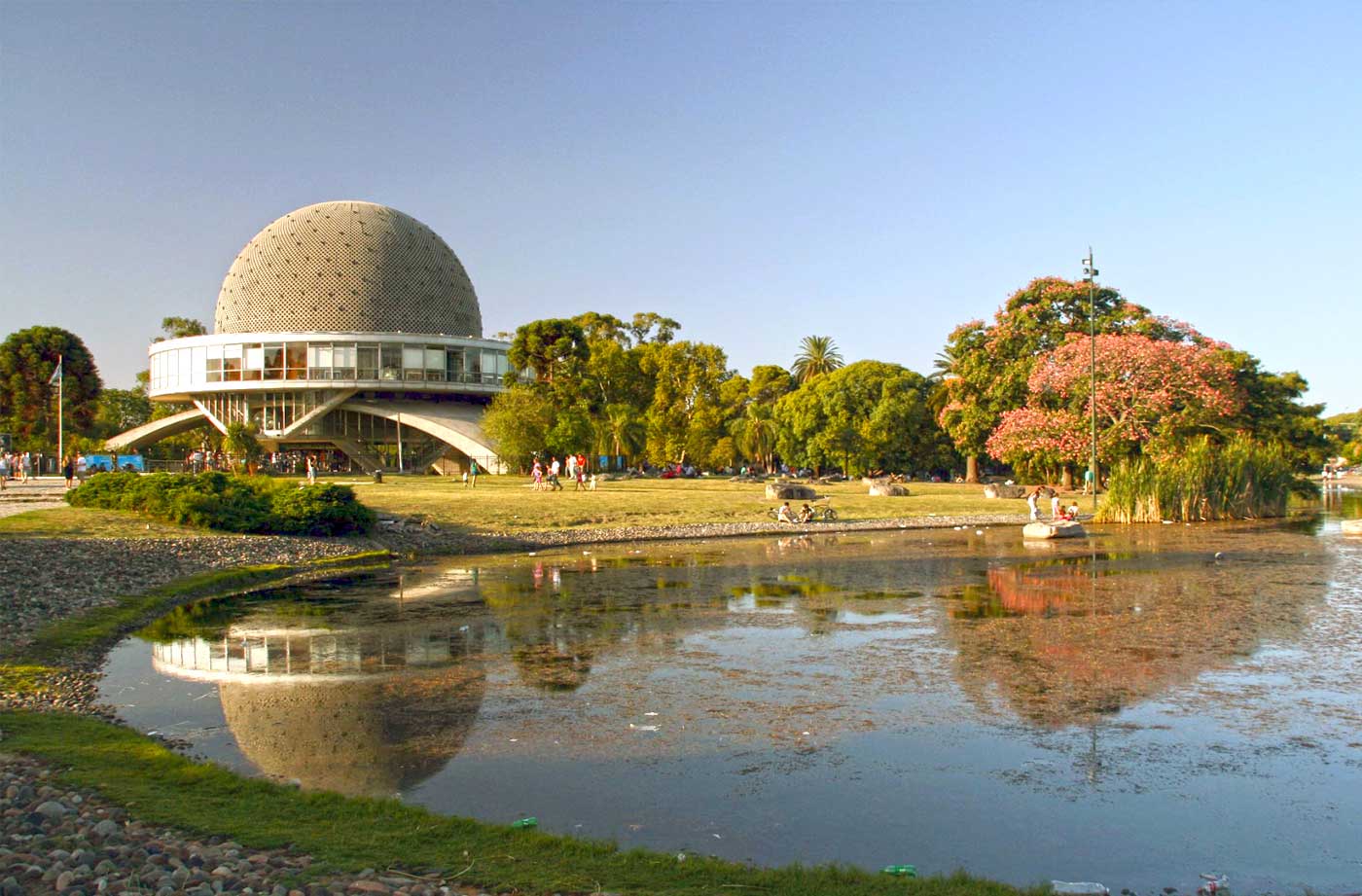 In the expansive embrace of Buenos Aires lies Palermo, a district that's as diverse as it is dynamic. Often regarded as the city's green lung, Palermo is a juxtaposition of serene parks, shimmering lakes, and bustling urban life, offering visitors a taste of everything Buenos Aires embodies.
The neighborhood is a patchwork of sub-districts, each with its unique flavor. From the chic boutiques and street art of Palermo Soho to the gourmet restaurants of Palermo Hollywood, there's an experience waiting at every turn. Don't miss the Bosques de Palermo, a vast green space dotted with rose gardens, pedal boats, and weekend joggers. As day transitions to night, the area's bars and nightclubs come alive, reflecting the city's undying spirit. Exploring Palermo is like delving into the heart of Buenos Aires, where every alley, park, and corner cafe tells a story of a city in perpetual motion.
9. Calle Defensa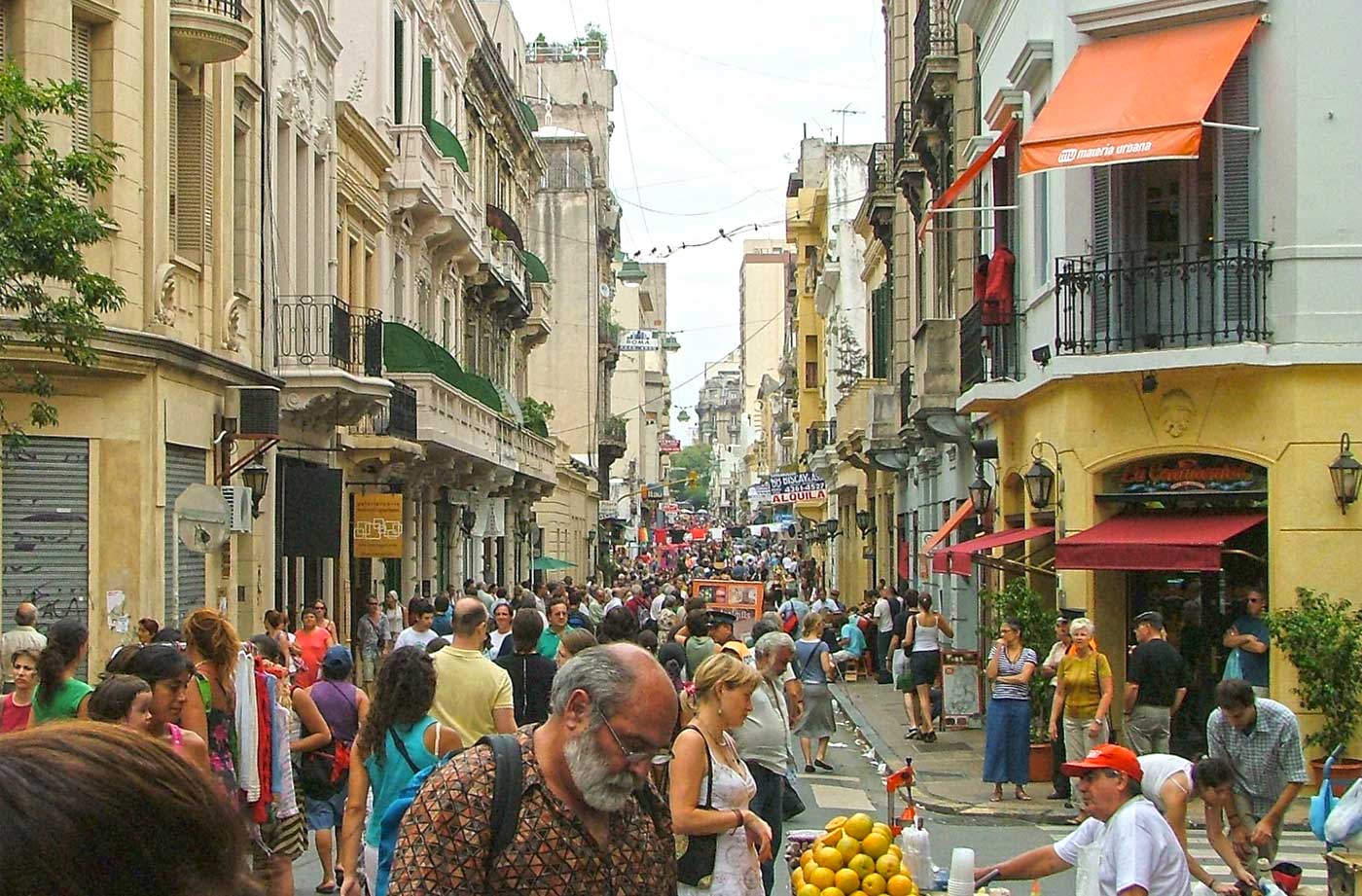 Steeped in history and pulsating with life, Calle Defensa stands as a testament to Buenos Aires' rich tapestry of cultures and epochs. Stretching through the heart of San Telmo, one of the city's oldest barrios, this iconic street offers a vibrant window into the soul of the Argentine capital.
Walking down Calle Defensa is like traveling back in time. Cobblestone streets echo with the footsteps of bygone eras, leading visitors past colonial-era mansions, vintage storefronts, and lively tango bars where the dance of passion comes to life. Every Sunday, the street transforms into the Feria de San Telmo, a bustling antiques and crafts market brimming with curiosities, artisan goods, and the melodies of street performers. Whether you're hunting for a unique souvenir, eager to witness the magnetic pull of tango, or simply soaking in the neighborhood's bohemian spirit, Calle Defensa offers an unforgettable journey through Buenos Aires' vibrant history and culture.
10. Centro Cultural Kirchner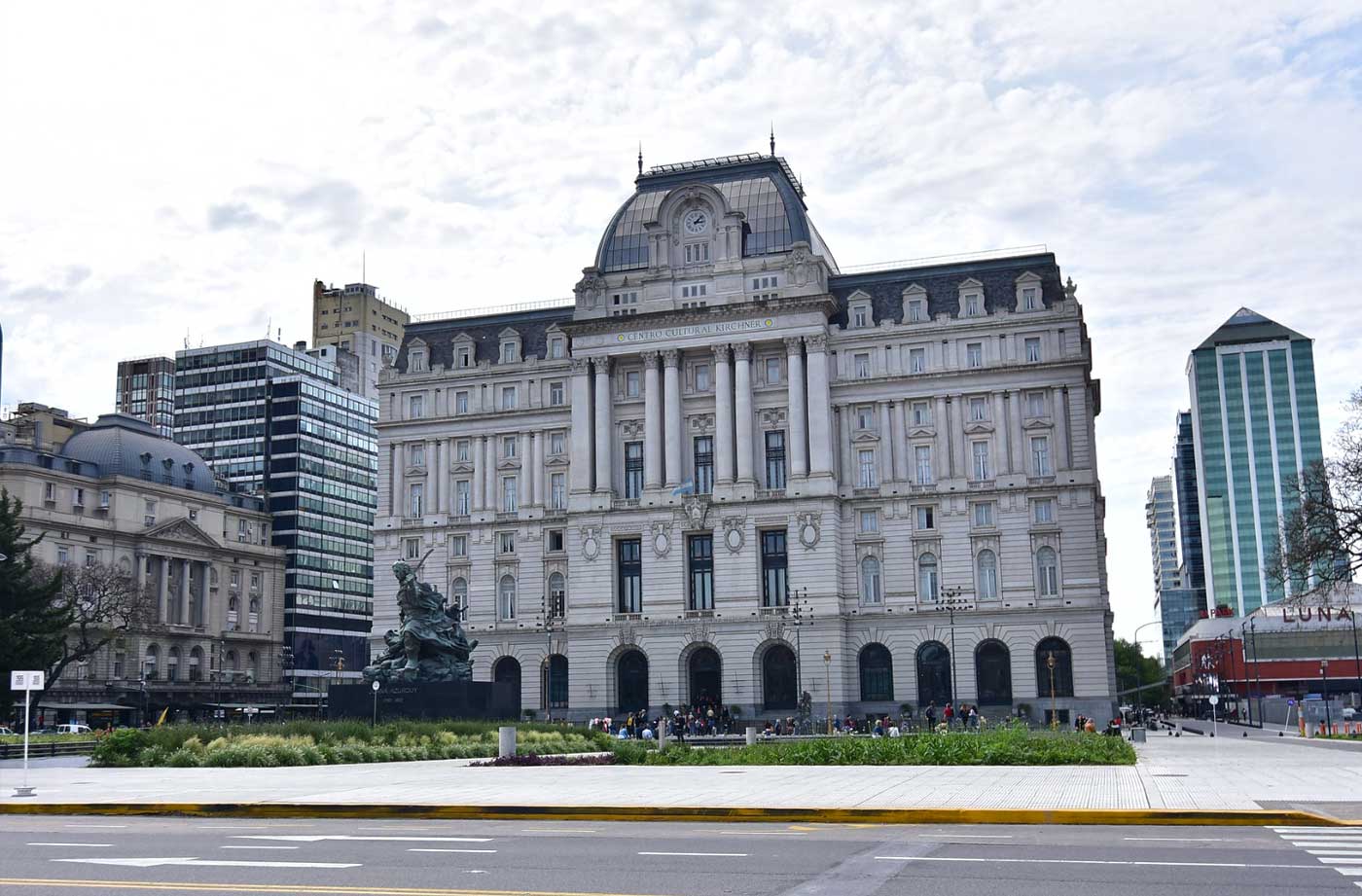 Housed in the architectural marvel that once served as Buenos Aires' central post office, the Centro Cultural Kirchner (CCK) stands as a beacon of arts and culture in the heart of the city. This colossal structure, with its intricate facades and grandiose interiors, has been masterfully repurposed into one of South America's largest cultural centers, offering a myriad of artistic expressions under one roof.
The CCK captivates with its diverse range of offerings, from avant-garde art exhibitions and immersive multimedia installations to musical performances spanning a variety of genres. The crown jewel of the center is the Ballena Azul (Blue Whale), a state-of-the-art concert hall celebrated for its impeccable acoustics and awe-inspiring design. Amid the hustle and bustle of Buenos Aires, the Centro Cultural Kirchner emerges as an essential sanctuary for art lovers, offering a harmonious blend of historical architecture and contemporary cultural experiences.
Feel free to explore these pages as well:
As we wrap up our journey through the vibrant streets and hidden corners of Buenos Aires, it's evident that the city's magic is not just in its renowned landmarks but also in its soulful rhythm and the warmth of its people. Each attraction we've explored tells a story, painting a portrait of a city that's both steeped in tradition and ever-evolving. But remember, while this list captures the highlights, Buenos Aires' true essence is best felt in its spontaneous moments – a serendipitous tango performance, a friendly chat over mate, or a sunset over the Rio de la Plata. So, as you step out with memories etched in your heart, know that Buenos Aires is a city that will always beckon for another visit, always promising new tales to tell. Hasta luego, dear travelers! Safe journeys and may your wanderlust never cease.